DogsBite Blog ::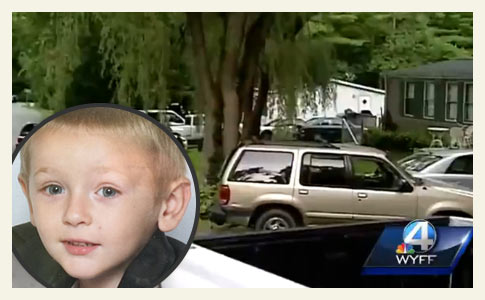 Joshua Phillip Strother, photo from Citizen-Times, and both properties via WYFF 4.
July 30 Deadline Arrives
UPDATE 07/30/15:
The deadline Buncombe County set for the Asheville Humane Society to deliver information
requested in their July 16 letter has arrived
. Today is July 30, two weeks after the letter was sent. On July 7, Joshua Strother, 6-years old, was brutally attacked and killed by a pit bull adopted out by Asheville Humane. Just after his death, Asheville Humane scrubbed their "
Project Pit Bull
" campaign from their website and refused "repeated calls" from the media.
The male neutered pit bull, about a year old, was adopted to Joshua's neighbor 3-weeks earlier. The dog came into the shelter as a stray.
The Asheville Humane Society (AHS) is under contract with Buncombe County to operate its open admission shelter. The July 16 letter placed an "immediate moratorium" on the transfer of all pit bulls from the county's open admission shelter to an adoption agency. The letter also requested detailed documentation about the temperament testing procedure conducted by AHS and the animal "transfer" process, including the specific individuals who perform and approve both.
Since the July 16 letter, mainly a wall of silence has fallen over Joshua's mauling death and the actions of Asheville Humane. Though an outstanding Letter to the Editor by Julie Wall was published in her own community on July 22, "
Difficulty in assessing level of aggression in pit bulls can lead to tragedy
." Wall states the obvious conclusion: Either AHS failed in their assessment of this pit bull, or they have to admit there currently is
no accurate way
to assess pit bull-type dogs.
Either the Asheville Humane Society absolutely failed at assessing the dogs in their shelter, or it has to admit there is currently no accurate way to assess pit-bull-type dogs. At any rate, shelters and rescues need to stop pushing pit bulls onto the naive public.
For those who say not all pit bulls will attack or kill, it's true. Not all will. But predicting which ones will is impossible. They pass shelter behavior tests, then go on to kill or maim people. They "never show any sign of aggression" then one day kill their owner, out of the blue. This is why they are so dangerous.

- Julie Wall
The editor of Animals24-7.org, Merritt Clifton, has been tracking serious and fatal attacks by shelter dogs for several decades. Joshua was the
38th fatality involving U.S. shelter dogs
from 2010 to present -- a 5-year period. 30 of these deadly attacks involved rehomed pit bulls. Also, the Safety Before Pit Bulldogs blog is
tracking extreme and fatal attacks by pit bulls
that were either up for adoption or recently adopted out by a shelter. The 2015 severe attacks cited are numerous.
The following list shows the results of these misguided priorities and lack of mandated responsibility or accountability by these animal care "experts." Most of these articles are about recently adopted pit bulls that launched a serious attack, sometimes killing a person. Many of these pit bulls came with assurances that the pit bull was non-aggressive and/or had been temperament tested ... The list is not complete or comprehensive, but merely highlights the growing and seriously dangerous problem.

- Safety Before Pit Bulldogs
Notably, while reading Facebook comments on news articles after the county's July 16 letter, one local mother, who bears no ill will toward pit bulls, had a similar experience with Asheville Humane.
Less than 24 hours after adopting a pit bull from AHS
, the dog savagely attacked her 5-year old son, latching onto his head. His injuries required staples. This attack occurred in March, 4-months before Joshua was killed. The mother comments at least twice on the
WLOS Facebook thread
.
They should have started all of this when a pit we adopted this March that had passed all of their test attacked my son resulting in a ems ride and staples in his head. The dog wanted my son dead. Pit bulls are my favorite breed. Yes different breeds kill/bite. Yes it depends on how they are raised. But this is TWICE a dog from AHS has attacked a child within months of each other that we know of. Such a sad situation.

- Tera Brown, July 16, 2015


...Not even 24 hours after the adoption my son ask him to sit for a treat. The dog sit and my son handed out a treat and the dog snapped and turned vicious latching on to my sons head. The dog tried to drag my son back out of my arms without trying to bite me at all even with me kicking him in the face trying to get his focus on me instead of my son. He had locked in tunnel vision on my little boy. Thats all he wanted...

- Tera Brown, July 16, 2015
After the attack she writes, "while I was in the ems with my son the police picked up the dog from outside of my house. The dog came wagging tail and jumped right in the cop car for a treat like nothing had ever happened." Performing the ever so frequent unpredictable explosive aggression by pit bulls, followed by the, "like nothing ever happened" or "wagging their tail" scenario. This too is often displayed by pit bulls after a violent attack. They often
wag their tails while attacking
too.
All eyes are on the county now as they examine the materials delivered by Asheville Humane.
---
07/16/15: County Stops Pit Bull Transfers
After a pit bull adopted out by the Asheville Humane Society (AHS) killed a 6-year old boy, Buncombe County officials are reviewing the organization's adoption process for pit bulls. Recall that AHS is under contract with the county to operate its open admission shelter, where the stray pit bull originally came in and where (we presume) it was temperament tested. Then the pit bull was "transferred" to the
Asheville Humane Adoption Center
, a separate, but adjacent building.
In a July 16 letter to Asheville Humane, Buncombe County officials ordered AHS to place an "immediate moratorium" on the transfer of all pit bulls from the county's open admission shelter to an adoption agency. The letter also asks for specific details about temperament test procedures followed by AHS, including the "credentials" of their testing individuals, as well as a "detailed process used in the specific pit bull transfer" that resulted in the mauling death of a young child.
The five items requested by Buncombe County |
Read letter in full
An immediate moratorium on the transfer of any pit bull or pit bull-mix from the Shelter to an Adoption Agency.
A thorough documentation delivered to the County of the temperament testing procedures in place. This includes the specific steps involved, citation of the best-practice model used, the "individual(s)" employed by Asheville Humane conducting the testing, the credentials of the testing individual(s), and the individual(s) charged with approving the transfer of these specific animals.
A detailed process used in the specific pit bull transfer that resulted in the death of a child in Henderson County.
The definition that Asheville Humane uses for determining the health of an animal suitable for transfer to an adoption agency.
A summary of any related internal reviews Asheville Humane has conducted and the resulting process changes/system improvement.
It is noteworthy that county officials also requested the specific names of the individuals employed by Asheville Humane who perform these procedures along with their "credentials." Buncombe County officials requested that AHS provide the information to them no later than two weeks from the date of this letter, which is July 30. After examining these materials, the county then "will decide next steps as to the moratorium on transfer of pit bulls and pit bull-mixes," states the letter.
---
Humane Group Republishes Web Page
UPDATE 07/11/14:
In the aftermath of the sheriff's office naming the Asheville Humane Society (AHS) as the entity that adopted out a pit bull that attacked and killed a 6-year old boy, several developments have occurred. AHS released a "prepared" statement to the media, but still refuses to
answer "repeated calls" from reporters
and refuses
any type of TV interview
, according to WLOS. Also, at some point late Friday, AHS restored their Project Pit Bull page with revisions.
Part of the prepared statement by AHS includes a telling admission. The statement reads in part: "The dog involved was adopted out from Asheville Humane Society last month and did not exhibit any aggressive behavior while in our care. This dog
came in as a stray so we did not know his history
, only his behavior while he was with us, which gave no indication that he would have any issue of this type." AHS had the pit bull for 30-days before adopting it out to Joshua's neighbor.
The Asheville Humane Society, by their own admission, had no way of knowing they were sending someone home with a killer.
A person takes an extreme risk when adopting a pit bull with a known history, much less an unknown one, as was the case in Joshua's death. A powerful comment left by Jeff Borchardt just after we published our last update sums up the issue even more clearly. In March 2013, Jeff's 14-month old son was
brutally killed by his babysitter's two pit bulls
. Her pit bulls were 3-years old, well trained, sterilized, brought up in a loving home and had
never shown aggression before
.
"1-year-old pit bull had never shown signs of aggression. Up to date on all shots, neutered, had played with the dog before. No indication that anything was wrong.".....And THAT my friends is the problem with pit bulls.

- Jeff Borchardt, father of Daxton Borchardt
In a recent article by Merritt Clifton
, editor of Animals24-7.org, Clifton states that Joshua Strother marks the 38th fatality involving U.S. shelter dogs from 2010 to present -- a 5-year period. Dog breeds involved in these 38 deaths include 30 pit bulls, seven bullmastiffs, two rottweilers, a lab that may have been part pit bull and a husky, according to his data. Clifton's article also dives into the history of AHS, an agency that has seen four executive directors in the last three years.
Lies, Lies and More Lies
At some point late July 10 or in the early hours of July 11, AHS republished their Project Pit Bull page with revisions, apparently to cover their tracks. The new page has a reworded title, a new pit bull initiative ("while supplies last" type bargain), and they renamed Pit Crew, their breed-specific volunteer program for pit bulls, to "Pup Crew." The public should in no way think that "Pup" implies puppies or unspecified dog breeds. Pup Crew only involves breed-specific pit bull advocacy.
1
Also notably,
Pup Crew is a trademarked clothing brand
, apparently, mainly for smaller cute dogs,
like the ones pit bulls frequently eviscerate
. Why do we think the makers of Pup Crew do not want any association to a humane society that just adopted out a pit bull that fatally attacked a 6-year old boy? Moreover, why would Pup Crew want their clothing brand associated to breed-specific pit bull advocacy whose primary function is carrying out aggressive pit bull adoption campaigns?
New Pit Bull Initiative
In AHS's new breed-specific pit bull program, they offer to pay pit bull owners $20 dollars cash,
if only
they would bring their pit bull in for FREE spay or neuter services. It is not enough that the surgical procedure is FREE, a charity only for pit bulls, they have to add $20 cash on top of it and a "free collar, ID tag and microchip." Other changes on the web page include eliminating the first sentence of the main description:
"Pit bulls are often misunderstood and discriminated against."
The revised Project Pit Bull page does keep, "These dogs are grossly misunderstood." Like the pit bull handed out to Joshua's neighbor.
Lastly, the
WLOS video makes it clear
that the Asheville Humane Society would not agree to an interview. "Today the humane society declined a request for an interview." And added, "This week, the organization removed a web page linking you to their pit bull campaign, which is meant to raise awareness about the breed. Staff say it is a temporary move out of respect for the family." "Staff" is a
non-specific sell out
and AHS's alleged "respect" for the family
vanished
when they republished.
The only other message we have for readers is a reply to a Tweet we sent out earlier regarding the
aggressive and misleading 4th of July pit bull adoption
promotion by AHS.
HomeLifeSanctuary responded
: "@dogsbite I just can't believe this. I can't bear to look at the face of that poor little boy. Animal rescue has lost its soul." In the case of the AHS, we do not believe they had one to begin with. After adopting out a killer, they bounced right back with a cheery message about pit bulls.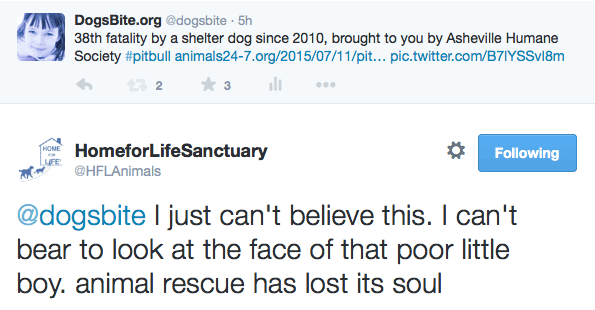 ---
07/09/15: Humane Society Named
Just after posting the below update, we received word that the Henderson County Sheriff's Office
issued an update to their Facebook page
naming the
Asheville Humane Society
as the entity who adopted out the killer pit bull. Now that readers know this, please see our whole July 9 update through these eyes. AHS adopted out the killer pit bull
AND
before being
publicly named
by the sheriff's office, they scrubbed their pit bull promotion programs from their corporate website!
Humane Society Removes Parts of Website
UPDATE 07/09/15:
After a little boy was brutally killed by a recently adopted pit bull, a nearby humane society removed portions of its website dedicated to promoting pit bulls. The Asheville Humane Society, which is located about 30 miles north of Hendersonville in Buncombe County, apparently removed two portions from their corporate website after the boy's mauling death: Project Pit Bull, an awareness campaign, and Want to Join Our Pit Crew?, a volunteer program.
Joshua Strother, 6-years old, was fatally attacked by his neighbor's pit bull on July 7 after he climbed over a fence into his neighbor's yard. The
male, neutered pit bull was about 1-year old
, according to police, and was adopted by Joshua's next door neighbor 3-weeks earlier. Joshua had played with the dog before, which had not shown any aggression since being adopted. Sheriff's officials still have not named the humane society that recently adopted out this child killing pit bull.
The Henderson County Sheriff's Office has only stated that the pit bull was adopted from a humane society in a nearby county 3-weeks ago.
The Asheville Humane Society (AHS) also operates the shelter for Buncombe County, though they are
two separate facilities according to their website
. "Since 1990 Asheville Humane Society animal care professionals have operated the Buncombe County Animal Shelter operations under contracts with Buncombe County and City of Asheville," states the website. AHS hopes to build a "
no-kill community
" in Asheville and has partnerships with
Best Friends
, the
ASPCA
and more.
Portions that Were Removed
The central question is: Why would AHS, located in an adjacent county to the fatal attack, remove parts of its website that promoted pit bulls just after this boy's mauling death? On June 19, AHS kicked off their Project Pit Bull, Awareness and Action Campaign with its
first
event, a community forum. The
forum focused on ending "breed discrimination"
and selling the public disinformation about pit bulls. The community forum was the
first
of the campaign's free services for pit bulls.
As pointed out by DogsBite commenter Littlebluetinkerbell last night, "awareness and action campaigns" usually last several months and possibly years. But the Asheville Humane Society pulled the entire Project Pit Bull awareness campaign from their corporate website less than one month into the campaign and, apparently, just after this boy's horrific mauling death. Again, authorities have not named the animal shelter that is responsible for adopting out this mauler.
The Asheville Humane Society's Project Pit Bull page is still in Google Cache (
please view here
).
2
Google last captured it on July 5. The actual URL leads to a broken web page because AHS removed this web page (
please view here
). If one looks at their current website, you'll notice that the left column is now missing "Project Pit Bull" in the navigation sidebar for Events and News. It does not end there either. AHS also removed their Pit Crew program from their website.
The Asheville Humane Society's Volunteer page is still in Google Cache (
please view here
).
3
Google last captured it on July 7, the day of the boy's death. If you scroll down about midway, you will see the, Want to Join Our Pit Crew? section. Between July 7 and July 8th, AHS removed this program from their corporate website. Go to their
volunteer page and see for yourself
. Now why would they do this? Because it's
a bad time
to be promoting pit bulls as "grossly misunderstood?"
This certainly could be the case. After their June 19 forum -- which tried to sell to Asheville homeowners, landlords, neighbors and "even the pit bull wary" that BSL does not keep people safe and that pit bulls are wonderful pets -- a little boy died in the jaws of a male, neutered recently adopted out pit bull. Henderson County Sheriff's Office Maj. Frank Stout said the boy "
died a very violent and quick death
." The pit bull attacked the boy's face and neck killing him, Stout said.
You be the judge of why AHS took down these parts of their website in the wake of a fatal pit bull attack. You be the judge of why a humane society, in this case partly supported by taxpayers in their role of operating the county's shelter, continues to delete posts from their Facebook page that mention this young boy. Commenter Wigan
wrote on our Facebook post just a few hours ago
: "Update: [Asheville Humane Society] is deleting posts that mention the boy..." You be the judge.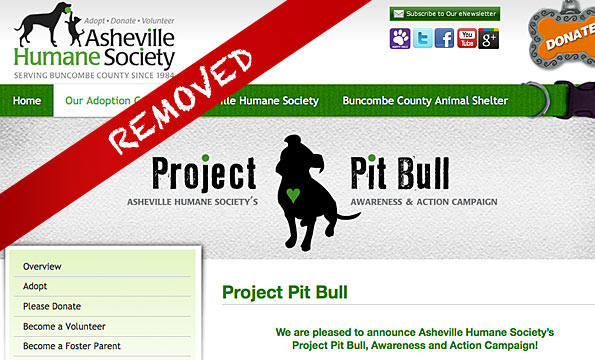 07/08/15: Adopted in a Nearby County
New information is being learned about the pit bull that killed a child. The Citizen-Times reports that Henderson County Sheriff's Office Maj. Frank Stout said the pit bull was a male and a little over a year old. Stout said the owners adopted the dog 3-weeks earlier in a nearby county, with all of the shots and paperwork. Stout declined to name the shelter. Because certainly the public should not be made aware of which agency adopted out a pit bull that in short order killed a child.
Stout did say that part of the investigation will focus on the dog's history. "We're trying to get as much history on this dog as possible," Stout said. "We're just trying to find out the entire chain of events even before the adoption of the dog." Stout also said that Joshua often played with the dog owner's 6-year old daughter, and that both had played with the dog since its arrival without any issues. "There had been nothing to indicate that this dog was aggressive in nature," Stout said.
Jerry Hayes, Josh's great-grandfather who lives at 163 Piney Ridge Drive, said that Joshua would have entered into the first grade at Mills River Elementary School in August. He said that his great-grandson was "smart as a whip" and could count up to 100 forward and backward. Regarding the pit bull, Hayes said, "
You just can't trust a pit bull. But that one seemed tame
. I petted it through the fence. I thought they had gotten a nice dog. But that one won't bother anyone else," he said.
07/07/15: Pit Bull Mauling Victim Identified
The young boy mauled to death by a recently adopted pit bull in Henderson County has been identified as Joshua Phillip Strother. The late night update from Blue Ridge Now communicates portions of the painful 911 call made by the little boy's mother who is 8-months pregnant, according to a neighbor. The news report also indicates the pit bull had only been with the
unnamed
dog's owner and next door neighbor for two weeks before fatally attacking a child.
4
"I went to the bathroom and my boy is dead," the 911 caller says, weeping. "There's blood all over his face."

The mother of Joshua Strother
In the frantic call, the mother tells the dispatcher that her 6-year old son is in the neighbor's fenced backyard at 183 Piney Ridge Drive and that she cannot get inside the fence. The neighbors are not home, she said. The mother tells the dispatcher, "I was in the house. I heard the back door shut, and I come running and I seen him laying in the neighbor's yard." The 911 dispatcher asks her to check whether the child is moving or breathing. "He's not breathing," the mother says.
Investigators suspect the boy climbed the nearly 5-foot tall chain-link fence to play with the pit bull. According to Joseph Strother, the victim's stepbrother, the neighbors got the dog two weeks ago and the dog was familiar with his little brother. "They said the dog's been here two weeks and he's been playing with the dog," Joseph said. The property owners of 183 Piney Ridge Drive were not home when Joshua climbed the fence and was fatally attacked by their recently adopted pit bull.
0707/15: Adopted Pit Bull Kills Child
Hendersonville, NC - In developing story, a pit bull terrier attacked and killed a 6-year old boy Tuesday afternoon, according to the Henderson County Sheriff's Office. Arriving
deputies shot and killed the dog
to get to the child, but it was too late to save his life. The fatal attack happened on the pit bull owner's property on Piney Ridge Drive, according to deputies. At the time of the deadly attack, the boy was visiting his grandparent's home next door to the dog owner's property.
The 911 call was made by the boy's mother. She said she went inside to use the bathroom for a few minutes and returned to find her son lying in the neighbor's yard. She said her son played with the dog and the dog was familiar with him. She told dispatchers that she did not believe her son was breathing, and that the neighbor's gate was locked, so she could not get into their yard. She said her son and other children often climbed the fence and that the homeowners were not home.
Fox Carolina also reported that they would not air the mother's 911 call and were told by people at the scene that the mother is pregnant.

5
The Citizen-Times reports
that deputies responded to a call at 163 Piney Ridge Drive near Mountain Home, a news release from Maj. Frank Stout states. When deputies and emergency responders arrived on scene they were unable to reach the boy due to the pit bull's continued aggression. Deputies shot and killed the pit bull, then deputies and emergency responders pushed down a fence to gain access to the child, who did not respond to medical treatment, Stout said.
Recently Adopted Pit Bull
News 13 reports that Henderson County Sheriff Charles McDonald does not believe
there is any evidence of criminal wrongdoing
at this time. Sheriff McDonald said the
recently adopted pit bull
was next door in a fenced-in backyard. Deputies continue to investigate how the child got into the area. Roger Burns lives nearby. He said that his own son, who is 10-years old, had intended to go play with the boy. Then his son told him, "I can't play with him. He's in the yard dead, daddy."
---
---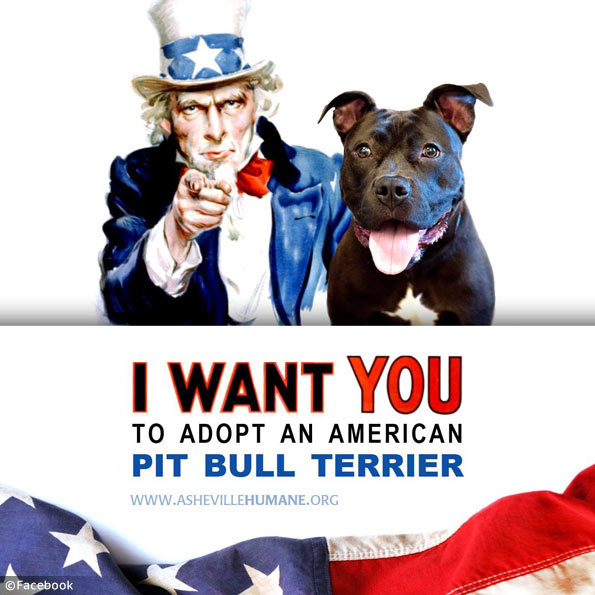 Related articles:
07/22/15:
Letter: Difficulty in Assessing Level of Aggression in Pit Bulls Can Lead to Tragedy
07/11/15:
Boyle Column: Stats Don't Lie About Dangers Of Pit Bulls - Citizen Times
11/03/14:
2014 Dog Bite Fatality: Woman Dies After Violent Pit Bull Attack in Robeson County
05/06/14:
2014 Dog Bite Fatality: Rottweiler Kills Toddler in Caldwell County, North Carolina
02/14/14:
2014 Dog Bite Fatality: 3-Year Old Girl Killed by Family Pit Bull in North Carolina
07/26/13:
Beyond the Interview: Essay of a Fatal Pit Bull Mauling - DogsBite.org
Labels: 2015 Dog Bite Fatality, Adopted Dog Kills, Asheville Humane Society, ASPCA, Best Friends Animal Society, Fatal Pit Bull Attack, No-Kill Fanatics, North Carolina, Pit Bull Rescue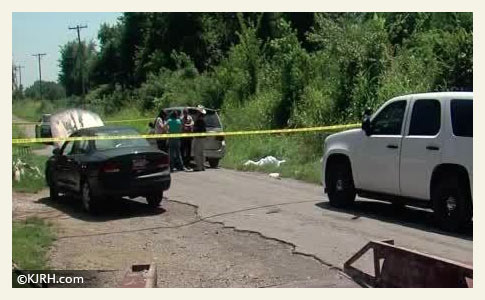 Dogs Kill Woman
Redbird, OK - An 67-year old woman is dead after being brutally attacked by a pack of dogs Friday. Witnesses said the attack occurred on South Main Street. Wagoner County Sheriff Bob Colbert identified the victim as Carolyn Sue Lamp of Coweta. Sheriff Colbert said she was walking, collecting cans when she was attacked and killed by three dogs. One witness came to her aid and tried the pull the dogs off her, but by the time deputies arrived she was dead, lying in a ditch.
Sheriff Colbert
does not believe anyone will claim ownership
of the dogs. "But our investigation will continue, and we will present our findings to the district attorney and see if there will be any charges," Colbert said. KJRH.com
identified the dog breeds as three pit bulls and a rottweiler
. Residents told them the scene was gruesome and that Lamp was unrecognizable after the attack. Like in many
fatal pit bull attacks
and pack attacks, the dogs ripped off all of her clothes too.
Fox 23 news reporter Eddie Randle
spoke to Sheriff Colbert and several deputies
who said that all of the dogs were pit bulls. Colbert also said that last year, Lamb asked the nearby residents if she could feed these same dogs (apparently they were strays). "Its ironic," Colbert said, "this lady offered to help these same dogs that a year later took her life." No one who lived nearby claimed ownership, but told Randle that they do feed them. All of the dogs were seized and quarantined.
Long Time Stray Dog Problem
A variety of news sources and residents are commenting about the long time problem of stray dogs or owned dogs running loose in the area. Sheriff Colbert is aware of the problem, but said that the sheriff's office cannot help with animal control. Oklahoma state law only allows for cities with a population of 250,000 or more to be assigned an animal control officer. Small communities like Redbird (
population 137
) have no agency to call for help. Now an innocent woman is dead.
Tulsa 8 News interviewed two residents, one of whom tied to help Lamp, but she was already dead when he found her. "Oh yeah, she was dead, she wasn't breathing. You could look at her and tell that she wasn't breathing," he said, who asked to remain anonymous. Annette Panter, who lives just down the street, said as
recently as this morning she shot at about 4 or 5 dogs
. Panter said she always carries a gun because of the frequency of encountering aggressive stray dogs.
Related articles:
06/29/15:
2015 Dog Bite Fatality: Pit Bull Kills Child Under Babysitter's Watch...
09/30/12:
2012 Dog Bite Fatality: Oklahoma Woman Killed by Pit Bull in Her Home
08/27/12:
2012 Dog Bite Fatality: Elderly Oklahoma Man Killed by Two Pit Bulls
09/28/11:
2011 Dog Bite Fatality: Ardmore Man Mauled to Death by Chained Pit Bull
Labels: 2015 Dog Bite Fatality, Fatal Pack Attack, Fatal Pit Bull Attack, Oklahoma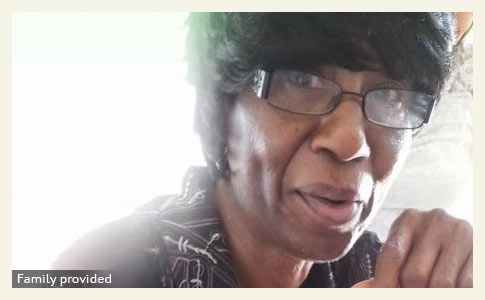 Family Seeks Change
UPDATE 07/23/15:
After a beloved grandmother was mauled to death by a pit bull, her family is setting up a foundation called, Any Salvation. Annie Williams, 71, was picking up her two great granddaughters from a home in Shaker Heights, where they were with their father, when a pit bull belonging to someone in the home brutally attacked her in the driveway. A 13-year old, who was in Williams' car, and her two great grandchildren, ages 7 and 8, witnessed the horrendous attack.
Family members
are now looking for someone in real need
to give Williams' furniture, clothing, some household items and appliances to. "Since she was such a caring and giving woman, what better thing to do than to give it to someone who needs it," said her granddaughter, Tequila Williams. Another one of her granddaughters, Secunda Starr, added, "I want somebody that will benefit from it greatly and really take care of it and need it. I want someone to actually need it."
Family members also hope to make legislative changes in pit bull ownership. "We're all going to be very proactive in making sure that what happened to our grandmother does not continue to happen to other people," Tequila said. "What does it take for legislation, for representatives, for the law to see that this is an animal that no matter how kind you are to it, it cannot be controlled?" Annie is the
5th person killed by a pit bull in Ohio
since the state dropped its pit bull law in 2012.
Follow, Scorched Earth, the Politics of Pit Bulls, to stay informed about pit bull issues in Ohio.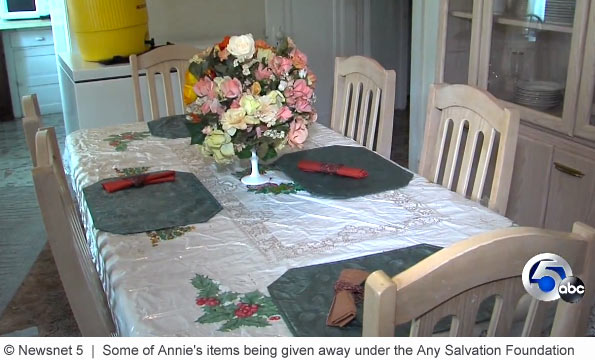 07/14/15: Cause of Death Released
A county medical examiner said that 71-year old Annie Williams who was attacked by a pit bull died from bite wounds and crushing injuries to her neck, throat and body. On Sunday, Williams stopped by a relative's home in Shaker Heights where the pit bull lived. The dog viciously attacked her in the homeowner's driveway as soon as she exited her vehicle. A 13-year old inside Williams' car witnessed the violent attack, along with at least two other children at the relative's home.
Additional Developments
The most recent Fox 8 update includes
clarifications about family members
. Williams was at the home to pick up her two great grandchildren. Tequila Williams is one of several granddaughters. Another granddaughter, Secunda Starr, was at the home and witnessed the attack. Starr said the pit bull was on the home's front stoop just before the attack. "The dog immediately skipped a step and jumped off and attacked my grandma," Starr said. She tried to pull the dog off Williams.
The female relatives that Fox 8 interviewed said the same pit bull had recently attacked another dog in the home. Tequila wants those responsible to accept responsibility. "I want justice, the people responsible to accept responsibility," she said. Tequila is horrified in the manner of her death. "I'm just so sorry this happened to her. She was a beautiful woman and didn't deserve to die this way," she said. She prays that while being attacked she did not suffer too long.
Yesterday's
update from WKYC
shows the doghouse in the backyard of the home and a gaping
hole in the chain-link fence
. Dog ownership details, however, still remain murky. 19 Action News identified Jerome Green as
the owner of the home on Pennington Road
. Green might eventually be on the hook for civil damages if the dog's owner remains unidentified. Police are investigating other animal complaints in the neighborhood to see if any are related to Sunday's lethal attack.
07/13/15: Woman Dies After Dog Attack
Shaker Heights, OH - An elderly woman has died after a vicious dog attack. The Cuyahoga County Medical Examiner's Office identified the woman as 71-year old Annie Williams. The attack occurred Sunday in the 3600 hundred block of Pennington Road. The 911 caller identified the attacking dog as a "beige pit bull." The dog was fired upon by someone at the scene. Williams was taken to South Point Hospital where she later died. An autopsy is scheduled for Monday.
"The dog just ran off. I don't know if they found the dog. It was a beige pit bull ... he's got blood all around its mouth."

- 911 caller #1
Cleveland.com clarifies that it was a
neighbor who initially shot the pit bull
. Shaker Heights police later located the dog in a backyard and shot and killed it. Darlene White, 45, witnessed the attack from her home two doors down. From her window she saw Williams on the ground. Several neighbors rushed to help. Another neighbor shot the dog as it continued attacking Williams. White said she heard police fire three gunshots. She said the entire attack lasted about 10-minutes.
"She was just basically laying there, lifeless ... All I know is there was blood everywhere. He did a nasty job."

- Witness Darlene White
White said she has only seen the pit bull a few times, it's usually chained up behind her neighbor's house, she said. At least two people called 911. Cleveland.com has the recording of the second caller. "There is a dog on a person across the street," the caller told dispatch. "He's on top of a lady. Somebody is trying to get him off, they can't get him off!" she said. "It's a pit ... Somebody just shot him ... I heard a gunshot and ran back inside. I'm not going back out there!" said the caller.
ABC 5 reports that
police confirmed the dog was a pit bull
. 19 Action News reports that the victim was at the home picking up her two great granddaughters from their father when the dog attacked. A 13-year old relative
was also inside Williams' car during the horrific mauling
and the ensuing gunfire. Family members said the dog's owner lives in the home where Williams was picking up the two children. The pit bull was not licensed in Cuyahoga County, 19 Action News reports.
Tequila Williams, one of her granddaughters, said, "I didn't get to see her before this happened. She was always there for everybody. A stranger in the street, it didn't matter who it was. She was the sweetest person and her grandkids loved her," Tequila said. Shaker Heights police continue their investigation and are awaiting autopsy results from the Cuyahoga County Medical Examiner's Office. William's violent mauling death marks the third
U.S. fatal pit bull attack
in a 10-day period.
Late Afternoon Updates
In an afternoon update by ABC 5, Tequila Williams said her two daughters, 7 and 8-years old,
witnessed the violent attack from the window
of their father's home. Williams was at the home to pick them both up. "My 8-year-old daughter answered the phone screaming and crying saying, 'Grandma, the dog just killed grandma, it bit her in the neck and they're trying to stop the blood,'" Tequila said. She also told ABC 5 that she was unaware the pit bull was even at the house.
"I asked [my daughter] where did this dog come from and she said that they kept it, it was in the backyard and they never let it out and only their father and grandmother were the ones allowed by the dog," Tequila said. A recent AP report states that Shaker Heights police Cmdr. John Cole said that that no one has been arrested and
no one living in the home has claimed ownership
of the dog. Cole stated that the attack occurred on the driveway of the property of Williams' relatives.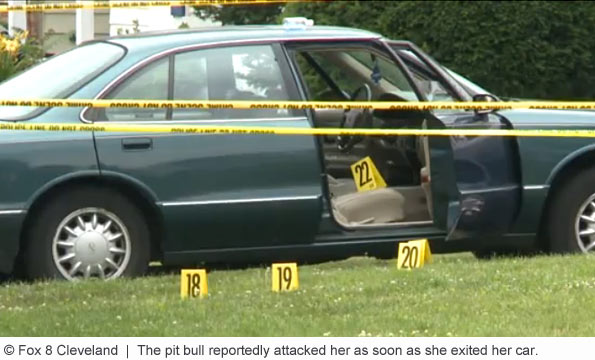 Related articles:
08/07/14:
2014 Dog Bite Fatality: Ohio Woman, 59, Attacked and Killed by Her Daughter's Pit Bull
07/22/14:
2014 Dog Bite Fatality: Visiting Child Under Babysitter's Care Killed by Family Pit Bull...
07/02/14:
Director of the Division of Craniofacial and Pediatric Plastic Surgery at Cincinnati...
02/21/14:
2014 Dog Bite Fatality: Pit Bull Type Dogs Attack, Strip Naked and Kill Dayton Woman
Labels: 2015 Dog Bite Fatality, Fatal Pit Bull Attack, Ohio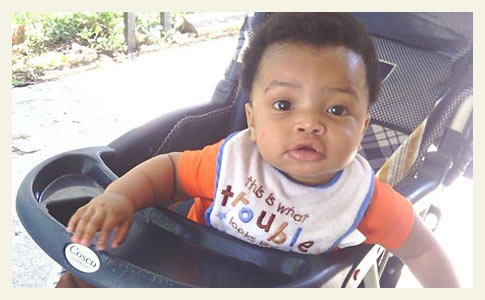 Pit Bull Owner Indicted
UPDATE 07/22/15:
Just over a year after a babysitter's pit bull horrifically mauled a baby to death, a Montgomery County grand jury has indicted the babysitter on six felony counts. Kimiko Hardy, 37, the infant's step-grandmother, had full knowledge that her pit bull was dangerous when it attacked and killed 7-month old Johnathan Quarles Jr. on July 20, 2014 at her home on Riverside Drive. The little boy's family was visiting Dayton from Indianapolis and attending family events.
"This defendant was well aware that her dog was a dangerous, even vicious animal, yet she failed to properly control the animal and it killed a completely helpless infant,"

Montgomery County Prosecutor Mat Heck Jr.
Prior to killing Johnathan, Hardy's pit bull, named Bussa, charged a letter carrier in April 2014, which caused the worker to miss 2-weeks of work and the U.S. Postal Service ceased delivering mail to Hardy's home for 6-months. In the weeks leading up to the deadly attack, Bussa attacked a beagle owned by Isabelle Crickmore as they walked by Hardy's home. After that incident, Hardy attended required classes on "responsible dog ownership," according to the prosecutor's office.
The grand jury indicted Kimiko Hardy on four counts of involuntary manslaughter, one count of endangering children and one count of failure to confine or restrain a vicious dog, according to a news release from the prosecutor's office. Given how much time has passed since Jonathan's mauling death, combined with the
horrific injustice of Klonda Richey's death
, including by this prosecutor's office, we did not believe any significant charges would ever be filed against Hardy.
07/22/14: Cages Seized; Postal Attack
Several key updates about the baby's death were made over the course of last night. Homicide detectives returned to the babysitter's home and seized
two dog cages, a bag full of evidence and a hefty metal chain
from the backyard. A family spokesman had earlier said that the babysitter's pit bull had been behind a baby gate; the dog jumped over the gate and attacked the baby. The outlook does not appear bright for Kimiko Hardy, who had the means to crate and secure the dog.
In addition to the June 3 attack involving a pet beagle,
records obtained by the Dayton Daily News
show that on April 25, animal control officers responded to a complaint from the Northridge Post Office that one of its carriers was attacked by a dog at the Hardy's home. The letter carrier escaped injuries by puting his satchel between his leg and the dog. Hardy was cited for failing to have the dog licensed and was given education. She bought a license for the dog five days later.
07/21/14: Baby Identified, Prelim Ruling
The Montgomery County Coroner's Office has ruled the cause of death of an infant attacked and killed by his babysitter's pit bull an accident. Johnathan Quarles Jr., 7-months old, died of blunt force injuries, according to the coroner's preliminary findings. The final coroner's report of the infant, who was visiting from Indianapolis, Indiana, will not be completed for up to 8-weeks. On Sunday, while under the care of his step-grandmother, Johnathan was killed by her pet pit bull.
ABC 22 Now reports that a family spokesman, the Rev. Victor Lee, said the family told him the dog jumped over a gate and attacked the boy. The step-grandmother tried to get the dog off, but could not. The news group also took a
closer look at the June 3 incident involving the same pit bull
. Isabelle Crickmore of Dayton was walking her beagle, named Riba, in front of 2219 Riverside Drive when the pit bull attacked. Riba received three lacerations and 11 staples, Crickmore said.
There is a criminal misdemeanor complaint against the step-grandmother for the June 3 attack. Court records show that a pre-trial hearing for the complaint was postponed last week. "I don't know if she did not show up or what circumstances allowed for a second continuance," Crickmore said. "When I saw that, it just blew me away." She wishes the legal system was quicker and that it did more on June 3. "It just really irks me because this could have been taken care of," she said.
07/20/14: History of Animal Aggression
Additional information has been released. The babysitter is not biologically related to the baby and is now being called the baby's step-grandmother, according to police. The attacking dog is also being called an American Staffordshire terrier,
which is the legal definition of a pit bull
. The two dog breeds are the very same breed, which is why a
single pit bull can still be cross-registered
at the UKC as an American pit bull terrier and at the AKC as an American Staffordshire terrier.
According to the Montgomery County coroner's investigation, the baby is from out of state. The child's name has not been released pending notification to family members. The attacking pit bull has a history of animal aggression. A June 3 Dayton Police report shows that the pit bull attacked a beagle that was on a leash and being walked by its owner in front of the step-grandmother's home. The beagle's owner did not want to press charges, but "wanted the incident documented."
07/20/14: Family Pit Bull Kills Baby
Dayton, OH - In a developing story, homicide detectives where called out to a home on Sunday after a baby was killed by a family pit bull. The attack occurred at a home on the 2200 block of Riverside Drive at about 12:30 pm. At the time of the attack, the child's grandmother was
babysitting the child
. According to police, the grandmother took her eyes off the child for a "few seconds" when the pit bull attacked. The dog was seized by animal control and taken away.
Dayton Daily News reports additional information. The
pit bull belongs to the grandmother
who was watching the child for the day. Additionally, the on scene police supervisor said that the baby
does not live at the address
where the attack occurred. As is so often reported by DogsBite.org in occurrences of fatal attacks, this child was
visiting the dog owner's home
when the fatal attack occurred, and the child was under the care of a babysitter. More information is expected shortly.
Visiting Child + Babysitter + Pit Bull = Extremely Dangerous.
Separately, this is the second fatal dog attack in the City of Dayton in 2014. In early February, 57-year old
Klonda Richey was brutally killed by her neighbor's two pit bull-type dogs
after she stepped outside her home. Prior to the attack, Klonda had made at least 16 calls to 911 reporting problems with the dogs; had installed a double tiered security fence and surveillance cameras for protection and had attempted to get a civil stalking protection order against the dogs' owner.
Related articles:
07/15/14:
New Brunswick Pit Bull Attack: Babysitting, the Zero Margin of Error Rule and...
09/24/13:
2013 Dog Bite Fatality: Boy Killed by Pit Bull-Mixes at Babysitter's Home in Gilbert
07/26/13:
Beyond the Interview - Essay of a Fatal Pit Bull Mauling
04/24/13:
2013 Dog Bite Fatality: 4-Year Old Mauled by Pit Bull Dies; Babysitter Arrested
01/21/13:
2013 Dog Bite Fatality: Dog Mauls Woman to Death While Babysitting Toddler
Photos:
WTHR.com
|
WHIO.com
Labels: 2014 Dog Bite Fatality, Babysitting, Infant Fatality, Ohio, Pit Bull Kills Family Member, Visiting Child
Couple Sentenced
UPDATE 07/14/15:
Today a Lapeer County judge sentenced the owners of two cane corsos that mauled a jogger to death last year. Sebastiano Quagliata, 46, and his wife, Valbona Lucaj, 45, were sentenced to 57 months to 15 years in prison, which is just shy of 5-years behind bars. The couple's cane corsos had
attacked two victims before fatally attacking Craig Systma
, 46, on July 23, 2014 as he jogged down a rural road. The two may face deportation upon release from jail.
The couple was originally charged with second-degree murder and harboring a dangerous animal causing death. In April, both defendants pleaded no-contest to the lesser charge of harboring a dangerous animal causing death, a 15-year felony. At that time, Lapeer County Prosecutor Tim Turkelson predicted a sentence of 19 to 38 months. The sentence that Judge Nick Holowka handed down today was much higher. Both defendants have already served nearly a year in jail.
"This court cannot imagine a death more miserable or gruesome than suffered by the victim Mr. Sytsma."

- Lapeer County Chief Circuit Judge Nick Holowka
Before sentencing, both defendants apologized to the court and Craig's parents, Richard and Jacqui Sytsma,
gave emotional victims' impact statements
. "This has been a tragedy for all of us," Jacqui said, struggling through tears. "But we have to be accountable for what happened ... this was the third time the dogs had been involved in something like this. And the third time the dogs took a life," she said. Her husband Richard told the court, "This could have been prevented."
Currently, Craig's parents are tying to advance legislation that will prevent a similar tragedy from ever happening to someone else. They hope to see the legislation re-introduced this summer.
04/24/15: Plea Deal Reached, Trial Averted
Both defendants charged with second-degree murder in the horrific dog mauling death of Craig Sytsma last July have accepted a plea agreement. On Friday, Sebastiano Quagliata and Valbona Lucaj pleaded no contest to harboring a dangerous animal causing death, a charge that carries up to 15-years in prison. A second-degree murder conviction by a jury carried a
life in prison
possibility. Lapeer County Prosecutor Tim Turkelson predicts a sentence of 19 to 38 months.
The husband and wife were charged with second-degree murder after their two cane corsos
brutally killed 46-year old Craig Sytsma who was jogging on a road
near their Metamora home on July 23, 2014. The dogs had a history of previous attacks and escaping their pen. Turkelson said that after an evidentiary hearing last week, some evidence could not be used. "[The rulings] made it more complicated," he said. "It made it, quite frankly, a less strong second-degree murder case."
"I think that we had a solid second-degree murder case. Once, however, the judge made some of the evidentiary rulings, that the court made, it made it more complicated. It made it, quite frankly, a less strong second-degree murder case. That's why we felt that the appropriate resolution was a plea to count two. That would ensure that they would take responsibility for what they did to Craig and also ensure they went to prison. We felt that was the most appropriate resolution under the circumstances. We discussed this with the victim's family. Ultimately they were in agreement with our decision. That's why we went forward today with that resolution."

- Lapeer County Prosecutor Tim Turkelson
On Friday, the immigration status of the two was still murky. Mlive.com first reported that the two admitted they were illegal immigrants then removed this assertion from their headline.
1
Reports that the couple was facing "imminent" deportation at the time of the attack arose about a week after Sytsma's death. Turkelson said that after sentencing, he would submit all information to U.S. Immigration and Customs Enforcement. Federal action could result, he said, including deportation.
Defense attorney Jason Malkiewicz has repeatedly stated that his clients are not illegal immigrants. In
Friday's report from the Detroit Free Press
, Malkiewicz said the two are "lawfully present in the U.S., they are just not citizens." Glenn Saltsman, the attorney representing the family of the victim, was quick to clarify however, "Because they don't have immigration status, they can be deported when their sentences are completed. That's a serious consequence."
The sentencing is scheduled for June 8. Sytsma's family is expected to speak at the hearing.
09/13/14: Couple Bound Over for Trial
At the end of the preliminary examination on Friday, Lapeer County District Judge Laura Barnard ordered the couple bound over to face trial in a circuit county court. Sebastiano Quagliata and Valbona Lucaj will stand trial for second-degree murder and harboring a dangerous animal causing death after their two cane corsos viciously attacked and killed a jogger on July 23. The couple will be arraigned on September 22. The bond for each defendant remains at $500,000.
Prosecutors showed through witness testimony and evidence that the couple knew the dogs were dangerous and could attack or kill. They also showed that the owners knew the dogs had a habit of escaping their pen. On Friday, Lapeer County Sheriff's Detective Sgt. Jason Parks testified that Quagliata told him after the death of Craig Sytsma that
his dogs had escaped their pen
numerous times. Judge Barnard clearly believed the two had knowledge their dogs were dangerous animals.
"This is a very difficult situation for everyone for involved. Each of the parties did create a high risk of death by their behavior or lack of behavior."

- Lapeer County District Judge Laura Barnard
Animal Control Testimony
The defense called Lapeer County Animal Control Chief Carla Frantz to testify about her knowledge of the two previous attacks in 2012 and 2013. The defense asked why the dogs were not taken away then? Frantz testified that she did the investigation in 2012 and another officer investigated the 2013 biting incident. "It was a year-and-a-half between bites," Frantz said. "There were no other complaints." She added that at that time, the owners were "very cooperative."
DogsBite.org interjects here by adding: Of course the owners were cooperative, they wanted to get their papered, breeding cane corsos back. Were Quagliata and Lucaj cooperative with the victims too? Since both victims filed civil lawsuits against them, we presume they were not. Recall that Quagliata also pleaded with the second victim, "don't call the cops" and offered him a financial bribe. Neither of the pair showed up for a court hearing involving the 2013 bite victim either.
The Detroit Free Press has
additional information about testimony given by Frantz
. She testified that "her department had no record-keeping method to keep track of dogs that repeatedly bite people," according to the Free Press. Despite two separate biting incidents, apparently because they were 1.5 years apart, Frantz saw no reason to pursue a dangerous dog designation. Then Frantz whips herself into a contradiction that defense will surely use during the actual trial.
When she heard about the fatal mauling on July 23, she testified, "I knew of the address. I was not really surprised because of the breed of the dogs."

- Lapeer County Animal Control Chief Carla Frantz
DogsBite.org understands that wires get crossed, particularly when an agency, operating like a third world country, had "no record-keeping method" to track repeat biters. We wish we could see the transcript of this hearing to better evaluate the context of Frantz's testimony. Given these limitations, it appears Frantz had no concern after the second bite or lacked knowledge of it.
2
But after learning of the
fatal attack
, Frantz quickly connected these dogs to it
due to their breed
.
Animal Control Breakdown
While animal control officers often have their hands tied due to poor local, county or state laws, there is no question that many fatal and serious dog attacks are the result of negligence on the part of animal control (difficult to prove in court, however, see:
piercing governmental immunity
). It is important to point out that early on in this case, the animal control agency in the neighboring county of Oakland said they would have
asked for a review by prosecutors after the second bite
.
Lapeer County Prosecutor Tim Turkelson says his office was never notified of vicious dogs biting pedestrians and roaming free in Metamora Township and would have taken action before two of those dogs killed a jogger last week.
"Unfortunately, there were red flags all over the place," Turkelson said in a phone interview this morning. Had his office been notified by Lapeer County Animal Control of repeated attacks, he said, he would have taken action to have the dogs destroyed.
--- snip ---
At that point [after the second bite] animal control officers could have taken the matter to the prosecutor, arguing a pattern of dangerous behavior. "They never notified us," Turkelson said.

- Lapeer County Prosecutor Tim Turkelson, July 29, Detroit Free Press
09/04/14: Police Reports Released
Lapeer, MI - On July 23,
Craig Sytsma was brutally killed by two cane corsos
with a history of aggression while jogging on a rural Metamora Township road. The dogs' owners, Sebastiano Quagliata and Valbona Lucaj, were subsequently charged with second-degree murder and possessing an animal causing death. A preliminary examination has been unfolding to determine if there is enough evidence for the couple to stand trial. Testimony continues on September 12.
The examination began with
testimony from the couple's veterinarian on August 15
. Shelley Wallace examined two adult cane corsos owned by the pair three months before Sytsma's death. She testified that she found both dogs to be "aggressive" and "dangerous" and warned their owners that they needed to seek help from an animal behaviorist. It took three people to pin each dog, both muzzled, against a wall for her to
perform a 15-second exam due to their aggression
.
After two separate examinations of dogs Toni and Princess, Wallace talked with owner Valbona Lucaj about the dogs' aggression.
I told the owner I felt the dogs were very aggressive and may be dangerous," she said during a preliminary examination in Lapeer County District Court for Lucaj, a native of Albania, and her husband Sebastiano Quagliata, a native of Italy.

- Shelley Wallace, veterinarian, Mlive.com, August 15, 2014
The two adult cane corsos that Wallace examined that day were Toni and Princess. It was Toni and Julia, however, that attacked and killed Craig Sytsma. The couple owned three adult cane corsos, a 4-month old and seven cane corso young puppies. The three adults were euthanized and the eight remaining dogs were shipped to a rescue in Austin, Texas. According to prosecutors, each papered cane corso was sterilized before being shipped to this out-of-state jurisdiction.
3
If readers recall, at the time of Sytsma's death, Quagliata and Lucaj were attempting to sell the young puppies on Hoobly.com. Along with advertising the puppies for sale, the couple included the
International Cane Corso Federation (ICCF) papers of the sire and dam
: Toni (born April 26, 2013) and Julia (born December 31, 2010). According to testimony by Wallace, at the ripe age of 1-year old, she ranked Toni a
whopping 9.5 on a scale of 10
in his aggression; she ranked Princess 9.
View a photograph of the defendants' three adult cane corsos (DogsBite.org added the names).
At the time of the April 2014 veterinary examination, one or more of these dogs had already attacked two people on the same rural Metamora Township road. April Smith, 25 of Oxford, was attacked in May 2012 and resident Jim Salego, 73, was attacked in November 2013. Both filed civil lawsuits. Lucaj did not reveal to Wallace during the 2014 examination either of these prior biting incidents. Wallace noted in the files of both dogs, "DWB," which stands for "Dogs Will Bite."
Testimony by Neighbors & Victims
When neighbors Edward Elmer and his girlfriend, Helen Barwig, rushed to help Sytsma that day, the victim already knew that he was dying. Elmer testified, "At first I did not know what I was seeing.
Then I realized it was the jogger with two dogs hanging from him
." Elmer had waved to Sytsma only moments before when he saw him jogging as he mowed his lawn. He yelled to Barwig and ran and got a gun, firing once into the air and three times at the dogs. One shot hit.
Elmer's girlfriend, Helen Barwig, a trained EMT technician and first responder, ran to Sytsma to try to save him, applying a tourniquet to his shoulder and using paper towels to stop the bleeding. He was "pouring" blood, she said, and begging her to save him.
"Then he reached and grabbed my arm, and then he went limp," she testified.
Sytsma's family members wept quietly in the front row of the courtroom as she testified.

- Detroit Free Press, Aug. 29, 2014
Both victims previously attacked by the cane corsos owned by the couple also testified. One of the dogs, presumably Julia, attacked April Smith on May 14, 2012 as she walked with her sister and her sister's dogs down Thomas Road. The dog began following them as they passed by the owner's home. The loose dog then attacked Smith, biting her three times. "It latched on and broke away all three times," she said. Smith sued the owners and was awarded a $20,000 judgment.
Dog Owner Offered Victim a Bribe
Jim Salego who was attacked on November 21, 2013 while walking along Thomas Road also testified. Salego told a packed courtroom that three of the large dogs came "flying down the hill," as fast as they could run. "They began to circle me," he said, "I had my stick going back and forth trying to get them off me." After he was bitten in the leg, Quagliata came out of the house and called his dogs off. "
He said, 'Don't call the cops; I'll pay you money
,'" Salego recalled.
Salego ignored the bribe and instead whipped out his phone and dialed 911 and told him, "'Yes, I am calling police. I have blood running down my leg.'" Both Quagliata and Lucaj are currently under investigation by
U.S. federal officials after Lucaj paid a $3,000 bribe
to an immigration officer in 1997 to grant her asylum, according to federal court filings. At the time of Sytsma's death, the couple had been facing "imminent deportation." The couple's defense attorneys deny this.
Quagliata and Lucaj have separate defense attorneys in connection to the death of Sytsma. Lucaj and their three children were in Boston at the time of the fatal mauling. Lucaj still knew about the veterinarian's warning three months before his death and the previous bite victims in 2012 and 2013. Neither of the pair showed up for a court hearing involving the 2013 bite case either. For these reasons, and likely others, prosecutors chose to charge both with second-degree murder.
After the mauling death of Diane Whipple in 2001, prosecutors also charged a
husband and wife pair, Robert Noel and Marjorie Knoller
, even though Noel was not present when the dogs fatally attacked. A grand jury indicted Knoller for second-degree murder and indicted them both for involuntary manslaughter and felony charges of keeping a mischievous dog. A jury found the couple guilty on all charges in 2002. Knoller is currently serving her sentence in a state prison.
Testimony Resumes in September
Examination testimony resumes on September 12. Thus far, a significant amount of evidence has been presented that shows the dogs' owners had full knowledge of their dogs' viciousness. Does the evidence also succeed to show the couple had a
wanton disregard for human life?
Police records indicate that Quagliata also had
full knowledge that his powerful dogs repeatedly dug out
of their chain-link kennel. On the evening of Sytsma's death, Quagliata told sheriff's investigators:
"Quatliata stated that the dogs dig under the kennel and escape(ed)," the report stated. "Quatliata stated that this occurred numerous times prior (would not give a number when asked) and that was how they were escaping from the kennel."

- Mlive.com, August 15, 2014
Lastly, at least one buyer of a puppy from Quagliata and Lucaj has testified so far. After Robert Pitcavage heard about the fatal attack, he contacted police. He purchased a puppy from the couple in July for $900. Just prior to paying, he said he wanted to meet the parents of the puppy. "I was really disturbed," he testified. "Walking up there I noticed the pen and the structure of the chain length fence was torn up." The dogs then attacked the cyclone fence as he stood there.
"It literally grabbed on the fence," he said. "I didn't realize the strength of their jaws." Poor naïve Pitcavage then testified that his dog -- presumably a 3 to 4-month old "puppy" -- is well-tempered and that his family has not had any issues with the dog. Yet, puppies are puppies and usually have no way of being adequately tested for aggression until they reach adulthood, which is at least 12-months old, preferably 18-months of age.
Pitcavage is not out of the woods in our opinion!
Related articles:
08/02/14:
2014 Dog Bite Fatality: Two Cane Corsos Brutally Attack and Kill Jogger in Metamora
Labels: 2014 Dog Bite Fatality, Cane Corso, Craig Sytsma, Criminal Charges, Jogger, Lapeer County, Michigan, Second-Degree Murder
Jury Verdict: Babysitter is Guilty on All Four Counts
Babysitter Sentenced
UPDATE 07/13/15:
On Monday, a Jasper County judge sentenced Jena Maria Wright, 27, to no more than 10-years in prison in connection to the dog mauling death of
4-year old Jordyn Arndt
. Back in May, a jury convicted Wright on all four counts after Wright's pit bull savagely killed Jordyn while under her care on April 22, 2013. Wright was found guilty of felony child endangerment resulting in death, felony neglect and abandonment of a child, as well as two misdemeanor counts.
Wright received 10-years in prison for each felony count. The judge also issued 3-years for the two misdemeanor counts: one year for assaulting a police officer and 2-years for interference with official acts during her arrest.
All sentences will run concurrently
, meaning Wright will serve a maximum of 10-years behind bars. Also, for the first time, Wright addressed the court, speaking for about 4-minutes. Fighting back tears, Wright apologized to Jordyn's mother, Jessica Arndt.
We believe that justice for Jordyn has finally been served. Our hearts go out to Jordyn's parents as they begin the painful journey of trying to heal.
The conviction and sentencing of Wright follows several other recent high profile fatal pit bull attack criminal trials that also yielded substantial penalties. In 2014, Alex Donald Jackson, 31 of California, was
sentenced to 15-years in state prison
for the death of Pamela Devitt, 63, after his four pit bulls brutally attacked and killed her. In 2013, Edward Daniels II, 21 of Florida, was
sentenced to 10-years in prison
after his two pit bull-mixes brutally killed 7-year old Tyler Jett.
05/14/15: Jury: Guilty on All Counts
After two hours of deliberating Thursday morning, a Jasper County jury came back with a
guilty verdict on all four counts
. Jena Marie Wright, 26 of Prairie City, was found guilty of felony child endangerment resulting in death and felony neglect and abandonment of a child. This combination of felonies carries up to 35-years in prison. The jury also found Wright guilty of two misdemeanor counts, assault on a police officer causing bodily injury and interference with official acts.
On April 22, 2013, 4-year old Jordyn Arndt was horrifically attacked by Wright's pit bull while under her care. She died within 24 hours. At the time of the attack, Jordyn, her brother and Wright's young daughter were playing in the backyard. Wright was inside the home doing laundry. The state successfully argued that Wright
knew of the pit bull's propensity to be vicious
. Further, the jury did not buy a penny of the
canine expert's $18,000 testimony
put forth by the defense.
KCCI News spoke with Jasper County assistant attorney Kelly Bennett after the verdict. "This has been an extremely emotional trial for me personally," Bennett said. "I just want to thank the jury for all their hard work, they had to sit through some pretty emotional, graphic and heart-wrenching testimony -- and I'm satisfied with the verdict," Bennett said. Just moments before the verdict was read, District Court Judge Richard Clogg reminded everyone in the courtroom to remain calm.
Wright's sentencing date is scheduled for July 13. She will remain in custody until sentencing.

---
We greatly thank
KCCI
,
WhoTV
and the
Newton Daily News
for their outstanding trial coverage.
---
05/13/15: Day 5 of Trial Coverage - Fatal Dog Mauling
An unexpected rebuttal witness for the prosecution eviscerated testimony from the canine expert today.
Kristy Cockerham
, a long-time friend of Jena Wright, testified that Brutus latched onto her wrist and Wes had to
pry the dog's jaws open
. Cockerham also testified that Wright
hatched a plan to get rid of Brutus
by taking the pit bull out to the country while her husband was gone -- Wright never followed through. Wes claimed in his rebuttal that his
pit bull was "just being playful."
This worn out claim, "
he was just playing
" is a common denominator excuse used by pit bull owners to minimize aggressive acts and damaging attacks by their dogs. Caught red-handed lying through his teeth -- Wes' credibility is out the window at this point and so is Jena's. Cockerham is likely not the only friend that Brutus attacked, but the only one to come forward. Jurors can now see a little more into the mindset of "typical" pit bull owners:
deviant, antisocial and perjurers
.
Defense attorney T.J. Heir
immediately objected to Cockerham's testimony
, but District Court Judge Richard Clogg overruled her motion. In a desperate attempt of damage control, defense also made a motion for a continuance to allow the canine expert -- who flew out of Iowa at 6:30am this morning -- to return as a rebuttal witness. Judge Clogg denied this motion too. Following the
unexpected and explosive
testimony by Cockerham, the state began their closing argument.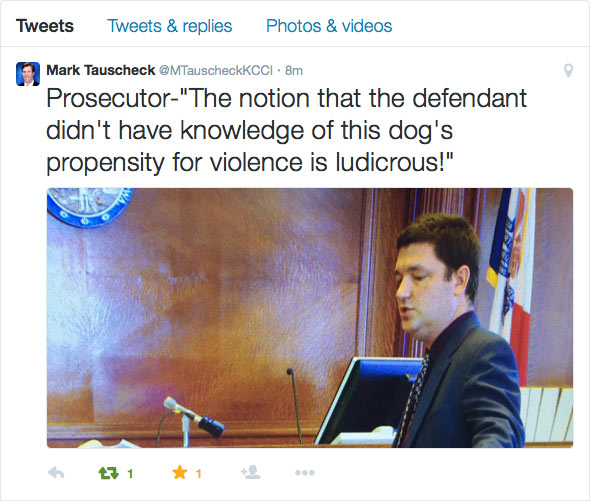 ---
Live
Twitter coverage from KCCI
| Follow
@MTauscheckKCCI
for the latest updates.
---
05/12/15: Day 4 of Trial Coverage - Fatal Dog Mauling
Defense gave its opening argument Tuesday morning. As anticipated, they trotted out multiple long-time friends of Jena Wright. Each provided glowing testimony about Brutus and how the pit bull would never harm a child. Greg Beerends even testified, "
Brutus was like a big puppy
." Despite the jury already seeing images of the
dog soaked in Jordyn's blood
. Another friend of Wright, Hanna Faidley, told the court that Wright would have never put any children in danger.
Defense also called Jena's husband to the stand,
Wes Wright
. He also testified that Brutus never gave him reason to believe the dog would attack Jordyn. While under cross-examination by prosecutors, Wes stated that he and Jena are now
legally separated
. Surprisingly, he also told the court while under cross-examination that he was comfortable with his daughter being in the backyard alone with Brutus, but that he was
not as comfortable with Brutus around other kids
.
When asked by prosecution if he would have more hesitation in leaving somebody else's child alone with Brutus, Wes replied: Yes.
This rounds back to the critical issue that Wright was inside the home doing laundry when the deadly attack occurred, not watching Jordyn. Sydney Rinehart, a friend of Wright and former resident of the home, testified that the house has a large and "very thin window" in the living room overlooking the backyard, indicating that Wright still had a view of the children while inside the home. Wright has already admitted, however,
that her own daughter first alerted her to the attack.
Wright did not see or hear anything initially, despite the grasping at straws testimony by Rinehart: "You could hear everything, even with the washer and dryer going," former resident Sydney Rinehart told the court. Defense also called Wright's mother-in-law, Robin Wright, to testify. Jena Wright was arrested at Robin's home one day after the attack. Robin was present during the arrest and testified that the defendant did not cause an upheaval while being taken into police custody.
Canine Expert Witness
Defense next called California-based canine expert Ron Berman to the stand. As demonstrated by the KCCI News Tweets, his testimony started with a big bang, beginning with Berman's claim that he has "
worked with over 12-thousand dogs
." One hot tipper sent in email upon seeing the Tweet and wrote: "I just love 'experts' who are reckless with the details." Subsequent Tweets include, "Says he has been
certified as an expert witness 80 times
." Then follows up with this humdinger.

How is one "not a gun for hire" if one has already been hired 80 times for the specific purpose of providing expert testimony?
We already know the court allotted $18,000 to pay the expert
, presumably with state funds. Initially Wright had been assigned a public defender. By December 2014,
she had acquired a private attorney
. Due to these circumstances, we imagine this is a "fair market" price for his services in this case. The judge allowed it to ensure a fair trial for Wright.
During a hearing Monday, the court decided to allot $18,000 retaining Ron Berman -- a California-based certified forensics consultant with expertise in canine temperament, bites and behavior … Judge Clogg was of the opinion that allowing the expert to testify on behalf of Wright would insure a fair trial.

- Mike Mendenhall, Newton Daily News, December 9, 2014
Berman concluded his multi-thousand dollar testimony predictably saying, "nothing in Brutus' behavior could have predicted the attack on Jordyn Arndt." Then cross-examination began, kicking court tension up a few notches Tuesday. After grilling Berman on his education and previous experience, prosecutors unveiled the undoing of his testimony. Berman had to state to the court that he had never even evaluated the pit bull --
Brutus was put down shortly after the attack
.

The Newton Daily News provided more details
, including that Berman stated: "Based on all the work I've done there's no evidence prior to this tragic incident with (Arndt) on April 22, 2013 that would suggest (the dog) presented a specific, unusual or serious danger to (Arndt) when she was left unsupervised by the defendant," Berman said. So, the "expert" claims that leaving a child alone with a dog that caused two neighbors to arm themselves with a deadly weapon is
normal
?
Berman told jurors he reviewed testimony of all witnesses in the case and interviewed state witnesses Richard Foster, James Billingsley, Tiffany Ewing and Jasper County Sheriff John Halferty who previously testified to their violent encounters with the dog.

- Alex Olp, Newton Daily News, May 12, 2015
Closing Arguments Tomorrow
Defense rested their case after testimony and cross-examination of the canine expert. There are two felonies at stake in this case. The first, which carries up to 25-years in prison, is child endangerment resulting in death. This charge requires proving beyond a reasonable doubt Wright "knowingly" acted in a way that created substantial risk to the child's safety by leaving her unattended with Brutus. Proving Wright had
knowledge
of the dog's vicious propensities is critical.
The second felony charge of neglect or abandonment of a child, which carries up to 10-years, requires proving that Wright "knowingly and recklessly" exposed Jordyn to a hazard by leaving her alone with the dog. Though our understanding of this lesser charge is still gray, there is no doubt that as a babysitter, Wright had the duty to be watching this child, combined with the dog's known aggressive past and Wes stating that
even he
would not have left other kids alone with Brutus.
Closing arguments are expected Wednesday morning. The case is then handed off to the jury.
---
Live
Twitter coverage from KCCI
| Follow
@MTauscheckKCCI
for the latest updates.
---
05/11/15: Day 3 of Trial Coverage - Fatal Dog Mauling
Jasper County Prosecutors called a number of witnesses today, most of whom experienced a dangerous encounter with the Wrights pit bull prior to the attack that killed Jordyn Arndt in April 2013. For clarification, Jena Wright, her husband Harmon "Wes" Wright, their young daughter and Wes' father, Buster Wright, all lived at the 300 South Marshall Street home where the deadly attack occurred. Jena and Buster were at the home when the dog attacked, Wes was at work.
1
The prosecution rested its case Monday afternoon. Defense begins its case Tuesday morning. A canine expert is expected to testify for defense.
What became evident during testimony on Monday
is that a number of people, including Jasper County Sheriff John Halferty, had experienced aggression from Brutus over a several year period leading up to the fatal attack. Further, the Wrights own veterinarian, Jim Walker, testified that Brutus on at least two occasions
attacked an injured another dog
in the Wright home. Walker treated the injured dog, named Buddy, both times. He shared Buddy's injury photos with the jury.
What also became evident on Monday is that two key testifying witnesses told Wes or Buster about the aggressive encounters, leaving the question open as to whether or not Jena knew about them. First up was Tiffany Ewing, formerly Tiffany Koder, who shared her dangerous encounter of Brutus with the media shortly after the fatal attack. She provided similar testimony in court today. In April 2013, Ewing described the episode with Brutus to the Des Moines Register as below:
Koder said her brush with Brutus came when she was pregnant and working at the Casey's General Store in Prairie City. Harmon Wright was the store manager at the time, she said.
Koder said she saw Brutus near his home, walking on Iowa Highway 163, which runs through town. She stepped out of her car to see if she could shepherd the dog back into the fenced yard he had escaped from, she said.
When Brutus spotted her, Koder said, the dog growled, lowered itself into what she described as a hunter's crouch, and ran at her.
Koder said she jumped back into her car, slammed the door shut and drove back to the store to tell Wright what had happened. Wright brushed the incident off, insisting that the dog was "nice," she said.

- Jens Manuel Krogstad, Des Moines Register, April 25, 2013
James Billingsley, who lived across the alley from the Wrights, offered powerful testimony about the pit bull. Billingsley kept a baseball bat in his garage in case he ever had to defend himself against the dog. Billingsley was concerned
every time Brutus got loose
, he said. He told the jury about one incident where the animal came within 8-feet of him, growled and showed his teeth. "I wish I had the shotgun," he said. Billingsley expressed his concerns
about the dog with Buster
.
Richard Foster, another neighbor of the Wrights, backed up Billingsley's claims about the pit bull. Foster told the court that Brutus would chew through the chain link fence that separated their two properties and get into his yard, threatening himself and his family.
At one point, Foster even grabbed a gun to defend himself
. "I walked around the front yard went to the neighbor's, yelled down into the basement, 'Get your dogs out of my yard before I kill them,'" Foster told the court.
The last witness of the day for prosecutors was Jasper County Sheriff John Halferty. He took the stand and testified that he and his wife encountered Wright's pit bull when he was campaigning in Prairie City to be sheriff in 2012. Sheriff Halferty told the court he was
ready to draw his weapon
to protect himself and his wife. He said the dog was growling, bearing his teeth and his ears were pinned back. An unnamed adult eventually came out of the house and got the dog under control.
Defense Begins Tuesday
Though the trial coverage is limited, we are still seeing the highlights. Not only was Brutus a problem dog -- apparently constantly breaking out of its owner's fenced yard and running loose -- the pit bull was also animal aggressive, attacking another family dog in the home at least twice, requiring veterinarian treatment both times, and created enough alarm in at least two neighbors that each armed themselves with deadly weapons at different times in fear of Brutus attacking.
All of the adults in the Wright household knew that Brutus consistently got loose, attacked other dogs and had dangerous confrontations with neighbors and strangers in the past. The prosecution does not have to prove the fatal attack was
absolutely
foreseeable. They do have to prove that Wright knew of the dog's vicious propensities and exposed Jordyn to the dog anyway. This exposure included leaving Jordyn and the other two children outside with Brutus unsupervised.
---
Live
Twitter coverage from KCCI
| Follow
@MarcusKCCI
for the latest updates.
---
05/08/15: Day 2 of Trial Coverage - Fatal Dog Mauling
On Friday, Jasper County prosecutors showed jurors graphic images of Jordyn's fatal neck injuries. These images combined with testimony from the trauma surgeon and medical examiner, who told the jurors that the injuries were consistent with a dog violently shaking its head back and forth, should have painted a vivid picture of the violent attack. The trauma surgeon, Dr. Cass Franklin, also told prosecutors
that he had never seen injuries like it before
in his 37-year career.
Prosecution: As a trauma surgeon, I assume that you've seen dog bite injuries before?
Dr. Cass Franklin: Yes, several.
Prosecution: In your experience had you ever seen injuries like the ones you'd seen on Jordyn?
Dr. Cass Franklin: I have not.
Polk County Chief Medical Examiner Gregory Schmunk, who performed the autopsy on Jordyn, also testified on Friday. He testified that the lacerations were consistent to a dog attacking from behind. Jordyn likely never knew the killing bite was coming, nor would she have known if it had come from the front.
Unpredictable attacks by pit bulls occur instantly
. KCCI would not show the graphic injuries of the child, but they did show the pit bull covered in blood after the fatal attack.
Police Officer Testimony
Former
Prairie City Police Chief Louis Modlin testified
on Friday as well. Modlin now works for the Altoona Police Department. Video from his dash camera and audio captured by his body camera, just minutes after the vicious attack, were played in court. Wright is heard saying to Modlin, "My daughter came inside and said there's blood everywhere" and "he's never shown aggression like that." In the video, Wright describes to Modlin the moments leading up to the deadly attack.
According to Modlin's testimony, Wright told him the three children – the defendant's daughter, 7-year-old Aden Arndt and Jordyn Arndt – were playing in the backyard. She then left the residence to run to the store and told her father-in-law to keep an eye on the kids.

2

When she returned, she checked on the children and went back inside the house. Minutes later, Wright's daughter came inside and said "there's blood."

- Alex Olp, Newton Daily News, May 8, 2015
Wright also faces charges of assault on a police officer causing bodily injury and interference with official acts, which occurred when she was arrested one day after the attack. Modlin, who was the arresting officer, testified that Wright kicked him multiple times in the chest as he tried to take her into custody. Modlin said the defendant was "not cooperative" and tried to get away from him, but fell down a staircase near a backyard door in the process. Modlin was halfway up the staircase.
"As soon as she fell down on the stairs she rolled over on her back and began kicking and she kicked me several times in the chest,"

Former Prairie City Police Chief Louis Modlin
Among the many atrocities that jurors learned today, what they did not learn details about (at least none were mentioned in the news coverage), may be even more haunting. Both Jordyn's brother and Wright's daughter witnessed the attack. All three children were outside with the dog when it latched onto Jordyn's neck and violently shook its head back and forth, causing a blood spray and killing the girl. The trial continues on Monday. The defense may also start their case on Monday.
---
Live
Twitter coverage from KCCI
| Follow
@MarcusKCCI
for the latest updates.
---
08/07/15: Fatal Dog Mauling Criminal Trial Begins
Prairie City, IA - On April 22, 2013,
Jordyn Arndt, 4-years old, was brutally attacked
by her babysitter's pit bull while under her care. She was airlifted to Mercy Medical Center in Des Moines where she died of her injuries the next day. Hours after her death, Prairie City police arrested her babysitter, Jena Marie Wright, in connection to her death. This week, after over a dozen court delays, the criminal trial finally begins. Wright faces up to 35-years in jail if convicted on all counts.
The case hinges on whether or not Wright exposed Jordyn to the male pit bull named Brutus knowing of the dog's vicious propensities.
Part of the court delays involves the expert canine witness for the defense. Last December, the
court allotted $18,000 to retain Ron Berman
, a California-based expert in canine temperament, bites and behavior. First, the expert needed more preparation time, later, he suffered injuries in an accident and was unable to travel, causing another continuance. Berman is expected to testify to the issue if Wright had
knowledge
of the dog's propensity to be vicious or to
attack a person
.
In February, the
prosecution made their frustration about the many
delays and the relevance of the expert canine witness quite clear. "The defendant has had almost two years to find an expert witness and it wasn't until the last couple of months this was done," Kelly Bennett, Jasper County assistant attorney told the court. Bennett also questioned the necessity of the canine expert's testimony, given that the dog's behavior -- the dog ripped out the girl's throat -- is not in dispute.
"There is no question about the behavior of this particular dog," Bennett said. "Two years ago this dog ripped the throat out of a 4-year-old little girl."
The only issue is the behavior of the defendant -- and the defendant's actions, what she did or did not do -- knowing at that point in time of the previous behavior of the dog."

- Kelly Bennett, assistant attorney, Newton Daily News, February, 2015
Opening Day of Criminal Trial
During opening arguments Thursday, prosecution stated that Wright was aware of the dog's vicious tendencies. The pit bull had previously attacked
another dog
and Wright's neighbor kept a bat in his garage for protection against the dog. Jordyn's mother, Jessica Arndt, took the stand in tears. She and Wright had been friends for 15-years and attended school and graduated together. She admitted that she initially did not blame Wright. That changed after she learned more details.
3
Carl Vander Kamp, who was among the first EMTs on scene, also took the stand today. He said that he arrived to "quite a bit of blood" and a child lying motionless without a pulse. "She had a large wound on her side of her face and also on what appeared to be the back of her head and some marks on her neck area," Vander Kamp testified. He said that from the time he arrived to when the child was airlifted to Mercy the child never showed any vitals or signs of breathing.
The Newton Daily News includes more details
, including that the jury listened to the 911 call and saw bloody images from the aftermath of the attack. The attack occurred between the defendant's house and garage. One of the photographs showed blood spatter on the garage wall. Jasper County Deputy Jeremy Burdt, who responded to the attack, provided testimony about the blood splatter on the garage, explaining it was the result of a dog rapidly shaking its head back and forth.
The criminal trial is expected to last 5 days. DogsBite.org will cover each day. The jury of course will not hear about Wright's prior criminal history, unless introduced by defense. Two years before the fatal dog attack, Jena was
arrested on multiple felony charges
in connection to a marijuana grow operation. Those charges included a charge for neglect and abandonment of a child. In a plea deal, Wright pled guilty to one count of misdemeanor possession of a controlled substance.
4
Partly why DogsBite.org is so interested in this case is because it involves a
babysitter whose pit bull killed a visiting child
that was under her care. This scenario appears over and over again in fatal dog maulings, primarily, fatal pit bull maulings. We are also interested in the testimony by the canine expert witness for the defense. What testimony will he provide and how much weight will the jury give it? Also, what questions will prosecutors ask the expert during cross-examination?
Consequences if Convicted
Jasper County authorities charged Wright with felony child endangerment resulting in death, which carries up to 25-years in jail if convicted, and felony neglect or abandonment, which carries up to 10-years in prison if found guilty. Wright is also facing a charge of assault on a police officer causing bodily injury. Wright allegedly kicked the arresting officer -- former Prairie City Police Chief Louis Modlin -- in the chest during a struggle while being arrested, an aggravated misdemeanor.
Some readers might feel sorry for Wright or believe the potential penalties are too harsh. The serious charges, however, are case-in-point about the responsibility a babysitter takes on when watching a child, a babysitter who also had three dogs at her home.
5
Usually, in criminal cases like this, the negligence is more egregious, like in the criminal trial of the babysitter whose pit bull killed a 2-year old girl in 2003. In that case, the
babysitter left the child unattended to "run errands.
"
Jena Wright was apparently inside the home when the deadly attack occurred. Jordyn and Wright's own daughter were in the backyard playing when Brutus viciously attacked the girl. During the 911 call made by Wright, she said, "She and my daughter have played outside with the dog numerous times. I don't know what happened." Jordyn and her brother, who was 7-years old at the time,
had only started their babysitting arrangement
with Wright about a week earlier.
---
Live
Twitter coverage from KCCI
| Follow
@KStonge12
for the latest updates.
---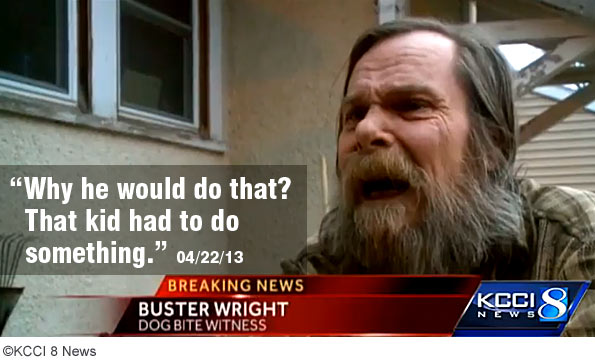 Related articles:
03/01/15:
Video: Grandmother Viciously Attacked by Family Pit Bull During Ice Bucket Challenge
08/26/14:
2013 Dog Bite Fatality: 4-Year Old Mauled by Pit Bull Dies; Babysitter Arrested
07/22/14:
2014 Dog Bite Fatality: Visiting Child Under Babysitter's Care Killed by Family Pit Bull...
07/15/14:
New Brunswick Pit Bull Attack: Babysitting, the Zero Margin of Error Rule...
09/24/13:
2013 Dog Bite Fatality: Boy Killed by Pit Bull-Mixes at Babysitter's Home in Gilbert
07/26/13:
Beyond the Interview: Essay of a Fatal Pit Bull Mauling - DogsBite.org
Labels: 2013 Dog Bite Fatality, Babysitting, Criminal Charges, Fatal Pit Bull Attack, Iowa, The Killing Bite, Twitter, Unpredictable Pit Bull