DogsBite Blog ::

No Charges
UPDATE 05/21/13:
The Dorchester County Sheriff's announced today that no charges would be filed in the death of Carlton Freeman, a double amputee who died after being mauled by four dogs described as pit bulls. The decision comes after an investigation was carried out by multiple county agencies. Though the dogs were initially thought to belong to a neighbor, authorities later determined the animals did not belong to any one person; the dogs were allegedly feral.
05/14/13: Pit Bulls Identified as Culprits
ABC News 4 reports (within the video only) that family members of Carlton Freeman saw the four dogs pull him from his wheelchair and attempted to drag him into the woods. Family members identified the four dogs as pit bulls. They also said that the terrible attack upon Freeman was especially hard because the owner of the dogs is also family.
1
The victim's wife of 35-years, Rita, told reporters, "All he wanted was that they catch those dogs before they hurt somebody else."
Freeman also told authorities before he died that he
did not want to press any charges
.
05/14/13: Man Dies After Dog Mauling
Harleyville, SC - The Dorchester County Coroner's Office released information today about a dog attack that ended the life of a paralyzed man. According to
Coroner Chris Nesbit
, Carlton Freeman, 80-years old, was minding his own business while going down the side of the road in his motorized wheelchair when he was attacked by four dogs (breed identification was not provided). The incident happened on May 8 at Spring Branch and Dunnings Road in Harleyville.
Nesbit said the victim was a double amputee at the knees who was "pulled from his wheelchair by his legs as he tried to fight off the dogs." Medical responders transported Freeman to Trident Hospital where he died on Sunday, May 12. In Nesbit's press release, he stated, "He had bites and lacerations from his legs to the top of his head. This is a very sad story, but even worse that Mr. Freeman was basically helpless to the attack, due to being a bi-lateral amputee."
A criminal investigation by the Dorchester County Sheriff's Office is underway. Authorities were able to locate three of the dogs and are still attempting to locate the fourth. According to a report from the sheriff's office, neighbors said the dogs have been "roaming around the neighborhood for months" and told deputies who they suspected the dogs' owner was. Deputies contacted Barbara Goodwin, 61-years old, who said she owns three of the dogs -- a mother and two puppies.
The investigation is ongoing.
Related articles:
01/21/13:
2013 Dog Bite Fatality: Dog Mauls Woman to Death While Babysitting Toddler
05/02/12:
2012 Dog Bite Fatality: 2-Month Old Child Killed by Family Dog
Photo:
Live5News.com
Labels: 2013 Dog Bite Fatality, Fatal Pit Bull Attack, South Carolina, Wheelchair Bound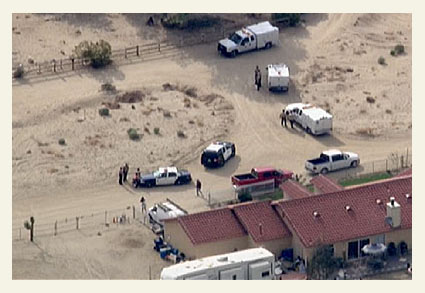 Police response near the site of the mauling in the unincorporated Littlerock area.
History Lesson
UPDATE 05/11/13:
On Friday, 6abc.com published an article, "
Littlerock pit bull attack raises legislation questions
," that contained an erroneous statement from Los Angeles County Supervisor Mike Antonovich's Office: "the Littlerock attack is the
first
fatal pit bull attack in the county's history." According to the
Fatal Pit Bull Attacks
website -- visually tracked by a Google Map -- there have been 9 previous pit bull fatalities in the county, one stemming back to 1891.
1
05/10/13: Mauling Victim Identified
The victim has been identified as Pamela Devitt, 63-years old, of Littlerock. On Thursday at about 9:30 am, Devitt was savagely attacked by up to four pit bulls she encountered while taking her morning walk. Tony Bell, spokesperson for LA County Supervisor Michael Antonovich, said Devitt "was dragged 50 yards, scalped and her arm removed. We've gotta do something about it; they're killing machines." Devitt died in an ambulance en route to the hospital. Bell also stated:
Supervisor Antonovich's office says this incident points out the need to change state law regarding the aggressive dogs to make communities safer.

"To ask state legislature to allow local government to pass their own ordinances, breed specific if you will. We're not talking about bans necessarily. We're talking enhanced enforcement on pit bulls and the owners," Bell said.
Currently, California municipalities are prohibited from declaring a specific dog breed "dangerous" or "vicious," as well as banning a dog breed. Municipalities are limited to breed-specific regulation of the spay/neuter status of a dog. The ordinances on the
California breed-specific laws
page reflect this limitation. Prior to the ability to regulate the spay/neuter status of specific dog breeds (2005), California was a full anti-BSL state, disallowing all forms of breed-specific regulation.
2
The six seized pit bulls remain in quarantine. Authorities are conducting DNA tests to determine if the dogs were involved in Devitt's mauling death. Evelina Villa, a spokeswoman for the county Department of Animal Care and Control, said the owner of the pit bulls had
previously been cited
because one of his dogs had attacked a horse. The 29-year old owner,
identified as Alex Jackson
, was arrested yesterday on unrelated charges for suspicion of cultivating marijuana.
05/09/13: Investigation Continues
Tweets from
Captain Mike Parker
of the Los Angeles County Sheriff's Department along with the
Palmdale Sherriff's Station Facebook Page
help clarify developing events. Eight dogs were taken into custody on the 37000 block of 115th Street. Six of the dogs were pit bulls, the other two were mixed. The owner of the dogs was arrested for cultivation of marijuana. The correct location of where the mauling victim was found is 116th Street East and Avenue S, Littlerock.
It is still not known if the seized dogs are responsible for the woman's death.
05/09/13: Dogs Seized from Home
NBC Los Angeles updated their article reporting that at least four dogs were taken from a home near the mauling site after deputies served a search warrant after 5 pm Pacific Time. Women at the home were reportedly "screaming as the dogs were taken away" and two men appeared to be in custody in the back of the patrol car, according to the article. Seizing the dogs
3
comes hours after an active ground and air search effort and county authorities offering a $25,000 reward for:
"Information leading to the capture of the 4 killer pit bulls."

Related video
05/09/13: Woman Killed by Pit Bulls
Littlerock, CA - In a developing story, a woman was fatally mauled by pit bulls while out for a walk Thursday morning in the Antelope Valley. Los Angeles County Sheriff's Department and animal control responded to the call of a fatal pit bull attack at about 9:30 am. The victim, a 63-year old Hispanic woman, was out for her morning walk on Avenue S near 110th Street East when the dogs attacked. Deputies shot at the dogs, which sent them scattering into the dessert.
A separate article
said a witness saw the attack and began honking her horn to try to scare them away. Instead, the four pit bulls began attacking the witness's car -- specifically trying to puncture the car's tires. County officials continue air and ground searches trying to locate the pit bulls. Los Angeles County Supervisor Michael Antonovich
offered a $25,000 reward
for information leading to their capture. The woman suffered severe injuries and died en route to the hospital.
Related articles:
04/13/13:
2013 Dog Bite Fatality: Stockton Woman Killed by a 'Big, Nasty Pit Bull'
12/14/12:
2012 Dog Bite Fatality: Fresno County Man Mauled to Death by Pack of Pit Bulls
12/07/12:
2012 Dog Bite Fatality: San Diego County Woman Killed by Pack of American Bulldogs
Photo
:
NBC Southern California
Labels: 2013 Dog Bite Fatality, California, California Pit Bull Fatality, Fatal Pit Bull Attack, Marijuana Operation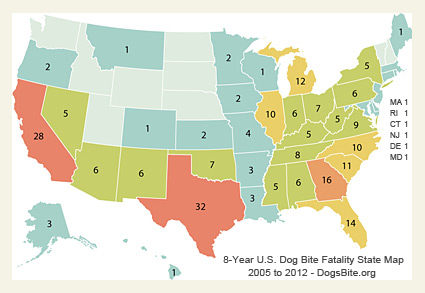 8-Year U.S. Dog Bite Fatality State Map - 2005 to 2012
DogsBite.org - For several years now, after posting
annual fatal dog bite statistics
in January, DogsBite.org releases a combined year dog bite fatality chart that depicts the breeds responsible for these deaths. For instance, in both the
7-year
and
8-year
combined charts, pit bulls contributed to 60% of the total recorded deaths. For more visual information, we've created a combined year dog bite fatality state map that shows the number of dog bite fatalities by state.
The state map is another downloadable educational tool created by DogsBite.org for dog bite victims' advocates, law enforcement, attorneys, doctors and researchers. In addition to these downloadable PDF files, DogsBite.org also maintains
interactive Google Maps
, specific to pit bull fatalities, for about a dozen of the most troubling states. The Google Maps track by state: fatal pit bull attacks, breed-specific laws, dog bite injury studies, legislative milestones and more.
Discussion Notes
To discuss the state map in more detail, we've added new columns and created an incidence rate chart for comparison. The incidence rate demonstrates the occurrences of dog bite fatalities per 100,000 population. This rate was calculated on a
rolling
average. Specifically, state population data from the U.S. Census Bureau for each year (2005 to 2012) was collected then averaged. The incidence rate is based upon the average population of each state over the 8-year period.
Chart A. Highest Number of Dog Bite Fatalities (2005 to 2012)
State
Total Deaths
Pit Bull Deaths
Percent Pit Bulls
Texas

§

32
24
75%
California

§

28
23
82%
Georgia
16
9
56%
Florida

§

14
7
50%
Michigan
12
5
42%
South Carolina
11
6
55%
Illinois

§

10
7
70%
North Carolina
10
7
70%
Virginia

§

9
6
67%
Tennessee
8
5
63%
In California, pit bulls contributed to 82% of all dog bite-related fatalities during the 8-year period.
Texas led the nation over the 8-year period with 32 deaths followed by California (28), Georgia (16), Florida (14) and Michigan (12). Generally, a higher number of dog bite fatalities occur in the
Southern United States
. Of the top ten states leading dog bite fatalities, 70% fall within this southern region. Also, with the
inclusion of California
, which only allows breed-specific regulation of a dog's spay/neuter status, half of the top ten states are governed by anti-BSL laws.
The columns, Pit Bull Deaths and Percent Pit Bulls, were added to show: Of the number of dog bite fatalities by state, how many were inflicted by pit bulls? For instance, during the 8-year period, 32 dog bite fatalities were recorded in the state of Texas. Pit bulls contributed to 24 of these deaths. Of the total number of dog bite fatalities in the state of Texas, pit bulls contributed to 75%. As readers can see from Chart A, California even surpassed Texas in this percentage.
1
Chart B. Highest Incidence Rate of Dog Bite Fatalities (2005 to 2012)
State
8-Year Average
Total Deaths
Rate Per 100,000
Alaska
696,662
3
0.430624894
New Mexico
2,019,861
6
0.297050180
West Virginia

†

1,841,789
5
0.271475180
South Carolina

†

4,527,412
11
0.242964440
Nevada
2,634,622
5
0.189780581
Oklahoma

†

3,690,158
7
0.189693781
Mississippi

†

2,947,073
5
0.169659848
Georgia

†

9,497,528
16
0.168464898
Texas

†

24,494,991
32
0.130638952
Tennessee

†

6,251,835
8
0.127962428
60% of the states also fall into the bottom ten positions of states with the lowest median household incomes.

2
Many readers might be surprised to see Alaska in the number one position. Alaska, however, is a low populated state with distinctive geography. There is also a disproportionate number of Alaska Native people afflicted by serious dog bite injuries and deaths that may be due to unique conditions and activities which include: high risk hunting, mushing, and living in remote and inaccessible areas. (Learn more:
Hospitalizations Resulting from Dog Bite Injuries - Alaska, 1991-2002
).
South Carolina, Georgia, Texas and Tennessee appear in both charts. In contrast, Illinois, California and Florida, each included in Chart A, fall below the national incidence rate average (0.082286829), as did New York, the
third most populated state
in the country behind California and Texas. As one can see, high population is not a main predictor for dog bite fatalities. What
is
predictable is that 70% of the states in Chart B, again, fall within the Southern United States.
There were nine states that incurred no dog bite fatalities during the 8-year period, including: Idaho, Nebraska, New Hampshire, North Dakota, South Dakota, Utah, Vermont, Washington, and Wyoming. The northern state of Washington stands out as the only state with a population over six million that did not incur one dog bite fatality. Of these states, seven have an 8-year average population of 2 million or less. None of the nine states are part of the Southern United States.
Download:
Full listing of incidence rate by state
Related articles:
05/20/13:
Report: Texas Dog Bite Fatalities, January 1, 2005 to February 17, 2013
01/11/13:
2012 U.S. Dog Bite Fatality Statistics - DogsBite.org
Labels: Alaska, California, Dog Bite Fatality Statistics, Dog Bite Statistics, Florida, Georgia, Illinois, North Carolina, Pit Bull Statistics, South Carolina, Tennessee, Texas
Insights from Behaviorist
UPDATE 04/07/13:
The dog mauling death of Rachael Honabarger, 35-years old of Coshocton, Ohio, has many readers questioning why a German shepherd would inflict a sustained and deadly attack upon an adult family member. The questioning began early on when the dog was initially
reported to weigh 150 pounds
. This weight fell into a more acceptable weight of a male German shepherd, 104 pounds, after the dog was weighed, euthanized and tested for rabies.
1
DogsBite.org reaches out to animal behaviorist Alexandra Semyonova to learn more:
Alexandra Semyonova


There are two possible explanations for this attack. It's possible that this German shepherd came from one of the lines that are being bred for impulsive aggression [footnote] -- the same trait that makes the pit bull type dog so unpredictable and dangerous. This genetically determined trait is still relatively rare in the German shepherd, but there are kennels that breed specifically for guard and police work and imagine that an aggressive dog makes a better guard dog. These kennels select for impulsiveness in general and impulsive aggression in particular. When a dog has the impulsive aggression trait, no provocation or harsh treatment is needed to trigger a sudden and vicious attack. If you breed for this trait together with magnified body size, you are creating inherently dangerous dogs.

It's possible that this German shepherd was not bred in such a kennel, but that it was subjected to harsh training methods. The use of prong collars, choke collars, electric shocks, electric fences and other aversives can make even a normal dog aggressive. Many of the things people are told to do to establish 'dominance' over a dog have the same effect. In both cases, the dog learns to mistrust humans and to expect something awful to happen when a human approaches. Most dogs will (at first) prefer to flee and avoid, but a dog can learn that this doesn't work and that full-out attack is the only way to protect itself.

In either case (genes or abuse), you can't call a full-out attack by a dog on an adult an accident. Accidents are by definition things you can't predict or avert. Where dangerous dogs are concerned, we can predict and avert first of all by the type of dog we choose, and then by what we teach the normal dog we've chosen to expect from our own species.



Alexandra Semyonova is an internationally acclaimed animal behaviorist, behavioral biologist, anthropologist and author. View additional posts by Alexandra Semyonova.
05/06/13: Dog Euthanized, Tested for Rabies
A family German shepherd that attacked and killed a Coshocton woman last week was euthanized Friday and tested for rabies. The test results came back negative. Russell Dreher, the Coshocton County Dog Warden, said, "The investigation is complete." Rachael Honabarger, 35-years old and the mother of two, died Thursday
according to her published obituary
, not Saturday as previously reported by news media outlets. The victim only survived two days after the severe attack.
In the 8-year period of 2005 to 2012
, German shepherds contributed to 9 human deaths. The age range of victims was 7 and under (5 victims) and 55 and older (4 victims). Of these deaths, 2 involved "pack attacks" (four or more dogs) and included pit bulls.
2
Of the older victims, 3 cases involved the death of a female senior citizen:
Linda Mittino
, 69,
Shirley Lou Bird
, 79, and
Magdelena Silva
, 96. Both Mittino and Bird had been injured by the dog prior to the fatal attack.
05/04/13: Woman Dies After Dog Attack
Coshocton, OH - A Coshocton woman died Saturday from injuries sustained after being attacked by her family dog earlier this week. A Grant Medical Center spokesperson confirmed that Rachael Honabarger, 35-years old, of 41900 County Road 23 was deceased. The woman had remained in critical condition since the attack on Tuesday. Coshocton County Dog Warden Russell Dreher said a family dog, a 3-year old, large male German shepherd, attacked the woman at her home.
According to a news release
from the Coshocton County Sheriff's office issued Wednesday, a neighbor was driving by the residence and saw the woman in distress. As he approached her to provide aid, the dog began attacking her again. He was able to pull the dog away and secure it in an outdoor kennel. He then called 911, requesting immediate help, and provided life-saving first aid until EMS arrived on scene. At that time, the neighbor was credited with saving her life.
Honabarger was taken to a local hospital then flown by helicopter to Grant Medical Center.
The dog was
registered to her husband
, Michael Honabarger, according to Dreher. He said his office had not received any prior complaints about the dog. The animal showed no diseases upon testing. At least two other dogs were also on the property, Dreher said. John Speaks, a man who lives nearby, told Fox 28 that
he was familiar with the dog
. "He's always been very aggressive but he would never go beyond the road, he guarded the yard and the house," said Speaks.

Related video
Related articles:
11/30/12:
2012 Dog Bite Fatality: Postal Worker Dies Days After Vicious Dog Attack
02/11/12:
2012 Dog Bite Fatality: 'Visiting' Child Killed by PTSD Service Dog in Kentucky
Labels: 2013 Dog Bite Fatality, Alexandra Semyonova, Ohio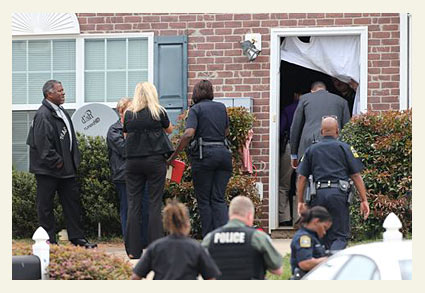 Authorities hung a sheet over the doorway to keep the horrific scene from view.
Autopsy Results
UPDATE 04/26/13:
The Fulton County Medical Examiner's Office confirmed that the boy suffered sharp and blunt force trauma to the head and neck, consistent with a dog attack. Police confirmed that the boy's father was Tased at the scene (View:
partial police report
). Police said the father, overwhelmed with grief by the death of his son, was trying to enter the secured crime scene, the father's own home. Police said they had to protect the crime scene from being contaminated.
"This is one of those parts of the job we don't like doing. But we have to protect the crime scene until we know what has happened. We must look at all the possibilities. We can't contaminate the crime scene," McBride said.

"When you go hands-on, you never know what's going to happen. It's easy to poke an eye out or knock out a tooth accidentally," McBride said, justifying his officers' actions. "At the time, it seemed like the best way for our officers to handle it."

(Sgt. Scott McBride)
A report from WSBTV yesterday said the name of the
attacking pit bull is Kissy Face
. On Wednesday, Kissy Face, after 8-years of living with the family, savagely attacked the family's 2-year old son, killing him. As police officers, emergency medical responders, animal control and news media teams swarmed the Wexford subdivision, the scene became "surreal" heightened by police Tasing and restraining a distraught father trying to reach his son's dead body.

Related video
04/25/13: Neighborhood Traumatized
The Atlanta Journal-Constitution (AJC) reports that the Fulton County Medical Examiner's office
identified the boy as Beau Rutledge
. Over the course of Wednesday evening, news stories emerged detailing the deadly pit bull attack. WSB Radio reports that neighbors
called the scene "surreal"
and first responders simply said, "horrible." As seen in the
AJC slideshow
, a sheet was hung over the doorway of the family's home to shield the horrific dog mauling scene from view.
A detective told Channel 2's Craig Lucie that first responders told their colleagues not enter the home because
it was "too gruesome.
" During Detective Melissa Parker's statements, concerning first responders, she said, "They were rattled when they came out from what they saw. Tears. Some in tears." Neighborhood children were crying and being comforted by adults as well. CBS Atlanta footage showed the child's father so upset that he had to be
restrained by police
.
The group also showed footage of two women who saw inside the family's home, "It was like a horror movie. It was like something I've never seen before," said one. "We're traumatized. The images are still in our minds." 11 Alive told the same story and added that
neighborhood children watched
as the medical examiner took the child's body away, watched as the mother was taken away in an ambulance and watched as animal control hauled away the family's pit bull.
A horrific fatal dog mauling, as what unfolded in this neighborhood, is often a multigenerational community trauma, particularly when young children are killed. Earlier news reports said that pit bulls are common in the neighborhood. These pit bull owners now must weigh all they have been
led to believe about the breed
versus what they just witnessed: A well raised pit bull that had been with the family for 8-years, and the child's whole life, suddenly savagely killed the child.
04/24/13: Family Pit Bull Kills
Fulton County police confirm that the dog involved in the most recent
U.S. dog bite fatality
is a pit bull. Police said a woman called 911 saying that a dog had attacked her 2-year old son. Investigators said the woman was home with her child and the dog at about 1:30 pm Wednesday. She said that when she stepped away to go to the restroom, "everything was okay." When she returned to the room, it was clear that the pit bull had attacked the child and killed him.
In a separate report
, Detective Melissa Parker with the Fulton County police said the dog had been part of the family for the past 8-years. The dog remained inside the home in a contained area for over an hour after the attack. Joseph Messam, a neighbor, said heard the screams of the child's mother who ran outside of the home and was on the ground. Oliver Delk, administrator for Fulton County animal services said: "We don't know what made it attack the child as it did."

Related slideshow
04/24/13: Child Killed by Dog
Fulton County, GA - In a developing story, Fulton County police report that a child is dead after being attacked by a dog. The attack happened on Sierra Trail in the Wexford subdivision. It is unclear who the dog belongs to, but neighbors told CBS Atlanta that the young child was attacked by the family pit bull. Neighbors also said the mother was present during the attack. The father was at work and rushed home. Neighbors said police had to use a Taser on the father.
Related articles:
04/17/13:
2013 Dog Bite Fatality: Bryan County Toddler Killed by Family Pit Bulls
08/17/12:
2012 Dog Bite Fatality: 23-Year Old 'Dog Rescuer' Mauled to Death by Own Dogs
Photo:
AJC.com
Labels: 2013 Dog Bite Fatality, Fatal Pit Bull Attack, Georgia, Georgia Pit Bull Fatality, Unpredictable Pit Bull
Jordyn Arndt, 4-years old, was taken off life support Tuesday and died.
Edited 911 Call
UPDATE 04/24/13:
The Des Moines Register created a video of the 911 call; the news group deleted parts of the call. Gasping and sobbing between words, Jena Wright said, "My dog attacked the girl I was babysitting. I don't think --" Wright stayed on the phone for about 3 minutes, during which medics arrived. "She's not breathing. She has blood everywhere," Wright said. "My dog got her by the neck. Oh my God. I need an ambulance." Jordyn Arndt, 4-years old, did not survive.
On Monday, Jordyn was attacked by Wright's dog, a large pit bull named Brutus, in the backyard of Wright's Prairie City home. Wright, 24, was charged Tuesday with two felonies, child endangerment causing death and neglect or abandonment of a dependent person, along with several misdemeanors, including assault on a peace officer causing bodily injury. Combined, the felonies are punishable by up to 35 years in prison. Wright remains in the Jasper County Jail.
04/24/13: Previous Arrest
The Newton Daily News reports that Jena Marie Wright faces additional charges of interference with official acts and assault on a peace officer causing bodily injury; both charges are aggravated misdemeanors. Court documents also detail the felony charges pertaining to neglect or abandonment: "The defendant knowingly acts in a manner that created a substantial risk to the child's physical safety by
leaving her unattended
with a large American Staffordshire dog."
The Daily News also reports that Wright, her husband Harmon Wright III and his father, Harmon Wesley Wright Jr.,
were arrested about a year ago
on felony charges in connection with a marijuana growing operation. Wright was charged with neglect or abandonment of a child, possession of a controlled substance and three counts of failure to affix a drug tax stamp. The
controlled substances were accessible
to her 2-year old child who was removed from the home.
04/23/13: Babysitter Arrested
Prairie City, IA - On Monday, a 4-year old girl was
attacked by a pit bull
while under the care of her babysitter. Jordyn Arndt was airlifted to a hospital in Des Moines, but
did not survive her injuries
. On Tuesday, Prairie City Police arrested babysitter
Jena Marie Wright
, 24, of Prairie City in connection to the incident. Wright was charged with child endangerment resulting in death, and neglect or abandonment of dependent person. Wright was booked into the Jasper County Jail.
Buster Wright, who lives in the house where the girl was bitten, said the dog involved in the attack is an "American Staffordshire."
In 1936, the American Kennel Club (AKC) formally recognized pit bulls, but only
under the name Staffordshire terrier
in order to distance the breed from its use in dogfighting. In 1972, the AKC renamed the breed to
American Staffordshire terrier
. The
legal definition of a pit bull
, which is a class of dogs, includes the: American pit bull terrier, American Staffordshire terrier, Staffordshire bull terrier and any other pure bred or mixed breed dog that is a combination of these dogs.
1
View:
Iowa breed-specific laws

Related video 1
|
Related video 2
Related articles:
04/02/13:
2013 Dog Bite Fatality: 14-Month Old Wisconsin Boy Killed by Babysitter's Pit Bulls
10/27/09:
2009 Dog Bite Fatality: 19-Month Old Boy Killed by Pit Bull-Mix at Babysitter's Home
Photo:
Des Moines Register
Labels: 2013 Dog Bite Fatality, Babysitting, Fatal Pit Bull Attack, Iowa
Compromise Bill Fails
Annapolis, MD - On April 8, the last day of the Maryland General Assembly's 2013 Legislative Session, after weeks of discussion, amendments and
name calling from Delegate Luiz Simmons
,
1
the House killed the final negotiated bill that would have
reversed the high court ruling
and set forth a new dog bite liability standard. For months, the difference between the two chambers lay in reverting back to the pre-Solesky
One Bite rule
or adopting a form of strict liability.
The last version of the bill, which was negotiated in a conference committee, created stronger protections for children 12-years old and younger. Under the bill, dog owners would have to provide "
clear and convincing
" evidence that they had no prior knowledge of their dog's propensity to bite for incidents involving this age group. For all other dog bite victims, dog owners would only have to prove lack of knowledge "
by a preponderance
" of the evidence, a reduced standard.
Essentially, persons 13 and older would be stuck with the One Bite rule.
2
DogsBite.org became involved in
Tracey v. Solesky
in the fall of 2011 after
filing an amicus brief
on behalf of the young mauling victim. On April 26, 2012 the Maryland Court of Appeals issued a ruling declaring pit bulls "inherently dangerous" and attached strict liability when a pit bull attacks a person. This liability extended to the landlord when a tenant's pit bull attacks, as was the case involving then 10-year old Dominic Solesky.
This civil case is now resolved
.
Since the ruling there have been two legislative attempts to undo the court's ruling, the August
2012 Special Session
and the 2013 Session, which ended on April 8. We'll briefly discuss the highlights of the last session describing the bills and amendments, including the differences between the House and Senate chambers. These differences lasted into the closing hours of the session, causing the final negotiated bill to die and leaving the high court's ruling intact.
Defective Legislation Introduced
In January, Delegate Simmons and Senator Brian Frosh introduced
matching "compromise" legislation
into both chambers that alleged stronger protections for all dog bite victims. The Solesky family, their attorney, DogsBite.org and trial attorneys opposed the bills. Under the bills, once a dog owner proved "lack of knowledge" victims would still have to prove the owner
knew or should have known
of the vicious propensities of the dog, also known as the One Bite rule.
The "compromise" bill,
SB 160
(cross-filed as
HB 78
) became known as the "rebuttable presumption" bill and was defective from the start. The bill was little more than legal language that created the illusion of recourse for dog bite victims, while at the same time codifying the One Bite rule into Maryland law. Specifically, SB 160 and its counterpart were silent on the proof a dog owner must establish to prove "lack of knowledge," thus by law it fell to the lowest level.
3
To help clarify this, we've included a portion of the written testimony submitted by DogsBite.org to the Senate Judicial Proceedings Committee. (See:
Full written testimony
). Notably, both bills put forth since the Court of Appeals ruling fully abrogated the Court's ruling with little debate. The crux of the debate is whether to revert back to the pre-Solesky One Bite rule or to advance the rights of all Maryland dog bite victims by adopting a form of strict liability for all dog breeds.
Summary


DogsBite.org strongly opposes "compromise" bill SB 160 and its House counterpart HB 78. We urge Senators to amend SB 160 by adopting strict liability.

The "compromise" legislation serves only to compromise the health and safety of all future Maryland dog bite victims. Instead of providing a remedy for these victims, the two bills carefully shield dog owners, landlords and insurance providers from financial responsibility after a damaging dog attack. The proposed legislation also appeases animal welfare groups. Not one of these groups in any way operates under a mission to protect the health and safety of human lives.

The very victims at the center of the high court's decision, sufferers of serious and deadly pit bull injuries, have been abandoned and silenced by this legislation, despite the fact that pit bull mauling deaths are up 556% since the Matthews ruling.

Under the "compromise" bills, a dog owner merely has to provide minimal evidence that he or she was unaware of any previous vicious acts by the animal. Afterward, the victim must still prove the dog owner knew or should have known of the dangerous or vicious propensities of the dog, effectively, the One Bite rule.
Defective Legislation Advances
After the House
unanimously passed HB 78
, the only hope left was for the bill to be amended in the Senate. From the start, Senate members appointed to the Pit Bull Task Force in May 2012, and during the 2012 Special Session, when Senate members introduced a strict liability bill (which the House killed), the majority of Senate members favored strict liability for all dog breeds under the principal that dog owners should be responsible for the actions of their dogs.
Senator Bobby Zirkin
stated it simply in March
: "I love dogs but if my dog bites a little kid, I should be responsible for it -- not the kid and not the parents of the kids." Senator Zirkin made the statement after introducing
an amendment to SB 160
that raised the level of proof required by a dog owner to establish "lack of knowledge." The former minimal rebuttable evidence required by the dog owner, "by a preponderance" of the evidence, was raised to "clear and convincing" proof.
The Senate
adopted the amended version of SB 160
unanimously on March 14.
Predictably, the House
unanimously rejected the amended bill
and on March 27, the count down to the end of the session began in earnest. With just days remaining, a conference committee was created (3 members from each chamber) to iron out the differences between the two chambers. On the final day of the session, April 8, the conference committee negotiated a new compromise where only children 12-years old and younger qualified for the higher level of proof.
The Senate
passed the negotiated bill unanimously
. During the House debate, however, the bill was tabled -- House Speaker Michael Busch said the measure did not have enough votes to pass. The bill never made it back to the floor, and simply died as the clock for the session ran out. Delegate Benjamin Kramer,
who helped kill the negotiated bill
, had the gall to immediately request that a 2013 Special Session be called by
Governor Martin O'Malley
to resolve the impasse.
4
What Happens Next?
Governor O'Malley has the
power to call a special session
. The legislature can also vote to approve one. "Anything can happen in politics," as they say, but Delegate Simmons is already signaling the 2014 Session. Simmons recently complained that his time spent last summer creating the "rebuttable presumption" bill went down the drain. Simmons plans on spending this summer
drumming up a dog bite liability bill
too, hopefully one not as defective as his last.
Until then, the Tracey Court ruling stands:
Pit bulls are "inherently dangerous."
Related articles:
12/17/12:
Solesky Family Releases 911 Call at the Center of High Court Decision...
08/21/12:
Maryland Court of Appeals Narrows Decision to Pit Bulls; Removes Cross-Bred Pit Bulls
08/15/12:
Anthony Solesky, Father of Pit Bull Mauling Victim, to Testify at Hearings
06/18/12:
Maryland Pit Bull Task Force Forum Live Tweeting June 19th @Supportthecourt
06/08/12:
DogsBite.org Launches Maryland Dog Bite Victim Advocacy Web Page...
04/30/12:
Maryland Court of Appeals Holds Pit Bull Owners and Landlords Accountable
01/16/12:
Pit Bull Attack Victims May Have New Hope to Recover from Landlords
11/02/11:
Letter of Gratitude to Founder Colleen Lynn from Parents of Mauling Victim
03/10/10:
Dangerous By Default: Extreme Breeds by Anthony Solesky
Labels: Anthony Solesky, Court of Appeals, Dangerous by Default, Inherently Dangerous, Maryland, One Bite Rule, Strict Liability, Supportthecourt, Tracey v Solesky
Victim of fatal pit bull mauling: Monica Renee Laminack of Ellebell, GA.
Mother 'Studying'
UPDATE 04/17/13:
A mother charged with child cruelty in the dog mauling death of her daughter was in her bedroom studying for her GED diploma when the toddler was attacked by the family's pit bulls, according to her attorney. The child slipped into the backyard unnoticed through a doggie door and was attacked and killed by the animals. Yesterday, Summer Laminack was charged with second-degree cruelty to children, a felony punishable by up to 10 years in prison.
Georgia law defines second-degree child cruelty as an act of criminal negligence that causes a child excessive pain, either physical or mental. Two other adults were at the home at the time of the attack. Sheriff Clyde Smith said the child's grandmother was taking a nap; authorities have not released what the third adult was doing. District Attorney Tom Durden said, "It was a very horrific event that happened." Durden plans to let a grand jury decide if the case should go to trial.
04/16/13: Young Mother Charged
Charges have been filed in the death of a 21-month old toddler killed by a pack of family pit bulls in Ellabell last month. Summer Laminack, 18-years old, was charged with second-degree cruelty to children in the death of her daughter, Monica Laminack, according to a press release from the Bryan County Sheriff's Department. Her attorney, Tom Edenfield of Savannah, surrendered Laminack on Tuesday to the sheriff's department. She was released on a $5,000 bond.
Laminack, along with two other adults and two young boys were at the home on March 27 when the family's pit bulls mauled the toddler to death. Bryan County Sheriff Clyde Smith said the adults were apparently napping at the time. At one point, the child's grandmother awakened and alerted family members to the attack, according to Smith. By the time any of the adults reached the child, she was already dead. Further action by the Bryan County Grand Jury is pending.

Related video
03/29/13: Criminal Charges Expected
Sheriff Clyde Smith tells WTOC there is no excuse for one of the adults to not be keeping a close eye on Monica, which is why second-degree felony child cruelty charges are being considered. The length of the attack is what investigators are now focusing on and why it took so long for family members to respond. Earlier, news reports said the 911 call was made at 6:36 pm. When EMS arrived, the little girl's body was already cold, indicating that she had been dead for a while.
1
Detective Donnie Thomas said, "It wasn't just a one or two minute ordeal. It was not one or two bites and the dogs went on their own way." Smith and Thomas provided WTOC photos of Monica's body after the attack to show how severe and possibly prolonged the attack was. "The bite marks covered her entire body, the graphic photos even showing what appeared to be the tiny child's head nearly decapitated along with severe internal damage," reports the article.
03/28/13: News Conference Held
Byrancountynews.net reports more details about the news conference held Thursday morning in Pembroke. Bryan County Sheriff Clyde Smith said the child's mother, Summer Laminack, 18, grandmother, Michelle McIntyre, great-grandmother, Pat Asher, and two uncles, ages 14 and 12, were home at the time of the fatal dog mauling. Family members told Smith they "went to sleep" after returning from a store just after 5 pm. The 911 call was placed at 6:36 pm.
"Apparently what happened is the child and the dogs were all in the house together and exited the house through the doggie door," Smith said ... "The dogs apparently live in the house also ... and they all went outside and at some point they started attacking the child, mauled her and drug her all over the yard. They tore her clothes off and scattered her clothes all over a pretty large back yard."

- Bryan County Sheriff Clyde Smith
Smith said that charges of child neglect would be the minimum that could be filed. Smith said he did not anticipate any charges being filed before the child's funeral. Smith only saw photographs of the young girl, but said that deputies and emergency personnel who responded to the scene were "very disturbed." Smith told reporters, "They said it was the worst they have seen. It was bad -- very bad." Bryan County Animal Control euthanized all seven pit bulls on the scene.

Related video 1
|
Related video 2
03/28/13: Child Victim Identified
The young child mauled to death by her family's seven pit bulls has been identified as Monica Laminack. Bryan County Sheriff Clyde Smith said that when EMS arrived, the child was already cold, indicating she had been dead for a while. Authorities continue to question
how the child ended up in the backyard alone
with the animals. Speculation ranges from her 12-year old brother leaving her in the backyard to the child accessing the dogs through the home's doggie door.
"All the dogs had access to the house, nine dogs in all. She habitually played with dogs, all of them.

- Bryan County Sheriff Clyde Smith
The seven dogs involved in the attack, all pit bulls, were put down at the scene. Two other dogs (not pit bulls) living at the residence and not involved in the attack were spared.
A separate article reports
that Smith held a news conference Thursday morning. Smith confirmed that the child crawled through the doggie door, apparently she had done so in the past. Smith said that he would be shocked if no charges were filed. Five people were in the home at the time of the attack.
Smith added that
four
generations of the family lived at the home.
03/27/13: Toddler Killed by Pit Bulls
Bryan County, GA - Bryan County police authorities are investigating the death of a 21-month old girl who was mauled to death by a pack of seven pit bulls and pit bull-mix dogs Wednesday night. Police say the girl's grandmother was sleeping when she was awakened by a commotion in the yard. She looked out and saw the attack, but was unable to save the child. All of the pit bulls belonged to the child's family and have
already
been euthanized Bryan County Animal Control.
The child's identity has not yet been released.
Related articles:
03/10/13:
2013 Dog Bite Fatality: 7-Year Old Galesburg Boy Killed by Dog
03/07/13:
2013 Dog Bite Fatality: 14-Month Old Wisconsin Boy Killed by Babysitter's Pit Bulls
02/25/13:
2013 Dog Bite Fatality: Elderly Woman Mauled to Death by Pit Bulls in Motel Room
02/19/13:
2013 Dog Bite Fatality: 'Nightmare' Pit Bull Kills Uvalde County Boy
01/21/13:
2013 Dog Bite Fatality: Dog Mauls Woman to Death While Babysitting Toddler
01/20/13:
2013 Dog Bite Fatality: Chained Pit Bull Kills Montgomery County Boy
Photo:
Facebook.com
Labels: 2013 Dog Bite Fatality, Fatal Pit Bull Attack, Georgia, Georgia Pit Bull Fatality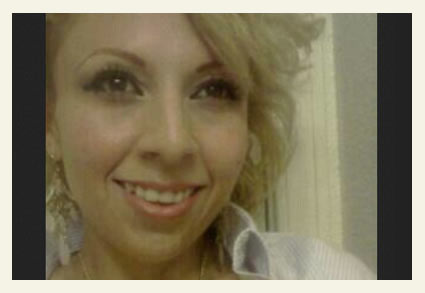 Claudia Gallardo, 38, of Stockton was mauled to death by a pit bull.
'I Tried to Save Her Life'
UPDATE 04/13/13:
Javier Sanchez Sr. and his family had just returned home Thursday night when they heard someone screaming for help. They soon realized a woman was being attacked by a pit bull in the front yard of a home across the street. Sanchez jumped the fence, ventured into the darkness and began beating the animal with a large piece of wood his wife grabbed from their backyard. The pit bull, however, refused to release its jaws from the woman's throat.
I was scared. I was thinking about my life, and my wife was saying, 'No, don't go,' but I had to help the lady. I kept hitting the dog, but it wouldn't let go. I tried to save her life, but I couldn't.

(Javier Sanchez Sr.)
Sanchez told the Recordnet.com that he wishes he could have done more to save the woman's life, but the dog had already inflicted too much damage by the time he arrived. That night he only slept two hours. "I was thinking all night about the dog and the lady and what I saw," Sanchez said. "It was hard. I've never seen something like that." Gallardo's sister, Mireya Gallardo, said her sister didn't deserve this. "I don't think anybody deserves to die that way," Mireya said.
Olga Paez, the victim's aunt, said her niece's death has devastated and angered her family -- "It's just terrible. We want answers," Paez said. Detectives continue to investigate, but there are still many unanswered questions. It remains unclear why Gallardo was at Hrenko's home, whether she knew the man or if she jumped a fence to get into his yard. Hrenko couldn't be reached for comment Friday, but his ex-wife, Gloria Hrenko, said he was "distraught" over what happened.

Related video
04/12/13: Mauling Victim Identified
Family members told CBS 13 News that the victim's name is Claudia Gallardo, 38, and is a mother of three. On Thursday, Gallardo was discovered dead in a man's front yard after being attacked by a
pit bull named Russia
. The owner of the dog, Brian Hrenko, said he didn't know the woman and that she climbed over his fence when he was gone. A female friend of Hrenko, who was home at the time of the fatal dog attack, said the victim claimed to be there to clean the house.
The San Joaquin County Sheriff's Office has not confirmed the woman's identity, nor has it confirmed if the woman jumped over the fence. Hrenko was away for about 40 minutes. When he returned home, Hrenko said his female friend "was all hysterical, said Russia attacked (the woman)," said Hrenko. "She was all crying and stuff," said Hrenko. He didn't learn much more at the time because deputies quickly took him in for questioning. The investigation continues.

Related video
04/11/13: Woman Mauled to Death
Stockton, CA - A woman was killed Thursday night after being attacked by a pit bull that has terrorized the neighborhood for months, according to authorities and residents. The San Joaquin County Sheriff's Office received a report of a dog mauling at 8:19 pm in the 400 block of North Lillian Avenue, just east of Highway 99 and north of East Miner Avenue. When deputies arrived, they found a woman dead who appeared to have been attacked by a dog, Sgt. Tom Rees said.
Rees wouldn't describe the woman's injuries, but he said, "there's a lot of blood" and described the dog as a "big, nasty pit bull."
Neighbors were horrified and angered by the attack, but not surprised. Some said the dog has jumped fences to attack other animals in the area. Rita Vasquez said the pit bull
attacked her dog and bit her late husband
. She said the dog's owner has more pit bulls as well. Vasquez said her husband reported the attacks to the Sheriff's Office, but authorities said there was little they could do at the time. She asked: "Why did somebody have to get hurt for something to happen?"
1

Related video
Related articles:
02/25/13:
2013 Dog Bite Fatality: Elderly Woman Mauled to Death by Pit Bulls in Motel Room
12/14/12:
2012 Dog Bite Fatality: Fresno County Man Mauled to Death by Pack of Pit Bulls
12/07/12:
2012 Dog Bite Fatality: San Diego County Woman Killed by Pack of American...
11/08/12:
Blogger Nails Uncomfortable Truth About Animal Control Agencies: Introducing...
08/28/12:
San Diego County Pit Bull Responsible for Death of 4-Year Old Tijuana Girl
Revisiting pit bull dog aggression
12/10/09:
Pit Bull Dog Aggression: Two Fighting Pit Bulls Shot Dead at Dulles
03/06/09:
Dog Aggression Equals Human Injury, Bullets and Dead Family Dogs
02/23/09:
Pit Bull Dog-Aggression Results in Serious Human Injury
Photo:
CBS Sacramento
Labels: 2013 Dog Bite Fatality, California, California Pit Bull Fatality, Fatal Pit Bull Attack, Pit Bull Dog Aggression
Ordinance Drafted
UPDATE 04/10/13:
Westwego officials have drafted a new ordinance further targeting pit bulls after the near fatal pit bull mauling of Linda Henry. Three of four adult pit bulls that Linda raised with her boyfriend since puppies
ambushed her as she walked into her home
last month.
1
Linda suffered catastrophic pit bull injury, including the amputation of both arms, the loss of an eye and ear and devastating scalp injury -- the dogs ripped the scalp off the back of her head.
Westwego has had a pit bull ordinance since 2000 and city officials are strengthening it, proposing that owners be at least 21-years old and have at least $100,000 in liability insurance under their homeowners or rental policies. Also required under the proposed ordinance is mandatory microchipping and mandatory sterilization -- breeding new pit bulls will be banned. Police shot and killed all four adult pit bulls at the scene and seized a litter of eight pit bull puppies.
"They're going to be able to keep their pit bulls. They're going to find it's a lot more expensive." -- Westwego City Councilman Glenn Green
The proposed ordinance will be reviewed more closely in July after newly elected City Council members take their seats. On Monday, Councilman Glen Green, who is leading the effort behind the proposed ordinance and visits Linda in the hospital,
stated from the Westwego City Council podium
: "I'm going to make sure your insurance company knows what's going on. I don't care if you don't like it. Unless you've been across the river to see Ms. Henry, you can't complain."
2
View
:
Louisiana Breed-Specific Laws
03/18/13: Councilman Knows Victim
Linda Henry remained in critical condition at a New Orleans hospital Monday after suffering catastrophic pit bull injury. Westwego Councilman Glenn Green visited Henry at the hospital and said that he has seen improvement in her condition. Green said she now responds "when you talk to her" by wiggling her toes. Green said he's "had enough" after seeing Linda's devastating injuries and wants to make owning certain dog breeds more difficult inside Westwego city limits.
"I'm going to be a pain in their asses," Green said of owners of certain breeds. "That is the most vicious, brutal thing I've ever seen. I don't want to see that happen again to a citizen in Westwego."
Green said his plans are still in the works and he will seek support amongst his fellow City Council members to amend the city's current dog ordinance. Green added, "If they want to challenge it in court, so be it," Green said. "There are several breeds that I'm putting in there." In 2000, after the death of
2-year old Ramani Virgil
, who was killed by his family's tethered pit bull, Westwego adopted an ordinance that spells out special confinement requirements for pit bulls.
Green said the severity of Linda's injuries will stay with him for a long time. "It happened in my district," Green said. "I have to step up to the plate. I mean this young woman, I've known her since she was a little girl. She is not just someone in my district. She is a friend, a family friend. I mean I can't even imagine living my entire life being vision impaired and having no arms." Linda lost an eye, ear and both arms in the attack. The pit bulls also tore off the back of her scalp.

Related video
03/14/13: Catastrophic Pit Bull Injury
Westwego, LA - Yesterday, the horrific
pit bull attack that occurred in Westwego
was added to the DogsBite.org Dog Bite Fatality Watch List. New details emerged today. Linda Henry, 54-years old, suffered catastrophic injury; two arm amputations and the loss of an eye and ear after a vicious attack by three pit bulls she had raised since puppies. The dogs also ripped the scalp off the back of her head. Westwego police arrived and shot and killed all of the adult pit bulls in her home.
As of Thursday, Henry remains in critical condition
on life support at LSU Interim Hospital
.
3
Her boyfriend, Clarence Allen, who helped raise the dogs said, "I don't know why they did it … We had those dogs like kids in there. They never had a fight.
I don't understand it
." He said the two passed by each other just before the grisly attack. Allen was headed away to a corner store and Henry was on her way back home, "carrying her terrier dog."
4
When Allen got to the store, his little cousin called him on the phone and said that police were at his home, shooting his dogs.
Doesn't understand it? Pit bulls are unpredictable.
Police Chief Dwayne "Poncho" Munch said, "It's the worst dog bite I've ever seen in 25 years of police work." The couple's pit bulls evidently attacked Henry as she walked into the home. Munch said when police arrived, "They could hear the woman screaming in the house. They saw all three dogs biting her." Officers immediately shot two pit bulls that charged them as they entered the home then shot the third dog that was still mauling Henry. A fourth pit bull was also shot.
A neighbor named Alma saw Henry walk into the home and moments later heard Henry screaming, "Get off of me." Alma said that Henry was in awful shape when officers removed her from the home. "Lord, it was devastating. I've never seen something like that." She added that police carried the dogs' bodies out in garbage bags, one of which leaked blood onto the street in front of her home. Puppies taken from the home were carried out in a kennel, according to Alma.
Pit bulls consistently maul and kill their owners.
Despite being hailed as the "most loyal" dog breed by their owners and advocates, pit bulls consistently maul and
kill their owners
. These attacks are on the rise as well. DogsBite.org noted in the
2011 fatality statistics
, "Of the 8 total instances this year in which a family dog inflicted fatal injury to its primary caretaker, the dog's owner, 88% (7) involved pet pit bulls." The Occupy Maul Street blog keeps an
ongoing log of these maulings
and calls them
Darwin
attacks.

Related video
Related articles:
10/04/12:
2012 Dog Bite Fatality: Pembroke 'Dog Rescuer' Killed by Own Dogs
09/11/12:
2012 Dog Bite Fatality: Jefferson County Woman Attacked by Own Pit Bulls Dies
08/17/12:
2012 Dog Bite Fatality: 23-Year Old 'Dog Rescuer' Mauled to Death by Own Dogs
05/08/12:
2012 Dog Bite Fatality: Pet Pit Bull Kills 74-Year Old Santa Fe Man
12/08/11:
2011 Dog Bite Fatality: White County Man Mauled to Death by Pet Pit Bull
12/07/11:
2011 Dog Bite Fatality: Woman Dies Following Attack by Pet Pit Bull Last Month
08/15/11:
2011 Dog Bite Fatality: Pregnant Pacifica Woman Killed by Family Pit Bull
06/14/11:
2011 Dog Bite Fatality: Spotsylvania County Man Killed by Pet Pit Bull
Labels: Catastrophic Pit Bull Injury, Darwin Attack, Louisiana, Maul Talk, Pit Bull Attacks Owner, Pit Bull Ordinance
Tyler Austin "Catfish" Jett, 7-years old, of Callaway, Florida.
Manslaughter Charges
UPDATE 04/08/13:
Manslaughter charges have been filed against Edward Daniels II after his two dogs brutally attacked Tyler Jett, ultimately causing his death. Daniels was already charged with
felony tampering of evidence
and drug charges that arose during the investigation. Greg Wilson, Chief Assistant State Attorney for the 14th Judicial Circuit, said, "In any type of animal case where the death of another person occurred, [manslaughter] is the highest you could go."
Edward Daniels II, 21, faces up to 15-years if convicted of manslaughter. On March 28, just days before his dogs got loose (again) and attacked Tyler, Bay County Animal Control cited Daniels for allowing his dogs to run loose and terrorize neighbors. That citation put Daniels on notice that his dogs were dangerous and that he needed to properly secure his animals. Daniels failed to do so and as a result, a child was horribly mauled and died due to injuries inflicted by his dogs.
The WMBB video showed images of both attacking dogs.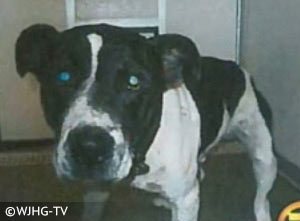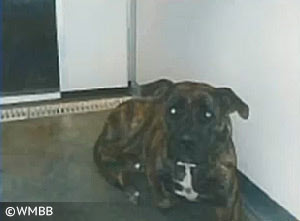 Related video
04/07/13: Boy Dies After Attack
Callaway, FL - Tyler Jett, 7-years old, of Callaway has died. On April 2, Tyler was
savagely attacked by two loose pit bull-mix dogs
. Tyler was flown to Sacred Heart Hospital in Pensacola where he remained in intensive care until his death.
1
The boy suffered a punctured carotid artery and his head, face and neck were badly bitten. The dogs' owner, Edward Daniels II, was charged with
felony tampering of evidence
after washing the blood off one of his dogs after the attack.
2
Just before the attack,
Tyler was riding his bike
after returning from school.
3
Witnesses said the two dogs, which escaped from their owner's fenced-in yard, had chased another neighborhood boy into Tyler's yard before turning their attention on Tyler.
The boy's stepmother
, Katy Phillips, Tyler's father and a neighbor rushed to help him after hearing his screams. "Tyler did not provoke these dogs," Phillips said. "These dogs (dragged) this 7-year-old across my front yard."
4
"I was keeping him alive. I was applying pressure to his neck and his head and telling him to keep breathing for me," Phillips said.
Two days after the violent attack, friends of the boy's family
planned a benefit to raise money
to help cover the boy's medical costs. The benefit cookout was held
Saturday morning at the Dam Bait Shop
. An aunt of the boy said the event raised about $12,000. A new fundraising event will be held Monday at Bill Byrd Kia in Panama City. WPAP 92.5 FM will be broadcasting live. Collecting donations now broadens to include Tyler's
funeral expenses
along with his hospital stay costs.
Daniels is not a stranger to dog attacks
. Last May, Daniels was
walking a dog named Dude
that belonged to his sister,
Amber Daniels
, when it bit a 9-year old boy in the face without provocation. That dog was surrendered to animal control to be destroyed after it was declared dangerous for a previous unprovoked attack in 2010. The two pit bull-mix dogs that attacked Tyler had not been previously declared dangerous, but had a history of getting loose and threatening behaviors.

Related video
04/03/13: BCSO Police Report
OFFICIAL BCSO REPORT – CALLAWAY DOG ATTACK


On 04-02-13 I Deputy Price responded to 6213 Kelly Ct. in reference to a seven year old child being mauled by two pittbull's. Upon my arrival Fire Rescue were already on scene and administering CPR to the unconscious seven year old white male that was attacked by the pitt bull's. The pittbull's had already fled the scene and were believe to have went back to their home at 6228 Kelly Ct. (Mother) Katy Phillips explained to me that she was inside her house when she heard screaming and yelling outside by family members and neighbor's who saw her son being attacked by two pittbull's. Ms. Phillips said that neighbor Shannon Washington, herself and her husband attempted to scare off the two pittbull's but were unsuccessful due to the pittbulls aggressive behavior towards them. Ms. Phillips said that she then covered her son beneath her as her husband went to retrieve a gun from out of the house to kill the dog's.

Myself and responding Deputies went to the residence of 6228 Kelly Ct. where we made contact with the owner of the pittbull's Edward Daniels Jr. II. Animal Control later arrived on scene and detained the two pittbull's that were located in Mr. Daniel's back yard. The two dogs were identified by the victim's parents and neighbors as the two pittbull's that attacked the seven year old child.

The child was later identified to be XXXXX Austin XXXXX. The pittbull's are described as two mix breed pitt bull's. One was a Brindle mix breed pitt bull that was a one year old. The second pittbull was identified as a mixed breed pittbull that was eight years old. Upon receiving the pittbull's from Mr. Daniels, Animal Control personnel Matthew Bland said to me, that Mr. Daniels had a non caring attitude learning that the pittbulls attacked a seven year old child. Mr. Bland also said that Mr. Daniels said that he knew something was wrong when he saw blood on the eight year old pittbull's mouth. Mr. Daniels said that both of the pittbull's have gotten out of his back yard on several occassions by digging holes under the fence.
Read:
BCSO report in full
|
Additional BCSO report
Related articles:
07/25/12:
Bay County Animal Hospital Worker Suffers Catastrophic Injury in Pit Bull Attack
07/11/12:
2012 Dog Bite Fatality: Avondale Man Mauled to Death by Pit Bull-Type Dog
04/08/09:
Pit Bull Attacks Toddler While Being Baby-Sat in Bay County
04/01/08:
2007 Fatal Mauling Investigation of Carshena Benjamin Closes Unresolved
Labels: 2013 Dog Bite Fatality, Alapaha blue-blood bulldog, Fatal Pit Bull Attack, Florida