DogsBite Blog ::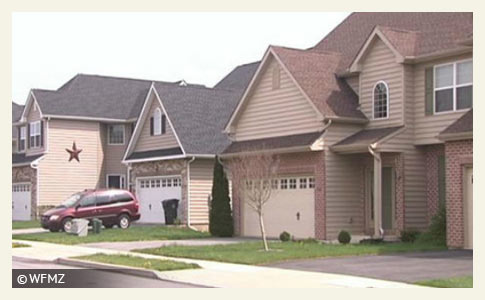 Lisa Green, 32-years old, was killed by her dog in Upper Macungie Township.
Dog Attacks, Kills Owner
Upper Macungie Township, PA - A woman was fatally mauled by her dog Thursday afternoon in Upper Macungie, according to police chief Edgardo Colon. Police were dispatched at 1:30 pm after a report of a woman being attacked by a dog in her home on Spring White Drive. Responding officers found the dog
attacking the woman on the rear deck
of her home, Colon said. Police officers secured the dog then assisted the woman, who suffered extensive injuries in the attack.
Police contacted state dog warden Orlando Aguirre. The warden arrived with members of the Lehigh County Humane Society to tranquilize the dog, reports the
Morning Call
. Aguirre told police the dog is a 3-year old male pit bull-boxer mix. The animal will be transported to the humane society, where it will be euthanized and "tested to determine what caused the attack," reports
The Call
. It is unknown what form of "test" will be conducted on the dog, behavior or otherwise.
The Call
later interviewed neighbor, Vidya Chellapilla, who witnessed part of the deadly attack. Neighbors first tried to stop the attack by using a board, which the dog broke with its jaws. Then they called on neighbor David Rachman, who is the Slatington police chief. Rachman rushed over with his gun. He shot the animal several times, striking it in the leg. The victim is described as only being in her 30s. Police have not released her name pending notification of family members.
Neighbor Vidya Chellapilla
A neighbor, she started shouting, 'Help, help!' Immediately another neighbor also started shouting. So then I came -- I am doing my office work -- so, I came here and, we all started seeing from there ...
At that time she had already fallen. We don't know exactly how. Did the dog bite her? We don't know exactly, but she has fallen.


Then we see the dog started biting on her neck, started removing pieces from her neck.

We didn't go there, because the dog looks really wild at that time. We all are seeing from here.
They immediately ran, they called the cop opposite to the house. We have a cop, so I called him. He came immediately. He started shooting. He hit it twice. He shot the dog. Maybe the bullet went to the dog's leg. Immediately the dog is shouting and it sits next to the staircase.
So after that we called 911 immediately.

- Video interview, The Morning Call
Evening Updates
The dog mauling victim has been identified at 32-year old Lisa Green. The person who tried to stop the attack by jabbing the dog with a board has been identified as Loretta Ottinger, Green's next-door neighbor. Another neighbor, off-duty Slatington police chief David Rachman, fired his gun twice, striking the dog at least once ending the attack. Ottinger said Green had owned the dog, named Leon, for about two-and-a-half years. Officials tranquilized the dog at the scene.
In a later update,
The Call
published more details by Ottinger. She hit the dog with a hambone before using the board, hoping to drive the dog's attention away from Green. "I thought if Lisa could get free and roll over,
the dog would be off her jugular. But he ignored the ham. He was just picking her up and throwing her down
," Ottinger said. Then she got a piece of wood and shoved it through the deck slats at the dog. The dog made quick work of that by snapping the board in two.
Ottinger also stated that Green's dog was a pit bull, as opposed to a "mix" variety. "It was a pit bull. They're pretty strong dogs," she said. Even after witnessing the horrible attack and seeing Green lying motionless in the bloody aftermath, Ottinger hoped she might survive. But that was not the case after Green's pit bull of two-and-a-half years suddenly attacked and
executed the killing bite
. "I love dogs," Ottinger told
The Call
, "but wow, I just don't know why anyone would get a pit bull."
---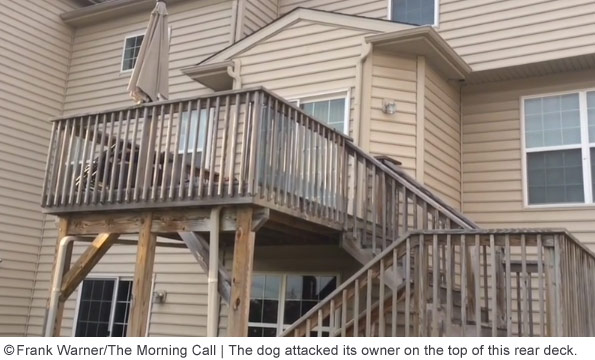 Related articles:
09/01/16:
2016 Dog Bite Fatality: Family Pit Bulls Kill Woman, Injure Son in Conifer, Colorado
05/10/16:
2016 Dog Bite Fatality: Advocate for People with Disabilities Mauled to Death...
04/03/16:
2016 Dog Bite Fatality: Woman Mauled to Death by Her Pit Bull-Mix in Leesburg, Florida
05/05/09:
Alexandra Semyonova: Heritability of Behavior in the Abnormally Aggressive Dog
Labels: 2017 Dog Bite Fatality, Pennsylvania, Pit Bull Kills Owner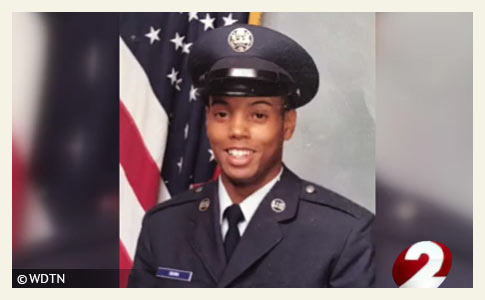 Maurice Brown, 60-years old, was mauled to death by a pit bull in Dayton, Ohio.
No Progress on Investigation
UPDATE 04/26/17:
Dayton police continue to investigate who owned or cared for the pit bull that fatally attacked a 60-year old man Tuesday morning, along with three other pit bulls seized from the home at 345 Middle Street. During a press conference yesterday, Lt. Andrew Booher indicated that police were seeking out tenants of the home to interview. It remains unknown if the tenant(s) or other people associated to the 345 Middle Street home are relatives of the property owners.
Previous Complaints
Police reports show that a dog attack has occurred at the property before. In 2011, a 9-year old girl was bitten by a pit bull-mix and received 50 stitches. She also endured rabies shots. The attack occurred at 345 Middle Street, but the dog's owner lived on West Riverview Avenue. Between 2008 and 2012, a dog owner living at 345 Middle Street was cited multiple times for not licensing his two male pit bulls, according to the Montgomery County Animal Resource Center (ARC).
While police scramble to interview neighbors and track down tenants after the deadly pit bull mauling, we must share with our readers a horrific irony. The estate of Klonda Richey, who was
brutally killed by her neighbor's two dogs in 2014
, is currently
suing the director of ARC
, Mark Kumpf. Richey had complained to ARC about her neighbor's dogs 13 times before they killed her. ARC personnel
can be seen in this video
, investigating the city's most recent fatal dog attack.
Speculation of Charges
Despite the speculation of possible criminal charges after Brown's death, one need only to recall that after Klonda's death -- who was killed on her own property -- authorities could only charge the dogs' owners, Andrew Nason and Julie Custer, with misdemeanors. This egregious flaw in Ohio state law is why Sen. Bill Beagle continues to introduce the Klonda Richey Act. "If stiffer penalties will scare owners into being more responsible then I think that's great,"
Beagle told Fox 45 News
.
Greta Parks, who lives on Klonda's street and saw the aftermath of the horrific attack, also spoke to Fox 45. "Poor lady's body laid out there on the street for hours," she said. During these very hours, while investigating the fatal mauling, Director Kumpf tells the media, "We've never located them or seen [the dogs]." Simultaneously, Kumpf was busy "correcting" the media, saying the dogs involved were "mastiff-mixes" to deflect early police reports of the dogs being pit bulls.
1
Victim's Family Speaks Out
WDTN spoke with the victim's two siblings
. Maurice Brown was a graduate of Jefferson Township High School who played in the band. Brown is also a United States Air Force Veteran, where he served as a mechanic. David Brown, the victim's brother, said it does not surprise him that Brown was up so early that morning. "That's how we remember him -- artistic. Most of the world is rigid and on a schedule. He was a non-schedule type. He enjoyed the world at its quietest," David said.
Both David and his sister, Angela Brown, hope that some form of justice is served. "This could have been a child walking to school, mauled to death. It could have been anyone, it just happens to be my brother. These dogs are bred, bred for that trait of being vicious and you should be held accountable if you cannot control them," David said. We too hope for justice. However, currently police and ARC do not even know who the dog's owner is and the state law is weak in this area.
---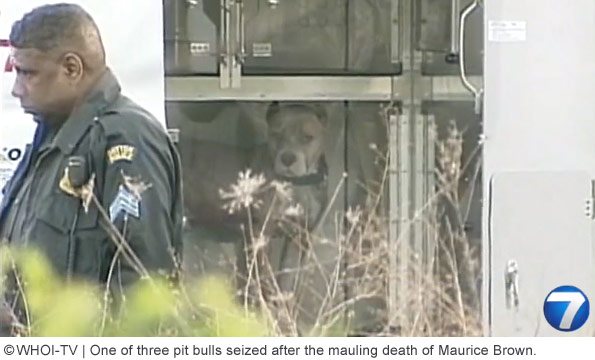 ---
04/25/17: Mauling Victim Identified
The man mauled to death by a pit bull Tuesday in Dayton has been identified. Dayton police say Maurice Brown, 60-years old, was killed by a pit bull early Tuesday morning. Police said the man did not live in the area. Four pit bulls were kept on the property at 345 Middle Street. Police shot and killed the pit bull that was actively attacking Brown. The other three were taken into custody. So far, it is unknown who owns the dogs. The property's owner resides at a nursing home.
"Yet, here we are again, continuing to talk about another fatality from another out-of-control dog and an irresponsible owner."

- Sen. Bill Beagle
WHIO-TV reached out to
state Sen. Bill Beagle
who introduced the Klonda Richey Act in 2014 and 2015 after she was killed by her neighbor's two dogs. The bill increases penalties after serious and fatal dog attacks. Last year,
the bill passed the Senate
in the final days of the session. Beagle vowed to reintroduce the legislation, but not before revisions are made. "We had some folks that wanted to see some changes," Beagle said.
We hope these "folks" are not out-of-state lobbyists.
04/25/17: Pit Bull Kills Man in Dayton
Dayton, OH - Early Tuesday, Dayton police responded to a home in the 300 block of Middle Street after neighbors heard a man
yelling for help and dogs barking
in the background. When officers arrived, they found a man seriously injured after being mauled by a dog. Police described the victim as an "innocent" middle-age male who was walking in the area. Police said the dog is a male pit bull. They shot and killed the dog and removed three other pit bulls from the home.
"Near Riverview Avenue there's a man outside yelling 'Jesus help me. Help me,'" the caller said. "Sounds like he's in pain."

- 911 caller, WHIO-TV
The deadly attack happened at about 5:15 am. Police said the pit bull was able to break its chain and attack a man who was walking in a nearby alley. The victim was transported to Miami Valley Hospital where he was pronounced dead. Initially, police had to search for the dog, described as a tan pit bull. After they hunted it down, they shot and killed it. Currently, police are awaiting a search warrant to enter a house at 345 Middle Street. Police have not released the name of the victim.
Fatal Attacks in Montgomery County
This man's death marks the third fatal dog attack in Dayton since 2014 and the fourth in Montgomery County since 2012. In February 2014, Klonda Richey, 57-years old, was
brutally attacked and killed
by her neighbors two dogs. Richey had reported the dogs to authorities over two dozen times before the attack. Five months later, Johnathan Quarles, Jr., 7-months old, was
killed by his babysitter's pit bull
. The babysitter, Kimiko Hardy, was later convicted of six felonies.
"It's a very unfortunate precedent for this city. And hopefully we can get a handle on that rather quickly."

- Lt. Mark Ponichtera, referring to the Dayton fatalities
Two weeks after the death of Quarles, Jr., a 59-year old woman was fatally attacked by her daughter's pit bull in Butler County, which is adjacent to Montgomery County. At the time of the attack, Cindy Whisman was babysitting her 2-year old grandson when her daughter's pit bull
latched onto her neck, killing her
. Neighbor Wayne Walker, who rushed over help said, "It looked like [the dog] took a chunk of her throat out around the jugular." The child was not injured.
Related articles:
06/09/16:
Criminal Trial: Babysitter Found Guilty After Pit Bull Kills Visiting Baby in Dayton, Ohio
09/11/14:
2014 Dog Bite Fatality: Pit Bull Type Dogs Attack, Strip Naked and Kill Dayton Woman
08/07/14:
2014 Dog Bite Fatality: Ohio Woman, 59, Attacked and Killed by Her Daughter's Pit Bull
09/05/12:
2012 Dog Bite Fatality: Trotwood Senior Citizen Killed by Own Dogs
Labels: 2017 Dog Bite Fatality, Breaks Chain, Montgomery County, Ohio
Province of Quebec is Set to Follow Montreal's Lead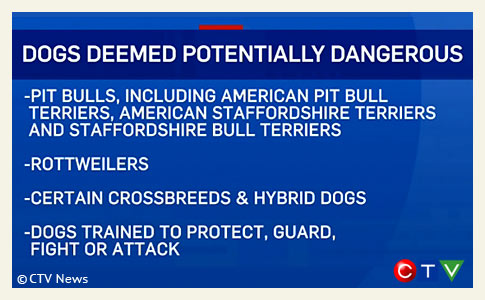 The proposed bylaw, Bill 128, declares several dog breeds potentially dangerous.
A Gradual Pit Bull Ban
Quebec, CA - Last week, Quebec Public Security Minister Martin Coiteux announced that pit bulls will eventually be banned throughout the province. The news comes after months of delays for the province's new dangerous dog legislation that began being discussed after the mauling death of
Christiane Vadnais in Montreal
in early June 2016. Since this time, the city of Montreal has enacted a pit bull ban.
After winning an appeal
, the ban went into effect on December 1, 2016.
"We have experienced a number of tragedies in Quebec due to attacks by specific breeds of dogs, particularly pit bulls."

- Minister Martin Coiteux
The new legislation,
Bill 128
, designates pit bulls (American pit bull terriers, American Staffordshire terriers and Staffordshire bull terriers), rottweilers and their cross-breeds as potentially dangerous. Wolf hybrids and dogs trained to protect, guard or attack are included in the designation as well. Coiteux said the list could change over time. "That list may evolve in the future because the government will be able to use new statistics, new scientific literature, to update this list," he said.
Montreal Mayor Denis Coderre, an
outspoken advocate for public safety
and a powerful force behind Montreal's adoption of a pit bull ban, was delighted to see the province of Quebec follow Montreal's lead, reports CTV News. "I'm very satisfied. There was a pit bull ban to start, but it's about dangerous dogs too, it's not just based on the kind of breed," he said. Due to the highly publicized "breed-specific" parts, Coderre reminded that the bylaw covers all dangerous dogs.
CTV News also interviewed "dog trainer" John Truss of Montreal, who feigned having any idea as to why rottweilers -- the second leading killer in the U.S. -- would be on the list. "Why did they choose rottweilers?" he asked. Several countries, including Spain, include rottweilers on their list of potentially dangerous breeds, along with pit bulls and
fighting breed derivatives
. In the U.S., all major
military divisions ban rottweilers
and 7% of all breed-specific laws
include rottweilers
.
Vadnais family members have been pressing for a province-wide pit bull ban since Christiane's mauling death. Her sister, Lise Vadnais, told CTV News, "I'm very happy to see strong laws being introduced to promote citizen safety. It's a good victory for all citizens. It's satisfying to see the government recognize dangerous dogs." Like in Montreal, and nearly all jurisdictions that regulate pit bulls, existing owners will be grandfathered in, provided they adhere to specific requirements.
Mandatory Injury Reporting
The proposed legislation also requires the reporting of injuries inflicted by dogs by veterinary surgeons. "Veterinary surgeons are required to report the fact to the local municipality concerned without delay and communicate," states the bill, the dog owner's contact information, breed or type of dog, the victim's name, contact information and a description of the injury inflicted. In cases of an injured animal, to report the contact information of its owner and a description of the injuries.
To further increase statistical tracking, the bill also requires physicians to "report the fact to the local municipality concerned without delay, and communicate the seriousness of the injury and, if known, the breed or type of dog that inflicted it," states the bill. Like in the U.S., not all jurisdictions within a state (or a province in the case of Canada) track breed of dog or severity of injuries after dog attacks. This requirement will enable better data collection across the entire province.
Brief Background of Legislation
In July, the Association of Veterinary Doctors of Quebec (OMVQ) sent a report to the ministerial committee tasked with advising government officials about the dangerous dog bylaw. In early August, based on the OMVQ report, the ministerial committee advised officials in Montreal and Quebec to use a "
case-by-case approach
" instead of targeting certain breeds. "Pit bull" and "dog breed" were not even mentioned in the recommendations, reports the
Montreal Gazette.
One week later,
La Presse
published a 5-part investigation
showing how the OMVQ report omitted key parts of peer-reviewed medical studies -- specifically where doctors resolutely state that pit bulls were responsible for the most severe injuries. The OMVQ report also cited studies in their report, giving the impression of "scientific and objective," but were funded by the well-financed American pro-pit bull lobby. The OMVQ report failed to mention this conflict of interest.
"The committee considering the legislation needs to take the veterinarians' report with a huge grain of salt, if not discard it outright."

- Editorial Board, Montreal Gazette, August 15, 2016
After the
La Presse
exposé, which
caused a significant backlash
against the College of Veterinary Surgeons of Quebec who authored the OMVQ report, Montreal became even more embolden and committed to following through with a pit bull ban. It seems clear now that Quebec government officials studying a province-wide dangerous dog bylaw,
namely Coiteux
, were also resistant to the misleading OMVQ report and took the committee's recommendations "with a huge grain of salt."
---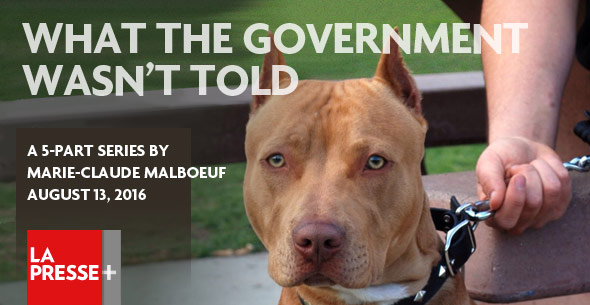 Related articles:
01/01/16:
City of Montreal Wins Appeal; Quebec Court of Appeal Overturns Lower Court's...
10/20/16:
Montreal Pit Bull Ban, What the Vets Omitted and How the Pit Bull Lobby Operates
10/20/16:
Semyonova Analysis of AVMA 'The Role of Breed in Dog Bite Risk and Prevention'
06/19/16:
Cities in Province of Quebec Move to Adopt Breed-Specific Bylaws After Pit Bull...
Labels: Canada, Montreal, Pit Bull Ban, Province of Ontario, Province of Quebec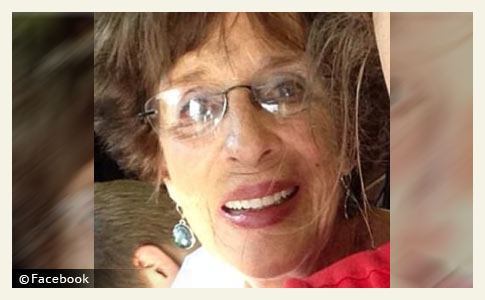 Cecille Short, 82-years old, and her small dog were savagely mauled to death by two pit bulls.
Owner Was Traveling
UPDATE 04/07/17:
Late yesterday, a photograph of the two dogs was released showing a pit bull and an XXL pit bull, a designer breed, also known as an
American bully
. In 2014, a similar dog
killed a little girl in Louisiana
. Of the two major kennel clubs, only the United Kennel Club (UKC) recognizes the bully and it only began doing so in 2013. Also, any "UKC registered American Pit Bull Terriers are
eligible to transfer to the American Bully
," states their breed transfer form.
We call it a designer breed because that is what it is. The dogs usually come with a "designer" price tag too -- the point of a designer breed.

1
Headlines, as of late last night and today, are reflecting this confusion. No one is quite sure what to call the large white and brown dog with heavily exaggerated features. Yet if one does a Google Search for "
XXL Pit Bulls
," one will recognize this dog breed immediately. The American bullies work in two different directions,
extreme exaggerations
in the weight, size and features of a traditional pit bull, as well as the
pocket pit bull
, which is an extremely squat version of the breed.
Earlier today, The Oklahoman interviewed Jon Gary, the Superintendent of Animal Welfare for Oklahoma City, about the two dogs and their previous history.
"[The female gray dog] suffered two gunshot wounds, as well as abrasions. We were told that she was also hit by a police car … She's a large pit bull, probably 80 or 90 pounds, so she's very large. Um, pit bull-type dog," he said.
When asked by a reporter the size of the other dog, Gary responded, "It was also a pit bull-type dog and it was also a very large dog, over a hundred pounds."
When asked by a reporter, "Did you say that there have been calls for service regarding these two dogs?" Gary responded, "We have. At this point in time, I can't tell you the exact number. I have my staff currently doing research on any history there may be," he said.
Mauling Victim Identified
This morning, police identified the mauling victim as 82-year old Cecille Short. The owner of the two dogs was out of town at the time of the fatal attack. Reporter Bill Miston of News Channel 4 tweeted earlier that police are seeking
surveillance cameras
, Officer "Knight stressing that there isn't much to go on." Miston also tweeted that the
surviving dog
-- that was both rammed by a cruiser and shot by police -- was the smaller pit bull. The dog is currently being held as evidence.
Last August, nine months after a pack of pit bulls killed a man in Oklahoma City, authorities filed
second-degree manslaughter charges
against the dog's owner. Those dogs escaped though a hole in their owner's fence and viciously attacked 60-year old Edgar Brown. The severe bite injuries led to multiple complications, amputations and eventually to his death less than two weeks later. The dogs that killed Short and her dog also
escaped through a hole
in their owner's fence.
---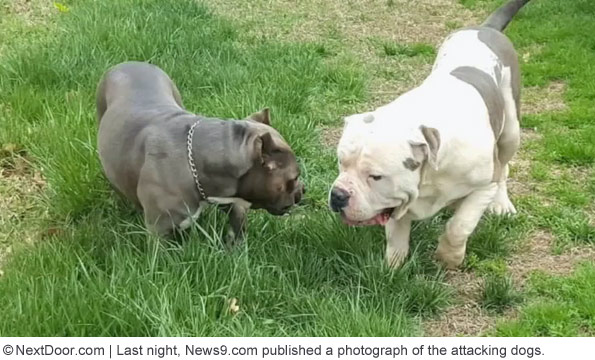 ---
04/06/17: Woman and Dog Killed
Oklahoma City, OK - A woman and her dog were both killed by two pit bulls while walking in a northwest Oklahoma City neighborhood Thursday afternoon. First responders were called to the attack scene in the 11600 block of Windmill Road. One of the attacking dogs was shot and killed by police. The other pit bull was rammed by a police vehicle, but survived. Police have confirmed that both attacking dogs were pit bulls. Below,
Master Sgt. Gary Knight describes the narrative.
"Sadly a woman was out walking her dog earlier today when she was attacked -- her an her dog were attacked by two large dogs, one of which was a pit bull. I don't know the breed of the other dog. During this attack, the woman's dog and the woman, sadly, were both killed. They were both mauled to death by the two dogs. When officers arrived, they tried to get to the woman to render aid to her. They were not able to get to her at first because of the dogs. They had to shoot one of the dogs and the second dog was actually hit by a police car and taken into custody. It was still alive and was transported to animal welfare to be treated."

- Master Sgt. Gary Knight, Oklahoma City Police Department
Clear Public Safety Threat
Jurisdictions across the U.S.
ban or regulate pit bulls
specifically to stop this type of attack: an off-property attack by a pit bull that ends in severe injury or death. A woman and her dog were walking down a suburban neighborhood street when two pit bulls launched a violent attack, killing them both. Neither the woman nor her dog could defend themselves against the animals. Officers had to shoot one pit bull to death and ram the other with a police cruiser to end the attack.
"Emergency crews say the attack was so gruesome that the victim was nearly decapitated."

- Matthew Nuttle, News 9, April 6, 2017
Neighbor Tim Pool
spoke to the heart of the issue
. "My gosh, this is right down the street from where we live, and
every one of these attacks is always where somebody lives
," he told News Channel 4. "I walk these streets almost every morning with my dog and, many times, my dog's been attacked by other people's dogs, and I've cautioned them: Don't do that, they have to be controlled. Many receive it well.
Others don't seem to understand what I'm talking about,"
he said.
2
Other neighbors told Fox 25 that at least
one of the pit bulls has attacked
other local dogs before. Last October, one neighbor even circulated a letter warning others of an attack and calling the two dogs "
2 vicious animals
." Jerry Bowerman has lived in the area for 36 years. He told
The Oklahoman
-- referring to the home surrounded by crime scene tape on Kings Circle -- that two pit bulls reside in that household, a gray female pit bull and a "huge" white male pit bull, he said.
Surreal Late Evening Update
Late in the evening, News 9 published their final report, which included
images of the attack scene
and the two pit bulls. One the dogs is an
XXL pit bull
, a designer pit bull breed. In 2014, a
similar dog devoured a little girl
in Houma, Louisiana. The dog was initially shot three times by police officers. Unfazed by the trio of bullets, officers fired 10 more rounds into the hulking dog before killing it. It is clear now why early reports of the Oklahoma attack simply called it a "large dog."
The News 9 report shows images of the
hole in the fence
that police believe the dogs escaped through, as well as the letter circulated by a neighbor about the dogs in October. Neighbors heard about the attack through Urgent Alerts on the
NextDoor
App. The victim, who has still not been named, was a senior citizen walking a small dog. The owner of the two pit bulls -- referred to as a he -- was out of town at the time of the attack. Police say more information will be released Friday.
---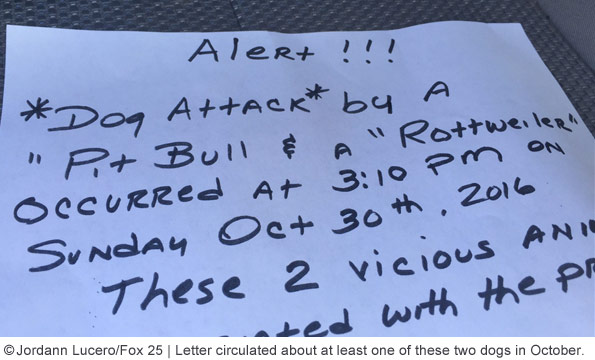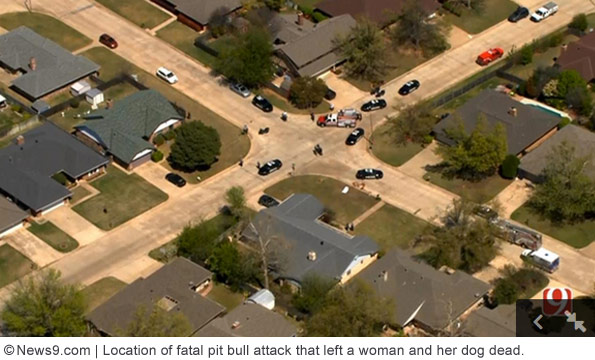 Related articles:
02/28/17:
2017 Dog Bite Fatality: Man Dies After Vicious Attack by Two Pit Bulls in Lincoln...
01/19/17:
2017 Dog Bite Fatality: Pit Bulls Kill Child, Critically Injure Another, on Way to School...
08/04/16:
2015 Dog Bite Fatality: Oklahoma Man Dies After Vicious Attack by Five Pit Bulls
04/11/14:
2014 Dog Bite Fatality: Family Pit Bull Kills 4-Year Old Girl in Houma, Louisiana
Labels: 2017 Dog Bite Fatality, Fatal Pit Bull Attack, Oklahoma
Dog Came to Iowa Via a "Rescue Transport" from Louisiana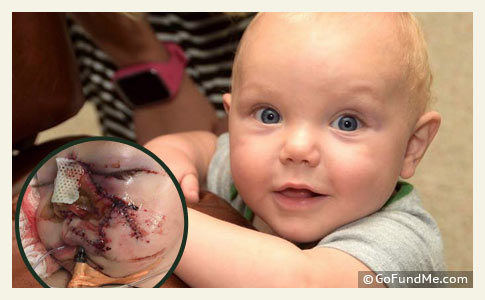 Images of Lucas before and after the dog attack from his fundraising page.
Family Files Lawsuit
UPDATE 03/31/17:
The parents of a toddler attacked in the face by a newly adopted dog are suing. On Tuesday, Tyler and Holly Harrison, the parents of
15-month old Lucas Harrison
, who suffered severe facial injuries in the March 15 attack, filed the petition through attorney John Frey. The petition alleges one count against the dog's owners for
strict liability
and two counts against the Clinton Humane Society for product liability, negligence and breach of express warranty.
Three weeks before the attack,
a pit bull-mix named Emmet
, was on death row at the New Iberia Parish Animal Shelter in Louisiana. On February 22, after social media rallied to "save Emmet," by raising over $300, the dog was "
approved for transport
." Emmet was trucked across state lines by NOLA Freedom Transport and delivered to the
Clinton Humane Society five days later
. On March 15, Ashley Greene adopted the dog and in under two hours, Emmet viciously attacked Lucas.
The petition alleges the Clinton Humane Society sold or distributed the dog to the Greenes and expressly warranted the dog as child friendly.
The
Clinton Herald
article spells out key aspects of the lawsuit, which primarily center upon the failure of the Clinton Humane Society to provide any reasonable instructions or warnings, including proper precautions to be taken when transitioning a shelter dog to a family home environment and when bringing their dog into the home of a friend, where another pet, an infant or young children are present. The Clinton Humane Society also told the new owners the dog was child friendly.
The petition states the Clinton Humane Society failed to provide warning to the new owners, Kris and Ashley Greene, the dog in question had recently been on death row in Louisiana. The humane group also failed to provide warning to the Greenes the dog could be a pit bull-mix, even though it was apparently
advertised by the humane group as a boxer-mix
. The petition states that the omission of these and other instructions and warnings renders the dog not reasonably safe.
---
03/18/17: Horrific Facial Attack
Clinton, IA - On Friday we learned about a devastating dog attack. 15-month old Lucas Harrison was attacked in the face by a newly adopted dog. He was airlifted to the University of Iowa Children's Hospital where he is being treated. "A large part of his gum/bone including permanent teeth were ripped out, most of his nose cartilage was destroyed, and he will have lifelong damage," his
fundraising page states
. In two days, donations have already exceeded $115,000.
"While playing with a friend's newly adopted dog," Lucas was "suddenly attacked, with the dog biting off a large portion" of his face.

- GoFundMe page
Through the online victims' advocacy network, we were able to reach a reliable source and verify the attacking dog and the shelter that adopted it out. On March 15, the day of the attack, the Clinton Humane Society adopted out a pit bull-mix named Emmet. Less than two hours later, the dog violently attacked Lucas in the face. Through public Facebook pages, we learned late Friday that Emmet was formerly a death row dog, shipped in from Louisiana at the end of February.
Transporting Death Row Dogs Across State Lines
Across the country there are "rescue transports," which are primarily driven by volunteers. The purpose is to save dogs on death row by transporting them (known as "freedom rides")
1
to other rescues and shelters across the country, in hopes the dogs can find an adopter in that location. Dogs wind up on death row for two central reasons: They are dangerous dogs or the shelter's limited space forces euthanasia. The latter often refers to shelters in the Southern United States.
In mid-October 2016, Emmet, a
male unneutered black and white pit bull-mix
came into the New Iberia Parish Animal Shelter (IPAC) in Louisiana. The dog lingered in the shelter unwanted for 4.5 months. Though the shelter's
Facebook support page
states it is not a "government page," shelter staff are also Admins. Friday, while reviewing Emmet's October adoption listing, one of the Page's Admins deleted Emmet's listing. However, we had already retained a full copy of the listing.
Animals of IPAC advertised Emmet as a
"great dog with a great temperament."
On Saturday, IPAC also
deleted the video of Emmet
, but we
retained a copy of that Friday too
. On January 30, 2017, Animals of IPAC announced on the adoption listing that Emmet "will be euthanized tomorrow morning, no exceptions. The shelter is FULL." Then the rallying starts to "save Emmet." By February 14, $300 in pledges had been raised to "save Emmet."
On February 22
, Animals of IPAC states on the post,
"Emmet got approved for transport.
Please call in your $50 pledge" now.
NOLA Freedom Transport (New Orleans)
On February 25, Karen Anderson, who operates NOLA Freedom Transport,
posted to her personal Facebook page
that she is ready to transport 45 dogs from Louisiana to Missouri and Iowa. Emmet is seen on the second row, fifth dog. One can also
see a zoomed in photo
left in a comment on the same post. The next day, a similar post appears on the
NOLA Freedom Transport
Facebook page that
encourages donations
to make the out-of-state transport possible.
After reaching the fundraising goal on February 26, Anderson
announces on her personal page
, "We leave TOMORROW." NOLA Freedom Transport has no website and is not a 501(c)(3) nonprofit. Shortly thereafter, the
Clinton Humane Society (CHS) receives the dogs
. "Thank you to our great friends at New Orleans Freedom Transport for driving across the states, through the rain, hail, and tornado warning to get these dogs to us safe and sound," states their post.
2
Clinton Humane Society (Clinton, Iowa)
The Clinton Humane Society takes in 22 dogs transported from Louisiana, one of them being Emmet. The
CHS adoption listing
shows a different age for Emmet than the
IPAC Animal Shelter
, mislabels the dog a "Boxer/Mix" and shows an intake date of 2/27/17. A local Clinton family adopts the dog on March 15 and in under two hours, Emmet tears off the face of a 15-month old boy. This is how the transport system works. Our only surprise is that CHS did not rename the dog.
The Clinton Humane Society
website states multiple times
that they administer a "nationally recognized temperament test" before dogs are considered for adoption. CHS is a 501(c)(3) nonprofit that has no legal jurisdiction over animal cruelty investigations or ordinance enforcement, according to their website. CHS states that it is an
"open admittance" shelter
, but has a strict waiting list for local owner surrenders
and
accepts animals from "out-of-state" at their choosing.
The "nationally recognized temperament test" is called the Behavior Assessment and Reactivity Checklist (BARC Checklist). You can see a
copy of the guidelines here
. There is no mention of testing for children or cats in the checklist. No temperament assessment test -- "
state-of-the art
" or "nationally recognized" or otherwise --
measures unpredictable aggression
. So both descriptions of these assessment tests are misleading and inaccurate to the public and potential adopters.
"There is no pass or fail for BARC. It is designed to be used as an assessment tool to best determine suitable homes," states its creators.
Call-To-Action for the Public
Last September, after
examining 34 behavior records
of dogs at a county shelter in California, many rife with aggression issues, we issued a Call-To-Action. At that time, animal behaviorist and author Alexandra Semyonova also provided an analysis and a special report to help the public understand the current state of shelter assessment tests:
Behavior Testing Shelter Dogs -- A Summary of Where We Are Now
. We again encourage readers to closely review her summary.
In some cases, shelters have an internal policy, "If They Don't Ask, Don't Tell" regarding sharing information about the dog's history with potential adopters. As an adopter you have the right to ask for all uncensored behavioral and medical files prior to adopting a dog. If for some reason the shelter hesitates at your request, or worse, refuses it, exit the facility right away. In the case of Lucas, we have no information about what transpired between CHS and Emmet's adopter.
---
---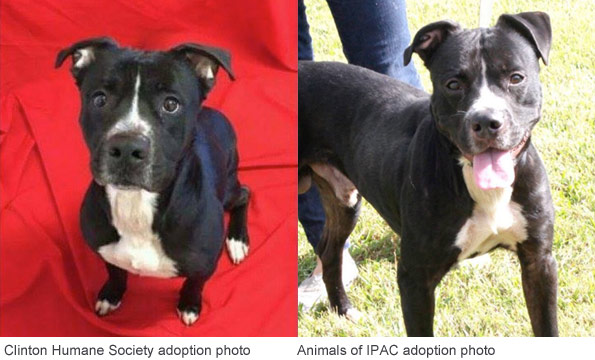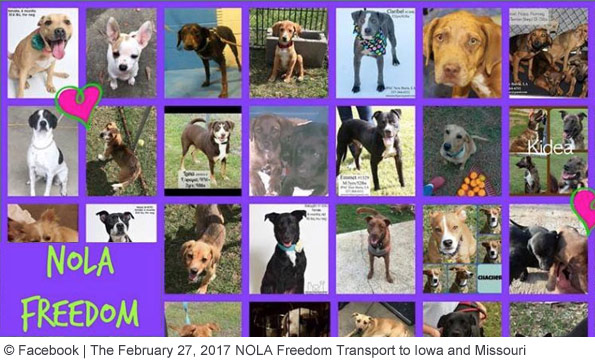 Related articles:
10/10/16:
Special Report: Level 1 Trauma Center Dog Bite Studies in All U.S. Geographical...
09/20/16:
What's Behind the Click and Bait Web Advertisements of Aggressive Shelter Dogs...
04/29/16:
2016 Dog Bite Fatality: Pit Bull Rehomed by Humane Society Kills Newborn Baby
08/06/15:
2015 Dog Bite Fatality: Recently Adopted Out Pit Bull Kills 6-Year Old Boy in North...
Labels: Alexandra Semyonova, Behavior Testing, Iowa, Pit Bull Adoption, Pit Bull Rescue, Shelter Dogs
The Family Pit Bull Attacked the Baby 'Out of The Blue'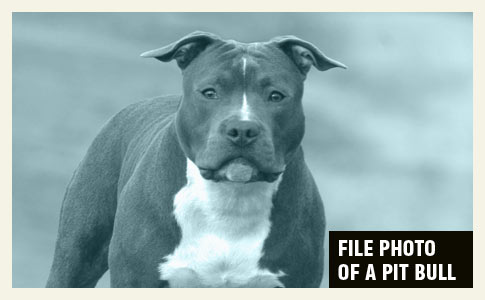 A family pit bull attacked and killed an 8-month old baby boy in Lusby, Maryland.
Family Pit Bull Confirmed
UPDATE 03/24/17:
At the news conference Friday, Calvert County Sheriff Mike Evans said the dog that killed an 8-month old baby was a family pit bull, 6 to 8-years old. The family had raised the dog since it was a puppy. The animal attacked the baby "
out of the blue
," he said. The dog had no history of aggression, Evans said. The family friend watching the baby, a female neighbor who unsuccessfully tried to stop the attack, was taken to the hospital with minor injuries, Evans said.
"The family friend attempted to remove the dog from the baby by choking it and striking it with a rawhide bone and her shoe."

- SoMdNews
Evans said the dog was around the baby his whole life. "This is a very sad day for our community. Our prayers and thoughts are with this family and everyone involved," Evans said. Calvert County Commissioners' President Tom Hejl also
spoke at the conference
. He said it was one of the worst
tragedies the county has suffered
; it will affect the entire community. He also expressed support for
breed-specific pit bull restrictions
and hopes this attack will spur conversation in Congress.
"If you have a dog unprovoked attack an eight-month-old child than it is [nature and not nurture]."

- Commissioners' President Tom Hejl
To place this quote into more context, after being asked why he would support pit bull restrictions, Hejl said, "just because the nature of the animal and what history has told us about the animal. If you have a dog unprovoked attack an eight-month-old child than it is [nature and not nurture]," reports SoMdNews. The nature of this attack involves a family pit bull about 6 to 8-years old that suddenly and violently attacked a baby. The dog continued attacking until it was shot and killed.
Brief History of Maryland and Pit Bulls
Since 2005, there have been four fatal dog attacks in Maryland -- all four involved pit bulls.
1
In 2006, a group of
family pit bulls killed a man
in Lusby. In 2012, the highest court in Maryland
declared "pit bulls inherently dangerous
," modifying the state's common law, which caused a fierce debate for two years. In April 2014, legislators
muted the high court's ruling
by passing a meager statutory law that only applies strict liability for dog bite victims in cases of loose dog attacks.
The persistent denial of the pit bull breed's heritage by its promoters -- namely self-interested
animal welfare groups, veterinary groups
and pit bull owners -- caused this recent tragedy and countless others. Despite a
mountain of legal
and
medical evidence
to the contrary, starting as early as 1986, the denial of the breed's heritage in
bull baiting and dogfighting
persists. These groups also deliberately spread false myths, many in the variety of, "It's all how you raise 'em."
Tracey v. Solesky
No. 53, September Term 2012, Opinion by Cathell, J.


In Maryland the vicious mauling of young children by pit bulls occurred as early as 1916

. Bachman vs. Clark, 128 Md. 245; 97 A. 440 (1916). In that case, a ten-year-old boy, John L. Clark, was playing on the north side of a street when a pit bull ("bull terrier") came across the street from its owner's property and attacked him, inflicting serious injuries. The pit bull refused to release the boy until a witness picked up a "scantling" and struck the dog, killing it. Similar to the testimony in the present case by the boy's mother, in that old case the mother described the aftermath of the attack on her child as follows:
...[H]e was unconscious, in such a condition that she did not know whether he was living or dead ... Blood all over him. Id. at 247, 97 A.2d at 440.
Over the last thirteen years, there have been no less than seven instances of serious maulings by pit bulls upon Maryland residents resulting in either serious injuries or death that have reached the appellate courts of this State, including the two boys attacked by the pit bull in the present case. Five of the pit bull attacks in Maryland have been brought to the attention of this Court, and two have reached the Court of Special Appeals ... [Read ruling in full]
---
03/23/17: Family Dog Kills Baby
Lusby, MD - An 8-month old baby boy is dead after being attacked by a family dog, according to a
Calvert County Sheriff's Office press release
. The deadly attack occurred on Prancer Court in Lusby at about 1 pm Thursday. Deputies responded to the scene within a minute of the call and shot the dog, which was still attacking the baby when they arrived. The initial investigation revealed that a family friend was watching the baby boy when the family dog attacked the baby.
Captain Dave Payne of the Calvert County Sheriff's Office said the attacking dog appears to be a pit bull, reports SoMdNews.
Deputies were dispatched to the Prancer Court home at approximately 1:03 pm. After arriving to the location within one minute, deputies witnessed the dog actively attacking the baby. Deputies had to shoot the animal in order to stop the attack, states the release. Deputies immediately determined the baby died as a result of the attack. The investigation is ongoing. Calvert County Sheriff Mike Evans will be conducting a press conference at noon Friday at the sheriff's office.
---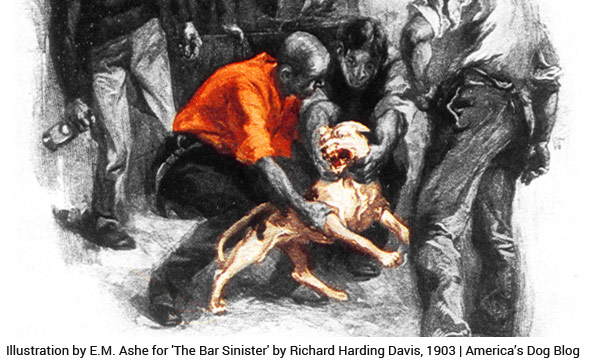 Related articles:
10/20/16:
Back Story of the Montreal Pit Bull Ban -- How the Pit Bull Lobby Operates...
10/10/16:
Special Report: Level 1 Trauma Center Dog Bite Studies in All U.S. Geographical...
01/08/15:
2015 Dog Bite Fatality: Maryland Man Mauled to Death by Adopted Rescue Pit Bull
06/02/14:
Maryland Legislature Mutes Landmark Ruling, Tracey v. Solesky, During 2014...
11/05/13:
2013 Dog Bite Fatality: Baltimore Woman, 56, Killed by Her Pet Pit Bull
04/30/12:
Maryland Court of Appeals Holds Pit Bull Owners and Landlords Accountable...
Labels: 2017 Dog Bite Fatality, Court of Appeals, Fatal Pit Bull Attack, High Court, Maryland, Pit Bull Kills Family Member, Tracey v Solesky
A Flawed Theory and Problematic Bias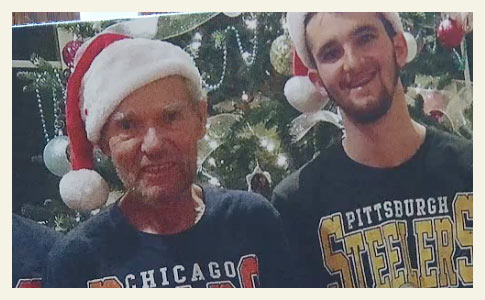 Werner Vogt, 85, was killed by a pack of dogs in southwestern Missouri in late 2015.
Case Finally Solved
Christian County, MO - On November 12, 2015 an elderly man was riding his bicycle in the Anchor Hill Ranch subdivision, a rural area southeast of Rogersville in Christian County, when he was viciously attacked by a pack of dogs. Werner Vogt, 85-years old, died of his severe injuries while hospitalized on December 4. At that time, local authorities mistakenly believed he was attacked by a wild animal, specifically, a wild cat, even though Werner told them he was attacked by dogs.
On March 12, 2017 the
Springfield News-Leader
published two articles detailing parts of the investigation into Vogt's mauling death after filing a Sunshine Law request in February seeking the sheriff's investigative report. The
News-Leader
articles, in part, help explain the persistent "wild animal" theory held by local authorities, despite the fact that canines kill an American about every 11 days in the U.S., a rate about 14 times more frequently than
bears
and
cougars
combined.
"I could speculate that it could be a bear or a mountain lion … Like I said, I have a hard time believing it was dogs."

- Sheriff Brad Cole, November 13, 2015
From the get-go, Sheriff Cole
declined to believe the attackers were dogs
. No DNA samples from dogs were taken until months after the attack. When they were finally collected -- primarily in May 2016 -- and the results became known, they matched a group of boxers owned by Joseph Brink who lives near the attack site. A Christian County sheriff's deputy interviewed Brink on the day of the attack.
Brink told the deputy that three of his boxers were loose at the time of the attack.
No DNA samples were taken from Brink's dogs at that time. By the time they are, 6-months later,
Brink had gotten rid of two of his boxers
. The moral of this story is that local officials "lucked out royally" by locating the two boxers that Brink had given away. One of which had a "perfect match" to the saliva found on Vogt's clothing. The other moral is the unwillingness for local officials, at least initially, to believe that canines can and do inflict massive, gaping and horrific injuries.
Fatal dog attacks are generally rare, however in some U.S. counties they are not rare and occur year-after-year like clockwork. The situation of a rural county experiencing a fatal dog attack for the first time is a difficult one -- there is a lack of experience and protocol. However, after the death of Vogt, one sees a "persistent" belief by authorities that a wild animal was to blame, because a dog simply could not be. Therefore hours and hours of precious investigation time was wasted.
Our email correspondence with Sheriff Bob Cole shows that nearly 3 months after the attack, he still believed a wild cat was the culprit.
Though the
News-Leader
paints a more rose-colored version of the investigation, the fact is a deputy examined the dogs that killed Vogt on the day of the attack, but failed to gather DNA at that time. Only months later -- likely after a forensics lab rejected the "wild animal" theory -- did they fully consider that dogs could be the culprit.
1
We are thrilled that their investigation eventually prevailed. We hope other jurisdictions do not make this same erroneous presumption.
21st Century America
Despite the rarity of fatal dog attacks,
numerous medical studies
and images of horrific dog attack injuries can be found online. On Sunday, after a single search for "characteristics of fatal pack attacks," we located a 2012 study that shows how law enforcement can make "erroneous conclusions about the source of the bites." The study examines how local authorities mistook a dog pack attack for a cougar attack:
An unusual case of predation: dog pack or cougar attack?
2
Unless characteristics of a wild animal attack are evident at the scene -- and apparently there were not in this case, which is why the Missouri Department of Conservation rejected analyzing the DNA until canines were ruled out -- the default assumption for investigators must be dogs. This is especially true when the victim is telling you dogs attacked him.
A pack of dogs can rip out an entire human chest cavity and more.
Pack attack predation is real, personal biases are flawed.
---
Below we examine the timeline after the November 12 attack by interspersing information published just after the attack and new information provided by the News-Leader.
---
Was it a Cougar or a Canine Pack Attack?
11/12/2015
Just after the attack, Vogt is conscious briefly and tells officials and family members that he was attacked by dogs while lying critically injured on the side of Northwoods Road.
11/13/2015
As early as November 13, Sheriff Brad Cole states that evidence is being examined in a lab. "We've taken, collected some of his clothing that he had on, which we are positive does have some kind of animal DNA on it and one with saliva that I'm sure when it gets to the lab, actually it's already at the lab…" The
Missouri Department of Conservation
was the party initially assigned to analyze the DNA. This department only deals with wildlife, not domesticated dogs.
11/17/2015:
Vogt regains consciousness after multiple surgeries and
states that he was attacked by a pack of dogs
. The sheriff's department states at this time they were taking Vogt's words seriously. "Medical personnel who were talking to our deputy at the time stated they didn't believe it was a dog … But at this point we are taking what this gentleman has told us as what happened, that it was a pack of dogs," - Lt. Jeff Lofton of the Christian County Sheriff's Department.
11/17/2015:
The Missouri Department of Conservation sent the samples back to the sheriff's office asking that it first be cleared of being dog-related, Lt. Jeff Lofton explains. The sheriff's office then looked to the Fish and Wildlife Service, hoping they would test the samples. Meanwhile, Jake Patterson, Vogt's grandson, visits him in the hospital and tells KY3.com, "He's kinda rough on his eyesight, but he's not stupid. It wasn't a bear, it wasn't a mountain lion, it was three dogs."
3
12/08/15:
The
News-Leader
reports that Vogt died a few days earlier. His daughter-in-law Noel Vogt states, he "died three times that day" while being treated for his injuries. Sheriff Cole states that a
"forensic review" of photographs of Vogt's numerous injuries
is being conducted by a wildlife expert in Florida.
"His injuries were pretty horrific. I've worked many dog bites in the last 23 years but I've not seen anything like this."
Sheriff Cole was previously the county coroner as well.
12/08/15:
The Missouri Department of Conservation softens its position, "If we've got some indication it was wildlife related, possibly we could do a DNA test." - Larry Yamnitz, MDC protection division chief. So, nearly one month after the vicious attack, there is no indication -- no evidence presented -- that a wild animal was involved. By the next day, December 9, the title of a local news article is, "
Investigators: Mystery animal kills 85-year-old cyclist in Missouri
."
12/13/15:
In an interview with KY3.com, Vogt's family begs dog owners in the community to come forward. "If you suspect your dog is violent, then you need to come forward." -- Noel Vogt. At this time, one full one month after the attack, Sheriff Cole states, "We're actively seeking these dogs out." He also brushes off the dogs belonging to Brink, "There's been a couple of calls of concern for a couple dogs that belong to a resident in that area, but short of that, nothing else."
4
12/15/15:
Shawn Miles tells KSPR that while he and his son were bicycling in Anchor Hill Ranch close to where Vogt was attacked, they were chased by three dogs. "When I seen it on TV, I knew it. You put two and two together and you figure it out pretty quick," Miles said. Miles fired at the three dogs with his 9 mm and the dogs left them alone. No description of the three dogs that chased Miles and his son (coloring, height or otherwise) were given in the KSPR article.
5
01/20/16:
DogsBite.org writes to Sheriff Brad Cole to see if any determination had been made by the expert in Florida about the type of animal that attacked Vogt. At this point, it has been over 5 weeks since the photographic information -- images of Vogt's severe injuries -- had been sent to a wildlife expert to conduct a "forensic review." Sheriff Cole responds to our email, "We are still awaiting the lab results from the DNA samples that were submitted to the University of Florida."
02/05/16:
DogsBite.org writes to the sheriff's office again while preparing our annual U.S. dog bite fatality statistics. At this stage, no release date had been set -- we were awaiting confirmation that dogs were the culprits. Up until this point, we had included Vogt, because fatal attacks by bears and cougars are so rare.
Sheriff Cole replies to our email that the attacker was "some type of large cat." And that, "Further testing is being completed to determine the species of cat."
Nearly 3 months after the attack, the sheriff's office was not in anyway operating on the assumption that dogs were involved in Vogt's death.
UNDATED:
Though no date is provided in the
News-Leader
March 2017 report, it states that at some point during the investigation, Sgt. Michael Elliott followed up on a tip about a Great Pyrenees that had attacked and bitten a woman's daughter while she and another girl were riding their bikes. "Elliott tracked down the Great Pyrenees dogs and took DNA saliva samples from each," states the News-Leader. Elliott also collected DNA samples from the Vogt family dog.
05/2016:
In May 2016, Elliott followed up on Bernie's initial report of meeting with Joseph Brink on the day of the attack. He asked permission to take DNA samples of his four boxers. This is when Elliott learns that Brink gave two of his dogs away after the attack. Brink tells Elliott, as he had Bernie, that three of his dogs were running loose at the time of the attack. Brink tells him, "he got rid of Chubs and Otto" after the attack, likely believing they were responsible, Elliott wrote.
Brink had four boxers, seemingly all male: Chubs, Otto, Hugo & Bruno. At the time of the attack, Chubs, Otto and Hugo were at large. Brink got rid of Chubs and Otto several months after the attack. Elliott took DNA samples of Brink's remaining two boxers. Brink said his brother took Otto to a humane society and Chubbs was given to a family that responded to a Craigslist ad. Elliott contacted the owner's of both dogs and got DNA samples from each dog.
06/2016:
In June 2016, samples of all of DNA collected were shipped to a forensic lab in Florida. At some point later (date not stated in
News-Leader
article), Forensic DNA analyst Ginger Clark found a "perfect match" for Otto. Based on her DNA findings, Brink's three other boxers could not be ruled out as being involved. When contacted by the
News-Leader
on March 3, Clark said none of the other DNA samples from other dogs tested matched the saliva found on Vogt's clothing.
03/12/17:
Nine months later, the
News-Leader
releases two articles detailing aspects of the Christian County Sheriff's Office investigation after filing a Sunshine Law request in mid-February seeking the sheriff's investigative report. The
News-Leader
report, in part, helps explain the persistent "wild animal" theory, despite the fact that canines kill an American about every 11 days in the U.S., a rate about 14 times more frequently than bears and mountain lions combined.
---
Bubba (formerly named Otto) -- whose DNA was a "perfect match" -- now lives at a home in rural Halfway with an unfenced yard. The new owner, Olen Asby,
allows Bubba to run unleashed
outside his home with the family's large outdoor dog. This is a recipe for
another
major disaster.
---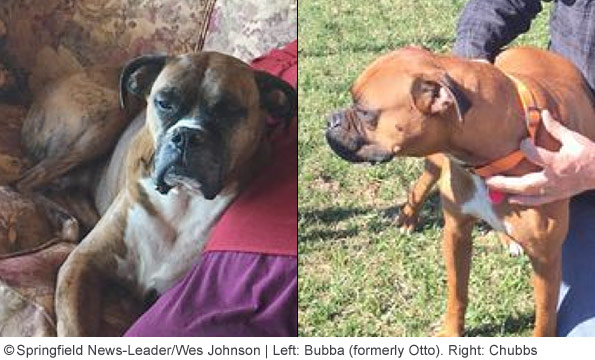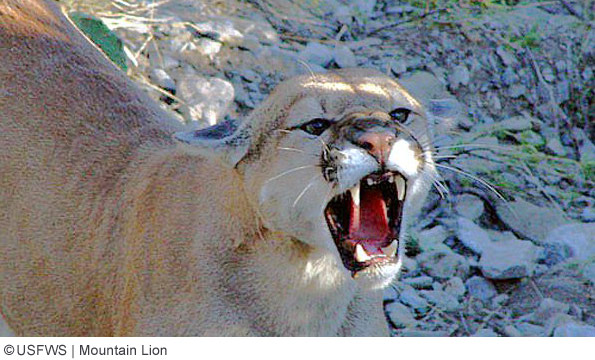 Related articles:
08/23/16:
2016 Dog Bite Fatality: Elderly Man Killed by Dogs in Jacksonville, Florida
03/25/16:
2016 Dog Bite Fatality: Elderly Woman Dies After Pack Attack In Thurston County
07/24/15:
2015 Dog Bite Fatality: Pack of Dogs Kill Woman in Wagoner County, Oklahoma
See also:
Dog Pack Attack: Hunting Humans
, by Avis, Simon P. M.D. F.R.C.P.C,
The American Journal of Forensic Medicine and Pathology,
Volume 20(3), September 1999, pp 243-246.
Attacks by Packs of Dogs Involving Predation on Human Beings
, by Borchelt PL, Lockwood R, Beck AM, and Voith VL,
Public Health Reports,
98:57-66, 1983.
Labels: 2015 Dog Bite Fatality, Cougar Attack, Fatal Pack Attack, Missouri, Predation Attack
Pit Bull Owner Found Guilty of Harboring a Vicious Dog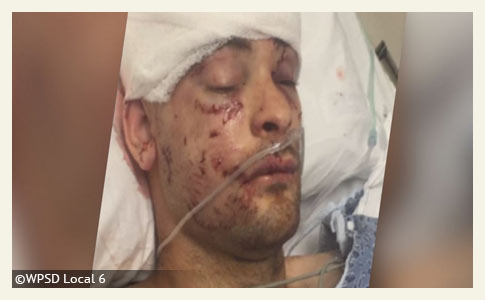 Mitchell Slayden was attacked by two pit bulls on July 2 in Farmington, Kentucky.
Bouland Found Guilty
UPDATE 03/12/17:
Multiple events have occurred since we last published about this severe attack. Last July, 22-year old Mitchelle Slayden was riding his bicycle when he entered the driveway of a home belonging to 27-year old Chris Bouland. Mitchell was looking for his cousin, who formerly lived at the home. When Mitchell entered the driveway, he was confronted by Bouland's two pit bulls. When he tried to leave the driveway, the pit bulls viciously attacked him.
Mitchell suffered life-threatening injuries. He was immediately airlifted to Vanderbilt University Medical Center in Nashville, Tennessee.
Four months after the attack, a judge
released the pit bulls back to Bouland
and set a date to stand trial for harboring a vicious animal. In early January 2017, less than two months later, Graves County Sheriff's Deputies responded to a neighbor dispute and
arrested Bouland on contempt of court charges
. Bouland had been ordered to keep his dogs out of Graves County, but he failed to comply. In the dispute, one of his pit bulls charged a neighbor and ended up shot.
Upon further investigation on Thursday, the sheriff's office and the Graves County Attorney's Office determined that the dog that was shot by the neighbor was, in fact, one of the dogs that was involved in the attack of Mitchell Slayden last summer. The other dog that was involved in the attack was also on the property on KY 129.
With both dogs being in Graves County, Bouland violated the orders set by the Graves County District Court. Bouland was arrested Thursday night on a contempt of court charge. He was also arrested on a separate warrant for bail jumping.

- Associated Press, Jan 6, 2017
On Sunday,
The Paducha Sun
reported that a jury found Bouland guilty of harboring a vicious animal, but did not sentence him to any jail time. Bouland still must contend with the contempt of court charge, as well as another pending trial -- his legal troubles are not over. The worst news, but predictable, is that both of Boulands pit bulls are still alive; he refused to forfeit them. The dogs remain at the Mayfield-Graves County Animal Shelter until court proceedings are complete.
When we last wrote about this case, we called Bouland
"just another 'exhausted cliché' owner of a dangerous pit bull."
His initial and ongoing actions prove us right over and over again. Bouland not only lied to the court and judge, he refuses to responsibly enclose his two pit bulls anywhere, even after being charged with harboring a vicious animal. Despite these facts and his recent conviction, Bouland is still slated to get his dogs back as long as he meets the court's conditions for release.
---
07/14/16: Pit Bull Attack Survivor
Farmington, KY - On July 5, the Kentucky State Police
issued a press release
about a young man who was badly mauled by two pit bulls. He was airlifted to Tri-Star Skyline Medical Center in Nashville with life threatening injuries. Mitchell Slayden, 22, was riding his bicycle when he entered the driveway of a home on Dove road belonging to Chris Bouland, 27. Mitchell was looking for a man he thought lived at the home, however, that person no longer lived there, states the release.
"When he entered the driveway Slayden was confronted by two pit bulls. As he attempted to leave the driveway the two pit bulls attacked him. Slayden sustained lacerations to his face, head, arms, and legs. He was airlifted to Tri-Star Skyline Medical Center in Nashville, TN with life threatening injuries. The two dogs were taken into custody by the Graves County Animal Control."

- Kentucky State Police
Days go by and we learn very little else. However, we did look up the owner of one of the pit bulls,
Christopher Bouland
and his
near lethal mauler
. Bouland
has been in trouble
with the Kentucky State Police in the past, and is a stereotypical owner of a dangerous pit bull. Mitchell did not stand a chance against the two unrestrained pit bulls kept in Bouland's unfenced backyard. All he had wanted to do was visit a man who he thought still lived at the home. He nearly paid with his life.
On July 13, we learned that Kentucky State Police
charged Bouland and Tina Dykes, 45
, both of Farmington, with harboring a vicious animal, a class B misdemeanor. If found guilty, the two could face a $200 fine, up to 60 days in jail or both. This is a pittance for the life-altering injuries the dogs inflicted on Mitchell. One commenter noted on the article, "$200 and 60 days? And those are max penalties. What a joke. That's the reason people keep vicious dogs. The penalty is so light."
"Since the attack, the Graves Fiscal Court is considering action regarding vicious dogs. During a meeting Monday night, Judge-Executive Jesse Perry said he and commissioners Todd Hayden, Tyler Goodman and Richie Galloway would be taking a look at a McCracken County proposal -- and possibly others -- to decide what can be done concerning vicious animals."

- The Paducah Sun
Why Cities and Counties Ban Pit Bulls
The gravely damaging attack, combined with insufficient criminal penalties afterward, are two of three fundamental reasons
why municipalities regulate pit bulls
. The third reason is the predictable lack of civil recourse. Pit bull owners are often uninsured renters or otherwise uninsured. Even when there is insurance, the standard policy is only $100,000, which is grossly inadequate after a pit bull tears off part of a person's scalp, as was the case with Mitchell's near fatal injuries.
On Wednesday, Mitchell's father spoke out in a
troubling piece by WPSD
, which partly focused on "why" the attacking pit bulls still had not been released by the Mayfield-Graves County Animal Shelter. WPSD quotes kennel attendant Mickie Bailey, who foreseeably responds to the vicious designation of the dogs as,
"I don't think they're mean. Misunderstood, maybe, and scared."
Bailey
should be fired for embarrassing the county
, whose prosecutors have filed these charges.
Walter Slayden, Mitchell's father, said the scene was a bloody mess. Slayden found his son lying in a ditch across the road from Bouland's home. Mitchell had tried to run away from the dogs. The pit bulls attacked his face and scalp and his body was covered in dog bites. "I did not think he was going to make it," Slayden said. Doctors will begin reconstructive surgeries next week, he said. When asked what he would say to the pit bull owners, he states, "I don't need to talk to them."
Correct. Bouland is just another "exhausted cliche" owner of a dangerous pit bull and could care less about the health and well being of Mitchell.
At the very end of the WPSD video, reporter Brianna Clark noted that she was told that when Bouland and Dykes went to
pick up their pit bulls
after the 10-day quarantine on Tuesday, "they were very upset they could not take their dogs home." We rest our case about Bouland. If these two pit bulls are put down, Bouland and Dykes will immediately acquire new pit bulls and the process will begin all over again. The only way to stop it is for the
county to regulate the breed
.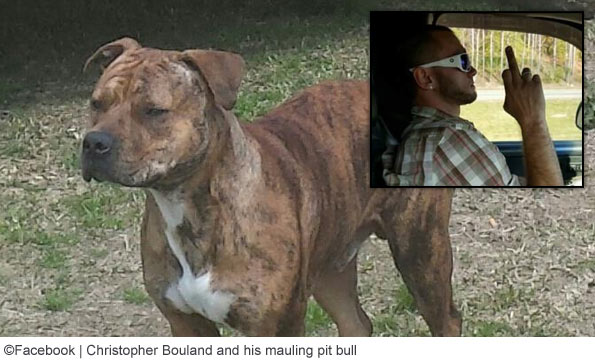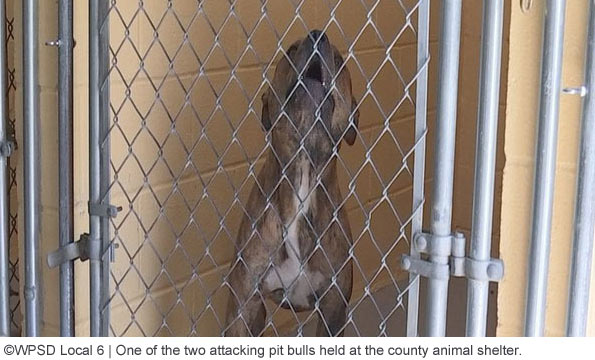 These are just "some" of Bouland's Facebook Likes about pit bulls; he prefers the large ones.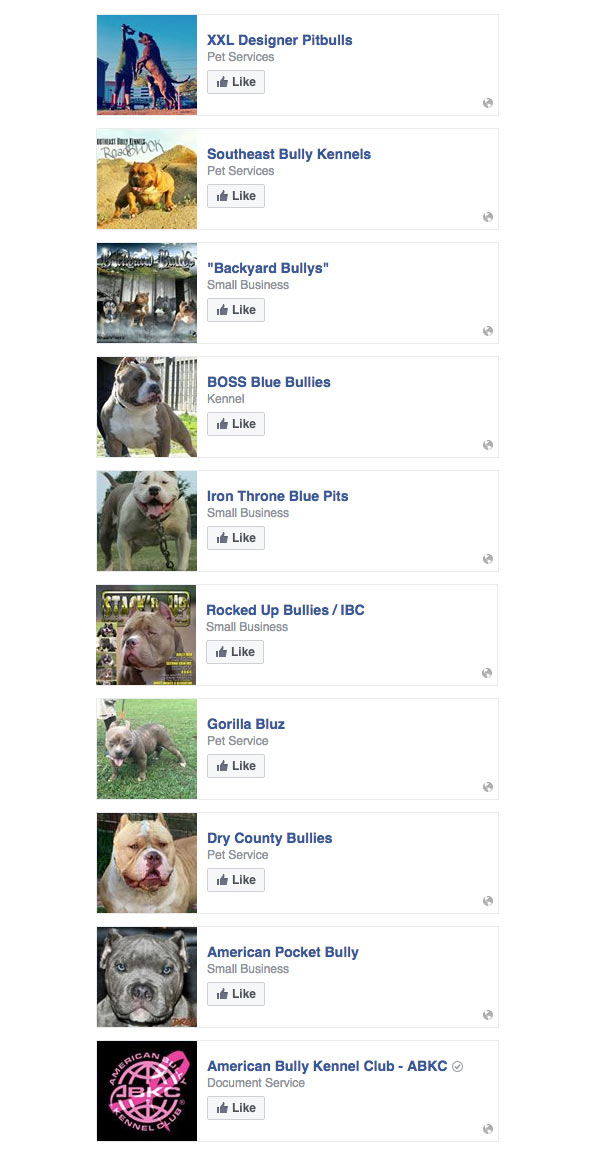 Related articles:
01/25/16:
Pit Bulls Lead 'Bite' Counts Across U.S. Cities and Counties
09/01/15:
Cities with Successful Pit Bull Laws; Data Shows Breed-Specific Laws Work
06/24/15:
Anchorage Pit Bull Attack: The Mechanics of a "Classic" Unprovoked Pit Bull Attack
Labels: Chris Bouland, Exhausted Cliche, Kentucky, Pit Bull Owner, Scalp Injury, Vicious Dog Loop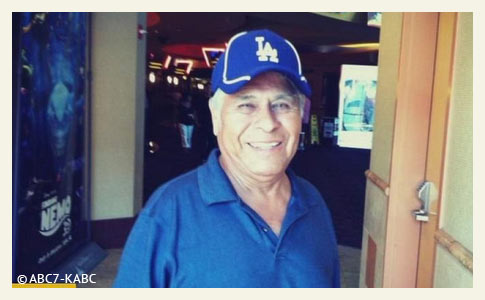 Valentine Herrera, 76, did not survive his injuries from the violent pit bull attack.
Victim Did Not Survive
Los Angeles, CA - A 76-year old man
critically injured by two pit bulls
in early February has died, according to family members. Valentine Herrera and his small dog were savagely attacked by the pit bulls on February 2 while walking in Lincoln Heights. The attack occurred about 6:00 pm on the 2600 block of North Lincoln Park Avenue. His pomeranian, named Dodger, was killed in the attack. Herrera was rushed to the hospital and underwent brain surgery, family members said.
At the time of the vicious attack, Herrera was suffering health difficulties, including a heart condition and being on dialysis. In November,
he nearly died of a heart attack
. After the mauling, his son, Luis Herrera, said his father briefly died during the heart attack. "I lost him for 32 minutes -- he died for 32 minutes -- and then came back," Luis said. "He was living way better than before, and now this happened." Herrera's family must now
go through this terrible pain
all over again.
Luis described his father as a strong, loving man and said it is very difficult to see him struggling again for his life."

- Luis Herrera, the victim's son
The pair of male pit bulls first attacked Dodger, shredding the small dog to pieces. When Herrera intervened, the pit bulls knocked him down and began tearing into his flesh. Neighbor Frank Carrasco witnessed the vicious attack. "I saw these two pit bulls pulling something apart. I thought it was a piece of material," he said. Carrasco said the owner of the pit bulls offered no apology to the victim nor did he attempt to help the elderly man sprawled on the ground and bleeding.
The same two pit bulls had
killed another neighborhood dog
just 4-days before attacking Herrera. Stephanie Grezelle said the pit bulls killed her dog, named Tulula right in front of her two young children, reports CBS Los Angeles. "They watched their dog get mauled in a puddle of blood," Grizelle said. "We rushed her to the hospital. We tried to save her. Later that evening, she stopped breathing. There was too much damage, and she died." She said Tulula never stood a chance.
Dangerous Dog Hearing
A dangerous dog hearing was held Wednesday.
CBS Los Angeles reports the outcome
could lead to criminal charges against the owners of the pit bulls. Herrera's family members and witnesses testified at the hearing, reliving the horrific attack. The pit bulls' owners testified as well, defending themselves after their dogs brutally attacked a man and killed at least two pet dogs in less than a 1-week period. Los Angeles Animal Services is expected to issue a final decision within 30 days.
What appears to be the primary issue about the
potential criminal charges
of this case is how the dogs escaped the owners' property. We've highlighted portions of the California felony dog attack statute, which may be at play (§ 399.
Mischievous animal causing death
or serious bodily injury; negligence of owner or person having custody or control; punishment). The highlights indicate the elements that must be proven beyond a reasonable doubt in order to obtain a felony conviction.
"(a) If any person owning or having custody or control of a mischievous animal,
knowing its propensities
, willfully suffers it to go at large,
or keeps it without ordinary care
, and the animal, while so at large, or while not kept with ordinary care, kills any human being..." -- Knowledge of propensities and failing to keep the dogs without ordinary care. The pit bull owner's actions after the attack may be a factor too. Witnesses said the owner did not attempt to help Herrera at all.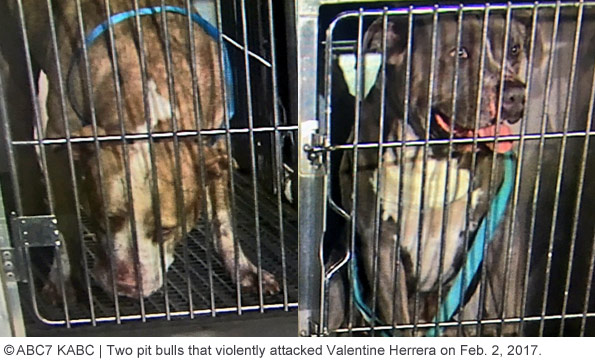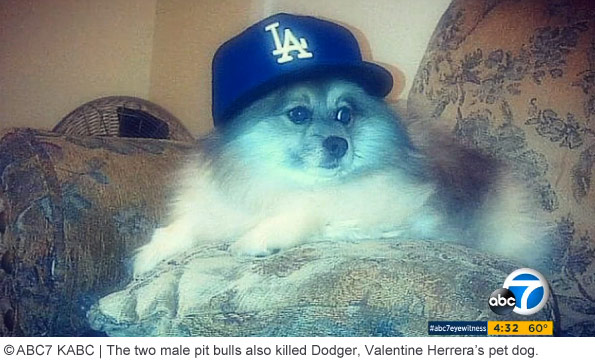 Related articles:
10/10/16:
Special Report: Level 1 Trauma Center Dog Bite Studies in All U.S. Geographical...
09/10/15:
2015 Dog Bite Fatality: Pit Bulls Kill Man, Injure Woman in North Shore, California
11/04/14:
2014 Dog Bite Fatality: Pit Bulls Kill Modesto Man, Critically Injure Another
11/03/14:
2013 Dog Bite Fatality: Antelope Valley Woman Mauled to Death by Pit Bulls
Labels: 2017 Dog Bite Fatality, California, Senior Citizen