DogsBite Blog ::
Pit Bull Attacks Woman Same Day as Adopted Out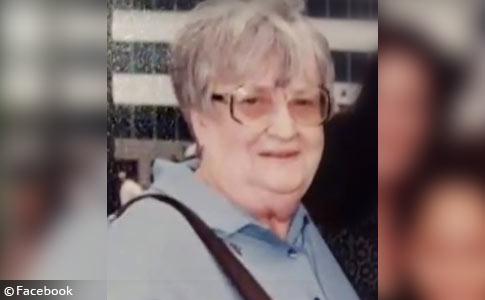 Margaret Colvin died after being brutally attacked by a pit bull adopted hours earlier.
Misdemeanor Charges
UPDATE 11/17/17:
Five months after a woman was brutally killed by a pit bull her daughter had acquired from a rescue group hours earlier that day, authorities filed charges. Jamie Cochran, the 33-year old owner of Forever Home Rescue and Rehabilitation Center, has been charged with 10 misdemeanors for importing animals without a veterinary inspection certificate, according to the Commonwealth's Attorney's Office. More charges may follow once the investigation is complete.
Prior to killing Margaret Colvin, 90, the pit bull, named Blue, had been returned to Forever Home due to his "reactive" behavior -- aggression and lack of impulse control -- which the rescue was aware of. Tia Walke, the previous adopter, said Blue attacked her adult nephew. She said back then, "I can't control him" and called the experience "very frightening." Before arriving at Forever Home, Blue had been on death row at the New York City municipal shelter for "biting people."
"She saw her mother disemboweled, virtually, and her mother's arm had to be amputated and her mother died."

- Irv Blank, Linda Patterson's attorney
Forever Home did not disclose to Colvin's daughter, Linda Patterson, Blue's history of bites and aggression. Just seven hours after the dog arrived at Patterson's home wearing a shock collar, the animal viciously attacked and killed her mother. Three months later, Patterson filed a $5 million dollar lawsuit against Forever Home. Now finally in November, possibly all prosecutors can do is charge Cochran with importing dogs into Virginia without a veterinary inspection certificate.
History of Misdemeanors
Cochran is familiar with misdemeanors. Court records show that in April 2015 -- one month after the
Commonwealth found
"significant findings of noncompliance" at Forever Home -- Cochran was charged with 17 misdemeanors for inadequate animal care. Her partner Toni Enright was charged with 18 violations of the same nature. All charges were later dismissed. In 2013, Cochran and Enright pleaded guilty to a misdemeanor embezzlement charge, related to a former employer.
Failing to obtain a veterinary inspection certificate after importing a dog from another state is a Class 1 misdemeanor, the highest class in Virginia (
§ 3.2-5902. Certificate of veterinary inspection required for importation of certain pet animals; examination; exceptions; penalty
). Authorized punishments for conviction of this provision include, "confinement in jail for not more than twelve months and a fine of not more than $2,500, either or both," states the
Virginia decode website
.
The police investigation into Cochran is "into its very last stages," the city prosecutor said Friday, indicating that more charges may be coming.
Finally, the most uplifting news is that
Virginia lawmakers are working on legislation
to regulate animal training centers due to the foreseeability of Blue's vicious attack. Just recently, State Senator Bill DeSteph said he was in the process of drafting regulations to ensure this cannot happen again. Hopefully, the legislation will center upon "rehabbers," rescues and training centers that claim to rehabilitate aggressive dogs. Senator DeSteph will introduce the bill next year.
---
08/24/17: Rescue Center Sued for $5 Million
Nearly three months after a rehomed pit bull brutally attacked and killed a 90-year woman, the victim's daughter has filed a lawsuit against the rescue center. Linda Patterson filed a civil lawsuit for $5 million dollars against Forever Home Rescue and Rehabilitation Center in Virginia Beach. The recently adopted pit bull, named Blue, attacked her elderly mother after Linda removed the dog's shock collar, about seven hours after the dog was delivered to the Patterson home.
Predictably, the lawsuit states the dog had a history of biting before the attack and that the rescue should have known the dog's history. A "trial by jury is demanded," according to the court filing. Prior to mauling and killing Margaret Colvin, the pit bull had been returned to Forever Home due to his "reactive" behavior -- aggression and lack of impulse control. Previous to arriving at Forever Home, Blue had been on death row at New York City Animal Care and Control for "biting people."
The most glaring "foreseeability" of this attack is that Blue was adopted to the Patterson family and required a shock collar as a condition.
The fatally attacking pit bull, with a slew of known aggression issues, was advertised by Forever Home as
"playful, affectionate" and "gentle, goofy."
Linda had even told Forever Home before agreeing to the adoption that the sole "deal breaker" would be "aggression." Linda did not even understand what the shock collar was for, until it was too late. She had initially thought the collar sent out signals like "sound waves," not blasts of electricity to shock and correct the animal.
In the hours following Colvin's mauling death, Forever Home issued a liability "denial" statement claiming, "none of us could have ever predicted this horrible event." Though drenched in the foreseeability of this violent attack, Forever Home kept issuing denials in its aftermath. Back in July, the rescue tried to end their lease at their Virginia Beach property. It is unknown what has become of the Forever Home operators, Toni Enright and Jamie Cochran, since that time.
06/07/17: Previous Adopter Speaks Out
On May 31, Forever Home Rescue and Rehabilitation Center (FHRC) adopted out a 1.5 year old male, neutered pit bull named Blue. The dog arrived at the adopter's home wearing a shock collar. Seven hours later, its new owner, Linda Patterson, removed the shock collar. After doing so, the dog quickly attacked and killed Linda's 90-year old mother. WAVY-TV spoke to a woman who adopted Blue on April 22, but returned the pit bull to FHRC two days later due to its aggression.
Linda had told FHRC the one "deal breaker," in the terms of adopting this pit bull, would be "aggression."

- Kerry Dougherty, The Virginian-Pilot
Tia Walke said Blue attacked her 26-year old nephew as soon as she let the dog out of its crate. The dog jumped on him, she said. "I had the leash and I was yanking and pulling as hard as I could to get the dog off," Walke said. In a text message to FHRC she wrote: "I can't control him. And he's scaring me now." Walke
described it to WTKR
as a "very frightening experience." She quickly returned the dog to FHRC. A month later, the rescue adopted "reactive" Blue to Linda.
---
In our last update, we explained how "reactivity" and "lack of impulse control" can quickly escalate to dangerous "impulsive aggression," which is how Walke and Linda described both attacks.
---
FHRC responded to Walke and her nephew's experience by marginalizing the incident down to an "insect bite" and denying any culpability. After the horrific mauling death of Linda's mother, FHRC denied any foreseeability or culpability as well, despite the dog's documented history of aggressive behavior, including being surrendered to NYCACC after biting a child and thereafter multiple rescue groups using "code words" to describe Blue's dangerous "impulsive aggression" behavior.
On top of this, Blue was sent to Linda's home wearing a shock collar. According to a
Virginian-Pilot
article, FHRC
described the collar to Linda
as sending a "signal" to the dog by remote control. Linda thought it sent out sound waves, reports
The Pilot
. It was not until she took the collar off to recharge it that she realized the "signals" were jolts of electricity to shock (and correct) the dog.
FHRC is quite literally drowning in foreseeability and culpability, yet they continue to deny both.
By the time rescue workers arrived, the woman's intestines were on the floor ... Her mother's arms were mangled.

- Kerry Dougherty, The Virginian-Pilot
The Experts Respond
Multiple experts responded to this fatal dog attack, including
pit bull expert Diane Jessup
, who wrote on Facebook: "She [Linda] bought a breed she didn't need from a charlatan "trainer" [FHRC] who tried to suppress a dog's true character with shock, who got it from a facility [New York City Animal Care and Control] that didn't have the wherewithal to euthanize a dog that bites family members." Jessup added, "A 'rescue' that sends a dog home with a shock collar on ... Nuff said."
Pennsylvania-based
behaviorist Ilana Reisner
responded as well. We issue a fair warning to readers
who may choke
on her outrageous use of jargon terms: "impulsive, disinhibited, affective defensive aggression" and "toggle-switch like" aggression and "impulsive, rage-like aggression." However, Reisner also admits what behaviorist
Alexandra Semyonova has long stated about temperament testing
. Such tests "cannot prevent or predict explosive, disinhibited aggression."
On this same thread, trainer Victoria Harter states this is the fourth attack she knows about after FHRC adopted out a dog. "This is the 4th dog that FHRC has adopted out that has bitten someone, there could be more. I've also worked with several dogs they have adopted out that are supposedly trained and rehabilitated," Harter writes, "They do not disclose to adopters the history of dogs which is dangerous to the family. I am not at all surprised that this has happened."
---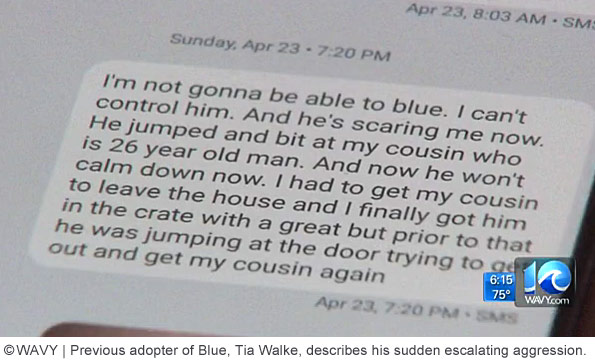 ---
06/03/17: A 'Foreseeable' Attack
After reviewing a wealth of information, it is clear that a violent, unpredictable attack by this dog was "foreseeable." We hope the Patterson family sues Virginia Beach-based
Forever-Homes Sanctuary, Inc.
, also known as
Forever Home Rescue and Rehabilitation Center
(FHRC), after the dog killed a woman just hours after the rescue rehomed it. FHRC is a reckless dangerous dog rescue that has been "saving" death row dogs for years and is no stranger to legal troubles.
In a 2012 article
,
The Virginian-Pilot
describes the two founders,
Toni Enright
and
Jamie Cochran
and the birth of their operation that saves "misunderstood" dogs. Enright said the two met while working at Owl Creek Veterinary Hospital in Virginia Beach: "It was chaos," Enright said about their beginnings. "Our dogs didn't get along. They were tearing stuff up," she said. "Another one kept biting me. And my pit -- he was the kind that was going to wind up in the newspaper one day."
The two self-describe as "disciples of Cesar Millan" and that his "pack-based philosophies struck a chord."

- The Virginian-Pilot, July 1, 2012
Back then, the duo operated out of Knotts Island, North Carolina and lived in a double-wide overflowing with dog beds, crates, supplies and a mob of dogs. Enright described the trailer as a "ghetto." The gist of the 2012 story is that after The Lexus Project, a New York-based legal group, persuaded a judge to release a 5-time biter, named Alchemy, the dog was sent to the pair. But before reaching their rescue "ghetto," the dog attacked one of The Lexus Project attorneys.
Also at that time, Enright and Cochran where charged with felony embezzlement after their former employer, Owl Creek, claimed the pair outfitted their rescue with dog supplies taken from the clinic, reports
The Pilot
. We do not know the results of those felony charges. One does not need to in order to understand the
"mentally ill mindset" of two young women
bent on "saving" dangerous dogs from humane euthanasia through their "self-proclaimed" talents of magical rehabilitation.
1
---
In March 2015, after the rescue moved to Virginia Beach, the Commonwealth of Virginia notified Cochran of "significant findings of noncompliance," including failing to obtain emergency medical treatment for a dog and transferring an unsterilized dog to a "private business" that breeds dogs.
---
History of Killer Rescue Dog
On Wednesday, the Patterson family adopted a male pit bull from FHRC, named Blue, for $20 after responding to a Craigslist advertisement. Previously,
Blue had been a death row dog
. Last December, Pennsylvania-based Animals Can't Talk Rescue (ACT) "pulled" Blue from New York City Animal Care and Control. The dog was on death row for biting people. A fundraiser states Blue, who needed "
socialization and impulse control
," would be sent to FHRC if funds were raised.
Manhattan Center
My name is BLUE. My Animal ID # is A1098430. I am a male white and brown pit bull mix. The shelter thinks I am about 1 YEAR. I came in the shelter as a STRAY on 12/02/2016 from NY 10029, owner surrender reason stated was BITEPEOPLE.
In addition to Blue needing "socialization and impulse control" training, the fundraiser by ACT states Blue "has been through a lot. His behavior -- too -- was cause for concern. He seems to react badly to loud noises and sudden movements." The fundraiser attempted to raise $10,000 in order for Blue and Lexie, another dog pulled from death row in New York City, to be trained and housed by FHRC. In this online effort, they fell dismally short, raising only $10 after 71 shares.
2
On February 4,
ACT delivered Blue to FHRC
after a "whole bunch of donations." In an April 21 update, they state, "
He will be ready for adoption in about a month
." Apparently, the FHRC gals (Cesar Millan disciples) needed four months to "rehabilitate" Blue, including the heavy use of shock collar training. Just days later, we see Enright, Cochran and two other FHRC devotees
walking a pack of 16 large dogs
down a residential street, as if posing for a Reality TV show.
---

---
The Fatal Pit Bull Attack
On May 31, just hours after Forever Home Rescue and Rehabilitation Center delivered Blue, shock collar and all, to the Patterson home, Blue explodes with impulsive aggression. The victim's daughter, Linda, told
The Pilot
she was in the backyard with the dog
, when she removed the shock and canvas collars. At that time, she also realized she had been locked out of the house. She knocked and called out to her mother, but she had fallen in her room and could not get up.
Linda took a hammer and smashed a window pane to get back inside her home. She was on her way to her mother's room when Blue rushed by her and pounced on her mother, which Linda described as initially being playful. Seconds later, Blue began mauling her mother's arms, abdomen and thighs. Linda swung the hammer at the dog -- other news outlets report she
banged the dog with a skillet
-- to no avail. Then the dog turned on Linda, biting her in the upper arm.
"I've had animals all my life and I have never seen an animal act like that. It was horrible," Linda said. "I'll never forget that sight."

- The victim's daughter
13News Now reports the
elderly woman underwent multiple surgeries
Wednesday night, including an arm being amputated. She died of her injuries Thursday morning. Attempts to explain the pit bull's explosive unpredictable aggression range from the elderly victim shouting at the dog, "Get the heck off me," which might have riled the dog up, according to Linda, to the dog only ceasing its brutal attack after the victim, who was being horrifically mauled, "stopped screaming and crying."
As animal behaviorist Alexandra Semyonova
has explained in the past
, selecting for impulsive aggression, as dogfighters did, created an utterly disproportionate response: "It's also not realistic to pretend that impulsive aggression is not pathological. The environments (the fighting pit, the baited bull, the escaping slave) for which these behaviors were selected as an adaptive response are so extreme that in fact there is no appropriate context for these behaviors in normal life."
Rescue Denies Foreseeability
This brutal mauling death shows just how disproportionate this pit bull's response was, which allegedly began as "play" and turned into a catastrophic mauling claiming two victims. Blue was advertised to the Patterson family as "playful, affectionate" and "gentle, goofy." Yet all three animal groups, FHRC, ACT and NYCACC, knew the dog had been on death row for biting people and had "impulse control" and "bad reactions" (or
reactivity
) -- often code for "impulsive aggression."
Dogfighters specifically selected for reactivity that quickly escalates to "impulsive aggression," which is exactly how Linda described the attack.
Yet, the most glaring "foreseeability" of this attack is that a dog, allegedly rehabilitated by FHRC, was adopted to the Patterson family and required a shock collar as a condition. This type of dog should not be adopted to anyone, but an experienced trainer who desires a constant "project dog" with continuous management. Linda did not seem to have any experience with shock collars, as evidence by the fact that she took it off because she thought the collar "seemed to be tight."
No matter how the dice is rolled, Blue was a problematic pit bull -- far beyond the help of any narcissistic "disciples of Cesar Millan," who live in a Reality TV fantasy of their own making. The Patterson family should feel lied to because they
were
lied to by this rescue. We hope the victim's family sues FHRC into oblivion, forcing them to stop all rescue operations for good. In fact, they should sue the whole chain of them, including ACT and NYCACC, as each lent a helping hand.
Forever Home Rescue and Rehabilitation Center's Denial Statement

We send out our deepest condolences to the Patterson family who adopted Blue. Blue went through our 3 month board and train program, and was a favorite amongst all of the staff members and volunteers. Blue loved other dogs, and didn't know a stranger. He never showed any aggression while at our training facility, and passed his final evaluation with flying colors before being adopted out to the Patterson family. Trainers spent yesterday morning checking over Blue's new home and going over training with Blue's new owner. There were 2 other dogs in Blue's new home, who Blue immediately bonded with. We do not know what events transpired in the moments before this tragedy occurred with Blue's owners mother, and

none of us could have ever predicted this horrible event

. We are devastated for the Patterson family and our thoughts and prayers go out to them.
Summary
As noted by our commenter, K-Hart, "These rescuers need to be held liable" for their "mauler peddling ads." Such ads regularly use "code words" for aggression to hide this behavior from the public and greatly minimize -- if not totally erase -- any mention of aggression. There is no such thing as "proof of rehabilitation" either, especially in the area of "impulsive aggression," by self-appointed experts, whose claim to fame is self-described as "disciples of Cesar Millan."
In their Denial Statement and
web advertisement
, Forever Home Rescue and Rehabilitation Center claimed they never saw aggression while at the same time supposedly rehabilitating Blue for behavior problems that are described with "code words" for aggression: "needing socialization" and "lack of impulse control" and bad reactions to "loud noises and sudden movements." In other words, they claimed to rehabilitate a dog of negative behaviors they now say they never saw.
Simultaneously, their web advertisement describes a practically perfect dog, which required the new adopter to use a shock collar for correction.
The other arrow needs to be shot through city and county funded shelters that release death row dogs with documented aggression to
unregulated rescues and rescue transporters
en masse across the country. Blue was an owner surrender by the ripe age of 1 after lashing out at a child. By the ripe age of 1.5 years old -- when pit bulls reach sexual maturity and the bite, hold and shake trait typically kicks in -- he unleashed an unbridled attack on an elderly woman, killing her.
---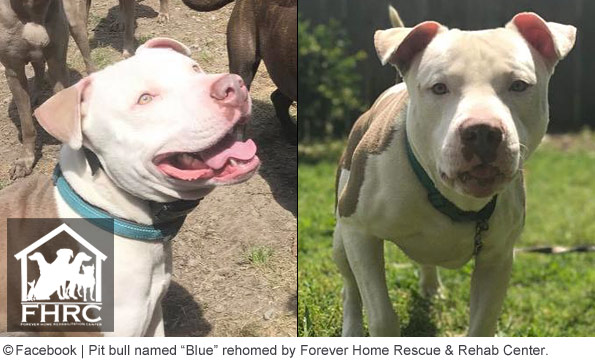 ---
06/01/17: Rehomed Pit Bull Kills
Virginia Beach, VA - A pit bull adopted out by Forever Home Rescue and Rehabilitation Center viciously attacked an elderly woman the same day it was adopted. Police said the attack happened Wednesday. Police were dispatched to a home on Bunker Hill Lane in Pembroke Manor about 7:30 pm and found the victim with life-threatening injuries from the dog mauling. She died Thursday morning. Police said the dog is a 1-year old pit bull terrier, weighing 50 pounds.
Investigators said the dog attacked the woman after she fell on the floor (See:
fatal pit bull attack of 86-year old Bessie Flowers
. Her daughter's pit bulls killed her after she tripped on the dog bed last year). The woman's granddaughter told 13News Now the attack was "gruesome" and lasted about five minutes. She also said the family adopted the pit bull on Wednesday; the day of the attack. The pit bull showed no signs of aggression "until they took the shock collar off," she said.
The web advertisement also states the pit bull is male and that "all dogs will be spay/neutered and up to date on vaccines when adopted."
The granddaughter also shared with 13News Now the
web advertisement for the dog
: "Good with dogs, Good with older/considerate kids only, Good with adults, Does good in the car, Leash trained, Crate trained, Plays fetch, Likes to play with toys, Obedient, Playful, Affectionate, Eager to please, Intelligent, Even-tempered, Gentle, Goofy."
Which is why the dog was wearing a shock collar?
The dog is currently in quarantine at the Virginia Beach Animal Care and Adoption Center.
Liability "Denial" Statement
The
Virginia Beach-based rescue group
subsequently released a liability "denial" statement to 13News Now that essentially blames the adopting family: "We do not know what events transpired in the moments before this tragedy occurred with Blue's owner's mother, and none of us could have ever predicted this horrible event," it reads in part. The news group reports the Patterson family is considering obtaining an attorney and taking legal action against the rescue organization.
It remains unclear if the rehomed pit bull was delivered to the home with the shock collar or not. What is clear is that in March 2015, Jamie Cochran, the president of Forever-Homes Sanctuary, Inc., was sent a
notification letter by the Commonwealth of Virginia
after "significant findings of noncompliance" were discovered at the rescue located at 4937 Broad Street. One of them was adopting out a dog unsterilized to a "private business" whose business is BREEDING dogs.
The Virginian-Pilot
documented a
deeper disturbing history
of this rescue group back in 2012.
---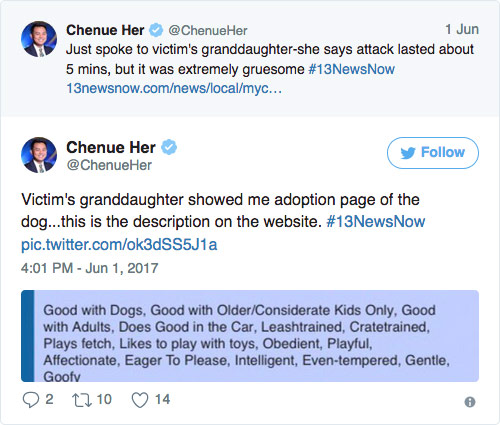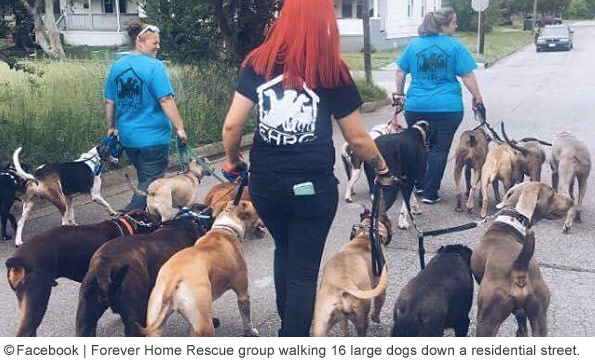 Related articles:
09/20/16:
What's Behind the Click and Bait Web Advertisements of Aggressive Shelter Dogs?
04/29/16:
2016 Dog Bite Fatality: Pit Bull Rehomed by Humane Society Kills Newborn Baby
11/18/15:
2015 Dog Bite Fatality: Newly Adopted Rottweiler Kills Owner in Madison County...
08/06/15:
2015 Dog Bite Fatality: Recently Adopted Out Pit Bull Kills 6-Year Old Boy in...
05/05/09:
Alexandra Semyonova: Heritability of Behavior in the Abnormally Aggressive Dog
Labels: 2017 Dog Bite Fatality, Adopted Dog Kills, Disproportionate Response, Explosive Aggression, Fatal Pit Bull Attack, Pit Bull Rescue, Rescuing Dangerous Dogs, Senior Citizen Fatality, Virginia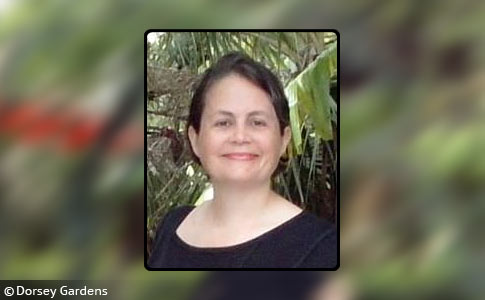 Grace Walks, 41-years old, died after being attacked by family dogs in Lake Worth.
Report Unveils Fatality
Lake Worth, FL - On November 1, Contact 5 published an investigation into dangerous dogs in Palm Beach County. By examining dog bite records, they discovered there were over 1,700 dog bites in the county last year, but less than 100 dogs on the dangerous dog list. They created an interactive Google Map so that county residents can see where each dangerous dog resides. Through their investigative research, they also uncovered a fatal dog attack in Lake Worth.
"While digging through dog bite data for this story, Contact 5 found a fatal dog attack in Lake Worth which happened earlier this year. Authorities believe two family dogs attacked 41-year-old Grace Walks, a woman who knew the animals and loved them. Walks later died and the dogs were euthanized."

- Merris Badcock, WPTV.com, November 1, 2017
After filing a public records request, we received the dog bite report from Palm Beach County Animal Care and Control on November 9 pertaining to Walks' death. The attack occurred on August 27 on the 900 block of Pinto Drive. Walks was pronounced dead at the scene. Walks resided at the home where the attack occurred. One or both family dogs were involved, a 6-year old male American bulldog, named Max, and a 9-year old female pit bull, named Holly.
Walks lived at the home with her father and mother-in-law. Neither was home during the attack. Both dogs were registered to her mother-in-law. A neighbor found her body at 8:15 am inside her fenced-in yard. Both dogs were loose in the area; he tied up Max and called police. The pit bull remained hiding beneath a shed on the property, forcing the animal control officer stand watch to ensure it did not come onto the scene where deputies and the medical examiner were working.
"I then met with Dough Jenkins, Forensic Investigator with the Medical Examiner's Office, and he stated all the wounds he observed were from the dogs, and that she died quickly. The deceased did have a dislocated shoulder but he was unsure whether that was from her fall to the ground or from a dog," states the animal control report. After the body was removed from the scene, and with the help of the mother-in-law, law enforcement was able to load the pit bull into the truck.
The Following Day:
8/28/17 - "I have spoken with Doug Jenkins from the PBC Medical Examiners Office. I advised that both dogs have been euthanized and that we are prepared to assist with anything they need. He stated that he had consulted Dr. Bell, the Chief Medical Examiner, and advised that they do not require anything further from our agency or from the bodies of these dogs. He explained that since both dogs are now deceased and there is no criminal element to this investigation, neither molds of their bite pattern nor additional DNA samples will be necessary.

He advised that if the cause of death is determined to be from animal bites, it will be assumed that it was one or both of these dogs who were involved, since there were no other animals and the property was securely fenced.

Therefore it is now ok to proceed with rabies testing for both dogs and ok to dispose of the bodies of both dogs."

- Capt. David Walesky, Palm Beach County Animal Care and Control
Both dogs tested negative for rabies. As of November 13, the cause of death is pending. We also filed a public records request for this information. What also remains unknown is the time of the dog attack and her death. The mother-in-law told the animal control officer, "she and her husband had been out of town last night." Thus, apparently no one witnessed the attack. We do know that "she died quickly" of the wounds observed by a medical examiner as being inflicted by the dogs.
Why Initially Unreported?
We don't know why local media did not report this case when it occurred. In late August, most southeasterners were focused on Hurricane Harvey, which dropped over 40 inches of rain in parts of Texas and
over 50 inches in Houston
. Over
400 square miles in Harris County
were submerged as the rain poured in from August 25 to 29 and catastrophic flooding occurred. It just so happens, Contact 5 located Walks' death while undertaking their larger investigation into dangerous dogs.
---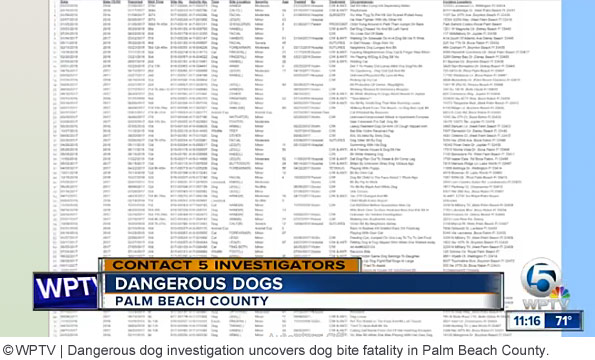 Related articles:
05/16/16
2016 Dog Bite Fatality: Man Mauled to Death by Pack of Dogs in Miami-Dade County
03/30/16:
2015 Dog Bite Fatality: Family Dogs Savagely Kill Elderly Woman in Miami-Dade
10/02/14:
2014 Dog Bite Fatality: Dog Bite Injuries Contribute to Florida Woman's Death
---
Labels: 2017 Dog Bite Fatality, American Bulldog, Concealed Dog Bite Fatality, Fatal Pit Bull Attack, Florida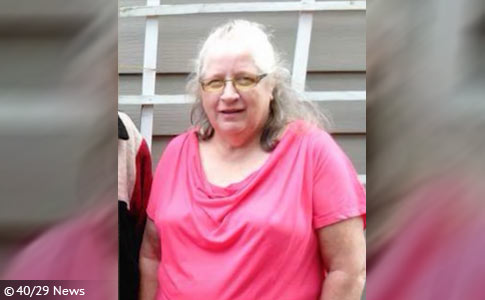 Sharon Lindemann, 75, was discovered dead on her driveway in Hartman, Arkansas.
Dog Attack Suspected
Johnson County, AR - On October 30, the Johnson County Sheriff's Department responded to a call of a deceased woman on Private Road 2227. Sheriff Larry Jones said the victim had deep gashes on her arms and legs. A family member identified her as
Sharon Lindemann
, 75-years old. Lindemann lived with her sister at the home near Hartman and west of Clarksville. Her sister arrived home from work that day about 4:15 pm and discovered her dead in their driveway.
"My sister's unconscious in the driveway," she screamed. "I don't know what's wrong, but she's got a big gash in her neck."

- 911 call, victim's sister
Her sister, Dawn Garland, believes she was attacked by vicious dogs. She said Lindemann often took a walking stick with her outside for protection against roaming dogs. The county does not have a leash law. In fact, according to Sheriff Jones, the county does not have a dog ordinance at all. Her body was transported to the Arkansas Crime Laboratory for an autopsy. Johnson County Coroner Pam Cogan stated that the victim had bites and injuries consistent with a canine attack.
"When I got there, she was laying in the gravel driveway and had obvious wounds and gashes to her limbs -- mostly from what we could see to her arms, her legs," Coroner Cogan told KATV. "Most of it was to the front of her and the gashes and wounds were consistent with what I would consider to be a canine." While no dog was discovered at the scene, Cogan said she saw paw prints around the body. Neighbors also told her they had seen loose dogs roaming the area.
Cogan has been the Johnson County coroner for the last four years. Thus, she also oversaw the mauling death of 63-year old
Frederick Crutchfield
in
nearby Coal Hill
. He was killed by three family pit bulls in February 2015. Coroner Cogan told KATV that Lindemann's death was the most horrific she has ever had to investigate. "Just from the perspective of the amount of pain that the person must have gone through, and it was certainly a lot of injuries to the body," Cogan said.
Arkansas State Crime Lab
The Arkansas State Crime Lab said the cause of death was by "multiple blunt force and penetrating injuries" -- standard language used in fatal dog maulings. "There was penetration all the way down to the bone in some areas," Sheriff Jones said. He added that yesterday, a Hartman farmer
shot and killed two vicious pit bulls
about two miles from where Lindemann was found. The farmer shot the dogs after they killed his horse. Jones does not know if the attacks are related.
"We got a call from an individual that lives there on Main Street in Hartman that reported his horse had been killed by 2 pit bulls."

- Jones
Though it is unclear why, the crime lab's report did not list this as an animal attack. This may be because it was a preliminary report. We certainly hope Sheriff Jones examines the two dead pit bulls and collects their DNA. His
reluctance to call this a dog attack
-- going against the coroner's expertise -- is a bit baffling. We hope we are not looking at another sheriff who
mistakenly believes this may be a large cat attack
. There really is too much information available to make this error.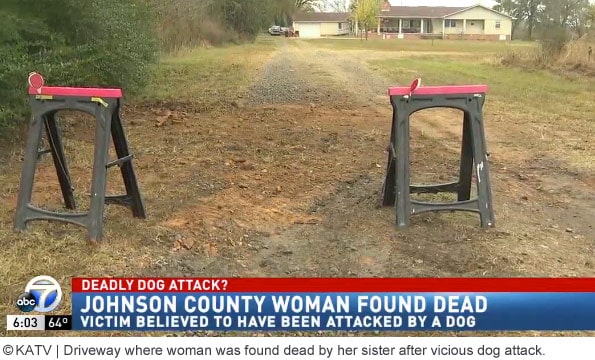 Related articles:
03/14/17:
Persistent 'Wild Animal' Theory Finally Derailed, Elderly Man Killed by Dogs...
07/18/15:
2015 Dog Bite Fatality: 63-Year Old Arkansas Man Killed by Three Pit Bulls
---
Labels: 2017 Dog Bite Fatality, Arkansas, Senior Citizen Fatality, Wild Animal Theory
Jamie Owsley, 21, died in February after being bitten in the neck by a family pit bull.
Police Report & Coroner's Findings
UPDATE 11/11/17:
In early November, we received the police report of the dog bite case involving Jamie Owsley, 21, of Quincy. Owsley was pronounced dead at 3:38 am on February 26 after arriving at Blessing Hospital. Forensic Pathologist Dr. Denton ruled his cause of death was "penetrating and crushing injuries of the neck, due to a dog attack," states the report. Owsley's death received very little media coverage; no news reports were published after February 27.
The attack occurred at his home at 1005 1/2 Jersey Street. The dog involved was one of three pit bulls belonging to his roommate and cousin Kerry Talburt II. The police report states, "[Talburt] heard some rustling in the living room and heard his dog growling. He got up and went to the living room. He saw his pit bull, Hercules, had his mouth latched onto Owsley's neck. Talburt stated he grabbed the dog and pulled him off, took him into his bedroom, and put him in his kennel."
Talburt did not call 911. He called his grandfather instead. After his grandfather arrived, they took Owsley to the emergency room.
Family members said Owsley had a history of recent seizures. Between 3:00 and 4:00 pm of the previous day, Owsley suffered a seizure at his apartment. It is believed he suffered another one before the pit bull latched onto his neck, crushing his "larynx and hyoid bone" in his neck. Dr. Denton stated in his report, there were no defensive injuries associated with the dog bite neck injuries, "consistent with Mr. Owsley being unresponsive, but alive during the attack," he wrote.
When [Talburt] looked into the living room, his full-breed male pit bull, Hercules, had his mouth latched on to Owsley's neck. Talburt said he pulled the dog off Owsley's neck and went to take the dog into his room. Talburt said he almost fell in the doorway and smacked the dog against the wall. He then put the dog in the kennel. Kerry stated he believes that is where the blood on the wall came from, when he hit the dog on the wall.

- Quincy Police Report
The Roommate and His Pit Bulls
During police interviews, Talburt said he kept three pit bulls in his apartment. He said Hercules, a male blue pit bull, was about 4-years old, Java was about 2-years old and Hoss was about 1.5 years old. "Talburt indicated during the interview that if Java and Hoss were out of their cages, that Hercules would be in his cage because they did not get along," states the report. Talburt said Hercules had bitten three people prior to biting Owsley, including a bite that required stitches.
On March 7, Hercules was put down. But Talburt's troubles were just kicking in. On July 8, Talburt was
arrested after allegedly allowing one of his pit bulls
to injure a man. Talburt was charged in Adams County Circuit Court with six felonies: home invasion, aggravated battery, reckless conduct, criminal trespass of a residence and two counts of obstructing justice. Police said Talburt got into an altercation with his downstairs neighbor. His dog got loose and bit the man in the face.
The Quincy Police Department said officers were called to 1005 Jersey on July 8 in response to a report of a 30-year-old man who was bitten in the face by a dog. Police said Talburt had gotten into an altercation with his downstairs neighbor, and Talburt's dog got loose and bit the man.
Charging documents say Talburt put his thumb in one of the other man's eyes and allowed the pit bull to bite him. They also allege he gave false information to police."

- Herald-Whig, September 12, 2017
Kerry D. Talburt II
, 21-years old, faces up to 30-years in jail if convicted of the home invasion charge. It is a
Class X felony
, the most serious felony offense in Illinois short of first-degree murder. If convicted of the other charges, he also faces the possibility of consecutive sentences. In October,
Talburt pleaded not guilty to all charges
. A jury will hear his case in the future. Adams County Court online records show that Talburt is no stranger to criminal legal proceedings.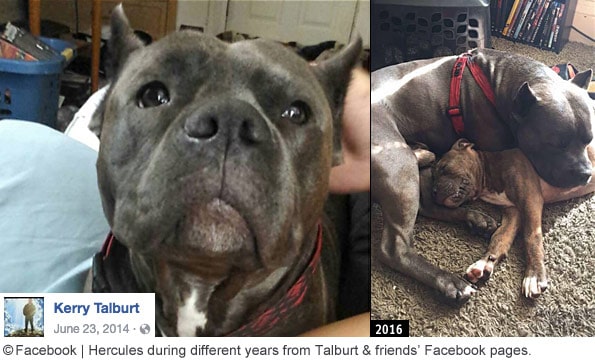 ---
02/27/17: Coroner Releases Name
Quincy, IL - A 21-year old man died after a dog attack early Sunday morning. Adams County Coroner Jim Keller identified the victim as Jamie Owsley of Quincy. Police said that a death investigation was underway. Police said they received a call from the emergency room about a person with a dog bite. The attack occurred at 3:26 am Sunday morning at 1005 Jersey Street, inside the two-story brick home. A Beware of Dog sticker was adhered above the front door.
No other details will be released until the final autopsy results, which could take up to 2-weeks.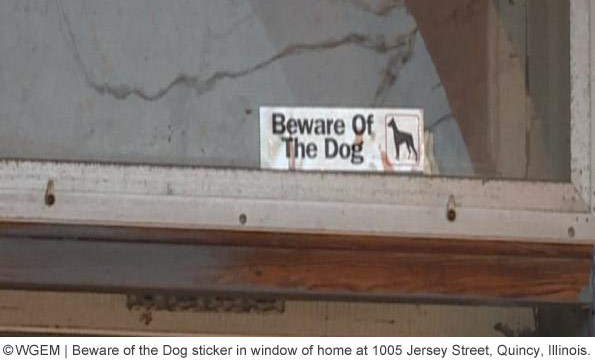 Related articles:
05/29/15:
2015 Dog Bite Fatality: 5-Year Old Boy Fatally Attacked by Pit Bull in Chicago
11/12/14:
Video: Two Mothers Share Their Tragic Stories of Losing a Child in Family Dog Attack
04/29/14:
2014 Dog Bite Fatality: 4-Year Old Girl Killed by Family Pit Bulls in Bloomington
---
Labels: 2017 Dog Bite Fatality, Concealed Dog Bite Fatality, Fatal Pit Bull Attack, Illinois, Seizure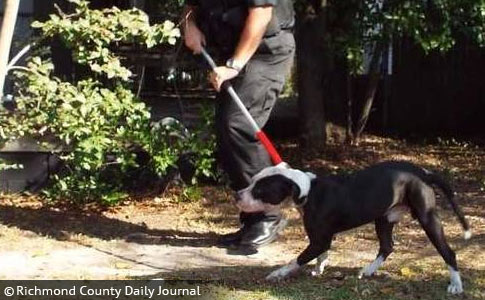 On Saturday, two dogs attacked and killed their owner in Hamlet, North Carolina.
Victim Identitifed
UPDATE 11/09/17:
Hamlet Police have identified the dog mauling victim as David Robert Baber, 65-years old. On November 4, two of Baber's dogs, a male pit bull and mixed-breed dog, brutally attacked him in the backyard of his own home on West Hamlet Avenue. A 9-year old boy tried to stop the attack by throwing bricks at the dogs to no avail. He later told the
Richmond County Daily Journal
the dogs would not stop attacking him. "They bit his neck. He's got a hole in it," he said.
Baber owned five dogs that he walked each morning. He could only walk them in pairs of two and could only walk his "energetic" male pit bull alone. According to the little boy's mother, April Parnell, prior to attacking Baber the same two dogs had been fighting earlier that day. Parnell said that Baber broke up the dog fight by inserting himself between the animals and throwing punches at the dogs. Hamlet Police continue to search for relatives of Baber to inform them of his death.
In 2015,
two pit bulls belonging to Ricky Davidson
viciously attacked 79-year old Kenneth Ford in Pahrump, Nevada. He died just over a month later while still hospitalized at University Medical Center in Las Vegas. Just before his death, Nye County was
granted temporary guardianship
of Ford and his estate because no family members could be located to oversee his medical care. It is presumed that Nye County ultimately took permanent guardianship after Ford's death as well.
11/06/17: Can't Locate Relatives
On Monday, Hamlet Police Chief Scott Waters said they still have not located any relatives of a man who was mauled and killed by his own dogs Saturday. The attack occurred in front of a 9-year child who tried to stop the dogs by throwing bricks at them. So far, investigators have checked with the Adult Services division of the Richmond County Department of Social Services, the Veterans Administration and Walmart, where the man had been employed before retiring.
"We're running into a lot of obstacles" and may have to release the man's name in order to find his relatives.

- Police Chief Scott Waters
The little boy, named Kanorie, and his family live next door to the mauling victim. His mother, April Parnell, said her family and the man were close. He often walked her children to the bus stop in the morning and escorted them home after school. April said the man had a daughter who lived elsewhere, reports the
Richmond County Daily Journal.
Waters called Kanorie a "hero" for his brave actions Saturday. "I just thank God above that the dogs didn't turn on him," Waters said.
11/04/17: Man Killed by Own Dogs
Hamlet, NC - A man is dead after being mauled to death by his two dogs, a black-and-white pit bull and another dog. The fatal attack occurred early Saturday afternoon in the owner's fenced-in backyard at 308 West Hamlet Avenue. A 9-year old child witnessed the attack and threw bricks at the animals, trying to get them to stop. "I threw bricks at the dogs to try and get them off of him," Kanorie Parnell said. "Only they wouldn't get off of him. They bit his neck. He's got a hole in it."
The 69-year old owner had five dogs. He could only walk them in pairs of two and could only walk his "energetic" male pit bull alone.
By 1 pm, about 10 vehicles from first responders lined West Hamlet Avenue, reports the
Richmond County Daily Journal
. By 1:15 pm, officers captured the pit bull; it took longer to capture the second dog. At 2 pm, officer's removed the man's body. By 3:30 pm, Hamlet Police Chief Scott Waters said all of the dogs had been taken to the Richmond County Animal Shelter, reports the
Daily Journal
. Hamlet police are notifying next of kin and have not yet identified the victim.
Kanorie and his mother, April Parnell, live next door to the man. April said Kanorie was visiting the neighbor when the two dogs attacked and killed their owner. April also provided the names of the two dogs involved -- Little J and RJ. She said both dogs had been fighting earlier that day. April said her 69-year old neighbor broke up the dog fight by throwing punches at them, separating them. Later in the day, the same two dogs attacked their neighbor, she told the
Daily Journal
.
---
Although information is limited at this time, this case could involve rescue dogs or dog "collecting." The man had five dogs. He could only walk them in pairs of two and the pit bull alone. This could be an indicator of dog aggression by more than one of his dogs, though it could be strength-based too. The man is described as "small," possibly he could only handle two dogs at a time. Also, Little J and RJ, by their names alone, appear to be related (intentional or unintentional breeding).
Related articles:
05/17/17:
South African Boerboel Suspected in Breeder's Death in Asheville, North Carolina
03/28/17:
2016 Dog Bite Fatality: Pit Bulls Kill Visiting Elderly Family Member in Charlotte
08/06/15:
2015 Dog Bite Fatality: Adopted Out Pit Bull Kills 6-Year Old Boy in Hendersonville
---
Labels: 2017 Dog Bite Fatality, Fatal Pit Bull Attack, North Carolina, Pit Bull Kills Owner, Senior Citizen Fatality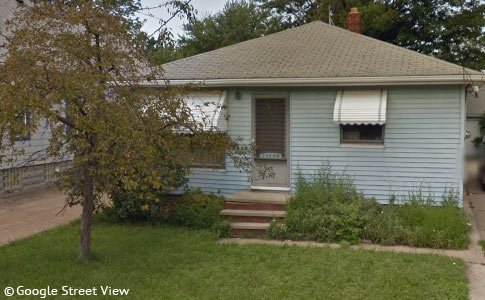 The Cleveland home where 2-week old Sophia Booth died after suffering a dog bite.
Baby Identified
UPDATE 11/05/17:
Cleveland Police stated in a news release the attacking dog was a 4-year old German shepherd. They also identified the 2-week old newborn. "The dog escaped from the kitchen area where he was fenced in, and bit the baby girl who was in a bedroom on the first floor. The baby, who has been identified a 2-week old Sophia Booth, was taken to MetroHealth Medical Center where she died," reports Cleveland 19 news. The family shepherd was taken into custody.
The attacked happened at 6:53 pm on Carrington Avenue, Cleveland police spokesman Det. Reginald Lanton said. Police responded to a report of child
who suffered head trauma
from being bitten by a dog, Lanton said. The case will be presented to the Cuyahoga County Prosecutors Office. Police provided no information about the history of the dog -- if the dog had a documented history of aggression or not. The extent of the baby's head trauma injuries is also unknown.
In 2014, a pit bull
jumped over a "baby gate" in a Dayton home
and fatally attacked a 7-month old child under the care of Kimiko Hardy. Leading up to the baby's death, the pit bull had attacked a mailman and a neighborhood dog. After the dog incident, Hardy attended required classes on "responsible dog ownership." Yet, she still failed to properly secure her dog in the presence of a baby. A jury later found her guilty of six felonies. Hardy was sentenced to three years in jail.
11/04/17: Dog Bite Kills Baby
Cleveland, OH - A 2-week old baby is dead after being bitten by a family dog Friday night. The attack occurred at 6:53 pm at 13304 Carrington Avenue in the Puritas-Longmead neighborhood, according to Cleveland Police. The baby was transported to MetroHealth Medical Center, where it died just before 9 pm, according to police. Cleveland Homicide detectives are investigating the baby's mauling death. Police authorities have not yet released the gender of the newborn.
Video from News 5 Cleveland describes the dog as a German shepherd. A "warning" guard dog sign was seen on the home's front window.
This dog was known to be aggressive. Neighbors described the dog as "vicious and aggressive" toward people and other dogs that would walk by the home. "It was like a junkyard dog," said neighbor Tommy Varga. "Ready to attack -- constantly." Varga said he never walked in front of the house; he walked across the street because of the dog. It's unclear if any neighbors ever reported this dog to animal control authorities. It's unclear why this animal was anywhere near an infant.
Ohio's Fatal Dog Attacks
So far in 2017, Ohio (population 11.61 million) leads all states with 4 fatal dog maulings versus Texas (population 27.86 million) and Georgia (population 10.31 million) each with 3 dog bite deaths. The other alarming fact about this baby's death is that nearly one third (29%) of all determined fatal dog attack victims so far this year have been babies 8-months old or younger. The state of Ohio is disproportionately responsible for these newborn dog bite deaths as well.
In September, about 70 miles south of Cleveland, Knox County Prosecutor Chip McConville said that no charges would be filed after a father woke up to his newborn
so mutilated by a family pit bull that he did not even attempt CPR.
After searching the father's Pike Township home, police found dozens of empty beer cans, drug paraphernalia and a back room littered with "so much urine and feces in it that I could not breathe due to the odor," an investigator stated at the time.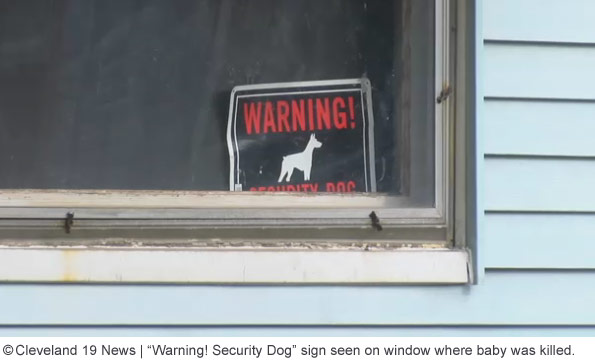 Related articles:
11/02/17:
Family Files Lawsuit After Toledo Woman Dies of Injuries After Being Knocked...
09/29/17:
2017 Dog Bite Fatality: Family Pit Bull Fatally Mauls Infant in Knox County, Ohio
07/23/17:
2017 Dog Bite Fatality: Fostoria Man Dies After Breaking Up Pit Bull Fight
04/26/17:
2017 Dog Bite Fatality: Pit Bull Breaks Chain, Attacks and Kills Man in Dayton, Ohio
---
Labels: 2017 Dog Bite Fatality, German Shepherd Fatality, Infant Fatality, Newborn Fatality, Ohio
Dog Owner Pleads Guilty; Sentenced to Jail Time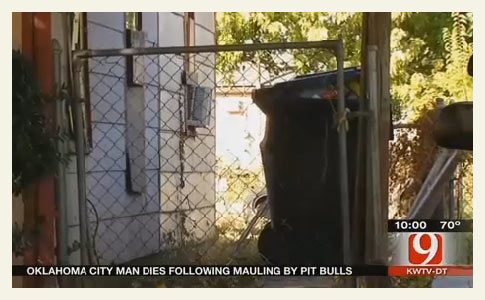 Area where Edgar Brown was viciously attacked by five pit bulls on October 6.
Owner Pleads Guilty
UPDATE 11/04/17:
The Oklahoma City owner of five pit bulls pleaded guilty Friday to second-degree manslaughter after his dogs killed a man in 2015. Juan Marcos Diaz, 46, was sentenced to one year in prison and three years probation. He received credit for nine months already served. Charges were filed against Diaz in August 2016, nine months after his dogs brutally attacked Edgar Brown, 60, who suffered multiple complications, amputations and eventually death.
"I caused the death of Edgar Brown in a negligent manner by owning a mischievous animal, a dog, who attacked and killed the victim,"

- Juan Diaz
On October 6, 2015 Brown stopped by a rental home on SW 38 Street to take out the trash. On Diaz's property, directly north, five pit bulls jumped a chain-link fence that separated the two properties. The dogs were only able to reach Brown by breaching
another
fence through a hole. "Flesh was hanging off his arms. It was the most awful mess I've ever seen," his brother Dexter Brown said. He died of his injuries on October 18, less than 2-weeks after the vicious attack.
Back in April, Cecille Short, 82, and her dog were
savagely killed by two large dogs
while walking in a northwest Oklahoma City neighborhood. The animals had escaped from an extensive hole in the owner's fencing. Witnesses told investigators the two pit bulls were dragging Short "by the head and neck area, causing her death," reports
The Oklahoman
. The following month, Antwon Demetris Burks, 31, was charged with second-degree manslaughter in connection to her death.
08/04/16: Criminal Charges Filed
Nine months after a pack of pit bulls brutally mauled a man to death, second-degree manslaughter charges were filed against the owner of the dogs. Last October, 60-year old Edgar Brown stopped by a friend's rental home to take out the trash. While undertaking this task, five pit bulls belonging to a nearby property entered through a hole in the fence and brutally attacked him. The severe bite injuries led to multiple complications, amputations and eventually Brown's death 12-days later.
Second-degree manslaughter charges in
Oklahoma is a felony
that carries up to 4-years in prison or by a fine of $1,000 or both a fine and imprisonment, according to FindLaw.com. Edgar's brother, Dexter Brown, has been a strong proponent for criminal charges since his brother's vicious attack. "People got to be responsible for their dogs and if their dogs kill somebody as far as I'm concerned you killed them," Dexter said. Police issued an arrest warrant for the dogs' owner, Juan Diaz.
10/22/15: Man Dies After Pit Bull Attack
Oklahoma City, OK - An Oklahoma City man viciously attacked by five pit bulls while tending to a rental property on October 6 died on Sunday. The media did not report the attack. Edgar Brown, 60-years old, spent 12-days hospitalized before dying of complications due to his injuries. His brother, Dexter Brown, said he was brutally mauled by the dogs. While hospitalized, his health quickly spiraled, including suffering a heart attack, which led to a triple bypass surgery, he said.
Doctors also had to amputate both of the victim's legs and part of one arm due to infection from the severe dog bite injuries.
At the time of the attack, Edgar was helping out a friend. According to his brother, Edgar was asked to go to a friend's rental home to take out the trash. The trashcans were located just inside of the gate on the side of the home. The pit bulls, which belonged to a nearby property, jumped the fence and charged him.
1
Edgar was able to keep the gate closed, staving off the dogs, but the pit bulls found a hole in the fence, ran through it and attacked him on the other side of the gate.
He was hollering for help, Dexter said. Then somebody honked their horn and the dogs fled back through the hole in the fence. "He had blood all over him, all over the floor, everywhere," Dexter said. "Flesh was hanging off his arms. It was the most awful mess I've ever seen." Edgar was taken to OU Medical Center where doctors tried to save his life. "We buried him today. We had his funeral today," Dexter said. "He was the most wonderful little brother you've ever had in your life."
All five pit bulls have since been euthanized.
2
Oklahoma City police are investigating the case. The mauling death of Edgar Brown marks the third Oklahoma citizen struck down by vicious dogs in 2015. All three deadly attacks involved pit bulls. Previous victims include,
Carolyn Lamp
, 67-years old of Coweta, who was killed by a pack of dogs in Redbird and
Jordan Charles Collins-Tyson
, 3-years old of Lawton, who was killed by a family pit bull while visiting a relative's home.
Related articles:
05/10/17:
2017 Dog Bite Fatality: Woman, Dog Killed by Two Pit Bulls While Walking...
07/24/15:
2015 Dog Bite Fatality: Pack of Dogs Kill Woman in Wagoner County, Oklahoma
06/29/15:
2015 Dog Bite Fatality: Pit Bull Kills Child Under Babysitter's Watch...
09/30/12:
2012 Dog Bite Fatality: Oklahoma Woman Killed by Pit Bull in Her Home
08/27/12:
2012 Dog Bite Fatality: Elderly Oklahoma Man Killed by Two Pit Bulls
09/28/11:
2011 Dog Bite Fatality: Ardmore Man Mauled to Death by Chained Pit Bull
Labels: 2015 Dog Bite Fatality, Fatal Pack Attack, Fatal Pit Bull Attack, Oklahoma, Oklahoma County, Visiting Adult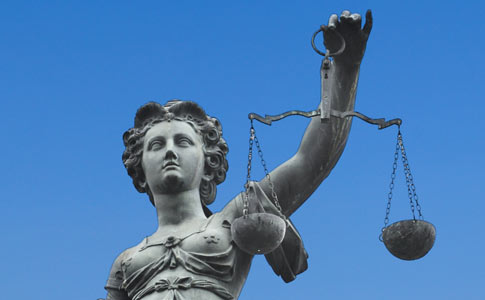 The estate of Shirley Wright is suing those believed to be the keepers of the dogs.
Lawsuit Filing
Toledo, OH - Last Wednesday, the family of a Toledo woman who died a month after she was badly injured by a dog filed a civil complaint in Lucas County Court of Common Pleas. Rebecca Best, the executrix of the estate of Shirley Wright, alleges in the complaint that Susanne Barwiler is the owner of the home where defendants Anthony Foust and Holly Foust reside, located on Ogden Avenue in Toledo, and that Barwiler herself resides in the home for at least part of the year.
"Defendants, Susanne Barwiler, Anthony Foust and Holly Foust, are, upon information and belief, were owners/keepers/harborers of a vicious dog(s)," states the complaint. The Lucas County Coroner
ruled in August
that Shirley Wright, 89, died June 8 due to "gastrointestinal hemorrhage, deceased was knocked down by neighbor's dog." The manner of death was ruled accidental. This type of injury resulting in death falls under "struck by dog," not death due to dog bite injuries.
"On or about May 6, 2017 at approximately 5:00 pm, Shirley Wright was doing yard work on her property, which was located adjacent to the defendant's property at 626 Ogden Ave., Toledo, OH 43609. Defendant, Anthony Foust, was sitting on his front porch with his two pit-bull dogs. As Ms. Wright was walking towards the driveway, one of the defendant's dogs charged at her, jumping up on her left side, biting her, mauling her and causing her to fall to the concrete.
As a direct consequence of the attack, Shirley Wright, suffered severe and painful injuries, the complications of which directly resulted in her death. Her injuries included but are not limited to right hand swelling with fractured middle finger; a fracture of the right shoulder; and a fracture of the right hip."
Plaintiff Rebecca Best is seeking an amount "greatly in excess of twenty-five thousand dollars ($25,000.00) per defendant," states the lawsuit, "as well as for all costs of this action, any and all applicable interests, plaintiff's reasonable attorney fees, as well as any and all other such relief as this Honorable Court deems appropriate, just, and equitable." The lawsuit filing, which demands a jury trial, was assigned to Judge Linda J. Jennings and will be heard at a date in the future.
CDC Wonder Database
DogsBite.org does not include "struck by dog" deaths in our dog bite fatality statistics or cases involving non-bite or minor bite injury. However, we do track them when we learn about them. The way that we check our statistics every few years to ensure we are not underreporting is through
CDC Wonder Search
, which includes the combined number of individuals killed after being "bitten or struck by a dog" (
Code W54
). CDC Wonder results do not separate out the two scenarios.
1
Thus, CDC Wonder results should always be slightly higher than ours, as we exclude "struck by dog" and non-bite injury deaths.

- DogsBite.org
Other cases we have written about previously that could qualify as "struck by dog" deaths include a
33-year old letter carrier who died
after a rottweiler ambushed him, causing him to fall and suffer a fatal head injury. The attack occurred in 2010 in Oceanside, California. In 2009, Plainfield Animal Control Officer Theresa Foss was
hospitalized with a head injury
after being knocked to the ground by an aggressive pit bull on September 29. She died while hospitalized on October 8.
One of the Foust's Pit Bulls
A family member posted one of their pit bulls to Facebook on January 24, 2017. The dog is seen sitting on the porch of their
home on Ogden Avenue
. Wright was attacked by one of the pit bulls just over three months later. The lawsuit states the defendants "were negligent by failing to keep and maintain reasonable control of their dog(s) while unconfined and/or untethered, thereby allowing them to roam free with the potential to cause physical bodily harm to another person."
---
Related articles:
09/29/17:
2017 Dog Bite Fatality: Family Pit Bull Fatally Mauls Infant in Knox County, Ohio
04/26/17:
2017 Dog Bite Fatality: Pit Bull Breaks Chain, Attacks and Kills Man in Dayton, Ohio
Labels: CDC Wonder, Non Bite Injury, Ohio, Senior Citizen Fatality, Struck by Dog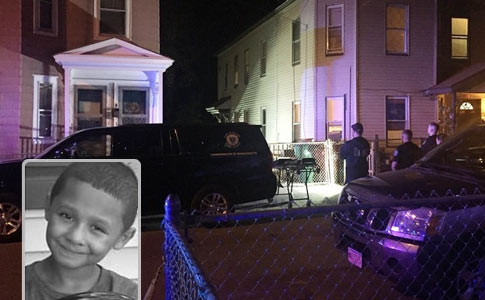 Police gather outside scene where two pit bulls killed 7-year old Javien Candelario.
1
Victim Identified
UPDATE 10/27/17:
The 7-year old boy has been identified as
Javien Candelario
. On October 21, he was brutally killed by two pit bulls housed behind a dilapidated gate between 56 and 58 Clare Street. Witnesses said about 15 people saw the horrific mauling. Two of them included Javien's mother and his older brother. No one knew how to save him from the jaws of the pit bulls. Five police officers that arrived too late to save Javien are also traumatized and undergoing counseling.
Lowell city councilor Rodney Elliott, who recently spoke about the attack on
Nightside with Dan Rea
, said the details about how the attack started remain sketchy. Javien went to pat the dogs, who were in the fenced yard.
"The dogs pulled him over the fence," Elliott said.
Earlier, witnesses gave different accounts of how Javien entered the yard. One claimed "he jumped the fence" and another echoed the words Elliot did, "The dog grabbed him and pulled him over the fence."
Elliott sponsored the city's pit bull ordinance that was enacted in 2011. It was nullified one year later after Massachusetts' legislators enacted a
state preemption law
barring cities and towns from adopting breed-specific laws. "I think if people knew the gruesome details, they might not be as quick to judge the idea of placing more restrictions on owning pit bulls," Elliott said Friday. There will be a funeral mass on Saturday at St. Michaels for Javien. He will be buried in a donated plot.
10/23/17: 15 People Witnessed Attack
New details about the boy's death were revealed over the weekend. Resident
David Swiniarski
, 22-years old, was one of about 15 people who witnessed the horrific dog mauling. On Saturday night, two pit bulls fatally attacked a 7-year old boy after he entered into a fenced-in area between 56 and 58 Clare Street. When Swiniarski and his roommate heard screaming, the pair ran down the street to a crowd of people standing in front of a driveway blocked by a chain-link gate.
"Two 100, 120-pound pit bulls just getting his neck, his legs ... Everyone was screaming, but no one knew what to do."

- David Swiniarski
Neighbors described the pit bulls as large and territorial, one brown and one gray. No photos have been released of the dogs. Some neighbors wondered how the boy could have gotten over the
dilapidated 4.5-foot fence
. Answer: instantly. Other reports
indicate the victim's older brother
also witnessed the horrible attack. "The older boy, on the sidewalk, he said, 'I couldn't save my brother,'" recalled a 52-year old female neighbor, who moved in as recently as two weeks ago.
WHDH released parts of the 911 calls
. "A child's being attacked by some sort of animal," the operator told police. "Apparently the dog will not let go of the child." Also confirmed in the calls is that police fired on one of the pit bulls. "Lowell, shots fired, the dog is hit, it's still coming at me," the officer told the operator. "Lowell, the dog just jumped over the fence," he added. Presumably that means after being shot, the pit bull was still able to scale the fence and continue fleeing.
Monday night, the
Lowell Sun
cleared up details about this injured
, at large pit bull. Despite being shot, the pit bull ventured over a mile away before being killed in a hail of police gunfire. Earlier, we pointed out that an employee at UMass Lowell received a text alert at 6:43 pm about the pit bull attack. At 8:17 pm he received another text stating the dog was found. That is about 1.5 hours. We also noted that another commenter stated in response, "That explains the helicopters."
Finally, there are different accounts about whether the boy
jumped the fence or if the dogs pulled him inside
. Neighbor Nilda Garcia alleges a group of kids were playing with a ball, when the ball went through the fence. "He jumped the fence and the dog grabbed him and killed him," she said. Neighbor Bill Brettancourt disagreed. "The boy had leaned over the fence like this [gesture]. The dog grabbed him and pulled him over the fence. The boy did not go in there on his own," he said.
---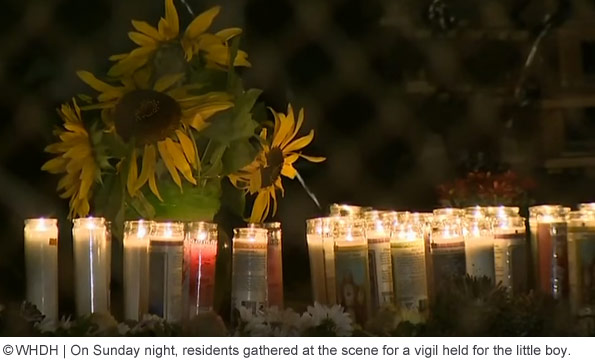 10/22/17: Boy Mauled to Death
Lowell, MA - A 7-year old boy is dead after being mauled to death by two pit bulls in the Acre section of Lowell Saturday evening. A preliminary investigation reveals the unidentified boy entered into a fenced-in area on Clare Street that housed the pit bulls, according to a press release from the Middlesex District Attorney's Office. Crime scene tape and police vehicles were seen outside homes at 56 and 58 Clare Street after the dog attack, reports the
Lowell Sun
.
Police received a call about the attack about 6 pm. They arrived on scene and discovered the unidentified child deceased. After the attack, one of the pit bulls escaped the fenced-in area. The dog was subsequently located and euthanized. Lowell Animal Control took the other pit bull into custody, according to the release. The investigation remains ongoing by the Middlesex District Attorney's Office, the Lowell Police Department and the Massachusetts State Police.
NBC Boston
interviewed Angel Argueta, who lives nearby. "I heard sirens, he said. "Then I heard something that appeared to be gunshots. That's when I came out here. The neighbors told me that two dogs had devoured a kid. I heard the owner came out and was trying to take the dogs off. They wouldn't listen. I asked if the kid was okay. They said, no, he didn't make it." Earlier, Argueta had seen the boy's mother, who he described as "trying to wake up from this nightmare."
CBS Boston
was also live on scene after the attack. One neighbor, who witnessed part of the mauling, said he came outside after he heard the boy's mother screaming, "Dogs have my kid! Dogs have my kid!" The lady was hitting the dogs with a stick, he said. "The dogs would not let go of the kid; dragging him around like a ragdoll." A female neighbor, who said she always sees kids playing outside in the neighborhood, described the two pit bulls as "kinda scary and rough."
Local commenters on the
WHDH Facebook thread
added more details, including one who works at the university. James Donahue wrote, "I go to and work at UMass Lowell. At 6:43 PM we all got text alerts that there was a pit bull attack, then at 8:17 PM that the dog was found and euthanized. This is beyond tragic." Matty Bee wrote, "That explains the helicopters." Obviously, police were very concerned about the at large pit bull and apparently used helicopters to help locate it.
Massachusetts Background
Fatal dog maulings in Massachusetts are very rare. Our 12-year data set from 2005 though 2016 only has one other fatality, the death of 7-year old
Conner Lourens
in 2006. Back in 2012, humane organizations pushed through a comprehensive animal welfare bill.
Deliberately buried in it was a preemption clause
prohibiting jurisdictions from adopting or enforcing breed-specific laws. At that time,
Lowell
,
Boston
and several other Massachusetts cities lost their pit bull ordinances.
The Lowell pit bull ordinance was based on the City of Boston's 2004 ordinance, the Responsible Pit Bull Ownership ordinance. Lowell's ordinance required all pit bull owners to register their dogs, spay and neuter their dogs, provide proof their landlord, lessor or property owner had knowledge of the dog(s), provide "secure temporary enclosure" when transporting their animals, limited ownership to two per single household, required signage and several other regulatory conditions.
---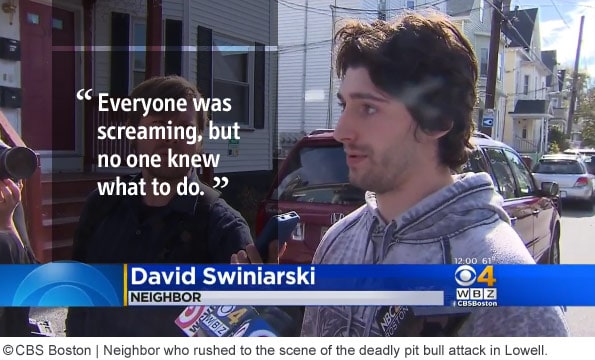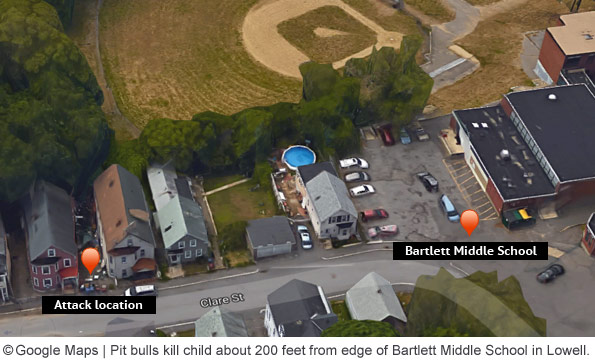 Related articles:
10/10/16:
Special Report: Level 1 Trauma Center Dog Bite Studies in All U.S. Geographical Regions Report Pit Bulls Highest Prevalence (2009-2016)
|
View Table of Studies
10/28/09:
In Massachusetts, Landlords May Be Liable When Tenant's Pit Bull Attacks
Labels: 2017 Dog Bite Fatality, Fatal Pit Bull Attack, Landlord Liability, Massachusetts
City Uses Unique Approach to Show Dog Can't be Rehabbed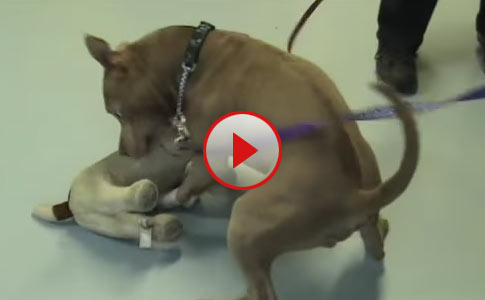 One of two videos shown to courtroom demonstrating this pit bull's dog aggression.
City Officials Show Videos
Victoria, Canada - In an uncommon, but effective demonstration, the City of Victoria used videos of a decoy dog to show a courtroom the level of dog aggression in a pit bull, named Bentley. On April 21, as 72-year old Peter McPherson was walking his Maltese-cross named Cassie, Bentley viciously attacked his dog. "I've never seen a dog with a bigger mouth," McPherson testified. "This dog went for the throat." The pit bull inflicted deep laceration wounds and crushed Cassie's spine.
McPherson also testified how he and other adults tried to save Cassie. "I was holding the dog and they were pulling back on the other dog. Several people were actually punching it on the nose and it showed no sign of release," McPherson said, emphasizing the tenacity of the breed. Pit bulls were selectively bred to continue attacking until death -- a quality known as "gameness" by dog fighters -- which is why lethal intervention is often necessary to stop a relentless pit bull attack.
Featured in the
Times Colonist
story is one of the videos shown to the courtroom. Bentley sails into a room where Lisbeth Plant, an animal aggression expert, is standing with her decoy Jack Russell terrier. Bentley immediately rushes the decoy dog and bites him on the neck. What follows is equally as disturbing as the pit bull heavily pins the decoy dog down, all the while wagging his tail. "If that had been a live dog, that dog would be dead," Plant testified. "Those were kill bites."
In another video not shown, and filmed just four minutes later, the pit bull attacks a decoy black lab, he "bites it and shakes it until its spine is broken," reports the
Colonist
. Plant testified that Bentley's level of aggression is 10 out of 10. The entire court proceeding was required because Bentley's owner, Ryan Mulligan, refused to surrender his dangerous pit bull after if killed Cassie. His dog had also attacked two other dogs before fatally injuring Cassie, according to Mulligan.
"[Bentley] almost instantly rises to the attack to the point of injury, if not death. How can such an animal be reintroduced to the community to live among adults, children and other domestic animals?" asked Judge Lisa Mrozinski. This dog would have to be under "constant" control, she continued, harnessed, muzzled with no way of escaping from a home in cases where a child or pet dog passes by. Mrozinski is correct. No neighborhood can withstand a dog-aggressive pit bull.
Where The Roads Diverge
The City of Victoria animal control officers and Judge Mrozinski absolutely made the appropriate call about this dangerous pit bull. This case stands out to us, because it happens so infrequently today. At the request of the dangerous dog's owner, a judge will often order the dog shipped out-of-state to be "rehabilitated." Frankly, our own city and county shelters openly adopt out animal-aggressive dogs by simply stating on the adoption card, "No dogs or cats for this bundle of joy!"
In July, we watched another disturbing decoy dog video showing instant pit bull dog aggression executing kill bites. That pit bull, named Buster, was destined for euthanasia by Miami-Dade Animal Services (MDAS), but was
selected for the county corrections and rehabilitation
program, where inmates develop skills in dog training. Buster flunked out after biting a worker and was returned to MDAS as a death row dog. Only a "rescue" was eligible to pull the dog, and one did.
Larues Legacy Bulldog Rescue pulled the dog and on July 1 announced that Buster "
will be receiving his @applauseyourpaws evaluation on Monday!
" Buster had already bitten a man and was known to be highly dog aggressive. Larues openly states, "must be heavily guarded of other dogs, he shows much signs of aggression." Buster was so aggressive his "Foster Mom" could only walk him at 3:00 am. During his evaluation that Monday,
Applause used a decoy husky dog
.
1
---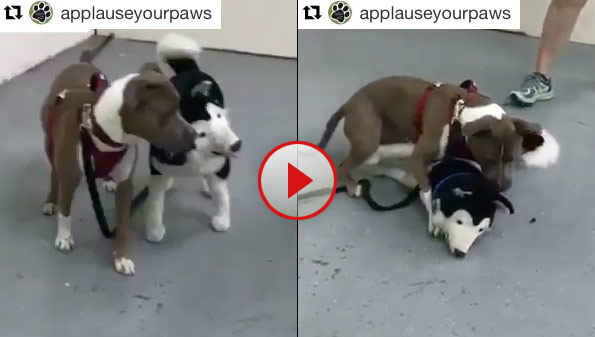 ---
On July 9,
Casey Lomonaco
commented on a Facebook post after seeing this alarming video (which was later removed), "This dog is a time bomb," she wrote. "Just because you CAN adopt a dog out doesn't mean you SHOULD. What kind of adopter is prepared to safely manage this dog?
Would you want it living on the other side of the fence from your dog? Sending dogs like this into communities where other pets (and potentially people) will be put at risk is not ethical," she wrote.
Recall Miami-Dade Animal Services allowed this dog to be pulled instead of humanely euthanized.

2

What would Judge Mrozinski say to that?
Even pit bull expert Diane Jessup
got in on the action, commenting, "Lol!!!! I'm not sure why I find this so humorous, but I do. Bulldog being a bulldog." Jessup
refers to all pit bulls as bulldogs
, just like old-timer dogmen do. Her point is the pit bull was only doing what it was selectively bred to do, attack and kill other dogs. Possibly Jessup found it humorous that "rescue angels," including Larues, falsely presumed that "training" of "any kind" could remove this inherent dog aggression.
The Wise Provincial Court Judge
Judge Mrozinski not only laid out the reasons why Bentley was unsafe in any neighborhood, she considered the life of the dog too. His prognosis for rehabilitation is poor, said Mrozinski after watching the pit bull attack the decoy dogs. "Even if he were placed in a home, his life would be so restricted it would be borderline cruel," reports the
Colonist
. Mrozinski granted the order to put the animal down within 14 days. The dog's owner, Mulligan, of course plans to appeal the order.
What became of Buster, the dog-aggressive pit bull with a bite record? After a month, his Foster Mom shipped him off to the Rainbow Bridge.
To say that we are now operating in an upside down world, where tax funded shelters like MDAS transfer dangerous, aggressive animals like Buster out to "rescuers" -- most with zero care, thought or application of public safety -- so that these dogs
can
end up on the other side of your fence, would be an understatement. It's just one more nail in the coffin regarding the public's eroding trust in city and county shelters. Sadly, there just aren't enough Judge Mrozinskis left.
---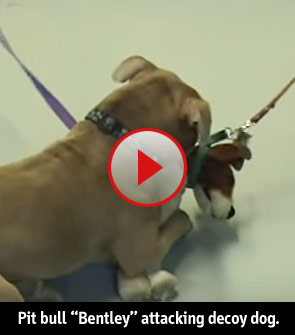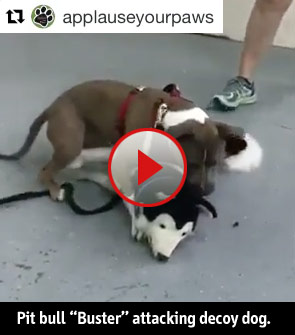 ---
It is difficult to follow the timing on Instagram, but it appears Buster's Foster Mom put him down on July 28 after he attacked her a week earlier and tried to attack two big dogs on July 27. The publish date on the decoy dog video was July 3. So Buster lasted about 25 days in her care.
---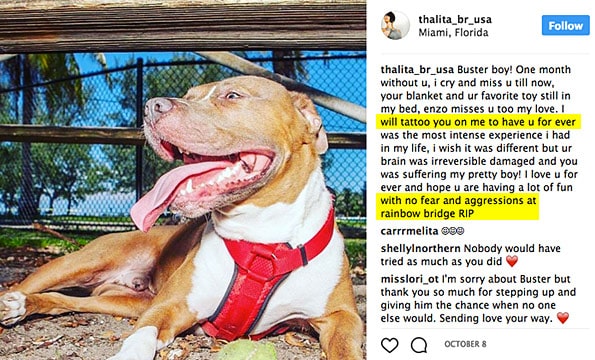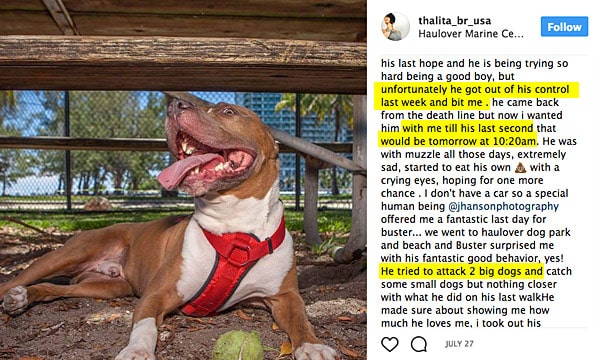 Related articles:
08/28/17:
2017 Dog Bite Fatality: Woman Killed by 'Dog Aggressive' Pit Bull While Caring for It
07/23/17:
2017 Dog Bite Fatality: Fostoria Man Dies After Breaking Up Pit Bull Fight
02/28/17:
2017 Dog Bite Fatality: Man Dies After Vicious Attack by Two Pit Bulls in Lincoln Heights
Labels: Canada, Decoy Dog, Miami-Dade County, Pit Bull Dog Aggression, Shelter Dogs, Video