DogsBite Blog ::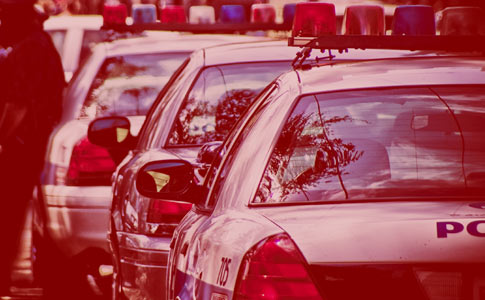 Dog killed baby girl while she was under the care of a babysitter in Cape Girardeau.
Part Pit Bull
UPDATE 03/13/18:
On Monday,
KZIM KSIM Radio
spoke to Cape Girardeau Police Public Information Officer Sergeant Rick Schmidt who said that the owner of the dog that killed the baby stated the dog was a mixture of Labrador retriever, Alaskan malamute and pit bull terrier. Cape Girardeau Police also reiterated this on their Facebook page. The
Alaskan pit bull
is a designer breed involving 50% Alaskan malamute and 50% pit bull. One website even calls it a "Mally Pit."
Schmidt also confirmed the child was at the babysitter's home when the dog attacked the baby in the face. On Friday, police responded to a call about a "dog bite" incident at 2:12 pm to a home on North Hanover Street near Themis Street. When they arrived, they found the baby girl critically injured and quickly transported her to an area hospital. She was pronounced dead about 3:30 pm. The male mixed-breed dog, which weighs about 40-pounds, belongs to the owner of the home.
03/12/18: 13-Month Old Killed by Dog
Cape Girardeau, MO - On Monday, Cape Girardeau Police issued a media release about a 13-month old baby girl that was killed by a dog. Police did not release this information until three days after the child's death. Police received a call about 2:12 pm Friday regarding an animal bite in the 000 block of North Hanover Street. They discovered a dog that lived in the residence had attacked the young child. The baby was transported to a local hospital where she was pronounced dead.
The animal was impounded. Police have
not released any breed information
about the attacking dog. Various comments on the Cape Girardeau Police Facebook page suggest a babysitter was watching the child at the time of the deadly attack. "The child was not in the care of her parents," states one. It remains unclear if the baby lived at the North Hanover Street residence or if that residence is the babysitter's home. Ownership of the attacking dog remains unclear as well.
Afternoon Updates
The baby was attacked in the babysitter's home on North Hanover Street. Police described the dog as a 40-pound "mixed-breed" -- which can certainly indicate a pit bull-mix. KFVS reports police were told they were
called in to investigate a "dog bite,"
but when they arrived, they found the baby severely wounded and immediately took her to an area hospital. She was pronounced dead about an hour later. The dog, referred to as a male, belongs to the owner of the residence.
This was not a dog bite; it was a violent dog attack involving a 13-month old baby girl. This information, combined with the description of the dog and questionable behavior of the person watching the baby (and the dog's owner if two people were involved), serve as strong indicators that a pit bull-mix may be involved and that a criminal element may be too. Over the 13-year period of 2005 to 2017, 75% of all dog bite fatalities resulting in criminal charges involved pit bulls.
Related articles:
03/09/18:
2018 Dog Bite Fatality: Pet Wolf Hybrid Kills 8-Day Old Baby Girl in Virginia
---
Labels: 2018 Dog Bite Fatality, Babysitting, Missouri, Visiting Child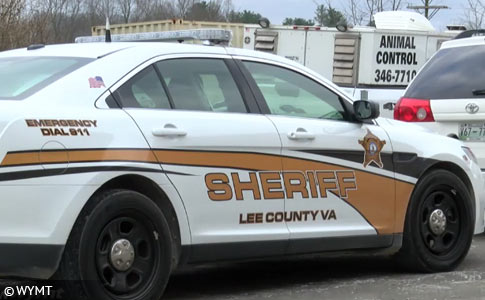 A pet wolf hybrid killed an 8-day old infant lying in a bassinet in Lee County.
Dog Kills Newborn
Lee County, Virginia - An 8-day old baby girl is dead after being mauled to death by a family dog, according to Sheriff Gary Parsons of the Lee County Sheriff's Office. Parsons' office received a call for assistance around 11:40 am Wednesday from a home in the Seminary community, which is close to Big Stone Gap and near the Tennessee border. By the time deputies arrived, the father was already en route with his injured newborn to Lonesome Pine Hospital in Big Stone Gap.
"it was very serious injuries to the upper body, and the head, the child had been seriously mauled by the animal."

- Lee County Sheriff Gary Parsons
Deputies were told the dog attacked the infant while she was in a bassinet. She suffered extensive injuries to her head and the upper portion of her body. She was taken to Holston Valley Medical Center in Kingsport then airlifted to the University of Tennessee Medical Center, where she died. Parsons confirmed Thursday the dog involved was a wolf hybrid. The father's Facebook page shows a male wolf hybrid-malamute mix that was purchased from
AE Kennel in October 2014
.
1
Parsons' said the newborn's death is being investigated by the sheriff's office and the Lee County Department of Social Services. The family also has two other older children. "We are going to continue to look into it and see what develops and of course consult with our commonwealth's attorney to see if any charges are to be placed," Sheriff Parsons said. On Thursday, Parsons
confirmed the dog was destroyed
after the baby's parent's relinquished custody of the animal.
Highest Age-Specific Fatality Rate
On February 28, we published our
2017 U.S. dog bite fatality statistics
and statistics from our 13-year fatality data set (2005 to 2017). Despite being in the 21st Century, infants continue to have the highest age-specific fatality rate in fatal dog attacks. Infants ≤11 months made up 48% of all victims ages 0-2 and 13% of all dog bite fatality victims during the 13-year period. During the early CDC study period (
1979-1988
), infants ≤11 months comprised 16% of all dog bite fatalities.
Above and beyond this disturbing 35-year trend, the
dog in this case is a wolf hybrid
-- a canid hybrid resulting from the mating of a wolf and a dog -- and a
blend of dog that is banned
at a state-level in various states across the country, including Alaska, Michigan and others. In Virginia,
wolf hybrids are legal
, but can be subjected to local regulation. For instance, the city of
Fredericksburg bans wolf hybrids
. Wolf hybrids have always maintained a position on our
Dangerous Dogs
page.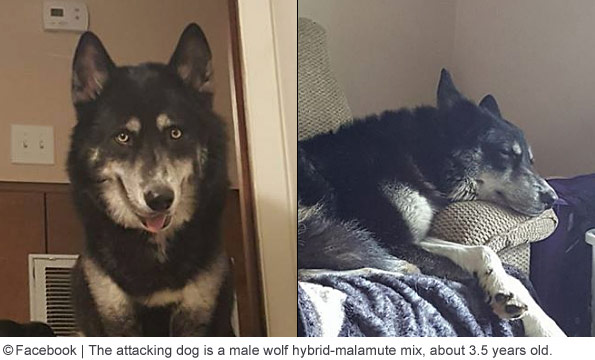 Related articles:
09/29/17:
2017 Dog Bite Fatality: Family Pit Bull Fatally Mauls Infant in Knox County, Ohio
08/21/17:
2017 Dog Bite Fatality: 2-Month Old Baby Killed by Family Dogs in North Houston
08/07/17:
2017 Dog Bite Fatality: Bangor Infant Injured by Family Dog Pronounced Dead
---
Labels: 2018 Dog Bite Fatality, Infant Fatality, Newborn Fatality, Virginia, Wolf Hybrid
Pit Bull Owner Convicted in Mauling Deaths of Two Men
One victim, David Glass Sr., standing with his daughter Marietta Glass.
15 Years in Jail
UPDATE 03/08/18:
A man will spend 15 years in prison after this pack of pit bulls killed two grown men in 2014. Eric Hodges, 35 of Lamar, was found guilty on two counts of manslaughter in February for the deaths of Derrick Sanders, 45, and David Glass Sr., 50. Sanders was found dead in a ditch off Highway 7 with grisly injuries on July 4. Glass was also found in a ditch with mauling injuries in September. He was airlifted to Regional One Medical Center in Memphis where he died.
The Benton County Sheriff's Office initially believed Sanders' mauling death was a homicide. When Glass was discovered under similar conditions a month later, they connected the two deaths to Hodges pit bulls that he turned loose to roam at night. Thursday morning in Ashland, a judge handed down a 20-year sentence with five years suspended on each count and ordered Hodges to serve the sentences concurrently. Eric Hodges will spend 15 years in a Mississippi prison.
---
02/22/18: Double Pit Bull Homicide
A Lamar man has been convicted in the deaths of two people killed by his pit bulls. Eric Hodges, 35, was found guilty of two counts of manslaughter. Hodges will be sentenced on March 8. In September 2014, up to six of Hodges' pit bulls killed David Glass Sr., who was found critically injured lying in a ditch. Glass died the next day.
Derrick Sanders
, 45, was found lying in a ditch in the same area with similar injuries on July 4, 2014, but he was already dead when discovered.
At that time, the Benton County Sheriff's Office said they were investigating Sanders' death as a homicide, not a dog mauling.
After learning of Sander's death in September 2014, we kept notes of
both crime scene and injury descriptions
. Glass was "chewed up pretty bad, marks all over him, left ear torn off, clothes torn off, shoes torn off," said AA "Arnie" McMullen, the sheriff of Benton County. Sanders' "throat was split. He has a wide cut by the neck. He was shot several times. They cut his ear off. They beat him badly," his sister said ... "
they also saw his clothing scattered across their front yard.
"
What was eerily similar to us then -- identical deaths occurring two months apart in the tiny community of Lamar, Mississippi -- did turn out to be two separate fatal pit bull maulings inflicted by the same dogs. Hodges was found guilty of two counts of manslaughter in connection to the deaths of David Glass and Derrick Sanders. It has taken four years for this case to come to trial. Investigators must have matched DNA from one of the pit bulls to Sanders' body or clothing.
The location of both fatal pit bull attacks occurred at the intersection of Highway 7 and Sexton Road. News footage shows the same area for both fatal dog maulings. Hodges' and his pit bulls lived very close by. Readers can see that the first
fatal dog attack was mistaken
by the Benton County Sheriff's Office and locals, initially, as a brutal murder and a "body dumping." But it was a canine homicide by Hodges' six pit bulls that he allowed to run loose in the community at night.
---
09/25/14: Ex-Wife Recounts Events
The South Reporter
spoke with the victim's ex-wife, Patricia Glass. She said that David Glass Sr. visited her Friday night for a few hours. A friend picked him up at about 12:30 am. Glass was likely dropped off at Sexton Road and Highway 7, she said. Eric Hodges, the owner of the pit bulls, lives in the first house on one side of the intersection. Glass Sr. lived in the second house on the other side. Glass Sr. was found lying in a ditch opposite to Hodges' home just before dawn Saturday.
[Patricia Glass] said David Glass Sr. was severely bitten by the dogs. He apparently had protected his face with his hands, but had lost an ear, she said. Additionally, his arms were bitten multiple times and the main arteries in both arms were lacerated. He was also bitten multiple times on the legs and all over his body, she said.

Patricia Glass, The South Reporter, September 25, 2014
Patricia said her ex-husband was friends with everyone along the road and the dogs likely knew him as well. Both she and Benton County Sheriff Arnie McMullen said it was common in the county for residents to walk from one house to another on the road at night. Patricia had been married to Glass Sr. for 19-years and the couple had three children together, Germaine, 19, Marietta, 22, and David Glass Jr., 24. "He was extremely loved and will be truly missed," she said.
09/22/14: Manslaughter Charges
The DJournal.com reports new information. David Glass Sr. was attacked by three pit bulls at about 1 am Saturday morning, according to the Benton County Sheriff's Office. He was found four hours later. Glass Sr. was able to give Sheriff Arnie McMullen an account of what happened. The attack occurred at Sexton Road and Highway 7 in Lamar. The owner of the pit bulls, Eric Hodges, was arrested and charged with culpable negligent manslaughter in connection to his death.
Glass Sr. died of his injuries Sunday afternoon after being airlifted to Regional Medical Center at Memphis in critical condition.
Later this afternoon,
WMC Action News 5 provided more information
. A passing driver discovered Glass Sr. in a ditch by his house covered in bite injuries. The victim had been lying there for up to four hours. Glass Sr. told investigators he was walking to a friend's grave before the attack. Authorities seized three loose pit bulls then went to the dog owner's home and seized three more pit bulls that were tied up. The dogs are undergoing tests to see which ones attacked Glass Sr.
The victim's family members still have many unanswered questions, but are currently still in shock, trying to come to grips with his mauling death. His son, David Glass Jr., drove up from Starkville to be with his father after being airlifted to a Memphis hospital. Family members thought he would survive. His daughter, Marietta Glass said, "It hasn't really set in that my dad's gone and I'll never, never get a chance to talk to him again." His shaken family is now preparing for his funeral.
Benton County currently has no leash law; the sheriff hopes to pass a new ordinance. The county should consider
banning pit bulls all together
, given their strategic location for dogfighting activities (a rural county 50-miles from Memphis) and the senseless horrific death of Glass Sr. that leaves behind three grieving children.
Several Mississippi counties
have already placed restrictions on pit bulls including, Bolivar County, Carroll County, Hinds County, Leflore County and Rankin County.

Related video
09/21/14: Man Dies After Pit Bull Attack
Benton County, MS - In a developing story, WREG reports that a man who was attacked by a pack of dogs yesterday has died. David Glass
1
was severely mauled by a pack of pit bulls in Benton County, Mississippi Saturday morning. The attack occurred off Highway 7. Glass was airlifted to Regional Medical Center in critical condition after the attack. Glass died Sunday afternoon. Benton County borders the Tennessee state line. No other news reports have so far been located online.
Major Dogfighting Bust in 2013
On Easter Sunday last year
, law enforcement from multiple jurisdictions broke up a national dogfighting event in Benton County. The raid ended in gunfire, multiple arrests and the seizure of 26 dogs. A fight match was in progress when officers arrived to a crowd of about 200 spectators. Officers arrested over 50 people and called the bust
one of the five largest dogfighting operations
in the country. The location of the bust was about 6-miles northeast of Ashland off Highway 72.
The Benton County Sheriff's Office now must contend with a pack of pit bulls that killed a man.
Related articles:
04/10/14:
2014 Dog Bite Fatality: Pit Bulls Owned by Family Members Kill 3-Year Old...
03/03/11:
2011 Dog Bite Fatality: Pontotoc County Man Killed by Three Pit Bulls
06/26/10:
2010 Dog Bite Fatality: Terry Child, 5-years old, Killed by Neighbor's Pit Bull
Labels: 2014 Dog Bite Fatality, Fatal Pack Attack, Fatal Pit Bull Attack, Mississippi
Fatal Dog Attack Statistics
DogsBite.org recorded 39 fatal dog attacks in 2017. Pit bulls contributed to 74% (29) of these deaths, the highest death count on record for pit bulls and seven times more than the next closest breed. German shepherds followed, inflicting 4 deaths. 13 different dog breeds contributed to lethal attacks in 2017. The last time the CDC collected "breed" data about dogs involved in fatal human attacks was 1998. Since this time, pit bulls have
mauled to death over 340
Americans.
39 U.S. dog bite-related fatalities occurred in 2017. Despite being regulated in Military Housing areas and over 900 U.S. cities, pit bulls contributed to 74% (29) of these deaths. Pit bulls make up about 6.5% of the total U.S. dog population.
During the 13-year period of 2005 to 2017, canines killed 433 Americans. Two dog breeds, pit bulls (284) and rottweilers (45), contributed to 76% (329) of these deaths. 35 different dog breeds contributed to the remaining fatal dog maulings.
In 2017, the combination of pit bulls (29), their close cousins, American bulldogs (1) and mastiff-type guard dogs and war dogs (2) contributed to 82% (32) of all dog bite-related fatalities. Rottweilers inflicted 1 death, killing an 18-month old Phoenix boy.
See full report: 2017 U.S. Dog Bite Fatality Statistics - DogsBite.org
News release: Nonprofit Releases 2017 Dog Bite Fatality Statistics...
Discussion Notes
DogsBite.org - 2017 saw a surge of dog bite fatalities at the end of the year with 8 fatal dog attacks, including the high profile case of a 22-year old woman, whose remains were discovered on December 14 after she was
killed and eaten
by her own two pit bulls. Other late-year cases include two women in Alabama who were killed by "packs" of pet pit bulls one week apart and a woman in Arizona who was fatally mauled by a
rescue akita
she was hoping to rehome.
Due to two events in 2017, the public became more aware of the risk unregulated rescues and their "transport" operations pose, which routinely "pull" dogs with behavior problems from death row and truck them across state-lines to be rehomed. The
grave facial mauling
of a child in Iowa by a pit bull-mix shortly after adoption and a lethal attack in Virginia, carried out by a pit bull adopted seven hours earlier, set the stage for debate, civil lawsuits and new state legislation.
Inclusions and Exclusions
Over the course of 2017, our nonprofit sent out 8 FOIAs to uncover more information about suspected fatal dog maulings. We uncovered 2 new deaths in 2017, one in
Adams County, Illinois
, the other in
Palm Beach County, Florida
. Two deaths by sepsis due to untreated severe dog bite injuries were also discovered, the 2013 death of a 61-year old Palm Beach County, Florida man and the 2016 death of Lisa Breckenridge in Bexar County, Texas. Both attacks involved pit bulls.
Currently, death by sepsis cases due to untreated severe dog bite injuries are excluded from our data set, but we still retain the case information. In 2017,
10 dog attack-related deaths
were also excluded. Two of those deaths involved aggressive non-bite injuries (struck by dog death).
1
Qualifying struck by dog deaths may be added to our fatality data set at a future time, since the CDC already combines "
bitten or struck by dog
" deaths under the same ICD-10 mortality code.
2017 Dog Bite Fatality Trends
2017 marks the highest annual death count for pit bulls (29) since we began tracking this data over 10 years ago. The last 5-year death rate average for pit bulls (2013 to 2017) is 26.4. In an earlier 5-year period (2005 to 2009), it was 17. That is a 55% rise in the annual pit bull death rate between the two periods. In 2017, German shepherds inflicted the second highest death rate, 4, followed by mixed-breeds with 3 deaths, and 10 different breeds involved in 1 to 2 deaths.
Rottweilers
, the second most lethal breed since 2005,
inflicted one death in 2017
, a predatory attack on a child. A chart breaking down the 13-year data set into two periods (6 and 7-years respectively), shows that deaths inflicted by rottweilers have decreased from 14% to 7% and deaths inflicted by pit bulls have increased from 58% to 71%. The charts indicate that soon only two categories may be relevant in fatal dog attack statistics: pit bulls vs. all other dog breeds.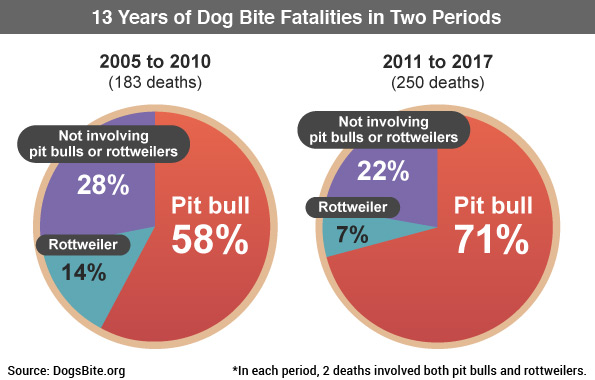 ---
Adult Deaths Outpace Child Deaths
Metric Shift
In 2017, the ratio of adult deaths (62%) to child deaths (38%) was the highest on record. Last year we
examined changing metrics
in fatal dog attacks since the CDC last examined this issue. The rise in adult deaths was one of them. During the early CDC study period (
1979-1988
), only 30% of all fatality victims were ages 10-years and older. This metric has been increasing ever since. From 2005 to 2017, 52% (225) of all dog bite fatality victims (433) were ages 10-years and older.
Pit bulls inflicted 72% (163 of 225) of the attacks that killed a person 10-years and older vs. all other dog breeds combined, which killed 28% (62).
What remains constant today, as in the CDC study years, is that infants ≤11 months have the
highest age specific fatality rate.
Over the 13-year period from 2005 to 2017, infants made up 48% (55 of 115) of all deaths in the 0-2 age group and 13% of all dog bite fatality victims. During the early CDC study period (1979-1988), infants ≤11 months comprised 16% of all deaths (25 of 157). Despite decades of safety advancements since, these preventable infant deaths continue.
Fatality Victim Ages - Pit Bulls vs. All Other Dog Breeds Combined (2005 to 2017)
Category
0-2
3-4
5-9
10-29
30-49
50-69
70+
Total
Total Deaths
115
42
51
23
50
76
76
433
52% ages 10 and older
225
Pit Bulls
65
23
33
21
36
56
50
284
72% ages 10 and older
163
All Other Breeds Combined
50
19
18
2
14
20
26
149
28% ages 10 and older
62
---
Single Dog Metric Shrinking
Metric Shift
Another metric shift we examined last year was the falling rate of fatal attacks inflicted by a single dog. In 2017, 49% of all dog bite-related fatalities involved a single dog, down from the CDC study years, when 70% of all deaths involved one dog. In our 13-year data set, 53% (231) of all fatalities involved a single dog and 47% (202) involved multiple dogs. Attacks by pit bulls involving more than one dog (commonly another pit bull), contributed to 72% (146) of the multi-dog subset.
In the last 13-years, 51% of all fatal pit bull attacks (146 of 284) involved more than one dog, vs. 38% (56 of 149) of attacks not involving pit bulls.
Multi-pit bull households are a chief contributing factor to the rise of fatal attacks inflicted by multiple dogs. Of the 202 deaths involving more than one dog, 65% (131) were carried out by two or more pit bulls belonging to the same household. 50% (66) of these deaths involved 2 pit bulls; 33% (43) 3 to 4 pit bulls; 11% (14) 5 to 6 pit bulls and 6% (8) 7 to 17 pit bulls. In our 13-year data set, pit bulls also accounted for 72% (73 of 102) of all deaths that involved recent breeding activity.
Single Dog Involved in Fatal Dog Attacks - Various Studies (1979-2017)
% Single Dog
Years
Single Dog of Total Studied
Entity/Study
70%
1979-1988
(76 of 108)
CDC/Sacks 1989
73%
1989-1994
(62 of 85)
CDC/Sacks, 1996
70%
1979-1998
(160 of 227)
CDC/AVMA, 2000
56%
2005-2010
(102 of 183)
DogsBite.org, 2017
52%
2011-2017
(129 of 250)
DogsBite.org, 2018
49%
2017
(19 of 39)
DogsBite.org, 2018
The Exponential Effect
In 2005, when the City and County of Denver defended its pit bull ban, Dr. Peter L. Borchelt, PhD, an expert witness for the City, testified about the effect of
increasing the number of pit bulls
involved in an attack upon a human in terms of the likelihood of serious injuries or death. Rather than a simple multiplying effect (i.e., the mathematical pattern of x, x + x = 2x, 2x + x = 3x), Dr. Borchelt testified the effect would be closer to an exponential effect (i.e., 1 = x
1
, 2 = x
2
, 3 = x
3
).
When asked in court by the Denver Assistant City Attorney how the level of dangerousness and potential damage changes when multiple pit bulls attack a human, versus one pit bull, Dr. Borchelt testified, "by an order of magnitude," meaning extremely worse. Furthermore, when asked by the City, "Is it your opinion that an attack upon a human by multiple pit bulls, in fact, is exponentially more dangerous than an attack by multiple dogs of other breeds?" Dr. Borchelt answered, "Yes."
2
We examined this effect by reviewing fatal attack cases involving 3 or more dogs and the number of pit bulls that factored into each death.
Of the 97 fatal attacks involving 3 or more dogs since 2005, 73% (71) included at least 1 pit bull attacking and 69% (67) included at least 2 pit bulls attacking. Only 4% (4) of the total 97 attacks involving 3 or more dogs included a single pit bull attacking (71-67=4). Of all fatal attacks (71 of 97) involving 3 or more dogs that included 1 pit bull, death resulted 16 times more frequently when 2 or more pit bulls were attacking than when the group of dogs only included 1 pit bull attacking.
---
Family Dogs and Rescue Dogs
In 2017, family dogs inflicted 72% (28) of all dog bite fatalities, a sharp rise from the 12-year average of 52%. Family pit bulls inflicted 64% (18) of these deaths. 43% (12) of family dog-inflicted deaths involved multi-dog households and 36% (10) of all victims were children under 2-years old. 29% (8) of family dog-inflicted deaths involved a dog or person new to a household (0-2 month period) and 14% (4) involved a babysitter watching a child at the time of the deadly attack.
In 2017, 15% (6) of all fatal dog attacks involved rescued or rehomed dogs. Rescued pit bulls were involved in 83% (5) of these attacks and 80% (4) of these pit bulls had been vetted by an animal agency or foster prior to adoption. 67% (4) of all deaths involving rescued or rehomed dogs had known aggression or behavioral issues at the time of the fatal attack. In half of all death scenarios, the rescue dog was added to a home that already had one or more dogs (multi-dog household).
3
Criminal Charges and Legislation
In 2017, 15% (6) of all dog bite fatalities resulted in meaningful criminal charges, down from the 12-year average of 21%. Half of all criminal charges (3) were brought in the state of Georgia last year, including
"next-day" second-degree murder
charges against a grandmother after two family pit bulls under her care killed her grandson. The other two dog bite fatalities in Georgia resulted in involuntary manslaughter and reckless conduct charges. All three cases involved pit bulls.
Pit bulls were involved in 100% of fatal attacks that resulted in criminal charges in 2017, up from the breed's 12-year average of 73% (59 of 81).
Three states responded with legislation after a fatal pit bull attack in 2017. Legislators in Alabama introduced "
Emily's Law
," named after Emily Colvin who was
killed by her neighbor's five pit bulls
. In Virginia, after a
newly adopted pit bull killed
a woman, legislators put forth a bill requiring releasing agencies to disclose the bite history of all animals to adopters. In Ohio, a renewed attempt is underway to pass the
Klonda Richey Act
after a pit bull
killed a Dayton man
in 2017.
---
Summary and Call-to-Action
13-years of fatal dog bite statistical data is sufficient to evaluate the "breed-specific" issue. Pit bulls dramatically dominate attacks causing death. With the addition of rottweilers, these two breeds accounted for 76% of all deaths. This year we removed the other breeds involved in fatal attacks from our 13-year fatality pie chart and renamed it, "
not involving pit bulls or rottweilers
." This shows how disproportionately the top killing breeds kill and how infrequently 35 other breeds do.
Despite this glaring disproportionate fact, which the CDC first identified in 2000, powerful animal lobbying groups continue to push state-level preemption bills that prohibit local governments from adopting and enforcing breed-specific laws. Importantly,
over the last three years (2015 to 2017)
, legislatures in 10 different states have rejected these preemption bills -- 90% failed to pass. Currently, six states face this type of legislation in 2018, including: Michigan and Missouri.
Our call to action this year is to use our statistics and charts in correspondence with local and state officials. Use nonfatal severe injury statistics as well. Our
2016 special report summarizes
key peer-reviewed medical studies (2009 to 2016). Since 2011, the majority of these studies report similar findings: pit bulls are producing a higher prevalence of injuries and a higher severity of injuries, requiring 3 to 5 times the rate of surgical intervention compared to all other dog breeds.
---
Additional Annual and Combined Year Statistical Graphics (2005 to 2017)
---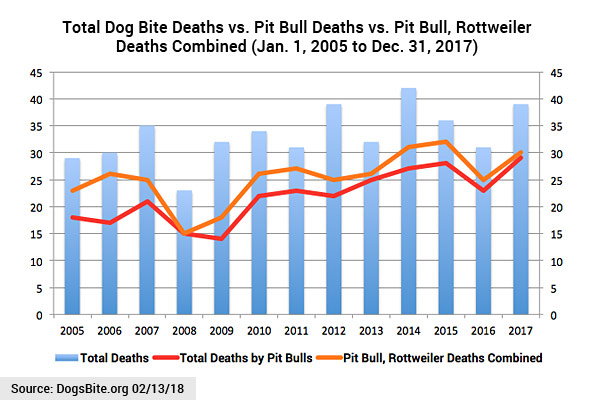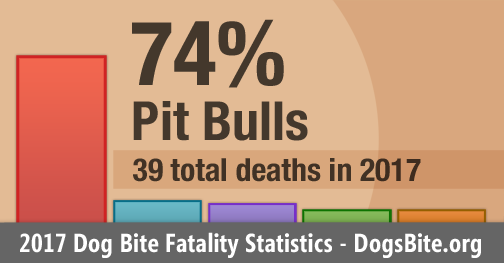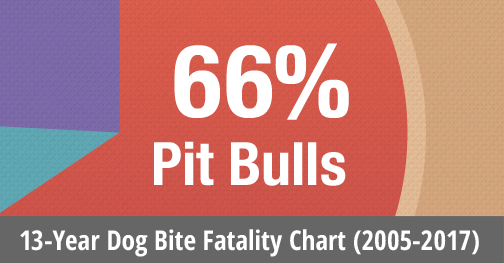 ---
Data Collection Method:
How We Collect U.S. Dog Bite Fatality Data
---
Related articles:
02/27/18:
13-Year U.S. Dog Bite Fatality Chart by Breed (2005 to 2017)
02/27/18:
13-Year U.S. Dog Bite Fatality Chart by Age Groups
01/11/18:
2017 Fatal Dog Attack Breed Identification Photographs
07/24/14:
Nonprofits Urge CDC to Resume Tracking Richer Data Set for Children and Adults...
Recent nonfatal studies:
09/20/17:
Meme Campaign - Pit Bull Injury Statistics from Peer-Reviewed Medical Studies
10/10/16:
Special Report: Level 1 Trauma Center Dog Bite Studies in All U.S. Geographical...
Labels: 2017 Dog Bite Fatality, Dog Bite Fatality Statistics, Fatal Pack Attack, Fatal Pit Bull Attack, Pit Bull Statistics, Rescue or Rehomed Dog Kills
After the Dogs Killed Her, They Consumed Part of Her Remains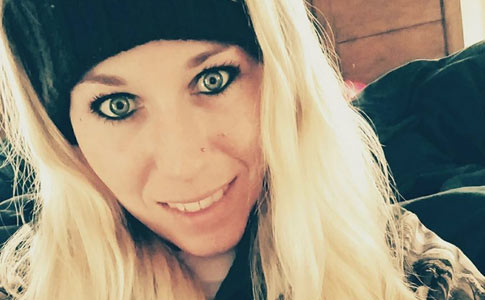 Bethany Lynn Stephens, 22, was brutally attacked and killed by her own pit bulls.
Investigation Complete
UPDATE 02/20/18:
Today the Goochland County Sheriff's Office released a summary report of the death investigation of 22-year old Bethany Stephens. On December 13, 2017 Stephens left her father's home at about 3:45 pm to take her two male pit bulls, Tonka and Pacman, for a walk. She never returned. Stephens was mauled to death then partially eaten by her two pit bulls. Authorities did not discover her grisly, horrific remains until the following evening, over 24 hours later.
Much of the information in the report is already known. We knew on December 15 that her death was "not a homicide," according to statements by the medical examiner. Three days later, the Goochland County Sheriff's Office gave another press conference, providing even more details about her death. The summary report contains more facts about her pit bulls and lab test results, which certainly were impacted by the 30 hours of exposure until deputies discovered her body.
"The medical examiner's report substantiated what we observed. I hope that the family can get some peace now."

- Goochland County Sheriff James Agnew
The cause of death was "multiple sharp and blunt force trauma due to mauling by animal(s)." The manner of death was an accident. Human DNA was detected on swabs taken from Tonka. Blood was detected on the collars of both dogs. "The probability of randomly selecting an unrelated individual with a DNA profile matching that developed from the samples collected from the collar is 1 in greater than 7.2 billion (which is approximately the world population)," states the report.
---
12/18/17: Press Conference Two
Goochland County Sheriff James Agnew gave a follow up press conference today after a 22-year old woman was mauled to death by her two pit bulls late last week near 2204 Manakin Road. The news conference was largely in response to the high volume of misinformation that was being disseminated by pit bull advocates on social media after the grisly attack. These deceptions were then bolstered by irresponsible media outlets who spread the rumor-mongering even further.
After securing permission from Bethany Stephens' family, Sheriff Agnew provided more details about her gruesome mauling death, including the observation that the dogs were "eating the ribcage on the body." Bethany's two pit bulls, both male and one neutered, were euthanized on Saturday, December 16 at 11:30 am. The dogs' bodies have been preserved as evidence and investigators are following up with veterinarians and laboratories for potential forensic analysis.
Goochland County Sheriff James Agnew
Let me cut right to the chase. The most important detail that we did not release because we were worried about the well being of the family, is that in the course of our trying to capture those dogs, early Friday morning, while we were talking about strategies to catch the dogs, we turned and looked, the dogs had gone back over to the body. I observed, as well as four other deputy sheriffs observed, the

dogs eating the ribcage on the body.


We were able to shoo them away. At that time, we had to decide whether or not we were going to take care of the dogs then and there by shooting them or whether we would continue to try to capture them. About that same time, a friend of Bethany's came and said he could capture the dogs, and after about 10 minutes he was able to do that, but it was not an easy task.
As you might suspect it was very dark. We could not tell the state of the dogs at that point. But we were able to get them confined and away from the public. It was only then that we were able to see the body and start collecting evidence. As I had said earlier, this was an absolutely gruesome scene. Mrs. Stephens was terribly, terribly injured, but it was

very apparent to us that she had been dead for quite some time.

- Goochland County Sheriff James Agnew
When asked about the severity of her injuries, Agnew responded: "Her injuries were very severe. Let me see if I can put this in the proper way. When we witnessed the autopsy, the medical examiner made clear that there were wounds to her hands that were not obvious to us that night because her other wounds were so severe. She had incredibly traumatic wounds to her arms, both of them, to her chest area and to her face. They were extremely gruesome," Sheriff Agnew said.
Despite the medical examiner already ruling out homicide, one of the reporters asked if Bethany could have been murdered and if her dogs were only protecting her body? "We certainly do not think so," he said. "We had a number of witnesses who came forward. We were able to put a time frame together and put peoples movements together and they do not fit with that particular narrative," he said. We will add that "narrative" is a kind word; "conspiracy theory" is more suitable.
"From what we found on the scene, from the evidence that we observed, the evidence that we collected, that narrative does not fit."

- Sheriff Agnew
When asked by a reporter, "And there was in fact blood on those dogs?" Sheriff Agnew replied that one of the dogs had a significant amount of blood on it. "On at least one of the dogs there was blood in a significant amount around the collar and neck. I can't speak to the other dog, I'm sure it did too because both dogs were around the body," Agnew said. In response to whether she was attacked by a bear Agnew replied there was no evidence of any larger animals at the scene.
"There was no evidence of any larger animals," he said. "The medical examiner, in his preliminary talk with our deputies, made it pretty clear that it was not a large animal because the bite wounds on her head did not penetrate her skull; they just left marks. His recitation of that is that if it where a large animal, they would have at least punctured part way into the skull. There were also scratch marks that were consistent with a smaller animal than something like a bear," Agnew said.
"The bite marks were conducive to a canine. They were not conducive to a bear or a larger animal."

- Investigator Shawn Whitlock
Investigator Shawn Whitlock spoke to dispel another conspiracy theory, which claimed she was dead before her dogs started eating her. "No, that is not correct based on the injuries. Some of them were before she was dead, while her heart was still beating based on the bruising. When it is post, there's a yellow discoloration on the body," he said. "She does have bruises and she does have the yellowing of the skin after death. There is pre and there is post," Whitlock explained.
After a reporter asked, "So all of those injuries are consistent with bite marks, not a beating?" Whitlock replied, "You are correct. They did a CAT scan x-ray of her body before they even did the autopsy. There was nothing that said domestic violence, nothing that said she was stabbed or shot. No bones broken. No injuries to the throat area," he said. "No petechial bleeding inside the esophagus, which would have been conducive with choking her out. None of that," he said.
Misinformation Hurting Investigation
Sheriff Agnew also responded to the misinformation and rumor-mongering that is harming the investigation. "It's been difficult," he said. "There's been such a high volume of misinformation going about on social media that it has complicated our investigation. It's complicated everything we have tried to do in this case. It's been difficult and I am afraid that even after releasing these additional facts as we have tonight,
it's not going to nullify some of these people,"
Agnew said.
Agnew also addressed the pit bull issue. After a reporter asked, "What do you think happened?" He said: "I have no idea. I can tell you that since this happened; I've spent a significant amount of time researching attacks by dogs of this sort. While it is not an every day occurrence, it's not rare, and it happens with some frequency in this country. I don't want to disparage any particular breed, but if you do the research, you'll find that many of those are perpetrated by pit bulls," he said.
Police Often Struggle After Maulings
Sgt. Michael Blackwood spoke to the difficulty of conducting an investigation of a horrific pit bull mauling and how police departments from across the country have reached out to them. "Some of the police departments around the country have contacted us and have basically been somewhat empathetic because they have experienced the same kind of traumatic injuries and death from some of these animals who have been adopted and had been brought into the home," he said.
In June, a Virginia Beach woman was brutally killed by a pit bull her daughter had acquired from a rescue group hours earlier that day.
Blackwood also talked about the dogs. Bethany had recently been keeping the dogs at her father's home in outdoor kennels; the pit bulls had previously lived indoors. The dogs "were a little bit neglected towards the end of this," he said. "I'm just trying to create a little background of what might have occurred when they became a little bit distant from their owner towards the end." Yet, 99% of all other dog breeds
would not respond to this by ripping out their owner's throat.
As the press conference came to a close, a journalist asked Sheriff Agnew, "Why did you feel it was necessary that we as journalists see with our own eyes some of the horrible things that you saw that night?" Agnew replied, "The primary reason is to give to credible news organizations facts that can be looked at and viewed in the proper way." There has been such misinformation, especially on social media. "All based on information that is absolutely untrue," Agnew said.
---
---
12/15/17: Press Conference One
Goochland County, VA - On Friday, Goochland County Sheriff James Agnew gave a press conference about a 22-year old woman who was mauled to death by her own pit bulls. Deputies
discovered Bethany Lynn Stephens Thursday night
near the 2200 block of Manakin Road. Agnew is shaken during the conference and states: "It was an absolutely grisly mauling. In my 40 years of law enforcement, I've never seen anything quite like it. Hope I never see anything like it again."
Goochland County Sheriff James Agnew
About 8:18 pm last night, a father called the office saying that he believed his daughter had been located in the woods and had suffered some kind of trauma and was very concerned about her, but not sure of her condition at the time and asked us to come. Dispatched deputies arrived about 10 to 12 minutes later and discovered the body of a white female in the woods off of the 2200 block of Manakin Road. The female had suffered severe trauma and was being, for the lack of a better term, guarded by two very large brindle color pit bull dogs, who were very reluctant to be caught.
Deputies spent about an hour, hour-in-a-half, along with Goochland Animal Control, in attempt to catch these dogs. Meanwhile, as we were attempting to capture them, we were able to survey the scene and what we observed was, to put it quite frankly, grisly. There were various articles of clothing, underclothing scattered about the area, not far from the body and torn into small pieces. There were patches of blood. It was very clear that the woman in the woods had suffered very severe injuries consistent with being mauled by these dogs.
We called Henrico Animal Control for assistance, as they had tranquilizer guns, but we were able to catch the dogs before Henrico arrived. Once the dogs were under control, we called Goochland Fire and Rescue who came and put up lights for us because it was a very dark, remote area. It was very difficult to see. They brought crash trucks, set up lights. We collected about 60 pieces of evidence. Took numerous photographs and after about eight hours, about 5:00 am this morning, we were able to end and have the body transported to the medical examiner.

- Goochland County Sheriff James Agnew
During the press conference, Sheriff Agnew also read the preliminary autopsy results from the medical examiner. The results show a classic pit bull attack resulting in death: 1.)
Pit bulls execute the killing bite
, "the first traumatic injury to her was to her throat," Agnew stated. 2.) Pit bulls take the victim to the ground, "she was taken to the ground," Agnew stated and 3.) Pit bulls complete the kill, "then mauled her to death." The medical examiner added, "this was not a homicide."
It appears the attack was a violent attack initiated by the victim's dogs while the victim was out for a walk with the dogs. The victim had defensive wounds on her hands and arms trying to keep the dogs away from her, which would be consistent with being attacked while she was still alive. It appears that the first traumatic injury to her was to her throat and face area. It appears she was taken to the ground, lost consciousness and the dogs then mauled her to death. There were no strangulation marks. The victim had puncture wounds in the skull and this was not a homicide.

- Medical examiner
Sheriff Agnew also answered questions during the press conference. "It was a very unpleasant night for all of us. Having told you that, I would be glad to answer any questions," Agnew said. The first question was, "Are these her dogs?" Sheriff Agnew responded, "These were her dogs. And I don't have a history of the dogs, I don't know their backgrounds, but they would be dogs you'd suspect would be bred for fighting, just in looking at them. They were big, strong, powerful dogs."
We learned from comments that Tonka and Pacman were the names of Bethany's pit bulls. Commenter Brookland Lloyd states the dogs were
littermates and grew up together
. "These two dogs were her life, and she would have given hers to protect them," Lloyd wrote. "It's a tragedy and a hard loss. Bethany was a great person, and worked hard to advocate for pit bulls," she wrote. Lloyd states this after learning of Bethany's "grisly mauling" death by these same pit bulls.
---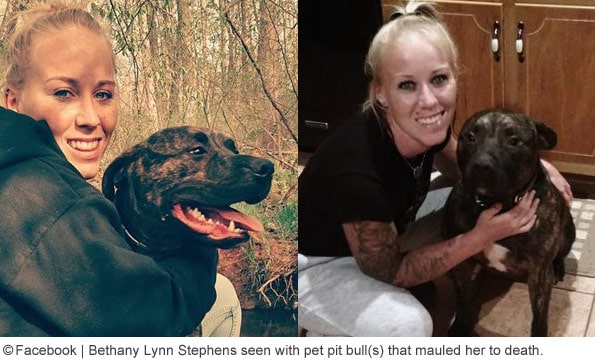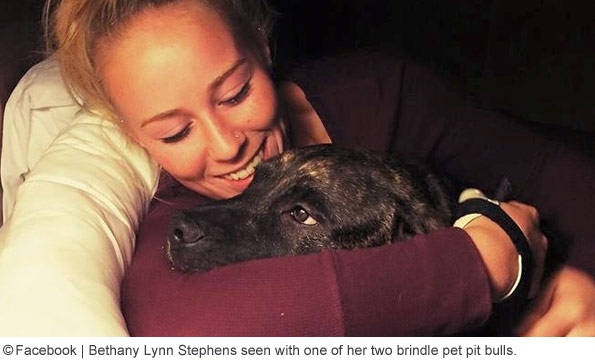 ---
Some of Bethany's
Facebook Likes
include, Tia Torres' Villalobos Rescue Center -- a nonprofit that brings in over $4 million dollars annually and has not filed their federally required 990 tax forms for
three consecutive years
-- Pit Bulls and Parolees, Stop Pit Bull Bans (Ban the Deed Not the Breed), American Bully World and at least two XXL "extreme" designer pit bull breeders, Reaper Bulls XL, XXL & Extreme Bully Style Pit Bulls and Phantom Rolls XXL Bully Pits.
---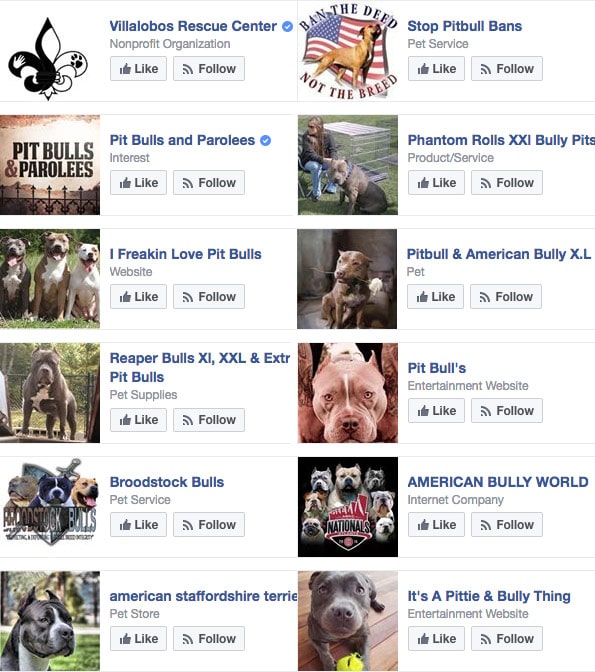 ---
Rumor-Mongering Follows Press Conference
Shortly after Sheriff Agnew gave the press conference, some of the victim's friends -- who are pit bull advocates -- began publicly stating that Sheriff Agnew and the medical examiner's office are lying about her death. This type of bullheaded denial and rumor-mongering is characteristic after a pit bull advocate like Bethany Stephens is killed in an "absolutely grisly mauling" by her own pit bulls. Notably, homicide was ruled out right away; toxicology remains the only unknown factor.
After pit bull advocate Darla Napora and her unborn child were horrifically killed by her pet pit bull in 2011, rumors claimed "she fell from a ladder."
One of these friends is
Barbara Norris
, who blindly
told media outlets
, "I wasn't able to see the body, so I can't tell you if it was a blunt force or if it was a mauling." This legal role is for experts: investigators and forensic pathologists at a medical examiner's office who perform medical autopsies. Norris will likely never see her body either. Fatal attacks inflicted by pit bulls nearly always result in a closed casket due to the gruesome facial, head and neck injuries they inflict.
Another denier who spoke to the media is
Dr. Amy Learn
, a local veterinarian. Despite knowing the medical examiner's findings, including "this is not a homicide," Learn asks, "Was there somebody else there? Were they being attacked by somebody, were they trying to defend themselves and their owner from somebody else, from a wild animal?" Dogs kill an American about every 11 days. They kill more people annually in the U.S. than bears, sharks, cougars and coyotes combined.
Since November 4, pit bulls alone have killed five people in savage maulings:
David Baber
, 65 (Hamlet, NC),
Tracy Cornelius
, 46 (Guntersville, AL),
Emily Colvin
, 24 (Section, AL) and
Dorothy Ford
, 77 (Alsip, IL). The fatal pit bull mauling of Ford occurred just three days before Bethany's death. "If I go through the rest of my career without seeing something like this, that would be a good thing," Deputy Chief Shawn Schuldt of the Alsip Police Department said after Ford's attack.
"In my 40 years of law enforcement, I've never seen anything quite like it. Hope I never see anything like it again."

- Goochland County Sheriff James Agnew
This is partly why
jurisdictions in over 40 countries
have enacted
breed-specific laws
. Appellate courts across the U.S. have been weighing in on the unique
"savageness and unpredictability"
of pit bull attacks since the 1980s, along with their selection for gameness, a "continuing tenacity and tendency to attack repeatedly for the purpose of killing." The macabre injuries pit bulls inflict are shocking, but not surprising. These injuries are a
well-documented attribute
of the breed.
"pit bull dogs are unique in their

"savageness and unpredictability"

(Hearn v. City of Overland 1989) "Pit bulls also possess the quality of gameness ... which can be described as the propensity to catch and maul an attacked victim unrelentingly until death occurs, or as the continuing tenacity and tendency to attack repeatedly for the purpose of killing. It is clear that the unquantifiable,

unpredictable aggressiveness and gameness

of Pit Bulls make them uniquely dangerous ... Pit bulls will have these instincts and phenotypical characteristics; most significantly, such characteristics

can be latent and may appear without warning or provocation"

(Vanater v. Village of South Point 1989) "The physical characteristics of pit bulls, the historic use of the dogs as fighters, and the increasing number of

unprovoked and unexplained attacks

on people has caused the pit bull to be perceived as presenting a threat of danger, warranting a legislative response" (State of Ohio v. Robinson 1989) "the American Pit Bull Terrier breed possesses inherent characteristics of aggression, strength,

viciousness and unpredictability

not found in any other breeds of dog ... A pit bull in the grip of such a fighting frenzy will not respond to attempts to deter its attack. Such frenzies

can occur at any time and for no apparent reason"

(Garcia v. Village of Tijeras 1988) "the pit bull bites to kill without signal" (Starkey v. Township of Chester 1986)
Finally, Animal behaviorist Alexandra Semyonova
explains the disproportionate response
(high arousal and aggressivitiy in a safe environment) in breeds selected for killing. "It's also not realistic to pretend that impulsive aggression is not pathological. The environments (the fighting pit, the baited bull, the escaping slave) for which these behaviors were selected as an adaptive response are so extreme that in fact there is no appropriate context for these behaviors in normal life."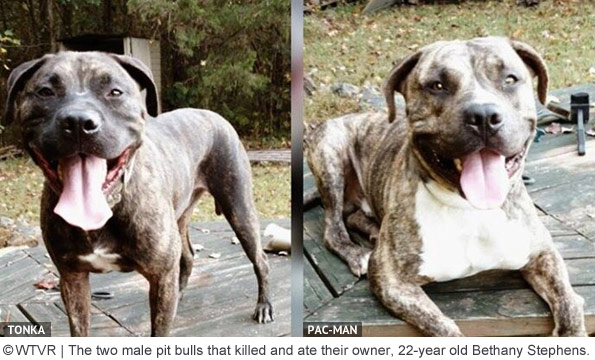 Related articles:
01/31/18:
Photographs of the Year: Young, Self-Appointed Canine 'Experts' in the Wake...
11/17/17:
2017 Dog Bite Fatality: Adopted Out Pit Bull Kills Elderly Woman in Virginia Beach
03/14/17:
Persistent 'Wild Animal' Theory Finally Derailed, Elderly Man Killed by Dogs...
02/21/17:
2016 U.S. Dog Bite Fatality Statistics and Discussion Notes - DogsBite.org
05/05/09:
Alexandra Semyonova: Heritability of Behavior in the Abnormally Aggressive Dog
---
Labels: 2017 Dog Bite Fatality, Conspiracy Theory, Fatal Pit Bull Attack, Pit Bull Kills Owner, Post-Mortem Predation, Virginia, Wild Animal Theory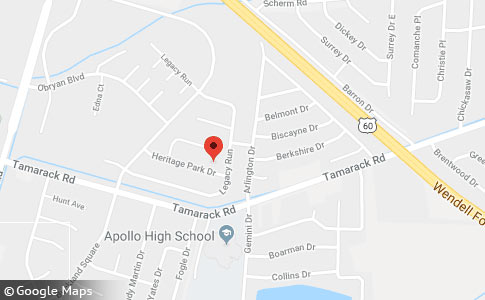 Location of family pit bull attack that left a man dead and a woman seriously injured.
Pit Bull Confirmed
UPDATE 02/17/18:
On Thursday evening, Owensboro Police and Owensboro Fire responded to a home in the 2300 block of Heritage Park Drive at about 6 pm after reports of a dog attack. When police entered the home, they shot and killed a large aggressive dog and tasered a beagle. Police found David and Dana Brown on the ground with injuries after trying to break up a fight between two family dogs. It has now been confirmed that the larger aggressive dog was a family pit bull.
In a
Messenger-Inquirer article
,
which is behind a paywall
, Daviess County Animal Control Director Ashley Clark described the large dog as a pit bull. This confirms what multiple people close to the case have been stating on social media in the aftermath of Thursday's attack. David G. Brown, 46, was pronounced dead at Owensboro Health Regional Hospital after the attack. As of Friday, his wife Dana Brown, 45, was also hospitalized at the same location and listed in fair condition.
Officer Andrew Bell, public information for the Owensboro Police Department, told the
Messenger-Inquirer
that Dana told officers the incident began after the family pit bull and beagle got into a fight. When Dana tried to break up the fight, she was attacked, Bell said. When David came to help, he was also attacked. "He jumped in, and they turned on him," Bell said. Daviess County Coroner Jeff Jones said the attack was a factor in Brown's death; he also had heart issues.
Clark provided additional details about the couple's dogs, noting that they were all fixed and well cared for. "The dogs were well-taken care of," Clark said. "They were clean and fixed. You could tell they were beloved pets of the family." The pit bull "was probably 90 pounds," Clark said. The family's third household dog, a dachshund, was also attacked by the pit bull during the fight. The surviving dogs were removed from the home and will be placed with family members, Clark said.
02/16/18: Man Dies After Dog Attack
Owensboro, KY - A man is dead and a woman was injured after being attacked by a dog, according to information provided by the Owensboro Police Department. The attack occurred around 6:00 pm in the 2300 block of Heritage Park Drive in the Heritage Park neighborhood in Owensboro. At least three dogs resided at the home, but apparently only two were involved in the attack. A responding officer shot and killed one of the dogs after it tried to attack the officer.
Archive dispatch calls from Owensboro Fire -- accessed through
Broadcastify.com
-- indicate traumatic injury from a dog attack involving at least one victim. "Engine 3 response for a traumatic injury in reference to a dog attack ... Heritage Park Drive ... Do have OPD in route. Two dogs are still outside that attacked the subject ... Engine 3 response for a traumatic injury in reference to a dog attack. Ambulance is already responding ... male that was attacked by two dogs," she states.
A few minutes later, the dispatcher states, "Male subject was attacked by two dogs and went inside his residence. Caller is advising someone is possibly giving him CPR at this time. Just use caution as the two dogs are still in the front yard." A variety of
unverified Facebook comments
from people close to the case indicate the surviving female victim went into emergency surgery, the man who died may have also suffered a heart attack and that the culprit was a family pit bull.
Friday Morning Update
Continuing on the
14 News comment thread
we were viewing last night, more people directly involved in the case spoke out Friday morning. Casey Cecil, who would not "say the breed," said her son was there and that police shot the dog when it chased her son into a car. "My son was there and was the one that called the cops for help." Melody McKinney said her daughter was there too, "She too can't get the screams out of her head." McKinney stated the dog was a pit bull.
Both Cecil and McKinney agreed, "If any one of our kids tried to intervene more than they did, we would be planning their funerals today." McKinney added, "They [the kids] also kept the wife from being attacked and some neighbors who had pulled up and got out of their car. The kids were screaming, 'Get back in your car' because the dog was headed their direction. They saved several lives last night. Including their own!" We are still waiting on confirmation from Owensboro police.
Friday Afternoon Update
14 News
released an update Friday afternoon
confirming some of the Facebook comments. Responding officers arrived to a scene of two aggressive dogs; they shot and killed one of them due to its aggression. When officers entered into the Heritage Park home, they found an injured man and woman lying on the floor. Both suffered injuries while trying to break up a fight between their family dogs. Police have identified the couple as David Brown, 46, and Dana Brown, 45.
David Brown did not survive his injuries. The Daviess County Coroner's report states that he suffered a cardiac arrest that was complicated by the dog attack. Last night people close to the case said that Dana underwent emergency surgery. Comments from this morning indicate that four teenagers were near the scene, one even called police for help. Multiple people close to the case have stated the attacking dog is a pit bull. Presumably, the same animal police shot to death.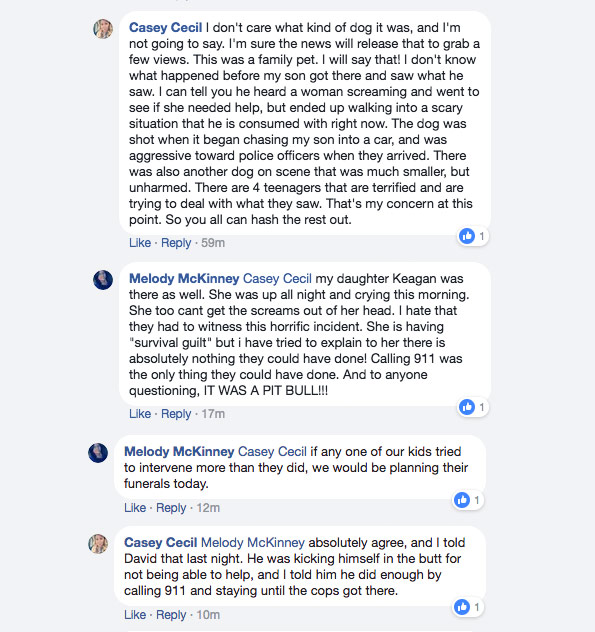 Related articles:
01/03/18:
2017 Dog Bite Fatality: Pit Bulls Attack Couple on Christmas Eve, Killing One...
07/12/17:
2017 Dog Bite Fatality: Pack of Dogs Kill 79-Year Old Man in McCreary County
03/12/17:
Young Man Airlifted After Vicious Pit Bull Mauling in Graves County, Kentucky
---
Labels: 2018 Dog Bite Fatality, Fatal Pit Bull Attack, Heart Attack Injury, Kentucky, Pit Bull Dog Aggression
By Kory Nelson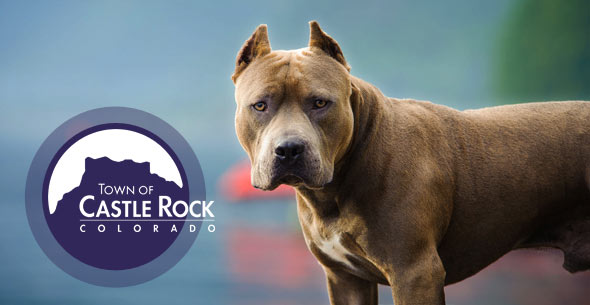 While the Editorial Board of the Denver Post had recently declared "
Pit Bull bans are still justified
" (1/29/2018), former local Denver KNUS radio show personality Krista Kafer was granted the privilege of having her opposing published by the
Denver Post
("
Castle Rock contemplates sensible change to pit bull ban
", 02/01/18). Ms. Kafer served as the senior expert on education policy at the Heritage Foundation in Washington D.C. before returning to Colorado in 2004 where she taught at the Colorado Christian University, while co-hosting an afternoon radio show with Steve Kelley. If a state school board was looking for advice on the options of school choice, I'm certain Ms. Kafer would be an excellent reliable source for policy determinations, but when it comes to public safety policies designed to protect the public from the most horrific forms of injuries and death known to domesticated communities, I would prefer Ms. Kafer, likewise, seek out the experts whose opinions and policies have been based upon reliable scientific evidence, tested and hardened through the fires of civilized combat in the one arena where Americans have always respected -- the American system of jurisprudence. Unfortunately, Ms. Kafer's opinion rests upon her faulty research and reliance upon information provided by what is often referred to as "The Pit Bull Propaganda Machine". All she does is suggest that the mothers and fathers of Castle Rock children should offer up their children's flesh, scalps, limbs and lives on the "hope" that 100% of pit bull owners are responsible enough, and good enough, to train their dogs against their natural instinct. Two of the world's best animal trainers, who had an endless supply of time and money, attempted to do exactly that with their dangerous animals -- but that ended disastrously too for
Siegfried & Roy
. How many children, senior citizens, domesticated pets, or livestock is she willing to forfeit?
In my legal career, I have individually reviewed and handled thousands of dangerous dog attack and bite cases -- more than any other attorney in the Rocky Mountain region. I have reviewed some of the most horrific fatal pit bull attack cases in Colorado. The last fatal dog attack in Denver occurred in 1986, when little 3-year old Fernando Salazar wandered from his home into his neighbor's yard where their family pet dog was unattended while restrained only by a chain. When Fernando walked into the "Radius of Death", the Pit Bull's attack upon his small head and neck was quickly fatal. In 2003,
Jennifer Brooke of Elbert County
was literally torn apart by the three pit bulls who cornered her when she went out into her horse barn, leaving behind a blood-splattered crime scene as a testament to the battle she put up -- but also clearly showed it was a prolonged battle, which could have only been full of anguish and torment. I have also reviewed many fatal pit bull mauling cases in other states, consulted with the world's leading certified animal behaviorists, and talked with hundreds of first responders, animal control officers, emergency medical personnel, medical doctors, plastic surgeons, veterinarians, victims, and the friends and family members of victims. I have had the privilege and honor of successfully litigating the policy issue of pit bull bans, presented legal seminars on the topic at national legal conferences, and have provided legal consultation to governmental entities across the United States and Canada on the topic.
The Undeniable Truth
The issue of public safety policy in relationship to "pit bulls" has one undeniable truth -- well written pit bull bans have a
100%
success rate in the courts, with each and every case having the same exact ruling:
Pit Bulls ARE more dangerous than other breeds of dogs
, so government's differential treatment of them is rationally related to the legitimate, and often cited as THE primary, governmental interest -- the safety of the
humans
the government serves. It is that amazingly consistent ruling, over and over again, that should be recognized for the ultimately significant reality -- This Truth cannot be denied by rational people. Therefore, with the danger being unique to Pit Bulls, and government acting within its primary purpose being reaffirmed as being "rational" -- only the question is by which manner should the government act.
The Level of Danger from Pit Bulls is Undeniably Unique
Ms. Kafer suffers from the classic misunderstanding that "aggressive behavior" presents the same level of danger -- so the only issue is the probability of "it" happening. However, the true difference between pit bulls and other breeds of dogs is like the difference between firecrackers and hand grenades -- the statistical probability of an accidental detonation may be incalculable, but the difference in potential damage makes one much more dangerous than the other. Pit Bulls were selectively bred for one purpose: Bull Baiting, and then dog fighting -- the desired behavior that are inherently and permanently engrained into this line of dogs are the following -- initiating surprise attacks on much larger animals, biting their head or neck area, "holding" that bite (refusing to release no matter what force or trauma is inflicted), and then shaking their head back and forth, causing the ripping and tearing of their victims' flesh and blood vessels, causing them to bleed to death. When this behavior is suddenly triggered against humans, the Pit Bull "
Bite, Hold and Shake
" style attack can cause severe bone and muscle damage, often inflicting permanent and disfiguring injuries, including the loss of limbs, and a high proclivity of children being scalped, their head's skin and hair being ripped off their skulls. Moreover, once a pit bull starts an attack, their tenacity, strength, and greater tolerance of pain inflicted by trauma results in the reality that the only way to stop these attacks is most often through the use of deadly force.
Attempting to Hold Pit Bull Owners "Responsible" AFTER Attacks is Folly
As the level of danger from Weapons of Mass Destruction (WMDs) is so high, the idea that public policy should focus solely on holding terrorists responsible AFTER they use WMDs is insane, as it surrenders the concept of preventing the harm for the speculation that the terrorists would be deterred by the fear of punishment. With a significant portion of fatal pit bull attacks where the victim is the innocent child, relative, or female companion of the dog owner -- there was absolutely no prior indication of the pit bull being aggressive -- no prior attacks, no prior bites, and on the date of the fatal attack, no growling/barking or other behavioral precursors of the pending attack. Pit Bulls have been selected bred for their suppressed behavioral indicators of their rising level of aggression, which gives them the advantage in the dog fighting ring -- but makes them incompatible as a domestic pet.
Visual Three-Dimensional Evaluations By Trained Judges Are Sufficient & Workable
Every year, the world watches as trained judges evaluate dogs' physical characteristics against written standards at the Westminster Kennel Club's National Championships at Madison Square Garden in New York City. It is not difficult, as every Court has found. For example, "Pit Bull dogs possess unique and readily identifiable physical and behavioral traits which are capable of recognition both by dogs owners of ordinary intelligence..." -- Supreme Court of Ohio (
Ohio v. Anderson
, 1991). The Pro-Pit Bull Propaganda Machine (and those who are suckered by them) often tries to sow confusion and doubt through their use of two-dimensional photographs of dogs as an unfair trick -- a ploy -- what we call in logic a formal fallacy. This one is a "straw man argument" -- an informal fallacy based on giving the impression of refuting an opponent's argument, while refuting an argument that was not presented by that opponent. One who engages in this fallacy is said to be "attacking a straw man". No reasonable expert would ever suggest evaluating a dog based upon photographs. Westminster judges don't use photos -- why would anyone else?
Castle Rock's Animal Code Review Team's Recommendations on Pit Bulls Are Fraudulent
In reviewing this
unidentified groups' document
, it appears to have been written by a group who is attempting to mislead both the citizens of Castle Rock -- and their Town Council. Here are the key indicators:
This team cries out for change because they are "prosecuting a dog that has not done anything wrong, but instead is in the Court system based solely how the dog looks". Folks, this is how government protects the public from wild and dangerous animals. Lions, tigers, coyotes, wolves, and pumas -- they are banned because of their potential for inflicting massive injuries and death upon their victims -- the animals are not "prosecuted". Ask them how they tell the difference between a Wolf and an Alaskan Malamute -- by how they look! This statement of their philosophy exposes their naїvety and their complete surrender to the adoption of anthropomorphic reasoning of the pro-pit bull propaganda machine.
The team relies upon "bite data", claiming the "lack of scientific data suggesting one breed is more or less aggressive than another." Are they so naїve as to not understand the very basis for all the legal decisions that support Pit Bull Bans, or are they intentionally misleading everyone? It's not the likelihood of any one Pit Bull acting "aggressively" -- it's the shear amount of damage they cause when they DO attack! Punishing a pit bull owner AFTER their dog kills their neighbor's child does nothing to bring the child back to life.
"Review of our neighboring jurisdictions" -- they seem to have reviewed, but completely ignored the two largest cities -- Denver & Aurora -- who both ban pit bulls.
The team claims that BSL is not endorsed by the State of Colorado (C.R.S. § 18-9-204.5, et. seq). Castle Rock's legal team should be sanctioned for such a misleading statement. How can any ethical attorney cite a statute as authority for such a position when that same statute was THE subject of a major lawsuit in 2004 which was ultimately declared by the Colorado Judiciary as a violation of the Colorado state constitution? The Colorado Attorney General's Office acknowledged the validity of that ruling in dismissing an appeal before the Colorado Court of Appeals! The Colorado courts and the A.G.'s Office have acknowledged that C.R.S. § 18-9-204.5, which attempted to prohibit municipalities from enacting BSL, violated the Colorado Constitution's Home Rule Authority provision. How did that happen? The trial court found that the City & County of Denver had proven that the scientific evidence that the Colorado Supreme Court relied upon in its 1999 Colorado Dog Fancier's decision, upholding Denver's pit bull ban, was still reliable, but also that Denver had provided additional new scientific evidence that had not been considered in 1999 -- such as the exponential increase in dangerousness of lethality involved in a multiple pit bull mauling (specifically expert witness testimony about the 2003 fatal mauling of Jennifer Brooke by 3 pit bulls in Elbert County). C.R.S. § 18-9-204.5 was the result of the pro-pit bull propaganda machine's massive expenditure of lobbying money on behalf of pit bull breeders and owners, where the victims and their families were not represented and not heard. But the District Court trial judge heard ALL the evidence, and ruled in congruence with every other court in the United States. How do I know all this? I was the attorney who won that case in the trial court and successfully convinced the Colorado Attorney General's Office to dismiss their own appeal of that trial court ruling, which therefore means that Castle Rock, and every other home rule municipality now enjoys the liberty to make their own decision on BSL. It only needs to be based on the Truth, and not the horrific misrepresentations made by the Castle Rock Animal Code Review Team.
"Practical Consideration" -- the team expressed concerns over pit bull owners who aren't aware of the Town's pit bull ban. Really? Remember "ignorance of the law is no defense"? In reality, no pit bull owner is truly ignorant of pit bull bans. They are all well aware of the controversy over these dangerous dogs. They are aware of the largest populated cities in Colorado having pit bull bans. It sounds like Castle Rock's legal team is simply too naïve and too willing to accept these excuses and stories as the truth. In reality, these pit bull owners are fully aware of what cities have these bans -- and they exchange information on the Internet about Castle Rock's lack of strict enforcement, leading them to attempt to hide their pit bulls within the Town -- hoping no one will find out. What Castle Rock needs is a whole new animal code enforcement team that will stop frustrating the will of the Town Council and do their jobs. IF they are more concerned with protecting the owners of pit bulls than protecting the citizens of Castle Rock's very lives -- and the lives of their children, other domesticated pets, and livestock -- I suggest they are in the wrong profession.
Castle Rock's Ordinance is Well Written -- Just Poorly Administered
Deputy Town Attorney Heidi Hugdahl's legal team needs to stop whining about their pit bull law being "difficult" -- as the blame belongs on them. They simply are making it much harder on themselves than they need to -- especially in terms of their idea that they should obtain DNA tests. This is a false and artificial standard -- a red herring. There is no legal requirement for DNA testing, and there is no DNA genetic "standard" for breeds by which to obtain a comparison. The Colorado Supreme Court ruled in 1991 that Denver's definition of "Pit Bull" was constitutional, and not unenforceable for being too vague, as "There is no constitutional requirement that legislation be written with scientific precision to be enforceable". DNA is great for matching a suspect's body fluid to a crime scene, but there is no generally accepted scientific basis to define a "pure" Pit Bull through DNA sequencing. No other jurisdiction I know would seriously consider taking on such a meaningless, expensive, and unnecessary burden in their enforcement policy and procedures. Their policy should change by stopping the use of DNA, and their attorneys should learn how to block the admission of any offered DNA evidence, as there is no sound scientific methodology involved in the determination of the standard by which any DNA sample is measured. So the changes in policy needed are simple ones that would make is easier to administer, while strengthening its enforceability.
Who Will Advocate for The Victims?
Who are the future victims? Will they show up to speak out to the Castle Rock Town Council? How can they, when they don't know who they are? The Town Council, the Police Department, hospital emergency staff, and others need to speak up for those city residents who depend upon government to provide for their safety. Other good sources of information are national groups supporting victims, such as
www.DogsBite.org
and
www.daxtonsfriends.com
-- all these groups were started by victims and families of pit bull mauling victims -- who are extremely credible in their honorable efforts to pull together the overwhelming scientific evidence and judicial decisions that help educate the public and policy makers.
The Final Decision is Up to the Town Council:
In the popular 2015 movie,
Jurassic World
, actor Chris Pratt played the character Owen Grady, who trained four Velociraptors. In an important scene, Owen rides his motorcycle alongside the running Velociraptors, while they hunt another rampaging dinosaur. If you have seen this movie, did you
ever
trust Owen's capacity to control those Velociraptors? Are you willing to bet your life, or the lives of those most precious to you on the capacity of any Pit Bull owner to absolutely prevent any attack by their mini-velociraptor? Will Castle Rock continue to be Family-Friendly, or will be it a "Jurassic World", where residents and visitor alike run the unreasonable risk of being mauled by large, strong, tenacious animals who rip and tear their victims while they are still alive? There is absolutely nothing 100% unique about Pit Bulls that is
positive
that can outweigh the 100% unique dangers Pit Bulls present to humans, other domesticated pets, and livestock. Castle Rock Town Council needs to put human lives first. Beefing up Castle Rock's municipal ordinances as to other breeds of dogs is a good idea, there just is absolutely no reason to revoke the pit bull ban -- but they can make it easier to enforce. They should start with making wholesale changes to their animal code enforcement personnel and city prosecutors who are failing to enforce the current pit bull ban in a meaningful and effective manner.
View
Colorado Breed-Specific Laws
in a larger map
Related articles:
10/20/16:
Montreal Pit Bull Ban, What the Vets Omitted and How the Pit Bull Lobby Operates
09/08/15:
Dog Bite Victims' Group Releases FAQ about Breed-Specific Legislation
08/31/15:
Who Can Identify a Pit Bull? A Dog Owner of 'Ordinary Intelligence' Say High Courts
11/24/14:
Aurora Voters Favor Keeping Pit Bull Ban by Wide Margin in First General Election Vote
08/25/09:
The History of the Denver Pit Bull Ban and the Victims that Prompted New Law
Jul/2005:
Why Pit Bulls Are More Dangerous and Breed-Specific Legislation is Justified
Labels: Breed-Specific Legislation, Breed-Specific Policy, Colorado, Fatal Pit Bull Attack, Ohio, Pit Bull Ban, Pit Bull Identification, Supreme Court