DogsBite Blog ::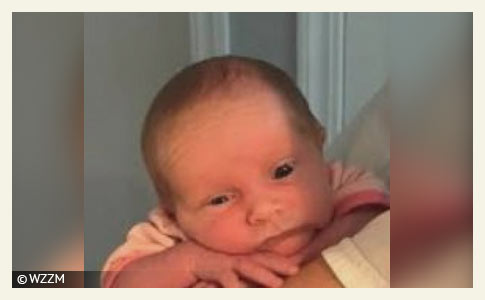 A 3-week old baby girl died after being attacked by a family pit bull in Grand Rapids.
Baby Identified
UPDATE 05/27/17:
A 3-week old baby killed by a family pit bull has been identified as
Susannah Jean Murray
. An autopsy confirms the infant died due to dog bite injuries. The Murray family owned at least three pit bulls -- two males and a female according to their Facebook pages. On Saturday, we sent a public information request to the Kent County Animal Shelter (KCAS) asking them which of the pit bulls inflicted the attack, and if that dog was adopted out by their facility.
Late Friday, we posted an
image of three pit bulls
belonging to the Murray family that was posted to a family member's page on June 21, 2016. These same three pit bulls were also posted in another photo as
recently as January 1, 2017
. The black pit bull-mix, a female named Mommas, was
adopted to the Murray family
about fours years ago by KCAS. A family member also created a "
Mommas Journey
" Facebook page last year that details a surgery that pit bull underwent.
Finally, as we try to sort through which of the three family pit bulls attacked and killed the infant, a man who
claims to be the baby's father
said the attacking dog was a female. Thus, we are led back to Mommas as the primary suspect, until KCAS answers our public information request or clarity is gained through new media reports.
1
We invite readers to watch two videos posted to the Mommas Journey page. The pit bull
playing tug-of-war
and the three dogs
interacting as a pack
.
Remember, the infant was left alone in the house in a glider (which is similar to a bouncer) for five minutes with three pit bulls roaming loose.
---
05/26/17: Infant Killed by Family Pit Bull
Grand Rapids, MI - A 3-week old baby girl is dead after being left alone with three family pit bulls, Grand Rapids police report. The fatal dog attack happened about 6 pm Thursday at a home in the 1100 block of Kalamazoo Avenue SE. After about 5 minutes, an adult checked on the infant and found her bloody with severe head injuries. One of the pit bulls had blood on its mouth, detectives said. The baby was transported to Helen DeVos Children's Hospital where it died Friday morning.
The dogs were taken to Kent County Animal Shelter where they are under quarantine. All three are pit bulls.

- Grand Rapids Police Department
Grand Rapids police Sgt. Terry Dixon said
during a press conference
the baby girl underwent seven hours of surgery before dying. No one heard crying or sounds of an attack. Child Protection Services was contacted because another child lives in the home, he said. Once the investigation is complete, police will meet with Kent County prosecutors to determine if any criminal charges will be brought. The pit bull suspected in the baby's death is about 2-year old, reports Mlive.com.
Dixon also said during the press conference, "Any dog can bite." That is not the issue to discuss after a mauling death or an attack resulting in catastrophic injuries. Both horrific scenarios are largely inflicted by a very small group of dog breeds. Pit bulls make up about 6% of the total U.S. dog population, yet are
responsible for 65% (254) of all dog bite deaths (392)
from 2005 to 2016. The second leading killer, rottweilers, trails significantly, responsible for only 11%, (43).
Infant Fatalities in 12-Year Period
Reviewing our 12-year dog bite fatality data set -- January 1, 2005 to December 31, 2016 -- we see the U.S. infant fatality rate for ages under 12-months old. During this period, canines killed 392 Americans. 12% (47) were infants under the age of 12-months. Of this subset, 45% (21) were neonates ages 3-weeks old and younger. Of all 47 deaths, pit bulls were responsible for 51% (24). Huskies were the number two killer, inflicting 7 deaths, followed by rottweilers, inflicting 6 deaths.
During this same 12-year period five infants were mauled to death by dogs in Michigan, the majority killed by family pit bulls.
Holden Garrison
of Davisburg, was killed by "catahoula leopard" dog while being held by his uncle in 2014.
Tarilyn Luciana Bowles
of Detroit,
Darius Tillman
of Kalamazoo and
Leonard Lovejoy Jr.
of Eastpointe, were all killed by family pit bulls from 2009 to 2012. Lastly,
Kylie Cox
of Warren was killed by a rottweiler while siting in a car seat in 2007.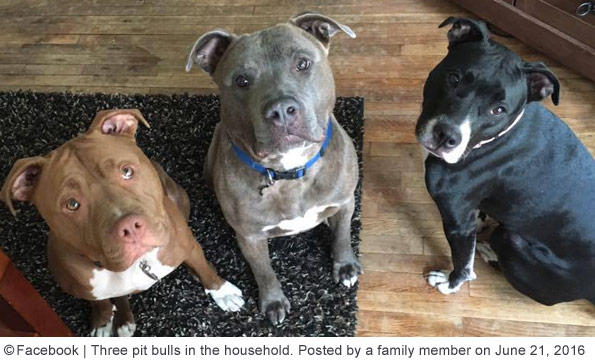 ---
The family pit bulls from left: Devlin (male), Rhino (male) and Mommas (female). Rhino passed the Canine Good Citizen test in mid February this year, according to Happy Tails Dog Training LLC.
---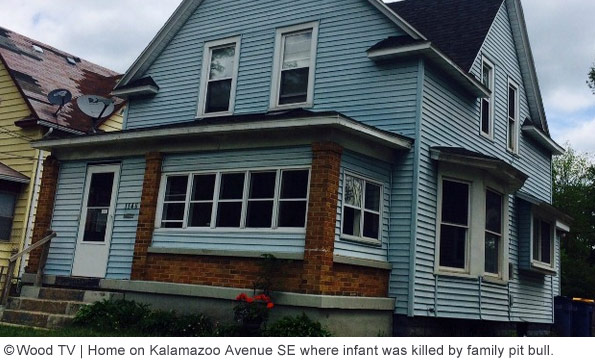 Related articles:
05/09/17:
2017 Dog Bite Fatality: Family Pit Bull Kills Baby in Northwest Las Vegas
03/24/17:
2017 Dog Bite Fatality: 8-Month Old Baby Boy Killed by Family Pit Bull in Maryland
04/29/16:
2016 Dog Bite Fatality: Pit Bull Rehomed by Humane Society Kills Newborn Baby
09/26/14:
ArtPrize Exhibit, 'Out of the Blue,' First Physical Memorial for Fatal Dog Attack Victims
Labels: 2017 Dog Bite Fatality, Infant Fatality, Michigan, Pit Bull Kills Family Member
A Brief History of the South African Mastiff - The 'Farmer's Bulldog'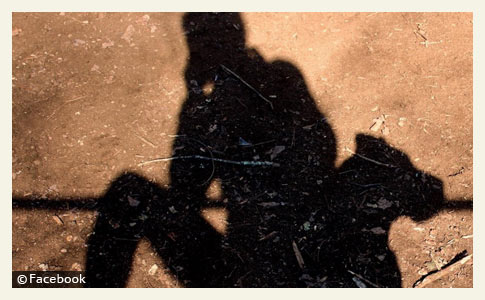 Jane Marie Egle, 59-years old, was found dead in her Asheville home on May 1.
Time for Honest Dialogue
Asheville, NC - On May 5, it was a reported that a 59-year old woman was
found dead in her home
with an aggressive South African boerboel. Deputies had discovered her body four days earlier -- red flag. We looked into the case and quickly learned that Jane Egle was a breeder and seller of South African mastiffs. She had a dedicated website, "
Beloved Boerboels
," that notes she previously worked with rottweilers and bullmastiffs, along with
Facebook
and
Instagram
pages.
In addition to the delayed release of her death information, the Buncombe County Sheriff's Office quickly resorted to, "visible cuts on her body that are
consistent with an animal attack
, but her
exact cause of death
" is undetermined. It remains unknown today, 15 days later, if her death is an actual dog bite fatality -- red flag number two. In our ten years of tracking dog mauling deaths, when law enforcement limits the release of injury information, there may be other factors at play.
In the past, other factors have included trying to dampen public interest or media attention to the mauling case, which we have seen backfire too.
When deputies arrived at the scene, the gladiator dog -- one of the fiercest guarding breeds -- predictably would not allow first responders into the home. Deputies were forced to dispatch the massive dog to reach the woman. Seven other boerboels were also
seized from Egle's yard
along with a great pyrenees. Asheville Humane Society, which operates the Buncombe County animal shelter, stated right away the adult boerboels were dangerous and slated them for euthanasia.
---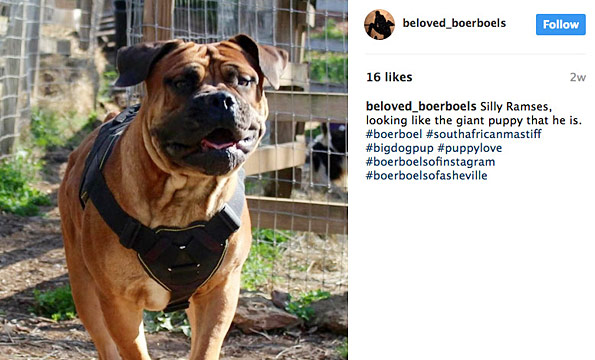 ---
Memory Lane: In 2015, the Asheville Humane Society (AHS) adopted out a pit bull that passed a temperament test. Three weeks later, the dog brutally killed a 6-year old boy. No temperament test can measure unpredictable aggression. These tests can measure obvious aggression, as can observation, which is the case with the boerboels that Egle liked to dress up with bling. Recall that AHS also had a habit of anthropomorphizing pit bulls with bling to make them more palatable.
---
The Dog Behavior Consultant
On May 8, WLOS
interviewed Kim Brophey
, a certified dog behavior consultant that evaluated the South African boerboels, six adults and one 4-month old. As one would imagine, she was terrified of the dogs. "I was terrified, and I've done this a long time," Brophey said. "It was a difficult thing to do. Both myself and the other evaluator were appropriately cautious given the expressed threatening behavior of the dogs, it was warranted. We had a job to do, and we did it," she said.
Yet, Brophey's logic goes south with the young boerboel, which also should have been put down, effectively wiping out Egle's entire breeding operation.
1
Pertaining to the adult boerboels she states, "Given their propensity to harm others, it would have been negligent to do anything other than what was done." Speaking about the breed as a whole, she states: "If we have no tolerance for the specific behaviors that dogs were bred for, maybe we shouldn't be breeding them."
"They were so highly threatening that one could not even interact with them in order to assess them -- all of them."

- Kim Brophey, dog behaviorist
By May 15, as we began writing this post, Brophey spoke to the
Citizen-Times
and admitted the adult boerboels were so dangerous
they could not even be assessed by personnel
, outside of observation. In a
stunningly forthright video
, Brophey states, "Our message really is ... we should take the opportunity to open a very honest dialogue ... about the big picture of our dog's behavior. We like to act as if dogs are all simply just pets,
and that it's all how we raise them,
" she said.
"The truth is there are many other factors that are facilitating their behavior. If we are not prepared for those behaviors, if we don't look into their history, understand the biology and the genetics, the interplay of their environment, their socialization" and more, Brophey said, "then we are going to continue to find ourselves surprised and in some cases, tragically so ... These incidents are doomed to continue to happen if we don't get honest and practical in our discussion," she said.
---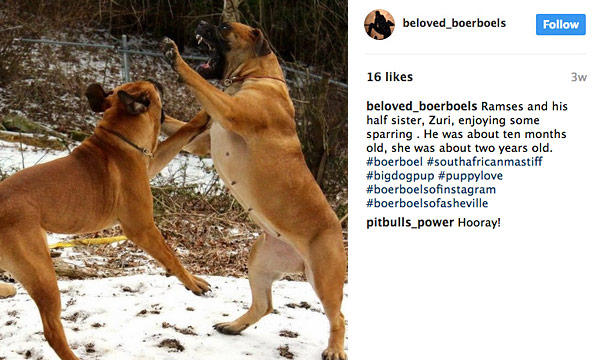 ---
History of the South African Boerboel
The South African boerboel is one of several "reinvented" ancient gladiator breeds used for the purposes of guarding and fighting (combat dogs). There is no trustworthy source of information online, in English, about the breed's history -- most are written by boerboel breeders who glorify the dogs. As visually apparent, the bullmastiff was a heavy influencer in resurrecting the breed as they share common ancestors. Calling these dogs a "farm dog" or a "farmer's dog" is deceptive.
The boerboel name is more appropriately translated into the "farmer's bulldog" or "farmer's mastiff," according to academic researchers.
No one has done more to "resurrect" the ancient gladiator breeds than Dr. Carl Semencic, who was once billed as a "world-renowned authority on fighting dogs" and continues to get his aging books reprinted: The World of Fighting Dogs (1984), Pit Bulls and Tenacious Guard Dogs (1991) and
Gladiator Dogs
(1998). The Gladiator Dogs book "brings to life 13 breeds originally used as fighting dogs." All of the usual suspects are on the list, including the South African boerboel.
Semencic's book purports to explain the history of these gladiator breeds and their different "combat techniques." The fact that Semencic dedicates an entire chapter to the boerboel is telling, right along side the better known baiting, fighting and war dog types, such as pit bulls and presa canarios. South African boerboels are rare in the United States but certainly are not in South Africa. We reached out to animal behaviorist Alexandra Semyonova who provides more details.
---
Alexandra Semyonova - Gladiator Breeds
The story of the "boerboel" (which means "the farmer's bulldog" in Afrikaner Dutch) is basically the same as that of the Cuban Bloodhound (second profile).
They were created by crossing the bull / bear / horse baiting bulldog of Elizabethan England and the war dogs European colonists used to subdue, terrorize and sometimes help eradicate native populations. These bulldog-war dog mixes were introduced in South Africa by the Dutch in and after 1652, together with the introduction of slavery there. The "boerboel" was used to guard colonizers' farmlands from the natives the lands were stolen from, to guard and terrorize slaves, and in battles with the indigenous populations. To this day, the "boerboel" is still one of the most vicious and destructive guard dogs that exist in South Africa.
In 2010, a South African surgeon warned that the "boerboel" was presenting an alarming new danger to children:

"Speaking from his rooms at Somerset Aesthetic Surgery in Somerset West, Toogood said: 'Dog bite cases outnumber the cases I see involving motor vehicle accidents, incidents involving pedestrians, and domestic violence.
'And of the dog bite cases, approximately 80 percent of the cases I see involve boerboels.
'The remaining 20 percent (are made up) of all the other breeds of dogs combined.
'I'm simply telling you what's coming through my doors and they are children bitten by boerboels.
--Snip--
'This is not just an affable farm dog with big slobbery chops," said Toogood.
'They are inherently dangerous, with a strong streak of unpredictability, but breeders are not saying so and hence they are being kept as house pets.'"

- Murray Williams, "Boerboel attacks on kids on rise," IOL News, February 24, 2010 (www.iol.co.za)



Cape of Good Hope SPCA CEO Allan Perrins, admits in the article, "I know that the pit bull has the 'killer dog' reputation. But I'm afraid it's being fast superseded by the boerboel," writes Semyonova.
According to South African government sources, the export of "boerboels" suddenly greatly increased in 2011. In the United States, South African breeders were getting up to $9,600 for a single animal. It's not surprising then, as this surgeon remarked, that "boerboel" breeders are not honest about what they're selling: "[Boerboels] are inherently dangerous, with a strong streak of unpredictability, but breeders are not saying so and hence they are being kept as house pets," writes Semyonova.
---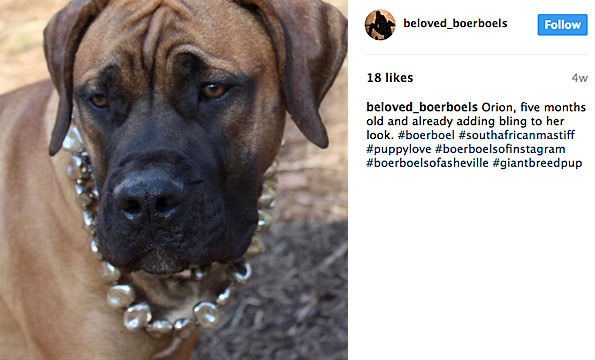 ---
Who Worships, Breeds or Owns Boerboels?
It would be dishonest not to discuss the types of people who own and breed these dogs, including Egle, who graduated up to South African boerboels after raising rottweilers and bullmastiffs. There comes a point where people can't claim ignorance anymore about a dog breed's heritage, nor deny that the real motive is often pathological narcissism -- including the narcissist's insistence on living in a self-aggrandizing fantasy world. Neither of
these photos are cute
; they are disturbing.
A week before her death,
Egle posted to Instagram
: "Aslan and Mojo ... before they figured out how to break through that gate and take their boerboel five pack out to meet our suburban neighbors and their many adorable kiddos. Whew! Fortunately, they were only out a few minutes and were friendly and sweet. The neighbors were so charmed by them (all five dogs instantly came when I called them, YES!!), that I now have a new posse offering to take them on walks."
We are deeply thankful that no one else in the community was harmed by Egle's pack of gladiator dogs. They were certainly on track to do so.
Semyonova also points out that a
neighbor interviewed by WLOS
, Jennifer Odom, described Egle as very sweet, friendly and kind. "How sweet, friendly and kind is it to infest one's neighborhood with a type of dog that endangers the lives of every living thing within miles?" Asked Semyonova. "Ones that, as the surgeon pointed out in the 2010 article, are even deadlier than the smaller pit bull types?" Odom also plays the fantasy game by calling the dogs "very sweet, gentle giants."
This is in stark contrast to the heritage of the "Farmer's bulldog" -- selected for willingness to commit sustained, unprovoked attacks and with a physique that makes defense impossible -- that author Semencic worships and promotes in his book. As well as the honest assessment by Brophey, who said these South African boerboels "were beyond threatening and aggressive, as ferocious of an animal as I have ever met in a 20-year career specializing in aggression."
Summary
The South African boerboel is still uncommon in the United States. Their high purchase price and annual care costs make it unlikely for this gladiator breed to ever achieve remotely modest population numbers in this country. The American bully, a pit bull "designer" breed frequently infused with bullmastiffs and other mastiffs to create extreme exaggerations in the weight, size and features of a traditional pit bull, appears to be the
larger and more troubling trend
in the U.S.
Local media outlets are interested in this story and obtaining the cause of death. The Medical Examiner's Office told WLOS it could take 2-3 months to receive the official report -- this is fairly standard and can take much longer when contributing factors are involved. What is not standard in this case is the
lack of receiving any preliminary autopsy report or reasons why
. We are only left to speculate as to why, which might include trying to dampen public interest or media attention.
Lastly, as recognized by animal behaviorists Alexandra Semyonova and Kim Brophey and columnist John Boyle of the
Citizen-Times
, this case demands an honest discussion about dog breeds. Some dog breeds are
vastly more dangerous than others
, which is the focal point of our nonprofit's website. The consequences of believing the myth, "It's all you raise 'em," and ignoring the genetic heritage of a dog's breed results in life-altering injuries and deaths every year.
---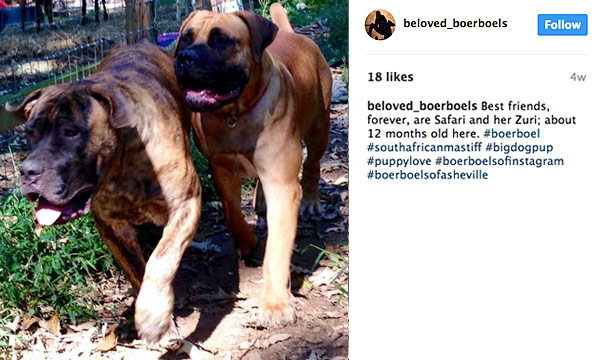 Related articles:
08/06/15:
2015 Dog Bite Fatality: Recently Adopted Out Pit Bull Kills 6-Year Old Boy...
11/19/14:
2014 Dog Bite Fatality: 7-Year Old Boy Killed by Trained Protection Dog in Dodge...
05/05/09:
Alexandra Semyonova: Heritability of Behavior in the Abnormally Aggressive Dog
Labels: Asheville Humane Society, Gladiator Dog, North Carolina, South African Boerboel, South African Mastiff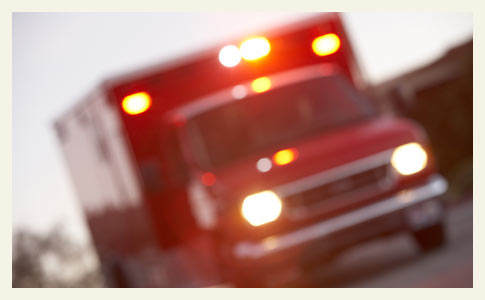 Sandra Kaiser, 71, died after being attacked by her own "rescue" dog in Redding.
Woman Dies After Attack
Redding, CT - A Redding woman died at Danbury Hospital after being attacked by her own dog at a home on Deacon Abbott Road, Redding police report. The attack occurred on Friday, May 12. Police took the dog into custody, but have not released breed information. Police are withholding the name (and age) of the victim until family members are notified. The victim suffered "very serious injuries," police said. She was transported to Danbury Hospital where she later died.
Redding Police Chief Doug Fuchs said the attack set off a series of events, which led to her death. However, despite her severe injuries, they may not have been the cause of death, he said. "We're awaiting the autopsy" to determine the final cause of death, Fuchs told the
Redding Pilot
. The city is located about 55 miles west of New Haven. Last July, a woman was horrifically mutilated and killed by
pair of American bulldog-mixes
belonging to Dr. Hamilton Hicks in New Haven.
---
Redding is located in Fairfield County. In 2014, a 91-year old woman was mauled to death by her dog in Stratford, also of Fairfield County. The dog in that case was allegedly a Keeshound-mix.
---
Subsequent news reports
-- over one week later -- identified the victim as 71-year old Sandra Kaiser of Redding. Police Chief Fuchs described the attacking dog as a "mixed-breed" and a "rescue" dog, but was "not a pit bull," reports
The Pilot
. The animal had been living at her home on Deacon Abbott Road for six years, according to Fuchs. The police chief did not say what type of mixed-breed, such as a shepherd or a rottweiler, nor was any photograph of the dog released.
Related articles:
07/07/16:
2016 Dog Bite Fatality: New Haven Woman Dies After Violent 'Hannibal Lecter' Style...
11/19/14:
2014 Dog Bite Fatality: 91-Year Old Woman Dies After Vicious Attack by Own Dog
Labels: 2017 Dog Bite Fatality, Connecticut, Rescue or Rehomed Dog Kills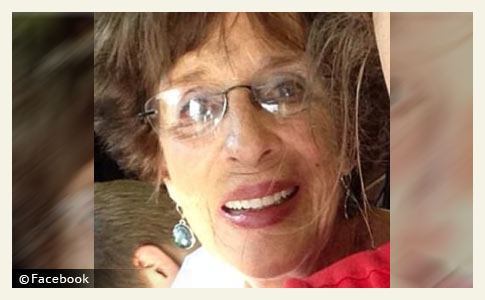 Cecille Short, 82-years old, and her small dog were savagely mauled to death by two pit bulls.
Manslaughter Charge
UPDATE 05/10/17:
On Wednesday, the owner of two dogs that brutally killed an 82-year old woman and her dog in April was charged with second-degree manslaughter.
Antwon Demetris Burks
, 31, is accused of keeping "
mischievous dogs
" that he allowed to roam, which resulted in the mauling death of Cecille Short. A news chopper captured the
grisly aftermath of the scene
. Emergency crews said the attack was so gruesome that the victim was nearly decapitated.
If convicted of second-degree manslaughter in connection to the dog mauling death of Cecille Short, Burks faces up to four years in prison.
The attack occurred on April 6 in the 11600 block of Windmill Road, a neighborhood in northwest Oklahoma City. Witnesses told investigators the two pit bulls were dragging Short "by the head and neck area, causing her death," reports
The Oklahoman
. First responders were initially unable to help the victim. Police officers later fired on both dogs, killing one, and rammed the other with a police cruiser. The surviving pit bull was taken into custody to be held as evidence in the case.
After the attack, police taped off an area around Burks' residence at 11624 Kings Circle, about a block away from the attack scene. Investigators found an
extensive hole in the fencing
where the two large dogs escaped. They described it as "old damage," reports
The Oklahoman
, and that it appeared someone had tried to cover it up with boards, a recycling container and an ice chest. Prosecutors said Burks' actions led to Short being attacked and killed by his two loose dogs.
---
04/07/17: Mauling Victim Identified
Late yesterday, a photograph of the two dogs was released showing a pit bull and an XXL pit bull, a designer breed, also known as an
American bully
. In 2014, a similar dog
killed a little girl in Louisiana
. Of the two major kennel clubs, only the United Kennel Club (UKC) recognizes the American bully and it only began doing so in 2013. Also, any "UKC registered American Pit Bull Terriers are
eligible to transfer to the American Bully
," states the UKC breed transfer form.
We call it a designer breed because that is what it is. The dogs usually come with a "designer" price tag too -- the point of a designer breed.

1
Headlines, as of late last night and today, are reflecting this confusion. No one is quite sure what to call the large white and brown dog with heavily exaggerated features. Yet if one does a Google Search for "
XXL Pit Bulls
," one will recognize this dog breed immediately. The American bullies work in two different directions,
extreme exaggerations
in the weight, size and features of a traditional pit bull, as well as the
pocket pit bull
, which is an extremely squat version of the breed.
Earlier today, The Oklahoman interviewed Jon Gary, the Superintendent of Animal Welfare for Oklahoma City, about the two dogs and their previous history.
"[The female gray dog] suffered two gunshot wounds, as well as abrasions. We were told that she was also hit by a police car … She's a large pit bull, probably 80 or 90 pounds, so she's very large. Um, pit bull-type dog," he said.
When asked by a reporter the size of the other dog, Gary responded, "It was also a pit bull-type dog and it was also a very large dog, over a hundred pounds."
When asked by a reporter, "Did you say that there have been calls for service regarding these two dogs?" Gary responded, "We have. At this point in time, I can't tell you the exact number. I have my staff currently doing research on any history there may be," he said.
Mauling Victim Identified
This morning, police identified the mauling victim as 82-year old Cecille Short. The owner of the two dogs was out of town at the time of the fatal attack. Reporter Bill Miston of News Channel 4 tweeted earlier that police are seeking
surveillance cameras
, Officer "Knight stressing that there isn't much to go on." Miston also tweeted that the
surviving dog
-- that was both rammed by a cruiser and shot by police -- was the smaller pit bull. The dog is currently being held as evidence.
Last August, nine months after a pack of pit bulls killed a man in Oklahoma City, authorities filed
second-degree manslaughter charges
against the dog's owner. Those dogs escaped though a hole in their owner's fence and viciously attacked 60-year old Edgar Brown. The severe bite injuries led to multiple complications, amputations and eventually to his death less than two weeks later. The dogs that killed Short and her dog also
escaped through a hole
in their owner's fence.
---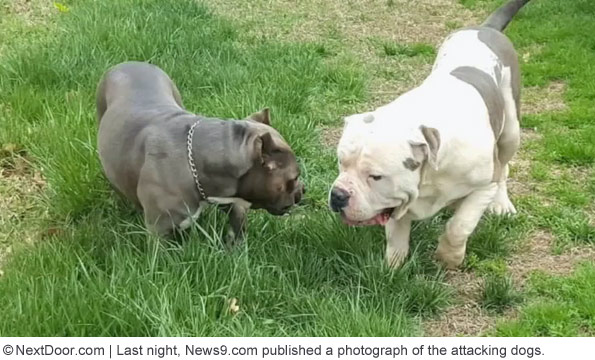 ---
04/06/17: Woman and Dog Killed
Oklahoma City, OK - A woman and her dog were both killed by two pit bulls while walking in a northwest Oklahoma City neighborhood Thursday afternoon. First responders were called to the attack scene in the 11600 block of Windmill Road. One of the attacking dogs was shot and killed by police. The other pit bull was rammed by a police vehicle, but survived. Police have confirmed that both attacking dogs were pit bulls. Below,
Master Sgt. Gary Knight describes the narrative.
"Sadly a woman was out walking her dog earlier today when she was attacked -- her an her dog were attacked by two large dogs, one of which was a pit bull. I don't know the breed of the other dog. During this attack, the woman's dog and the woman, sadly, were both killed. They were both mauled to death by the two dogs. When officers arrived, they tried to get to the woman to render aid to her. They were not able to get to her at first because of the dogs. They had to shoot one of the dogs and the second dog was actually hit by a police car and taken into custody. It was still alive and was transported to animal welfare to be treated."

- Master Sgt. Gary Knight, Oklahoma City Police Department
Clear Public Safety Threat
Jurisdictions across the U.S.
ban or regulate pit bulls
specifically to stop this type of attack: an off-property attack by a pit bull that ends in severe injury or death. A woman and her dog were walking down a suburban neighborhood street when two pit bulls launched a violent attack, killing them both. Neither the woman nor her dog could defend themselves against the animals. Officers had to shoot one pit bull to death and ram the other with a police cruiser to end the attack.
"Emergency crews say the attack was so gruesome that the victim was nearly decapitated."

- Matthew Nuttle, News 9, April 6, 2017
Neighbor Tim Pool
spoke to the heart of the issue
. "My gosh, this is right down the street from where we live, and
every one of these attacks is always where somebody lives
," he told News Channel 4. "I walk these streets almost every morning with my dog and, many times, my dog's been attacked by other people's dogs, and I've cautioned them: Don't do that, they have to be controlled. Many receive it well.
Others don't seem to understand what I'm talking about,"
he said.
2
Other neighbors told Fox 25 that at least
one of the pit bulls has attacked
other local dogs before. Last October, one neighbor even circulated a letter warning others of an attack and calling the two dogs "
2 vicious animals
." Jerry Bowerman has lived in the area for 36 years. He told
The Oklahoman
-- referring to the home surrounded by crime scene tape on Kings Circle -- that two pit bulls reside in that household, a gray female pit bull and a "huge" white male pit bull, he said.
Surreal Late Evening Update
Late in the evening, News 9 published their final report, which included
images of the attack scene
and the two pit bulls. One the dogs is an
XXL pit bull
, a designer pit bull breed. In 2014, a
similar dog devoured a little girl
in Houma, Louisiana. The dog was initially shot three times by police officers. Unfazed by the trio of bullets, officers fired 10 more rounds into the hulking dog before killing it. It is clear now why early reports of the Oklahoma attack simply called it a "large dog."
The News 9 report shows images of the
hole in the fence
that police believe the dogs escaped through, as well as the letter circulated by a neighbor about the dogs in October. Neighbors heard about the attack through Urgent Alerts on the
NextDoor
App. The victim, who has still not been named, was a senior citizen walking a small dog. The owner of the two pit bulls -- referred to as a he -- was out of town at the time of the attack. Police say more information will be released Friday.
---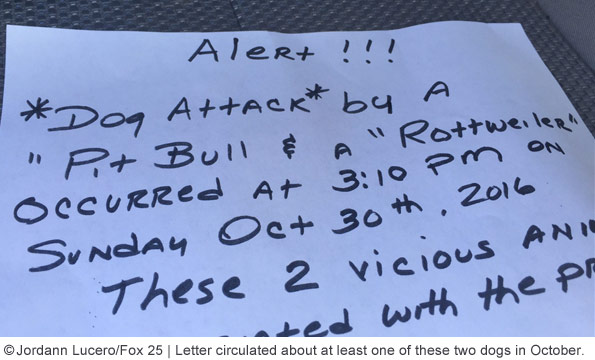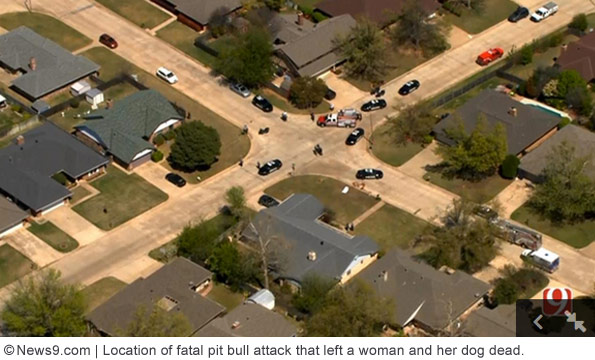 Related articles:
02/28/17:
2017 Dog Bite Fatality: Man Dies After Vicious Attack by Two Pit Bulls in Lincoln...
01/19/17:
2017 Dog Bite Fatality: Pit Bulls Kill Child, Critically Injure Another, on Way to School...
08/04/16:
2015 Dog Bite Fatality: Oklahoma Man Dies After Vicious Attack by Five Pit Bulls
04/11/14:
2014 Dog Bite Fatality: Family Pit Bull Kills 4-Year Old Girl in Houma, Louisiana
Labels: 2017 Dog Bite Fatality, Fatal Pit Bull Attack, Oklahoma, Oklahoma County, Pit Bull Dog Aggression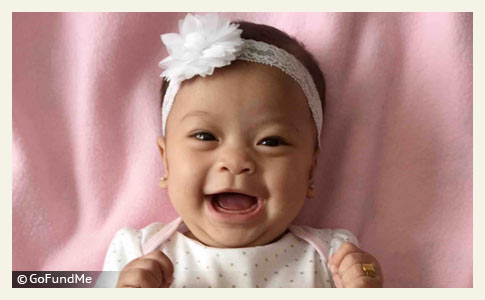 Kamiko Dao Tsuda-Saelee, 6-months old, was killed by her family pit bull in Las Vegas.
Mauling Victim Identified
UPDATE 05/09/17:
The Clark County Coroner's Office identified the 6-month old baby as Kamiko Dao Tsuda-Saelee. On Monday, Kamiko had been playing in a baby walker near the family pit bull when it suddenly attacked her. The mother was able to stop the attack, but the baby was already seriously injured. Kamiko's mother rode with her in the ambulance to Centennial Hills Hospital Medical Center, where she was later pronounced dead. No criminal charges are anticipated.
On Tuesday afternoon, the 9-year old male pit bull was euthanized, according to Clark County spokesman Dan Kulin. The owner surrendered the dog and it will not be rehomed. "A dog that has attacked and killed a person would not be allowed to be adopted," Kulin said in a statement.
1
The county also
released two photographs
of the dog. The infant's grandfather, Ryan Tsuda, told the
Las Vegas Review-Journal
, "We are all heartbroken." Tsuda declined to comment further.
Kamiko is the
513th American killed by a pit bull
since we began collecting this data on the Fatal Pit Bull Attacks Archival Record website. Her death also marks the
210th child mauled to death by a pit bull
since 1980, when the insidious pit bull problem began to emerge. Like many shelters in the U.S., The Animal Foundation in Las Vegas, which quarantined the dog for Clark County Animal Control, is
brimming with unwanted pit bulls
. Any takers for Jagger,
posted earlier today
?
Believing the false myth, "It's all how you raise 'em," kills a dozen children every year and maims over a thousand more.

- DogsBite.org
The mother of the baby, Layla Tsuda, is originally from Kaneohe.
She spoke to KHON2
, which covers Hawaii. The baby's family clarified that the dog, named Mana, is a "purebred pit bull" and had lived with the family for nine years. The family was shocked at the dog's violence -- the dog was considered a good family pet. "I have no words to explain my pain," Layla said. Layla joins 210 other families who have lost a precious child due to
unpredictable violent pit bull aggression.
---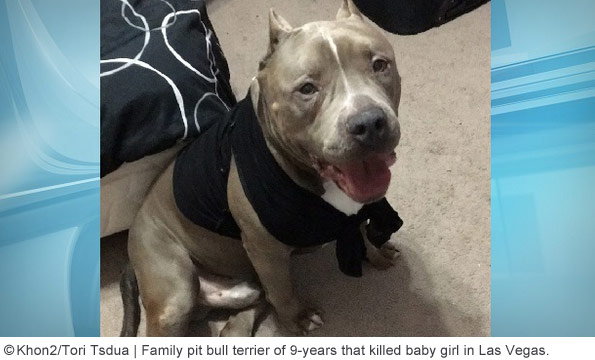 ---
05/08/17: Family Pit Bull Kills Baby
Las Vegas, NV - A family pit bull-mix mauled a baby to death in the northwest Las Vegas Valley, police said. The Metropolitan Police Department was dispatched to a home in the 9100 block of Brilliant Prairie Court, near West Centennial Parkway just after 1 pm, police spokeswoman Laura Meltzer said. The baby was transported in an ambulance to Centennial Hills Hospital, where it was pronounced dead. At the time of the fatal attack, the baby's mother was the only adult home.
"I think it's kind of ridiculous. I mean, how does it happen? How do you leave a dog with a baby? How does it happen?"

- Neighbor Ron Tripodi
"
It's an absolute, true tragedy
," Las Vegas police spokesman Larry Hadfield said. "You have a family that's going to be grieving for today and the rest of their lives." The family dog that killed the baby is a "pit bull terrier-type mix," Hadfield said. Animal control took the dog into custody. As is standard with any young child's death, Metro's abuse and neglect division will investigate potential criminality, he said. The county coroner's office will release the identity of the baby in the future.
An evening update by the
Las Vegas Review-Journal
included more details. The baby had been playing in a baby walker near the dog when the animal suddenly attacked the child. The baby's mother was able to stop the attack, but not before significant injuries had been inflicted. The newspaper also noted that as of late Monday, The Animal Foundation, which provides
sheltering services
for Clark County Animal Control, would not allow the pit bull-mix to be photographed.
Clark County Dog Bite Fatalities
This baby's death marks the fifth deadly dog attack in Clark County, Nevada since 2008. All five dog bite fatality victims were children ages 9-years old or younger. Pit bulls and their mixes were responsible for 80% (4) of these child deaths. The victims include:
Derion Stevenson
, 9-years old (Las Vegas, 2016),
Jeremiah Eskew-Shahan
, 1-year old (Henderson, 2012),
Alexander Adams
, 2-years old (Las Vegas, 2008) and
Cenedi Kia Carey
, 4-months old (North Las Vegas, 2008).
Top Counties in Dog Bite Deaths
The below chart shows the U.S. counties with the highest number of fatal dog attacks recorded by DogsBite.org from January 1, 2005 to May 8, 2017. Our chart does not measure the incidence rate per 100,000 population, but we provided the estimated populations if you would like to do those calculations. There is no doubt that of this grouping of 16 jurisdictions, Dorchester County, South Carolina has the highest incidence rate.
American Indian Reservations
are excluded from the list.
Leading U.S. Counties in Dog Bite Fatalities (2005 to Present)
Deaths
Jurisdiction
Estimated Population
7
Harris County, TX (Houston)
4.44 million
7
Riverside County, CA
2.32 million
7
Wayne County, MI (Detroit)
1.76 million
6
Maricopa County, AZ (Phoenix)
4.08 million
6
Miami-Dade County, FL
2.66 million
6
San Bernardino County, CA
2.11 million
6
San Diego County, CA
3.26 million
5
Bexar County, TX (San Antonio)
1.85 million
5
Clark County, NV (Las Vegas)
2.07 million
5
Cook County, IL (Chicago)
5.24 million
5
Dallas County, TX
2.51 million
5
Los Angeles County, CA
10.12 million
5
New York City, NY
8.49 million
4
Dorchester County, SC
148,469
4
Fresno County, CA
965,974
4
Montgomery County, OH
533,116
---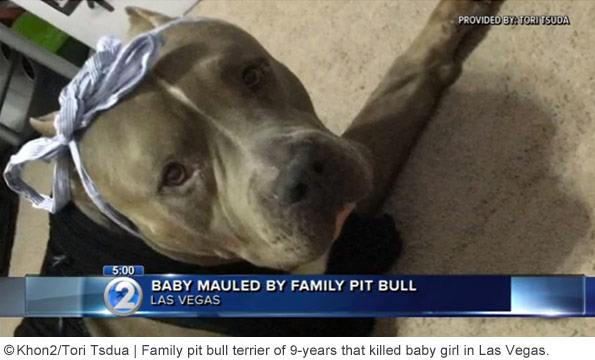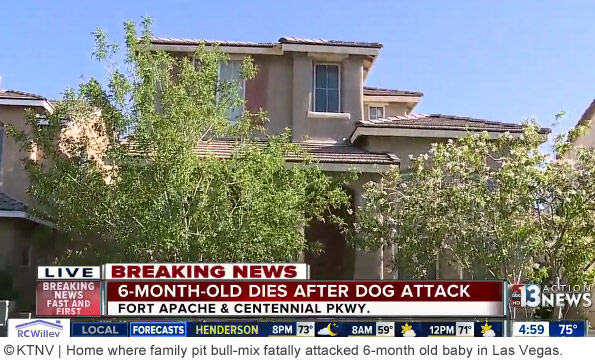 Related articles:
03/24/17:
2017 Dog Bite Fatality: 8-Month Old Baby Boy Killed by Family Pit Bull...
08/19/16:
2016 Dog Bite Fatality: Family Pit Bull Kills 'Visiting' Child in Las Vegas
04/29/16:
2016 Dog Bite Fatality: Pit Bull Rehomed by Humane Society Kills Newborn Baby
Labels: 2017 Dog Bite Fatality, Clark County, Nevada, Pit Bull Kills Family Member
Pit Bull Had Attacked Mother Two Weeks Earlier
Robert Laughton and his pit bull that mauled his mother twice in Roseville, Michigan.
Felony Charges Authorized
Roseville, MI - On April 30, a family pit bull brutal attacked a couple in their home in the 30000 block of Normal Street. Suzette Laughton, 52, was initially listed in critical condition and her boyfriend, Michael Mager, 51, was airlifted to a hospital due to his extreme injuries. The dog belongs to Suzette's son, Robert Laughton, 29. Two weeks earlier, his dog attacked Suzette as well, requiring 30 stitches. At that time, Robert was issued a ticket for harboring a vicious dog.
Robert lives with the couple, but was not home during the recent attack. After the April 19 attack, he home-quarantined the dog for 10 days. One day later, after Suzette released the dog from its kennel, it viciously attacked her again. When Michael intervened to help her, the dog turned on him, inflicting injuries so severe he was left unconscious. First responders initially feared he would lose both arms. On May 4, prosecutors authorized two felony charges against Robert Laughton.
"I grew up with dogs and love them dearly. But as owners we bear complete responsibility for the training and behavior of our animals, especially regarding their interaction with the humans they encounter.
With these powerful breeds, that responsibility is particularly acute. A single aggressive episode can result in life-ending tragedy. Our office shows zero tolerance to owners who fail to safeguard their animals and the people around them from vicious aggression."

- Macomb County Prosecutor Eric Smith, May 4, 2017
Why This Case is Unusual
Only a few states have a meaningful state felony dog attack law, Michigan is one of them. Under Michigan law, if a dog owner has knowledge of his dog's vicious propensities and it attacks again, seriously injuring or killing a person,
the owner is subject to a felony
. Laughton was charged with two felony counts because two victims were seriously injured. Prosecutors authorized these charges knowing that both victims, one being Laughton's mother, will not agree with the charges.
Due to the "intrafamily" nature of this series of pit bull maulings -- the mother agreed to give the dog another chance after the first attack, Laughton alleges -- we did not believe prosecutors would authorize these felony charges. It is a bold and courageous move by prosecutor Eric Smith (Kudos!). Unfortunately Laughton, who was given a citation previously for having an unlicensed dog and harboring a vicious animal, remains in total denial about dog ownership responsibility.
Headline Pit Bull Mauling
On Monday and Tuesday, we watched as
headlines about the Roseville attack
dominated the Detroit region. According to news reports, officers met Suzette bloodied outside of her home. She told police her son's pit bull had attacked her boyfriend, who was still inside the house. Police were forced to taser the pit bull to incapacitate it in order to reach the boyfriend who was, "unconscious on the living room floor, suffering from horrific bites to his arms and face," according to police.
The dog suspected in the attack was present and was "extremely aggressive not allowing emergency personnel into the home to extricate the victim," police said in a release.

- Christina Hall, Detroit Free Press, May 2, 2017
By early Tuesday, reports of Michael's injuries were so severe that we added him to our Dog Bite Fatality Watch List. While he was only on the list for a few hours, that action kicked off a deeper review of the situation by us. The first stop was the homeowner's property records to identify the victims and the second was the dog owner's Facebook page. When we landed on Laughton's page, he was publicly and gravely minimizing the victims' injuries and denying any responsibility.
Laughton
had posted about "our recent fiasco"
and claimed the media got the story wrong. When asked by a friend, "What happened?" He wrote, "My dog bit my mom." No mention of Michael's injuries, the airlift or this being the second time his pit bull had viciously attacked his mother. Laughton called the media "animals" and told friends to watch for an upcoming article by
The Detroit News
, which would undoubtedly carry his "blameless" version of the story, and it did.
In a headline titled, "
Dog owner defends self in mauling: It's not my fault
," Laughton tries to explain why he should not be blamed after his vicious dog attacked a second time seriously injuring two people. "I didn't do anything wrong," Laughton told
The Detroit News
. "It's not my fault. My dog was loved. He had toys. I did not abuse my dog. I didn't make my dog vicious. My dog did what he did. He's paid for it," he said.
As if the dog being euthanized alleviates Laughton from all liability?
Laughton said that city officials recommended he put the dog down after the April 19 attack. But, he and his mother did not want to pay the $200 euthanasia fee and decided to give the pit bull another chance, he said. Now, after thousands of dollars in medical procedures, requiring "teams of surgeons," along with felony charges, the $200 fee looks like a bargain. Laughton also blamed the second attack on a "neurological trigger," a term coined by
whitewasher James Crosby
.
The Detroit News
video interview is a dead ringer for a pit bull owner's total and complete denial after his dog viciously attacked a
second time
. According to his sister, Tiffany Laughton, the same pit bull
attacked her fiancé's dog in January
. So technically, the April 30 attack is the third attack by the dog -- three attacks in a 4-month period. Yet, according to Laughton's obtuse logic, he's not responsible for any of them. The trusted pit bull mantra, "
Blame the Owner
" suddenly evaporates.
"I didn't make my dog vicious. It's not like I trained my dog to fight. I didn't do any of that. He was a family pet."

- Pit bull owner Robert Laughton
"My dog bit my mom and her boyfriend. He's paid for it now," Laughton states. Quite literally, he has no comprehension of civil or criminal liability after a "series" of vicious attacks. The victims in this case are family members, but they just as easily could have been a child or friend visiting the home. The two felony charges signal that in Macomb County all victims are equal. Just because "
only your family members
" were mauled twice by the dog, does not mean you are off the hook.
The Family Pit Bulls
The male pit bull, named Bruce, is reportedly 1.5 years old. As we have stated many times on this website, pit bulls typically begin to show destructive behavior traits, such as the
"hold and shake" bite style
and animal aggression, when sexual maturity is reached at about 1.5 years old. This fact is well known among many animal control officers and humane groups, but is rarely shared with the public. This is not true of all pit bulls, but it is a rule of thumb for
when
these traits appear.
Laughton had purchased the pit bull from a Craigslist advertisement a year earlier, according to a news release issued prosecutors. Furthermore, the dog was scheduled for euthanasia on May 1, states the release. Apparently, during the home-quarantine period between April 19 and April 29, Laughton and his mother changed their minds about euthanasia, Laughton alleges, but failed to tell animal control officials. Then one day later, the dog unleashed its second violent attack.
The Laughtons also have another pit bull in their home --
ClickonDetroit captured it
in recent footage. That dog was not involved in the recent attack, but was taken into custody by county animal control after the April 30 attack. So, when the couple returns home after being hospitalized, there will presumably still be a pit bull in the family's home. Property records show that one of these pit bulls was
registered under a different breed name
, a "Lab/Mix," on April 26, 2017.
Son, Mother Appear in Court
On the same day prosecutors authorized felony charges against Robert Laughton,
he and his mother appeared in Roseville District Court
, reports the
Detroit Free Press
. Robert was arraigned on the charges and given a $5,000 surety bond. He is allowed to keep living with his mother, but cannot purchase another animal until the court says so. Suzette told the court that she wants her son to "stay with me" and that her boyfriend "doesn't want anything to happen to Robert."
Meanwhile over on Robert's Facebook page, he states, "
Well let the fun begin I suppose.
" Sadly, many commenters on his post have no comprehension of civil or criminal liability after a "series" of vicious attacks either. One writes, "He feels terrible" and "He has been through enough."
As if that would be sufficient after a drunk driver seriously injured two people?
Again, that $200 euthanasia fee sure was a bargain. Now add defense attorney fees to the family's mounting medical bills.
---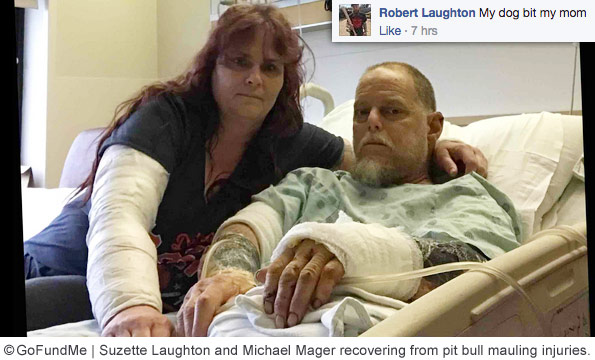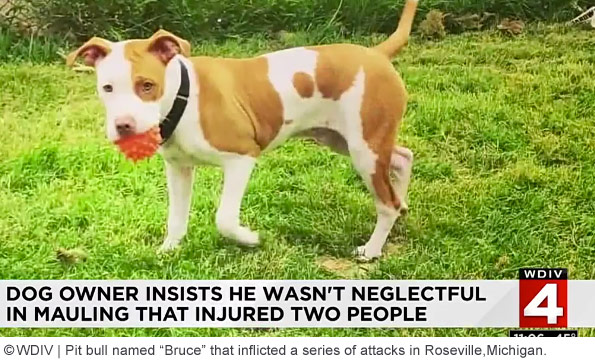 Related articles:
08/25/16:
2016 Dog Bite Fatality: Pit Bull that Killed Boy Had a History of 'Dog Aggression'
06/30/16:
Criminal Trial: Detroit Pit Bull Owner Convicted on Two Counts of Manslaughter
03/17/16:
Thank You Letter: Experienced Dog Trainer Shares Attack Story & Professional...
Labels: Breed Mislabeling, Criminal Charges, Detroit, Pit Bull Dog Aggression, Pit Bull Owner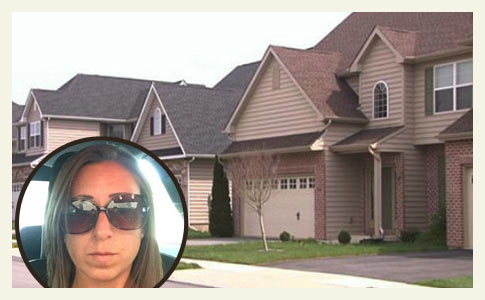 Lisa Green, 32-years old, was killed by her pit bull-mix in Upper Macungie Township.
Neighbor Recounts Attack
UPDATE 04/28/17:
On Thursday, police responded to a call of a woman being attacked by a dog at a home in the 900 block of Spring White Drive in Upper Macungie Township. Before police arrived, several neighbors had intervened to help 32-year old Lisa Green, including an off-duty police officer that ended the attack by shooting the dog in its leg. Neighbor Loretta Ottinger recounts the horrific attack in an interview with WFMZ. She said, the dog "just wouldn't stop."
The video shows Ottinger and the multi-level wooden deck in the back of Green's home. Ottinger describes the hambone effort in more detail. "I had a ham in my refrigerator, I thought, bribe him with the ham so that I can get her," Ottinger explained. "So I'm dialing 911, I throw him the hambone. He doesn't take the hambone. The bone just hits him -- he's so engrossed in attacking her," she said. Ottinger yelled to Green to role over, to protect her head and neck from the dog.
By that point, however, Green was unresponsive. "Her head just leaned to the side. She didn't respond," Ottinger said. Next she tried to force the dog off Green. A neighbor brought Ottinger a 1-by-2 piece of wood. White standing on the middle level of the deck, she tried to jab the dog in the face. "I tried to pierce his eyes … I hit his eye once, but then he grabbed the 1-by-2 in his mouth and it broke," she said. Then my neighbor came with a gun and shot the dog, she said.
Today,
The Morning Call
provided more details from the
off-duty police officer that shot the dog
, Slatington police chief David Rachman. Neighbors stopped him while he was in his truck, he said, yelling that a dog had killed a woman. He went behind the home and saw Green lying motionless on the second-floor deck with her head, neck and face covered in blood. He then retrieved his .380-caliber handgun from his truck. The chief said the dog kept attacking her neck, so he shot it.
"He grabbed her by the neck again and shook her like a rag doll. She was flopping around."

- Slatington police chief David Rachman
Previously, Ottinger said that Green was close with her dog, named Leon, and had owned it for two-and-a-half years. "She was really close with her dog," she said. Rachman, however, said he rarely saw the dog, which is unusual he noted. Two years earlier, Green's dog attacked another neighbor's husky, Rachman said. As to why the dog turned on its owner, Rachman has no idea. "The way he attacked her, that's the way animals kill," he said. "His intention was to kill her."
Multiple Previous Attacks
On Friday,
WFMZ also spoke with Rachman
. Just before firing on the dog, he said the dog actually "started to lick the blood off her face" and head. "Then he nuzzled his nose, flipped her head up, grabbed her by the throat and then thrashed around," Rachman said. That's when Rachman, standing below the victim, shot the dog in the leg. In addition to attacking the husky two years ago, WFMZ learned that a man's grandson was bitten in the face by the same dog several years ago.
---
04/27/17: Dog Attacks, Kills Female Owner
Upper Macungie Township, PA - A woman was fatally mauled by her dog Thursday afternoon in Upper Macungie, according to police chief Edgardo Colon. Police were dispatched at 1:30 pm after a report of a woman being attacked by a dog in her home on Spring White Drive. Responding officers found the dog
attacking the woman on the rear deck
of her home, Colon said. Police officers secured the dog then assisted the woman, who suffered extensive injuries in the attack.
Police contacted state dog warden Orlando Aguirre. The warden arrived with members of the Lehigh County Humane Society to tranquilize the dog, reports
The Morning Call
. Aguirre told police the dog is a 3-year old male pit bull-boxer mix. The dog will be transported to the humane society, where it will be euthanized and "tested to determine what caused the attack." reports
The Call
. It is unknown what form of "test" will be conducted on the animal, behavior or otherwise.
The Call
later interviewed neighbor, Vidya Chellapilla, who witnessed part of the deadly attack. Neighbors first tried to stop the attack by using a piece of wood, which the dog broke with its jaws. Then they called on neighbor David Rachman, who is the Slatington police chief. Rachman rushed over with his gun. He shot the animal several times, striking it in the leg. The victim is described as only being in her 30s. Police have not released her name pending notification of family members.
Neighbor Vidya Chellapilla
A neighbor, she started shouting, 'Help, help!' Immediately another neighbor also started shouting. So then I came -- I am doing my office work -- so, I came here and, we all started seeing from there ...
At that time she had already fallen. We don't know exactly how. Did the dog bite her? We don't know exactly, but she has fallen.


Then we see the dog started biting on her neck, started removing pieces from her neck.

We didn't go there, because the dog looks really wild at that time. We all are seeing from here.
They immediately ran, they called the cop opposite to the house. We have a cop, so I called him. He came immediately. He started shooting. He hit it twice. He shot the dog. Maybe the bullet went to the dog's leg. Immediately the dog is shouting and it sits next to the staircase.
So after that we called 911 immediately.

- Video interview, The Morning Call
Evening Updates
The dog mauling victim has been identified at 32-year old Lisa Green. The person who tried to stop the attack by jabbing the dog with a 2-by-1 has been identified as Loretta Ottinger, Green's next-door neighbor. Another neighbor, off-duty Slatington police chief David Rachman, fired his gun twice, striking the dog at least once ending the attack. Ottinger said Green had owned the dog, named Leon, for about two-and-a-half years. Officials tranquilized the dog at the scene.
In a later update,
The Call
published more details by Ottinger. She hit the dog with a hambone before trying to jab the dog, hoping to drive the dog's attention away from Green. "I thought if Lisa could get free and roll over,
the dog would be off her jugular. But he ignored the ham. He was just picking her up and throwing her down
," Ottinger said. Then she got a piece of wood and shoved it through the deck slats at the dog. The dog made quick work of that by snapping the board in two.
Ottinger also stated that Green's dog was a pit bull, as opposed to a "mix" variety. "It was a pit bull. They're pretty strong dogs," she said. Even after witnessing the horrible attack and seeing Green lying motionless in the bloody aftermath, Ottinger hoped she might survive. But that was not the case after Green's pit bull of two-and-a-half years suddenly attacked and
executed the killing bite
. "I love dogs," Ottinger told
The Call
, "but wow, I just don't know why anyone would get a pit bull."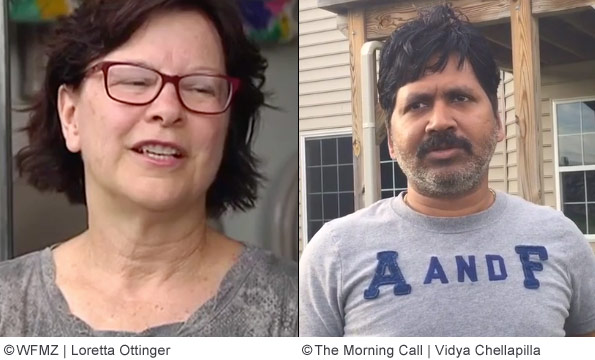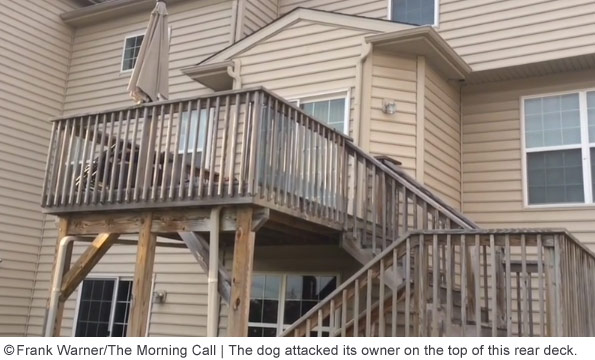 Related articles:
09/01/16:
2016 Dog Bite Fatality: Family Pit Bulls Kill Woman, Injure Son in Conifer, Colorado
05/10/16:
2016 Dog Bite Fatality: Advocate for People with Disabilities Mauled to Death...
04/03/16:
2016 Dog Bite Fatality: Woman Mauled to Death by Her Pit Bull-Mix in Leesburg, Florida
05/05/09:
Alexandra Semyonova: Heritability of Behavior in the Abnormally Aggressive Dog
Labels: 2017 Dog Bite Fatality, Pennsylvania, Pit Bull Kills Owner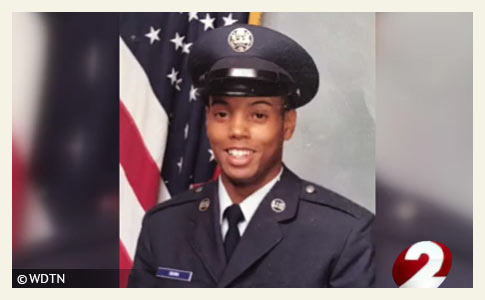 Maurice Brown, 60-years old, was mauled to death by a pit bull in Dayton, Ohio.
No Progress on Investigation
UPDATE 04/26/17:
Dayton police continue to investigate who owned or cared for the pit bull that fatally attacked a 60-year old man Tuesday morning, along with three other pit bulls seized from the home at 345 Middle Street. During a press conference yesterday, Lt. Andrew Booher indicated that police were seeking out tenants of the home to interview. It remains unknown if the tenant(s) or other people associated to the 345 Middle Street home are relatives of the property owners.
Previous Complaints
Police reports show that a dog attack has occurred at the property before. In 2011, a 9-year old girl was bitten by a pit bull-mix and received 50 stitches. She also endured rabies shots. The attack occurred at 345 Middle Street, but the dog's owner lived on West Riverview Avenue. Between 2008 and 2012, a dog owner living at 345 Middle Street was cited multiple times for not licensing his two male pit bulls, according to the Montgomery County Animal Resource Center (ARC).
While police scramble to interview neighbors and track down tenants after the deadly pit bull mauling, we must share with our readers a horrific irony. The estate of Klonda Richey, who was
brutally killed by her neighbor's two dogs in 2014
, is currently
suing the director of ARC
, Mark Kumpf. Richey had complained to ARC about her neighbor's dogs
13 times
before they killed her. ARC personnel
can be seen in this video
, investigating the city's most recent fatal dog attack.
Speculation of Charges
Despite the speculation of possible criminal charges after Brown's death, one need only to recall that after Klonda's death -- who was killed on her own property -- authorities could only charge the dogs' owners, Andrew Nason and Julie Custer, with misdemeanors.
1
This egregious flaw in Ohio state law is why Sen. Bill Beagle continues to introduce the Klonda Richey Act. "If stiffer penalties will scare owners into being more responsible then I think that's great,"
Beagle told Fox 45 News
.
Greta Parks, who lives on Klonda's street and saw the aftermath of the horrific attack, also spoke to Fox 45. "Poor lady's body laid out there on the street for hours," she said. During these very hours, while investigating the fatal mauling, Director Kumpf tells the media, "We've never located them or seen [the dogs]." Simultaneously, Kumpf was busy "correcting" the media, saying the dogs involved were "mastiff-mixes" to deflect early police reports of the dogs being pit bulls.
2
Victim's Family Speaks Out
WDTN spoke with the victim's two siblings
. Maurice Brown was a graduate of Jefferson Township High School who played in the band. Brown is also a United States Air Force Veteran, where he served as a mechanic. David Brown, the victim's brother, said it does not surprise him that Brown was up so early that morning. "That's how we remember him -- artistic. Most of the world is rigid and on a schedule. He was a non-schedule type. He enjoyed the world at its quietest," David said.
Both David and his sister, Angela Brown, hope that some form of justice is served. "This could have been a child walking to school, mauled to death. It could have been anyone, it just happens to be my brother. These dogs are bred, bred for that trait of being vicious and you should be held accountable if you cannot control them," David said. We too hope for justice. However, currently police and ARC do not even know who the dog's owner is and the state law is weak in this area.
Read extensive coverage from the Dayton Daily News, "The body count is getting too high."
---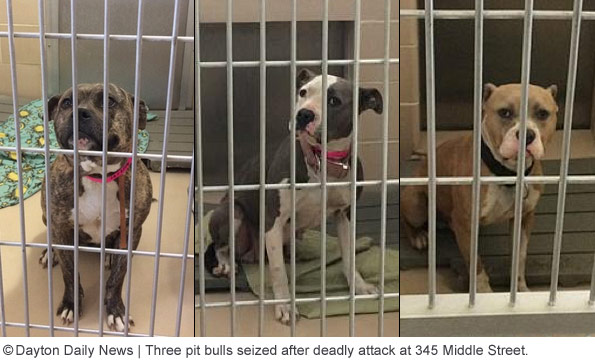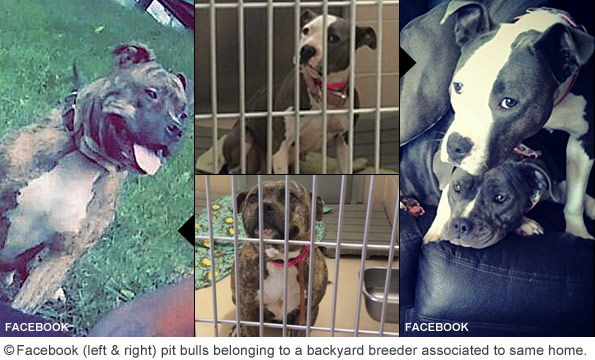 ---
04/25/17: Mauling Victim Identified
The man mauled to death by a pit bull Tuesday in Dayton has been identified. Dayton police say Maurice Brown, 60-years old, was killed by a pit bull early Tuesday morning. Police said the man did not live in the area. Four pit bulls were kept on the property at 345 Middle Street. Police shot and killed the pit bull that was actively attacking Brown. The other three were taken into custody. So far, it is unknown who owns the dogs. The property's owner resides at a nursing home.
"Yet, here we are again, continuing to talk about another fatality from another out-of-control dog and an irresponsible owner."

- Sen. Bill Beagle
WHIO-TV reached out to
state Sen. Bill Beagle
who introduced the Klonda Richey Act in 2014 and 2015 after she was killed by her neighbor's two dogs. The bill increases penalties after serious and fatal dog attacks. Last year,
the bill passed the Senate
in the final days of the session. Beagle vowed to reintroduce the legislation, but not before revisions are made. "We had some folks that wanted to see some changes," Beagle said.
We hope these "folks" are not out-of-state lobbyists.
04/25/17: Pit Bull Kills Man in Dayton
Dayton, OH - Early Tuesday, Dayton police responded to a home in the 300 block of Middle Street after neighbors heard a man
yelling for help and dogs barking
in the background. When officers arrived, they found a man seriously injured after being mauled by a dog. Police described the victim as an "innocent" middle-age male who was walking in the area. Police said the dog is a male pit bull. They shot and killed the dog and removed three other pit bulls from the home.
"Near Riverview Avenue there's a man outside yelling 'Jesus help me. Help me,'" the caller said. "Sounds like he's in pain."

- 911 caller, WHIO-TV
The deadly attack happened at about 5:15 am. Police said the pit bull was able to break its chain and attack a man who was walking in a nearby alley. The victim was transported to Miami Valley Hospital where he was pronounced dead. Initially, police had to search for the dog, described as a tan pit bull. After they hunted it down, they shot and killed it. Currently, police are awaiting a search warrant to enter a house at 345 Middle Street. Police have not released the name of the victim.
Fatal Attacks in Montgomery County
This man's death marks the third fatal dog attack in Dayton since 2014 and the fourth in Montgomery County since 2012. In February 2014, Klonda Richey, 57-years old, was
brutally attacked and killed
by her neighbors two dogs. Richey had reported the dogs to authorities over two dozen times before the attack. Five months later, Johnathan Quarles, Jr., 7-months old, was
killed by his babysitter's pit bull
. The babysitter, Kimiko Hardy, was later convicted of six felonies.
"It's a very unfortunate precedent for this city. And hopefully we can get a handle on that rather quickly."

- Lt. Mark Ponichtera, referring to the Dayton fatalities
Two weeks after the death of Quarles, Jr., a 59-year old woman was fatally attacked by her daughter's pit bull in Butler County, which is adjacent to Montgomery County. At the time of the attack, Cindy Whisman was babysitting her 2-year old grandson when her daughter's pit bull
latched onto her neck, killing her
. Neighbor Wayne Walker, who rushed over help said, "It looked like [the dog] took a chunk of her throat out around the jugular." The child was not injured.
Related articles:
05/05/17:
Montgomery County - Poster Child for Failed "Education Model" in Animal Control
06/09/16:
Criminal Trial: Babysitter Found Guilty After Pit Bull Kills Visiting Baby in Dayton, Ohio
09/11/14:
2014 Dog Bite Fatality: Pit Bull Type Dogs Attack, Strip Naked and Kill Dayton Woman
08/07/14:
2014 Dog Bite Fatality: Ohio Woman, 59, Attacked and Killed by Her Daughter's Pit Bull
09/05/12:
2012 Dog Bite Fatality: Trotwood Senior Citizen Killed by Own Dogs
Labels: 2017 Dog Bite Fatality, Breaks Chain, Montgomery County, Ohio
Province of Quebec is Set to Follow Montreal's Lead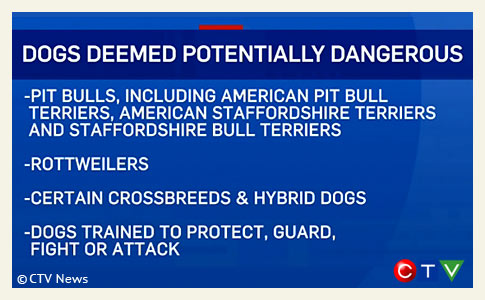 The proposed bylaw, Bill 128, declares several dog breeds potentially dangerous.
A Gradual Pit Bull Ban
Quebec, CA - Last week, Quebec Public Security Minister Martin Coiteux announced that pit bulls will eventually be banned throughout the province. The news comes after months of delays for the province's new dangerous dog legislation that began being discussed after the mauling death of
Christiane Vadnais in Montreal
in early June 2016. Since this time, the city of Montreal has enacted a pit bull ban.
After winning an appeal
, the ban went into effect on December 1, 2016.
"We have experienced a number of tragedies in Quebec due to attacks by specific breeds of dogs, particularly pit bulls."

- Minister Martin Coiteux
The new legislation,
Bill 128
, designates pit bulls (American pit bull terriers, American Staffordshire terriers and Staffordshire bull terriers), rottweilers and their cross-breeds as potentially dangerous. Wolf hybrids and dogs trained to protect, guard or attack are included in the designation as well. Coiteux said the list could change over time. "That list may evolve in the future because the government will be able to use new statistics, new scientific literature, to update this list," he said.
Montreal Mayor Denis Coderre, an
outspoken advocate for public safety
and a powerful force behind Montreal's adoption of a pit bull ban, was delighted to see the province of Quebec follow Montreal's lead, reports CTV News. "I'm very satisfied. There was a pit bull ban to start, but it's about dangerous dogs too, it's not just based on the kind of breed," he said. Due to the highly publicized "breed-specific" parts, Coderre reminded that the bylaw covers all dangerous dogs.
CTV News also interviewed "dog trainer" John Truss of Montreal, who feigned having any idea as to why rottweilers -- the second leading killer in the U.S. -- would be on the list. "Why did they choose rottweilers?" he asked. Several countries, including Spain, include rottweilers on their list of potentially dangerous breeds, along with pit bulls and
fighting breed derivatives
. In the U.S., all major
military divisions ban rottweilers
and 7% of all breed-specific laws
include rottweilers
.
Vadnais family members have been pressing for a province-wide pit bull ban since Christiane's mauling death. Her sister, Lise Vadnais, told CTV News, "I'm very happy to see strong laws being introduced to promote citizen safety. It's a good victory for all citizens. It's satisfying to see the government recognize dangerous dogs." Like in Montreal, and nearly all jurisdictions that regulate pit bulls, existing owners will be grandfathered in, provided they adhere to specific requirements.
Mandatory Injury Reporting
The proposed legislation also requires the reporting of injuries inflicted by dogs by veterinary surgeons. "Veterinary surgeons are required to report the fact to the local municipality concerned without delay and communicate," states the bill, the dog owner's contact information, breed or type of dog, the victim's name, contact information and a description of the injury inflicted. In cases of an injured animal, to report the contact information of its owner and a description of the injuries.
To further increase statistical tracking, the bill also requires physicians to "report the fact to the local municipality concerned without delay, and communicate the seriousness of the injury and, if known, the breed or type of dog that inflicted it," states the bill. Like in the U.S., not all jurisdictions within a state (or a province in the case of Canada) track breed of dog or severity of injuries after dog attacks. This requirement will enable better data collection across the entire province.
Brief Background of Legislation
In July, the Association of Veterinary Doctors of Quebec (OMVQ) sent a report to the ministerial committee tasked with advising government officials about the dangerous dog bylaw. In early August, based on the OMVQ report, the ministerial committee advised officials in Montreal and Quebec to use a "
case-by-case approach
" instead of targeting certain breeds. "Pit bull" and "dog breed" were not even mentioned in the recommendations, reports the
Montreal Gazette.
One week later,
La Presse
published a 5-part investigation
showing how the OMVQ report omitted key parts of peer-reviewed medical studies -- specifically where doctors resolutely state that pit bulls were responsible for the most severe injuries. The OMVQ report also cited studies in their report, giving the impression of "scientific and objective," but were funded by the well-financed American pro-pit bull lobby. The OMVQ report failed to mention this conflict of interest.
"The committee considering the legislation needs to take the veterinarians' report with a huge grain of salt, if not discard it outright."

- Editorial Board, Montreal Gazette, August 15, 2016
After the
La Presse
exposé, which
caused a significant backlash
against the College of Veterinary Surgeons of Quebec who authored the OMVQ report, Montreal became even more embolden and committed to following through with a pit bull ban. It seems clear now that Quebec government officials studying a province-wide dangerous dog bylaw,
namely Coiteux
, were also resistant to the misleading OMVQ report and took the committee's recommendations "with a huge grain of salt."
---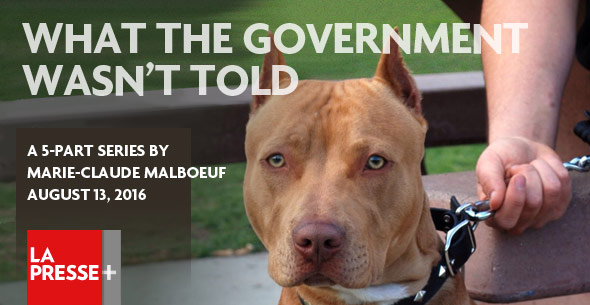 Related articles:
01/01/16:
City of Montreal Wins Appeal; Quebec Court of Appeal Overturns Lower Court's...
10/20/16:
Montreal Pit Bull Ban, What the Vets Omitted and How the Pit Bull Lobby Operates
10/20/16:
Semyonova Analysis of AVMA 'The Role of Breed in Dog Bite Risk and Prevention'
06/19/16:
Cities in Province of Quebec Move to Adopt Breed-Specific Bylaws After Pit Bull...
Labels: Canada, Montreal, Pit Bull Ban, Province of Ontario, Province of Quebec