DogsBite Blog ::
64% Voted in Favor of Keeping the City's Pit Bull Ban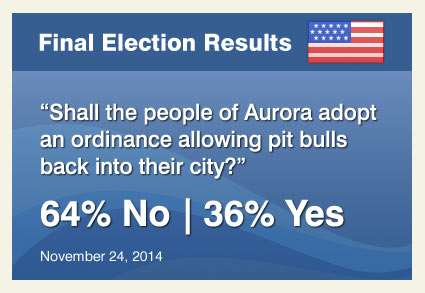 UPDATE: November 24, Final Election Results
Final election results have been posted for all three counties. The final results for Proposition 2D in Adams County shows a 60% to 40% margin in favor of keeping the pit bull ban (total votes 6,744). Arapahoe County, which contains the bulk of the Aurora voters, shows a 65% to 35% margin in favor of keeping the pit bull ban (total votes 92,747). Douglas County, with only a small number of Aurora voters, shows a 72% to 28% margin in favor of keeping the pit bull ban (total votes 275).
Combined, 64% of Aurora citizens voted to keep their pit bull ban. (View: Final Results)
To reiterate once again, the
2012 primary vote in Miami-Dade County
pertaining to their pit bull ban had a very similar margin of victory -- 63% to 37% -- along with a similarly "negative" ballot question. The Miami-Dade ballot question was worse than Aurora's, it read: "Shall the ordinance repealing the County's 23 year old law prohibiting the ownership of pit bulls as a dangerous breed of dogs become effective?"
63% of Miami-Dade citizens voted no
, upholding the pit bull ban.
Local and out-of-state pit bullies did not take the defeat in Aurora too well.
In a recent Aurora Sentinel editorial by Dave Perry
, he remarks that the "war against common sense isn't over by a long shot." The Sentinel continues to get "hounded" by pit bullies. "I'm not talking, call-the-editor-and-give-him-a-piece-of-my mind-verbal-wrestling," Perry writes. "I'm talking about vicious, foaming-at-the-mouth attacks from humans who make their scary dogs look like Hello Kitty."
But what these pit bullies can't seem to grapple with is the fact — not the smudged math, hyperbole or outright lies — that of all of the hundreds of dog breeds living in hundreds of millions of American families, pit bulls are responsible for an overwhelming number of human deaths, despite the fact they are a relatively rare breed of dog. And the one consistent thing that is regularly reported by a pit-bull owner that maims or kills a human or another pet, is that it was totally unexpected. The pit bull that clamped its amazing jaws down on the neck of another dog or a small child and shook it until it was dead, had never done anything like that before.

- Dave Perry, editor of the Aurora Sentinel
UPDATE: November 6, 1:50 pm Mountain Time
Difficulties in counting ballots in Adams County
has left at least two important candidate races uncalled in Colorado. The county still has about 10,000 ballots to count, according to the Aurora Sentinel. It is unclear what portion of the remaining ballots affects Aurora. Current results for Proposition 2D show a 65% to 35% margin in Arapahoe County, 72% to 28% margin in Douglas County and a 62% to 38% margin in Adams County. Combined, 65% of Aurora citizens voted no.
UPDATE: November 5, 10:55 am Mountain Time
More ballot numbers rolled in over the course of the night. The latest results of the combined counties show that 66% voted no and 33.5% voted yes. The Aurora Sentinel tweeted earlier that
Adams County still has 25,000 ballots to count
, but only a portion involve Aurora. The current margin is similar to the Miami-Dade pit bull ban vote in 2012, which had a 63% to 37% margin. That vote, however,
was a county primary in August
, not a general elections vote in November.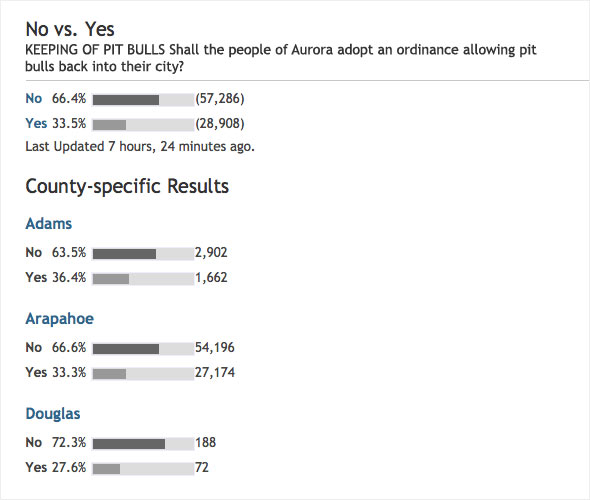 UPDATE: Tuesday, 10:32 pm Mountain Time
The Aurora Sentinel election blog now reports that
, "By a 2-to-1 margin, Aurora voters say they don't want pit bulls to return to the city, based on early returns. With more than 70,000 votes counted across Adams and Arapahoe counties so far, voters have overwhelmingly said no to Aurora ballot question 2D, which would lift the city's 9-year-old ban on the dogs. In Arapahoe County, 68 percent of voters said no. In Adams County, 63 percent voted against lifting the ban."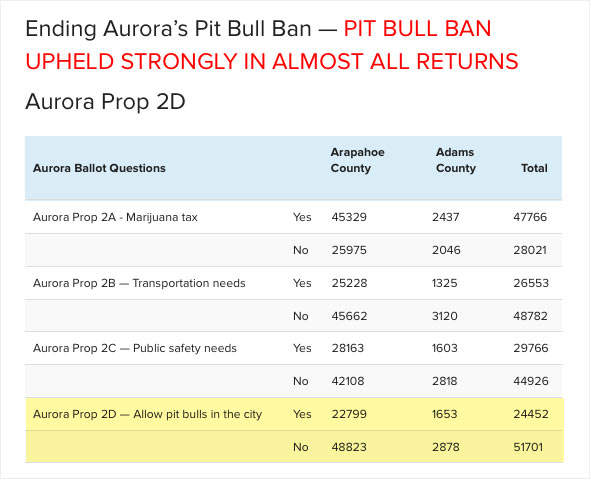 UPDATE: Tuesday, 8:08 pm Mountain Time
First results in from two counties now -- Aurora is part of three counties. So far, Aurora voters are showing OVERWHELMING support of the city's pit bull ban. It is over a 2 to 1 margin. Douglas County is a growing area of Aurora, but still only contains small voting numbers.
The founder of DogsBite.org told Colorado Public Radio on Oct. 28
, "We'd like to see more city councils putting it on the ballot. Our theory is that the majority of Americans don't want to live next door to a pit bull."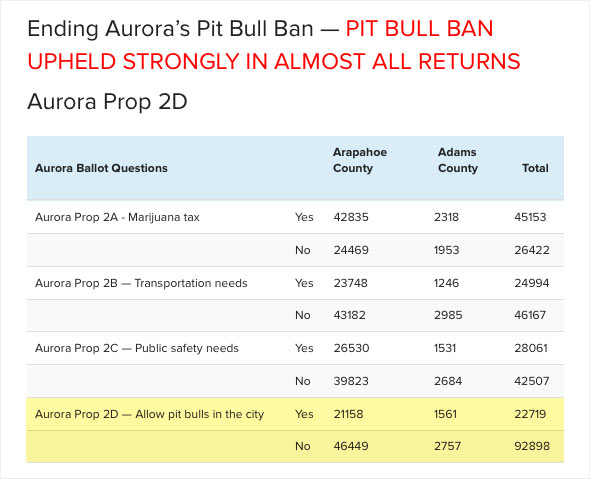 UPDATE: Tuesday, 7:47 pm Mountain Time
First returns are in
-- first returns consist mainly of mail-in ballots. Second returns are expected at about 8:00 pm Mountain Time and will include ballots cast today. First returns for Proposition 2D show that Aurora's 9-year old pit bull ban is so far being upheld by voters by a large margin. The language specifically is:
Shall the people of Aurora adopt an ordinance allowing pit bulls back into their city?
So far into the evening,
46,449 have voted No and 21,158 have voted Yes
.

UPDATE: Tuesday, 5:45 pm Mountain Time
A hot tipper from the Aurora, Colorado area writes into DogsBite.org that CBS News is reporting a whopping 55% turnout in Colorado for the 2014 midterms -- 1.6 million ballots. First returns are expected to be reported shortly after 7:00 pm Mountain Time -- immediately after the polls close -- and will consist mainly of the mail-in ballots. The second report will be around 8:00 pm Mountain Time. This latter report should be the most telling, as it will be updated with ballots cast today.
UPDATE: Tuesday, 2:15 pm Mountain Time
The Arapahoe County Elections website (ArapahoeVotes.com) went offline for over 5 hours today. Arapahoe County is one of three counties that is part of Aurora. Local county officials blamed the Florida vendor that manages the website. The site came back online at about 2:15 pm. In other Aurora news, as of yesterday,
Aurora police have still not located
the alleged "aerial attacking" pit bull that leapt from a second story balcony and
attacked and killed a small shih tzu
last week.
---
Aurora, CO - Welcome to Election Day 2014 readers. Today marks an historic day for our cause as
citizens of Aurora vote on their pit bull ban
. This is the first general election to determine this issue. In 2012, during a primary election, the
citizens of Miami-Dade County voted to keep their pit bull ban by a 63% margin
. Today and after the polls close in Aurora, we will be live tweeting election news for Proposition 2D and following the
Aurora Sentinel election blog
and
Twitter feed
.
Many parts of the country are
watching the Colorado midterm election this year
because this is the first major election since the state shifted to all mail-in ballots in 2013. There are also several key congressional races in the state;
one is Aurora-centered as well
. The City of Aurora is
part of three counties
, Arapahoe County, Adams County and Douglas County, so election results will be compiled from three areas. When the results become available,
they will also be published here
.
Rules and Sample Ballots
The county clerk must receive all ballots by 7:00 pm on November 4. This means received, not postmarked (military and overseas voters have eight more days to get their ballots in). There are also designated ballot drop-off locations in each county. To see a sample ballot for each county -- Proposition 2D is the fourth Aurora initiative -- please click one of the following:
Arapahoe County Sample Ballot
,
Adams County Sample Ballot
and
Douglas County Sample Ballot
.
Past Aurora Sentinel Coverage
The Aurora Sentinel has been covering the city's pit bull ban for a number of years. Most recently they published an
editorial about Proposition 2D
, covered the
October advertising "drama"
instigated by pit bull devotees after
Daxton's Friends
placed an advertisement in "YourHub" and picked up the AP article,
Aurora pit bull vote could spur a national trend
. In May, the PerryBlog responded to the Aurora City Council's
decision to place the measure on the November ballot
.
Colorado Cities with Pit Bull Laws
View
Colorado Breed-Specific Laws
in a larger map
Related articles:
10/14/14:
Aurora Citizens: Do Not Allow Pit Bulls Back into Aurora
09/17/13:
Dramatic Decline in Attacks by Pit Bulls Since Pawtucket Adopted Pit Bull Ban in 2004
08/16/12:
Vote in Miami-Dade County to Repeal Pit Bull Ban Fails by Wide Margin
08/25/09:
The History of the Denver Pit Bull Ban and the Victims that Prompted New Law
Labels: Aurora, Ballot Item, Colorado, Election Results, Facebook, Pit Bull Ban, Twitter
Mother Pleads for Enforcement
UPDATE 11/22/14:
After the tragic mauling death of 8-year old Jayla Rodriguez, Pine Ridge Indian Reservation residents are reeling in grief. Jayla had been sledding near the Crazy Horse housing complex when she was attacked by the dogs. Law enforcement officials still have not located the attacking dogs and continue to investigate the circumstances around the girl's death. One mother, however, is calling on Oglala Sioux Tribe officials to enforce the existing animal control ordinances.
Three years after Ellen Fills Pipe's son was attacked by pit bulls in 2003,
Oglala Sioux Tribal Council passed Braedon's Law
banning pit bulls, rottweilers, doberman pinschers and other vicious dogs from the reservation. The ordinance also allows law enforcement to confiscate and euthanize these dogs. Fills Pipe's son Braedon was 5-years old when he was viciously attacked by the dogs. He underwent 15 facial surgeries and still has nightmares of the attack today.
Fills Pipe is deeply saddened that the little girl's death could have been prevented. "Losing any life is so traumatizing," she said, "and to know it could have been prevented if we enforced Braedon's Law and enforced our animal code period." She said it was especially tragic because her son had been a mentor to the young girl who was killed by the dogs. "He talked about how angry he was that Braedon's Law wasn't being enforced and now his little best friend is gone," Fills Pipe said.
"If all it takes is to sit down and rewrite some laws and make sure they're being enforced ... We need to do it immediately."

- Ellen Fills Pipe
In other painful news
, tribal authorities are being
pounded on by the media
for rounding up non-compliant dogs and putting them down. The tribe is carrying out the tribal law that reads: "Any and all stray unlicensed animals not displaying a current rabies tag that pose a threat to the health and safety of persons residing on the Pine Ridge Reservation will be destroyed immediately." Authorities are being this aggressive because they
have not located
the dogs that killed the child.
The situation is extreme readers, not just because of the death of a child, but an
extreme
lack of resources. Not only is Pine Ridge (Shannon County) in the lowest bracket of income in America, it is the
second poorest place in all of America
, according to Census data (See:
YouTube video of reservation
). Slate published a
short version of Aaron Huey's photo essay
in 2011, whose effort to photograph poverty in America led him to Pine Ridge. The
long version was shown at TEDxDU
.
"The life-expectancy rate for men is between 46 and 48 years old. Roughly the same as Afghanistan and Somalia."

- Aaron Huey
The investigation into the little girl's death is continuing. No one argues that the problem of loose unchecked dogs, in addition to abandoned and feral dogs, on the reservation is out of control. One man who lives in the Pine Ridge housing development said he locked up his dogs when he heard about the round up of stray dogs. Adrian Trueblood said he does not walk down the street without a stick in a nearby neighborhood that is filled with "more and meaner" dogs than his own area.
1
There Are No Easy Answers
It appears that no one witnessed the attack. An earlier report stated that a supervising adult briefly left her alone. When that woman returned, she found the girl suffering fatal injuries from a dog attack. Another report said that authorities
believed the dogs were mixed-breed
, but it was unknown how many dogs were involved. What is true is that they may never find the culprit dogs or their owners. Yet another haunting reality for a people who have already suffered so much.
DogsBite.org grieves for the family and friends of Jayla Rodriguez, grieves for the
Red Cloud school system
and all of its staff and students, grieves for the Oglala Sioux Tribe leaders and local law enforcement officers and grieves for all of the Pine Ridge Indian Reservation community. It is with terrible sadness that we must add Jayla Rodriguez to our website. The difficult problem of owned, abandonded and feral roaming dogs must be solved. Pine Ridge, we pray, can do this.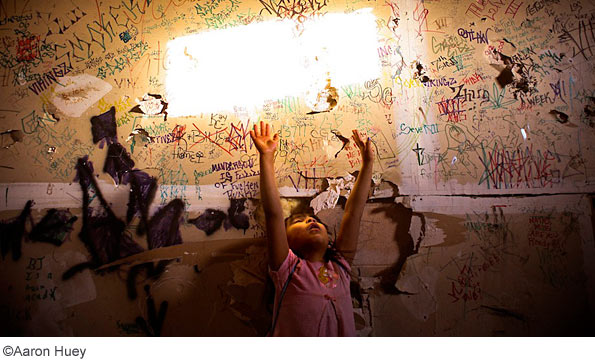 11/19/14: Dogs Kill Child on Reservation
Pine Ridge, SD - On the heels of a
pack of dogs killing a 40-year old woman last week
on the Wind River Indian Reservation in Wyoming, another fatal pack attack occurred on Tuesday evening on the
Pine Ridge Indian Reservation
in South Dakota. Police Chief Ron Duke said the little girl was attacked and killed about 5 pm while she was sledding near the Crazy Horse housing complex. Packs of dogs run uncontrolled in every district of the reservation, according to Duke.
KEVN reports that
police are still trying to locate the pack of dogs
. Acting Police Chief John Mousseau said his department is devoting every available resource to locate the pack so that the animals do not pose any further danger to the community. Mousseau said the FBI and Bureau of Indian Affairs are investigating. The Pine Ridge Indian Reservation is home to the
Oglala Sioux Tribe
and consists of 3.4 million square miles. It is the eighth largest reservation in the US.
The
Pine Ridge Indian Reservation
, like the
Wind River Indian Reservation
, is plagued with crime, violence, poverty, unemployment, dilapidated structures, drug and alcohol abuse and also packs of roaming dogs. As if life were not already brutal and relentless enough for residents on these reservations, they are getting torn to pieces by dogs too. Mousseau summed up the disparaging situation in Pine Ridge back in March and amazingly mustered up a small hint of hope too.
2
It kind of feels like we're not making a dent, like we're just running uphill. But we are still running and trying our best."

- Police Chief John Mousseau
Later in the evening,
the Argus Leader updated their post
. Though police are still not releasing details of the fatal dog attack or the child's name, the article did note that Pine Ridge enacted legislation several years ago that banned several dangerous dog breeds from the reservation. The legislation, named Braeden's Law, was passed after a young boy was mauled by pit bulls. The tribe's new law bans pit bulls, rottweilers and doberman pinschers from the entire reservation.
The tribe passed legislation several years ago called Braeden's Law after a young boy was attacked by pit bulls, Mousseau said. The law banned Rottweilers, Doberman Pinschers and pit bulls completely from the reservation, he said, "and any time we come across a dog like that, law enforcement will take and destroy the dog."

- Argus Leader, November 19, 2014
Witnesses interviewed Tuesday were unsure of the breeds involved in the deadly attack or even how many dogs were involved, according to Mousseau. The little girl was a third grader at Red Cloud Elementary. "It's been definitely difficult," said Chris Ives, interim director of communications for the Red Cloud system. Counselors from multiple school systems and Catholic Social Services all came to Red Cloud Elementary Wednesday to help grieving students and staff, Ives said.
Related articles:
11/17/14:
2014 Dog Bite Fatality: Woman Killed by Pack of Dogs on Wind River Indian...
12/31/12:
2012 Dog Bite Fatality: Pack of Dogs Kills Boy in Cibola County, New Mexico
03/30/11:
2011 Dog Bite Fatality: 55-Year Old Man Killed by Pack of Dogs Near Gallup
03/11/10:
2010 Dog Bite Fatality: Rottweilers at Home One Day Kill Baby on Iowa Tribal Land
08/15/09:
2009 Dog Bite Fatality: Winterhaven Man Killed by Pack of Dogs
07/18/08:
2007 Fatality: Cora Lee Suehead Attacked by Pit Bulls
Photos:
Indian Country Today Media Network
and
Aaron Huey
Labels: 2014 Dog Bite Fatality, Fatal Pack Attack, Indian Reservation, Lakota, Oglala, South Dakota
Personal and Family Protection Dogs with a "Switch"
Dutch Behaviorist Responds
UPDATE 11/19/14:
Dutch animal behaviorist and author,
Alexandra Semyonova
responds to protection dogs with a "switch" after a 7-year old boy was killed by a protection trained rottweiler living at his family's home. She discusses why bringing an attack bred and trained dog into a home and hoping it will be a reliable family pet is a mistake. Enclosed below is Semyonova's short response. Semyonova also provided a long response that discusses many additional details.
Alexandra Semyonova (short response)
Perhaps the most important thing this case should force us to realize is that you can't take an attack bred and trained dog into a home and hope that it will be a reliable family pet. Both the breeding and the training that go into these dogs prohibit this. The dogs are bred in the first place for heightened reactivity, poor impulse control, low bite threshold, and unwillingness to back down in a conflict. The training they're then subjected to amplifies these traits. The dogs are taught to attack on command, but also to make the decision to attack independent of any handler command. In attacking, the dogs are taught to bite with all their jaw strength, to grip and hold on no matter what the target does, and to release only when so commanded by their handler. This doesn't mean that titled dogs can be relied on to release at the first command. Even at level 3 (the highest level), the IPO rules allow the handler to repeat the command three times. Only if the dog ignores the command a third time does the dog fail the trial.
The idea that the dogs will limit their attack behavior to the training field isn't realistic. They are being trained to exhibit this behavior anywhere they're accompanying their handler. If someone buys the dog as a 'personal protection' dog for in the home, the home becomes one of the places where the dog is expected to show the attack behavior – but of course only if a burglar comes in. However, many of the cues these dogs learn as a sign that it's time for an independent, non-commanded attack are human actions the dogs will frequently encounter in the home with welcome guests and family members. Dogs can't read our minds. There's no magical way for the dog to understand who is welcome, who is not, or that the attack chain must never be initiated even if a family member does give one of the cues (for example, a child running at the dog with a stick in the child's raised hand, or one spouse shouting at the other in a marital argument). Unless each and every one of the home's occupants and every guest who is ever invited in is an experienced dog trainer, who also knows exactly what actions will trigger the dog to attack, and who never makes a mistake or has a moment of not paying attention, there will always be the risk that the dog does what it was trained to do.
There is no such thing as a 'switch' that will turn this off. Yes, you can 'switch' your IPO trained dog from tracking to attacking and back again if you know how and have the skills to do so, but you can't flip a switch and turn the training off altogether. The video Vohne Liche so proudly posted of Ozzy behaving normally with strangers demonstrates, in my opinion, that Vohne Liche must know this. First of all there's the very fact that a short episode of normal interaction with a few selected strangers is presented as an achievement to be proud of. This implies to me that Vohne Liche knows there are often problems with these dogs in family and neighborhood situations. Secondly, there's the clear nervousness of Ozzy's handler during this short video, the constant praising of the Rottweiler in a soothing voice, which strongly suggests the handler knew (or at least feared) that this Rottweiler had a not completely predictable or controllable hair trigger.
Dogs that have been bred and trained to attack may have a function in certain contexts. Some of us would question whether it's fair to exploit dogs this way at all, but that is a question for another time and place. What this case makes clear is that clear boundaries should be imposed on commercial traffic in these dogs. A trained protection dog can command a price up to $15,000 or more on the international market. It seems foolish to allow the people who exploit these dogs for commercial reasons to work on expanding their market regardless of whether there is a reasonable or urgent need, and regardless of how much danger that puts families in.
On a final note, the following. The Dutch government's Council on Animal Affairs acknowledges that this trade is becoming a serious problem. On August 15, 2014, it published a policy development paper, advising the government to take measures to prevent both failed and retired police dogs from being transferred into private hands as family pets. How sad that any such policy will now be too late to save the life of an American child who fell victim to this trade.
The Long Response
Semyonova's long response explains many aspects to readers more deeply including, bite threshold and bite inhibition, IPO bite training and protection dogs with a "switch." It also discusses several of the
Alpha Dogs
episodes featuring
Vohne Liche Kennels and their clumsy training techniques
. The long response addresses breeding and the international "protection dog industry" and offers insights into the Dutch rottweiler and Netherlands, Semyonova's native country.
Meanwhile, Platinum K9 Protection and their owners, Jessie and Tiffany Smith, are carrying on with business. The entity's Facebook page touts many new 5-star reviews for "expert" training since their own protection dog killed Tiffany's son, Logan Meyer, four weeks ago. Tiffany later told police, "Ozzy was Logan's favorite dog." The two might instead do well to read what behaviorist Semyonova has to say first. If they do not, then any prospective customers certainly should.
Alexandra Semyonova is an internationally acclaimed animal behaviorist and author. View additional DogsBite.org posts that Semyonova has provided commentary for in the past.
11/01/14: Protection Rottweiler Euthanized
The rottweiler that attacked and killed a 7-year old boy in Dodge County last Friday has been euthanized. Police reports gained by FDLreporter.com through an open records request show that Ozzy attacked Logan Meyer when he took the dog outside to go to the bathroom. The reports indicate that the dog was 3.5-years old, however, the March 2014 video states that the dog was 3.5-years old then, so presumably the rottweiler was 4-years old when it killed Logan last week.
The Reporter points out that although early press releases by the Dodge County Sheriff's Office
stated that the dog had severely "bitten" the boy
, the police report refers to the incident as an "attack." This is an important difference in language.
1
Officers also noted in the report that the boy had severe head and facial injuries. The boy's mother, Tiffany Smith, told investigators that Ozzy had been living with the family for 3-months and that the dog was trained in "personal property."
One can get much more specific than that.
A December 6, 2013 post on the Vohne Liche Kennels Executive and Family Protection
Facebook page -- the branch of Vohne Liche Kennels that Jessie Smith directed -- states: "If you have been searching for a Rottweiler for Personal Protection then your search is over...... Say Hello to Ozzy a three year old IPO2........ Yes thats a 2 and it's not a typo." We presume this means that Ozzy had received the Level 2 Schutzhund title, IPO 2.
2
This video shows an
unrelated
rottweiler
being evaluated on the IPO 2 Protection test
.
3
Additional examples from a variety of dog breeds include:
IPO 2 Protection and Obedience test compilation 2013
(rottweiler),
IPO 2 Champion Protection test 2012
(American bulldog) and
IPO 2 Champion Protection test 2011
(cane corso).
We have provided multiple video examples because some, if not all, of these Schutzhund trial videos may be removed or privatized by their "fearless" owners.
Smith told investigators she was in the kennel building preparing food dishes when Logan took Ozzy outside to go to the bathroom. She said Logan had been in the yard less than five minutes when Ozzy attacked him. Smith does not know what happened before the attack. "Ozzy was Logan's favorite dog and ... there had been no previous incidents or safety concerns regarding Ozzy with Logan or anyone else," Smith told investigators, according to the sheriff's report.
Additional Updates
Vohne Liche Kennels has removed Jessie Smith's profile from their Personnel page on their corporate website. The Vohne Liche Kennels Executive and Family Protection Facebook page continues to stay online with Smith's
contact information in the About section
. There is also a
VLK Executive and Family Protection Facebook page
that appears to be abandoned. Lastly, in 2013, Vohne Liche Kennels
announced the opening of their European kennel
; it is located in Holland.
10/28/14: Watch the Video: Ozzy Meeting People
In the past 24-hours, news reports from Wisconsin media have surfaced stating that Ozzy, the "bite" trained rottweiler that fatally attacked a 7-year old boy, was being trained as a service dog. We have no other choice but to post the video removed by trainer Jessie Smith yesterday from his YouTube channel clearly indicating that Ozzy had done bite work. In other damning news, it appears that Ozzy was technically trained under the hood of megastar Vohne Liche Kennels.
If true, we are no longer talking about Smith's new business, Platinum K9 Protection, we are talking about a major industry leader in police dogs.
In a September 3 Facebook post from
Vohne Liche Kennels Executive and Family Protection
-- the branch of Vohne Liche Kennels that Jessie Smith directed -- it states, "****** are some more photos of Ozzy the beautiful Rottweiler. For those of you that were interested in the videos I posted last week, please take a minute to tell Ozzy goodbye as he has found his forever home and his delivery will be set up over the coming days." The post displays multiple photos of Ozzy.
4
This type of post is exceedingly bad for business, considering what has happened since, which is likely why it was removed from the Vohne Liche Kennels Executive and Family Protection Facebook page. We found it in Google Cache on Monday. Trainer
extraordinaire
Jessie Smith has been on constant "clean up" duty removing damning photographs and videos of Ozzy since his "bite" trained rottweiler suddenly "switched" and attacked Logan's face and neck killing him.
"We received a call from the mother who stated that he was bitten by the dog and when we arrived on scene it was a horrific scene," said Dodge County Sheriff Patricia Ninmann.
--- snip ---
[First responders] arrived on scene and he was in the pen wagging his tail being a nice dog -- allowed us to go up and pet him did not appear to be aggressive at all," said Ninmann.

- Fox 6 Now, October 27, 2014
Service Dog and Sheriff's Chaplain Decoys
We first noticed the "service dog" language from
Fox 6 Now on Monday afternoon
. We had thought it was a misunderstanding. We were wrong. Late Monday, WISN aired their segment
propped up by the Dodge County Sheriff's Office Chaplain
, who specifically stated: "I do know [the dog] was trained to be a service dog. He was not trained to be an attack dog or any of that stuff." The segment added that the dog also had a background in both military and police training.
Sounds a little confusing doesn't it? First off, Ozzy was indeed trained in bite and protection work -- aka attack dog training. The "Ozzy Meeting People" video clearly depicts this. Second, why is the chaplain of the Dodge County Sheriff's Office the spokesperson delivering this confusing message? From the get-go the Dodge County Sheriff's Department has placed a silencer on this fatal dog attack case or as the FDLreporter.com states, has erected "
information roadblocks
."
Protection and Attack Dogs as Service Dogs
Protection trained and bred dogs are poor service dog candidates (See paper by psychologist pertaining to PTSD:
Disaster is not what a trauma victim needs
). While the ADA does not explicitly forbid a person from doing protection training with their service dog, "it also does not protect their choice to do so, and
businesses may legally exclude a protection trained dog
from their premises even if it is also trained as a service dog, as a direct threat," according to Service Dog Central.
What we are talking about is a dog that has been trained by deliberately stimulating his prey drive to elicit aggressive behavior for guard or protection purposes. Some call it "attack training," others refer to it as "protection training." Such a dog is likely to do what it was selected and trained to do when he feels or perceives threat. The experience of threat is innate in all creatures. However, individuals with PTSD have a pervasive heightened arousal and exaggerated perception of threat. They also have problems with anger control and are more likely than others to become engaged in interpersonal conflicts. How will these emotions impact the protection dog? I believe it will increase the likelihood of aggression towards innocent people or other dogs. The use of protection dogs by individuals with PTSD places the general population at risk for harm.


- Disaster is not what a trauma victim needs: Risks and negative consequences of protection dogs for individuals with post traumatic stress disorder by Natalie Sachs-Ericsson, PhD
October Surprise at the Sheriff's Office?
After the Dodge County Sheriff's Department placed a "silencer" on this case, we immediately looked at the most obvious public office to see if there was a cantankerous election race at hand. Indeed there is in Dodge County (You can
read about the nastiness here
). Sitting Dodge County Sheriff Pat Ninmann was appointed by
Governor Scott Walker in 2013
. She lost the primary election by a modest number of votes to Sgt. Dale Schmidt. Ninmann is now a write-in candidate.
The Monday news report by FDLreporter.com
goes deeper into the political ramifications
of a fatal dog mauling in this jurisdiction -- specifically involving a police and military K9 trainer from a celebrity kennel and a "bite" trained dog -- just before the November 4 election. Sheriff Ninmann is vilified for erecting "information roadblocks" to the media in this case, which she is dutifully guilty of doing. But would Schmidt have behaved differently as the sheriff, given the parties involved?
While Sgt. Dale Schmidt would not comment on the dog bite incident, the sheriff-elect said roadblocks with the media will be lifted when he officially takes office in January. Schmidt defeated Ninmann by a margin of 300 votes in the Republican primary election in August. However, Ninmann has launched a write-in campaign for Nov. 4.
"The employees here are aware of (Ninmann's withholding of information)," said Schmidt. "(Former Sheriff Todd Nehls) had a very good relationship in working with the media, and I plan to go back to doing some of the same things he did when he ran the sheriff's office."

- A politician just days before an election
Social Protection Dogs with a Switch
At the end of the day,
social protection dogs with a switch
have their drawbacks don't they? This is why DogsBite.org continues to write about this case. It is misguided to believe that expert training in protection and bite work can produce a "switch" in certain dog breeds from a gentle babysitter of children to the instant attack of a stranger. In the business of "switching" aggression on and off at whim, a rottweiler is a terrible choice. In this area,
breed is an excellent predictor of danger.
10/27/14: Mauling Victim Identified
The 7-year old boy who was mauled to death by a dog Friday has been identified.
Logan Thomas Meyer
was pronounced dead at the scene after a rottweiler owned by his family viciously attacked him, according to Sheriff Patricia Ninmann. Media outlets continue to stay mute about the overwhelmingly important background of the dog's owner. Meet Ozzy, the professionally "bite" trained rottweiler from Holland "
being social and friendly
," seven months before killing the child.
But you can't meet Ozzy can you? Jessie Smith removed this video from his YouTube channel just today. We made a copy last night just in case.
The March 2014 video talks about Ozzy possibly going to a doctor in Arizona that has three small children. This screenshot, however, taken on
October 25 of the Platinum K9 Protection Facebook page
, indicates that Ozzy was going to a military officer. All images of Ozzy were removed from the Platinum K9 Protection Facebook page sometime after the night of October 25. It was the only rottweiler in the group's photo album. Currently, Ozzy is
apparently
still being held in quarantine.
Video Transcript Excerpts: "Ozzy Meeting People
"
Handler:
Going inside the building to meet some people. Good boy. Good boy Oz.
[Approaches one man sitting at a desk, the man starts to pet him.]
Handler:
Good boy. Good boy.
Handler:
Come on, let's go meet some more people.
[Approaches different man who kneels down, the man starts to pet him.]
Man:
How old?
Handler:
He is 3-and-a-half. Here Oz!
Handler:
Sit!
Man:
Where are you from?
[Asks the man looking at the dog]
Handler:
He's from Holland.
Man: Nice and heavy on the bite?
Handler: Yeah, he bites really nice ...
[can't decipher language]
5
... Making a little short video of how social he is and just real friendly. There is a doctor in Arizona looking at him and he's got three small kids. He wants to make sure he is going to be a good fit for his family...
10/26/14: Trainer at Celebrity Kennel
In the wake of uncovering Platinum K9 Protection as the new owner of Country Kennels Bed & Biscuit business Saturday night, more bad news follows. To start, the motto of Platinum K9 Protection is, "Social Protection Dogs with a Switch." Go ahead and consider how unrealistic this goal is? According to the public Facebook pages of the owners of Platinum K9 Protection, the family arrived in Wisconsin with five dogs, presumably four malinois' and one rottweiler.
Jessie Smith, the owner and trainer of Platinum K9 Protection, was formerly the
Director of Executive and Family Protection
at Vohne Liche Kennels. The kennel gained national attention in 2013 for starring in
Alpha Dogs, a National Geographic Wild
television series (See: related
March, 2013 USA Today article
). Five months after the USA Today article, Vohne Liche Kennels was not featured so prominently in the news after
10 dogs died while being transported to El Paso
.
Ten dogs arrived in El Paso already dead, according to Maj. Joe Buccino, a Fort Bliss spokesman. The Canine Center is on post.
Vohne Liche owner, Ken Licklider said the air conditioner in the vehicle carrying the dogs malfunctioned. He said the kennel driver is supposed to check on the dogs during the 22-hour drive.

- December 2013, KVIA.com
Though not reported by KVIA until December, Jessie Smith
posted a video to YouTube on August 23, 2013
, which depicts Vohne Liche owner, Ken Licklider, commenting on the "horrible event in Texas." Licklider said that the dogs did not die on the road; they died at the hotel early in the morning. There were seven surviving dogs. "We are sickened over what happened, please understand," Licklider states. Both trainers that made the bad judgment call were fired.
Alpha Dogs
was
canceled at the end of its 2013 season
, according to the Futon Critic website.
10/25/14: Critical New Information
It was confirmed Saturday evening (in the video only) that the fatal dog attack occurred at Country Kennels Bed & Biscuit, a dog boarding facility, which is actually located in Iron Ridge. Neither family nor friends would speak to CBS 58 on camera. They did learn, however, that the family had just moved into the property with a kennel facility only a week or two ago. The family bought the home and kennel with plans of running the same type of business, according to neighbors.
Dodge County Sheriff's deputies still will not confirm the name of the deceased child or
whether it was a family dog
or
name the breed of dog
involved in the attack that killed a 7-year old boy. Lieutenant Brian Loos did say, "It was not just some dog that was running loose, I can confirm that, but I cannot confirm whether or not it was the family's dog." Dodge County Sheriff's investigators do not anticipate filing criminal charges. That is as far as the CBS 58 report went Saturday night.
Our own subsequent investigation showed that the arriving family renamed the business to, "Platinum K9 Protection, LLC."
State of Wisconsin business filings
and a Facebook page
chock full of images from Platinum K9 Protection
, showing the
same property address
and kennel facility as
Country Kennels Bed & Biscuit
, was uncovered Saturday night by DogsBite.org and our vital researchers. The Facebook page shows
the logo of the entity
-- note the parents and child in the logo -- along with two K9 protection dogs, a
malinois
and
rottweiler
, the latter described as "all muscle" by one commenter.
6
Seems pretty clear now why the Dodge County Sheriff's Department has been so tight lipped.
7
10/24/14: Child Mauled to Death by Dog
Hustisford, WI - In a developing story, a 7-year old child was attacked and killed by a dog Friday evening. The Dodge County Sheriff's Office said the attack occurred in the Town of Hustisford. Sheriff's deputies responded to a 911 call at about 5:20 pm reporting the boy was bleeding profusely. "Numerous first-responding agencies responded," Dodge County Sheriff's Office Lt. Brian Loos said. Despite the many emergency responders, they were unable to save the boy's life.
"Paramedics were trying for several hours to save the boy."

- WISN.com
Loos said the dog was known to the family, but would not confirm if it was a family pet or the dog's breed. Few other details are being released at this time. The animal was seized and transported to the local humane society to be placed into quarantine. Loos said the boy's death is devastating to the emergency responders who worked so hard to save his life. "Children are always the worst ones for our first responders to deal with. It's very difficult for them to deal with this," he said.
8
Responding agencies included: Dodge County Sheriff's Dept. and chaplain, Dodge County Medical Examiner, Neosho/Rubicon/Ashippun Police Depts., Hustisford Fire and First Responders, Hartford EMS, Lebanon EMS, Iron Ridge Fire Dept. and Woodland Fire Dept.
2010 Dog Bite Fatality
In 2010,
4-year old Taylor Becker
of Hustisford (
population 1,380
) was mauled to death by a dog while visiting family friends in Hubbard Township (
population 1,640
), also located in Dodge County. The two towns are about 7-miles apart. The little girl's parents had been visiting the home of Steven and Stefanie Beauprey when the lethal attack occurred. The 5-year old dog had only been with the Beaupreys for 3 to 4 months before killing Taylor. The Beaupreys were
breeding
the dog.
Related articles:
05/04/14:
Fatal Rottweiler Attacks - The Archival Record
07/26/13:
Beyond the Interview: Essay of a Fatal Pit Bull Mauling
12/05/12:
2012 Dog Bite Fatality: Yadkin County Infant Mauled to Death by Family Dog
02/11/12:
2012 Dog Bite Fatality: 'Visiting' Child Killed by PTSD Service Dog in Kentucky
08/27/10:
2010 Dog Bite Fatality: Dog Kills Visiting 4-Year Old Girl in Dodge County
Labels: 2014 Dog Bite Fatality, ADA, Fatal Rottweiler Attack, IPO Trained, Protection Dog, PTSD, Service Animal, Switch, Wisconsin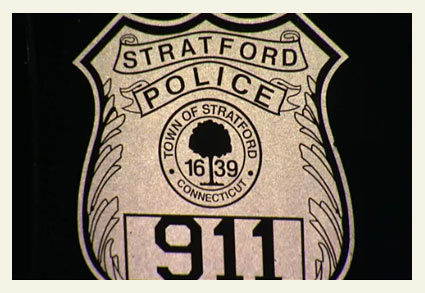 Victim Seldom Seen
UPDATE 11/19/14:
According to the most recent CTPost.com news report, neighbors rarely saw Stella Antanaitis or her dog outside of her home. "I've been here 27 years, and I never saw her walk that dog," said Olga Figel, who lives two houses away. "I never saw anybody walk that dog," she said. Also, notably, "reports in the Stratford Star that the woman tried to intervene during a fight between her dog and her cat could not be confirmed by police Tuesday," states the article.
Two purebred keeshond breeders are interviewed in the news report. One of them, Heather Myers of Killingworth, was shocked to learn the dog turned on its owner of 8-years. Myers also wondered whether it was a rescue dog or whether it is a
true Keeshound
. "A lot of times our dogs get confused with elkhounds, Siberian huskies and chows," she explained. Myers will likely be speechless to see a
photo of the dog taken by News 12 Connecticut
at Stratford Animal Control.
1
11/18/14: Elderly Woman Killed By Dog
Stamford, CT - Late last night it was reported that a 91-year woman, who was attacked by her own dog on Friday, was fighting for her life.
Stella Antanaitis of Stratford was taken to Bridgeport Hospital
after her dog of 8-years, a black-and-white keeshond-mix, viciously attacked her, inflicting horrific bite injuries on her arms. Police described the scene as very violent.
2
NBC Connecticut and others are now reporting that the woman has died, according to Bridgeport Hospital officials.
The attacked occurred in the victim's kitchen, according to police. Her daughter said her mother had owned the dog since it was a puppy and never had any problems with it. Her daughter feared she was dying while in critical condition and dealing with skin grafts and kidney failure. Neighbors were shocked by the attack. "To think a dog could just turn on you and attack you like that," said Amy Garrison, of Stratford. "I really have no idea, because you think you know your own dog."
"Both arms, badly mutilated, that is crazy. It seems unreal to happen around here."

- Amy Garrison
The Stratford Star provided several more details
. Stratford Police Capt. Paul DosSantos said that when Antanaitis intervened in a fight between her keeshond-mix and her cat, the dog starting attacking her. Emergency personnel arrived to a 91-year old woman with severe injuries to her upper extremities. She was transported to Bridgeport Hospital. The dog is currently impounded at Stratford Animal Control. It will be tested for rabies and likely euthanized, according to DosSantos.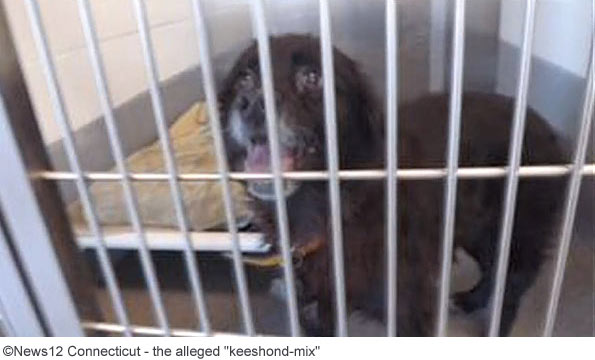 Related articles:
06/03/14:
2014 Dog Bite Fatality: Connecticut Woman, 93, Dies after Vicious Attack...
Photo:
NBC Connecticut
Labels: 2014 Dog Bite Fatality, Connecticut, Senior Citizen
Coroner Confirms Death
Riverton, WY - Fremont County Chief Deputy Coroner, Mark Stratmoen confirmed in a statement Monday that a 40-year-old woman was killed by a pack of dogs last week. Preliminary autopsy results show that Deanne Lynn Coando died of hypothermia and loss of blood from serious injuries she suffered last Wednesday when multiple dogs attacked her on the
Wind River Indian Reservation
, according to Stratmoen. Coando was a member of the Eastern Shoshone Tribe.
Sadly, it appears there may be similar issues in this case as in the
death of 8-year old Tomas Henio in December 2012
. The young boy was mauled to death by a pack dogs known to him in Cibola County, New Mexico. The attack occurred on the Ramah Navajo Indian Reservation. The attack brought to light the confusion amongst
feral
dogs,
stray
dogs,
wild
dogs and un-collared and unchecked roaming dogs. The boy's great-uncle had been caring for the dogs that killed Tomas.
Background of Fatal Dog Attack
The discovery of the victim's body was first reported on Thursday
, after the Fremont County Coroner issued a public health and safety alert. At that time, authorities believed an animal attacked the victim. Fremont County Chief Deputy Coroner, Mark Stratmoen, said the injuries are consistent with a predatory animal or a feral domestic animal such as a dog. "The injuries are severe enough that they are either contributory or causatory of the death," Stratmoen stated.
"If the public sees any suspicious animals of any types or groups of animals or aggressive behavior of the part of animals, then they need to notify law enforcement."

- Chief Deputy Coroner, Mark Stratmoen
The attack occurred amongst residential areas and a school, Stratmoen said. It was our duty to inform the public, he said. Multiple agencies investigated the attack including, Fremont County Coroner's Office, Bureau of Indian Affairs and Tribal Agencies, Wind River Police Department and the FBI. The 2.3 million acre reservation is home to nearly
4,000 members of the Eastern Shoshone Tribe and 8,600 members of the Northern Arapahoe
, according to this Reuter's article.
The Ranger,
Fremont County's daily newspaper, added more details.
Although several dogs were observed in the area where the woman was found
, Stratmoen said the dogs were not necessarily the aggressors in the attack. "Like with any other animal investigation, you have your initial event and then you may have other animals coming by later (who) are opportunists," Stratmoen said. The autopsy examination, scheduled for Friday, would answer these types of questions, he said.
The woman was discovered on Wednesday at about 3:30 pm. She was unconscious with a light pulse when ambulance personnel arrived.
The Ranger
, listening to scanner traffic, heard crews discussing the victim's footwear. An early report indicated that she may have only been wearing a shoe and sock. A brown-and-black dog on the scene apparently had blood on it -- it is unknown if it was seized. Also, four dogs in a pack ran toward arriving law enforcement vehicles at the scene.
Emergency personnel said they had to stay at the scene after the woman was transported, because they had found footprints in the snow. A brown-and-black dog on scene apparently had blood on it, but emergency personnel said they were not sure whether the blood was from the incident or if the dog had come into contact with the woman after the attack.
--snip--
Witnesses Wednesday afternoon saw Bureau of Indian Affairs vehicles at the scene and heard barking coming from the home at 888 Rendezvous Road. A black car was in the area farther away from the home. About four dogs in a pack ran toward two more law enforcement vehicles that arrived at the scene.

- The Ranger, November 13
Related articles:
12/31/12:
2012 Dog Bite Fatality: Pack of Dogs Kills Boy in Cibola County, New Mexico
03/30/11:
2011 Dog Bite Fatality: 55-Year Old Man Killed by Pack of Dogs Near Gallup
03/11/10:
2010 Dog Bite Fatality: Rottweilers at Home One Day Kill Baby on Iowa Tribal Land
08/15/09:
2009 Dog Bite Fatality: Winterhaven Man Killed by Pack of Dogs
07/18/08:
2007 Fatality: Cora Lee Suehead Attacked by Pit Bulls
Labels: 2014 Dog Bite Fatality, Fatal Pack Attack, Indian Reservation, Wyoming
A Powerful Story of Humanity and Survival
Surviving a Dog Attack
Houston, TX - On the last day of Canine Victims Awareness Week 2014, we share the story of a mother of two children who was brutally attacked by two pit bulls while jogging and rescued by a 63-year old man she did not know. Earlier this year, the two appeared on
The Doctors
TV show and shared their stories of survival and the magic and boldness of human triumph when faced with unbearable odds. These two courageous individuals from Texas will forever be in our hearts.
The Horrific Dog Attack
On March 5, 2014, 35-year old
Monica Garza was viciously attacked by two loose pit bulls
while jogging on the South Belt hike and bike trail in Southeast Houston. A retired couple heard an alarming sound behind their home. Sharon Jordan asked her husband to take a look and what he saw was horrific: Two pit bulls were clamped onto the jogger and playing tug-of-war with her body. Charles Jordan, 63-years old, ran to her aid and jumped on top of her covering her body.
The dogs did not want me. The dogs were fixated on her.

- Charles Jordan
Two months later,
Monica Garza shared her story of survival with KHOU
in an emotional interview. "I think about my children," she said. "I don't want God to take me at this time, my children are young. She said the dogs, "ruined my life for a little while, but they are not going to ruin it forever." Monica spent 37 days in the hospital after the vicious attack. She had 350 staples and 54 lacerations and bite marks covering her body. By June she had undergone two skin grafts as well.
The Doctors TV Show
In September,
The Doctors
aired the story of Monica and Charles. The episode involves a re-enactment of that day, both recounting the terrifying attack, and the life saving actions of Charles. After the pit bulls finally ceased their relentless attack, Charles held her close and said, "Nothing bad else is going to happen to you today. I am going to make sure that you are okay from here on out." We hope that Charles is
awarded a Carnegie Medal
for his extraordinary heroic act.
"I consider Monica my hero. She is the most courageous person I have ever seen. She never quit fighting. She never gave up. We met, strangers. In one special moment in your life, you put your arm around somebody, and they lean on you. They touch your heart. And that moment is going to stay with me for the rest of my life."

- Charles Jordan
Both cried while watching the re-enactment. Monica said she continues to have a lot of anxiety around dogs, especially the larger and aggressive types. She shows the doctors how her right leg is healing. The doctor explains her injury to the audience and future surgical procedures. When asked about his selfless act, Charles said, "There was really no thought process to it, no fear to it. When you see a woman in distress, you have to stop it." The audience roared with applause.
After the Violent Attack
Three weeks after the vicious attack
, Monica's father, Jeff Mack, stood before Houston City Council nearly in tears. The police veteran shared the story of his daughter, and how her daily jog turned into a nightmare of horrific injuries inflicted by two loose pit bulls. At that time, Monica was still hospitalized. Mack was shell-shocked that the owner of one of the pit bulls was merely issued a class-C ticket. (Readers recall Harris County and their
shabby history of felony charges
?)
1
"It's pit bulls. It's all you hear about. They were originally bred to be very aggressive. And yet I would say the dogs are responsible, and the owners are responsible. This is unreasonable that we cannot get some criminal charges filed in this case."

- Jeff Mack
Mack is a retired Houston Police Department officer with 25-years of service. He has written to legislators and hopes to change the felony dog attack law in Texas -- which
currently has One Bite codified into it
(prior knowledge of vicious propensity) -- so that criminal charges can more easily be brought. Mack will file civil charges, which are also governed by the
One Bite rule in Texas
, but at least in civil court, they won't face the high standard of "proof beyond a reasonable doubt."
Suggested hashtags:
#WontBackDown
#CanineVictimsAwarenessWeek
#VoicesoftheVictims
---

Texas Dog Bite Victims' Advocacy
-
Join our Texas email list to stay informed
Related articles:
07/01/14:
2014 Dog Bite Fatality: Woman Dies After Pit Bull Attack in Southeast Houston
04/25/14:
2014 Dog Bite Fatality: San Antonio Woman, 83, Dies After Pit Bull Attack
04/15/14:
2014 Dog Bite Fatality: Comal County Woman, 75, Dies After Pit Bull Attack
04/15/14:
2014 Dog Bite Fatality: Pit Bulls Suspected in Death of Elderly Kaufman Woman
04/06/14:
2014 Dog Bite Fatality: Bullmastiff Kills Child, Seriously Injures Another in Killeen, Texas
02/19/14:
2014 Dog Bite Fatality: Texas Toddler Killed by Pit Bull Being 'Watched' by Her Family
08/29/13:
East Texas Woman Severely Mauled by Pit Bull at 'Dog Friendly' Private RV Park
03/12/13:
Report: Texas Dog Bite Fatalities, January 1, 2005 to February 17, 2013
11/22/11:
Hero Stories: Honoring Those Who Risked Their Lives to Stop a Pit Bull Mauling
05/01/11:
Texas Doctors Produce Study: Mortality, Mauling and Maiming by Vicious Dogs
Labels: AVOCA, Canine Victims Awareness Week, Fixthesystem, Hero Stories, Pit Bull Attack Survivor, PitBullAwareness, Texas, Video, WontBackDown
Letter Released During Canine Victims Awareness Week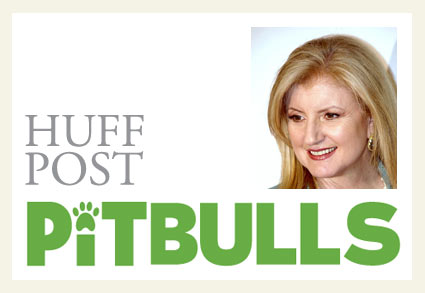 Open Letter to HuffPost
East Troy, WI - Today a national ad hoc coalition,
Awareness for Victims of Canine Attack (AVOCA)
, releases an open letter to
Arianna Huffington
, the chair, president and editor-in-chief of the Huffington Post Media Group, which includes
The Huffington Post
. The letter urges Ms. Huffington to reconsider her publication's stance on the promotion of pit bulls as family pets and comes in response to
The Huffington Post's
"
Pit Bull Week
" that was featured at the end of July.
AVOCA releases the open letter to Arianna Huffington -- signed by over one hundred parents, survivors of vicious dog attacks and victims' advocates -- during the first-ever Canine Victims Awareness Week. On Monday, the same group released its first in a series of
Public Service Announcements titled, "Won't Back Down
," that features dozens of photos of family members, dog attack survivors and safety advocates holding up signs with the hashtag #WontBackDown.
The open letter to Arianna Huffington outlines the emotional and physical devastation experienced by canine attack victims, as well as the overwhelming financial cost of medical treatment, according to the group's press release. Thus, "as a support and advocacy network of victims' of dangerous dogs," states the release, AVOCA "cautions
The Huffington Post
that encouraging the proliferation of fighting breeds as family pets is ill-advised and even potentially deadly."
The open letter, "An Open Letter to Arianna Huffington Regarding the Promotion of Pit Bulls" is located on the Daxton's Friends website at the following URL:
www.daxtonsfriends.com/open-letter-huffpo
. We encourage all DogsBite.org followers to read it in full. DogsBite.org (Texas),
Daxton's Friends for Canine Education and Awareness
(Wisconsin) and
Citizens for Canine Attack Prevention
(Illinois) are all participating in Canine Victims Awareness Week with AVOCA.
Read full new release:
Victims of Canine Attack Issue Open Letter to Arianna Huffington
Portions of the Open Letter
DogsBite.org has selected a portion of the open letter to show readers just how reckless
The Huffington Post's
, "pit bull advocacy" has become. The
HuffPost
has been on our radar for a number of years, beginning in 2009 when we responded to a pro-pit bull piece by Carrie Pollare (See:
I'm Tired of "Pit Bulls Before People"
). In 2010, we began calling the publication, "PuffPo" after editors
removed a male, unaltered, chained pit bull
from their 9 Most Dangerous Pet list.
We never would have imagined, however, that by July of 2014,
HuffPost
would have a dedicated "
HuffPost Pit Bulls
" section of their website, promoted a special "Pit Bull Week," specifically designed to rebrand pit bulls as safe family pets, and finally, strongly promoting a
children's book about pit bulls
that author Douglas Anthony Cooper states, "no conventional publishing house will go near [the book]." We were told:
"You might as well write a children's book about meth."
The Huffington Post has become a premier outlet for the rebranding of pit bulls. On "Pit Bull Awareness Day" last year (October 2013), your publication posted, "Your Kids and Pit Bulls Love Each Other." Readers were invited to submit photos of their children hugging and kissing their pit bulls. Over a hundred photos appeared in the slideshow, but one in particular caught our eye -- that of poor little Nephi Selu who'd been mauled to death by his "best friend", a pit bull named Kava. In the photo, sweetly smiling Nephi hugs Kava around the neck. We were horrified to see that photo in the slideshow and alerted your publication to this grievous error. Your photo editors quietly removed the picture, offering no apology. Such a misstep, however, did not deter HuffPost's pit bull promotion team from boosting their efforts. With the creation of "Pit Bull Week," the editorial team ramped up the propagandizing even further, devoting an entire new section of your website ("HuffPost Pit Bulls") to the pushing of this "misunderstood and maligned" breed that kills more people than all other dog breeds combined.
-- snip --
So very seductive is this false concept that pit bulls and children belong together that novelist and HuffPost blogger Douglas Anthony Cooper felt compelled to write a children's book (and accompanying essay for parents) called Galunker, which is due for release later this year, about the eponymous "misunderstood but lovable" pit bull. The Huffington Post serialized the storybook in May of this year in a post entitled "Children Need Pit Bulls: A Picture Book" which, no doubt, helped Mr. Cooper's Kickstarter campaign to quickly earn $62,000 (over double its original target). In an opinion piece for Animals 24-7, National Post columnist Barbara Kay reviewed HuffPost's advance copy of Galunker and concluded, "To imply that a real-life Galunker would be 'about as dangerous as a marshmallow' is a stunningly -- one might reasonably say a dangerously -- misleading statement."
Download full letter:
Open Letter to Arianna Huffington Regarding the Promotion of Pit Bulls
Suggested hashtags:
#WontBackDown
#CanineVictimsAwarenessWeek
#VoicesoftheVictims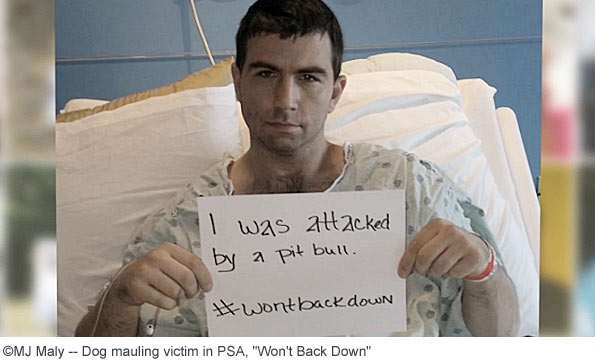 Related articles:
11/10/14:
Canine Attack Victims' Group Releases PSA: "Won't Back Down" - AVOCA
07/24/14:
Nonprofits Urge CDC to Resume Tracking Richer Data Set for Children and Adults...
06/20/13:
2013 Dog Bite Fatality: Union City Boy, 6, Killed by Uncle's Pet Pit Bull
03/07/10:
Pit Bulls Make "Most Dangerous Pet" List at The Huffington Post
06/29/09:
I'm Tired of 'Pit Bulls Before People,' A Response to Carrie Pollare
Photo:
Arianna Huffington
by David Shankbone /
CC BY 3.0
Labels: AVOCA, Barbara Kay, Canine Victims Awareness Week, Huffington Post, Letters by Activists, Pit Bull Propaganda, WontBackDown
Family Pit Bull Suddenly Kills Innocent Child
Please click an image to play the video. From left: Roxanne Hartrich and Angela Rutledge.
DogsBite.org - On the fourth day of Canine Victims Awareness Week, we have selected two powerful videos of mothers who have lost a child in a sudden, vicious family dog attack. Roxanne Hartrich of Bloomington, Illinois lost her 4-year old daughter after the family's two pit bulls brutally attacked her in January. Angela Rutledge of Fulton County, Georgia lost her 2-year old son after her family pit bull of 8-years, Kissy Face, suddenly attacked and killed him at their home last year.
Each of the videos touches upon the unexpected nature of the attack and the
tremendous violence
of it. Both fatal attacks involved well-raised and cared for family pit bulls -- raised from puppyhood -- that had previously played with the child countless times. Both mothers have shared their painful stories to prevent this from happening to another family and to offer a warning to other parents about the
dangerousness of pit bulls
. "Had I known then what I know now," Roxanne reflected.
Roxanne Hartrich - Bloomington, Illinois (2014)
The raw, emotional account of Roxanne
will pain the hearts of viewers. She begins by saying that the day of the horrific attack was her
daughter Kara's 4th birthday
. The family owned three pit bulls, two males and one female. At the time of the attack, Kara and her younger sister were at the family home being watched by Roxanne's mother. After Kara put a toy away, she came into the room with her grandmother and sister and said, "Brody knocked me into the wall. Brody hurt me."
Roxanne said that her mother picked up Kara and said, "I'm sure Brody didn't mean it Kara ... are you okay?" Roxanne said she had barely gotten that out when "Brody came flying from the playroom, and jumped into the air, and attacked my mom and my daughter. He attacked her out of my mom's arms," Roxanne said. Despite her mother's efforts, Brody continued to attack. "He initially went straight for the jugular. He also bit her face, her head, everywhere," she explained.
I got out of my car. I was met by my husband, my mom and police officers and the firemen. They said you need to go to BroMenn. Go to BroMenn now ... And the doctor came in and he said, "Your daughter is gone. There is nothing we can do for you, for her." And he said, "Prepare yourself, the damage is going to be excruciatingly painful to see." We have three dogs ... Brutus was two, Brody was one, Bella was in her crate ... In retrospect, if I could turn back the clock, had I known then what I know now, you are absolutely correct, we should not have had them around our kids. My little girl is gone because we were, in essence, ignorant ... The ones that are attacking are the family dogs...

- Roxanne Hartrich
Angela Rutledge - Fulton County, Georgia (2013)
Another raw, emotional account features
Angela Rutledge speaking with State Rep. Keisha Waites
. In April 2013, Angela's 2-year old son Beau was savagely killed by his family's pit bull at their home. Neighbors who
saw the attack scene said it was "like a horror movie."
The family had owned the female pit bull, named Kissy Face, for 8-years without any aggression issues. That suddenly changed that day in April, when Angela left her son momentarily to go to the bathroom.
She begins by telling Rep. Waites how stealth and fast the vicious attack happened, and how she did not hear any noises. "When I came downstairs, it wasn't because I heard anything," Angela said. "It wasn't because I heard a scream or any banging. I don't even to this moment understand how I did not hear anything. There was no music playing in my house. It was so quick," she said. "I walked down those stairs not expecting anything other than to cook lunch for my son," she said.
My son had puncture wounds in his neck. Gashes in his head. And he laid there, and I screamed so loud ... I ran upstairs to go get my cell phone so I could call 911. I couldn't even call 911 because I kept slipping in the blood, and I kept dropping my phone ... The reason why I am supporting this legislation is to undo the lie ... There's a horrible rumor out there saying that nature will submit to nurture. It's almost like if you were to get a lion as a cub -- They are very innocent and very sweet, but there comes a point ... They are ticking time bombs. You cannot reach into their minds to know what is going to click on that detonator and set them off ... I believed that if you loved these dogs...

- Angela Rutledge
Many more videos of victims sharing their histories are located on the
Victim Videos page
.
Suggested hashtags:
#WontBackDown
#CanineVictimsAwarenessWeek
#VoicesoftheVictims
Related articles:
11/10/14:
Canine Attack Victims' Group Releases PSA: "Won't Back Down" - AVOCA
07/24/14:
Nonprofits Urge CDC to Resume Tracking Richer Data Set for Children and Adults...
04/29/14:
2014 Dog Bite Fatality: 4-Year Old Girl Killed by Family Pit Bulls in Bloomington
12/12/13:
Video: Mother of Fatal Pit Bull Attack Victim Shares Story with State Representative
05/23/13:
2013 Dog Bite Fatality: Fulton County Infant Killed by Family Pit Bull
Labels: Activist, AVOCA, Canine Victims Awareness Week, Fatal Pit Bull Attack, Fixthesystem, Georgia, Illinois, PitBullAwareness, Video, WontBackDown