DogsBite Blog ::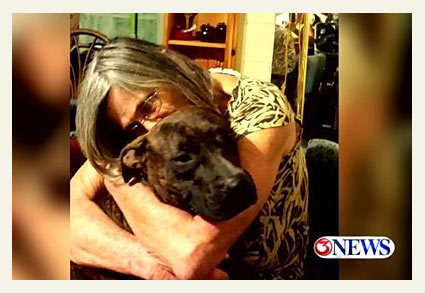 Medical Examiner Report
Corpus Christi, TX - A 64-year old woman was
discovered dead in her home Monday
night after being attacked by dogs she was fostering. The Nueces County Medical Examiner determined that Rita Woodard, also known as Rita Ross, died from a heart attack after multiple dog bites. Authorities believe five of the 17 dogs she had been fostering inflicted the attack. The same five also nearly killed another one her dogs during the attack; it was put down due to severe injuries.
The Medical Examiner released a report Tuesday evening stating that Woodard had died from coronary artery atherosclerosis after suffering multiple dog bites. According to Corpus Christi Police Department Commander John Houston, who supervises Animal Care Services, five of the 17 dogs found at her home are believe to be responsible for the attack. All five dogs will likely be euthanized. The video shows
multiple images of pit bulls
being taken away by animal control.
Many of the dogs -- presumably at the time of the attack -- were in cages. Four have already been turned over to an adoption group Woodard was linked to. The eight remaining dogs will be turned over to her son, who lives out-of-state. Woodard was devoted to helping unwanted dogs find "forever" homes and spent much time helping the rescue group, For the Love of Strays, who is already asking for donations to help care for the four dogs they took in after Woodard's death.
Late Evening Update from DogsBite.org
After publishing the initial post, we reviewed Woodard's Facebook page. Her photo album is filled to the
brim with photographs of rescued pit bulls
-- her profile image is of one of her pit bulls, rescued or otherwise,
climbing a tree
. This is not unique pit bull behavior.
YouTube
is filled with videos of proud pit bull owners filming their dogs
climbing up and down trees
. Back in August, Woodard noted on Facebook that two pit bulls, apparently under her care,
had also escaped
.
Woodard had at least 17 dogs in her home. No media reports so far have stated that this was unusual or against city code nor have they explained any relevant city codes. With 17 dogs in her home, her situation was indeed questionable -- that most of these dogs were pit bulls is worse. One of the pit bulls seen in the video was also nursing, so part of the 17 dogs certainly could have included puppies. Notably, the
tan pit bull seen in the video
also appears to be the tree climber.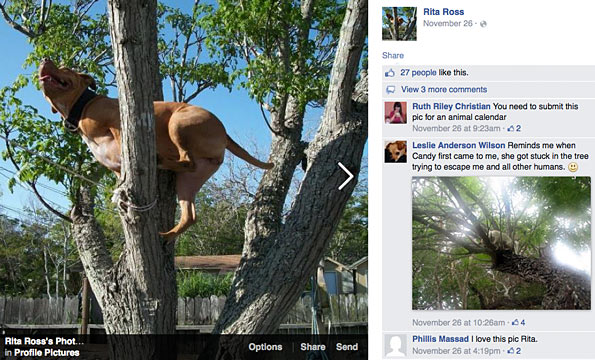 ---

Texas Dog Bite Victims' Advocacy
-
Join our Texas email list to stay informed
Related articles:
11/04/12:
2012 Dog Bite Fatality: Pembroke 'Dog Rescuer' Killed by Rescued Pit Bulls
08/17/12:
2012 Dog Bite Fatality: 23-Year Old 'Dog Rescuer' Mauled to Death by Own Dogs
04/06/12:
Week of Escalating Violent Attacks by Rescued and Adopted Pit Bulls
06/16/10:
2010 Dog Bite Fatality: Lorain County Man Killed by 'Rescued' Dangerous Breeds
Photo:
kiiitv.com
Labels: 2014 Dog Bite Fatality, Rescuing Dangerous Dogs, Texas, Texas Pit Bull Fatality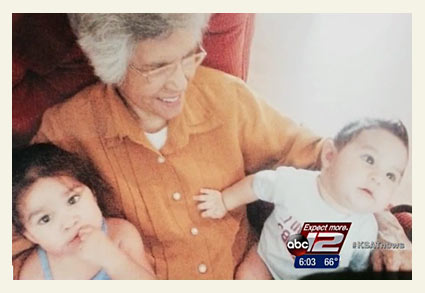 Felony Charge, Owner Jailed
UPDATE 12/12/14:
In what may be the first felony charges brought by Bexar County officials under Lillian's Law, 34-year old Perla Rojas was indicted on November 24 on a charge of a dangerous dog attack leading to death, according to court records. The second-degree felony carries up to 20-years in prison if convicted. On March 31, Rojas' two pit bulls brutally attacked 83-year old Petra Aguirre in her own backyard. Aguirre died at University Hospital on April 11.
Aguirre had been feeding her cats when her neighbor's pit bulls crawled under the fence and attacked her. Previously, it was reported that only one pit bull was involved. The two attacking pit bulls, both female, and a third dog belonging to Rojas attacked a 13-year old boy in May 2013. The boy was treated for his bite injuries and the dogs were quarantined. The dogs were then released back to Rojas. 10-months later, her two pit bulls will savagely attack and kill Aguirre.
Rojas was booked on November 25, a day after the indictment. She remains in Bexar County Jail in lieu of $20,000 bail. Of the 6 fatal dog attacks that occurred in Texas so far this year, 83% (5) involved pit bulls. Two other fatal attacks also resulted in felony charges under Lillian's Law:
Betty Clark, 75-years old
(Comal County) and
Christina Bell, 43-years old
(Harris County). Predictably, all three felony dog attack charges in Texas in 2014 were brought against the owners of pit bulls.
04/25/14: Like a "Shark Attack"
In a devastating follow up news article, San Antonio authorities are "grasping at straws" after the death of Petra Aguirre. She was brutally mauled by her neighbor's pit bull while in her own backyard, just 10-feet from her door. Her injuries are described as her ears torn off and "cavernous" gashes on her arms and legs. Her son Chris Aguirre said, "It's just like a shark attack." Medical journals and doctors have made the same comparison about pit bull injuries.
1
We remind readers that the attacker was a 2-year old female pit bull, probably 35-pounds, not a 5,000-pound Great White ocean predator.
Petra was attacked on March 31 and underwent a new surgery every day at University Hospital. Family and friends said that she managed a blink or a nod at times. Her body was ravaged with infection and doctors advised that amputations might save her. Chris did not want his mother to live that way. "We had a family meeting," he said. Petra died of her injuries on April 11. She was 83 and a devout Catholic. Chris believes she forgave the dog owner within minutes of the attack.
City specific issues discussed in the article involve the massive population of roaming dogs in San Antonio (mainly owners not securing their dogs). It has been estimated that 150,000 dogs roam city streets on any given day. In 2011,
San Antonio began a special court program
to address this problem. Notably, this pit bull was not "free roaming" when it attacked. It crawled beneath its owner's
crappy chain-link fence
specifically to attack, which is a separate public safety issue.
2
Properly securing pit bulls is a breed-specific issue and is
being carried out in the City of Garland
.
04/17/14: More Information Released
What was formerly behind a paywall is now viewable (at least for DogsBite). On April 14, the San Antonio Express-News reported more details about the mauling death of Petra Aguirre. She had been feeding her cats in her backyard when a pit bull-mix, named Skirtgles, crawled under the fence and attacked the 83-year old woman "from her scalp to her toes," according to family members and authorities. The animal belonged to her neighbor and had a history of biting.
The attack occurred on March 31. She died at University Hospital on April 11. The dog was described as an unsprayed 2-year old female pit bull-mix. The animal was surrendered by its owner after the attack and euthanized. Perla Rojas-Ibarra, the dog's owner, was "cited for the bite." Skirtgles and two other dogs owned by Rojas-Ibarra, were also involved in a biting incident last May. The dogs attacked a 13-year old boy who was walking down West Salinas Street.
Petra was living with two brothers and a nephew at the home when the vicious attack occurred, according to her son Chris Aguirre. The nephew was away at work and, horrifically, her two brothers could not hear what was happening. Her nephew, Simon Yanez, told KSAT.com that he is still
haunted by the image of his mother's bloodied and bruised body
. "She had bites on her arms, on her legs, her neck, her skull, her ear," Yanez said. "I didn't believe it was only one dog."
Aguirre also told the Express-News that his mother was a devout Catholic who taught religious education to children at St. Gabriel's parish for many years and was the "bedrock" of her family.
Texas Felony Dog Attack Law
For readers who are unaware of the Texas felony dog attack law,
please see Lillilan's Law
. Despite the attack on Petra fulfilling the two central requirements of the law -- the dog attacked off its owner's property and has a documented history of aggression -- there is still no word from San Antonio authorities about criminal charges. They are "still investigating" the incident, according to Express-News and KSAT news reports, KSAT even called it a "multiple-agency investigation."
3
04/15/14: Senior Citizen Killed by Pit Bull
San Antonio, TX - An elderly woman has died for the second time this year at University Hospital (See a related study from the same hospital:
Mortality, Mauling and Maiming by Vicious Dogs
). Petra Aguirre, 83-years old, was attacked by a neighbor's pit bull in her backyard last month. Aguirre had bites all over her body, according to officials and family members. She died Friday evening at the hospital. The 2-year old pit bull had been involved in a previous biting incident.
It is "highly probable" that the
language used to describe the pit bull
, "a 2-year old American Staffordshire terrier-mix," was supplied to the reporting news group by San Antonio's Animal Control Dept. to
lessen the blow to the country's top killing dog breed
and to confuse the public. The same article also states that
75-year old Betty Clark
of neighboring Comal County died in January at the same hospital after being attacked by two dogs in her Canon Lake neighborhood.
4
A news report by the Associated Press states she was attacked on March 31 while feeding her cats in her own backyard. The Bexar County Medical Examiner's Office said Petra Aguirre died on Friday from dog bite complications. Animal Care Services spokeswoman Lisa Norwood says the dog "got past Aguirre's fence." The pit bull inflicted bites to her head, neck, arms and legs. That dog and two others where involved in an attack last May when a 13-year old boy was bitten.
A more in depth news report from the
San Antonio Express-News is behind a paywall
.
---

Texas Dog Bite Victims' Advocacy
-
Join our Texas email list to stay informed
Related articles:
04/15/14:
2014 Dog Bite Fatality: Comal County Woman, 75, Dies After Pit Bull Attack
05/28/13:
DogsBite.org Publishes Rebuttal Letter in Defense of Texas Medical Study
03/12/13:
Report: Texas Dog Bite Fatalities, January 1, 2005 to February 17, 2013
05/21/11:
Texas Doctors Produce Study: Mortality, Mauling and Maiming by Vicious Dogs
Photo:
KSAT.com
Labels: 2014 Dog Bite Fatality, Fatal Pit Bull Attack, Lillian's Law, Texas, Texas Pit Bull Fatality
Scene near the fatal dog attack. Watch video taken after the attack.
Grandfather Speaks Out
UPDATE 12/10/14:
The Citrus County Chronicle reports new information in today's update. The boy's grandfather, Joaquin Camejo, is heartbroken. "He was everything to me, everything -- everything I can imagine," he said. Christopher Camejo, two-years old and his first grandson, was mauled to death by up to four of Joaquin's rottweilers on December 6. Joaquin said he first heard of his grandson's death when returning from a fishing trip. His son called him on the phone.
"My son called and said, 'dad, dad, my son is dead, your dogs killed him. I just threw up my hands and started crying."

- Joaquin Camejo
Prior to leaving for the fishing trip, Joaquin said he locked up two of his rottweilers -- the two he believes killed the boy -- in his backyard in a "special pen." The two dogs, a male and a female, were siblings, according to Joaquin. He believes the two were trying to establish pack order and seemed more aggressive. He said his dogs had never shown aggression toward his grandson, even slept with him, but he was still cautious when his grandchildren were around the dogs.
Joaquin believes Christopher exited the house "through a screen door leading to the dogs' pen" while the adults in the home were cleaning and watching his three grandchildren. It is unclear from that description if the screen door directly led into the "special pen" -- a recipe for disaster -- or if the child also had to open the pen's door. His two other rottweilers and a pekingese were in the home apparently and exited with the adults when they went to check the backyard after the attack.
Too Many Inconsistencies
As noted in the top photograph, the family had a "Beware of Dog" sign on their fence. That is inconsistency one. Joaquin said he exercised caution when his grandkids were around the dogs, while simultaneously saying that his rottweilers had slept with grandson. This is not exercising caution -- inconsistency two. Despite the unclarity of access to the "special pen" it was still an accessible death trap. There is nothing cautious about this poor design -- inconsistency three.
Finally, despite the struggles the family was having and the imperfect nature of human beings, the grandfather still had four rottweilers in his home along with his three grandchildren and their parents who were all, it appears, temporarily living at (or visiting) his home. Joaquine explained, "We were in the process of getting them back to their house in Homosassa." Unfortunately, there is no room for average imperfection with four rottweilers and visiting children ages, 1, 2 and 5.
12/08/14: Family Members Devastated
It was reported
Sunday that the child was already dead
when Citrus County sheriff's deputies and emergency medical responders arrived on scene shortly after 4 pm Saturday. Christopher Camejo, 2, was discovered in the backyard with bite injuries consistent with a dog attack, according to authorities. The toddler had been alone when he was attacked. His parents, Christopher Louis Camejo, 29, and Claudia Scarbrough, 31, were inside the home with their two other children.
New information released Monday indicates the child was under the care of his mother and his grandfather's girlfriend, Kimberly Fisher, at the time of the deadly attack. Fisher told News Channel 8 she stepped away to use the bathroom when Christopher managed to slip out of the house. "That's all it took," Fisher said while crying. "Had I not gone to the bathroom, this would've never happened." Fisher said the rottweilers had never been aggressive towards the children.
Rottweilers have a well-established track record of killing kids without provocation, including champion bloodline and "protection" trained rottweilers. It is the second most lethal dog breed in the U.S.

- DogsBite.org
The boy's grandfather, Joaquin Camejo, is listed as one of the property owners of 8352 West Oak Street on the Citrus County Property Appraiser's website. Joaquin's Facebook page shows images of one of the female rottweiler's with a litter of at least 8 puppies as recently as November 5. Joaquin was away fishing when the boy was attacked and killed. He called his grandson's death a "tragic accident." Joaquin Camejo has surrendered his four rottweilers to animal control.
A GoFundMe page has been set up by family members to
help pay the boy's funeral costs
.
12/06/14: Toddler Killed by Dogs
Crystal River, FL - Citrus County Sheriff's deputies
responded to the death of a 2-year old boy
from a reported dog attack Saturday afternoon. The family had three children, four rottweilers and another small dog, according to Heather Yates, the sheriff's office spokeswoman. Animal control officers removed all five dogs. Department of Children and Families was notified, as is protocol when a child dies and other children are in the home. "The parents are distraught," Yates said.
A late evening update from 10 News
showed the family had a "Beware of Dog" sign
hanging on their fence. The toddler was attacked and killed by one or more dogs while in his yard. Evidence technicians had a light over the scene where the child died -- it appeared to be on the side or in the back of the family's Crystal River home. Department of Children and Families removed the two remaining children from the home. The father of the child was arrested on unrelated charges.
Record High Fatalities in 2014, Weeks Remaining
The mauling death of this child elevates the number of dog bite fatalities to 40, higher than DogsBite.org has ever tracked since 2005. The
closest comparison is 2012 with 38 fatalities
. Back in August, we estimated that
fatalities would likely reach 46 by the end of the year
. Though it may appear that rottweiler attacks are up this year, they are not. Rottweilers typically kill about 4 people per year. This is the fourth fatal rottweiler attack of 2014 versus the 25th fatal pit bull mauling.
This death also marks the fifth fatal dog attack in Florida this year. Other Florida victims include:
Jessica Norman
, 33-years old (Highlands County);
Logan Sheppard
, 4-years old (Hillsborough County);
Joel Chirieleison
, 6-years old (Levy County) and
Javon Dade Jr.
, 4-years old (Miami-Dade County). Texas leads all states in 2014 with the most fatal dog attacks, 6 deaths.
1
North Carolina falls behind Florida and has the third most fatal dog attacks, resulting in 4 deaths.
Three of the four rottweilers seized. Images provided by the Citrus County Sheriff's Office.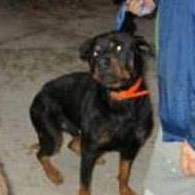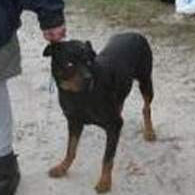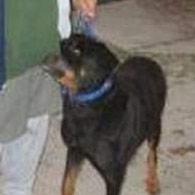 Related articles:
08/22/14:
U.S. Fatal Dog Attacks Continue to Rise from Previous Years (January 1, 2014...
05/04/14:
Fatal Rottweiler Attacks - The Archival Record
04/21/14:
U.S. Fatal Dog Attacks Accelerate During First Part of Year (January 1, 2014...
Labels: 2014 Dog Bite Fatality, Dog Bite Statistics, Fatal Rottweiler Attack, Florida
Pit bull attack survivor Steve Constantine after the near fatal mauling.
Victim Recounts Attack
UPDATE 12/10/14:
On October 2, Steve Constantine suffered catastrophic injuries when he was nearly killed by a pack of 12 pit bulls in a residential Detroit neighborhood. The vicious attack left him hospitalized in critical condition, unconscious and unable to speak. Several months later, Constantine shares what happened that day with the Detroit Free Press. The violent attack forced the amputation of his left arm at the shoulder, his left leg below the knee and scores of skin grafts.
Police confiscated and euthanized all of the attacking dogs. The owner of the dogs, 61-year old Derrick Felton, received a handful of misdemeanor citations pinned to his door after the brutal mauling, along with a brochure titled, "Pet Ownership in Detroit Your Rights and Responsibilities." Police later asked the Wayne County Prosecutor's Office to consider a felony charge against Felton. The prosecutor's office declined,
however the case is still under review for warrants
.
"There's moments when I'm barely myself. There's moments when I can barely function. And I'm insecure ... but I do seem to make it back to this place where I am myself."

- Steve Constantine
Constantine struggles to understand the attack, uttering in the video, "Things happened for a reason" and blames himself for trying to feed the dogs. The senior rehab manager at Select Specialty Hospital, Vijay Malaichamy, said that he is upbeat and "that positive attitude is going to help him tremendously to overcome the challenges he's going to face during his progress." Constantine hopes to eventually be fitted with prosthetics to gain some degree of independence.

Related video
10/27/14: Dog Owner Failed to Help Victim
The victim of catastrophic pit bull injuries has finally been able to speak. When asked by police what the owner, Derrick Felton, did as his 12 pit bulls attacked him, Steve Constantine said, "I don't know. I think he ran away." Felton told police he could not help the man, "EMS came, so I left." Earlier reports stated that Felton was not home when the attack occurred. We now know this was untrue. Further, EMS could not immediately help him, they had to wait for police to arrive.
Prior to the attack, Constantine was walking on Pennsylvania Street. He saw Felton outside and asked if he needed help feeding his dogs. The dogs then "started eating me alive," he said. Police have asked prosecutors to pursue a felony charge of harboring a vicious animal causing serious injury against Felton, but the decision is still pending. The Sam Bernstein Law Firm is representing Constantine in a civil lawsuit. They are suing Felton and his mother, who owns his residence.
Attorney Mark Bernstein said the firm is suing Felton's mother because landlords "who allow irresponsible, reckless tenants to engage in these types of behaviors" should assume some responsibility for what happens in the homes they own.
"We're going to ask for a meaningful amount of damages in order to send a message that these people need to be held accountable," Bernstein said.

- Detroit Free Press, October 27, 2014
Constantine's sister, Cathy Hawley, is horrified about what happened to her younger brother. "The obstacles that Steve is going to face are beyond imagination," Hawley said. Constantine remains hospitalized at Detroit Receiving Hospital. He lost most of his left arm and a portion of his left leg, which was amputated, due to the vicious pit bull attack. His right arm was "opened to the bone" and the injuries to his right foot will require doctors to "fuse it to the ankle," according to Hawley.
Hawley also provided background about her brother. He graduated with honors from Mott High School in Warren, but mental illness struck when he was in his 20s. He was diagnosed with schizophrenia, she said. He had been missing for a year when he was attacked. "Steve would give you the shirt off of his back. He was taken advantage of a lot," she said. Hawley only learned of the attack after being contacted by a Detroit Free Press reporter a week after the horrific mauling.
Related documents:
Steve Constantine and Derrick Felton statements
Detroit dog mauling lawsuit
10/22/14: Weighing Felony Charge
In a surprising development, the Wayne County Prosecutor's office is now weighing whether to charge the owner of a dozen pit bulls that nearly killed a man with a felony. A warrant request was submitted to the prosecutor's office on Tuesday seeking a felony charge against Derrick Felton, 61-years old, for harboring a vicious animal causing serious injury, according to Detroit police. The request is currently under review by the prosecutor's office. A decision will not be made this week.
Steve Constantine, 50-years old, remains hospitalized in critical condition at Detroit Receiving Hospital after surviving the brutal attack on October 2. The Detroit Free Press obtained recordings of the 911 calls, as well as a half-dozen police reports that provide gruesome details about the violent attack and the victim's horrific injuries. The pit bulls chewed off most of Constantine's left arm and removed "large chunks of flesh" from his arms and legs, according to police reports.
"Fearing for my safety and own well being, I … engaged the animal a second time, by discharging my firearm twice striking the animal twice, killing it," Sexton wrote, noting that he fired nine shots in all.
The reports list a grim array of injuries, with arms and legs ripped to the bone and dogs "eating the flesh" off a naked man. A friend, who visited Constantine days later at Detroit Receiving Hospital, said he had lost most of his left arm.

- Detroit Free Press, October 22, 2014
The police report also details shots fired. Officer Adam Sexton wrote that he fired numerous times at the pack of pit bulls that were actively attacking Constantine, striking four. Most of the pack then fled, but one of the shot dogs dropped to the ground yelping, trying to take cover in a large bush. That pit bull then jumped to its feet and advanced his partner, who shot it twice. Now with at least three bullets in it, the same pit bull again charged Sexton, who shot it two more times killing it.
10/09/14: No Charges; Victim Identified
The owner of a dozen pit bulls that escaped his home and nearly mauled a man to death faces a handful of misdemeanor violations. Sgt. Michael Woody acknowledged that the case is "horrifying," but the citations are likely the extent of the penalties the dog owner faces. On October 2, at least a dozen pit bulls escaped from Derrick Felton's home and inflicted catastrophic injuries on an innocent passerby. Steve Constantine remains in critical condition unable to speak.
Police believe at least 12 pit bulls participated in the violent attack. All of the dogs have since been euthanized. Neighbors had complained a number of times about Felton's loose dogs, but there were no reports of the dogs attacking a person. Thus, the life-altering attack of Steve Constantine has no consequences. The best Detroit could do after the attack was to pin the citations and a brochure titled, "Pet Ownership in Detroit Your Rights and Responsibilities," to Felton's door.
Ron Gulledge, Constantine's roommate, rushed to the hospital after learning of the attack. "I talked to him and told him to be strong … and he nodded," Gulledge said. He described Constantine's injuries as different than initial reports. He said only a small portion of his upper left arm remains, his left leg now has rods in it and his right leg, arm and head are heavily bandaged. He said it looked like Constantine still has feet and one hand, but he could not see all of his fingers or toes.
"It's terrible," Gulledge said. "You don't wish nobody to get eaten alive."
We will add to his statement, "get eaten alive on a residential street by dogs," and afterward, "there are no repercussions for the dogs' owner." Annually, there are over
600 media reported disfiguring and maiming attacks by pit bulls alone
across the country. There is no longer any excuse for cities and police authorities to lack criminal procedures after a horrific maiming attack, particularly when involving "loose" dogs. The previous history of the dogs does not matter.
People like Steve Constantine and
Klonda Richey
are paying with their lives for the indefensible lagging by local and state lawmakers to write and implement post 1985 criminal penalties for the owners of dogs that chew off the limbs of people like a bear or tiger would or
leave their faces so disfigured
that even 21st Century medicine does not know how to fix. As a man who lost his wife in a brutal dog attack last year voiced, "
What kind of country is this? What protection do we have?
"
10/04/14: Pit Bulls Inflict Catastrophic Injuries
Detroit, MI - A man suffered catastrophic injuries after being attacked by a pack of pit bulls Thursday night. The dogs "chewed off" the victim's hands and feet in the attack, according to Police Detective Michael Pacteles. The dogs were so vicious paramedics were forced to wait in their vehicles for police to arrive before they could help the man. Police shot and killed at least one pit bull; 12 other pit bulls were seized from Derrick Felton's home, the owner of the dogs.
"Because of the viciousness of the attack, the remaining pit bulls will be euthanized."

- Detroit Police spokesman Sgt. Michael Woody
Andrew Sims lives a few houses away and witnessed part of the horrific attack. He told the Detroit Free Press the attack was more gruesome than anything he had seen during a tour in Vietnam. "They was aggressive. They didn't stop. I could just see them tugging, you know, pulling at him," Sims said. The mauling victim continues to remain unidentified -- he was not carrying identification when the dogs escaped through a side door of the owner's home and viciously attacked him.
As of Saturday afternoon,
the victim remains in critical condition and unconcious
at Detroit Receiving Hospital, according to Detroit Police Officer Adam Madera. Police have been unable to ask him any questions about his identity or the circumstances of the attack. Different reports have emerged about why the victim had been in the area at the time of the 10 pm attack, ranging from "unclear" reasons to he had been walking along the sidewalk near the dog owner's home.
Two videos by 7 Action News
show police and animal control seizing the pit bulls
and arresting the dogs' owner, Derrick Felton. They also interviewed neighbors who said the pit bulls were often seen running loose. A female neighbor, who was not identified, said, "Those dogs are vicious, I am not surprised," after learning about the violent attack. When asked if the dogs often got out she said, "Yes, a lot of times." Though the investigation is ongoing, dogfighting is not suspected.
In July, Craig Sytsma, 46-years old, was brutally killed by two cane corsos while jogging in Metamora Township, about 50 miles away from Detroit. The two owners of the cane corsos are currently standing trial for murder in the second-degree in connection to Sytsma's death.

Related articles:
09/13/14:
Criminal Trial: Couple Charged with Second-Degree Murder After Cane Corsos...
09/11/14:
2014 Dog Bite Fatality: Pit Bull Type Dogs Attack, Strip Naked and Kill Dayton Woman
08/02/14:
2014 Dog Bite Fatality: Two Cane Corsos Brutally Attack and Kill Jogger in Metamora...
05/31/13:
Westwego Woman Loses Eye, Ear and Both Arms After Pet Pit Bulls Attack
07/25/12:
Bay County Animal Hospital Worker Suffers Catastrophic Injury in Pit Bull Attack
02/16/12:
Orlando Woman Suffers Catastrophic Pit Bull Injury; Amputations Expected
Photos:
WXYZ.com
Labels: Amputation Injury, Catastrophic Pit Bull Injury, Michigan, Pit Bull Attack Survivor
Dog Owners Identified
UPDATE 12/09/14:
In a brief update, the Grant Parish Sheriff's Office issued a press release today regarding the "many questions and concerns surrounding" the brutal dog attack and death of Bobbie Cheveallier a few days later. Miss Bobbie was viciously attacked on November 26 by several alleged "stray" dogs when she took out her trash. She remained in critical condition until she died on December 1. The sheriff's office rounded up 15 dogs for DNA testing after the attack.
"We are investigating all avenues related to this incident, including the possibility that Mrs. Cheveallier was unconscious or incapacitated prior to the encounter with the dogs," states the release. "We do not have any other reports before or since this incident that anyone in that area has been bitten or attacked by dogs." Owners of 14 of the so-called "stray" dogs have since been identified by authorities. The investigation is ongoing. No breed information has been released.
12/01/14: Dog Mauling Victim Dies
Pollock, LA - An 85-year old woman who suffered catastrophic injuries by two or more loose dogs in her own yard on Wednesday died Monday at Rapides Regional Medical Center.
1
Grant Parish Sheriff Steve McCain confirmed the death of Bobbie Cheveallier Monday evening after news of her death had been posted on social media. After the life-threatening attack, Cheveallier was transported to the hospital where doctors amputated both of Cheveallier's legs above the knees.
Background of the Attack
The vicious attack was first reported on Thanksgiving
after the Grant Parish Sheriff's Office issued a press release. On Wednesday afternoon, deputies responded to a report of a person being mauled by two dogs on Highway 8 just west of Pollock. The elderly woman remains in critical condition, Grant Parish Sheriff Steve McCain said. The release also issued a warning, cautioning residents to be aware of any loose dogs in the area when allowing children to play outside.
Cheveallier was taking some trash outside of her home when the dogs attacked. Her son, Randy Cheveallier, told
The Town Talk that the boyfriend of a neighbor saw three loose dogs
outside as he was preparing to work on an outdoor project. He walked over to investigate and found "Miss Bobbie" unconscious in her yard. He yelled for his girlfriend to call 911. The couple stayed with Cheveallier until the ambulance arrived to transport her to Rapides Regional Medical Center.
Randy Cheveallier said the attack left the woman without skin on most of her legs, and that most of the tissues and muscles had been mutilated.

- The Town Talk, November 29, 2014
It is unclear at this stage if anyone witnessed the attack while it was occurring. According to Randy, one witness told him that one of the dogs appeared to be wolf-like, or possibly a German shepherd or chow. This witness reported seeing three dogs, Randy said, instead of just two as the press releases stated. On Monday, Sheriff Steve McCain said that a total of 15 loose dogs were captured and taken to a veterinarian in Alexandria so that DNA samples could be taken.
Over the weekend, Randy and other family members kept a vigil at the hospital, praying for her recovery. Family members were upset when the surgeon told them that both of Cheveallier's legs would have to be amputated above the knees. But Randy also knew that she would die without the operation, complicated further by internal bleeding and that she was diabetic. Randy believes his mother would have died outside from blood loss if her neighbor had not noticed the loose dogs.
Related articles:
11/22/14:
2014 Dog Bite Fatality: Pack of Dogs Kills 8-Year Old Girl on Pine Ridge Indian...
11/17/14:
2014 Dog Bite Fatality: Woman Killed by Pack of Dogs on Wind River Indian...
11/03/14:
2014 Dog Bite Fatality: Woman Dies After Violent Pit Bull Attack in Robeson County
10/27/14:
Detroit Man Suffers Catastrophic Injuries in Violent Pack Attack by Pit Bulls
09/25/14:
2014 Dog Bite Fatality: Mississippi Man Attacked by Pack of Pit Bulls Dies
08/19/09:
2009 Dog Bite Fatality: Senior Couple Killed by Pack of Dogs in Oglethorpe County
Labels: 2014 Dog Bite Fatality, Amputation Injury, Louisiana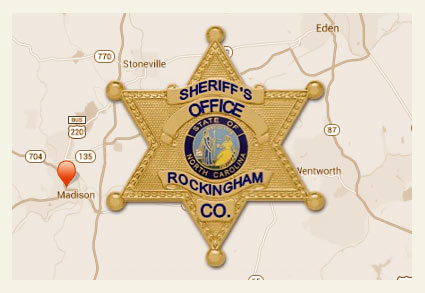 Numerous Bite Marks
Madison, NC - The News & Record reports a nearly non-reported 2014 U.S. fatal dog mauling that occurred on
November 23 in Rockingham County, North Carolina
. On that day, 62-year old Jose Robles left the family he was visiting to take a walk down Bethany Road at about 1 pm. Deputies discovered him the next morning about a mile from where he was staying. He was dead -- stripped of all clothing and shoes with numerous bite marks on his body and 15 dogs lurking nearby.
These latter details, which strongly indicate a fatal dog mauling -- his clothing and shoes stripped away, numerous bite marks on his body and 15 dogs nearby -- were recently provided by News & Record after they obtained a warrant taken out by the Rockingham County Sheriff's Office on November 24. At the time of the discovery of his body, the sheriff's office provided no details of Robles' death to the media and will not release more today citing an ongoing investigation.
The Rockingham County Sheriff's Office is no longer searching for Jose Cruz Cazares Robles. It was unclear how the search concluded. He was reported missing Sunday afternoon.

- News & Record, November 24, 2014
Deputies confiscated the 15 dogs
hours
after finding Robles dead and transported them to the county animal shelter. Kevin Baughn, the shelter's director, confirmed to News & Record yesterday that "15 blue heelers and hounds" were in his care, but declined to comment further. Kevin Suthard, a spokesman for the Rockingham County Sheriff's Office, would not discuss the dogs' involvement, the warrant or provide an update on the case, the News & Record states.
At the time of the attack,
Robles and his wife, who are from Jalisko, Mexico
, were in Rockingham County visiting with family. After Robles did not return from his walk within a few hours, the family became concerned and contacted local law enforcement. The Rockingham County Sheriff's Office then issued a bulletin
asking for the public's help in finding the missing person
. After discovering him dead the next morning, the sheriff's office simply said the cause of death is
unknown
.
Evening News Reveals More
Later into the day,
Fox8 reported more about this investigation
. As detectives were searching the area for Robles, one officer observed "a pack of various dogs which aggressively confronted his vehicle in the roadway." Another detective reported that she was "also confronted aggressively by these dogs." Officers then found Robles dead across the street from the dog owner's home. The 15 suspected dogs are described as blue and red heelers, Australian shepherds and hounds.
Though the owner of the 15 dogs is not named, she told detectives that her dogs "would bite the ankles of strangers who were near the property." Detectives asked her to secure the animals and she did. For those of you who do not know,
heelers will nip the heels of the animals they are herding to push them along
. That is a far cry from owning a pack of 15 dogs -- running at large -- that appear to have enjoined pack behavior resulting in the brutal death of a 62-year old man.
After confronted by the 15 dogs, officers got a warrant and seized the animals. The Rockingham County Sheriff's Office is still awaiting autopsy results to determine if the man was still alive when he was viciously mauled. A subsequent search warrant allowed investigators to get blood samples, oral swabs, nose swabs, toe swabs and bite impressions from each of the 15 dogs. The time frame of the autopsy results is
unknown
. FOX8 was unable to contact the victim's family.
Related articles:
02/28/14:
2014 Dog Bite Fatality: 3-Year Old Girl Killed by Family Pit Bull in North Carolina
11/05/13:
2013 Dog Bite Fatality: Kernersville Woman, 25, Killed by Her Boyfriend's Two Pit Bulls
12/05/12:
2012 Dog Bite Fatality: Yadkin County Infant Mauled to Death by Family Dog
Labels: 2014 Dog Bite Fatality, Fatal Pack Attack, North Carolina
64% Voted in Favor of Keeping the City's Pit Bull Ban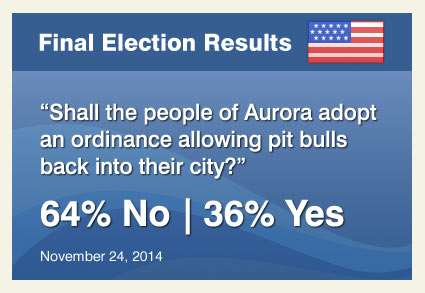 UPDATE: November 24, Final Election Results
Final election results have been posted for all three counties. The final results for Proposition 2D in Adams County shows a 60% to 40% margin in favor of keeping the pit bull ban (total votes 6,744). Arapahoe County, which contains the bulk of the Aurora voters, shows a 65% to 35% margin in favor of keeping the pit bull ban (total votes 92,747). Douglas County, with only a small number of Aurora voters, shows a 72% to 28% margin in favor of keeping the pit bull ban (total votes 275).
Combined, 64% of Aurora citizens voted to keep their pit bull ban. (View: Final Results)
To reiterate once again, the
2012 primary vote in Miami-Dade County
pertaining to their pit bull ban had a very similar margin of victory -- 63% to 37% -- along with a similarly "negative" ballot question. The Miami-Dade ballot question was worse than Aurora's, it read: "Shall the ordinance repealing the County's 23 year old law prohibiting the ownership of pit bulls as a dangerous breed of dogs become effective?"
63% of Miami-Dade citizens voted no
, upholding the pit bull ban.
Local and out-of-state pit bullies did not take the defeat in Aurora too well.
In a recent Aurora Sentinel editorial by Dave Perry
, he remarks that the "war against common sense isn't over by a long shot." The Sentinel continues to get "hounded" by pit bullies. "I'm not talking, call-the-editor-and-give-him-a-piece-of-my mind-verbal-wrestling," Perry writes. "I'm talking about vicious, foaming-at-the-mouth attacks from humans who make their scary dogs look like Hello Kitty."
But what these pit bullies can't seem to grapple with is the fact — not the smudged math, hyperbole or outright lies — that of all of the hundreds of dog breeds living in hundreds of millions of American families, pit bulls are responsible for an overwhelming number of human deaths, despite the fact they are a relatively rare breed of dog. And the one consistent thing that is regularly reported by a pit-bull owner that maims or kills a human or another pet, is that it was totally unexpected. The pit bull that clamped its amazing jaws down on the neck of another dog or a small child and shook it until it was dead, had never done anything like that before.

- Dave Perry, editor of the Aurora Sentinel
UPDATE: November 6, 1:50 pm Mountain Time
Difficulties in counting ballots in Adams County
has left at least two important candidate races uncalled in Colorado. The county still has about 10,000 ballots to count, according to the Aurora Sentinel. It is unclear what portion of the remaining ballots affects Aurora. Current results for Proposition 2D show a 65% to 35% margin in Arapahoe County, 72% to 28% margin in Douglas County and a 62% to 38% margin in Adams County. Combined, 65% of Aurora citizens voted no.
UPDATE: November 5, 10:55 am Mountain Time
More ballot numbers rolled in over the course of the night. The latest results of the combined counties show that 66% voted no and 33.5% voted yes. The Aurora Sentinel tweeted earlier that
Adams County still has 25,000 ballots to count
, but only a portion involve Aurora. The current margin is similar to the Miami-Dade pit bull ban vote in 2012, which had a 63% to 37% margin. That vote, however,
was a county primary in August
, not a general elections vote in November.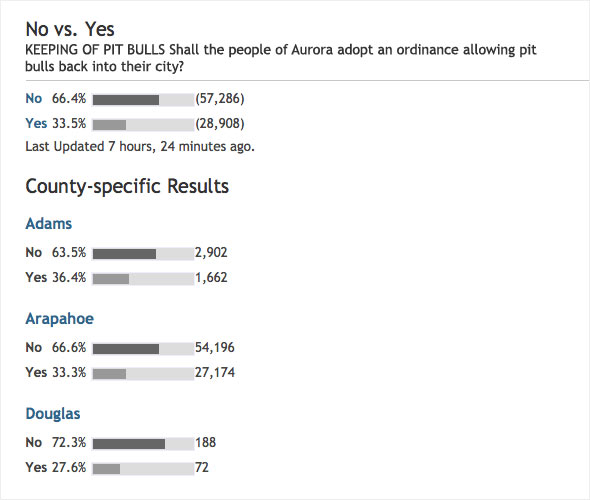 UPDATE: Tuesday, 10:32 pm Mountain Time
The Aurora Sentinel election blog now reports that
, "By a 2-to-1 margin, Aurora voters say they don't want pit bulls to return to the city, based on early returns. With more than 70,000 votes counted across Adams and Arapahoe counties so far, voters have overwhelmingly said no to Aurora ballot question 2D, which would lift the city's 9-year-old ban on the dogs. In Arapahoe County, 68 percent of voters said no. In Adams County, 63 percent voted against lifting the ban."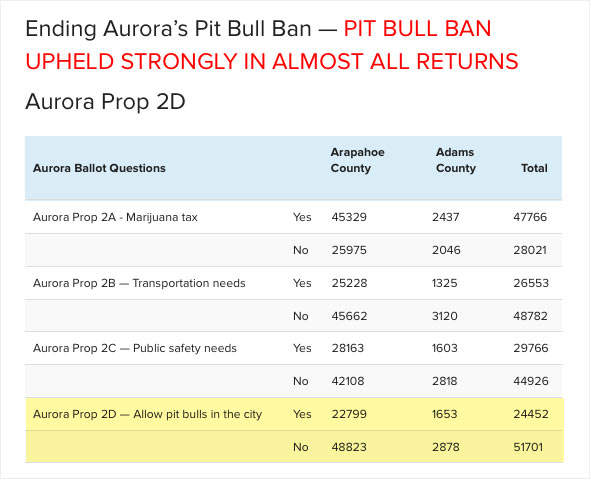 UPDATE: Tuesday, 8:08 pm Mountain Time
First results in from two counties now -- Aurora is part of three counties. So far, Aurora voters are showing OVERWHELMING support of the city's pit bull ban. It is over a 2 to 1 margin. Douglas County is a growing area of Aurora, but still only contains small voting numbers.
The founder of DogsBite.org told Colorado Public Radio on Oct. 28
, "We'd like to see more city councils putting it on the ballot. Our theory is that the majority of Americans don't want to live next door to a pit bull."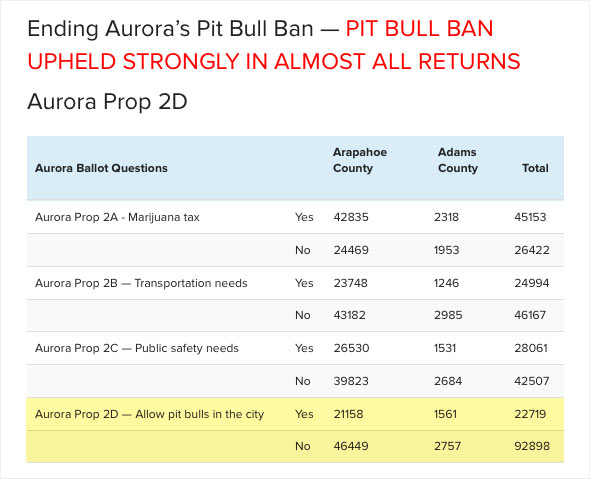 UPDATE: Tuesday, 7:47 pm Mountain Time
First returns are in
-- first returns consist mainly of mail-in ballots. Second returns are expected at about 8:00 pm Mountain Time and will include ballots cast today. First returns for Proposition 2D show that Aurora's 9-year old pit bull ban is so far being upheld by voters by a large margin. The language specifically is:
Shall the people of Aurora adopt an ordinance allowing pit bulls back into their city?
So far into the evening,
46,449 have voted No and 21,158 have voted Yes
.

UPDATE: Tuesday, 5:45 pm Mountain Time
A hot tipper from the Aurora, Colorado area writes into DogsBite.org that CBS News is reporting a whopping 55% turnout in Colorado for the 2014 midterms -- 1.6 million ballots. First returns are expected to be reported shortly after 7:00 pm Mountain Time -- immediately after the polls close -- and will consist mainly of the mail-in ballots. The second report will be around 8:00 pm Mountain Time. This latter report should be the most telling, as it will be updated with ballots cast today.
UPDATE: Tuesday, 2:15 pm Mountain Time
The Arapahoe County Elections website (ArapahoeVotes.com) went offline for over 5 hours today. Arapahoe County is one of three counties that is part of Aurora. Local county officials blamed the Florida vendor that manages the website. The site came back online at about 2:15 pm. In other Aurora news, as of yesterday,
Aurora police have still not located
the alleged "aerial attacking" pit bull that leapt from a second story balcony and
attacked and killed a small shih tzu
last week.
---
Aurora, CO - Welcome to Election Day 2014 readers. Today marks an historic day for our cause as
citizens of Aurora vote on their pit bull ban
. This is the first general election to determine this issue. In 2012, during a primary election, the
citizens of Miami-Dade County voted to keep their pit bull ban by a 63% margin
. Today and after the polls close in Aurora, we will be live tweeting election news for Proposition 2D and following the
Aurora Sentinel election blog
and
Twitter feed
.
Many parts of the country are
watching the Colorado midterm election this year
because this is the first major election since the state shifted to all mail-in ballots in 2013. There are also several key congressional races in the state;
one is Aurora-centered as well
. The City of Aurora is
part of three counties
, Arapahoe County, Adams County and Douglas County, so election results will be compiled from three areas. When the results become available,
they will also be published here
.
Rules and Sample Ballots
The county clerk must receive all ballots by 7:00 pm on November 4. This means received, not postmarked (military and overseas voters have eight more days to get their ballots in). There are also designated ballot drop-off locations in each county. To see a sample ballot for each county -- Proposition 2D is the fourth Aurora initiative -- please click one of the following:
Arapahoe County Sample Ballot
,
Adams County Sample Ballot
and
Douglas County Sample Ballot
.
Past Aurora Sentinel Coverage
The Aurora Sentinel has been covering the city's pit bull ban for a number of years. Most recently they published an
editorial about Proposition 2D
, covered the
October advertising "drama"
instigated by pit bull devotees after
Daxton's Friends
placed an advertisement in "YourHub" and picked up the AP article,
Aurora pit bull vote could spur a national trend
. In May, the PerryBlog responded to the Aurora City Council's
decision to place the measure on the November ballot
.
Colorado Cities with Pit Bull Laws
View
Colorado Breed-Specific Laws
in a larger map
Related articles:
10/14/14:
Aurora Citizens: Do Not Allow Pit Bulls Back into Aurora
09/17/13:
Dramatic Decline in Attacks by Pit Bulls Since Pawtucket Adopted Pit Bull Ban in 2004
08/16/12:
Vote in Miami-Dade County to Repeal Pit Bull Ban Fails by Wide Margin
08/25/09:
The History of the Denver Pit Bull Ban and the Victims that Prompted New Law
Labels: Aurora, Ballot Item, Colorado, Election Results, Facebook, Pit Bull Ban, Twitter
Mother Pleads for Enforcement
UPDATE 11/22/14:
After the tragic mauling death of 8-year old Jayla Rodriguez, Pine Ridge Indian Reservation residents are reeling in grief. Jayla had been sledding near the Crazy Horse housing complex when she was attacked by the dogs. Law enforcement officials still have not located the attacking dogs and continue to investigate the circumstances around the girl's death. One mother, however, is calling on Oglala Sioux Tribe officials to enforce the existing animal control ordinances.
Three years after Ellen Fills Pipe's son was attacked by pit bulls in 2003,
Oglala Sioux Tribal Council passed Braedon's Law
banning pit bulls, rottweilers, doberman pinschers and other vicious dogs from the reservation. The ordinance also allows law enforcement to confiscate and euthanize these dogs. Fills Pipe's son Braedon was 5-years old when he was viciously attacked by the dogs. He underwent 15 facial surgeries and still has nightmares of the attack today.
Fills Pipe is deeply saddened that the little girl's death could have been prevented. "Losing any life is so traumatizing," she said, "and to know it could have been prevented if we enforced Braedon's Law and enforced our animal code period." She said it was especially tragic because her son had been a mentor to the young girl who was killed by the dogs. "He talked about how angry he was that Braedon's Law wasn't being enforced and now his little best friend is gone," Fills Pipe said.
"If all it takes is to sit down and rewrite some laws and make sure they're being enforced ... We need to do it immediately."

- Ellen Fills Pipe
In other painful news
, tribal authorities are being
pounded on by the media
for rounding up non-compliant dogs and putting them down. The tribe is carrying out the tribal law that reads: "Any and all stray unlicensed animals not displaying a current rabies tag that pose a threat to the health and safety of persons residing on the Pine Ridge Reservation will be destroyed immediately." Authorities are being this aggressive because they
have not located
the dogs that killed the child.
The situation is extreme readers, not just because of the death of a child, but an
extreme
lack of resources. Not only is Pine Ridge (Shannon County) in the lowest bracket of income in America, it is the
second poorest place in all of America
, according to Census data (See:
YouTube video of reservation
). Slate published a
short version of Aaron Huey's photo essay
in 2011, whose effort to photograph poverty in America led him to Pine Ridge. The
long version was shown at TEDxDU
.
"The life-expectancy rate for men is between 46 and 48 years old. Roughly the same as Afghanistan and Somalia."

- Aaron Huey
The investigation into the little girl's death is continuing. No one argues that the problem of loose unchecked dogs, in addition to abandoned and feral dogs, on the reservation is out of control. One man who lives in the Pine Ridge housing development said he locked up his dogs when he heard about the round up of stray dogs. Adrian Trueblood said he does not walk down the street without a stick in a nearby neighborhood that is filled with "more and meaner" dogs than his own area.
1
There Are No Easy Answers
It appears that no one witnessed the attack. An earlier report stated that a supervising adult briefly left her alone. When that woman returned, she found the girl suffering fatal injuries from a dog attack. Another report said that authorities
believed the dogs were mixed-breed
, but it was unknown how many dogs were involved. What is true is that they may never find the culprit dogs or their owners. Yet another haunting reality for a people who have already suffered so much.
DogsBite.org grieves for the family and friends of Jayla Rodriguez, grieves for the
Red Cloud school system
and all of its staff and students, grieves for the Oglala Sioux Tribe leaders and local law enforcement officers and grieves for all of the Pine Ridge Indian Reservation community. It is with terrible sadness that we must add Jayla Rodriguez to our website. The difficult problem of owned, abandonded and feral roaming dogs must be solved. Pine Ridge, we pray, can do this.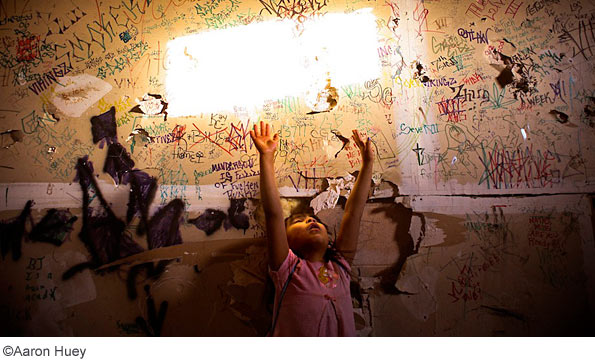 11/19/14: Dogs Kill Child on Reservation
Pine Ridge, SD - On the heels of a
pack of dogs killing a 40-year old woman last week
on the Wind River Indian Reservation in Wyoming, another fatal pack attack occurred on Tuesday evening on the
Pine Ridge Indian Reservation
in South Dakota. Police Chief Ron Duke said the little girl was attacked and killed about 5 pm while she was sledding near the Crazy Horse housing complex. Packs of dogs run uncontrolled in every district of the reservation, according to Duke.
KEVN reports that
police are still trying to locate the pack of dogs
. Acting Police Chief John Mousseau said his department is devoting every available resource to locate the pack so that the animals do not pose any further danger to the community. Mousseau said the FBI and Bureau of Indian Affairs are investigating. The Pine Ridge Indian Reservation is home to the
Oglala Sioux Tribe
and consists of 3.4 million square miles. It is the eighth largest reservation in the US.
The
Pine Ridge Indian Reservation
, like the
Wind River Indian Reservation
, is plagued with crime, violence, poverty, unemployment, dilapidated structures, drug and alcohol abuse and also packs of roaming dogs. As if life were not already brutal and relentless enough for residents on these reservations, they are getting torn to pieces by dogs too. Mousseau summed up the disparaging situation in Pine Ridge back in March and amazingly mustered up a small hint of hope too.
2
It kind of feels like we're not making a dent, like we're just running uphill. But we are still running and trying our best."

- Police Chief John Mousseau
Later in the evening,
the Argus Leader updated their post
. Though police are still not releasing details of the fatal dog attack or the child's name, the article did note that Pine Ridge enacted legislation several years ago that banned several dangerous dog breeds from the reservation. The legislation, named Braeden's Law, was passed after a young boy was mauled by pit bulls. The tribe's new law bans pit bulls, rottweilers and doberman pinschers from the entire reservation.
The tribe passed legislation several years ago called Braeden's Law after a young boy was attacked by pit bulls, Mousseau said. The law banned Rottweilers, Doberman Pinschers and pit bulls completely from the reservation, he said, "and any time we come across a dog like that, law enforcement will take and destroy the dog."

- Argus Leader, November 19, 2014
Witnesses interviewed Tuesday were unsure of the breeds involved in the deadly attack or even how many dogs were involved, according to Mousseau. The little girl was a third grader at Red Cloud Elementary. "It's been definitely difficult," said Chris Ives, interim director of communications for the Red Cloud system. Counselors from multiple school systems and Catholic Social Services all came to Red Cloud Elementary Wednesday to help grieving students and staff, Ives said.
Related articles:
11/17/14:
2014 Dog Bite Fatality: Woman Killed by Pack of Dogs on Wind River Indian...
12/31/12:
2012 Dog Bite Fatality: Pack of Dogs Kills Boy in Cibola County, New Mexico
03/30/11:
2011 Dog Bite Fatality: 55-Year Old Man Killed by Pack of Dogs Near Gallup
03/11/10:
2010 Dog Bite Fatality: Rottweilers at Home One Day Kill Baby on Iowa Tribal Land
08/15/09:
2009 Dog Bite Fatality: Winterhaven Man Killed by Pack of Dogs
07/18/08:
2007 Fatality: Cora Lee Suehead Attacked by Pit Bulls
Photos:
Indian Country Today Media Network
and
Aaron Huey
Labels: 2014 Dog Bite Fatality, Fatal Pack Attack, Indian Reservation, Lakota, Oglala, South Dakota
Personal and Family Protection Dogs with a "Switch"
Dutch Behaviorist Responds
UPDATE 11/19/14:
Dutch animal behaviorist and author,
Alexandra Semyonova
responds to protection dogs with a "switch" after a 7-year old boy was killed by a protection trained rottweiler living at his family's home. She discusses why bringing an attack bred and trained dog into a home and hoping it will be a reliable family pet is a mistake. Enclosed below is Semyonova's short response. Semyonova also provided a long response that discusses many additional details.
Alexandra Semyonova (short response)
Perhaps the most important thing this case should force us to realize is that you can't take an attack bred and trained dog into a home and hope that it will be a reliable family pet. Both the breeding and the training that go into these dogs prohibit this. The dogs are bred in the first place for heightened reactivity, poor impulse control, low bite threshold, and unwillingness to back down in a conflict. The training they're then subjected to amplifies these traits. The dogs are taught to attack on command, but also to make the decision to attack independent of any handler command. In attacking, the dogs are taught to bite with all their jaw strength, to grip and hold on no matter what the target does, and to release only when so commanded by their handler. This doesn't mean that titled dogs can be relied on to release at the first command. Even at level 3 (the highest level), the IPO rules allow the handler to repeat the command three times. Only if the dog ignores the command a third time does the dog fail the trial.
The idea that the dogs will limit their attack behavior to the training field isn't realistic. They are being trained to exhibit this behavior anywhere they're accompanying their handler. If someone buys the dog as a 'personal protection' dog for in the home, the home becomes one of the places where the dog is expected to show the attack behavior – but of course only if a burglar comes in. However, many of the cues these dogs learn as a sign that it's time for an independent, non-commanded attack are human actions the dogs will frequently encounter in the home with welcome guests and family members. Dogs can't read our minds. There's no magical way for the dog to understand who is welcome, who is not, or that the attack chain must never be initiated even if a family member does give one of the cues (for example, a child running at the dog with a stick in the child's raised hand, or one spouse shouting at the other in a marital argument). Unless each and every one of the home's occupants and every guest who is ever invited in is an experienced dog trainer, who also knows exactly what actions will trigger the dog to attack, and who never makes a mistake or has a moment of not paying attention, there will always be the risk that the dog does what it was trained to do.
There is no such thing as a 'switch' that will turn this off. Yes, you can 'switch' your IPO trained dog from tracking to attacking and back again if you know how and have the skills to do so, but you can't flip a switch and turn the training off altogether. The video Vohne Liche so proudly posted of Ozzy behaving normally with strangers demonstrates, in my opinion, that Vohne Liche must know this. First of all there's the very fact that a short episode of normal interaction with a few selected strangers is presented as an achievement to be proud of. This implies to me that Vohne Liche knows there are often problems with these dogs in family and neighborhood situations. Secondly, there's the clear nervousness of Ozzy's handler during this short video, the constant praising of the Rottweiler in a soothing voice, which strongly suggests the handler knew (or at least feared) that this Rottweiler had a not completely predictable or controllable hair trigger.
Dogs that have been bred and trained to attack may have a function in certain contexts. Some of us would question whether it's fair to exploit dogs this way at all, but that is a question for another time and place. What this case makes clear is that clear boundaries should be imposed on commercial traffic in these dogs. A trained protection dog can command a price up to $15,000 or more on the international market. It seems foolish to allow the people who exploit these dogs for commercial reasons to work on expanding their market regardless of whether there is a reasonable or urgent need, and regardless of how much danger that puts families in.
On a final note, the following. The Dutch government's Council on Animal Affairs acknowledges that this trade is becoming a serious problem. On August 15, 2014, it published a policy development paper, advising the government to take measures to prevent both failed and retired police dogs from being transferred into private hands as family pets. How sad that any such policy will now be too late to save the life of an American child who fell victim to this trade.
The Long Response
Semyonova's long response explains many aspects to readers more deeply including, bite threshold and bite inhibition, IPO bite training and protection dogs with a "switch." It also discusses several of the
Alpha Dogs
episodes featuring
Vohne Liche Kennels and their clumsy training techniques
. The long response addresses breeding and the international "protection dog industry" and offers insights into the Dutch rottweiler and Netherlands, Semyonova's native country.
Meanwhile, Platinum K9 Protection and their owners, Jessie and Tiffany Smith, are carrying on with business. The entity's Facebook page touts many new 5-star reviews for "expert" training since their own protection dog killed Tiffany's son, Logan Meyer, four weeks ago. Tiffany later told police, "Ozzy was Logan's favorite dog." The two might instead do well to read what behaviorist Semyonova has to say first. If they do not, then any prospective customers certainly should.
Alexandra Semyonova is an internationally acclaimed animal behaviorist and author. View additional DogsBite.org posts that Semyonova has provided commentary for in the past.
11/01/14: Protection Rottweiler Euthanized
The rottweiler that attacked and killed a 7-year old boy in Dodge County last Friday has been euthanized. Police reports gained by FDLreporter.com through an open records request show that Ozzy attacked Logan Meyer when he took the dog outside to go to the bathroom. The reports indicate that the dog was 3.5-years old, however, the March 2014 video states that the dog was 3.5-years old then, so presumably the rottweiler was 4-years old when it killed Logan last week.
The Reporter points out that although early press releases by the Dodge County Sheriff's Office
stated that the dog had severely "bitten" the boy
, the police report refers to the incident as an "attack." This is an important difference in language.
1
Officers also noted in the report that the boy had severe head and facial injuries. The boy's mother, Tiffany Smith, told investigators that Ozzy had been living with the family for 3-months and that the dog was trained in "personal property."
One can get much more specific than that.
A December 6, 2013 post on the Vohne Liche Kennels Executive and Family Protection
Facebook page -- the branch of Vohne Liche Kennels that Jessie Smith directed -- states: "If you have been searching for a Rottweiler for Personal Protection then your search is over...... Say Hello to Ozzy a three year old IPO2........ Yes thats a 2 and it's not a typo." We presume this means that Ozzy had received the Level 2 Schutzhund title, IPO 2.
2
This video shows an
unrelated
rottweiler
being evaluated on the IPO 2 Protection test
.
3
Additional examples from a variety of dog breeds include:
IPO 2 Protection and Obedience test compilation 2013
(rottweiler),
IPO 2 Champion Protection test 2012
(American bulldog) and
IPO 2 Champion Protection test 2011
(cane corso).
We have provided multiple video examples because some, if not all, of these Schutzhund trial videos may be removed or privatized by their "fearless" owners.
Smith told investigators she was in the kennel building preparing food dishes when Logan took Ozzy outside to go to the bathroom. She said Logan had been in the yard less than five minutes when Ozzy attacked him. Smith does not know what happened before the attack. "Ozzy was Logan's favorite dog and ... there had been no previous incidents or safety concerns regarding Ozzy with Logan or anyone else," Smith told investigators, according to the sheriff's report.
Additional Updates
Vohne Liche Kennels has removed Jessie Smith's profile from their Personnel page on their corporate website. The Vohne Liche Kennels Executive and Family Protection Facebook page continues to stay online with Smith's
contact information in the About section
. There is also a
VLK Executive and Family Protection Facebook page
that appears to be abandoned. Lastly, in 2013, Vohne Liche Kennels
announced the opening of their European kennel
; it is located in Holland.
10/28/14: Watch the Video: Ozzy Meeting People
In the past 24-hours, news reports from Wisconsin media have surfaced stating that Ozzy, the "bite" trained rottweiler that fatally attacked a 7-year old boy, was being trained as a service dog. We have no other choice but to post the video removed by trainer Jessie Smith yesterday from his YouTube channel clearly indicating that Ozzy had done bite work. In other damning news, it appears that Ozzy was technically trained under the hood of megastar Vohne Liche Kennels.
If true, we are no longer talking about Smith's new business, Platinum K9 Protection, we are talking about a major industry leader in police dogs.
In a September 3 Facebook post from
Vohne Liche Kennels Executive and Family Protection
-- the branch of Vohne Liche Kennels that Jessie Smith directed -- it states, "****** are some more photos of Ozzy the beautiful Rottweiler. For those of you that were interested in the videos I posted last week, please take a minute to tell Ozzy goodbye as he has found his forever home and his delivery will be set up over the coming days." The post displays multiple photos of Ozzy.
4
This type of post is exceedingly bad for business, considering what has happened since, which is likely why it was removed from the Vohne Liche Kennels Executive and Family Protection Facebook page. We found it in Google Cache on Monday. Trainer
extraordinaire
Jessie Smith has been on constant "clean up" duty removing damning photographs and videos of Ozzy since his "bite" trained rottweiler suddenly "switched" and attacked Logan's face and neck killing him.
"We received a call from the mother who stated that he was bitten by the dog and when we arrived on scene it was a horrific scene," said Dodge County Sheriff Patricia Ninmann.
--- snip ---
[First responders] arrived on scene and he was in the pen wagging his tail being a nice dog -- allowed us to go up and pet him did not appear to be aggressive at all," said Ninmann.

- Fox 6 Now, October 27, 2014
Service Dog and Sheriff's Chaplain Decoys
We first noticed the "service dog" language from
Fox 6 Now on Monday afternoon
. We had thought it was a misunderstanding. We were wrong. Late Monday, WISN aired their segment
propped up by the Dodge County Sheriff's Office Chaplain
, who specifically stated: "I do know [the dog] was trained to be a service dog. He was not trained to be an attack dog or any of that stuff." The segment added that the dog also had a background in both military and police training.
Sounds a little confusing doesn't it? First off, Ozzy was indeed trained in bite and protection work -- aka attack dog training. The "Ozzy Meeting People" video clearly depicts this. Second, why is the chaplain of the Dodge County Sheriff's Office the spokesperson delivering this confusing message? From the get-go the Dodge County Sheriff's Department has placed a silencer on this fatal dog attack case or as the FDLreporter.com states, has erected "
information roadblocks
."
Protection and Attack Dogs as Service Dogs
Protection trained and bred dogs are poor service dog candidates (See paper by psychologist pertaining to PTSD:
Disaster is not what a trauma victim needs
). While the ADA does not explicitly forbid a person from doing protection training with their service dog, "it also does not protect their choice to do so, and
businesses may legally exclude a protection trained dog
from their premises even if it is also trained as a service dog, as a direct threat," according to Service Dog Central.
What we are talking about is a dog that has been trained by deliberately stimulating his prey drive to elicit aggressive behavior for guard or protection purposes. Some call it "attack training," others refer to it as "protection training." Such a dog is likely to do what it was selected and trained to do when he feels or perceives threat. The experience of threat is innate in all creatures. However, individuals with PTSD have a pervasive heightened arousal and exaggerated perception of threat. They also have problems with anger control and are more likely than others to become engaged in interpersonal conflicts. How will these emotions impact the protection dog? I believe it will increase the likelihood of aggression towards innocent people or other dogs. The use of protection dogs by individuals with PTSD places the general population at risk for harm.


- Disaster is not what a trauma victim needs: Risks and negative consequences of protection dogs for individuals with post traumatic stress disorder by Natalie Sachs-Ericsson, PhD
October Surprise at the Sheriff's Office?
After the Dodge County Sheriff's Department placed a "silencer" on this case, we immediately looked at the most obvious public office to see if there was a cantankerous election race at hand. Indeed there is in Dodge County (You can
read about the nastiness here
). Sitting Dodge County Sheriff Pat Ninmann was appointed by
Governor Scott Walker in 2013
. She lost the primary election by a modest number of votes to Sgt. Dale Schmidt. Ninmann is now a write-in candidate.
The Monday news report by FDLreporter.com
goes deeper into the political ramifications
of a fatal dog mauling in this jurisdiction -- specifically involving a police and military K9 trainer from a celebrity kennel and a "bite" trained dog -- just before the November 4 election. Sheriff Ninmann is vilified for erecting "information roadblocks" to the media in this case, which she is dutifully guilty of doing. But would Schmidt have behaved differently as the sheriff, given the parties involved?
While Sgt. Dale Schmidt would not comment on the dog bite incident, the sheriff-elect said roadblocks with the media will be lifted when he officially takes office in January. Schmidt defeated Ninmann by a margin of 300 votes in the Republican primary election in August. However, Ninmann has launched a write-in campaign for Nov. 4.
"The employees here are aware of (Ninmann's withholding of information)," said Schmidt. "(Former Sheriff Todd Nehls) had a very good relationship in working with the media, and I plan to go back to doing some of the same things he did when he ran the sheriff's office."

- A politician just days before an election
Social Protection Dogs with a Switch
At the end of the day,
social protection dogs with a switch
have their drawbacks don't they? This is why DogsBite.org continues to write about this case. It is misguided to believe that expert training in protection and bite work can produce a "switch" in certain dog breeds from a gentle babysitter of children to the instant attack of a stranger. In the business of "switching" aggression on and off at whim, a rottweiler is a terrible choice. In this area,
breed is an excellent predictor of danger.
10/27/14: Mauling Victim Identified
The 7-year old boy who was mauled to death by a dog Friday has been identified.
Logan Thomas Meyer
was pronounced dead at the scene after a rottweiler owned by his family viciously attacked him, according to Sheriff Patricia Ninmann. Media outlets continue to stay mute about the overwhelmingly important background of the dog's owner. Meet Ozzy, the professionally "bite" trained rottweiler from Holland "
being social and friendly
," seven months before killing the child.
But you can't meet Ozzy can you? Jessie Smith removed this video from his YouTube channel just today. We made a copy last night just in case.
The March 2014 video talks about Ozzy possibly going to a doctor in Arizona that has three small children. This screenshot, however, taken on
October 25 of the Platinum K9 Protection Facebook page
, indicates that Ozzy was going to a military officer. All images of Ozzy were removed from the Platinum K9 Protection Facebook page sometime after the night of October 25. It was the only rottweiler in the group's photo album. Currently, Ozzy is
apparently
still being held in quarantine.
Video Transcript Excerpts: "Ozzy Meeting People
"
Handler:
Going inside the building to meet some people. Good boy. Good boy Oz.
[Approaches one man sitting at a desk, the man starts to pet him.]
Handler:
Good boy. Good boy.
Handler:
Come on, let's go meet some more people.
[Approaches different man who kneels down, the man starts to pet him.]
Man:
How old?
Handler:
He is 3-and-a-half. Here Oz!
Handler:
Sit!
Man:
Where are you from?
[Asks the man looking at the dog]
Handler:
He's from Holland.
Man: Nice and heavy on the bite?
Handler: Yeah, he bites really nice ...
[can't decipher language]
5
... Making a little short video of how social he is and just real friendly. There is a doctor in Arizona looking at him and he's got three small kids. He wants to make sure he is going to be a good fit for his family...
10/26/14: Trainer at Celebrity Kennel
In the wake of uncovering Platinum K9 Protection as the new owner of Country Kennels Bed & Biscuit business Saturday night, more bad news follows. To start, the motto of Platinum K9 Protection is, "Social Protection Dogs with a Switch." Go ahead and consider how unrealistic this goal is? According to the public Facebook pages of the owners of Platinum K9 Protection, the family arrived in Wisconsin with five dogs, presumably four malinois' and one rottweiler.
Jessie Smith, the owner and trainer of Platinum K9 Protection, was formerly the
Director of Executive and Family Protection
at Vohne Liche Kennels. The kennel gained national attention in 2013 for starring in
Alpha Dogs, a National Geographic Wild
television series (See: related
March, 2013 USA Today article
). Five months after the USA Today article, Vohne Liche Kennels was not featured so prominently in the news after
10 dogs died while being transported to El Paso
.
Ten dogs arrived in El Paso already dead, according to Maj. Joe Buccino, a Fort Bliss spokesman. The Canine Center is on post.
Vohne Liche owner, Ken Licklider said the air conditioner in the vehicle carrying the dogs malfunctioned. He said the kennel driver is supposed to check on the dogs during the 22-hour drive.

- December 2013, KVIA.com
Though not reported by KVIA until December, Jessie Smith
posted a video to YouTube on August 23, 2013
, which depicts Vohne Liche owner, Ken Licklider, commenting on the "horrible event in Texas." Licklider said that the dogs did not die on the road; they died at the hotel early in the morning. There were seven surviving dogs. "We are sickened over what happened, please understand," Licklider states. Both trainers that made the bad judgment call were fired.
Alpha Dogs
was
canceled at the end of its 2013 season
, according to the Futon Critic website.
10/25/14: Critical New Information
6
It was confirmed Saturday evening (in the video only) that the fatal dog attack occurred at Country Kennels Bed & Biscuit, a dog boarding facility, which is actually located in Iron Ridge. Neither family nor friends would speak to CBS 58 on camera. They did learn, however, that the family had just moved into the property with a kennel facility only a week or two ago. The family bought the home and kennel with plans of running the same type of business, according to neighbors.
Dodge County Sheriff's deputies still will not confirm the name of the deceased child or
whether it was a family dog
or
name the breed of dog
involved in the attack that killed a 7-year old boy. Lieutenant Brian Loos did say, "It was not just some dog that was running loose, I can confirm that, but I cannot confirm whether or not it was the family's dog." Dodge County Sheriff's investigators do not anticipate filing criminal charges. That is as far as the CBS 58 report went Saturday night.
Our own subsequent investigation showed that the arriving family renamed the business to, "Platinum K9 Protection, LLC."
State of Wisconsin business filings
and a Facebook page
chock full of images from Platinum K9 Protection
, showing the
same property address
and kennel facility as
Country Kennels Bed & Biscuit
, was uncovered Saturday night by DogsBite.org and our vital researchers. The Facebook page shows
the logo of the entity
-- note the parents and child in the logo -- along with two K9 protection dogs, a
malinois
and
rottweiler
, the latter described as "all muscle" by one commenter.
7
Seems pretty clear now why the Dodge County Sheriff's Department has been so tight lipped.
8
10/24/14: Child Mauled to Death by Dog
Hustisford, WI - In a developing story, a 7-year old child was attacked and killed by a dog Friday evening. The Dodge County Sheriff's Office said the attack occurred in the Town of Hustisford. Sheriff's deputies responded to a 911 call at about 5:20 pm reporting the boy was bleeding profusely. "Numerous first-responding agencies responded," Dodge County Sheriff's Office Lt. Brian Loos said. Despite the many emergency responders, they were unable to save the boy's life.
"Paramedics were trying for several hours to save the boy."

- WISN.com
Loos said the dog was known to the family, but would not confirm if it was a family pet or the dog's breed. Few other details are being released at this time. The animal was seized and transported to the local humane society to be placed into quarantine. Loos said the boy's death is devastating to the emergency responders who worked so hard to save his life. "Children are always the worst ones for our first responders to deal with. It's very difficult for them to deal with this," he said.
9
Responding agencies included: Dodge County Sheriff's Dept. and chaplain, Dodge County Medical Examiner, Neosho/Rubicon/Ashippun Police Depts., Hustisford Fire and First Responders, Hartford EMS, Lebanon EMS, Iron Ridge Fire Dept. and Woodland Fire Dept.
2010 Dog Bite Fatality
In 2010,
4-year old Taylor Becker
of Hustisford (
population 1,380
) was mauled to death by a dog while visiting family friends in Hubbard Township (
population 1,640
), also located in Dodge County. The two towns are about 7-miles apart. The little girl's parents had been visiting the home of Steven and Stefanie Beauprey when the lethal attack occurred. The 5-year old dog had only been with the Beaupreys for 3 to 4 months before killing Taylor. The Beaupreys were
breeding
the dog.
Related articles:
05/04/14:
Fatal Rottweiler Attacks - The Archival Record
07/26/13:
Beyond the Interview: Essay of a Fatal Pit Bull Mauling
12/05/12:
2012 Dog Bite Fatality: Yadkin County Infant Mauled to Death by Family Dog
02/11/12:
2012 Dog Bite Fatality: 'Visiting' Child Killed by PTSD Service Dog in Kentucky
08/27/10:
2010 Dog Bite Fatality: Dog Kills Visiting 4-Year Old Girl in Dodge County
Labels: 2014 Dog Bite Fatality, ADA, Fatal Rottweiler Attack, IPO Trained, Protection Dog, PTSD, Service Animal, Switch, Wisconsin