DogsBite Blog ::
The victim, David Glass Sr., standing with his daughter Marietta Glass.
Manslaughter Charges
UPDATE 09/22/14:
The DJournal.com reports new information. David Glass Sr. was attacked by three pit bulls at about 1 am Saturday morning, according to the sheriff's office. He was found four hours later. Glass Sr. was able to give Sheriff Arnie McMullen an account of what happened. The attack occurred at Sexton Road and Highway 7 in Lamar. The owner of the pit bulls, Eric Hodges, was arrested and charged with culpable negligent manslaughter in connection to his death.
Glass Sr. died of his injuries Sunday afternoon after being airlifted to Regional Medical Center at Memphis in critical condition.
Later this afternoon,
WMC Action News 5 provided more information
. A passing driver discovered Glass Sr. in a ditch by his house covered in bite injuries. The victim had been lying there for up to four hours. Glass Sr. told investigators he was walking to a friend's grave before the attack. Authorities seized three loose pit bulls then went to the dog owner's home and seized three more pit bulls that were tied up. The dogs are undergoing tests to see which ones attacked Glass Sr.
The victim's family members still have many unanswered questions, but are currently still in shock, trying to come to grips with his mauling death. His son, David Glass Jr., drove up from Starkville to be with his father after being airlifted to a Memphis hospital. Family members thought he would survive. His daughter, Marietta Glass said, "It hasn't really set in that my dad's gone and I'll never, never get a chance to talk to him again." His shaken family is now preparing for his funeral.
Benton County currently has no leash law; the sheriff hopes to pass a new ordinance. The county should consider
banning pit bulls all together
, given their strategic location for dogfighting activities (a rural county 50-miles from Memphis) and the senseless horrific death of Glass Sr. that leaves behind three grieving children.
Several Mississippi counties have already placed restrictions on pit bulls
including, Bolivar County, Carroll County, Hinds County, Leflore County and Rankin County.

Related video
09/21/14: Man Dies After Pit Bull Attack
Benton County, MS - In a developing story, WREG reports that a man who was attacked by a pack of dogs yesterday has died. David Glass
1
was severely mauled by a pack of pit bulls in Benton County, Mississippi Saturday morning. The attack occurred off Highway 7. Glass was airlifted to Regional Medical Center in critical condition after the attack. Glass died Sunday afternoon. Benton County borders the Tennessee state line. No other news reports have so far been located online.
Major Dogfighting Bust in 2013
On Easter Sunday last year
, law enforcement from multiple jurisdictions broke up a national dogfighting event in Benton County. The raid ended in gunfire, multiple arrests and the seizure of 26 dogs. A fight match was in progress when officers arrived to a crowd of about 200 spectators. Officers arrested over 50 people and called the bust
one of the five largest dogfighting operations in the country
. The location of the bust was about 6-miles northeast of Ashland off Highway 72.
The Benton County Sheriff's Office now must contend with a pack of pit bulls that killed a man.
Related articles:
04/10/14:
2014 Dog Bite Fatality: Pit Bulls Owned by Family Members Kill 3-Year Old...
03/03/11:
2011 Dog Bite Fatality: Pontotoc County Man Killed by Three Pit Bulls
06/26/10:
2010 Dog Bite Fatality: Terry Child, 5-years old, Killed by Neighbor's Pit Bull
Photo:
WMC Action News 5
Labels: 2014 Dog Bite Fatality, Fatal Pack Attack, Fatal Pit Bull Attack, Mississippi
Couple Bound Over for Trial
UPDATE 09/13/14:
At the end of the preliminary examination on Friday, Lapeer County District Judge Laura Barnard ordered the couple bound over to face trial in a circuit county court. Sebastiano Quagliata and Valbona Lucaj will stand trial for second-degree murder and harboring a dangerous animal causing death after their two cane corsos viciously attacked and killed a jogger in July. The couple will be arraigned on September 22. The bond for each remains at $500,000.
Prosecutors showed through witness testimony and evidence that the couple knew the dogs were dangerous and could attack or kill. They also showed that the owners knew the dogs had a habit of escaping their pen. On Friday, Lapeer County Sheriff's Detective Sgt. Jason Parks testified that Quagliata told him after the death of Craig Sytsma that
his dogs had escaped their pen
numerous times. Judge Barnard clearly believed the two had knowledge their dogs were dangerous animals.
"This is a very difficult situation for everyone for involved. Each of the parties did create a high risk of death by their behavior or lack of behavior."

- Lapeer County District Judge Laura Barnard
Animal Control Testimony
The defense called Lapeer County Animal Control Chief Carla Frantz to testify about her knowledge of the two previous attacks in 2012 and 2013. The defense asked why the dogs were not taken away then? Frantz testified that she did the investigation in 2012 and another officer investigated the 2013 biting incident. "It was a year-and-a-half between bites," Frantz said. "There were no other complaints." She added that at that time, the owners were "very cooperative."
DogsBite.org interjects here by adding: Of course the owners were cooperative, they wanted to get their papered, breeding cane corsos back. Were Quagliata and Lucaj cooperative with the victims too? Since both victims filed civil lawsuits against them, we presume they were not. Recall that Quagliata also pleaded with the second victim, "don't call the cops" and offered him a financial bribe. Neither of the pair showed up for a court hearing involving the 2013 bite victim either.
The Detroit Free Press has
additional information about testimony given by Frantz
. She testified that "her department had no record-keeping method to keep track of dogs that repeatedly bite people," according to the Free Press. Despite two separate biting incidents, apparently because they were 1.5 years apart, Frantz saw no reason to pursue a dangerous dog designation. Then Frantz whips herself into a contradiction that defense will surely use during the actual trial.
When she heard about the fatal mauling on July 23, she testified, "I knew of the address. I was not really surprised because of the breed of the dogs."

- Lapeer County Animal Control Chief Carla Frantz
DogsBite.org understands that wires get crossed, particularly when an agency, operating like a third world country, had "no record-keeping method" to track repeat biters. We wish we could see the transcript of this hearing to better evaluate the context of Frantz's testimony. Given these limitations, it appears Frantz had no concern after the second bite or lacked knowledge of it.
1
But after learning of the
fatal attack
, Frantz quickly connected these dogs to it
due to their breed
.
Animal Control Breakdown
While animal control officers often have their hands tied due to poor local, county or state laws, there is no question that many fatal and serious dog attacks are the result of negligence on the part of animal control (difficult to prove in court, however, see:
piercing governmental immunity
). It is important to point out that early on in this case, the animal control agency in the neighboring county of Oakland said they would have
asked for a review by prosecutors after the second bite
.
Lapeer County Prosecutor Tim Turkelson says his office was never notified of vicious dogs biting pedestrians and roaming free in Metamora Township and would have taken action before two of those dogs killed a jogger last week.
"Unfortunately, there were red flags all over the place," Turkelson said in a phone interview this morning. Had his office been notified by Lapeer County Animal Control of repeated attacks, he said, he would have taken action to have the dogs destroyed.
--- snip ---
At that point [after the second bite] animal control officers could have taken the matter to the prosecutor, arguing a pattern of dangerous behavior. "They never notified us," Turkelson said.

- Lapeer County Prosecutor Tim Turkelson, July 29, Detroit Free Press
09/04/14: Police Reports Released
Lapeer, MI - On July 23,
Craig Sytsma was brutally killed by two cane corsos
with a history of aggression while jogging on a rural Metamora Township road. The dogs' owners, Sebastiano Quagliata and Valbona Lucaj, were subsequently charged with second-degree murder and possessing an animal causing death. A preliminary examination has been unfolding to determine if there is enough evidence for the couple to stand trial. Testimony continues on September 12.
The examination began with
testimony from the couple's veterinarian on August 15
. Shelley Wallace examined two adult cane corsos owned by the pair three months before Sytsma's death. She testified that she found both dogs to be "aggressive" and "dangerous" and warned their owners that they needed to seek help from an animal behaviorist. It took three people to pin each dog, both muzzled, against a wall for her to
perform a 15-second exam due to their aggression
.
After two separate examinations of dogs Toni and Princess, Wallace talked with owner Valbona Lucaj about the dogs' aggression.
I told the owner I felt the dogs were very aggressive and may be dangerous," she said during a preliminary examination in Lapeer County District Court for Lucaj, a native of Albania, and her husband Sebastiano Quagliata, a native of Italy.

- Shelley Wallace, veterinarian, Mlive.com, August 15, 2014
The two adult cane corsos that Wallace examined that day were Toni and Princess. It was Toni and Julia, however, that attacked and killed Craig Sytsma. The couple owned three adult cane corsos, a 4-month old and seven cane corso young puppies. The three adults were euthanized and the eight remaining dogs were shipped to a rescue in Austin, Texas. According to prosecutors, each papered cane corso was sterilized before being shipped to this out-of-state jurisdiction.
2
If readers recall, at the time of Sytsma's death, Quagliata and Lucaj were attempting to sell the young puppies on Hoobly.com. Along with advertising the puppies for sale, the couple included the
International Cane Corso Federation (ICCF) papers of the sire and dam
: Toni (born April 26, 2013) and Julia (born December 31, 2010). According to testimony by Wallace, at the ripe age of 1-year old, she ranked Toni a
whopping 9.5 on a scale of 10
in his aggression; she ranked Princess 9.
View a photograph of the defendants' three adult cane corsos (DogsBite.org added the names).
At the time of the April 2014 veterinary examination, one or more of these dogs had already attacked two people on the same rural Metamora Township road. April Smith, 25 of Oxford, was attacked in May 2012 and resident Jim Salego, 73, was attacked in November 2013. Both filed civil lawsuits. Lucaj did not reveal to Wallace during the 2014 examination either of these prior biting incidents. Wallace noted in the files of both dogs, "DWB," which stands for "Dogs Will Bite."
Testimony by Neighbors & Victims
When neighbors Edward Elmer and his girlfriend, Helen Barwig, rushed to help Sytsma that day, the victim already knew that he was dying. Elmer testified, "At first I did not know what I was seeing.
Then I realized it was the jogger with two dogs hanging from him
." Elmer had waved to Sytsma only moments before when he saw him jogging as he mowed his lawn. He yelled to Barwig and ran and got a gun, firing once into the air and three times at the dogs. One shot hit.
Elmer's girlfriend, Helen Barwig, a trained EMT technician and first responder, ran to Sytsma to try to save him, applying a tourniquet to his shoulder and using paper towels to stop the bleeding. He was "pouring" blood, she said, and begging her to save him.
"Then he reached and grabbed my arm, and then he went limp," she testified.
Sytsma's family members wept quietly in the front row of the courtroom as she testified.

- Detroit Free Press, Aug. 29, 2014
Both victims previously attacked by the cane corsos owned by the couple also testified. One of the dogs, presumably Julia, attacked April Smith on May 14, 2012 as she walked with her sister and her sister's dogs down Thomas Road. The dog began following them as they passed by the owner's home. The loose dog then attacked Smith, biting her three times. "It latched on and broke away all three times," she said. Smith sued the owners and was awarded a $20,000 judgment.
Dog Owner Offered Victim a Bribe
Jim Salego who was attacked on November 21, 2013 while walking along Thomas Road also testified. Salego told a packed courtroom that three of the large dogs came "flying down the hill," as fast as they could run. "They began to circle me," he said, "I had my stick going back and forth trying to get them off me." After he was bitten in the leg, Quagliata came out of the house and called his dogs off. "
He said, 'Don't call the cops; I'll pay you money
,'" Salego recalled.
Salego ignored the bribe and instead whipped out his phone and dialed 911 and told him, "'Yes, I am calling police. I have blood running down my leg.'" Both Quagliata and Lucaj are currently under investigation by
U.S. federal officials after Lucaj paid a $3,000 bribe
to an immigration officer in 1997 to grant her asylum, according to federal court filings. At the time of Sytsma's death, the couple had been facing "imminent deportation." The couple's defense attorneys deny this.
Quagliata and Lucaj have separate defense attorneys in connection to the death of Sytsma. Lucaj and their three children were in Boston at the time of the fatal mauling. Lucaj still knew about the veterinarian's warning three months before his death and the previous bite victims in 2012 and 2013. Neither of the pair showed up for a court hearing involving the 2013 bite case either. For these reasons, and likely others, prosecutors chose to charge both with second-degree murder.
After the mauling death of Diane Whipple in 2001, prosecutors also charged a
husband and wife pair, Robert Noel and Marjorie Knoller
, even though Noel was not present when the dogs fatally attacked. A grand jury indicted Knoller for second-degree murder and indicted them both for involuntary manslaughter and felony charges of keeping a mischievous dog. A jury found the couple guilty on all charges in 2002. Knoller is currently serving her sentence in a state prison.
Testimony Resumes in September
Examination testimony resumes on September 12. Thus far, a significant amount of evidence has been presented that shows the dogs' owners had full knowledge of their dogs' viciousness. Does the evidence also succeed to show the couple had a
wanton disregard for human life?
Police records indicate that Quagliata also had
full knowledge that his powerful dogs repeatedly dug out
of their chain-link kennel. On the evening of Sytsma's death, Quagliata told sheriff's investigators:
"Quatliata stated that the dogs dig under the kennel and escape(ed)," the report stated. "Quatliata stated that this occurred numerous times prior (would not give a number when asked) and that was how they were escaping from the kennel."

- Mlive.com, August 15, 2014
Lastly, at least one buyer of a puppy from Quagliata and Lucaj has testified so far. After Robert Pitcavage heard about the fatal attack, he contacted police. He purchased a puppy from the couple in July for $900. Just prior to paying, he said he wanted to meet the parents of the puppy. "I was really disturbed," he testified. "Walking up there I noticed the pen and the structure of the chain length fence was torn up." The dogs then attacked the cyclone fence as he stood there.
"It literally grabbed on the fence," he said. "I didn't realize the strength of their jaws." Poor naïve Pitcavage then testified that his dog -- presumably a 3 to 4-month old "puppy" -- is well-tempered and that his family has not had any issues with the dog. Yet, puppies are puppies and usually have no way of being adequately tested for aggression until they reach adulthood, which is at least 12-months old, preferably 18-months of age.
Pitcavage is not out of the woods in our opinion!
Related articles:
08/02/14:
2014 Dog Bite Fatality: Two Cane Corsos Brutally Attack and Kill Jogger in Metamora...
Labels: 2014 Dog Bite Fatality, Cane Corso, Craig Sytsma, Jogger, Lapeer County, Michigan, Second-Degree Murder
Prosecutor Fails
09/11/14:
A Montgomery County grand jury did not return any indictments for Andrew Nason and Julie Custer, whose two dogs horrifically killed Klonda Richey on February 7. Montgomery County Prosecutor Mat Heck Jr. held a press conference today, of which we only saw the last part. Heck essentially stated that because there were no witnesses, there are no criminal charges. Heck blamed Richey's preventable death on a "community" fail. Heck's statements are inexcusable.
1
In a grand jury proceeding, the prosecutor runs the show
. Montgomery County Prosecutor Mat Heck Jr. is responsible for the return of no indictments. The administrative, legal and law enforcement system failed Richey over and over again, which led to her brutal death. After she died, these systems failed her again. In Dayton and Montgomery County, Ohio,
public execution by your neighbor's dogs comes without consequences
. Nason and Custer face no felony charges.
[Grand jury] proceedings are usually one-sided, and are very different from a trial. Unlike a public trial, the accused person is not present (unless he or she is called as a witness), nor is his/her counsel present (even if he is called as a witness). Also, witnesses are not cross-examined. Not even a judge is present in the grand jury room, although a judge will be contacted if a witness refuses to answer a question and the prosecutor wishes to cite the witness for contempt.
--- snip ---
Further, information obtained by illegal police investigation, unconstitutional surveillance, or by unreliable means, can be heard and relied upon by grand jurors, even though that information would not be admissible if the case proceeded to trial. Finally, even if a prosecutor knows of information which would help show that the accused person is innocent, he is not required to present it to the grand jury.

- Professor Margery B. Koosed, Ohio State Bar Association
"Continuous" Efforts by Victim
On the morning of February 7, Klonda Richey was brutally killed by her neighbor's two "mastiff-mix" dogs. Her naked, bloody body -- the dogs stripped off all of her clothing -- was found face down in the snow in front of her home. Prior to the deadly attack, Richey had
filed 13 complaints with animal control (ARC) and made 46 calls
to Montgomery County Regional Dispatch Center related to her neighbor's dogs and home between December 2011 and her death.
The problems with her neighbors and their two dogs had become so bad that Richey installed surveillance cameras on her home and built a
high two-tiered security fence to protect herself
and her cats from these dogs. 16 months before her death, Richey filed a civil stalking protection order in court against Nason. The order was denied by Magistrate Kristi Wuebben in February 2013. Richey appealed the decision. Judge Michael Krumholtz denied her appeal the following month.
Klonda Richey now lives in the sky. There will be no justice for her barbaric death.
02/21/14: Citizens Speak to Commission
Following the preventable dog mauling death of Klonda Richey, Dayton citizens appeared before the City Commission on Wednesday, complaining that public safety has evaporated in the area, with the problem of loose aggressive dogs, gunfire and other problems plaguing the area. Terms brought up by citizens included, we live in a "crime containment zone," there is a "systemic dysfunction" in law enforcement and "city authorities have breached their contract with citizens."
Mayor Nan Whaley addressed meeting:
"Every one of us know or have been a part of some of these issues with dogs and being unsure about what is going on ... It is a tragedy that someone's life is lost over it. I think the best thing we can do is figure out how to make sure that no one else's life is lost in the future. I talked yesterday with three state representatives, Rep. Butler, Rep. Winburn, Rep. Strahorn. We will be sending a letter with recommendations to the state legislature on ways that they can tighten up their law. Specifically, I think it is bothersome to us, and I have told them this, that Animal Resource Center can be contacted by someone nine times, and there is no requirement for them to call back. So that is one place where the state legislature can take a more active role ... they are very interested and engaged with this issue ... they are very interested in working on the state law issue."
Read more about the
utter failure of the Animal Resource Center
at the Scorched Earth blog.
02/12/14: Victim Made 16 Calls to 911
In addition to filing a civil stalking protection order in court, which was suggested by police, Klonda Richey, made 16 calls to 911 in the last year to report problems with her neighbor and his dogs. During a July 2, 2013 call, Richey told dispatchers, "I've made a lot of calls about this neighbor next door to me and his pit bull-mastiff ... I tried the civil protection order and I got brushed aside by those judges as a neighbor dispute. It's gone way beyond a neighbor dispute," Richey said.
According to the 2 News article, Richey also stated, "This is nuts," Richey told the dispatcher. "This is constant intimidation thing. I lost my last case and it was the police who suggested I do the civil stalking protection order." On February 7, Richey was savagely struck down by her neighbor's two pit bull-type dogs in a sustained attack in front of her home. Today,
Dayton Mayor Nan Whaley said that current state legislation
(that repealed the longstanding pit bull law in 2012) is "weak."
Mayor Whaley also said, "Our police department sees a lot, but this is something that has really affected them as well." Readers must remember that as horrific as shooting homicides are, most bullet injuries do
not
produce injuries like a fatal pit bull mauling -- parts of a person's face, arms, legs or scalp ripped off, deep tearing injuries covering the victim's body, blood soaked everywhere, in the case of Richey, across white snow, and finally, the visual evidence of a prolonged struggle.
We believe that Dayton police will do everything they can to ensure that felony criminal charges are brought against the dogs' owners.
On Friday,
Dayton police released Richey's surveillance videos
that she submitted as evidence when trying to obtain the civil stalking protection order against her neighbor. Richey is in the midst of
having her own privacy fence built
during the footage. The videos clearly show the man using intimidation tactics with his own presence and his dogs. Multiple shots show the dogs loose on her property and exhibiting aggression. Richey's neighbor was indeed operating a terror campaign.
02/11/14: Victim Sought Protection
In addition to the
laundry list of complaints
documented about the dogs that horrifically killed Klonda Richey -- coroner Harshbarger stated Monday: "The injuries are multiple and severe and clearly happened while she was alive ...
It is a significant period of time that she was aware, cognizant of what was happening.
" -- court records show that Richey filed for a civil stalking protection order on September 12, 2012. Included in the filing is a
letter to Andrew Nason
.
I have 24 years of my life and memories here before the deaths of my Dad, Mother, husband. I am not leaving.
You have little time here with no emotional attachment. House is a trainwreck; no idea why you chose it when so many better ones are on the market w/few minor repairs necessary.
You paid 8k. I'll pay $3900 cash -- don't really want the house, but do want the trauma to my cats and fear to end. (They only go to that house because empty so long).
If you want to hurt me, shoot or stab me. Leave cats in peace.

- Klonda Richey
Magistrate Kristi Wuebben did
not grant the protection order
. Klonda Richey is now dead.
2
Additionally, 2 News
questioned Montgomery County Animal Control Director Mark Kumpf
, who is now sitting on a pile of evidence showing his department's complete failure of duty to Klonda Richey. Kumpf called her death a "tragic accident" and "there is nothing foreseeable or doable" to prevent this type of occurrence. Kumpf played an active role in repealing Ohio's longstanding pit bull law, which
prima facie declared all dog breeds "commonly known as a pit bull dog" vicious
.
955.11 - (iii) Belongs to a breed that is commonly known as a pit bull dog. The ownership, keeping, or harboring of such a breed of dog shall be prima-facie evidence of the ownership, keeping, or harboring of a vicious dog.

- 955.11, Ohio Revised Code, 1988 to May 22, 2012
The new state law, according to Kumpf, "basically levels the playing field for all breeds of dog" … "Other than the one dog, we've had our hands tied," Kumpf said in a February 2012 article. "
Kumpf was part of a group involved in rewriting the bill introduced last January
... If signed by the governor, the law would allow animal control officers to designate any dog as "nuisance," "dangerous" or "vicious," regardless of breed. Violators could be fined or face felony sanctions."
So what happened? Mark Kumpf should be fired for total failure of duty.
Richey had surveillance cameras installed on her home. That video is now in the hands of Dayton police. Remember what Harshbarger said, "It is a significant period of time that she was aware, cognizant of what was happening." We predict that it was at least a 10-minute relentless, violent attack by two dogs that fall under the designation of a dog "commonly known as a pit bull dog," in Ohio jurisdictions that
continue to have breed-specific pit bull laws
, Dayton, sadly, not being one.
02/10/14: Autopsy Results Announced
3
On Monday, Montgomery County Coroner Kent Harshbarger said that Klonda Richey died of blood loss. "The injuries were severe and multiple," Harshbarger said. "This is one of the worst that we've ever seen," he said. The crime lab is now working to match dental impressions left on Richey's body with the teeth of the two suspected dogs. After the barbaric attack upon Richey, police officers shot and killed both male dogs; their remains have been preserved as evidence.
On Sunday evening, both dog owners, Julie Custer and Andrew Nason, were released from jail. Dayton Police Sgt. Richard Blommel explained their release, "Due to the complex nature of the laws concerning animals, we just felt that at this point it would be better off to get our ducks in a row before we proceeded any further." Blommel said that police continue to investigate and will meet with prosecutors once again when they feel there is enough evidence for an indictment.
New information was also provided about previous complaints involving the two dogs (now being identified by the coroner as "cane corsos"). Both Montgomery County Animal Resource Center (ARC) and the Sheriff's Department have handled multiple complaints about the dogs at large. Many of the complaints, dating back to 2012, stem from an anonymous female who said the dogs were loose and aggressive; other complaints involved barking dogs or not having enough food.
In a March 16, 2013 report, a woman called the ARC to report that the mailman would no longer deliver mail to the street until a loose dog problem was resolved. "The dog has come after (the complainant) before and she states that now (the owner) will let his dog loose to go after her and her cats," the report states. Klonda Richey had 20 beloved cats in her home. After that report, an ARC employee left a warning on the door of 35 E. Bruce after knocking and receiving no answer.
See:
Documents showing complaints from May 2012 to February 7, 2014
A Preventable Horror Story
An Associated Press article added that
Richey was terrified of the two dogs
. According to people that she knew, Richey had complained many times about the dogs and sought help from various public agencies. Richey had been harassed by the dogs' owners and
built a high fence to protect herself
and her 20 cats, said acquaintances interviewed by the Dayton Daily News (
behind a paywall
). Friends and co-workers of Richey said the problem had been going on for three years.
"She's always been terrified of those dogs," said Tim Bridwell, a friend who worked with Richey at Montgomery County Job & Family Services. Bridwell said that Richey told him that she tried to work through the legal system to get protection from the dogs, but felt that no one believed her. "She told me, and a lot of other people, she was afraid those dogs were going to kill her," Bridwell said. On Friday, February 7, that is exactly what happened when she stepped outside her door.

Related video
Images of Dayton fatal dog mauling victim Klonda Richey at different times in the past year:
02/07/14: Mauling Victim Identified
When the evening news cycle unfolded, many new details were provided. The Montgomery County Coroner's Office identified the fatal dog mauling victim as
Klonda Richey
, 57-years old. An investigation by 2 NEWS showed that she worked for the Montgomery County Department of Job and Family Services for 25 years. The investigation also showed that six 911 calls were made about a dog at 35 E. Bruce Ave (from 2013 to present); five of them were made by Richey herself.
A multitude of pit bull deflection breed names have surfaced thus far, including: mixed-breed, mastiff-mix, bullmastiff and mastiff-cane corso mix. Ohio is unique in that it formerly had a statewide pit bull law (1988 to 2012). During this period, and still today, the definition of a pit bull is broadly defined as a dog "
commonly known as a pit bull dog
" and includes the gamut of pit bull derivatives: American bulldogs and pit bull-mastiff mix breeds (cane corso, presa canario, etc).
4
Mark Kumpf
, Director of Montgomery County's Animal Resource Center, told 2 NEWS he was aware of nine complaints, but, he said, "we've never located them or seen [the dogs]." Kumpf's agency had
never even SEEN the dogs
. They are listed in the licensing database as "mixed-breeds," a label presumably given by the dogs' owners.
This did not stop Kumpf from telling media outlets the dogs were "mastiff-mixes" to deflect early police reports of the dogs being pit bulls.
Further, a hot tipper sent in this horrific detail about one of the dogs' owners, Andrew Nason: September 2012,
booked into Montgomery County Jail on suspicion of endangering a child
. The child wound up in intensive care after Nason said the child fell down a flight of stairs. The law is no stranger to these dog owners, Custer and Nason, who of course had to add pit bull-type dogs to their home. Julie Custer's Facebook page shows multiple children and her
fatally attacking dogs.
Finally, the Dayton Daily News is claiming that this is the
third fatal dog attack in Montgomery County
in the last 17-months. We believe it is the
second
fatality, the
first being the death of Dawn Jurgens
, 76, of Trotwood in September 2012. The possible third fatality occurred in Miami County. In late November 2012, Elizabeth Hirt, 93, was
badly injured by her two Boston terriers
. She died on
December 11, 2012
, according to her obituary. We have little other information about her death.
02/07/14: Dog Owners Identified
WDTN names the dogs' owners as Julie Custer, 25, and Andrew Nason, 28; both are being charged with reckless homicide. Sgt. Richard Blommel told WDTN, "It's not like the dogs' owners were four houses down. They were right next door," Blommel said. "I can't imagine the blood curdling screams of someone being attacked would not be heard by someone who lives next door," Blommel added. Both Custer and Nason were booked into the Montgomery County Jail.
02/07/14: Dog Owners in Custody
Dayton Daily News video coverage shows the two owners of the dogs handcuffed and being hauled away by Dayton police. Authorities believe the 57-year old victim walked outside early this morning to take out the trash or pick up a package when she was attacked and killed by the two loose dogs, now being described as pit bull-mastiff mixes. The victim was discovered at about 8:20 am Friday morning, after police received a report of a naked woman on the sidewalk.
When officers arrived on scene, the two dogs charged the officers who then shot both animals to death. Police have received nine previous complaints about the dogs running at large, and both dogs are licensed, according to authorities. Police said the victim did have a coat on when she walked outside, but the dogs "tore the woman's clothes off during the attack." It is unknown what degree of charges, if any, the two dog owners face. Homicide detectives continue to investigate.
Criminal Charges in Ohio?
There have been 11 fatal dog maulings in the State of Ohio since 2005, only one,
the death of Ernie Assad
, resulted in criminal charges. In that case, the dogs -- a pit bull and American bulldog -- belonged to former
Cleveland Browns tight end Darnell Sanders
, who had asked a friend, Natalie Gruttadauria, to watch them while he was away. The dogs got loose and attacked Assad while he was watering plants in his backyard. Charges against Natalie were later dismissed.
5
02/07/14: Pit Bulls Kill Woman
Dayton, OH - In a developing story,
6
Dayton Police report that a woman was killed by two pit bulls outside her East Bruce Avenue home. In a horrific, but predictable scenario, the news article bluntly states: "Dayton Police say they came upon the woman's body on the sidewalk. A nearby neighbor called 911 and reported seeing the body on the sidewalk. She said the body was face down and naked." Officers shot and killed both pit bulls suspected to have attacked the woman.
A number of fatal pit bull attacks involve the victim being stripped naked -- including their shoes -- during the violent attack.
Police obtained a warrant for 35 East Bruce Avenue, where they arrested two people, a man and a woman, on suspicion of the owning the two pit bulls. The deceased woman's identity has not been released, pending notification of family members. What is known is that this woman died a violent death at the jaws of two pit bulls, and as she tried to protect herself, the dogs ripped off her likely substantial clothing (snow) leaving her dead and completely naked on a sidewalk near her home.
Related articles:
09/05/12:
2012 Dog Bite Fatality: Trotwood Senior Citizen Killed by Own Dogs
10/21/10:
State Law Only Allows for Meager Charges After Near Fatal Mauling
02/07/10:
Tom Skeldon, the 'Biased' Blade and Recent Ruling Halting Enforcement of Toledo...
Labels: 2014 Dog Bite Fatality, Corruption, Dayton, Fatal Pit Bull Attack, Mark Kumpf, Ohio
Manslaughter Charges
UPDATE 09/11/14:
Prosecutors have charged both Javon Dade Sr. and his girlfriend, 26-year old Alessandra Carrasco, with manslaughter charges -- the emphasis placed on Carrasco. According to prosecutors, it was Carrasco who brought the dogs onto the property and who leased the property. Furthermore, it was Carrasco who was in charge of Javon Jr. at the time of his death. Carrasco did not appear in court today. Both defendants are expected to stand trial in November.
08/22/14: Father, Girlfriend Arrested
Miami-Dade Police have arrested and charged two people in connection to the mauling death of 4-year old Javon Dade Jr. On August 13, Javon was first reported missing by his father then discovered dead in the backyard of his father's home by police a short time later. One or more of his father's pit bulls had attacked and killed him. On Friday, his father, Javon Dade Sr., 30, and his father's girlfriend, Alessandra Carrasco, 26, were arrested and charged with child neglect.
According to Dade's arrest report, he picked up his son from his mother's home about 9:30 pm the night before the attack and returned to his home. After his son fell asleep, Dade and Carrasco "began smoking several marijuana cigarettes laced with cocaine," according to the report. When his father and Carrasco woke up the next morning, about 9:00 am, Javon Jr. was nowhere to be found. Police said the front door of the home was locked, but the rear sliding glass door was not.
Notably, now that the police report has been released to the media, we see a distinct language change regarding breeds of dogs. The 5 dogs in question are now being called "pit bull-mixes." The
breed labeling game
by Miami-Dade Animal Services -- who offered up four different breed names for these dogs, none being "pit bull-mix" -- is now over. This may be due to the fact that the boy's death now involves criminal charges of child neglect and is now fully under police control.
1
CBS Miami also spoke to the boy's paternal grandmother, Jocelyn Dade. She said that both her son and his girlfriend have drug problems (as noted in Javon Sr.'s extensive criminal arrests and convictions). Jocelyn also said that the white dogs "grew up" with Javon Jr. but the adult male pit bull -- already euthanized due to aggression -- was a new dog her son had gotten from a neighbor. The
related video shows Javon Sr. collapsing to the ground
upon learning of his son's death.
08/18/14: DCF Knew of the Pit Bulls
CBS Miami reports that the Department of Children and Families (DCF) was warned that the pit bulls posed a danger to Javon Dade Jr. and his siblings 3-years before one or more of these dogs fatally attacked the boy. According to documents obtained by CBS Miami and their news partners, in March 2011, DCF received a complaint from a neighbor about the "smell" and "feces" and "danger" of the six dogs, two being pit bulls, living in the family's home (See:
DCF document
).
At that time, Javon Jr., 6-months old, and his two siblings lived with his two parents. The March 2011 DCF narrative in part reads: "There are about six dogs living inside the apartment … the dogs urinate on the floor and the children are frequently on the floor … Two of the dogs are pit bulls … There is concern for the safe care of the children in the home." The DCF report also mentions an incident a year earlier when both parents were bitten trying to break up a dog fight.
When DCF officials confronted the mother, Doreen Reyes, about the allegations, she denied them, claiming to only own three dogs, none of which were pit bulls. At that time, the family was living in Miami-Dade County. DCF failed to contact Animal Services about the dogs being kept illegally by the family.
Would it matter if they had though, given that Animal Services is so quick to mislabel any pit bull-type dogs as a terrier-boxer mix, terrier-mix or American bulldog-labrador mix?
Two of the dogs are pit bulldogs," the DCF report added. If the DCF investigator knew that it is illegal to keep pit bulls in Miami-Dade County, there is no mention of it, and no indication that animal services was informed of the situation.
The DCF probe concluded that Javan and his siblings were in a "moderate to high" risk environment, yet no action was taken to remove the children or the dogs. DCF investigators spoke with teachers, daycare workers and a doctor who said the children appeared healthy and well dressed.

- CBS Miami
Finally, the DCF report spells out part of the father's extensive criminal record. (We checked this last week as soon as his name was released by searching the
Miami-Dade County criminal court website
.) Javon Dade Sr., has a history of drug offenses involving cocaine and marijuana; a perfect pairing with running an illegal pit bull breeding operation out of his home. By June of 2011, the parents had split up with Javon Jr. living primarily with his mother and visiting his father.
Summary of DCF Investigations
DCF knew about the pit bulls, which are illegal to own in Miami-Dade County and have been since 1989,
but DFC did not know about the county ordinance?
Second, DCF documents state that on August 13, "
Javon Jr. was mauled to death by the father's pit bull dog
." So it will now be harder for Animal Services to mislabel the dog(s) as terrier-mixes or bulldog-mixes,
ad nauseam
. Finally, if DCF had properly followed up and the breed ban enforced, Javon Dade Jr. would still be alive.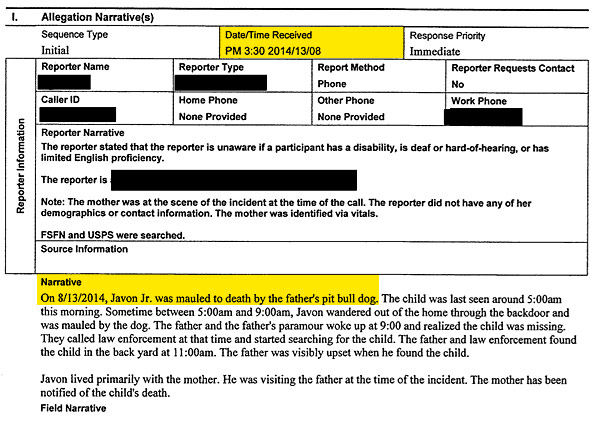 08/15/14: Memorial Grows for Victim
Javon Dade Jr. was visiting his father at the time of his violent mauling death. The boy lives with his mother, Doreen Reyes, and his brother in Palmetto Bay. The two parents are no longer together. Friends of Doreen recently defended her on the
Local 10 Facebook page
. Doreen also commented: "I brought my kids up in a Godly home and I'm leaving it up to him to get us through this tragedy. So please have compassion for my family and my other son through this time."
CBS Miami reports other social media comments
. Beryl wrote to Javon's grandmother (maternal or paternal is unknown): "I AM SICK AND TIRED OF THESE DOGS PITBULLS KILLING OUR BABIES. OH GOD HAVE MERCY SAVE OUR BABIES. WORDS CAN NOT EXPRESS HOW THIS FAMILY FEELS RIGHT NOW." Beryl may be referring to the fact that three young boys, ages 4 to 6, have been brutally mauled to death by family pit bulls in Florida in the past four weeks.
08/14/14: Landlord Update; AC on Record
Kenneth Darbin, the landlord and owner of the property, told CBS Miami yesterday that he warned his tenants a
week ago that they had seven days to remove the dogs or face eviction
. The day of the fatal attack was the seventh day of his warning, according to reporter Lauren Pastrana who spoke to him. When later reached by phone, he claimed, "They snuck the dogs on the property." The boy's father had only been living in the house for a little over two months, Narbin said.
New Breed Name -- Will It Stick?
Beginning with Miami-Dade Animal Services labeling 5 of the dogs "
labrador
-pit bull mixes," then broadening this to "
terrier
-boxer mixes" finally, Kathleen Labrada, the spokesperson for Animal Services went on record with WSVN last night calling the 5 dogs "
American bulldog
-labrador retriever mixes." (We've underlined the first name, which is the predominant breed.) Labrada also admitted that the puppies are too young to properly evaluate, but still called them "
terrier
-mixes."
"A total of six dogs were removed from the scene. Three adults which appear to be American Bulldog and Labrador Retriever mixes, and one pit bull," said a spokesperson Kathleen Labrada of Animal Services. "The puppies appear to be terrier mixes. They are too young to evaluate, they are under six months of age. We're certainly hopeful that through DNA evidence and other evidence we're able to gather, that we will be able to confirm which dogs..."

- Kathleen Labrada
When all else fails, labeling the dog an American bulldog-mix usually sticks. As explained in footnotes, there is no frantic labeling game (throw it until it sticks) about the breed of the number one suspect. If there were, if might get someone from Animal Services fired. It is still unknown, however, which of the adult dogs attacked or if all three did. Currently, Animal Services is trying to pawn off the two adult females (the white and tan dogs) as "American bulldog-labrador mixes."
People who breed pit bulls, like to produce more pit bulls. The goal is not to produce litters of American bulldog-mixes or labrador-mixes. Therefore, they mate pit bulls with other pit bulls, a breed which certainly has a wide variance in colors and weight, but very little variance in the shape of the head. The white and tan dogs are predominantly pit bulls and any label should reflect this, such as "
pit bull
-mix" or "
pit bull
-American bulldog mix" or "
pit bull
-[insert breed name] mix."

Above: Thus far, Miami-Dade Animal Services have labeled 5 of the dogs three different names.
08/13/14: Landlord; Terrier-Mix Label
In an evening update from NBC Miami, the news team spoke to the landlord and owner of the home, Kenneth Narbin, who said that
last week
he gave the renters
2
-- Javon Dade Sr., and his girlfriend -- seven days to remove the "pit bull dogs from the home." Miami-Dade County has banned the breed for over two decades. Despite this legal demand from their landlord, the boy's father kept the dogs along with his homespun pit bull breeding operation. Now his son is dead.
Before
reading the Miami Herald update
, it is important for readers to understand that the Herald strongly opposes the pit bull ban and urged the public in 2012 to vote to repeal it. The public shrugged off the Herald and
voted by a wide margin to keep the ban
. The main reason we link to the Herald now is to point out a disturbing new pit bull "mislabeling" trend. The new trend is to replace "pit bull" with "terrier," as was done on the
adopted dog
that
viciously attacked Rita Pepe
.
Twenty minutes later, police made a gruesome discovery: Javon had been mauled to death by dogs in the backyard of the Goulds home, his limp body found in the overgrown grass near a fence.
In the same yard: Two adult female terrier-boxer mixes, an adult male pit bull and three terrier-boxer mixed puppies between two and four months of age.

- Miami Herald
The terrier group is a large list of breeds
, of which the American pit bull terrier (aka American Staffordshire terrier) is grouped within by many major kennel clubs, along with the
border terrier
,
rat terrier
,
west highland terrier
,
Scottish terrier
and more. Under this "trending" misleading labeling treatment for pit bulls, a "
pit bull
-boxer mix" is simply a "
terrier
-boxer mix." which completely removes the pit bull name to unsuspecting adopters and for dog bite statistical tracking purposes.
Miami-Dade County Animal Services, who initially labeled five of the dogs as "labrador-pit bull mixes," then switched over to the broader "terrier-mix" label. The Herald immediately pushed this "revised" label. What is truly revolting is that Miami-Dade County Animal Services is tax-funded and under the mission to enforce the county pit bull ban. What the public knows now is that even in the case a fatal dog attack, this agency will "protect the breed" over their public safety duty.
3
08/13/14: Dogs Seized, Photographed
Miami-Dade authorities seized and photographed a total of six dogs, three adults and three puppies. Authorities "speculate" that at least one adult pit bull may have been trying to protect the puppies when it unleashed a brutal attack killing the 4-year old boy. According to Animal Services, only one dog appeared to be aggressive, an adult male pit bull (top left). The rest of the dogs are allegedly "labrador-pit bull mixes," despite a female labrador nowhere to be found on scene.
4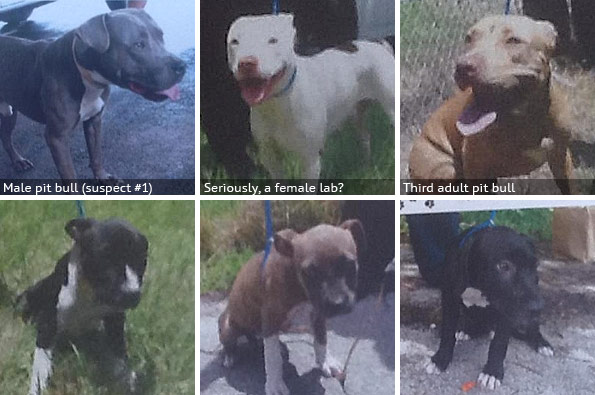 Above: Local 10 published photos of all six dogs seized after the fatal attack of Javon Dade Jr.
08/13/14: Child Killed by Family Pit Bull
Goulds, FL - In a developing story, Miami-Dade Police confirm that a 4-year old boy was mauled to death by one or more of his family's dogs in Goulds this morning. The attack occurred in the fenced-in backyard of a home at 12301 SW 230th Street. Hovering news choppers at the scene spotted the boy's body covered in a yellow tarp lying in the middle of the backyard. Neighbors described the family's two dogs as being "very aggressive" and believe they are pit bulls.
This is the third little boy in Florida mauled to death by family dogs since July 19. The first two fatalities involved family pit bulls.
The CBS Miami video shows numerous first responder personnel and vehicles at the scene. Miami-Dade police also set up a "command post" near the scene. While writing this blog post, police identified the boy as Javon Dade Jr. and confirmed that three dogs were captured. The video suggests that at least one dog was shot. The investigation is ongoing. It is unknown what the circumstances of the attack were or if the boy was under adult supervision at the time.
WSVN offers additional information
. In a press conference, Miami-Dade Police spokesperson Robin Pinkard said the call began as a missing child case. When police responded, they canvassed the area and made the horrific discovery. At least three dogs were captured. Police are still trying to determine who owed the dogs and if the dogs resided at the fenced property or broke into it. Animal control is conducting "a series of tests" to determine the breeds of dogs involved.
Police have been dispatched in search of the missing boy when they made the horrific discovery. "According to investigators, at approximately 10:09 this morning, police received a phone call advising of a missing 4-year-old male," said Pinkard. "As officers arrived they did an area canvas where they discovered a black male, 4 years of age, deceased in the backyard."

WSVN.com
Finally, Local 10 News is now reporting the
"predictable" pattern that the boy was "visiting"
his father's home at the time of the fatal dog attack. Also, as of 1:45 pm Central time, a total of six dogs have been removed from the property. The father, along with his girlfriend, were at the home at the time of the fatal incident. As DogsBite.org readers know,
Miami-Dade County has banned pit bulls since 1989
. If the dogs are determined to be pit bulls, criminal fines or charges may follow.
Related articles:
08/08/14:
2014 Dog Bite Fatality: Visiting Child Killed by Aunt's Pit Bulls in Fanning Springs...
07/29/13:
2014 Dog Bite Fatality: Visiting Child Killed by His Uncle's Two Pit Bulls in...
08/16/12:
Vote in Miami-Dade County to Repeal Pit Bull Ban Fails by Wide Margin
03/12/12:
Attempt to Overturn Miami-Dade Pit Bull Ban Advances: 'Don't They Know?'
Labels: 2014 Dog Bite Fatality, Breed Misidentification, Fatal Pit Bull Attack, Florida, Manslaughter, Pit Bull Kills Family Member, Visiting Child
Guilty of Second-Degree Murder
Los Angeles, CA - A 31-year old man whose four pit bulls brutally killed a woman last year has been found guilty of second-degree murder. On Friday, the defendant, Alex Donald Jackson, was also found guilty of cultivating marijuana, possession of marijuana for sale and possession of a controlled substance, psilocybin, according to the Los Angeles County District Attorney's Office. The jury also found that Jackson was armed with a shotgun during the commission of the offense.
On May 9, 2013 Pamela Devitt, 63, was walking near her Littlerock home when she was violently attacked by four pit bulls belonging to Jackson. Devitt suffered catastrophic injuries, including 150 to 200 puncture wounds, her scalp ripped off and one arm dismembered. She died en route to the hospital. County police authorities unleashed a ground and air search effort to find the attacking dogs and offered a $25,000 reward for, "Information leading to the capture of the 4 killer pit bulls."
Jackson was an
unsympathetic defendant from the get-go
; his dogs were guilty of multiple acts of aggression prior to killing Devitt. These aggressive acts, however, were primarily directed at animals. Jackson had also put a set of four pit bulls down in 2006 after a separate act of animal aggression. His defense attorney tried to portray Jackson as an
"animal lover" who rescued strays
. This defense strategy clearly fell flat on its nose.
Excellent verdict for a repeat vicious dog owner!
Jackson is scheduled to be sentenced on October 3. He faces 24-years to life in state prison.
05/31/13: Repeat Vicious Dog Owner
Within the massive news coverage in the last 48 hours, new information was revealed on Friday at the first court hearing. Alex Jackson previously owned four other violent pit bulls that were
destroyed in 2006 after attacking emus
. On Friday, Los Angeles County prosecutors said that this previous incident weighed into the second-degree murder charge, along with three incidents since January involving Jackson's "current" crop of pit bulls that savagely killed Pamela Devitt on May 9.
Most members of the public do not know that many owners of these types of dogs are repeat offenders. After the dog attacks (enough times), it's eventually deemed "dangerous" and the owner puts it down to avoid paying the necessary fees and insurance to own a designated "dangerous" dog. The person then buys a new crop of dangerous dogs and the process begins all over again, including attacks on innocent people and pets.
This cycle persists without legal intervention
.
1

Related video
05/30/13: Second-Degree Murder Charges
Los Angeles County prosecutors charged a 29-year old man with murder in connection to the pit bull mauling that killed a 63-year old Antelope Valley woman in early May. Alex Jackson, 29, was arrested at his Littlerock home. His bail is set at over one million dollars -- $1,050,000. If convicted, he faces up to life in prison, according to a district attorney's spokeswoman. Since January, authorities received at least three other reports of Jackson's pit bulls attacking other people.
Pamela Devitt, 63, died en route to the hospital from catastrophic injuries inflicted by the dogs. Coroner officials said they found 150 to 200 puncture wounds and sharp force trauma across her body. Previously, Los Angeles County authorities said Devitt "was dragged 50 yards, scalped and her arm removed." Jackson was also charged with cultivating marijuana, possession of marijuana for sale, possession for sale of a controlled substance and assault with a deadly weapon.
05/11/13: LA County History Lesson
On Friday, 6abc.com published an article, "
Littlerock pit bull attack raises legislation questions
," that contained an erroneous statement from Los Angeles County Supervisor Mike Antonovich's Office: "the Littlerock attack is the
first
fatal pit bull attack in the county's history." According to the
Fatal Pit Bull Attacks
website -- visually tracked on the
California Fatal Pit Bull Maulings Map
-- there have been 9 previous pit bull fatalities in this county, one stemming as far back as 1891.
2
05/10/13: Mauling Victim Identified
The victim has been identified as Pamela Devitt, 63-years old, of Littlerock. On Thursday at about 9:30 am, Devitt was savagely attacked by up to four pit bulls she encountered while taking her morning walk. Tony Bell, spokesperson for LA County Supervisor Michael Antonovich, said Devitt "was dragged 50 yards, scalped and her arm removed. We've gotta do something about it; they're killing machines." Devitt died in an ambulance en route to the hospital. Bell also stated:
Supervisor Antonovich's office says this incident points out the need to change state law regarding the aggressive dogs to make communities safer.

"To ask state legislature to allow local government to pass their own ordinances, breed specific if you will. We're not talking about bans necessarily. We're talking enhanced enforcement on pit bulls and the owners," Bell said.
Currently, California municipalities are prohibited from declaring a specific dog breed "dangerous" or "vicious," as well as banning a dog breed. Municipalities are limited to breed-specific regulation of the spay/neuter status of a dog. The ordinances on the
California breed-specific laws
page reflect this limitation. Prior to the ability to regulate the spay/neuter status of specific dog breeds (2005), California was a full anti-BSL state, disallowing all forms of breed-specific regulation.
3
The six seized pit bulls remain in quarantine. Authorities are conducting DNA tests to determine if the dogs were involved in Devitt's mauling death. Evelina Villa, a spokeswoman for the county Department of Animal Care and Control, said the owner of the pit bulls had
previously been cited
because at least one of his dogs had attacked a horse. The 29-year old owner, identified as Alex Jackson, was arrested yesterday on unrelated charges for suspicion of cultivating marijuana.
05/09/13: Investigation Continues
Tweets from
Captain Mike Parker
of the Los Angeles County Sheriff's Department along with the
Palmdale Sherriff's Station Facebook Page
help clarify developing events. Eight dogs were taken into custody on the 37000 block of 115th Street. Six of the dogs were pit bulls, the other two were mixed. The owner of the dogs was arrested for cultivation of marijuana. The correct location of where the mauling victim was found is 116th Street East and Avenue S, Littlerock, California.
It is still not known if the seized dogs are responsible for the woman's death.
05/09/13: Dogs Seized from Home
NBC Los Angeles updated their article reporting that at least four dogs were taken from a home near the mauling site after deputies served a search warrant after 5 pm Pacific Time. Women at the home were reportedly "screaming as the dogs were taken away" and two men appeared to be in custody in the back of the patrol car, according to the article. Seizing the dogs
4
comes hours after an active ground and air search effort and county authorities offering a $25,000 reward for:
"Information leading to the capture of the 4 killer pit bulls."

Related video
05/09/13: Woman Killed by Pit Bulls
Littlerock, CA - In a developing story, a woman was fatally mauled by pit bulls while out for a walk Thursday morning in the Antelope Valley. Los Angeles County Sheriff's Department and animal control responded to the call of a fatal pit bull attack at about 9:30 am. The victim, a 63-year old Hispanic woman, was out for her morning walk on Avenue S near 110th Street East when the dogs attacked. Deputies shot at the dogs, which sent them scattering into the dessert.
A separate article
said a witness saw the attack and began honking her horn to try to scare them away. Instead, the four pit bulls began attacking the witness's car -- specifically trying to puncture the car's tires. County officials continue air and ground searches trying to locate the pit bulls. Los Angeles County Supervisor Michael Antonovich
offered a $25,000 reward
for information leading to their capture. The woman suffered severe injuries and died en route to the hospital.
Related articles:
04/13/13:
2013 Dog Bite Fatality: Stockton Woman Killed by a 'Big, Nasty Pit Bull'
12/14/12:
2012 Dog Bite Fatality: Fresno County Man Mauled to Death by Pack of Pit Bulls
12/07/12:
2012 Dog Bite Fatality: San Diego County Woman Killed by Pack of American Bulldogs
Labels: 2013 Dog Bite Fatality, California, California Pit Bull Fatality, Fatal Pit Bull Attack, Marijuana Operation, Second-Degree Murder