DogsBite Blog ::
Heroic neighbor stopped the attack by stabbing the pit bull with a steak knife.
The Indictment
UPDATE 01/29/15:
We received a copy of the indictment against Derek Solem. As we had hoped, it included more information. The dog was not listed as a Staffordshire terrier or pit bull-mix as several news groups stated in their coverage. The fatally attacking dog, named Martel, was a "pit bull terrier." In addition to Martel previously biting another child in the home and the clear (and disturbing) signs the animal posed a serious threat to Deriah, Martel was also dog aggressive.
On or about August 7, 2014 in the County of St. Charles, State of Missouri, the defendant knowingly acted in a manner that created a substantial risk to the life of D.S., a child less than seventeen years old, by keeping Martel, a pit bull, in the house, uncaged so that Martel had access to D.S., Martel had previously bitten [another child's] ear, that Martel didn't like babies, that Martel was aggressive with other dogs, that Martel constantly whined when the defendant would play with D.S., that Martel would urinate on only D.S.'s laundry, that Martel would tear up only D.S.'s things, that Martel would be kept in the defendant's bedroom at night with the door closed so Martel would not have access to D.S.'s room.

- Indictment, Derek Solem, January 9, 2015, Eleventh Judicial Circuit Court, State of Missouri
01/28/15: Parents Charged in Death
In mid January, St. Charles County authorities arrested and charged the parents of a 22-month old child that was brutally killed by their family pit bull last August. Derek Martin Solem, 32, and Sharon D. Williams, 29, were charged with two felonies each, endangering the welfare of a child and owning a dog that bites a person resulting in death. A court date is set for February 23. No charges were initially expected by police, who called the child's mauling death a "tragic accident."
On August 7, Deriah Solem was under the care of her grandmother when the family's 10-year old pit bull -- usually kept locked in a back bedroom -- somehow managed to get out. The animal immediately attacked the toddler. The grandmother intervened and lost four fingertips trying to pry open the dog's jaws. Deriah Solem was transported to St. Joseph Health Center in St. Charles and later transferred to Cardinal Glennon, where she died of her severe injuries on August 9.
There were no news reports after August 11. If readers recall, on August 9, in the neighboring jurisdiction of St. Louis County, a young man was
shot and killed by a police officer
that unleashed extended shock waves across the country and dominated local, state and national media. We believed at that time no additional information would ever be learned about this child's death. Unbeknownst to us, the
St. Charles County Prosecutor's Office
had been looking into the case.
"This was not simply a tragic accident; it was poor decision making by parents that led to the tragic death of a baby."

- St. Charles Co. Prosecutor Tim Lohmar
The parents were released from jail after posting $25,000 bail. Both profess their innocence of the charges. An online fund was set up to help raise money for their defense costs. Derek Solem was no stranger to pit bulls.
He formerly ran a pit bull kennel operation
called Flaming Hot Kennel (2007). Remnants of a
MySpace page
are still online. At the time of the attack, the grandmother's Facebook profile image was a large white pit bull. It is unknown if that pit bull was the attacker.
According to the indictment, the pit bull that killed Deriah had previously bitten one of their other children in the ear. DogsBite.org has not seen the indictment, but the St. Louis Post-Dispatch describes more of its contents, "The dog regularly destroyed Deriah's belongings and was kept in a room at night so it couldn't have access to her room, according to court documents. It also constantly whined when Solem played with the baby, and urinated on the baby's laundry."
Lastly, we call attention to the
language of the online fund created by Williams
, the child's mother. She writes, "The dog had been part of the Solem family since 2004 and no one knows why he
decided to snap
that day." One, St. Charles County prosecutors will try to prove the parents did have knowledge of the dog's previous aggression. Two, we wish they did not have to since there are already
decades of documented evidence
about the dangerous
unpredictability
of pit bulls.
08/11/14: Family Pit Bull Kills Child
St. Charles County, MO - Officials confirmed on Monday that a 22-month old girl savagely attacked by her family pit bull-mix last Thursday while under the care of her grandmother has died. Deriah Solem was pronounced dead at Cardinal Glennon Children's Medical Center on Saturday, according to the medical examiner's office. The cause of death was listed as injuries to her head and neck. At the time of the attack, her grandmother was babysitting Deriah and her two siblings.
The attack occurred at the family's home in the St. Charles Hills subdivision; the grandmother also lives at the home. According to police, the grandmother had just finished feeding the little girl and placed her onto the floor. When the family's 80-pound pit bull -- usually kept locked in a back bedroom -- somehow was able to get out. The dog immediatly attacked the toddler. The grandmother intervened and suffered the loss of four fingertips trying to pry open the dog's jaws.
As the attack continued, the grandmother shouted at her two brothers, ages 5 and 8 to flee the house.
They ran next door to Jonathan Banta's home
. Banta grabbed a steak knife and rushed over. He repeatedly stabbed the dog as it continued to attack Deriah. "I grabbed a steak knife -- that's all I could find at the time -- went back over there, and the dog still wouldn't get off, so I stabbed it multiple times," Banta said. Eventually, the dog let go and collapsed behind a TV.
"I'm still kind of shook up," he said. "There was a lot of blood, and stabbing a dog is not fun."

- Jonathan Banta
The girl was transported to St. Joseph Health Center in St. Charles and later transferred to Cardinal Glennon.
The initial Fox news coverage captures the horror of the attack
.
1
"She had multiple bites covering her whole body, but the most extensive ones were to the neck, stomach and head area … it was extremely urgent .. the blood loss on the child was extensive," Lt. Dave Tiefenbrunn said. The situation was so critical that
there was a surgeon in the ambulance
.
The family pit bull-mix had no reported history of attacks or biting, according to police, but family members told police the dog had shown aggressive behavior in the past. This may be why the dog was
usually kept locked in a back bedroom?
Despite this knowledge, as early as Friday, police said that no charges are expected to be filed in the case. Authorities are calling yet another child's horrific death by a family pit bull a "tragic accident." The 10-year old pit bull was euthanized.
Related articles:
08/08/14:
2014 Dog Bite Fatality: Visiting Child Killed by Aunt's Pit Bulls in Fanning Springs...
07/29/14:
2014 Dog Bite Fatality: Visiting Child Killed by His Uncle's Two Pit Bulls in...
07/22/14:
2014 Dog Bite Fatality: Visiting Child Under Babysitter's Care Killed by Family Pit Bull...
04/10/14:
2014 Dog Bite Fatality: Pit Bulls Owned by Family Members Kill 3-Year Old Mississippi...
02/28/14:
2014 Dog Bite Fatality: 3-Year Old Girl Killed by Family Pit Bull in North Carolina
01/30/14:
2014 Dog Bite Fatality: 4-Year Old Girl Killed by Family Pit Bulls in Bloomington
Photos:
St. Louis Post-Dispatch
,
Fox 2 Now
and
Facebook.com
Labels: 2014 Dog Bite Fatality, Babysitting, Criminal Charges, Fatal Pit Bull Attack, Missouri, Pit Bull Kills Family Member
Relationships Clarified
UPDATE 01/24/15:
Despite a dizzying array of family relationships that have now been clarified by the
Omaha World-Herald
, and help from the British media (
kudos to the Daily Mail!
), we have learned much more about the most recent U.S. fatal dog attack. On Thursday, 7-year old Malaki Mildward was viciously attacked and killed by two young family dogs at his home in College Springs, Iowa. The types of dogs involved should no longer be in dispute after this update.
The first place we looked after this fatal dog mauling was
Page County property records
to uncover the owner of the home where the attack occurred at 709 Glen Avenue. The owner is Jeremiah J. Hicks. Next the array of different relationships emerged on Facebook that had many of us scratching our heads. The
World-Herald
clarified that, "Malaki lived with his older sister, his mother, Amber Braymen, Jeremiah Hicks and Hicks' son at Hicks' home in College Springs."
The mother's name had been the missing link, without it, she could not be located on Facebook. Once learned, the
Daily Mail
scoured her page and found an
August 5, 2014 post announcing that she had, "Pitbull English bulldog pups" for sale
. Within the comments of this post, Braymen also posted a
photograph of the dogs
. "Wanna buy one?" Braymen asked. The age of the two attacking dogs, allegedly 6-months old, are more likely 8 or 9 months old and came from this very litter.
There is no indication on Braymen's Facebook page that English bulldogs were roaming around the Glen Avenue home or an indication of this on the father's page, Xavier Mildward. Both pages, however, did have photos of Malaki with a pit bull named Shipper posted in 2012 (See
Braymen's
and
Mildward's
separate photographs).
1
Notably,
Xavier was also selling pit bulls in 2011
. His "starting" price was $400, according to his Facebook post. They were a pit bull oriented family.
In 2014, at least the mother had a breeding as well. That litter of at least eight puppies was born in late May or early June. Braymen's August 5 post shows the puppies at about 8 to 10 weeks old and ready to sell. It is a
grave distortion that this litter of dogs are not pit bull-mixes
. Not even Braymen lies about it: "
Have Pitbull English bulldog pups
got shots and ready to go message me for details and pics," Braymen states. The lies about the breed of dog start
after the boy's death
.
Who propagated the lies to Page County Sheriff Lyle Palmer that the dogs were not pit bulls or even pit bull-mixes? That is open to speculation, but we could not ignore one Sue Hicks Mullins either (unknown if she is related to Jeremiah Hicks). A female friend tagged Mullins on the August puppy post Saturday, asking, "Sandy Hicks Mullins here is an ad for the puppies that the mother of the boy who passed away from the pups advertised. Even says they are pit bull mix pups?"
Then we had to view Mullins' page, where things take a nose dive.
On Saturday Mullins posted to her Facebook page
, "Prayers to the family of Malaki Mildward my grandson was a friend of his in preschool, He died yesterday after being attacked by two family owned 6 month old NON pit bull pups. EVERYBODY, PLEASE give the family time to grieve and remember it doesn't matter the breed or the animal, ANYTHING with teeth can bite." (Kudos to the friend that called her out!)
Mullins was not finished, however, and
next posted an even more disturbing post
. "This is bitter sweet in Iowa right now but true, just remember as I used to say when asked at the zoo does it bite? Anything with a mouth can bite, be careful especially around strange animals, even the family pet can have a bad day. Thinking about you "M," she writes. Mullins also links to a video about why "dogs make the perfect babysitters," in the post. We will not link to this unsafe video.
In Summary
The evidence is convincing that Malaki was killed by two dogs from the August puppy post. It was a
pit bull, English bulldog pairing
by the mother's own words and sales routine. The caveat is that both DogsBite.org and Animals 24-7 have few cases on record of 6-month old dogs, pit bulls or otherwise, maiming or killing unless acting as accomplices in a pack of attacking adults.
2
9-months old is more believable, but is still unusual. Malaki was also 7-years old, not an infant or a toddler.
01/22/15: Family Dogs Kill Boy
College Springs, IA - The Page County Sheriff Office's reports that a 7-year old boy was killed by his two family dogs. Deputies were called out to 709 Glen Avenue in College Springs at 4:53 pm. On arrival,
deputies found Malaki Mildward unresponsive
and EMS from Clarinda and College Springs were administering CPR. The boy had been mauled by his family's two 6-month old dogs. He was transported to Clarinda Regional Health Center where he was pronounced dead.
In the last 10-years, January 1, 2005 to December 31, 2014, three fatal dog attacks have occurred in the state of Iowa. In 2013,
Jordyn Arndt
, 4-years old of Prairie City (Jasper County) was viciously attacked by her babysitter's pit bull. In 2011,
Vanessa Husmann
, 3-years old of Hopkinton (Delaware County) was savagely killed by her grandfather's two champion rottweilers. In 2010,
Shirley Lou Bird
, 79-years old of Ida Grove (Ida County) was killed by her pet German shepherd.
Related articles:
09/14/14:
Criminal Trial: Arkansas Mother and Daughter on Trial for Fatal Dog Mauling...
08/26/14:
2013 Dog Bite Fatality: 4-Year Old Mauled by Pit Bull Dies; Babysitter Arrested
03/07/11:
2011 Dog Bite Fatality: Rottweilers Kill 3-Year Old Girl in Delaware County, Iowa
11/18/10:
2010 Dog Bite Fatality: Western Iowa Woman's Death Attributed to Dog Bite
Labels: 2015 Dog Bite Fatality, Breed Misidentification, Fatal Pit Bull Attack, Iowa, Mixed-Breed
Declan Moss, 18-months old, and his grandfather's two fatally attacking pit bull-mixes.
Images Released
UPDATE 01/23/15:
The Hernando County Sheriff's Office released still images of both fatally attacking dogs to their Facebook page yesterday along with a message to so-called "animal lovers" who are upset that the sheriff's office also allowed the media to capture video footage of the dogs. Max and Thumper, both male pit bull-mixes, attacked and killed 18-month old Declan Moss on Monday. Quickly afterward, his mother Sheila Moss defended the breed of the dog.
We greatly thank the sheriff's office for releasing the images. Doing so provides an excellent public service. Also, to clarify the "animal lover" language, the vast majority of Facebook users complaining to the sheriff's office were pit bull advocates, upset that images identifying the breed of dog were released to the public at all. They do not want another damning fatal attack stacked onto the breed's horrific track record,
which kills more people than all dog breeds combined
.
There has been a lot of discussion about our recent Facebook posting that included the video of the dog(s) involved in the fatal attack on Declan Moss. The posting came after several members of the media requested to obtain still and video images of the dogs for their continuing coverage of this terribly tragic event. Our intent was not to offend animal lovers. We, on the contrary, have a long history of supporting the appropriate adoption and treatment of domestic animals. We did feel, however, that including the video on our Facebook page would be an opportunity to provide a public service. We all like to think that something like this could never happen in our home. We believe that we can pick out a vicious dog when we see one. Unfortunately, as you can see from the videos, it would be impossible to predict a tragic attack like this based solely on the temperament or demeanor of the dog, especially when interacting with adults under normal circumstances. It is for this reason that we want every parent and guardian to be aware that medium and large size dogs can be unpredictable around young children and can inflict considerable damage in a short period of time. Whether a dog attack is motivated by jealousy, frustration, a pack mentality or a "killer instinct," doesn't matter after an event like this. The only option is for parents and guardians to be hypervigilant in keeping small children out of harms way.

- Hernando County Sheriff's Office
01/19/15: Pit Bulls; Mother Defends Breed
A hot tipper just sent in a YouTube video link that captures Hernando County Sheriff Al Nienhuis speaking with Fox 13. We believe this clarifies the breed of the attacking dogs, as well as the mother of the dead child's position on this matter. Nienhuis said, "I did unfortunately get to talk with the mother earlier and she was obviously devastated -- she was not here when it occurred. But she was even talking about '
defending the dogs
' and '
it's not necessarily the breed of the dog
.'
Watch Nienhuis closely. He appears to be "struggling" as he speaks those underlined statements. Why is that? Because it is outrageous that a devastated young mother would ever say these things -- rushing to defend the breed of dog and piling on pro-pit bull propaganda -- in the immediate wake of her own child's vicious dog mauling death. How will the veterinarian rule on the breed of the dogs? Perhaps an Alapaha Blue-Blood Bulldog or other
known pit bull mislabel
?
In a separate video, neighbor
Charles Shorey breaks down on camera
. "He was a beautiful kid. I feel sorry for the mother. She's single. She's fighting and struggling," Shorey said. It is unclear if it was Shorey or another neighbor who told News Channel 8 the dogs were pit bulls and had killed smaller dogs in the past. The grandfather was babysitting when he saw his grandson was in trouble, the segment states, "but he
couldn't get the dogs off the baby and off of each other
."
01/19/15: Family Dogs Kill Toddler
Brooksville, FL - Two family dogs attacked and killed an 18-month old boy on Monday. When authorities arrived at the home at 16251 Cherokee Road, they found Declan Moss
1
deceased from injuries inflicted by the dogs. Michael Terry, spokesman for the Hernando County Sheriff's Office, said that Declan had been playing on the home's porch while his grandfather, Gregory Moss, 51, watched him. The grandfather was home alone with the child and witnessed the attack, Terry said.
"Our technicians are out here interviewing the grandfather and trying to get the details from him, but he's obviously pretty shaken up." - Michael Terry
The Sheriff's Office is unsure of the breeds of the two attacking dogs, calling the animals "mix-breeds" temporarily as they await additional information from a veterinarian (The
Daily Mail
reports that neighbors
described the two dogs as pit bulls
.). The attacking dogs, ages 2 and 6,
were seized and removed from the home
. Two other dogs owned by the family were not involved in the attack and were left at the family's home. Detectives are still on scene investigating.
Last year, Florida had five fatal dog attacks. The only state to outnumber it was
Texas with seven
.
Related articles:
01/07/15:
2014 Fatal Dog Attack Breed Identification Photographs - DogsBite.org
12/22/14:
2014 Dog Bite Fatality: Toddler Killed by Family Rottweilers in Citrus County, Florida
10/02/14:
2014 Dog Bite Fatality: Dog Bite Injuries Contribute to Florida Woman's Death
09/11/14:
2014 Dog Bite Fatality: Visiting Child Killed by Family Pit Bulls in Miami-Dade County
08/08/14:
2014 Dog Bite Fatality: Visiting Child Killed by Aunt's Pit Bulls in Fanning Springs...
07/29/14:
2014 Dog Bite Fatality: Visiting Child Killed by His Uncle's Two Pit Bulls in...
Photos:
Facebook.com
, Hernando County Sheriff's Office and
WTSP.com
Labels: 2015 Dog Bite Fatality, Breed Misidentification, Fatal Pit Bull Attack, Florida, Mixed-Breed, Pit Bull Kills Family Member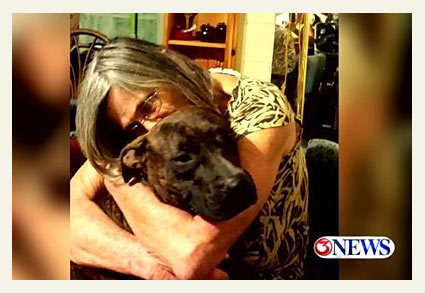 A Bloody Mess
UPDATE 01/19/15:
In what can only be described as a "bloody mess," more news about the December 15 fatal dog mauling of pit bull rescuer Rita Woodard was reported Monday. Police and animal control were called back out to the home where Woodard was discovered bitten, bloody and dead in December. At that time, authorities seized 17 dogs at Woodard's home that she had rescued. Authorities
euthanized four pit bull-mixes
they believed inflicted the deadly attack.
1
For the Love of Strays, a rescue group that Woodard had fostered many dogs for, immediately seized upon the tragedy of her death by calling on the public to donate to their organization to ensure that four of Woodard's remaining dogs, called her "personal dogs" -- pit bulls and pit bull-mixes -- could find homes. All four were dog aggressive. For the Love of Strays
has since deleted this post from their Facebook page
, it was originally published on December 20, 2014.
On Friday, January 16, 2015 gunshots rang out at Woodard's former home. According to neighbors, two friends of Woodard's relatives had been staying at her residence caretaking two rescue dogs that remained after her death (the KIII-TV segment does not clarify if either of these dogs was amongst Rita's "personal" four that the rescue group was trying to adopt out). The two dogs attacked each other causing severe injuries, so the caretakers shot and killed both dogs.
Investigators said the two dogs were shot in the head and buried in the backyard. The carcasses of the animals were exhumed and bagged up by Animal Care Services. As the animal cruelty investigation continues, Animal Care Services will work with the police department about potential charges against the caretakers. Rita deeply cared for the many pit bulls she rescued and also acknowledged publicly on some of her Facebook posts that many were "DA" (dog aggressive).
This dangerous behavior is likely how she got killed -- she was trying to break up a fight amongst her multiple pit bull rescues. The animals then began attacking her. At her death scene, one dog (pit bull or otherwise) was so badly injured by the attacking pack of pit bull-mixes that it had to be put down. Just several weeks later, an animal cruelty investigation has been launched against the friends of relatives assigned to care for two dogs she had been living with at the time of her death.
"Rainbow Bridge" Update
On Tuesday, a day after KIII-TV aired this segment, we uncovered the identity of the two pit bulls involved in the animal cruelty investigation. The two dogs, Roscoe and Kaja, were indeed part of Rita's four "personal" dogs that
For the Love of Strays was trying to place after her death
. Notably, the December 20 post that For the Love of Strays has since removed states, "Roscoe does get along with Kaja." However, Rita was quite open that
Kaja (the tree climber) was dog aggressive
.
"That's my special baby Kaja Brat. Not allowed around other dogs."

- Rita Ross Woodard, October 13, 2014, Facebook.com
On the
KIII-TV Facebook post about the animal cruelty investigation
, one of Rita's friends, Jennifer Lutz Pulver, comments about the two dead pit bulls: "They were her own dogs! Not fosters!" Pulver was a
founding member of For the Love of Strays
, according to a January 2010 newsletter. Pulver also worked with the rescue group at least through October 2013, according to her Facebook photo album, which lists her
contact information on a fundraising flyer for the group
.
The conversation about KIII-TV's recent news segment
continues onto Woodard's personal Facebook page
, where Alice Buttler clarifies the identities of the two dead pit bulls further. "I know that Rita
welcomed Roscoe & Kaja at the Rainbow Bridge
but she is super pissed about how they got there." Buttler also states that she wants to see a new photograph of Woodard's remaining two pit bulls -- Duke and Echo -- to ensure the dogs are safe and being taken care of properly.
"Bloody Mess" Summarized
For the Love of Strays rescue portrayed Roscoe and Kaja as two pit bulls that "got along" with each other despite Woodard saying as recently as October that Kaja was not allowed around other dogs. Woodard lost her life due to pit bull dog aggression and
so have other rescuers
who intervened to break up an explosive pit bull fight. Even after the loss of her life, in fact just a few days later, on December 20, the rescue group was
peddling out four dog aggressive pit bulls
.
Also recall that the director of For the Love of Strays, Melissa Rizzo, became a self-appointed "expert" after Woodard's death. Rizzo was highlighted in multiple news stories as gathering donations for Woodard's four "personal" pit bulls so that her group could adopt them out. Rizzo even went on camera to
explain to the public how safe "large breeds" are
and how she had "never heard about this happening before" -- a pit bull rescuer being killed by her own rescue dogs.
Rizzo is not an expert or even responsible
. Woodard had 17 large breeds in her home at the time of her death, many of which were dog aggressive pit bulls. This was not seen as hazardous by Rizzo or anyone else working at For the Love of Strays. Coupling Roscoe and Kaja together, both dog aggressive, was an appalling decision as well. The truth is, rescue junkies like Rizzo are making extremely poor decisions about
literally deadly animals
with no oversight or regulation.
Now Rita Woodard is dead, along with two of her "personal" dog aggressive pit bulls that the self-appointed experts at For the Love of Strays were supposed to be keeping safe after her death. The only thing missing from this "bloody mess" now, since evolving into an animal cruelty investigation, are the self-appointed experts like Rizzo who refused to admit the dangerous temperament of these dogs or make the hard, but responsible decision not to adopt them out.
12/16/14: Medical Examiner Report
Corpus Christi, TX - A 64-year old woman was
discovered dead in her home Monday
night after being attacked by dogs she was fostering. The Nueces County Medical Examiner determined that Rita Woodard, also known as Rita Ross, died from a heart attack after multiple dog bites. Authorities believe five of the 17 dogs she had been fostering inflicted the attack. The same five also nearly killed another one her dogs during the attack; it was put down due to severe injuries.
The Medical Examiner released a report Tuesday evening stating that Woodard had died from coronary artery atherosclerosis after suffering multiple dog bites. According to Corpus Christi Police Department Commander John Houston, who supervises Animal Care Services, five of the 17 dogs found at her home are believe to be responsible for the attack. All five dogs will likely be euthanized. The video shows
multiple images of pit bulls
being taken away by animal control.
Many of the dogs -- presumably at the time of the attack -- were in cages. Four have already been turned over to an adoption group Woodard was linked to. The eight remaining dogs will be turned over to her son, who lives out-of-state. Woodard was devoted to helping unwanted dogs find "forever" homes and spent much time helping the rescue group, For the Love of Strays, who is already asking for donations to help care for the four dogs they took in after Woodard's death.
Late Evening Update
After publishing the initial post, we reviewed Woodard's Facebook page. Her photo album is filled to the
brim with photographs of rescued pit bulls
-- her profile image is of one of her pit bulls, rescued or otherwise,
climbing a tree
. This is not unique pit bull behavior.
YouTube
is filled with videos of proud pit bull owners filming their dogs
climbing up and down trees
. Back in August, Woodard noted on Facebook that two pit bulls, apparently under her care,
had also escaped
.
Woodard had at least 17 dogs in her home. No media reports so far have stated that this was unusual or against city code nor have they explained any relevant city codes. With 17 dogs in her home, her situation was indeed questionable -- that most of these dogs were pit bulls is worse. One of the pit bulls seen in the video was previously nursing, so part of the 17 dogs could have included puppies. Notably, the
tan pit bull seen in the video
also appears to be the tree climber.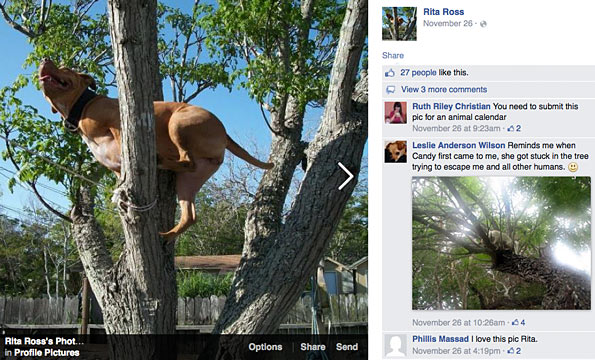 ---

Texas Dog Bite Victims' Advocacy
-
Join our Texas email list to stay informed
Related articles:
11/04/12:
2012 Dog Bite Fatality: Pembroke 'Dog Rescuer' Killed by Rescued Pit Bulls
08/17/12:
2012 Dog Bite Fatality: 23-Year Old 'Dog Rescuer' Mauled to Death by Own Dogs
04/06/12:
Week of Escalating Violent Attacks by Rescued and Adopted Pit Bulls
Labels: 2014 Dog Bite Fatality, Fatal Pit Bull Attack, Rescuing Dangerous Dogs, Texas, Texas Pit Bull Fatality
Investigation Complete
UPDATE 01/13/15:
The Grant Parish Sheriff's Office has concluded its investigation into the brutal dog mauling death of 85-year old Bobbie Cheveallier. The woman was viciously attacked by up to 15 dogs on November 26. The dogs so severely injured her legs that both were amputated above the knees. She died while hospitalized on December 1. A pathologist who examined the autopsy results determined that Cheveallier was unconscious prior to being attacked by the animals.
The 15 dogs, initially described as strays by the sheriff's office, were seized and DNA tested. Their investigation showed that 14 of the dogs belonged to the same owner, Cheveallier's next-door neighbor. The sheriff's office did not report any specific breed of dog involved in the attack. Just that 14 belonged to a neighbor and one was allegedly a stray. The sheriff's office also did not report any results of the DNA tests done on the animals, just that all 15 dogs were euthanized.
Several comments left at the news article expressed frustration at the handling of the case. "It does not matter if she was unconscious or not … the owners need to be held accountable for their animals actions," wrote one. "If it would have been a person with a gun that committed this crime it would have been taken care of rather promptly. But they are unsure what to do about this case. So they come up with, 'She was not conscious at the time of the attack.' What?" wrote another.
Small jurisdictions often struggle after a horrific fatal dog mauling, not always knowing quite how to proceed legally. The Grant Parish Sheriff's Office seemingly proceeded just fine by sending the autopsy and DNA testing to an out-of-state lab for results. Continuing to be silent about the breed(s) of dogs involved and details about the dog's owner -- who owned a whopping 14 dogs that escaped his property and fatally attacked a person -- is an injustice to the community.
The sheriff's office report was forwarded to the Grant Parish District Attorney's Office for further proceedings. Chances are slim that any actions will be taken against this dog owner despite Louisiana's criminal law --
passed unanimously by legislators
in 2009 after the fatal attacks of
Luna McDaniel
and
Michael Landry
-- which allows prosecutors to
charge dog owners with negligent homicide
who fail to properly confine their animal and the result ends in human death.
12/09/14: Dog Owners Identified
In a brief update, the Grant Parish Sheriff's Office issued a press release today regarding the "many questions and concerns surrounding" the brutal dog attack and death of Bobbie Cheveallier. Miss Bobbie was viciously attacked on November 26 by several alleged "stray" dogs when she went outside to burn her trash. She remained hospitalized in critical condition until she died on December 1. The sheriff's office rounded up 15 dogs for DNA testing after the attack.
"We are investigating all avenues related to this incident, including the possibility that Mrs. Cheveallier was unconscious or incapacitated prior to the encounter with the dogs," states the release. "We do not have any other reports before or since this incident that anyone in that area has been bitten or attacked by dogs." Owners of 14 of the so-called "stray" dogs have since been identified by authorities. The investigation is ongoing. No breed information has been released.
A December 4 report from
KALB provides more information
. Of the 15 dogs seized, 14 belonged to the same owner who lives in the area. Sheriff Steve McCain said his office is waiting on autopsy and DNA results. "There's not a lab in Louisiana that can perform these types of scientific tests that we need in this case and so we've been in touch with labs in other states as far as California," McCain said. Officials stated that they expected all test results to come back in three weeks.
12/01/14: Dog Mauling Victim Dies
Pollock, LA - An 85-year old woman who suffered catastrophic injuries by two or more loose dogs in her own yard on Wednesday died Monday at Rapides Regional Medical Center.
1
Grant Parish Sheriff Steve McCain confirmed the death of Bobbie Cheveallier Monday evening after news of her death had been posted on social media. After the life-threatening attack, Cheveallier was transported to the hospital where doctors amputated both of Cheveallier's legs above the knees.
Background of the Attack
The vicious attack was first reported on Thanksgiving
after the Grant Parish Sheriff's Office issued a press release. On Wednesday afternoon, deputies responded to a report of a person being mauled by two dogs on Highway 8 just west of Pollock. The elderly woman remains in critical condition, Grant Parish Sheriff Steve McCain said. The release also issued a warning, cautioning residents to be aware of any loose dogs in the area when allowing children to play outside.
Cheveallier was taking some trash outside of her home when the dogs attacked. Her son, Randy Cheveallier, told
The Town Talk that the boyfriend of a neighbor saw three loose dogs
outside as he was preparing to work on an outdoor project. He walked over to investigate and found "Miss Bobbie" unconscious in her yard. He yelled for his girlfriend to call 911. The couple stayed with Cheveallier until the ambulance arrived to transport her to Rapides Regional Medical Center.
Randy Cheveallier said the attack left the woman without skin on most of her legs, and that most of the tissues and muscles had been mutilated.

- The Town Talk, November 29, 2014
It is unclear at this stage if anyone witnessed the attack while it was occurring. According to Randy, one witness told him that one of the dogs appeared to be wolf-like, or possibly a German shepherd or chow. This witness reported seeing three dogs, Randy said, instead of just two as the press releases stated. On Monday, Sheriff Steve McCain said that a total of 15 loose dogs were captured and taken to a veterinarian in Alexandria so that DNA samples could be taken.
Over the weekend, Randy and other family members kept a vigil at the hospital, praying for her recovery. Family members were upset when the surgeon told them that both of Cheveallier's legs would have to be amputated above the knees. But Randy also knew that she would die without the operation, complicated further by internal bleeding and that she was diabetic. Randy believes his mother would have died outside from blood loss if her neighbor had not noticed the loose dogs.
Related articles:
04/11/14:
2014 Dog Bite Fatality: Family Pit Bull Kills 4-Year Old Girl in Houma, Louisiana
06/24/09:
Louisiana State Dog Attack Law (HB 155) Wins Final Legislative Approval
04/14/09:
2009 Dog Bite Fatality: Michael Blaise Landry, 4, Killed by Dogs in Own Yard
06/23/09:
2008 Dog Bite Fatality: Luna McDaniel, 83-Years Old, Dies from Pit Bull Injury
Labels: 2014 Dog Bite Fatality, Amputation Injury, Louisiana
Attacked While Taking Down His Christmas Tree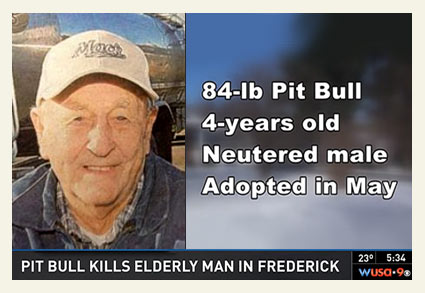 Adopted from Rescue
UPDATE 01/08/15:
New information has been released about an elderly man mauled to death by his pet pit bull while taking down his Christmas tree. The fatally attacking dog was a 4-year old neutered male pit bull that Eugene Smith and his son adopted from an unnamed rescue organization in May. The pit bull was not a stray as earlier reports claimed. Police officials continue to look into the dog's background. Animal control euthanized the pit bull after the deadly attack.
WUSA 9 interviewed Smith's co-workers at Clouse trucking in Frederick. At the age of 87-years old, Smith
still drove an 18-wheel tanker truck hauling milk for the company
. His co-workers said Smith was an animal lover who adored his adopted rescue pit bull. "The dog would at times climb up in bed with him and sleep with him at night," said one female co-worker who was not named. "This is not anything we ever would have expected," she continued, "not ever in a million years."
Officials Describe Dog Attack in Video
The Frederick News-Post published a video today as well with
Deputy First Class Amanda Hatcher detailing the dog attack
and police response. Hatcher states that when police and animal control officers arrived on scene -- they arrived at the same time -- the dog was still attacking Smith inside the home. Officers were able to disengage the dog from Smith and quickly contain the animal. Smith was taken to Frederick Memorial Hospital with severe injuries where he died.
The News-Post has a
recent history of being "extremely" pit bull apologetic
. The News-Post, however, is hardly alone in Maryland. Many other state media outlets also swooned, cooed and knelt down for "pit bull kisses" after the landmark 2012 Maryland Court of Appeals ruling,
Tracey v. Solesky
, that declared pit bulls "inherently dangerous." The News-Post called the Court's ruling "narrow-minded" and "shortsighted" and "an ill-thought-out precedent" among other falsehoods.
Now an animal loving elderly man is dead, horrifically mauled to death in an unprovoked attack by an adopted pit bull rescue that formerly slept in his bed. The failure of the News-Post, who never
bothered to interview the Solesky family
or their attorney or to grasp the depth of the Court's ruling pertaining to
actual
Maryland "precedent," is now party to this man's preventable death. Smith clearly believed the false mantra that only "mistreatment or intentional training" creates a killer.
1

Related video
01/07/15: Family Pit Bull Kills Owner
Frederick, MD - In a developing story, an 87-year old man is dead after being critically mauled by his family's pit bull while taking down his Christmas tree. The attack occurred on Wednesday at about 2:30 pm at his home on Stonehouse Road in Frederick. According to deputies, Eugene W. Smith was in the process of taking down his Christmas tree when his family's large pit bull viciously attacked him. Smith was transported to a local hospital and later died of his injuries.
Smith lived in the Stonehouse Road home with his son and his son's fiancée. Deputies say the family had taken in the pit bull as a stray last May.
2
Frederick County Animal Control euthanized the animal. In a separate holiday-related tragedy, 40-year old
Edward Cahill was mauled to death by his pet pit bull of eight years on Christmas Day
in Portage, Indiana. That fatal dog attack was "so obvious," according to Porter County Corner Chuck Harris, that an autopsy was not required.
Related articles:
12/30/14:
2014 Dog Bite Fatality: Portage Man Mauled to Death by Pet Pit Bull on Christmas Day
06/02/14:
Maryland Legislature Mutes Landmark Ruling, Tracey v. Solesky, During 2014...
11/05/13:
2013 Dog Bite Fatality: Baltimore Woman, 56, Killed by Her Pet Pit Bull
04/30/12:
Maryland Court of Appeals Holds Pit Bull Owners and Landlords Accountable...
Photos:
WUSA9
Labels: 2015 Dog Bite Fatality, Appellate Court, Christmas, Court of Appeals, Fatal Pit Bull Attack, Maryland, Pit Bull Kills Owner, Pit Bull Rescue, Tracey v Solesky
Most of the Expected, Longtime Killing Culprits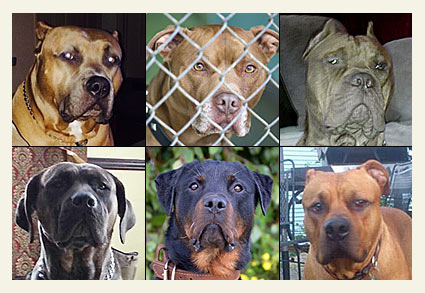 Photographs of six fatally attacking dogs in 2014.
DogsBite.org - Last year we began the tradition of
publishing breed identification photographs
of fatally attacking dogs when available through news reports, owner supplied or social media websites. Of the 42 total recorded deaths last year, 24 fatalities, 57%, had breed identification photographs.
1
Take a good look at these dogs, as they dominate attacks resulting in human fatalities and include the predictable culprits: pit bulls, rottweilers, mastiff-types and their mixes.
2
Of all dog bite fatalities with identification photographs, 58% (14) were provided by the news media, 46% (11) were located on social media websites of the dog's owner or family members and 8% (2) were supplied by the dog's owner. Three attacks also had photographs in two categories (news media and social media).
3
Florida had the most photographs (4) followed by North Carolina, Ohio and Texas, each with three -- the same four states that
overshadowed all fatalities
in 2014.
Are All "Large Breeds" Equal Killing Machines?
Not all large dog breeds are equally as likely to kill, which is why Labradors, Standard Poodles and 50 plus others are not represented below. Dog breeds that disproportionately kill people in the U.S. and across the world are medium to large-sized molosser dogs -- mastiff-type guard dogs and war dogs, the types that were used to create
"baiting" bull breeds
and
fighting breeds
. Form follows function, thus the group shares visual similarities in their weighty jaws and head shape.
We point out the "large breed" issue after KIII-TV failed the citizens of Texas and the American public by
refusing to name the dog breed(s) involved in the death of Rita Woodard
who was fostering 17 dogs on her property when she was attacked. Woodard's extensive Facebook page showed that 90% of the dogs she fostered were pit bulls. Failure to report dog breed in cases of human fatality, or
hedging it under the "large breed" scenario
, is dangerous and incompetent.
4
---
2014 Fatal Dog Attack Breed Identification Photographs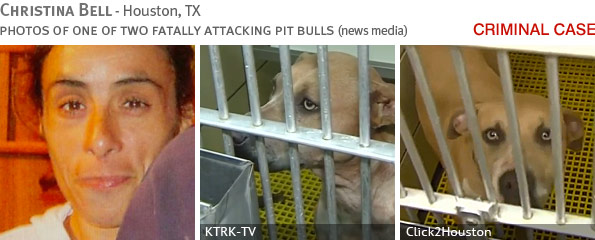 ---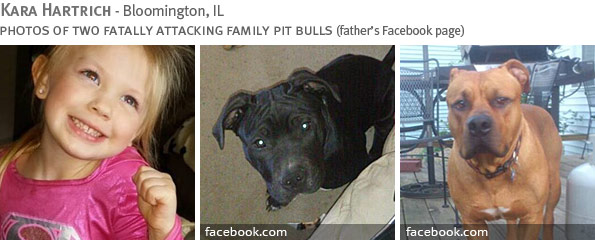 ---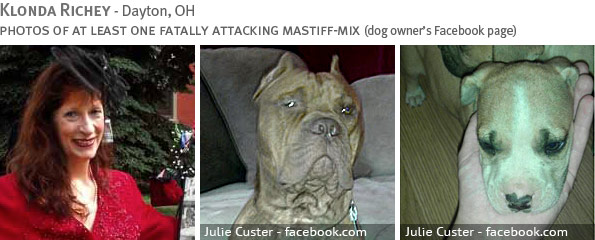 ---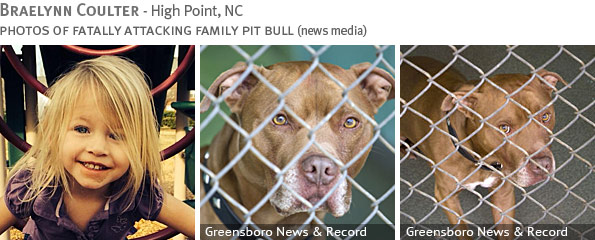 ---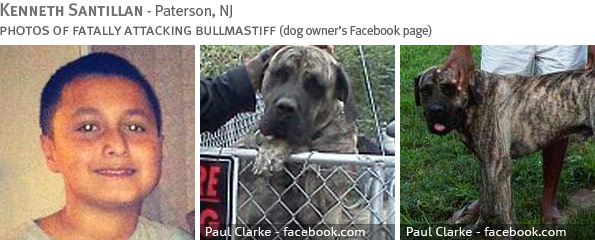 ---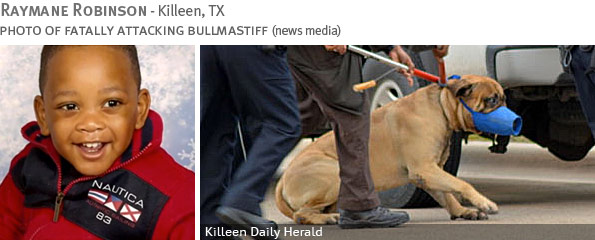 ---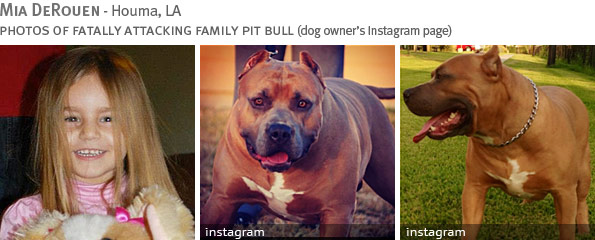 ---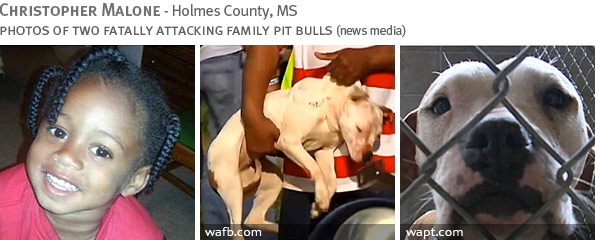 ---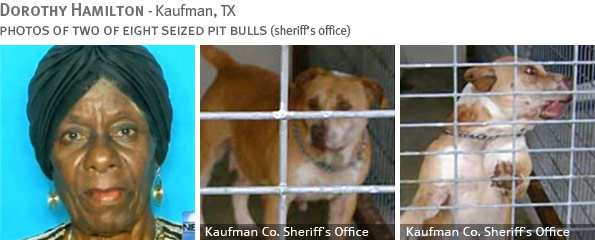 ---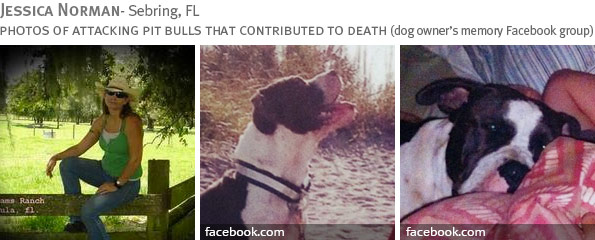 ---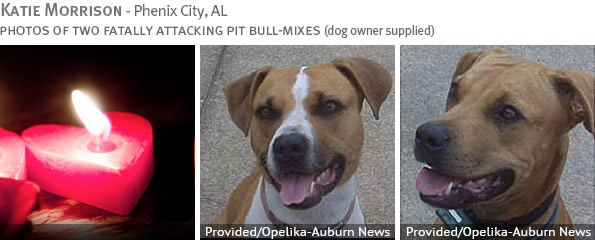 ---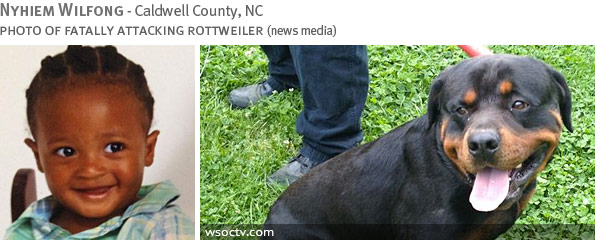 ---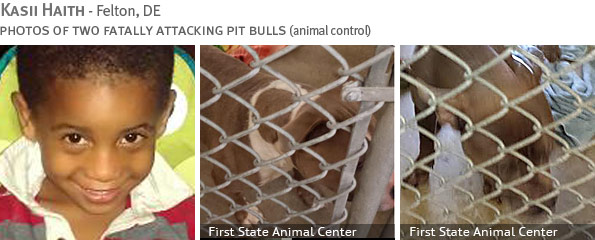 ---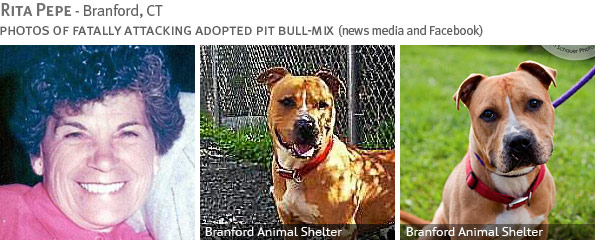 ---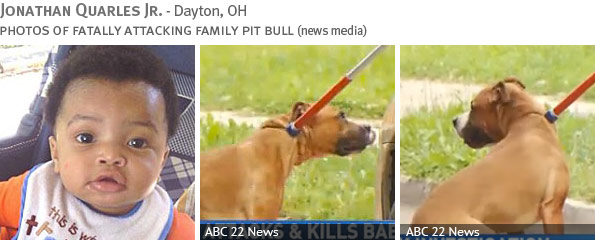 ---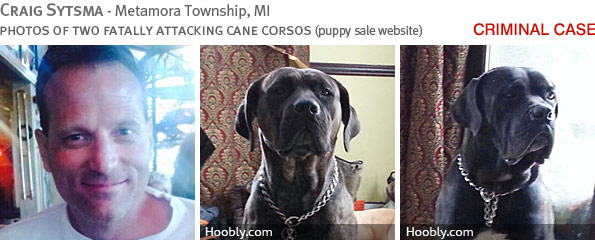 ---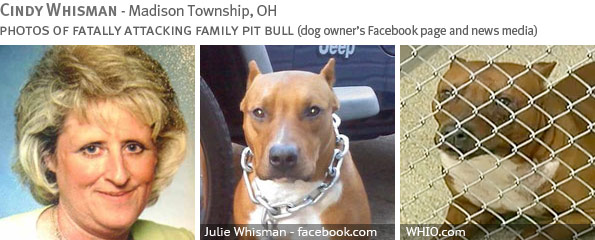 ---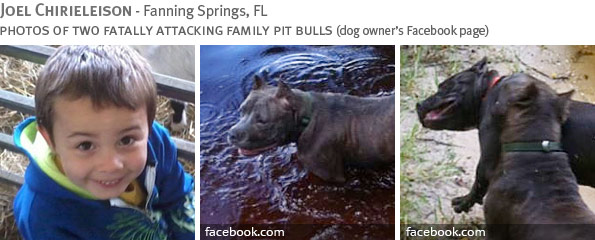 ---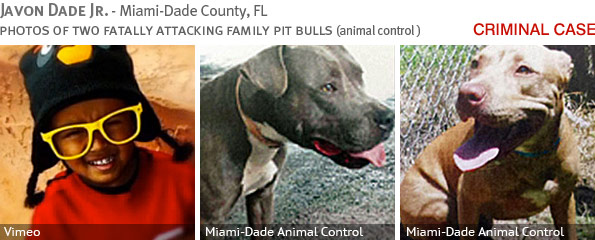 ---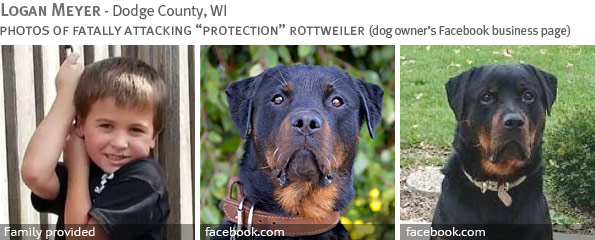 ---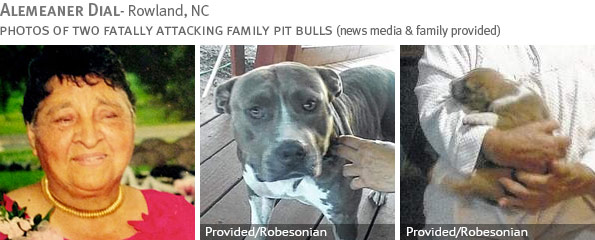 ---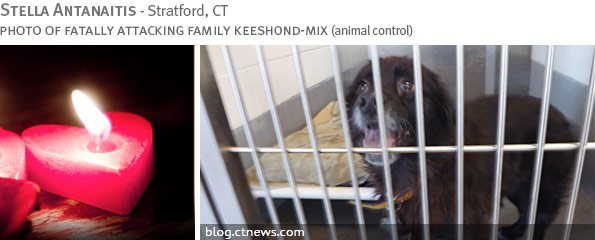 ---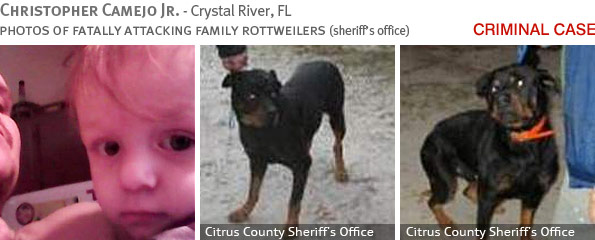 ---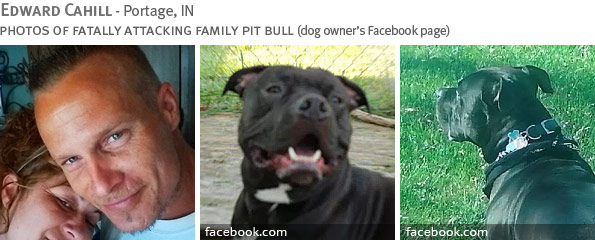 Related articles:
01/03/14:
2013 Fatal Dog Attack Breed Identification Photographs - DogsBite.org
Labels: 2014 Dog Bite Fatality, Breed Misidentification, Identification Photographs, Molosser