DogsBite Blog ::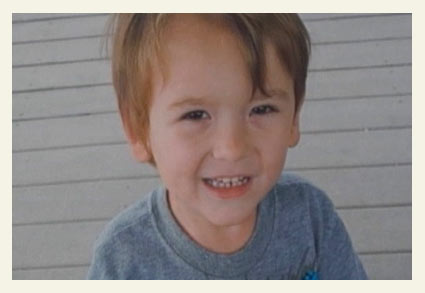 Logan Shepard, 4-years old, was mauled to death by his uncle's two pit bulls.
Father Speaks Out
UPDATE 07/21/14:
Not unexpectedly, family members are casting blame after the pit bull mauling death of 4-year old Logan Shepard on Saturday night. The boy's father, Michael Shepard, and the child's grandmother, Norma Jean Bridges, blame Billy Fredericks Sr., for the child's death. Michael was not at home when his son was attacked. Michael and Norma believe that Fredericks was careless and negligent. Both also support a theory first presented by commenter Ted Teger.
The neighbor also said she doubts Delores and Billy Fredericks started locking up the dogs on Saturday when Logan was mauled to death.
---snip---
Investigators say the attack happened when Logan and his mother walked to the Fredericks' home nearby. Detectives say Billy told them he crated the animals so the mother and child could come inside. But family members say Billy didn't leave the animals inside the kennel during their visit but, instead, wanted them be out so they could roam "to protect his property."

-10 News, wtsp.com
Notably, none of the people interviewed showed their faces because they are likely afraid of Billy Fredericks. Despite the father and grandmother's accusations, the Hillsborough County Sheriff's Office is not convinced. At least for now, no criminal charges will be filed. The Fredericks' also have a home in Las Vegas. According to 10 News, the two may be packing up and heading out of town. Michael Shepard said the family is setting up a fund to help pay for funeral expenses.
07/20/14: Blame Casting Begins
Billy Fredericks Sr., the uncle and owner of the two pit bulls that killed his 4-year old nephew while visiting his home on Saturday evening gave consent to have his dogs put down; both have been euthanized. Now blame is being cast upon the boy's mother for being in the next room talking to adults while her child sat in the living room eating a bowl of ice cream. Speculation is also being cast upon the young child for unlatching the two kennels
while holding a bowl of ice cream
.
Many things are possible at this early stage, including what commenter Ted Teger speculated:
Missing from this story must be that the owner not only carted the dogs before they arrives but UNCRATED them after they were all indoors

1

....and then they left a 4 year old unattended in the living room knowing there were dangerous dogs on the other side of the door. No parent is perfect and oversights happen all the time, and most parents are fortunate enough that their little mistakes do not end in tragedy.
I hear pit bull owners tell how friendly and loving their dogs are.... but I never trust them, nor do I trust any dog completely as much as I love dogs and have 3 myself....but I would never want a dog that can kill so easily with those powerful jaws.

-Ted Teger, The Tampa Bay Times
It is important to recall the recent thoughts of Quadirah Banks,
whose child was nearly mauled to death by two pit bulls
after the babysitter let the dogs into the house because it was raining. "Does it matter if it is the fault of the owner of the dog? Does it matter if it is the fault of the dog, when pit bulls themselves are disproportionately responsible for serious and fatal attacks?" What we know
does matter
is that if pit bull owners fail to maintain the "
zero margin of error
" rule tragedies occur.

Related video
07/20/14: Visiting Child Killed by Pit Bulls
Riverview, FL - In a developing story, a 4-year old boy was killed by two pit bulls while visiting his aunt and uncle's home in Riverview. On Saturday night, Logan Shepard and his mother, Stephanie Groulx,
2
walked to the home of Groulx's sister, Delores Fredericks, and her husband at 12509 Rhodine Road. Just before they arrived, Fredericks' husband placed their two pit bulls in a crate. Logan was given ice cream and left alone while the adults went into the master bedroom to talk.
When the adults heard the child scream, they ran out and discovered that Logan was gone. At the same time, two deputies from the Hillsborough County Sheriff's Office, who were conducting an unrelated traffic stop near the home, also heard the child's screams. The deputies raced to the home and found Logan Shepard on the front lawn of the house with the two pit bulls standing over him. The child was pronounced dead at the scene around 10:30 pm. The investigation continues.
Q: How safe are crated pit bulls around children visiting the dog owner's home? A:
Not very safe.
Related articles:
07/15/14:
New Brunswick Pit Bull Attack: Babysitting, the Zero Margin of Error Rule and...
05/08/14:
2014 Dog Bite Fatality: 'Visiting' Child Killed by Pit Bulls Owned by Friends...
01/20/14:
2013 U.S. Dog Bite Fatality Statistics - DogsBite.org
07/26/13:
Beyond the Interview - Essay of a Fatal Pit Bull Mauling
Photo:
MyNews13.com
Labels: 2014 Dog Bite Fatality, Fatal Pit Bull Attack, Florida, Visiting Child, Zero Margin of Error
Baby Identified, Prelim Ruling
UPDATE 07/21/14:
The Montgomery County Coroner's Office has ruled the cause of death of an infant attacked and killed by a pit bull an accident. Jonathon Quarles Jr., 7-months old, died of blunt force injuries, according to the coroner's preliminary findings. The final coroner's report of the infant, who was visiting from Indianapolis, Indiana, will not be completed for up to 8-weeks. On Sunday, while under the care of his step-grandmother, Jonathon was killed by her pet pit bull.
ABC 22 Now reports that a family spokesman, the Rev. Victor Lee, said the family told him the dog jumped over a gate and attacked the boy. The step-grandmother tried to get the dog off, but could not. The news group also took a
closer look at the June 3 incident involving the same pit bull
. Isabelle Crickmore of Dayton was walking her beagle, named Riba, in front of 2219 Riverside Drive when the pit bull attacked. Riba received three lacerations and 11 staples, Crickmore said.
There is a criminal misdemeanor complaint against the step-grandmother for the June 3 attack. Court records show that a pre-trial hearing for the complaint was postponed last week. "I don't know if she did not show up or what circumstances allowed for a second continuance," Crickmore said. "When I saw that, it just blew me away." She wishes the legal system was quicker and that it did more on June 3. "It just really irks me because this could have been taken care of," she said.

Related video
07/20/14: History of Animal Aggression
Additional information has been released. The babysitter is not biologically related to the baby and is now being called the baby's step-grandmother, according to police. The attacking dog is also being called an American Staffordshire terrier,
which is the legal definition of a pit bull
. The two dog breeds are the very same breed, which is why a
single pit bull can still be cross-registered
at the UKC as an American pit bull terrier and at the AKC as an American Staffordshire terrier.
According to the Montgomery County coroner's investigation, the baby is from out of state. The child's name has not been released pending notification to family members. The attacking pit bull has a history of animal aggression. A June 3 Dayton Police report shows that the pit bull attacked a beagle that was on a leash and being walked by its owner in front of the step-grandmother's home. The beagle's owner did not want to press charges, but "wanted the incident documented."

Related video
07/20/14: Family Pit Bull Kills Baby
Dayton, OH - In a developing story, homicide detectives where called out to a home on Sunday after a baby was killed by a family pit bull. The attack occurred at a home on the 2200 block of Riverside Drive at about 12:30 pm. At the time of the attack, the child's grandmother was
babysitting the child
. According to police, the grandmother took her eyes off the child for a "few seconds" when the pit bull attacked. The dog was seized by animal control and taken away.
Dayton Daily News reports additional information. The
pit bull belongs to the grandmother
who was watching the child for the day. Additionally, the on scene police supervisor said that the baby
does not live at the address
where the attack occurred. As is so often reported by DogsBite.org in occurrences of fatal attacks, this child was
visiting the dog owner's home
when the fatal attack occurred, and the child was under the care of a babysitter. More information is expected shortly.
Visiting Child + Babysitter + Pit Bull = Extremely Dangerous.
Separately, this is the second fatal dog attack in the City of Dayton in 2014. In early February, 57-year old
Klonda Richey was brutally killed by her neighbor's two pit bull-type dogs
after she stepped outside her home. Prior to the attack, Klonda had made at least 16 calls to 911 reporting problems with the dogs; had installed a double tiered security fence and surveillance cameras for protection and had attempted to get a civil stalking protection order against the dogs' owner.
Related articles:
07/15/14:
New Brunswick Pit Bull Attack: Babysitting, the Zero Margin of Error Rule and...
09/24/13:
2013 Dog Bite Fatality: Boy Killed by Pit Bull-Mixes at Babysitter's Home in Gilbert
07/26/13:
Beyond the Interview - Essay of a Fatal Pit Bull Mauling
04/24/13:
2013 Dog Bite Fatality: 4-Year Old Mauled by Pit Bull Dies; Babysitter Arrested
01/21/13:
2013 Dog Bite Fatality: Dog Mauls Woman to Death While Babysitting Toddler
Photos:
WTHR.com
| WHIO.com
Labels: 2014 Dog Bite Fatality, Babysitting, Infant Fatality, Ohio, Pit Bull Kills Family Member, Visiting Child
Help For Harmony Fundraiser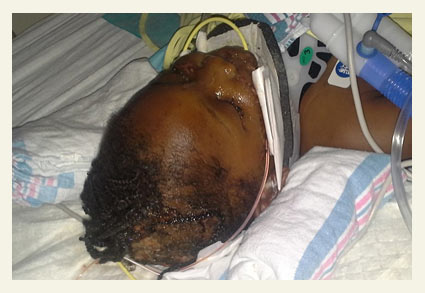 Violent Pit Bull Mauling
New Brunswick, NJ - On July 3, a young girl was viciously attacked by two pit bulls while under the care of her babysitter at a home on Lufberry Avenue. Her younger brother was also at the home. Police officers responded to the scene and fired an "undisclosed number" of shots inside the home killing both dogs. Harmony Halyer, 4-years old, was transported to Robert Wood Johnson University Hospital in critical condition where doctors placed her into a medically induced coma.
Last week we learned
more about this attack on a Chasing New Jersey segment
. Quadirah Banks, Harmony's mother, said the two pit bulls were owned by her daughter's aunt who lives at the home where the attacked occurred. There had never been a problem with the dogs before, but on July 3, the babysitter ignored the aunt's "specific instructions" to keep the dogs outside and away from the children (according to the video, the babysitter let the dogs inside because it had started raining).
As soon as she let the dogs in, they brutally attacked Harmony. Banks now wants to share with others how dangerous these dogs are. Even in the best of circumstances pit bulls can attack without provocation, Banks said. She does not want any more children or parents to experience what her family is enduring. "It doesn't matter how long you know them or whether you are comfortable with them, or if they're family dogs," Banks said. "They can just snap at any time."
Banks questions in the video, "Does it matter if it is the fault of the owner of the dog? Does it matter if it is the fault of the dog, when pit bulls themselves are disproportionately responsible for serious and fatal attacks?" The news team discusses these questions in the video; one strongly blames the babysitter. His poor logic presumes that the imperfect act by the babysitter, of letting the two family dogs inside the home, would "knowingly" result in a life-threatening attack.
Requiring three police officers to enter the home and fire an "undisclosed number" of shots in front of all persons present in order to end the attack.
Zero Margin of Error Rule
Last year, we wrote about the "zero margin of error" rule for pit bull owners in
Beyond the Interview - Essay of a Fatal Pit Bull Mauling
. If only the babysitter had "exactly" followed the rules set forth by Daxton's parents, he would still be alive. On that day, the babysitter broke the zero margin of error rule by carrying Daxton outside while letting her dogs into the run. Without provocation her two pit bulls attacked her and then Daxton in a prolonged vicious assault that ended his life.
In the instance of Harmony, we don't know the relationship the babysitter had to the dogs (long term or short term or otherwise). We just know that the aunt's two pit bulls had been around children before and that the babysitter had "specific instructions" to keep the dogs outside, away from the children. How would the babysitter have known that letting the family pit bulls in from the rain would result in a life or death situation requiring police intervention and multiple gunshots?
Babysitting and Pit Bulls
Harmony's attack falls into two tracking categories at DogsBite.org, both of which are elevated risks. She was visiting the dog owner's home at the time of the attack. In 2013,
38% (12) of all dog bite fatalities involved this scenario
, which also includes temporarily living at the dog owner's home. Within this subset, 58% (7) involved a babysitter, including a relative or friend under the directive to watch a child 7-years or younger. All 7 of these child deaths were inflicted by pit bulls.
Help For Harmony Fundraiser
We learned today that friends have helped Harmony's mother create a
YouCaring page for her daughter
. The page provides more details about her medical condition. She has received multiple blood transfusions and surgical procedures since the attack and continues to require a breathing machine and feeding tube, according to the page. Doctors are "taking it one day at a time because of the extensive damage." Doctors have no estimation about when Harmony might be released.
Donations can also be sent to Rutgers Federal Credit Union and made out to account #27155007.
Related articles:
09/24/13:
2013 Dog Bite Fatality: Boy Killed by Pit Bull-Mixes at Babysitter's Home in Gilbert
07/26/13:
Beyond the Interview - Essay of a Fatal Pit Bull Mauling
04/24/13:
2013 Dog Bite Fatality: 4-Year Old Mauled by Pit Bull Dies; Babysitter Arrested
01/21/13:
2013 Dog Bite Fatality: Dog Mauls Woman to Death While Babysitting Toddler
Labels: Babysitting, New Jersey, Pit Bull Attack Survivor, Zero Margin of Error
Dr. David A. Billmire, MD: "There is no need for Pit Bulls"
Doctor Speaks Out
Cincinnati, OH - After 6-year old
Zainabou Drame suffered "unimaginable" injuries
inflicted by two pit bulls last month, leaving some veteran police officers
struggling to speak
, Dr. David Billmire, MD, penned an editorial not many other doctors could. For 30-years Dr. Billmire has witnessed, examined and reconstructed the faces and body parts of children coming into Cincinnati Children's Hospital and
Shriners Hospital for Children
after devastating and life-threatening pit bull maulings.
When I started my career, the most common dog-bite injuries were from German shepherds and occasionally retrievers. These injuries were almost always provoked, such as food-related or stepping on the dog, and in almost every instance, the dog reacted with a single snap and release – essentially a warning shot. There were no pack attacks.


Starting about 25 years ago, my colleagues and I started to see disturbingly different types of injuries.

Instead of a warning bite, we saw wounds where the flesh was torn from the victim. There were multiple bite wounds covering many different anatomical sites. The attacks were generally unprovoked, persistent and often involved more than one dog. In every instance the dog involved was a pit bull or a pit bull mix.

- Dr. Billmire
The pit bull problem
erupted in the late 1970s
and was in
full swing by 1987
, when Dr. Billmire began seeing these injuries. It was in 1987 that Ohio adopted a state pit bull law; dismantled by out-of-state animal lobbying groups in 2012. Cincinnati also repealed its longstanding pit bull ban in 2012. Zainabou now lies at Cincinnati Children's Hospital after one pit bull "
grabbed her face and literally tore it off
," according to her grandfather, and the other one "pulled her mouth off."
Dr. Billmire states that he recently gave a talk summarizing his 30-years of practice. One part of it, he noted, was titled, "Why I Hate Pit Bulls." Dr. Billmire states that he "watched a child bleed to death one night in our operating room because a pit bull had torn his throat out." And that he has had to "rebuild the
skull of a child who had his ears and entire scalp torn off
." Currently, Dr. Billmire is "reconstructing the face of a child, half of whose face has been torn off down to the bone."
Based on my extensive experience, I believe that the risk posed by pit bulls is equivalent to placing a loaded gun with the safety off on the coffee table. In my opinion, these dogs should be banned. I know this is an unpopular stand in some circles, but how many mauled children do we have to see before we realize the folly of allowing these dogs to exist? ... There are plenty of breeds available that peacefully coexist with human society. There is no need for pit bulls.

- Dr. Billmire
There are over
175 recognized breeds by the AKC alone
. We know why the
drug trafficking owner of the two pit bulls
that nearly killed Zainabou chose that breed, along with
many other deviant types
who flock toward pit bulls. We know why
dogfighters choose pit bulls too
. For the rest of the owners of these dogs, such as
rescue "angels"
and
breed-enthusiasts
, we only know one thing:
They choose a dog breed that kills more human beings than all other dog breeds combined
.
Some of these owners pay with their
own lives as well
, not to mention
their children's lives
.
Safety Before Pit Bulldogs
Dr. Billmire is not alone in his assessment. The Safety Before Pit Bulldogs blog maintains a
collection of quotes by medical professional experts
who treat victims of pit bulls. The list is long readers. Some point to medical studies and others point to news articles and editorials like Dr. Billmire's letter.
We thank all of them so much
for their
continued research
and for those who come forward in the wake of a horrifying attack to combat the
pit bull propaganda machine
response.
Related articles:
09/23/13:
Collection of Pit Bull Scalp Attack Victims - DogsBite.org
09/10/13:
Maul Talk Manual 2.0: A Guide to Understanding the Language of Pit Bull Owners...
12/07/12:
Shriners Hospitals for Children Helps Third Young Southern Pit Bull Mauling Victim
Labels: Cincinnati Children's Hospital, Ohio, Pit Bull Attack Survivor, Plastic Surgeon, Shriners Hospitals for Children
Christina Bell and flowers left where she was killed by two pit bulls.
Dog Owners Charged
UPDATE 07/01/14:
In an unexpected development, Harris County prosecutors are charging both dog owners in connection to the death of Christina Bell, who was viciously killed by at least two pit bulls in early January. Timothy Dewayne Coleman, 33, and Tiara Deshawn Thomas, 26, who owned at least one of the attacking pit bulls, are being charged under the state felony dog attack law. Click2Houston reports that
Coleman and Thomas were taken into custody
this afternoon.
Vicious dog attacks which result in seriously bodily injury or death will not be tolerated.

- Harris County District Attorney Devon Anderson
Anderson goes onto state: "We have evidence that the dog had killed another dog. And has been involved against two other attacks against people. So, this is a case where frankly, we're going to make an example of these two owners." It's about time too. Harris County leads all Texas counties in fatal dog attacks.
Since January 2005, there have been seven fatal dog maulings in Harris County
. This is the first one to our knowledge that has resulted in felony charges in the county.
1
Also, in late June, the Houston Chronicle published an
update about the criminal investigation
and stated that Christina's husband, Benjamin Bell, filed a negligence lawsuit in February. The lawsuit accuses Thomas, the Glenwood Village Condominiums Association and James Nguyen, Thomas' landlord, of failing to secure or control a dog, failing to warn of its "dangerous propensities" and failing to comply with the city's leash laws. Bell is seeking damages of at least $1 million.
01/07/14: Cause of Death Released
The Harris County Institute of Forensic Sciences has identified the victim as Christina Burleson, 43, who was also known as Christina Bell. The agency determined "blunt and sharp force injuries of the neck and upper extremities" as the preliminary cause of death. The female pit bull captured by authorities shortly after the attack was "covered in blood" later determined to match the deceased woman, according to Christopher Newport, a spokesman for the BARC animal shelter.
A second pit bull was seized Sunday afternoon when officials located a woman who claimed both dogs. The owner was cited for allowing the two dogs to run at large. After four puppies were found in her apartment, she was also cited for not having current rabies vaccinations or pet licenses for any of the six dogs and for violating the city's animal "care and keeping" regulation. Police and the Harris County District Attorney's Office will determine whether to pursue criminal charges.
01/06/14: Mauling Victim Identified
Authorities have identified the woman mauled to death by several loose pit bulls. Christine Bell was killed by the animals early Sunday morning. The dogs also attacked two other people. Houston animal control officials now have both female pit bulls in custody, which belong to the same owner. Only one of these dogs is believed to have been involved in the attack. The dog's owner was not home when KTRK visited, but predictably, pit bull puppies were home.
Authorities are still looking for additional pit bulls involved in the attack.
Christine Bell and her husband, known as B.B., were longtime members of the Servants of Christ United Methodist Church at Park Place. The pastor, Will Reed, knows the couple well. He told KTRK that he remembered the last time he spoke to Christine. "I actually went by that intersection Friday afternoon and saw her and spoke to her and said, 'Stay safe,'" Pastor Reed said. Though homeless for years, Reed said the couple got married in the church and recently got an apartment.

Related video
01/05/14: New Details Released
News continues to be released and updated about the first deadly pit bull mauling of the new year. At around 2 am Sunday morning, a woman in her 40s died after being attacked by up to three loose pit bulls in southeast Houston. The animals also attacked two other people. Authorities say the three victims were attacked by at least two female pit bulls. The dogs are estimated to be about 1-year old and 30 pounds, according to the City of Houston Animal Control manager.
Osby Pineles,
2
21, who lives in the neighborhood, tried to pull the dogs off the woman. Pineles said she was already dead when he arrived. He said that one dog appeared to be eating her when he approached the body. The two female pit bulls then attacked him. Pineles was bitten on his legs and arms. The third victim, a female, was taken to Memorial Hermann Southeast Hospital for treatment. Authorities captured one pit bull and are still searching for at least one more.
The Click2Houston coverage continues to press the "stray" and "feral" dog themes, which is notably absent in the Houston Chronicle coverage. What is important to remember about alleged "stray" or "feral" dogs inflicting serious or fatal injuries is the following: In the vast majority of cases, the dogs are currently owned, but roaming without collars or were previously owned, but got lost or were abandoned (See:
Pack of Dogs Kills Boy in Cibola County, New Mexico
).
01/05/14: Pit Bulls Blamed in Fatal Attack
Click2Houston reports that the three attacking dogs are pit bulls, according to Houston police. Two of the pit bulls "are still out there," according to investigators. Animal control did capture one of the dogs. Because
that
dog lacked a collar, police believe all three might be strays (Come on Houston PD! You must have more experience with "typical" negligent pit bull owners than any other jurisdiction in Texas!). Loose pit bulls, reportedly, are a growing problem in the neighborhood.
01/05/14: Woman Dies After Dog Attack
Houston, TX - A woman is dead after neighbors say she was attacked by dogs in southeast Houston overnight. Neighbors said they heard screaming a little after 2 am, and saw a woman's body lying in the street. A witness said that a man who tried to help her was also attacked; he was treated on scene. Neighbors said three dogs were involved in the attack. Two were picked up by their owner before police arrived and a third, an alleged stray, was taken away by animal control.
An early report from the Houston Chronicle states that the victim, in her 40s,
died at the scene of multiple wounds, according to police
. A second victim is being treated at Memorial Hermann Southeast Hospital. A third person suffered minor injuries, not requiring hospitalization. Victims told police that two loose dogs in the neighborhood attacked them; they did not know who owned the dogs. The victims were attacked about 2 am Sunday morning on Glen Prairie near Leonora.
---

Texas Dog Bite Victims' Advocacy
-
Join our Texas email list to stay informed
Related articles:
00/02/13:
2013 Dog Bite Fatality: Pit Bulls Suspected of Killing 96-Year Old Texas Man
03/20/13:
Report: Texas Dog Bite Fatalities, January 1, 2005 to February 17, 2013
Photo:
Houston Chronicle
Labels: 2014 Dog Bite Fatality, Fatal Pit Bull Attack, Feral Dog, Harris County, Stray Dog, Texas, Texas Pit Bull Fatality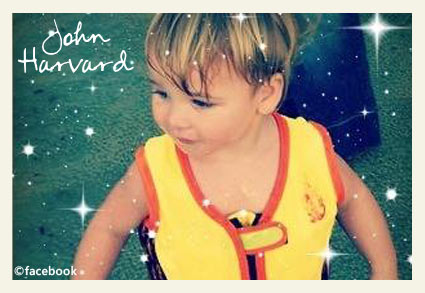 Mother Terrorized at Grave
UPDATE 07/01/14:
In a painfully ominous development, the mother of John Harvard, who was brutally attacked and killed by a neighbor's pit bull in April, was recently terrorized by a pit bull while visiting her son's grave. This is the second time this has occurred and the last time with
this
pit bull. After the dog charged at her on Sunday while visiting her son's grave, Johnna Harvard scrambled into her car and called 911. A Pell City Police officer responded and shot the dog dead.
Harvard captured the incident on video. "She had to shoot it. When that happened yesterday, I was shocked the dog was still there. It charged; it was not going to stop."
After losing a son to a dog attack and almost becoming a victim, Harvard says there needs to be stronger leash laws and regulations, especially where pit bulls are concerned.
"We need to do something on a state level because that was the closest I've ever felt to death and I had that fear of being chased by an animal. I felt like I felt what my son felt and no one should feel that way."

- ABC 33/40
Johnna correctly states, "These dogs are everywhere." This includes cemeteries. In the raw video, Johnna weeps -- she cannot believe this is happening as she kneels beside her son's grave, still covered in beautiful flowers. The loud gunshot by the Pell City Police officer followed by her tears serves as a reminder of
how real the pit bull problem is
and why it no longer can be ignored. To read Johnna's full account of the attack that took her son's life,
please visit Daxton's Friends
.
06/18/14: Pit Bull Owner Indicted
A St. Clair County grand jury indicted the owner of a pit bull on a charge of criminally negligent homicide, a misdemeanor, in connection to the death of 5-year old John Harvard. On June 17, Johnny Ray Kay Sr., 57, of Riverside, turned himself in following his indictment. "Evidence obtained by the St. Clair County Sheriff's Department into the death investigation of John Harvard was presented to a grand jury last week," St. Clair County District Attorney Richard Minor said.
Minor said that if Kay is convicted of criminally negligent homicide, he could face up to one year in jail and a $6,000 fine. Kay is scheduled to be in court for his arraignment on August 13. Both Kay and the victim's father, Jeremy Harvard, declined comment on Wednesday. Last month, however, Harvard said that he had never seen the dog until after it attacked his son. He said his children had never played with the dog either -- disputing several media reports that followed the attack.
1
Harvard said he last saw his son alive next to the front porch. He had his bicycle upside down and was putting a chain on it. Harvard said he went inside to change his clothes. About 5-minutes later, his older son came into the bedroom yelling, "A dog is on John!" Harvard grabbed his pistol and ran out of the house. He first yelled at the dog then shot at the animal several times in order to retrieve his son. Harvard rushed his younger son to the hospital, but he did not survive his injuries.
04/11/14: Parents Interviewed
In an emotional interview that aired at 5 pm CST on ABC 33/40, the parents of a little boy mauled to death by a neighbor's pit bull spoke out publicly for the first time about their horror and loss. Jeremy Harvard, the little boy's father, told ABC 33/40, "It's sad because I read a story on Facebook the other day about a 5-year old being mauled by a pit bull," said Harvard. "And I never dreamed I'd be talking about that to you today, because it happened to us. It happened to John."
Readers should know that there will likely come a day when a great majority of Americans will know a person or pet who has been mauled by a pit bull. This sentiment was also recently echoed by a
Winston-Salem Journal columnist
after
3-year old Braelynn Coulter
was killed by her family's pet pit bull: "Anecdotally, many of us know that pit bulls are trouble. Increasingly, more of us know someone who's been attacked by a pit bull, or whose dog has been attacked," John Railey states.
We ask readers to once again review the
31-Year Summary of Pit Bull Trends (1982 to 2013)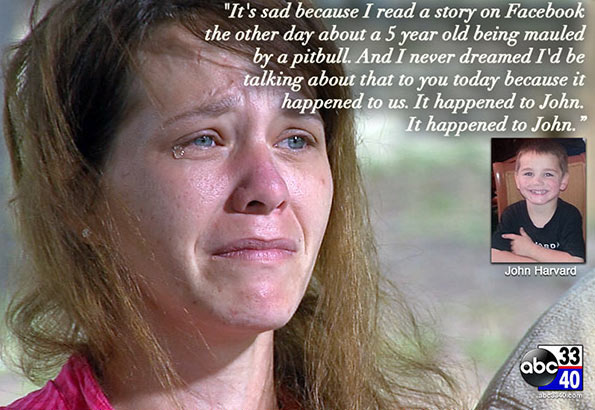 04/10/14: Pit Bull Euthanized
New information has been released about the mauling death of 5-year old John Harvard who was brutally attacked and killed by a neighbor's pit bull on April 6. The pit bull was
reportedly only 8-months old
, according to the Daily Mail, and has since been euthanized. The City of Riverside does not have a leash law. However, St. Clair Undersheriff Billy Murray said that law enforcement would still likely
consult with the St. Clair County District Attorney's Office
about the evidence.
Because the dog was technically "at large" when it attacked the boy (and also lived next door to the boy in a semi-rural area), there has been a flurry of attention on "
passing a leash law
" to prevent similar future tragedies. Every town has to start somewhere and in semi-rural and rural communities,
it usually starts at the base level of a leash law
. A balloon release event is being organized for Saturday to help Riverside community members say goodbye to John Harvard.

John Harvard tribute video
04/07/14: Burial Fund Started
A family friend or relative has started the John Triton Harvard Burial Fund at fundly.com. "Please help a grieving mother bring her deceased child home with her to California for a burial surrounded by family and siblings," states Jodi who created the page. The boy's mother, who had been staying in California with family, "has begun the 2,300 mile journey to retrieve her precious son's body and bring it home to rest in peace forever near her and his siblings," states the More Info of the fund.
04/06/14: Pit Bull Kills Child
St. Clair County, AL - In a developing story, a 5-year old boy died Sunday after being attacked by a pit bull in Riverside, Mayor Rusty Jessup told ABC 33/40. The victim was playing with his 9-year old brother when the animal attacked him, according to Jessup. He was transported to a local hospital, where he was pronounced dead. Police have
identified the 5-year old boy as John Harvard
. ABC 33/40 has a crew en route to the scene and will be livestreaming from the scene.
WVTM adds additional details about the attack. Jessup said the attack occurred just after 4:00 pm Sunday. The two brothers were playing in their yard when an
80-pound pit bull came onto their property and attacked
the younger boy, Jessup said. The 9-year old tried to get the animal off his brother, but could not. He ran into their house to get help. The father ran back outside and shot at the pit bull. The boy was rushed to St. Vincent's Hospital in St. Clair County, where he died.
Related articles:
02/28/14:
2014 Dog Bite Fatality: 3-Year Old Girl Killed by Family Pit Bull in North Carolina
02/28/14:
2014 Dog Bite Fatality: 4-Year Old Girl Killed by Dogs in Tallassee, Alabama
Photo:
ABC 33/40
Labels: 2014 Dog Bite Fatality, Alabama, Fatal Pit Bull Attack
Pit Bulls Attack Husband, Wife and Their Two Golden Labradors
Valley Couple Attacked
Las Vegas, NV - On May 9, 2014, Skip and Marie West were returning from exercising with their two senior dogs, when total chaos erupted. Two loose pit bulls attacked all four of them, sending Skip to the emergency room and his dog, Viper, to the emergency vet clinic. Skip provides a blow-by-blow account of the harrowing attack. KTNV News reported the attack back in May and has a video that shows additional images and the gated community where the attack occurred.
Readers need to realize that this is exactly how it happens -- mass chaos unleashes. The degree of injury you and your pet dog will suffer is Luck of the Draw. Whether passersby will help is also Luck of the Draw, as Skip and Marie learned. Along with sharing serious injuries, many victims of pit bull attacks also share the confrontation with a "Classic Pit Bull" owner, such as Darnell. This
Narcipitism
often shocks and appalls them, having
never imagined
this psychological condition.
Our lives have changed forever
Back in November, both my wife and I decided it was time to lose some weight and that we needed an exercise routine. After the holidays, now into 2014, we both started programs and exercising with our two older Golden Labs, Viper and Charlotte. After 5 months of tough work, my wife lost 30lbs and I lost 37lbs.
On May 9, 2014, after my wife came home from work, we started our routine and got our dogs with their leashes to run. We live in a gated, surveillance and patrolled housing HOA development area. As we were finishing our run, we approached the exterior gates. Now walking, we saw two pit bulls inside our development chasing a little girl. She ran into an unlocked door (we later found out, that was not her home). Soon, the two pit bulls turned their attention on us. They were still a good distance away and began running towards us. With my wife, myself and two dogs still outside of the gates, we were safe. That is until a car drove up to the automatic gates and opened them.


"The other had his whole head inside his mouth. That pit bull was trying to rip Viper's head off. He was clamped down, pulling it from side to side." - Skip West

The two dogs are now running directly at all four of us with nothing in place to stop them. We did not run or look directly at the two pit bulls (both were neutered males we found out later). One was tan and the other was black and white, about 80lbs each. As the dogs ran up to us, the tan one jumped up and clamped down on my right forearm. The other one bit into my left ankle. Simultaneously, my wife is trying to get though the pedestrian gate. I manage to grab one pit bull and throw it about 6 feet -- this was hard as neither pit bulls had a collar on. The other pit bull went after Charlotte, my 10-year old female Lab. I got Charlotte and that pit bull apart and tried to get her into the gated area. Then another car drove through the gates, opening them, allowing the two pit bulls to come back into the locked area we had just managed to reach. The fighting, of course, starts all over again.
Viper, my male Lab, is 12-years old and tries to protect my wife from being attacked. The two pit bulls tag team my wife to the ground and bite her finger. Viper tries to help me free my wife from their attack. There were about 20 people watching this unfold and only two older ladies came out to help us. All the men that were out that day did nothing! As I help my wife, my wife tries to help Viper. Then the two pit bulls tag team Viper.
At some point during the struggle, Charlotte got out of her collar. She takes off toward home as both pit bulls take Viper to the ground. One was ripping his leg and scrotum area and the other had his whole head inside his mouth. That pit bull was trying to rip Viper's head off. He was clamped down, pulling it from side to side. My wife was able to pry that pit bull off of Viper, but the other one got Viper's ear and tried to tear it off.
The black and white pit bull then takes off after Charlotte and the tan one chases after Viper, who had started running down the street the other way. Both of my dogs ran in opposite directions; I ran after Charlotte and my wife ran after Viper. While running down the street, I do not see any dogs, not ours or the pit bulls. By now, it has been 20 minutes since the attack began.
Then some kid drives up to me -- I am bleeding all over the ground and out of breath. He asks me, "Have you seen my pit bulls?" The kid, who we later learn is 24-years old and named Darnell, then tells me to stop taking pictures of his car (I wanted them for police! Fortunately, I had my cell phone with me). Then he tells me "It's a rental," so it does not matter. He exits his car and leaves his door open. One pit bull runs up to Darnell. He puts the dog in his car. The dog however, jumps the seat, escapes and charges off after another child!
Darnell says "Don't worry, they don't bite."
In the chaos, I start looking for Charlotte again. I reach the end of the street and can't go on. Then a lady comes up to me and asks if I want some water. I say, "Please." She brings me out some water and I drink some. That's when police, animal control, fire trucks and paramedics arrive. My wife shows up about 30 seconds later with a woman who had picked up Viper. She put him into her truck (inside her quad cab, he was bleeding badly). She also found my wife and brought her to me before they took me to the hospital.


I want to interrupt here because this did not have to happen. Darnell claims to the police and on the reports that he lives 22 miles from the attack, even though Darnell has been in our gated area for the past few months (must have a code to get into the area). Why is he here and how did he know that his dogs were 22 miles from home?

After I was released from the hospital, my family came over. Viper was in bad shape with his many injuries and there was blood all over my home. Charlotte was in a little better shape with only some bites, but could not walk. Both of our Labs were taken to an ER veterinarian. Due to the cost of damage to Viper, we had to apply for financial assistance and be put on a payment plan with the veterinarian. At that time, the Vet was advising us to remove the ear at a cost of over $2,500 (that was just the ear cost). Viper had to stay with the Vet that night.
My wife did not go to the hospital, but did have to see her personal physician. She received medical care and medications. At the same time, I went to my physician to receive more shots and medications. One item that I had to be put on is for treating angina and hypertension, due to having chest pain from fighting with two 80lb pit bulls.
This attack has taken a part of our life away from us, which we will never get back!!!
It is now the end of June and the owner has not once said, "sorry" or tried to get a hold of us to see how we or our dogs are doing. It's like he does not care if we lived or died. In the state of Nevada, a dog has to bite twice before they will be put down. I understand that Darnell called animal control after the 10-day quarantine and requested that both of his dogs be euthanized. This was his request, though I do not disagree with this decision.
This is still on going.

Skip West
Las Vegas, Nevada
Related articles:
05/14/14:
Family Dog Attack: 'Gripper' Breed Pack Attack Leads to Devastating Near Fatal...
05/07/14:
Letter: After Pit Bull Kills Dog and Maims Man, Victims Seek to Advance Public...
04/30/14:
Pit Bull Attack Survivor Attends Court Hearing and The Universal Prayer...
Labels: Gated Community, Maul Talk, Nevada, One Free Bite, Pet Attack, Pit Bull Attack Survivor