DogsBite Blog ::
Some of the dogs that fatally attacked Manuel Mejia, 49, on April 23 in Miami-Dade County.
Dogs Finally Seized
UPDATE 05/19/15:
Nearly one month after a man was mauled to death by a pack of dogs, Miami-Dade Animal Services (MDAS) finally seized the animals. During the "transition" in obtaining the dogs, one of the dogs threatened an officer; so the officer shot and killed it. After this exclusion, a total of 9 dogs were seized, including the pack's mother, which is a pit bull. The MDAS "breed labeling game" is back in action and again headed up by Kathleen Labrada.
Four people have been killed by variances of Miami-Dade's "breed labeling game," primarily American bulldog-mixes, since August 2014.
After the
pit bull mauling death of Javon Dade Jr.
, Labrada and MDAS used at least four different breed labels for the other dogs involved in the vicious attack, none being a pit bull-mix, including: labrador-pit bull mix, American bulldog-labrador mix, terrier-boxer mix and terrier-mix. As we have stated multiple times on this website, the first breed listed in a mix is the primary. So in this case, excluding the mother dog, this point is moot, except to note that MDAS is on record lying again.
1
We are sick to death of
Labrada and MDAS
(and
Dan DeSousa-types
) blatantly misleading the media and public about this issue when it is their duty to
uphold the Miami-Dade pit bull ban
-- thus ordered by the
voting public in August 2012
. But let's get back to why we are here. The mauling death of 49-year old Manuel Mejia on April 23 that went unreported to the public for nearly 3-weeks in Miami-Dade County. It only became public at all because local media investigated.
The Attacking Dogs
The Belgium malinois-pit bull mix offspring are 8-months old and are now being housed at an undisclosed location. Pamela Babineau, Mejia's girlfriend who witnessed the attack and called 911, told police three dogs instigated the attack and up to seven others joined in. This indicates that all 10 dogs may have been involved, including the mother dog that no one can rationally argue is not a pit bull-mix. It is unknown if the sire dog is in custody, or if it was part of the attack.
We can only speculate as to the farm owner's motive of crossing the two breeds,
2
but it seems he desired a fierce guarding breed. In the 1940s, pit bull lines were mixed into U.S. "war dog" lines, whose purpose was
not to sniff out bombs, but to kill
. Still, the primary function of a nonmilitary guarding breed is to bark to alert the owner when something is amiss; the primary function is not to deliver the death penalty, as animal behaviorist
Alexandra Semyonova
comments below:
Any guard dog (or group thereof) should function mostly to bark and indicate there's something weird going on, so the property owner can come and deal with the situation appropriately. Instant mauling / killing attack is not appropriate guarding. Even in Western nations that still have the death sentence, the intent is that this sentence is dealt out only for the most serious of crimes and only after careful consideration by a court of law. It cannot be that any citizen who owns one or more dogs is entitled to let the dogs deal out a death sentence for a misdemeanor, a minor crime or even no crime at all.

- Alexandra Semyonova
---
05/13/16: Clarifications & Autopsy
More clarifications have been made since last night. Miami-Dade Animal Services (MDAS) released a statement that in part said the dogs' owner is
"fully cooperating"
with authorities. However, the pack of dogs -- now said to be 11 of them -- have remained on the owner's property since the man's mauling death nearly 3-weeks ago. Manuel Mejia was attacked and killed by a group of these dogs on April 23. This information was not released to the public until May 12.
Autopsy Report Released
WPLG Local 10 obtained a copy
of the Miami-Dade County Medical Examiner's
autopsy report
. Manuel Mejia, 49-years old, suffered serious bite injuries to his head, neck, chest, back and legs, fractured ribs and more. "The wounds were quite severe. They were all over his body," Darren Caprara said, the ME's director of operations. "So what we see is indicative of a very vicious attack." A witness told police that three dogs started the attack and up to seven more joined in.
The autopsy report was completed April 25, two days after his death. County authorities knew early on that Mejia died of a dog mauling.
Caprara told Local 10 that his office only sees about one fatal dog mauling case a year.
3
This means that in the last
11.5 years of tracking U.S. fatal dog bites
, Miami-Dade County has seen about 11 cases.
We only have 5 tracked in the county since 2005, 4 of which occurred since 2014.
That is very troubling information then add to it that county authorities failed to acknowledge this man's death until reporters began investigating over 2-weeks after he was killed by these dogs.
Mejia and his girlfriend lived and worked on the dragon fruit farm owned by Reynaldo Torres, who also kept the dogs there. It is unclear if the attack occurred on the owner's property -- inside the farm's fenced area -- or if they got loose and attacked Mejia while he was off the owner's property.
---
05/12/16: Man Dies After Dog Mauling
Homestead, FL - Nearly 3-weeks ago, a man was brutally mauled by a pack of dogs and county authorities released no information to the public. On April 23, Manuel Mejia was savagely attacked by 4 or more large dogs owned by Reynaldo Torres,
who owns a dragon fruit farm
.
Police say the owner has been uncooperative during the investigation. Miami-Dade Animal Services is working to gain a court order to have the 4 to 5 Belgian malinois-bulldog mixes removed from the home.
4
Mejia's death marks the third dog mauling death in Miami-Dade County since September 2015. The fourth dog bite fatality since 2014.
Local 10
obtained the incident report
showing that the victim's girlfriend, Pamela Babineau, called 911 to report that Mejia was being attacked by the dogs. "Mejia had multiple dog bites all over his body and open flesh wounds. A piece of skin was also missing from his left tricep area," states the report. He was airlifted to Kendall Regional Medical Center and died on an
unknown date
. Mejia was a caretaker at the dragon fruit farm. Police are now investigating the case as a homicide.
Background Information
On Monday, we reported this attack to Local 10 (at that time his death was only "alleged") after a blogger on Examiner.com, a
content farm
, wrote about it.
5
In the past, pit bull defender bloggers at that website have deliberately published outright lies (
the ladder story
) to advance rumors in social media and to confuse the public. The most notorious was Cindy Marabito.
6
In February, the
Examiner fired Marabito
and unpublished her whole archive after she wrote a fake rescue story.
Related articles:
03/20/16:
2015 Dog Bite Fatality: Family Dogs Savagely Kill Elderly Woman in Miami-Dade
12/30/15:
2015 Dog Bite Fatality: Visiting Child Killed by Father's Pit Bull-Type Dog in Miami...
03/02/14:
2014 Dog Bite Fatality: Visiting Child Killed by Family Pit Bulls in Miami-Dade County
08/16/12:
Vote in Miami-Dade County to Repeal Pit Bull Ban Fails by Wide Margin
03/12/12:
Attempt to Overturn Miami-Dade Pit Bull Ban Advances: 'Don't They Know?'
Labels: 2016 Dog Bite Fatality, Cindy Marabito, Content Farm, Examiner, Florida, Miami-Dade, Pack Attack
Rejection Rate Grows to 90% Since January 2014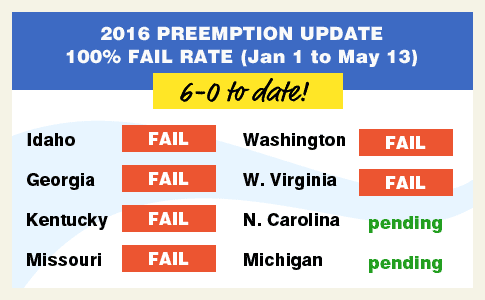 DogsBite.org
- During the first 5-months of the 2016 legislative season, state preemption bills barring local governments from enacting pit bull ordinances were introduced in eight states. As of May 13, six states have rejected these bills and two remain pending. So far in 2016, this is a 100% success rate for municipalities retaining local control. These states include: Missouri, Kentucky, Washington, Georgia, West Virginia and Idaho. Bills in North Carolina and Michigan are pending.
Municipal associations, mayors, constituents and grassroots health and safety advocates made these victories possible. Great job!
Our 4.5-year trend document shows that since 2012 -- the start of
Wave II preemption legislation
-- lawmakers in 13 states have rejected 76% (19) of these bills. Over the last 2.5-years (2014 to present), the rejection rate increased to 90%. The chief instigators of these bills, Utah-based fighting dog advocates, Best Friends Animal Society, and dog breeder interests, have a 0% success rate since April 2014, when grassroots efforts truly began organizing to fight them.
---
---
In this year's legislative update, we offer brief highlights on all six states starting with Missouri. Next we review Kentucky, emphasizing the first time a fiscal impact estimate has ever been added to an anti-BSL bill. Committees in Washington and Georgia each produced a curious "substitute" bill. In West Virginia and Idaho, both bills had short lives. In 2017, we expect these same preemption bills to return to these four states: Missouri, Kentucky, Washington and West Virginia.
Second Victory in Missouri
Of all of the states facing preemption legislation this year, Missouri was by far the most at risk. Over
80 jurisdictions in Missouri
have breed-specific ordinances. The passage of
HB 1811
, preventing local governments from regulating pit bulls, including cities under home rule authority, would have been a horrible loss for these cities. Many people and pets currently protected from violent pit bull attacks would have seen this protection instantly vanish upon the bill's passage.
In 2014, a hotly contested
preemption bill failed in Missouri
. That bill was sponsored by
State Rep. Ron Hicks
and backed by Utah-based Best Friends. Hicks introduced this same bill in 2016. HB 1811
passed the House on April 14
, but soon began to unwind in the Senate. On April 21, it was assigned to the Senate Agriculture committee. It was rendered dead on April 27 after chairman Sen. Munzlinger cancelled the bill's hearing, causing the bill's backers to have a clinical meltdown.
"Just talked to Munzlinger's office staff in person, They told us as of now HB 1811 has been PULLED. The reasoning is there has been too many phone calls and emails OPPOSING THE BILL."

- STOP breed specific legislation in Missouri, 04/27/16
The meltdown was an implosion of rage and confusion, causing the bill's
local supporters
to flood Munzlinger's office with demands to reschedule the hearing. So much so that Munzlinger
even posted to their Facebook page
a confusing alternative that is
not a valid way
to challenge BSL.
Section 67.140
of the revised statutes only pertains to the legal "relationship between persons and domestic animals." That relationship is defined as an "owner" not a "guardian," for instance.
told local supporters not to contact
Senate committee members. Then, in desperation, Best Friends turned around and issued one of their
infamous "robo emails"
on the 29th that local backers had warned against. Finally on May 2, locals mistakenly believed the hearing for HB 1811 had been rescheduled by the chairman for May 4, only to learn later
this was a clerical error
-- the bill truly died on April 27.
After HB 1811 passed the House in mid-April, the media began publicizing the legislation. We usually see this as favorable, as this alerts mayors, city council members and constituents to the bill. A week before the hearing was abruptly cancelled, killing the bill, the mayors of
Florissant
,
Palmyra
and
Fenton
all spoke out forcibly against HB 1811. Certainly their opposition was communicated to Senate committee members.
Bravo to mayors for mobilizing to defeat the bill!
Kentucky Local Mandate
In Kentucky,
SB 116
was introduced -- the same aggressive preemption bill that was introduced in 2015 and failed. In a "Kentucky style" rerouting this year, SB 116 was "recommitted" to the Senate
State and Local Government committee
, instead of going to the Senate floor for a vote and died on February 18. Best Friends managed to get the same bill introduced in the House chamber as
HB 510
about 8 days later. That bill died on March 3 in the House
Local Government committee
.
Notice the committees the bills died in. The Kentucky municipal associations are robust and fight hard to preserve local control and ensure that
home rule
remains hearty. In a first-ever fiscal impact statement for this type of preemption bill, the Kentucky Association of Counties, Kentucky League of Cities and the County Judge Executive Association, provided data for a powerful one for SB 116. Again, a "fiscal impact" estimate has never before appeared on an anti-BSL bill.
Local Mandate Fiscal Impact Estimate
Kentucky Legislative Research Commission
2016 Regular Session - SB 116
The fiscal impact of this bill is expected to be minimal. There will be minimal costs associated with revising some existing ordinances. However, it is possible there could be other costs. There could be costs associated with litigation related to dog attacks by certain breeds no longer covered (controlled) by revised ordinances. There could conceivably be costs associated with insurance premiums or claims related to dog attacks similarly not covered by ordinances. There could be costs associated with the concept of "illegal taking" if all dog breeds were covered by ordinances,

thus restricting the conditions of ownership for all breeds.
It is important to also point out just how aggressive the preemption bills in Kentucky were. Preempting home rule jurisdictions was not nearly enough for Best Friends in this case. Pay close attention to the words "regulation or policy," which presumably would apply to any breed-specific shelter policy and any breed-specific housing policy ("
housing authority
" pet policies being one area) operated or owned by any of the local governments described in the bills' language.
Senate Bill 116 - Kentucky
(1) For the purposes of this section:
(a) "Dog" means any breed of canis lupus familiaris; and
(b) "Local government" means any city, county, consolidated local
government, urban-county, charter county, unified local government, special purpose government entity, or other local governmental unit created by or pursuant to an Act of the General Assembly or Constitution of Kentucky, or any department, agency, or authority thereof.
(2) On or after the effective date of this Act, a local government may pass any

ordinance, regulation, or policy

concerning dog safety and welfare or public safety, so long as that

ordinance, regulation, or policy

is not specific to the breed of the dog.
(3) This section shall override

any ordinance, regulation, or policy

which is specific to the breed of dog. On and after the effective date of this Act, any existing ordinance, regulation, or policy that is specific to the breed of the dog shall be void and unenforceable.
Washington & Georgia "Substitute" Bills
This year, an irregular set of events happened in Washington and Georgia. Preemption bills in both states, carried over from 2015, had been languishing in House committees then in 2016 mutated into unusal "substitute" bills. In Washington,
HB 1018
, morphed into a bill that would allow a dog to be exempt from breed-based regulations if the dog passed an AKC Good Citizen test, a test that would need to be performed every two years to maintain this exemption.
Restricted dogs that failed the test would be allowed to "retest" any number of times for any number of years thereafter.
How would a jurisdiction with a breed-specific ordinance manage this? Note
Auburn
for instance. The bill would have added new administrative layers to already heavily underfunded animal control departments and seriously undermined the very point of
breed-specific legislation
. The substitute would also prohibit any new cities or counties from adopting breed-specific ordinances. Washington state has an
exceptional dog law chapter
. The substitute bill would have poisoned it.
Take a moment to consider this "spin" language and how in conflict it is with the Supreme Court of Washington's decision in
American Dog Owners Ass'n v. Yakima (1989)
, which upheld the constitutionality of Yakima's pit bull ban. This fallacious language was not based on any court proceeding that requires a formal evidentiary process; it was
based on oral storytelling
by Rep. Appleton whose only "evidence" was
incorrectly citing a SCOTUS decision
from 1920.
Substitute HB 1018
Sec. 1. (1) A number of local jurisdictions have enacted ordinances prohibiting or placing additional restrictions on specific breeds of dogs. While the legislature recognizes that local jurisdictions have a valid public safety interest in protecting citizens from dog attacks, the legislature finds that a dog's breed is not inherently indicative of whether or not a dog is dangerous and that the criteria for determining whether or not a dog is dangerous or potentially dangerous should be focused on the dog's behavior.
(2) The legislature further finds that breed-specific ordinances fail to address the factors that cause dogs to become aggressive and place an undue hardship on responsible dog owners who provide proper socialization and training. The legislature intends to encourage local jurisdictions to more effectively and fairly control dangerous dogs and enhance public safety by focusing on dogs' behavior rather than their breeds.
---
Washington advocates, there was no reason to put this section in the bill, except to add the flawed "opinion" of a few legislators and to create state statute amounting to a Pit Bull Bill of Rights. When we say this language will "poison" Washington's exceptional dog law chapter, we mean it.
---
What happened in Georgia this year borders on mysterious. SB 184 began as a straightforward anti-BSL bill in 2015 that
passed the Senate chamber
and landed in the House Governmental Affairs committee. In 2016,
SB 184
emerged from that committee as a substitute with no anti-BSL clause. The bill instead carved out "entitlements" to AKC, UKC hunting dog groups, classifying them as "hunting dogs" and able to receive the same lower licensing fees as sterilized dogs.
Essentially, any dog used for hunting purposes would be exempt from any city our county differential licensing ordinances. Such ordinances require the owners of unsterilized dogs to pay higher licensing and registration fees as an incentive to spay and neuter with the goal of lowering unwanted breedings. SB 184 was a win for the hunting dog lobby and a loss for struggling animal control departments across Georgia. Governor Nathan Deal signed the bill into law on April 26.
How the Georgia anti-BSL bill morphed into completely different legislation that carved out "entitlements" for hunting dogs is unknown.
West Virginia & Idaho - Short Lived Bills
In West Virginia,
HB 4508
was introduced on February 11 and died two weeks later, failing to make the House crossover deadline. The bill barred cities and counties from enacting breed-specific regulations. Backers of the bill, the West Virginia League of Humane Voters, promised to be back next year
perpetuating more distortions and untruths
about pit bulls. Currently, only a
handful of jurisdictions
in the state have breed-based ordinances to protect citizens and their pets.
The shortest-lived anti-BSL bill this year came out of Idaho.
HB 470
, sponsored by Rep. Mike Moyle, survived just 7-days before being killed. HB 470 overhauled portions of the state vicious dog law and included an anti-BSL clause buried within (Section: 25-2812). A journalist at
The Spokesman-Review
caught the implication immediately
causing a flurry of debate. The bill was quickly resurrected as
HB 525
without the clause. It passed both chambers and became law.
What happened in Idaho shows how an anti-BSL clause can frustrate and even kill a long overdue overhaul of a state's vicious dog law. In this case, the bill provided stronger protections for citizens, stiffer fines for the owners of loose dogs and a new designation of "At-Risk Dogs" (a step below the "Dangerous Dog" designation) when bites do not cause serious injury. Legislators in Idaho recognized this and omitted the anti-BSL clause that otherwise may have stalled or killed the bill.
Summary
Legislators in six out of eight states during the 2016 legislative season rejected preemption bills barring local pit bull ordinances. Of these states, Washington and Georgia lawmakers rejected these bills 3-years in a row, Kentucky 2-years in a row and Missouri, twice since 2014. The two pending bills in 2016 are North Carolina, whose session ends in July and Michigan, whose session ends in December. The last time an anti-BSL bill passed in a state was March 2014.
As mentioned earlier, preemption bills will be returning in at least four states in 2017. We also expect the 2015 anti-BSL bill to be revived in Montana next year, once again pushed by Utah-based Best Friends. We know that advocates get tired of this incessant broken record, but each year we learn more about the legislative process and how to better fight these bills. Your hard work is reflected in the map below!
Thank you for your dedication, and pace yourself!
---
---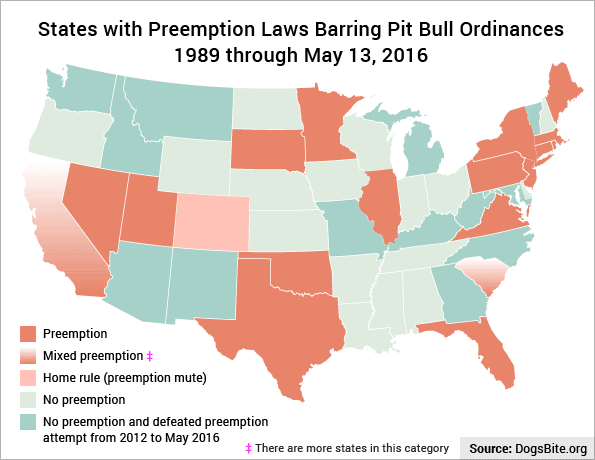 Related articles:
02/19/16:
2015 U.S. Dog Bite Fatality Statistics - DogsBite.org
01/14/16:
2015 Fatal Dog Attack Breed Identification Photographs
04/20/15:
2015 First Quarter Legislative Highlights: Local Control Dominates, We Salute You...
09/01/15:
Cities with Successful Pit Bull Laws; Data Shows Breed-Specific Laws Work
11/24/14:
Aurora Voters Favor Keeping Pit Bull Ban by Wide Margin in General Election...
05/27/14:
Missouri - Proposed Statewide Bill Prohibiting Breed-Specific Ordinances...
03/19/14:
30-Year Anniversary of Historic Pit Bull Attack Victim and The Village of Tijeras...
Labels: Best Friends Animal Society, Breed-Specific Legislation, Georgia, Idaho, Kentucky, Missouri, State Preemption Law, Washington, West Virginia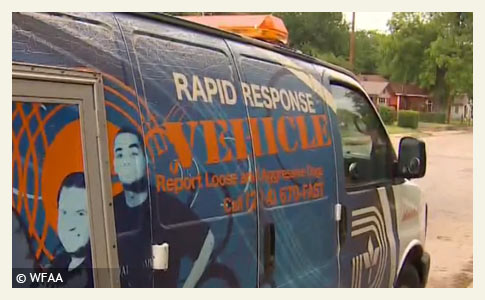 Dallas Rapid Response vehicle seen after vicious dog attack in southern Dallas.
Calls for Dismissal
UPDATE 05/16/16:
After a woman was mauled to death by a pack of dogs in South Dallas, fierce discussions continue to brew about the protocols that either broke down or did not exist at all. The catastrophic injury attack that caused the death of Antoinette Brown, 52, occurred in the early morning of May 2. Dallas Animal Services was not made aware of the attack until 3-days later; the dogs were seized 4-days after the attack. Dallas police did not confirm the attack for 5-days.
The owners have made 20 dog "surrenders" to DAS since 2014, that includes the 7 dogs surrendered after the fatal attack of Antoinette.
The Dallas Morning News
has come down hard on Jody Jones, the chief of Dallas Animal Services (DAS), calling for her dismissal. When interviewed about the brutal dog mauling death, Jones replied,
"I hate to say it, but people die in traffic fatalities every day.
" Her reply shows that she has no compassion for victims of deadly dog attacks, no priority for victims of dog attacks and little priority for public safety. Yet, she runs a department assigned with those very responsibilities.
The News
also pointed out how DAS misleadingly responded after City Manager A.C. Gonzalez announced that Deputy Police Chief Rob Sherwin had been assigned to
help oversee Jones' troubled department
: "So how did Dallas Animal Services respond?," states the editorial. "With a chirpy email blast and social media message that read: 'Exciting news!!! The City Manager, DPD and PAS partner together on a new venture to strengthen services and communication.'"
We agree with
The News
, but we agree with commenter Mike Lima more. The blame must be spread out to more city departments -- along with
The News
-- who fail to admit that "animal-welfare psychos" are a huge part of the problem. Lima points out quite succinctly that Antoinette's death is the "
result of political expediency due to fear of the animal welfare community, which sure as the sky is blue would be all over the City of Dallas if euthanasia rates start going up.
"
Lima nails the issue, and why animal control is a zero-sum game in today's "no kill" climate.
---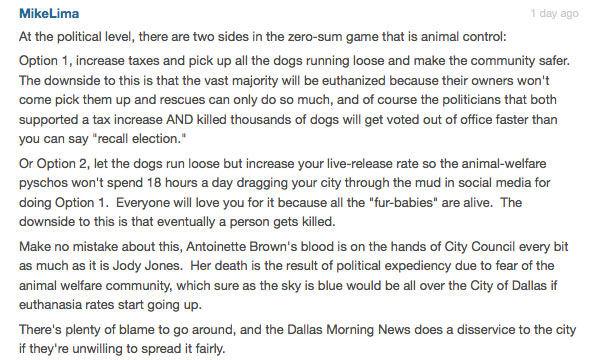 ---
Failing Dog Attack Victims
When animal service departments are fixated on the "live release" rate, most commonly seen in No-Kill cities, such as Austin, the priority of public safety takes a nosedive. These results can appear in different areas,
including a rise in dog bites
, a rise in
loose and aggressive dogs
and failing dog bite victims. All of which run counter to the priorities of a well-functioning animal control department. The "live release" numbers fixation can also lead to
adopting out dangerous dogs
.
One Dallas mauling victim
, Nancy Lewis, recently shared her story. DAS never contacted her after she was attacked in September 2014. Then 1.5-years later, a few weeks before Antoinette's death, DAS called her because they are now investigating another attack involving the same dogs. During the call, DAS dropped the "bombshell" that one of the dogs had severely bitten a woman in 2012. Lewis never had this information,
which is make or break in the One Bite state of Texas.
Along with the many other protocol breakdowns, DAS' failure to supply a dog attack victim with a bite report indeed indicates systemic problems.
It's been 20 months since she was attacked and Lewis still has been unable to obtain her bite report from DAS. Under the open records act, she was provided a single page; it is a brief EMS Firefighter report that references the date, location, that the status became "closed" after 18-hours and a few other details. It is not a bite report; it is an EMS Firefighter reference to the attack. How many other attack victims has DAS failed to provide a bite report to, which is vital for civil lawsuits?
We are in contact with Lewis and will keep you posted as that protocol violation unfolds.
---
05/10/16: Cyclical Complaints
The household and dogs involved in the brutal mauling death of Antoinette Brown had a long history of complaints with Dallas Animal Services. In fact, the history is extremely disturbing, but no more disturbing than the "vicious dog loop" that plagues most jurisdictions. The dogs' owners are cyclical, repeat offenders. They are the very type of grossly irresponsible dog owners -- about 2% of all dog owners -- that the system is
allegedly
supposed to catch, but often does not.
The Dallas Police Department issued an update
explaining this extensive history. Since 2014, the owners have made 20 dog surrenders after violations and attacks. At least 3 have resulted in euthanasia, another 7 will too after this investigation. What is true about the "vicious dog loop" -- after the dog is declared vicious and put down, the owner gets a new one and repeats the whole process -- is usually true with animal neglect offenses too. There are no laws in place to stop it.
On May 5, 2016, Dallas Animal Services reviewed the address and found previous 311 calls regarding loose dogs complaints.

Seven dogs

were found living at the location and Dallas Animal Services was able to take 6 dogs into possession on May 6, 2016. The seventh dog was located on May 9, 2016 and quarantined. Between July 2013 and August 2014, records indicate residents made 10 calls regarding this location. In 2014, the owner

surrendered ten dogs

after repeated visits and violation notices from Dallas Animal Services. In September 2015, neighbors reported an attack in progress, resulting in five citations being issued and surrendering of three more dogs that were subsequently euthanized. Dallas Animal Services issued an additional 16 citations on May 6, 2016.
The owners gave permission on May 6, 2016 for Dallas Animal Services to take custody of the animals. These dogs were processed for evidence to confirm whether they were involved in the attack on Ms. Brown. Dallas Police have submitted the evidence to

Southwest Institute of Forensics Science

1

and are awaiting the results of testing.

- Dallas Police Department
For readers who are not used to seeing this part of the broken system, it is a pretty common reality. If your next question is: Why can't we sue animal control departments in these cases? Then we direct you to:
The Plight of a Mauled Postal Carrier, an Attempt to Sue Animal Control and the Progression of a Criminal
. This blog post dives deep into the governmental immunity issue, a legal concept that one needs a grasp of when considering this lawsuit question.
Texas Felony Dog Attack Law
The Dallas Police blog post also indicates that they plan to pursue these owners under the Texas felony dog attack statute, also referred to as
Lillian's Law
. This may be the first time Dallas County authorities have pursued under the statute. In 2014, we saw
Harris County (Houston) prosecutors
finally embrace it for the first time.
Comal County prosecutors
did too after a fatal pit bull mauling. Texas case law continues to build as more and more cases are successfully prosecuted under it.
Given the history of these owners and their aggressive dogs, it seems Dallas County prosecutors can build a solid case against them. The dogs suspected of killing Antoinette are currently being DNA tested to see if it matches DNA found on the victim. Obvious blood evidence was long gone by the time the dogs were seized by authorities 4-days later. That is a
serious
time gap. Dallas City Manager A.C. Gonzalez addresses this in a letter published by NBC 5 Dallas-Fort Worth.
I've been meeting with Dallas Police Department (DPD) and Dallas Animal Services (DAS) leadership to review this situation. We have identified several

communication gaps

as the events of the last week unfolded. DPD did not immediately notify DAS about the attack, which is why DAS responded over the next few days to subsequent calls for loose dogs as routine calls.
After DPD

informed DAS managers about the attack Thursday evening

, the two departments coordinated a response for Friday morning, at which time the suspected dogs were taken into custody, where they remain. In addition, we did

not properly identify a pattern of behavior that was developing

and would have given us an opportunity to bring DPD into the loop sooner to investigate for criminal activity. We are fixing these gaps by changing procedures so that first responders arriving to the scene of a dog attack will immediately notify DAS. Technology changes are also in process to further help with this communication.

- Dallas City Manager A.C. Gonzalez
Read the city manager's letter in full
|
View timeline of "gaps"
05/09/16: Son Confirms Death
A woman savagely attacked by a pack of dogs in southern Dallas last Monday has died. NBC 5 Dallas-Fort Worth reports the son of 52-year-old Antoinette Brown, Laquan, confirmed her death to them. Earlier today, the son said the family would be ending life support this afternoon. The victim's daughter, Matisha Ward,
shared news of her mother's death
with Dallas City Council member Tiffinni Young. "She went down fighting ... She is in a better place." Ward told Young.
The city has been struggling with a loose and stray dog problem for years. In October, the city began a new initiative to tackle it. Unfortunately, these efforts were not enough to prevent a savage pack attack that resulted in a woman's death. Dallas city leaders have promised a new approach to the problem. "The priority has not been high enough, ok, obviously," Mayor Mike Rawlings said. "Progress is great, but we were in a deep hole and we have a long way to go."
05/09/16: Mauling Victim Clings to Life
Dallas, TX - On Saturday,
The Dallas Morning News
reported that 52-year old Antoinette Brown was
brutally attacked by a pack of dogs
in the 3300 block of Rutledge Street, a southern Dallas neighborhood. She was bitten over 100 times and placed into a medically induced coma. The attack occurred Monday morning. Police did not confirm this until 5-days later. Police Chief David Brown Tweeted the delay was due to capturing the dogs
before the owner could get rid of them
.
"They ate her like they was eating a steak."

- Barbara Brown, the victim's mother
There was more to the Tweet exchange between Police Chief Brown and
The News
reporters as well.
See the full exchange here
. Chief Brown fired back at both reporters, "Question for you...why was it necessary to include the victims criminal history in the article?" By the time DogsBite.org read the article,
The News
had removed this language. Thank goodness for editors. Antoinette is horrifically injured --
degloving injuries
and worse. Her family does not know if she will survive.
"Bandages cover the places where the dogs peeled off her skin, exposing muscle and tendons. A doctor told her family that he stopped counting at 100 bite wounds," states
The News
. Antoinette is currently hospitalized at Baylor Medical University Center at Dallas. Her mother, Barbara Brown, told
The News
that her daughter's medical condition is fragile and currently in limbo. "We're in a box," Barbara said. "We can't go forward and we can't go backwards and we can't go sideways."
Loose Dog Problem
Since 2014, the
loose and stray dog problem
in southern Dallas has been a growing concern. In October 2015, the city began
increasing patrols in targeted neighborhoods
to combat this problem. The initiative was set to run through March 2016, and by that time, Dallas Animal Services (DAS) would have hired an additional 49 officers to help rein in the problem. By April 25, 2016 the program was running at full tilt -- just 3-weeks before Antoinette was nearly mauled to death.
Metrics released on April 25 showed
a significant improvement. By adopting community policing and hot-spot policing tactics -- primarily in the southeastern neighborhoods -- citations for loose dogs had risen higher than any previous fiscal year. Also by this time, DAS had started to broaden out from the targeted hot-spot areas to reach more southern neighborhoods affected by the loose and stray dog problem. Despite the city's commitment, a catastrophic injury pack attack occurred.
Latest Developments
The latest developments include Chief Brown's indication the dogs' owner could face possible criminal charges. Police have not released breed information. The six suspected dogs were captured by DAS on Friday.
WFAA reported Sunday
that DAS went door-to-door on Mother's Day and set up new traps for "true" stray dogs. As Esteban Rodriguez with Dallas Animal Services states, "the majority of these dogs are
owned
and people just have to become responsible."
On Monday, Antoinette's son told
NBC 5 Dallas-Fort Worth
they will be
taking her off life support
.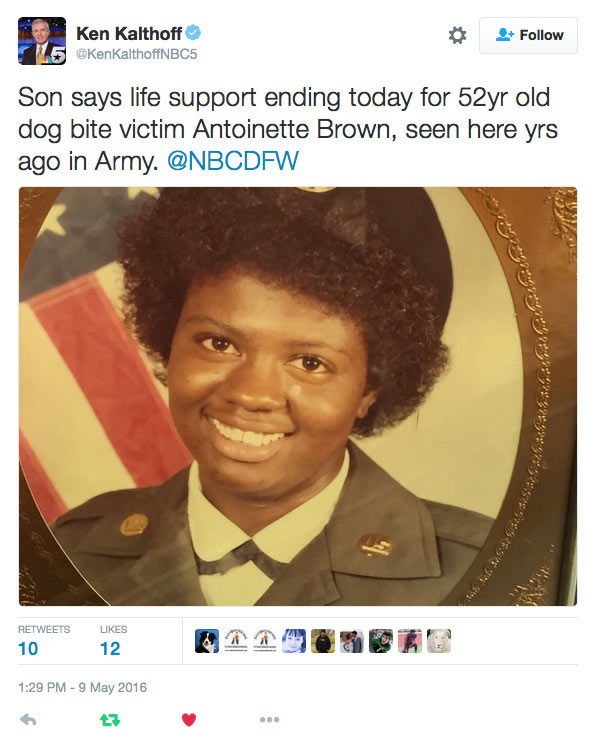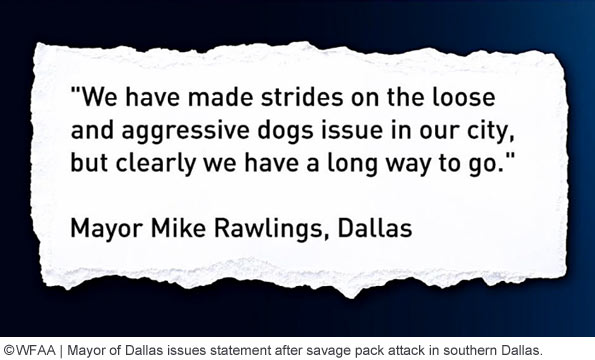 ---

Texas Dog Bite Victims' Advocacy
-
Join our Texas email list to stay informed
Related articles:
05/09/16:
Will Someone Have to Die Before Dallas City Hall Gets Serious - Dallas Morning News
05/09/16:
Overview: Dallas Struggles with a Sea of Stray Dogs - Dallas Morning News
05/20/14:
The Plight of a Mauled Postal Carrier, an Attempt to Sue Animal Control and...
08/29/13:
East Texas Woman Severely Mauled by Pit Bull at 'Dog Friendly' Private RV Park
Labels: 2016 Dog Bite Fatality, Dallas, Life Support, Pack Attack, Stray Dog, Texas, Unchecked Owned Dog, Vicious Dog Loop
Death by Dog Bites
UPDATE 05/10/16:
St. Louis County Police released autopsy results of a man found dead Monday in a home with his two pet pit bulls.
Adonis Reddick
, 45-years old, died due to fatal dog bite injuries inflicted to his neck, authorities said.
St. Louis County police spokesman
Shawn McGuire said the county medical examiner determined that Reddick died of "penetrating and perforating" wounds to the neck. County police investigators believe he was killed by one of his two pit bulls.
Reddick had developmental disabilities, but lived independently. He volunteered with
St. Louis ARC
, which provides support and services to adults and children with developmental disabilities. In 2015, Reddick won a national award, the
2015 Self Advocate of the Year Catalyst Award
, for his efforts to educate and support others with disabilities. He also made
speaking appearances
, addressing professionals, by sharing his own story and advocating for people of all abilities.
"Adonis is an amazing self-advocate" said Mark A. Keeley President and CEO of the St. Louis Arc. "He is a role-model of self-determination, living on his own, and working in the community. It was our honor to nominate him for this award."
Reddick is the co-founder of the Association of Spanish Lake Advocates (ASLA), a group committed to an accessible world based in full inclusion. He is also active in the Coalition of Truth in Independence (CTI), as a member of their leadership team. Through his efforts with ASLA and CTI, he has worked on three major campaigns to change policy with McDonald's, Metro Transit, and St. Louis County in the last two years. Reddick is also a member of the St. Louis Arc's Social Justice and Human Rights Committee.

2015 The Arc of the US's National Convention in Indianapolis
Reddick was
active on Facebook
, and on his own page, often posted inspirational and wisdom quotes like, "There is nothing permanent except change, by Heraclitus" and "There is nothing in a caterpillar that tells you it's going to be a butterfly, by R. Buckminster Fuller." As
Sharon Spurlock of St. Louis ARC
told the
Post-Dispatch
, "He was an amazing man. That's what's so disheartening about all of this. I just feel like there were all kinds of things coming together for him," she said.
---
05/09/16: Man Discovered Dead
St. Louis County, MO - Police report that one or both of a man's pet pit bulls may have killed him Monday morning. St. Louis County police were called to the 2200 block of Redman Road about 10:30 am. Police said a man, whose identity has not been released, was discovered dead with bite marks on his body. Vera Culley, a spokeswoman for the St. Louis County Police Department, said that two of the man's relatives who had not heard from him since Saturday made the discovery.
It is still unknown how long the man had been deceased or if the bite injuries were inflicted after the man died. The cause of death had not been determined Monday, though police have termed his death "suspicious," Culley told the
Post-Dispatch
. Police shot and killed one of the pit bulls inside the home. The animal was acting aggressive and animal control officers could not control it. The other pit bull, which was not behaving aggressively, was taken into custody by authorities.
Missouri Legislature - Bill at Stake
In mid-April, a
state preemption bill barring local governments
from enacting breed-specific ordinances passed the House chamber in Missouri.
HB 1811
is sponsored by
Rep. Ron Hicks
, who sponsored a
similar bill in 2014 that failed
. After HB 1811 was assigned to the Senate Agriculture committee, it was scheduled for a hearing on April 27. Committee chairman, Sen. Brian Munzlinger,
unexpectedly cancelled the hearing
. The end of the legislative session is May 13.
St. Louis County has nearly 2-dozen jurisdictions with breed-specific ordinances. The passage of HB 1811 would nullify them. The location of this man's death in Spanish Lake is not one of them.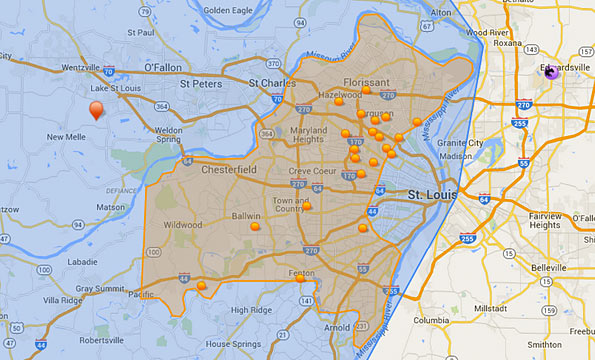 Related articles:
01/29/15:
2014 Dog Bite Fatality: Toddler Dies After Attack by Family Pit Bull While Under...
05/27/14:
Missouri - Proposed Statewide Bill Prohibiting Breed-Specific Ordinances Fails...
Labels: 2016 Dog Bite Fatality, Missouri, Pit Bull Kills Owner, St Louis County, Suspicious Death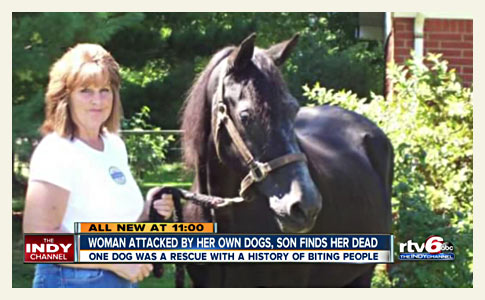 Lola Endres, an animal rescue advocate, died after being attacked by her dogs.
Bitten After Death
UPDATE 05/10/16:
The Hendricks County Coroner said an autopsy showed that Lola Endres' heart stopped about 7 pm Sunday night. The coroner's report states that all of the dog bites were inflicted after her death. Thus, the bites did not contribute to her death. Each year in the U.S., via collecting media reports, we see a handful of people who suffer a fatal heart attack while trying to break up a dog fight. Bites inflicted postmortem occur as well,
even severe ones
, but are very rare.
05/09/16: Woman Found Dead
Brownsburg, IN - A woman was discovered dead in her home with bite injuries from one or both of her two family dogs. The Hendricks County coroner identified the woman as 61-year old Lola Endres. The attack happened at a home on the 3200 block of North County Road 800 East. The coroner described the scene as "horrific." Her son found her body when he returned home around midnight. First responders said Endres had died "several hours" before her son found the body.
An autopsy was conducted Monday evening to determine the cause of death. The results are expected to be released Tuesday morning. Despite the "horrific" scene, police do not believe the dog attack killed Endres, but might have played a contributing role. Endres had a
pre-existing heart condition
. Police said she suffered bite injuries to her legs, buttocks and hip areas. Both dogs -- English bulldogs -- are being quarantined at the Hendricks County Animal Shelter.
When dog bites are a contributing cause of death and inflicted severe injury, the death is included in our dog bite fatality statistics.

- DogsBite.org
One of the bulldogs had been with Endres for several years, police said. That dog had no history of aggression, according to police. The other bulldog was recently rescued and had only been with Endres for two weeks. That dog had a history of being aggressive, police said. The dog reportedly bit its previous owner. The
victim's Facebook album
shows more than two dogs, however all of these photographs are dated in 2010. So far there has been no information about additional dogs.
Evening Updates
In a late evening update, the
IndyStar added new information
along with a photograph of the two English bulldogs provided by the Brownsburg Police Department. As demonstrated on her Facebook page, which shows many dogs and horses, Endres was a longtime animal rescuer. She not only rescued dogs,
but possibly also racehorses
, according to one of her Facebook posts. When police arrived, they found Endres unresponsive and both dogs engaged in a "vicious fight."
The bulldog rescued 2-weeks earlier, named Bull, is suspected of being the main aggressor in the attack, Brownsburg Police Department Capt. Jennifer Pyatt-Barrett said. That dog had reportedly bitten or attacked its previous owner. The other bulldog, Tomahawk, had lived with Endres for 3-years. Investigators are trying to determine if any of the bite injuries on her body were inflicted by him. If bite marks can be matched to Tomahawk, both dogs will be euthanized, police said.
Police also said that two other dogs were in Endres' home when she was attack, but were caged.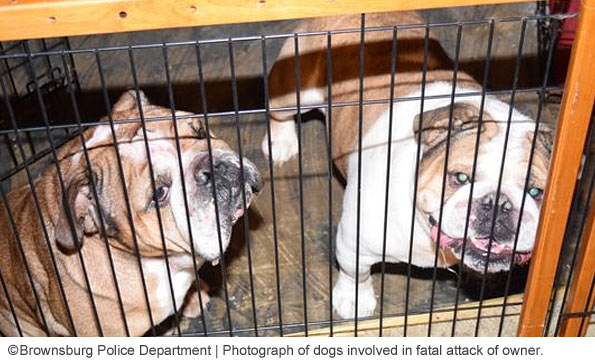 Related articles:
04/13/15:
2014 Dog Bite Fatality: Man Dies in Rockingham County During Vicious Dog Attack
10/02/14:
2014 Dog Bite Fatality: Dog Bite Injuries Contribute to Florida Woman's Death
07/13/12:
Pit Bull Owner Suffers Fatal Heart Attack Trying to Break Up Dog Fight
03/09/12:
2012 Dog Bite Fatality: Letter Carrier Dies After Pit Bull Attack in Escondido
Labels: 2016 Dog Bite Fatality, Contributing Cause of Death, Heart Attack Injury, Indiana, Rescue Dog Kills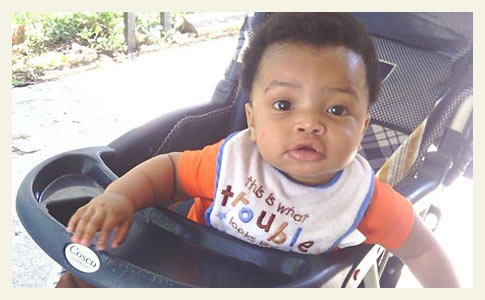 Guilty on All Counts
UPDATE 05/6/16:
On Friday, a babysitter in Ohio was found guilty on six felony counts after her pit bull fatally attacked her 7-month old step-grandson, Johnathan Quarles Jr., while he was under her care in July of 2014. Kimiko Hardy, 38, of Dayton was found guilty of four counts of felony involuntary manslaughter, one count of endangering a child and one count of failure to confine or restrain a vicious dog. Hardy faces up to 11-years in prison. Hardy will be sentenced on June 9.
The guilty verdict follows a 4-day trial in Montgomery County Common Pleas Court. It only took jurors 3.5 hours to reach a verdict; prosecutors had a strong case. 3-months before her pit bull killed Johnathan, it charged a letter carrier, causing the worker to miss 2-weeks of work and the loss of mail delivery to Hardy's home for 6-months, prosecutors said. Just weeks before his death, her pit bull bolted off its property and attacked a pet beagle whose injuries required 11 staples.
After these two aggressive acts, Kimiko was
ordered to attend a 150-minute training class
at the Montgomery County Animal Resource Center (ARC) on responsible dog ownership, prosecutors said. ARC officials testified the course covered neutering, dog bite prevention, proper training, responsibilities of pet owners, how to confine a dog, laws about failure to control a dog and more. Just a few weeks later, Hardy takes a helpless baby into her home and fails to control the dog.
"Sadly, this defendant had warning that this dog was aggressive, which is why we are here today. This dog's actions on July 20, 2104 were foreseeable."

- Karen Groseth, Montgomery County assistant prosecutor
The case centered upon, was it "foreseeable" her pit bull would attack? The answer of course is yes. Hardy had knowledge of her dog's propensity to be vicious. Moreover, while taking care of a baby, she failed to adequately restrain the dog. Though
she had two dog crates in her home
, she did not use them. The pit bull was simply behind a "baby gate" that it busted through to attack the boy. The dog crushed the baby's skull and removed part of his scalp, according to prosecutors.
We hope Hardy serves at least 6-years. This baby's death was preventable
and
foreseeable.
---
07/22/15: Pit Bull Owner Indicted
Just over a year after a babysitter's pit bull horrifically mauled a baby to death, a Montgomery County grand jury has indicted the babysitter on six felony counts. Kimiko Hardy, 37, the infant's step-grandmother, had full knowledge that her pit bull was dangerous when it attacked and killed 7-month old Johnathan Quarles Jr. on July 20, 2014 at her home on Riverside Drive. The little boy's family was visiting Dayton from Indianapolis and attending family events at the time.
"This defendant was well aware that her dog was a dangerous, even vicious animal, yet she failed to properly control the animal and it killed a completely helpless infant,"

Montgomery County Prosecutor Mat Heck Jr.
Prior to killing Johnathan, Hardy's pit bull, named Bussa, charged a letter carrier in April 2014, which caused the worker to miss 2-weeks of work and the U.S. Postal Service ceased delivering mail to Hardy's home for 6-months. In the weeks leading up to the deadly attack, Bussa attacked a beagle owned by Isabelle Crickmore as they walked by Hardy's home. After that incident, Hardy attended required classes on "responsible dog ownership," according to the prosecutor's office.
The grand jury indicted Kimiko Hardy on four counts of involuntary manslaughter, one count of endangering children and one count of failure to confine or restrain a vicious dog, according to a news release from the prosecutor's office. Given how much time has passed since Jonathan's mauling death, combined with the
horrific injustice of Klonda Richey's death
, including by this prosecutor's office, we did not believe any significant charges would ever be filed against Hardy.
07/22/14: Cages Seized; Postal Attack
Several key updates about the baby's death were made over the course of last night. Homicide detectives returned to the babysitter's home and seized
two dog cages, a bag full of evidence and a hefty metal chain
from the backyard. A family spokesman had earlier said that the babysitter's pit bull had been behind a baby gate; the dog jumped over the gate and attacked the baby. The outlook does not appear bright for Kimiko Hardy, who had the means to crate and secure the dog.
In addition to the June 3 attack involving a pet beagle,
records obtained by the Dayton Daily News
show that on April 25, animal control officers responded to a complaint from the Northridge Post Office that one of its carriers was attacked by a dog at the Hardy's home. The letter carrier escaped injuries by puting his satchel between his leg and the dog. Hardy was cited for failing to have the dog licensed and was given education. She bought a license for the dog five days later.
07/21/14: Baby Identified, Prelim Ruling
The Montgomery County Coroner's Office has ruled the cause of death of an infant attacked and killed by his babysitter's pit bull an accident. Johnathan Quarles Jr., 7-months old, died of blunt force injuries, according to the coroner's preliminary findings. The final coroner's report of the infant, who was visiting from Indianapolis, Indiana, will not be completed for up to 8-weeks. On Sunday, while under the care of his step-grandmother, Johnathan was killed by her pet pit bull.
ABC 22 Now reports that a family spokesman, the Rev. Victor Lee, said the family told him the dog jumped over a gate and attacked the boy. The step-grandmother tried to get the dog off, but could not. The news group also took a
closer look at the June 3 incident involving the same pit bull
. Isabelle Crickmore of Dayton was walking her beagle, named Riba, in front of 2219 Riverside Drive when the pit bull attacked. Riba received three lacerations and 11 staples, Crickmore said.
There is a criminal misdemeanor complaint against the step-grandmother for the June 3 attack. Court records show that a pre-trial hearing for the complaint was postponed last week. "I don't know if she did not show up or what circumstances allowed for a second continuance," Crickmore said. "When I saw that, it just blew me away." She wishes the legal system was quicker and that it did more on June 3. "It just really irks me because this could have been taken care of," she said.
07/20/14: History of Animal Aggression
Additional information has been released. The babysitter is not biologically related to the baby and is now being called the baby's step-grandmother, according to police. The attacking dog is also being called an American Staffordshire terrier,
which is the legal definition of a pit bull
. The two dog breeds are the very same breed, which is why a
single pit bull can still be cross-registered
at the UKC as an American pit bull terrier and at the AKC as an American Staffordshire terrier.
According to the Montgomery County coroner's investigation, the baby is from out of state. The child's name has not been released pending notification to family members. The attacking pit bull has a history of animal aggression. A June 3 Dayton Police report shows that the pit bull attacked a beagle that was on a leash and being walked by its owner in front of the step-grandmother's home. The beagle's owner did not want to press charges, but "wanted the incident documented."
07/20/14: Family Pit Bull Kills Baby
Dayton, OH - In a developing story, homicide detectives where called out to a home on Sunday after a baby was killed by a family pit bull. The attack occurred at a home on the 2200 block of Riverside Drive at about 12:30 pm. At the time of the attack, the child's grandmother was
babysitting the child
. According to police, the grandmother took her eyes off the child for a "few seconds" when the pit bull attacked. The dog was seized by animal control and taken away.
Dayton Daily News reports additional information. The
pit bull belongs to the grandmother
who was watching the child for the day. Additionally, the on scene police supervisor said that the baby
does not live at the address
where the attack occurred. As is so often reported by DogsBite.org in occurrences of fatal attacks, this child was
visiting the dog owner's home
when the fatal attack occurred, and the child was under the care of a babysitter. More information is expected shortly.
Visiting Child + Babysitter + Pit Bull = Extremely Dangerous.
Separately, this is the second fatal dog attack in the City of Dayton in 2014. In early February, 57-year old
Klonda Richey was brutally killed by her neighbor's two pit bull-type dogs
after she stepped outside her home. Prior to the attack, Klonda had made at least 16 calls to 911 reporting problems with the dogs; had installed a double tiered security fence and surveillance cameras for protection and had attempted to get a civil stalking protection order against the dogs' owner.
Related articles:
01/13/16:
2016 Dog Bite Fatality: Visiting Child Killed by Babysitters' Pit Bull-Mix in Virginia
07/13/15:
Criminal Trial: Babysitter Jena Wright Found Guilty After Her Pit Bull Brutally Killed...
07/15/14:
New Brunswick Pit Bull Attack: Babysitting, the Zero Margin of Error Rule and...
09/24/13:
2013 Dog Bite Fatality: Boy Killed by Pit Bull-Mixes at Babysitter's Home in Gilbert
07/26/13:
Beyond the Interview - Essay of a Fatal Pit Bull Mauling
04/24/13:
2013 Dog Bite Fatality: 4-Year Old Mauled by Pit Bull Dies; Babysitter Arrested
01/21/13:
2013 Dog Bite Fatality: Dog Mauls Woman to Death While Babysitting Toddler
Square photos:
WTHR.com
|
WHIO.com
Labels: 2014 Dog Bite Fatality, Babysitting, Criminal Charges, Infant Fatality, Ohio, Pit Bull Kills Family Member, Visiting Child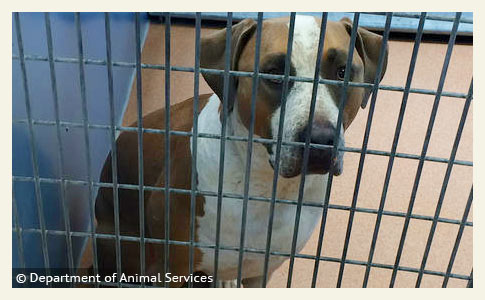 The rehomed male, neutered pit bull-mix in quarantine after killing a 3-day old baby.
Passed Assessment Test
UPDATE 04/29/16:
On July 7, 2015, a
6-year old boy in North Carolina
was killed by a male, neutered pit bull that was rehomed by the Asheville Humane Society 3-weeks earlier. The pit bull had passed the SAFER temperament test before being adopted. Now, just 8-months later in San Diego, a male pit bull-mix rehomed by the San Diego Humane Society has fatally attacked. That dog also passed an assessment test prior to being adopted then killed a baby 5-months later.
1
Currently, there is
no way to reliably test
for unpredictable pit bull aggression. State-of-the-art temperament tests like SAFER only provide a benchmark by detecting "obvious" behavioral issues. These tests greatly rely upon who is conducting them as well -- a person with 2-years of behavioral experience or 25?
This 2.5-year old pit bull-mix
came into the shelter on November 10 and was adopted out just 8-days later. We repeat again what we stated after Joshua's death:
The "state-of-the-art" temperament assessment test, SAFER, cannot measure unpredictable aggression nor can any current test. This is the risk every person accepts, knowingly or not, when adopting a pit bull.
After the death of 3-day old Sebastian Caban, the president and CEO of the San Diego Humane Society, Gary Weitzman,
issued a letter to staff members and volunteers
. It states, in part, the attack was unforeseeable and "there was not a fragment of aggression seen in this dog before tragedy struck." This statement emphasizes just how unreliable these tests are in
assessing unpredictable aggression
. "Seen in this dog," is only in the context of
seeing the dog for 8-days.
---
Animal Expert Provides Insights
UPDATE 04/27/16:
Sebastian Caban, 3-days old, was fatally bitten on the head by a family pit bull-mix while he laid in bed with his parents and the dog. What followed was a carefully executed breed manipulation plan by Deputy Director Dan DeSousa to confuse the media and public, along with an outpouring of media claiming the deadly attack came in response to the mother coughing. We reached out to Alexandra Semyonova, an
animal behaviorist and author
, for her observations.
Additionally, as we prepared this update, it was
announced what we had suspected
all along. The family pit bull-mix is a rescue. The San Diego Humane Society -- a private organization that has a
partnership with county animal services
-- adopted the dog to the
baby's parents 5-months ago
. The reason why we suspected this pit bull-mix had been rehomed is because it was neutered. This is a rarity amongst pit bull owners unless the animal was rehomed by a reputable shelter.
Alexandra Semyonova
It's quite sad that yet another killing of yet another child by a pit bull type is being diverted to a discussion of exactly which category of pit bull type dog is involved, and to a discussion of 911 dispatch response time.
The real problem here is not the 911 dispatch response time. It is not exactly which of the various pit bull type dogs killed this infant. It is not about figuring exactly what triggered the pit bull mix to execute its inherent motor pattern. Neither is this latest infant death about children and 'any dog', which will be the next damage control response pit bull advocacy predictably comes up with. The tragedy of this child's death is about exposing a newborn baby to the type of dog that has been responsible for more child killings than all other breeds and types of dogs combined since the 1980s. A type of dog whose genetically determined, inherent response to startle (no matter what kind), in fact to any strong stimulus, is to attack the head and neck, grip, hold, shake, and not let go.
Yes, many types of dogs have bitten children, but we are not talking about a bite here. We're talking about an instant killing, not preceded by any warning signals, not triggered by anything that would offend any normal dog, and so vicious that the parents of the child had trouble getting the pit bull mix off their baby.
As an expert on the domestic dog, I'm appalled at Deputy Director Dan DeSousa's immediate response. He is apparently as aware of the statistics as I am, and is above all concerned about keeping yet another pit bull type out of those statistics.

1

He is willing to slander any and all other types of dogs in order to do this. If he really cared about dogs -- or even about pit bulls -- he would react differently. We don't help dogs by playing name-games that will lead to ever more children being killed by a particular type, then saying any dog would do it. We don't help pit bull types by denying the danger they present, thus cooperating in setting them up again and again to fail in family homes. This aside from the loss of human life that results from this game, since DeSousa apparently doesn't care much about that either.
I am also appalled at the focus on the 911 dispatch response time. These parents took a loaded Kalashnikov to bed with them because it's the Internet fashion of the moment. The Kalashnikov shot their baby in the head when the mother coughed with her finger on the trigger. Just as with a machine gun shot to the head, a neonate is lost the instant any pit bull type dog has gripped its head, even if police were in the room at the moment the trigger went off. It's misplaced -- and an attempt to avoid responsibility for their own terrible choice -- for these parents (and everyone else) to be trying to blame the overworked and understaffed 911 dispatch response center.
The normal domestic dog is a conflict avoider. At startle or threat, it will try first of all to increase distance and assess the situation. It will seek to compose an appropriate response, preferring a response that does not involve violence. If startled by a child (or anything else) in a position where it can't instantly increase distance, a normal dog might lash out with an open-jawed bat to an approaching body part. A normal dog might do a pressureless grab at that body part. A puncture wound, some torn skin, a bruising could result -- but not a death. The normal dog will flee the situation as soon as a flight route opens up. It will not respond to startle by jumping up and gripping the head of anything that happens to be close by, applying full jaw pressure, and refusing to let go.
This response is unique to the pit bull types, including the various pit bull mixes. A normal dog would have jumped off the bed and, if jealous, slunk off to pout. Jealous normal dogs don't go into a sudden, gripping death-hold attack. Yet again we see that the pit bull types are not like other dogs. 'Any dog' education will not help these pit bull killings of children to stop, and we need to quit pretending it will. People like DeSousa, who are charged not only with animal welfare but also with public safety, need to stop the games they're playing.
As for the 'any dog' thing, it's true that any dog that inflicts serious wounds in a startle situation shows it isn't safe to keep among us. Where a dog -- any dog -- shows lack of preference for conflict avoidance, lack of acquired bite inhibition or willingness to abandon bite inhibition in ANY conflict, and lack of willingness to quit until the other is dead, it is my opinion that it is neither safe for us nor good for dogs in general to keep that dog alive. And so here is the final appalling part of this story: the law should not be such that a man like DeSousa has any choice but to humanely euthanize any dog that has killed, even if that dog was one of the pit bull types he seems above all enamored with.

- Alexandra Semyonova, animal behaviorist and author
Semyonova has graciously allowed us to post an excerpt from her book, The 100 Silliest Things People Say About Dogs, pertaining to the myth of whether a dog can or can't be jealous -- Myth 44. Purchase your copy of the book today. Also visit Semyonova's website: Nonlinear Dogs.
---
UPDATE 04/25/16:
Death Due to Bite Injuries
The San Diego County Medical Examiner's Office has identified the 3-day old baby boy that was attacked and killed by the family pit bull-mix last Thursday. Sebastian Caban of San Diego died due to dog bite injuries to his head, states the
medical examiner's news release
. The manner of death was ruled an accident. The "decedent was mauled by the family dog after the dog was startled awake when sleeping on the bed with the mother and decedent," states the news release.
Other developments include the baby's
parents calling 911 twice before giving up
and taking the injured baby to the hospital themselves. Over the weekend, NBC 7 reported that between 7:15 pm and 7:45 pm on Thursday, April 21, Sebastian's parents made two unsuccessful 911 calls, one 28 seconds long, the other 34 seconds long. Neither call was answered by dispatch. During this same period, a total of 73 calls came into dispatch seeking assistance, San Diego police confirmed.
---
Special Update: Fire Dan DeSousa
UPDATE 04/22/16:
We would like to point out to readers that what this post should be primarily about is a 3-day old baby lying in bed with the family pit bull and his parents. This is inexcusably unsafe with most dogs, but especially with pit bulls and other powerful breeds. That is a kind way of stating it. The criminal way of stating it is
endangerment
, which is likely why the Child Abuse Unit was called out. This aspect had to be investigated for a child this young -- just 3-days old.
San Diego County Animal Services
Instead of focusing on this important safety aspect, we must discuss the deliberate manipulation by Dan DeSousa, Deputy Director of Animal Services, to protect the pit bull breed by mislabeling this dog. There are only a few AC departments in the U.S. that consistently demand to be called out like this, DeSousa of San Diego County Animal Services is one of them. By deliberately manipulating this dog's breed, reports began stating that this dog is a "great dane-terrier mix."
Deputy Director Dan DeSousa should be fired for deliberately manipulating this dog's breed to confuse the media and public after a 3-day old baby was killed by a family pit bull.

-DogsBite.org
Let's start from the earliest report at 11:30 am (PST), where the dog is a "
2-year-old American Staffordshire terrier
," according to DeSousa." In the next report, at 1:56 pm, the dog is a mix. The dog is a "2-year-old, neutered male
American Staffordshire terrier-mix
, DeSousa said." By 2:31 pm, the dog became a "
great dane-American Staffordshire terrier mix
," according to DeSousa. Then near that time, "a two-year-old
mixed breed American Staffordshire terrier
named Polo."
2
There are two parts to DeSousa's manipulation. Part one is calling the dog an American Staffordshire terrier, which is
exactly the same breed
as the American pit bull terrier -- many people in the public do not know this. DeSousa, from the get-go, purposefully tried to confuse the media and public. Part two of the manipulation is more sinister. The first part of a "mixed breed" label indicates the predominant breed, for instance a pit bull-boxer is predominantly a pit bull.
Within three hours of media reports, DeSousa tried to make the confusing Staffordshire label the least predominant breed by placing it second. (This is after the media released photographs of the dog.) By 2:39 pm, the breed label became the ultimate goal of DeSousa, 100% denial of any pit bull heritage. The dog became a "
great dane-terrier mix
," according to DeSousa. This was all deliberately orchestrated to
hide the truth after a neutered family pit bull killed a newborn baby.
DeSousa's Plan Did Not Prevail
The upshot is that you
cannot fool all the people all the time
. By 5:30 pm (all California times listed), the Associated Press, which is syndicated nationally, picked up the story along with the photograph of the dog and correctly labeled it an
American Staffordshire terrier-mix
. This label is 100% interchangeable with a pit bull terrier-mix. After looking at the dog's photo, the Associated Press -- at least this particular writer -- could not call this animal a "great dane-terrier mix."
---
---
---
04/22/16: Family Pit Bull Kills Newborn
San Diego, CA - A 3-day old baby was fatally attacked by a family pit bull, San Diego Police said Friday. The deadly attack occurred Thursday night on Flanders Drive in the Mira Mesa area. The dog is now in the custody of San Diego County Animal Services, police said. Dan DeSousa, Deputy Director of Animal Services and longtime pit bull sympathizer, said the dog is a 2-year old male, neutered pit bull, but insisted on calling the animal an "
American Staffordshire Terrier
."
3
The baby's mother and father were watching television in bed with their newborn and the dog, reports Sgt. Tuu Nguyen with the Child Abuse Unit of the San Diego Police Department. You read that statement correctly -- the 3-day old baby was in bed with the pit bull and the baby's parents. When the mother suddenly coughed, Nguyen said, "the dog made contact with the baby leading to traumatic injuries." The parents rushed the baby to the hospital, where it was declared dead.
"At this time it appears to be a tragic accident. It's such a horrific, tragic case."

- Sgt. Tuu Nguyen, San Diego Police Department
The San Diego Union-Tribune
reports that
child abuse detectives were called
to the couple's home on Flanders Drive off Camino Ruiz about 8 pm Thursday to investigate. Nguyen said no other children were taken from the home or placed under other care. The investigation will be completed after an autopsy confirms the cause of death, Nguyen said. Police called county animal control officers half-past midnight to impound the pit bull. The dog will be held in quarantine for 10-days.
San Diego County Fatal Pit Bull Attacks
During the 11-month period from December 24, 2011 to November 11, 2012, pit bulls from San Diego County killed four people. In one of these cases, the dog was
found in Balboa Park in San Diego
then taken across the border to Tijuana. Within a week the dog killed its owner's 4-year old granddaughter, América Viridiana. This same period also includes a fifth death, the fatal mauling of
Remedios Romero-Solares
and was attributed to "American bulldog-mixes" by DeSousa.
How did DeSousa and San Diego County Animal Services respond to this disaster?
By giving away pit bulls for free
in a special promotion titled, "
Dare to BULL-ieve
." The taxpayer-funded promotion began in mid October of 2012, after three fatal pit bull attacks in the previous 10-months and just days after the
serious mauling of a little girl
in the county. Polltakers by a wide margin, 69% to 31%, voted that the county government should
not
promote "free pit bull" adoptions.
4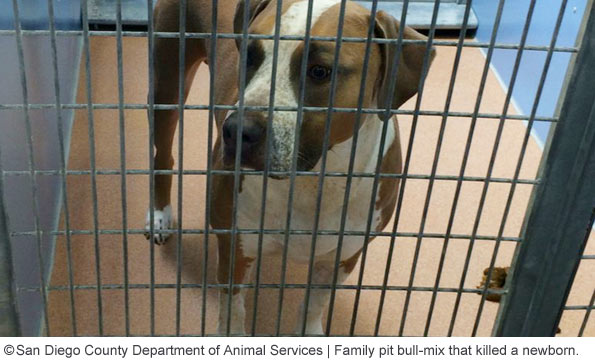 ---
The Reliability of Temperament Tests
Aggressive Behavior in Adopted Dogs that Passed a Temperament Test by E'Lise Christensen, Janet Scarletta, Michael Campagnaa and Katherine Albro Houpt, Applied Animal Behaviour Science, Volume 106, Issues 1-3, August 2007.
Reliability, validity and feasibility of existing tests of canine behaviour, by Mornement et al., Anthrozoology Research Group, Animal Welfare Science Centre and Monash University, AIAM Annual Conference on urban animal management, 2009.
---
Related articles:
08/06/15:
2015 Dog Bite Fatality: Recently Adopted Out Pit Bull Kills 6-Year Old Boy...
01/08/15:
2015 Dog Bite Fatality: Maryland Man Mauled to Death by Adopted Rescue Pit Bull
12/07/12:
2012 Dog Bite Fatality: San Diego County Woman Killed by Pack of American...
08/28/12:
San Diego County Pit Bull Responsible for Death of 4-Year Old Tijuana Girl
06/19/12:
2012 Dog Bite Fatality: Pet Pit Bull Kills Infant in San Diego County
03/09/12:
2012 Dog Bite Fatality: Letter Carrier Dies After Pit Bull Attack in Escondido
01/18/12:
2011 Dog Bite Fatality: Victim of Catastrophic Pit Bull Injury Dies on Christmas Eve
Labels: 2016 Dog Bite Fatality, Adopted Dog Kills, Breed Mislabeling, California, Dan DeSousa, Pit Bull Kills Family Member, San Diego County