DogsBite Blog ::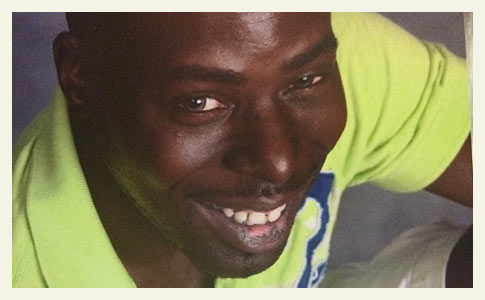 Interview with Woods
UPDATE 03/26/15:
Major Lafayette Woods, a spokesman with the Jefferson County Sheriff's Office, explains part of the history of the attacking pit bulls in an extended interview with THV 11 (scroll to see second video). He explains his department's actions following biting incidents at C.J.'s Garage on March 15 and in July 2014. The March 15 victim was uncooperative, Woods states. Other victims of these same dogs never reported the biting incidents, Woods said.
1
Woods was quick to
point out in the very first press release
that the horrific mauling death of De'Trick Johnson, "furthers the stigma of pit bull terriers as aggressive and dangerous animals" and that in his "personal experiences" pit bulls "are just very loyal."
2
Woods adds in the recent extended interview, "I don't want to alienate the breed. It's not necessarily the breed, its the animal's owners who irresponsibly ignore these signs of aggression in these dogs," he said.
Woods, apparently, has never reviewed national fatal dog attack statistics, which clearly show that pit bulls kill more people than all dog breeds combined. His anecdotal "personal experiences" are simply that -- anecdotal "personal experiences" -- ungrounded in statistical reality. Woods fails to acknowledge that many well-raised family pit bulls unpredictably attack and kill family members as well.
Woods is a pit bull apologist
who also holds the duty of protecting the public from harm.
Pit Bulls Killing Family Members
During the last
10-year period (2005 through 2014)
, pit bulls were responsible for 62% (203) of attacks resulting in death. Of these attacks, 53% (107) involved a family pit bull killing a household member.
More than half of all fatal attacks inflicted by pit bulls were inflicted upon a family member or person the dog knew well
. Predictably, 98% (105) of these attacks occurred on the dog owner's property. What does Woods have to say to these 107 families, or even to this one mother?
"I never in a million years would ever think that (Killian) would have done something like that. That was just me listening to the reports and, you know, the experts. 'Oh pit bulls have to be trained to be aggressive. If they're not trained that way, if they're not raised that way, it's fine.' ... They were the biggest babies. They were spoiled; they were never abused, never mistreated, big babies. I go to bed, they're going to bed (and) they're in the bed, under the covers, on a pillow, comfortable. He was a sweet dog, he was people friendly. The only thing was he didn't like other dogs," she said.

- Shannon Easton-Hamer, whose son, Julian Slack, was mauled to death by a family pit bull in 2008.
There is no question that the 8 pit bulls owned by John Chester Smith were guard dogs with a track record of bites, attacks and aggression and that Smith was an appalling, reckless owner who deserves jail time. For Woods to go on camera, however, and squarely blame "only the animal's owners" in all instances of violent pit bull attacks is an outrage. Sadly, Woods is just another uniformed voice in the "echo-chamber" of untruths regularly blared by rabid pit bull advocates.
03/24/15: Victim's Family Speaks Out
New details emerge after the brutal fatal pit bull mauling of De'Trick Johnson just outside of C.J.'s Garage at 300 Thomas Road on March 21. The
Jefferson County Sheriff's Office
issued a news release on March 23 stating that the at large pit bull involved in Johnson's death was shot and killed by deputies on Monday, and another pit bull, previously unaccounted for by the sheriff's office was also seized. This brings a total of 8 pit bulls: 5 shot dead and 3 seized by authorities.
Family Members Speak Out
KATV reports an emotional interview with family members and friends of the victim, De'Trick Johnson. At front and center is the victim's younger sister Akimi Johnson and the victim's friend of 14-years and roommate, John Smith III, who is also the
son of the owner of the dogs
, John Chester Smith. Both Akimi and Smith III want to see justice done after De'Trick's horrific mauling death. "I was not prepared for what happened to my brother," Akimi said holding back tears.
Smith told KATV that De'Trick jumped on his car to escape, and "the dogs actually jumped on the car with him because the mud is still on the car when we brought it home." He added that there were previous victims of these dogs. "I'm not just speaking because its De'Trick," Smith said, "I am speaking on the behalf of the other victims because he wasn't the first. He wasn't the second or the third, there was about four to five people that had been attacked by these same dogs."
In a powerful statement, Smith talks about his father's utter disregard for people's safety just like
so many other pit bull owners
. "After he bit the first man, what was it in your mind that you couldn't get rid of the dogs then? Then he turned around and bit somebody else and then turned around and bit somebody else then turned around and
killed somebody
. It's just unexplainable," Smith said. All of his family members had told his father, "You need to get rid of those dogs," Smith said.
The Gate and Discrepancies
The same two individuals also talked to Fox 16
. It is learned here that Smith was at the early morning scene, but it seems only at the aftermath. He did not witness the violent attack. The Fox 16 footage also shows us the
first time we see the "metal siding"
leaned up against the front gate of the auto shop, a type of poor contraption designed by the dogs' owner to keep the pack of dogs contained. Fox 16 also captures images of the remaining pit bulls at the Pine Bluff animal shelter.
It is unclear when the metal siding was placed against the front gate. It was absent in early news coverage.
A segment from THV 11 today
shows a close up of
significant damage at the bottom
of the siding as well, likely caused by the pit bulls. Finally, there may be serious time discrepancies. The sheriff's office said the 911 call came in just after the attack began; deputies arrived on scene 5 minutes later. An unverified account sent to DogsBite said the vicious attack lasted 20 minutes.
3
Sheriff's spokesman Maj. Lafayette Woods Jr. said De'Trick Omar Johnson, 36, of Pine Bluff had taken his vehicle to CJ's Garage at 300 Thomas Road for servicing when he was attacked by the dogs. Woods said a 911 caller told operators that Johnson arrived at the property, exited his vehicle and was immediately attacked.
The sheriff's office received the 911 call at 9:53 a.m. Saturday and the responding deputy arrived at 9:58 a.m., Woods said.

- ArkansasOnline, March 22, 2015
03/21/15: Dog Mauling Victim Identified
The fatal dog mauling victim has been identified as 36-year old De'Trick Johnson of Pine Bluff. When the first deputy arrived on scene Johnson was still under attack by the pit bulls. Pine Bluff resident Tom Calvert and his daughter witnessed part of the attack. Calvert told THV 11 that his daughter drove up on the scene and saw the man trying to fight off the dogs. She called her father for help. She said, "Dad, come down to C.J.'s Garage! There are dogs chewing this man up."
"It's hard to describe, the man was just chewed up. The dogs just mauled him like a pack of wolves attacking someone."

- Witness Tom Calvert
THV 11 also interviewed a Quality Fence Company employee, which is located next to C.J.'s Garage. This ties back to previous comments left by ChristyInPB, who wrote earlier today that her father "who owns the fence company next door" was attacked by these same dogs 6-months ago. Employee Roger Frazier said the auto repair "business owned the dogs" and used them to guard the property. Correction, C.J.'s
ran a pit bull breeding operation
allegedly to guard his business.
4
Major Lafayette Woods with the Jefferson County Sheriff's Office told THV 11 that he expects there will be charges filed against the owner of C.J.'s Garage, John Chester Smith, due to previous warrants and complaints. Woods did not provide any specific information at that time about earlier warrants or attacks. Johnson was pronounced dead at the scene. One dangerous pit bull still remains at large. We expect the THV 11 news segment video to air later this evening.
Late Evening Update
Scroll to see the
second video on the THV 11 news report
, the interview with Roger Frazier of Quality Fence. Frazier is the victim referred to by commenter Christy earlier today who escaped a similar fate to Johnson by climbing a nearby tree last year. The pit bulls also escaped under the owner's front gate in his attack -- the exact same method of escape in the fatal attack. Frazier is humble and reserved in the interview, maybe because he knows how close he came to death.
Roger Frazier
I was just coming back down the road there, walking back to the shop and five of the dogs, pit bulls, came under his gate and just tore me up. I struggled along the fence to one of those wooden fence posts, got on top of it and got into a tree -- that's the only thing that saved me.

They tore my pants off of me.


Terrible vicious dogs. Even when the county sheriff came out, he shot one of them. And the other four, because I was still in the tree I could see 'em, the other four didn't stop. They just slowed down a little bit, crouched down and kept coming for him…
They are ruthless, they surrounded me. And just started biting me all around, everywhere, all over. They just would not quit -- would not quit. Even after I got in the tree, they would not leave, they stayed and stayed. Then when the county sheriff got here, they tried to attack him.
The people from the animal service, when they got here. One of them stayed in the truck and one of them had to get on top of the hood of his truck because they would attack him. My brother came … he started to get out and they came after him. They were going after anybody that day …
[He describes the size and shape of the pit bulls].

They were a litter that they had a while before and they were starting to grow up.


Well, what went through my mind is that I knew this was going to happen. I made a point to drive over to his place and tell him what the dogs had done to me. I told him if he did not do something they would kill somebody. I told some other people that too.

I told the sheriff that. I said, "Those dogs are going to kill somebody" ... And that's what they did.


Something needs to happen for sure. Something should have happened when they got on me. At least somebody took the dogs away or did something;

they just left them there

. Now it's not really my place to say, but I'm sure that that man's family thinks that something should be done.

- Roger Frazier, THV 11, March 21, 2015
03/21/15: Pack of Pit Bulls Kill Man
Pine Bluff, AR - In a developing story, a pack of seven pit bulls brutally attacked and killed a man Saturday morning. Just before 11:00 am, a group of seven pit bulls charged beneath a fence and attacked a man at 300 Thomas Road, the Jefferson County Sheriff's Office said. Specifically, the incident happened at
C.J.'s Garage
, an auto repair shop in the Pine Bluff area. Deputies shot and killed four of the pit bulls on scene, two others were captured and another remains at large.
C. J.'s garage is also listed at
300 N Thomas Road in White Hall
with the same phone number, a jurisdiction under 8-miles away.
The jurisdiction of Pine Bluff bans pit bulls
. Arkansas continues to rack up deadly dog maulings. In the 8-year period of 2005 through 2012, there were 3 fatal dog attacks in the state. From January 1, 2013 to present -- just over two years -- there have been 6 fatalities. Two deaths in 2013 involved dogs from the
same litter killing two unrelated people
.
Late Afternoon Update
Commenter
ChristyInPB
at the KATV news article helps explain the jurisdictional issue. The location apparently falls outside of the Pine Bluff city limits; control likely resides with Jefferson County. She wrote that her father "who owns the fence company next door" was attacked by the same dogs 6-months ago. Afterward, her father repeatedly warned authorities to take action or "these dogs WOULD kill someone," but they said the dogs did not live within city boundaries.
@ChristyInPB (13 mins ago) "These same dogs attacked my father at who owns the fence company next door about 6 months ago. This was NOT the first incident! If it wasnt for quick thinking my father would not of survived! He had to climb a fence and still was taking by ambulance to the hospital with cuts and deep bites. The paramedic in the ambulance that came was forced to jump on his ambulance to escape them while my father was still in the tree he had to climb up to escape them. When the sheriff showed he was forced to shoot and kill one to prevent him from attacking him!"
@ChristyInPB (12 mins ago) "This could of been a child! Andd it could of been prevented! Unacceptable! My father was unable to get anything done to the dogs or the risk for anyone in the vaconity! He warned the authorities repeatedly that if not handled these dogs WOULD kill someone! YES they were pitbulls! But no I dont blame the breed! But if ANY animals are this dangerous it shouldnt matter that they are not in city limits! This was the reason for no action being done after the incident with my father! A life could have been saved! This could of been a child! Andd it could of been prevented! Unacceptable!"

- KATV Commenter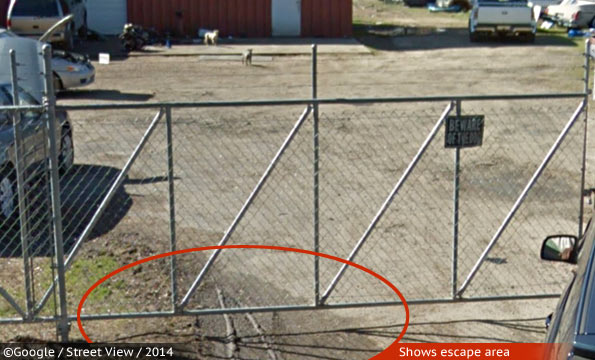 Related articles:
02/20/15:
2015 Dog Bite Fatality: 63-Year Old Arkansas Man Killed by Family Dogs
11/09/14:
Criminal Trial: Arkansas Mother and Daughter on Trial for Fatal Dog Mauling of...
10/24/14:
2014 Dog Bite Fatality: Woman Killed by Family Pit Bull in Cave City, Arkansas
01/03/14:
2013 Dog Bite Fatality: Woman, 75, Killed by Bullmastiff in Arkansas Gated Community
11/19/13:
2013 Dog Bite Fatality: Boy Dies After Attacked by Pit Bulls in White County, Arkansas
06/13/13:
2013 Dog Bite Fatality: Child Temporarily Staying with Aunt Killed by Neighbor's Dog
Photos:
KATV.com
and
Google.com
Labels: 2015 Dog Bite Fatality, Arkansas, Fatal Pack Attack, Fatal Pit Bull Attack
Bites Contributed to Death
UPDATE 03/25/15:
The autopsy report of a man mauled by a pack of dogs and found dead on November 24 has finally been released. 62-year old Jose Robles, who had been visiting family from Mexico, was discovered dead at the bottom of an embankment with most of his clothing ripped away and bite marks covering his body. The autopsy report released March 23 states, "Bleeding and stress from a dog attack and resultant injuries most likely contributed to death."
The Medical Examiner noted in the autopsy, "In my opinion, the most likely cause of death was an acute cardiac arrhythmia or myocardial infarction due to coronary artery atherosclerosis. Bleeding and stress from a dog attack and resultant injuries most likely contributed to death."

- WFMYnews.com, March 24, 205
According to the state medical examiner's report, Roble's body was covered in canine bite marks. "Incised wounds and abrasions were consistent with injuries from a dog attack," states the report. The dogs also inflicted scratches to his scalp, face, arms, legs, back and lower abdomen. All told, the report states there were more than 100 wounds inflicted upon Robles. At some point during the dog attack he died. The autopsy report was released exactly 4-months after his death.
After making the grisly discovery in November, authorities confiscated 15 dogs belonging to Daniel McCollum, who lives across the street from where his body was found. Though it is still unknown how many dogs were involved in the attack, the animals continue to be housed at the Rockingham County shelter costing the county nearly $28,000, the News & Record reports. Rockingham County District Attorney Craig Blitzer said he is evaluating the case to see if charges will be filed.
12/29/14: Case Details Still Guarded
New information about the death of Jose Robles was revealed in late December. On November 24, Robles was discovered dead by Rockingham County deputies at the bottom of a steep embankment on McCollum Road. His clothes and shoes had been ripped off his body and he was covered in animal bite marks. Deputies seized 15 dogs belonging to Daniel McCollum of 1122 McCollum Road -- previously unnamed -- the home across from where his body was located.
1
The News & Record continues to investigate, despite the sheriff's office refusing to comment on this man's violent death 35 days after his body was discovered or to release a preliminary autopsy report that identifies the cause of death. The sheriff's office would not even permit News & Record to interview animal control officers to discuss the county's leash laws. Family members of the victim also told the News & Record that investigators told them not to speak with the media.
The News & Record was able to obtain related information. As of December 28, the county spent about $7,440 to house McCollum's 15 dogs (in 11 cages) at the county shelter. After the attack, McCollum was fined $600 for failure to vaccinate 12 of his dogs, $150 for six of his dogs running at large and $150 for six of his dogs being a public nuisance. USPS also confirmed that McCollum's mailbox receptacle had to be moved within the last 18 months for the safety of a postal carrier.
12/04/14: Numerous Bite Injuries
Madison, NC - The News & Record reports a nearly non-reported 2014 U.S. fatal dog mauling that occurred on
November 23 in Rockingham County, North Carolina
. On that day, 62-year old Jose Robles left the family he was visiting to take a walk down Bethany Road at about 1 pm. Deputies discovered him the next morning about a mile from where he was staying. He was dead -- stripped of all clothing and shoes with numerous bite marks on his body and 15 dogs lurking nearby.
These latter details, which strongly indicate a fatal dog mauling -- his clothing and shoes stripped away, numerous bite marks on his body and 15 dogs nearby -- were recently provided by News & Record after they obtained a warrant taken out by the Rockingham County Sheriff's Office on November 24. At the time of the discovery of his body, the sheriff's office provided no details of Robles' death to the media and will not release more today citing an ongoing investigation.
The Rockingham County Sheriff's Office is no longer searching for Jose Cruz Cazares Robles. It was unclear how the search concluded. He was reported missing Sunday afternoon.

- News & Record, November 24, 2014
Deputies confiscated the 15 dogs
hours
after finding Robles dead and transported them to the county animal shelter. Kevin Baughn, the shelter's director, confirmed to News & Record yesterday that "15 blue heelers and hounds" were in his care, but declined to comment further. Kevin Suthard, a spokesman for the Rockingham County Sheriff's Office, would not discuss the dogs' involvement, the warrant or provide an update on the case, the News & Record states.
At the time of the attack,
Robles and his wife, who are from Jalisko, Mexico
, were in Rockingham County visiting with family. After Robles did not return from his walk within a few hours, the family became concerned and contacted local law enforcement. The Rockingham County Sheriff's Office then issued a bulletin
asking for the public's help in finding the missing person
. After discovering him dead the next morning, the sheriff's office simply said the cause of death is
unknown
.
Evening News Reveals More
Later into the day,
Fox8 reported more about this investigation
. As detectives were searching the area for Robles, one officer observed "a pack of various dogs which aggressively confronted his vehicle in the roadway." Another detective reported that she was "also confronted aggressively by these dogs." Officers then found Robles dead across the street from the dog owner's home. The 15 suspected dogs are described as blue and red heelers, Australian shepherds and hounds.
Though the owner of the 15 dogs is not named, she told detectives that her dogs "would bite the ankles of strangers who were near the property." Detectives asked her to secure the animals and she did. For those of you who do not know,
heelers will nip the heels of the animals they are herding to push them along
. That is a far cry from owning a pack of 15 dogs -- running at large -- that appear to have enjoined pack behavior resulting in the brutal death of a 62-year old man.
After confronted by the 15 dogs, officers got a warrant and seized the animals. The Rockingham County Sheriff's Office is still awaiting autopsy results to determine if the man was still alive when he was viciously mauled. A subsequent search warrant allowed investigators to get blood samples, oral swabs, nose swabs, toe swabs and bite impressions from each of the 15 dogs. The time frame of the autopsy results is
unknown
. FOX8 was unable to contact the victim's family.
Related articles:
02/28/14:
2014 Dog Bite Fatality: 3-Year Old Girl Killed by Family Pit Bull in North Carolina
11/05/13:
2013 Dog Bite Fatality: Kernersville Woman, 25, Killed by Her Boyfriend's Two Pit Bulls
12/05/12:
2012 Dog Bite Fatality: Yadkin County Infant Mauled to Death by Family Dog
Photo:
News & Record
Labels: 2014 Dog Bite Fatality, Contributing Cause of Death, Fatal Pack Attack, Heart Attack Injury, North Carolina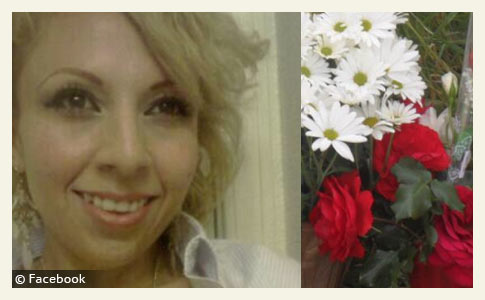 Claudia Gallardo, 38, of Stockton was mauled to death by a pit bull.
Pit Bull Owner Guilty
UPDATE 03/25/15:
Last week the
criminal trial of Brian Hrenko was held
and jurors began deliberating. On Tuesday, a San Joaquin County jury found Brian Hrenko guilty of involuntary manslaughter and keeping a mischievous animal that killed a person. In April 2013, Hrenko's pit bull brutally killed 38-year old Claudia Gallardo, the mother of three children, when she visited his home to discuss her house cleaning services. Hrenko was not home when the attack occurred.
Deputy District Attorney Stephen Maier said that Hrenko knew of the dog's propensity to be vicious and still failed to properly secure his backyard fence and post proper signage to warn visitors. The attack was horrific, inflicting massive face and neck injuries. Gallardo was declared dead on scene by first responders. During closing arguments Friday Maier said, "What a horrible way to go. To just be mutilated by a dog like this. To have your throat essentially ripped out."
The jury got it right and did the right thing.

- Deputy District Attorney Stephen Maier
Brian Hrenko now faces up to 4-years and 8-months in prison; sentencing is scheduled for April 27. Prosecutors said that this was the first fatal dog mauling case prosecuted in San Joaquin County. After the verdict was read jurors shared their thoughts about the case with attorneys. "They felt that the evidence was pretty strong that Hrenko knew the dog was dangerous," Maier said, "He didn't adequately maintain the property so the dog couldn't get out," Maier said.
Pit bull owners in California should take special notice of this case. The jury convicted based on the owner's
knowledge of viciousness
– testimony showed the pit bull had previous acts of aggression -- and the decision to keep the animal anyway without sufficient warning posted or a secure enclosure on the property to keep the dog from attacking a hapless visitor. Sources close to the case say that
"Russia" the attacking pit bull
was only finally put down in January 2015.
11/22/13: Victim's Family Interviewed
Family members of mauling victim Claudia Gallardo expressed relief at Brian Hrenko's arrest. Claudia's sister, Mireya said, "We all as a family just grouped together and, 'oh thank God, it's finally here. Her death is not going to be in vain." Mireya added, "I think about her every day. We were only one year apart. So we were very close." Claudia's grieving father, Juan Gallardo, spoke softly in the interview. Juan has faithfully maintained a memorial where Claudia's life ended.
Claudia's family intends to be present in court throughout the criminal proceedings. In October, the Gallardo family attended
Kaylie's Candlelight Vigil for Victims of Dangerous Dogs
in Sacramento. Family members brought photographs and writings by Claudia to hold during the vigil. Attorney Kenneth M. Phillips, who represents Claudia's three children in connection with her wrongful death, recently issued a statement on his website that
provides additional details about Hrenko
.
Of the 28 recorded dog bite fatalities so far this year, 6 resulted in criminal charges, 50% of which stem from California. 100% of dog bite fatalities resulting in charges this year involve pit bulls.
11/21/13: Involuntary Manslaughter
Seven months after a pit bull named "Russia" savagely attacked and killed 38-year old Claudia Gallardo in east Stockton, the dog's owner has been arrested and charged. Brian Michael Hrenko, 60-years old of Stockton, faces involuntary manslaughter and felony animal charges in connection to her April 11 death. Hrenko is being held at San Joaquin County Jail in
lieu of $250,000 bail
. Hrenko is scheduled to be arraigned in San Joaquin County Superior Court on Friday afternoon.
04/13/13: 'I Tried to Save Her Life'
Javier Sanchez Sr. told the Record.net that he and his family had just returned home that night when they heard someone screaming for help. They quickly realized a woman was being attacked by a dog in the front yard of a home across the street. Sanchez jumped the fence, ventured into the darkness and began beating the animal with a large piece of wood his wife grabbed from their backyard. The attacking pit bull, however, refused to release its jaws from the woman's throat.
I kept hitting the dog, but it wouldn't let go. I tried to save her life, but I couldn't.

- Javier Sanchez Sr.
Sanchez told the Recordnet.com that he wishes he could have done more to save the woman's life, but the dog had already inflicted too much damage by the time he arrived. That night he only slept two hours. "I was thinking all night about the dog and the lady and what I saw," Sanchez said. "It was hard. I've never seen something like that." Gallardo's sister, Mireya Gallardo, said her sister didn't deserve this. "I don't think anybody deserves to die that way," Mireya said.
Olga Paez, the victim's aunt, said her niece's death has devastated and angered her family -- "It's just terrible. We want answers," Paez said. Detectives continue to investigate, but there are still many unanswered questions. It remains unclear why Gallardo was at Hrenko's home, whether she knew the man or if she climbed over a fence to get into his yard. Hrenko couldn't be reached for comment Friday, but his ex-wife, Gloria Hrenko, said he was "distraught" over what happened.

Related video
04/12/13: Mauling Victim Identified
Family members told CBS 13 News that the victim's name is Claudia Gallardo, 38, and is a mother of three. On Thursday, Gallardo was discovered dead in a man's front yard after being attacked by a
pit bull named Russia
. The owner of the dog, Brian Hrenko, said he didn't know the woman and alleged that she climbed over his fence when he was gone. A female friend of Hrenko, who was home at the time of the fatal dog mauling, said the victim claimed to be there to clean the house.
The San Joaquin County Sheriff's Office has not confirmed the woman's identity, nor has it confirmed if the woman climbed over the fence. Hrenko was away for about 40 minutes. When he returned home, Hrenko said his female friend "was all hysterical, said Russia attacked (the woman)," said Hrenko. "She was all crying and stuff," said Hrenko. He didn't learn much more at the time because deputies quickly took him in for questioning. The investigation continues.

Related video
04/11/13: Woman Mauled to Death
Stockton, CA - A woman was killed Thursday night after being attacked by a pit bull that has terrorized the neighborhood for months, according to authorities and residents. The San Joaquin County Sheriff's Office received a report of a dog mauling at 8:19 pm in the 400 block of North Lillian Avenue, just east of Highway 99 and north of East Miner Avenue. When deputies arrived, they found a woman dead who appeared to have been attacked by a dog, Sgt. Tom Rees said.
Rees wouldn't describe the woman's injuries, but he said, "there's a lot of blood" and described the dog as a "big, nasty pit bull."
Neighbors were horrified and angered by the attack, but not surprised. Some said the dog has jumped fences to attack other animals in the area. Rita Vasquez said the pit bull
attacked her dog and bit her late husband
. She said the dog's owner has more pit bulls as well. Vasquez said her husband reported the attacks to the Sheriff's Office, but authorities said there was little they could do at the time. She asked: "Why did somebody have to get hurt for something to happen?"
1

Related video
Related articles:
10/24/13:
Kaylie's Candlelight Vigil for Victims of Dangerous Dogs Approaches
02/25/13:
2013 Dog Bite Fatality: Elderly Woman Mauled to Death by Pit Bulls in Motel Room
12/14/12:
2012 Dog Bite Fatality: Fresno County Man Mauled to Death by Pack of Pit Bulls
12/07/12:
2012 Dog Bite Fatality: San Diego County Woman Killed by Pack of American...
08/28/12:
San Diego County Pit Bull Responsible for Death of 4-Year Old Tijuana Girl
Labels: 2013 Dog Bite Fatality, Brian Michael Hrenko, California, California Pit Bull Fatality, Fatal Pit Bull Attack, Manslaughter, Pit Bull Dog Aggression
Dog Shipped Out-of-State
UPDATE 03/19/15:
Wheeling City Manager Robert Herron has agreed to allow the pit bull that killed a man to be shipped to an out-of-state pet sitting and rescue organization that was recently given verbal and written warnings for kennel maintenance violations. South Hills Pet Rescue and Rehabilitation Resort, located in Union Township, Pennsylvania,
1
serves "all breeds, with all needs," according to its website and adopts out
animal-aggressive pit bulls like Gopher
.
Gopher's Info: "Not good with dogs, and not good with cats."
If a picture is worth a thousand words
then
check out the South Hills "rehabilitation resort"
facility. This is apparently where Sheba, the fatally attacking pit bull, will be housed, allegedly rehabilitated then likely put up for adoption. TribLive.com reports that the Pennsylvania Department of Agriculture's Bureau of Dog Law Enforcement inspected the property on Tuesday, according to a report online, and issued verbal and written warnings for multiple kennel maintenance violations.
2
The warden "observed some of the wire that connects fencing to fence post in individual kennel area to be sharp and sticking out, kennel fencing pulled and damaged, materials used to repair damaged fencing had sharp edges, broken kennel latches, dividers between kennels becoming separated, damaged guillotine doors and cables, plaster board walls needing repaired," according to the report.

- TribLive.com, March 19, 2015
Co-owner of South Hills Pet Rescue and Rehabilitation Resort, Ashley Rittle, who owns the business with her husband, said that about 50 dogs are currently being kept at the "picture is worth a thousand words" property. Rittle blamed the dogs for the damage to the kennels, saying that dogs suffering from separation anxiety cause the damage. Rittle also asked for donations, expressing, "we're not millionaires" and "we're really asking for help from the communities."
Last but not least, in 2012, a judge in Allegheny County, Pennsylvania, which is adjacent to Washington County,
spared the life of a dog that killed an infant
. Part of the terms included that the
dog be shipped to an out-of-state rescue
. The shipping of dangerous dogs to
out-of-state jurisdictions to avoid liability has its ironies doesn't it?
Herron made an unwise decision regarding Sheba. But hey, the pit bull that suddenly inflicted a fatal bite is
not his problem any longer
.
Prosecutors and attorneys representing the interests of Helo the husky agreed today that the dog could be sent to an out-of-state animal sanctuary from which it cannot be adopted ... Helo will be transferred from a shelter in Monroeville to the facility next week. Attorneys declined to give its name or location, citing concerns for the safety of the dog and its handlers.

- Pittsburgh Post-Gazette, April 27, 2012
03/13/15: Death by Dog Bite Injury
On Friday, Wheeling Police Chief Shawn Schwertfeger said that a preliminary autopsy report shows that a man who was attacked by a pit bull on Sunday in East Wheeling died as a direct result of the injuries he sustained during the attack. The dog attacked Roy Higgenbotham, 62, as he tried to assist his roommate David Wallace, 63, who had suffered a fatal heart attack. The dog bite injuries severed Higgenbotham's radial artery near his left wrist directly causing his death.
Despite earlier reports indicating that autopsies would be performed on both men, an autopsy was not performed on Wallace. Also, despite Ohio County Dog Warden Doug McCroskey allegedly indicating to "would be rescuers" of the fatally attacking pit bull that he had authority over the fate of the animal -- purportedly even appearing on a radio show, saying so publicly -- this role falls to City Manager Robert Herron due to the nature of the attack and the city's vicious dog ordinance.
City Manager Robert Herron will have final say on whether the dog will be given to a family member or destroyed.
Herron said because the dog is not registered on the city's vicious dog registry and because of the attack on Higgenbotham, he has jurisdiction over the fate of the dog.

The Wheeling Intelligencer, March 13, 2015
On March 10, Tamara Lightner, whose relationship to the victims is unknown,
made the following claim in a Facebook post
. The typos are her own, as are her many claims. We highlighted the suspect and "wishful thinking" portions. Police continue to investigate if this same pit bull was involved in a
previous attack several weeks earlier
in the same neighborhood. Deputy Police Chief Martin Kimball said that a female victim was bitten on the leg and required medical treatment.
Tamara Lightner
For those following Sheba. Humane Officer Doug McCroskey was on Steve Novotney's show tonight. The conversation really shined some hope down on Sheba and her fate. Doug talked about his first encounter with her. When he arrived she was behind an entertaintment stand in a bedroom. She never put up a fight with him and he walked her out to his truck. He says she is eating and does growl occassionally likely due to fear.

She does not act aggressive. He stated if a family member wants her he would most definitely consider releasing her to them. Rescues have also contacted him something he too is not oppossed of. With that a paper releasing them from liability would need signed of course.

There is no time frame on her fate and he isnt looking to rush family as they have been through a lot.

Sheba has not had any encounters in the past as far as aggression goes. Before this she was a very happy loved dog whose world was shattered in a matter of minutes. As far as the victim it was noted he did not appear to have been mauled..he had 2 bite wounds(unsure location). This just leaves me to wonder if she was the cause of death ultimately...

Tamara Lightner, March 10, 2015
03/10/15: "Revival" Slaps to the Face
The Washington Post reports new information, including that it was a few "revival" slaps to the face by Roy Higginbotham that launched the dog into attack mode. Apparently, Higginbotham did not even have a chance to administer CPR to his roommate David Wallace before Wallace's pit bull attacked him. After kicking in the door to the home, police arrived to Higginbotham screaming for help as the dog attacked him and a woman hiding from the dog on the roof of the home.
After kicking in the door, officers went to an upstairs bedroom where they observed the victim on the floor of the bedroom being attacked by a white and brown pit bull with blood all over its face," Deputy Police Chief Martin Kimball told The Post. "The dog came towards officers in an aggressive manner and then hid in a corner of the room.

- The Washington Post, March 10, 2015
Kimball also said they believe the same pit bull may have attacked a pedestrian several weeks ago on the street, though he added no further details. Wheeling has an ordinance that classifies pit bulls and several other close breeds as "vicious." The owners are required to carry a $100,000 liability insurance policy and keep the dog properly confined. This fatal attack, however, occurred inside of a home and the pit bull attacked a man well known to it who also lived in the home.
3
Meanwhile, a local no-kill shelter is trying to save the attacking female pit bull.
Webark Estates writes in a recent post
, "We have contacted Best Friends Animal Society in Utah to ask them to step in and save this poor dog at the pound in Wheeling, WV." Most of the commenters clamour the dog was, "just trying to protect his owner" and it was "only doing her job." Beth Patsch chimes in, "She has always been a sweet, shy girl that loved those men to pieces and they adored her."
Which certainly explains the dog's "fatally attacking" behavior on Sunday.
It is unknown what will
happen to the pit bull named Sheba
, especially now in light of a possible previous attack by the animal. At this stage, with both autopsy results still pending, the cause of death remains unclear as well. Kimball states in The Post article that the only other person in the house at the time of the attack, the woman who later fled onto the roof to escape the dog, was in the room when Higginbotham was attacked. Both other witnesses to the dog attack are dead.
03/10/15: Sorting Out the Fatal Attack
Yesterday, we began following the local paper, The Wheeling Intelligencer, which partly operates behind a paywall.
Yesterday's article was open to all readers
, but with that came confusion regarding the "first" and "second" man, which victim was either? Reading it one way leads one to believe that the pit bull attacked both men. Reading it another way, the dog only attacked one man, but both men suffered heart attacks. It seems the latter scenario might be what occurred.
DogsBite.org and other victims' advocates wrote to the Intelligencer last night asking them to clarify the "first" and "second" man for these reasons. This clarification is now found in the first sentence, as well throughout today's article. As of March 10, the "second" man is the aid-giver who was attacked by the pit bull and the "second" man may have also suffered a heart attack. So it appears both men suffered heart attacks, but only the "second" man was attacked by the dog.
Police Sorting Out Fatal Dog Attack in East Wheeling
WHEELING - Police have released the names of two men who died Sunday in Wheeling - one from an apparent heart attack, the second from being attacked by a dog as he tried to save the first man.
---snip---
McKenzie said he could not confirm whether the second man was killed by the dog or suffered a heart attack after the dog attacked him. He said an autopsy will be done on both bodies to determine the causes of death.
A woman who identified herself as a relative of one of the victims said the second man died of a heart attack after the dog attacked him.

- The Wheeling Intelligencer, March 10, 2015
Police ordered autopsies on the "first" and "second" man to determine cause of death.
03/09/15: Victims' Names Released
Wheeling police have released the identities of both male victims. David Wallace, 63, and Roy Higgenbotham Jr., 62, both of Wheeling, died Sunday night at a home on 14th Street. Wheeling Police Chief Shawn Schwertfeger confirmed that one of the victims was attacked by the pit bull, but the cause of death of both victims is still being investigated. According to at least one neighbor, a woman in the home escaped through a second floor window to avoid being attacked as well.
Regrettably, WTRF News, along with a stunned brother and next-door neighbor are characterizing this dog's violent attack as a "misunderstanding" despite one man apparently being mauled to death by the dog and another person fleeing out of a window in fear of her life. There was no "misunderstanding," this is just another
horrific pit bull attack resulting in human death
. Pit bulls
regularly
rise to the level of
explosive, deadly aggression
under
far less stressful circumstances
.
Patsch, who lives directly next door and witnessed the woman fleeing from the second floor window Sunday night, said the female pit bull "was always wonderful." The two men were roommates and had owned the attacking pit bull since she was "tiny, tiny and never a problem." They had owned the dog's mother as well, which died last fall, Patsch said. The incident resulting in two deaths continues to be investigated by the Wheeling Police Department Detective Division.
New Information Released
The Wheeling Intelligencer
, the local newspaper, sheds more light on this attack, but also adds confusion. Predictably, the pit bull was not registered as required by the city's vicious dog ordinance. But the real whopper -- presuming the "first" man was rendering aid -- is that the pit bull possibly attacked both men. Sgt. Gregg McKenzie said he could not confirm at this time "whether the
second man was killed by the dog or suffered a heart attack
after the dog attacked him."
4
At about 5:00 pm Central time, the Intelligencer updated their article and included information about the dog's owner and which of the men had been rendering aid. "The dog's owner was identified as David Wallace, 63, of 131 14th Street, East Wheeling. The man who was performing CPR when he was attacked by the pit bull was identified as Roy A. Higginbotham Jr., 62, of Wheeling," states the paper. Confusion still remains, however, about
which is the "second" man
.
03/09/15: Pit Bull Kills Man
Wheeling, WV - A pit bull attacked and killed a man who was trying to save the dog owner's life, according to Wheeling police. Lt. Phil Redford said that police believe the dog's owner suffered a heart attack. When another man in the home tried to resuscitate him, the pit bull attacked and killed him. Police had to force their way into the home late Sunday, where they found both victims. It is unknown if the dog also attacked its owner.
Wheeling declares pit bulls prima facie vicious
.
Paramedics and Firefighters
Protocols vary across jurisdictions, but there are examples on this website where paramedics and firefighters are
forced to stay in their vehicles
as a human life slips away because one or more attacking pit bulls is still unrestrained near the victim and police have not yet arrived to remove the animal. These protocols exist for a good reason. No further information has been released about the East Wheeling fatal dog attack. Ohio County Animal Control placed the pit bull into quarantine.
Related articles:
01/08/15:
2015 Dog Bite Fatality: Maryland Man Mauled to Death by Family Pit Bull
12/30/14:
2014 Dog Bite Fatality: Portage Man Mauled to Death by Pet Pit Bull on Christmas Day
12/10/14:
Detroit Man Suffers Catastrophic Injuries in Violent Pack Attack by Pit Bulls
08/01/12:
Triggers: What Prompts a Pit Bull to Attack?
11/08/10:
Officials Must Stop Ordering Dogs Deemed 'Dangerous' to New Jurisdictions
Labels: Fatal Pit Bull Attack, Heart Attack Injury, Out of State Rescue, Pit Bull Kills Family Member, Pit Bull Kills Owner, West Virginia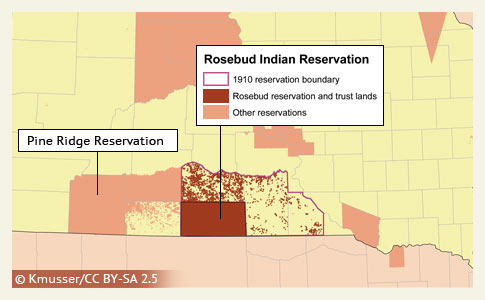 Community Grieves
UPDATE 03/17/15:
Just after dogs attacked and killed a mother of five, Rosebud Tribe officials rounded up a few dozen dogs in the area and put them down. Some of the dogs were strays, others were owned that had roamed and caused problems in the past. The effort targeted known problem dogs in the Lower Swift Bear and Horse Creek communities, where Julia Charging Whirlwind was mauled to death early Saturday morning, an event that even she had forecast.
Clairmont says the dogs that killed her friend lived in two separate homes in the neighborhood, and had been causing trouble for a while.
"We go by and those dogs, they try to attack your car. They'll bite at your car, bite at the tires," said Clairmont.
It was something she and Julia had talked about shortly before she was killed.
"She said 'I wonder what it's going to take. Somebody's probably going to have to get killed or die from them dogs'," said Clairmont.

- KDLT, March 16, 2015
The Rosebud Tribal Council held a meeting Monday to discuss short and long term strategies for stronger animal control policies across the reservation. Some of the strategies included a more structured effort at adoption, mobile spay/neuter clinics, owner education and financial assistance and establishing a tribal pound. Like the weighty dog problems on the Pine Ridge Reservation, which came into focus after
the dog mauling death of a little girl
, Rosebud faces similar issues.
03/15/15: Mother of Five Killed by Dogs
White River, SD - The mother of five children is dead after being mauled to death by two or more dogs early Saturday morning.
Julia Charging Whirlwind
, 49-years old of the Lower Swift Bear tribal community, was attacked near her property, according to Mellette County Sheriff Mike Blom. At least one other person was bitten in the deadly attack. When first responders arrived, two other individuals were trying to fight off the dogs near her. Sheriff Blom shot and killed both dogs.
Charging Whirlwind was transported to the Rosebud Hospital emergency room just before 7 am and was pronounced dead shortly thereafter. Sheriff Blom said there have been multiple reports of dog attacks in the last several weeks. The Rosebud Indian Reservation is
close to the Pine Ridge Indian Reservation
in South Dakota where
Jayla Rodriguez
, 8-years old, was mauled to death by two or more loose dogs last November. Both are Sioux tribes, a branch of the Lakota people.
The LakotaVoice reports that community members began
meeting and discussing emergency action
quickly after the woman's death and the ongoing reports of aggressive dogs. LakotaVoice states that multiple reports about "these aggressive dogs" -- possibly the same ones that killed Charging Whirlwind -- had previously been made to police. The publication also states that the attacking dogs were stray dogs (formerly owned), not "wild" dogs as stated in other news articles.
The Rapid City Journal reports that when the attack began is still being determined. Sheriff Blom said it appeared that
many dogs attacked her earlier that morning
and the two dogs he saw were returning to the victim. The investigation is now being handled by the Rosebud Police Department because the attack happened on tribal land. Blom said he responded to the 911 call because he lives less than one mile from where the attack occurred; the police department is 30-miles away.
11/22/14:
2014 Dog Bite Fatality: Pack of Dogs Kills 8-Year Old Girl on Pine Ridge...
11/17/14:
2014 Dog Bite Fatality: Woman Killed by Pack of Dogs on Wind River Indian...
12/31/12:
2012 Dog Bite Fatality: Pack of Dogs Kills Boy in Cibola County, New Mexico
03/30/11:
2011 Dog Bite Fatality: 55-Year Old Man Killed by Pack of Dogs Near Gallup
03/11/10:
2010 Dog Bite Fatality: Rottweilers at Home One Day Kill Baby on Iowa Tribal Land
Photo:
Kmusser
/
CC BY-SA 2.5
/ added Pine Ridge Reservation indicator
Labels: 2015 Dog Bite Fatality, Fatal Pack Attack, Indian Reservation, Lakota, Sioux, South Dakota
Pit bull attack survivor Steve Constantine after the life-threatening attack.
Dog Owner Arrested
UPDATE 03/16/15:
On Monday, police arrested the owner of a pack of pit bulls that dismembered and nearly killed a man last October. Derrick Felton, 61, had been in hiding for months. A fugitive apprehension team that includes members of the Detroit Police Department, Michigan State Police and Wayne County Sheriff's Office deputies picked up the man. Felton was charged with three counts of harboring a vicious animal causing injury, a felony that carries up to 4-years in prison.
The victim, Steven Constantine, suffered horrendous life-altering injuries in the attack. Among other atrocities, the pit bulls chewed off his left ear and his left arm. Doctors were forced to amputate most of his left arm. The dogs also chewed off his left foot. Constantine lost everything below the knee on that leg.
Police Detective Michael Pacteles told the Detroit News
, "They did an autopsy on some of the dogs and they believe they found human body parts inside them."
Hardly pleasant to imagine, but what else were they supposed to find?

1
Felton was taken into custody immediately after the attack on October 2 and held on a warrant for back child support. After Felton was released on that charge, "he went into hiding," Pacteles explained. Pacteles learned about Felton's location last week and sent a request to the Detroit Fugitive Apprehension Team. Previously, the Wayne County Prosecutor's Office had not authorized felony charges against Felton, despite the extreme magnitude of the victim's injuries.
Michigan State Law
287.323. Offenses and penalties
(2) If an animal that meets the definition of a dangerous animal in section 1(a) attacks a person and causes serious injury other than death, the owner of the animal is guilty of a felony, punishable by imprisonment for not more than 4 years, a fine of not less than $2,000.00, or community service work for not less than 500 hours, or any combination of these penalties.
12/10/14: Victim Recounts Brutal Attack
On October 2, Steve Constantine suffered catastrophic injuries when he was nearly mauled to death by a pack of 12 pit bulls in a residential Detroit neighborhood. The vicious attack left him hospitalized in critical condition, unconscious and unable to speak. Several months afterward, Constantine shares what happened that day with the Detroit Free Press. The violent attack forced the amputation of his left arm at the shoulder, his left leg below the knee and scores of skin grafts.
Police confiscated and euthanized all of the attacking dogs. The owner of the dogs, 61-year old Derrick Felton, received a handful of misdemeanor citations pinned to his door after the brutal mauling, along with a brochure titled, "Pet Ownership in Detroit Your Rights and Responsibilities." Police later asked the Wayne County Prosecutor's Office to consider a felony charge against Felton. The prosecutor's office declined,
however the case is still under review for warrants
.
"There's moments when I'm barely myself. There's moments when I can barely function. And I'm insecure ... but I do seem to make it back to this place where I am myself."

- Steve Constantine
Constantine struggles to understand the attack, uttering in the video, "Things happened for a reason" and blames himself for trying to feed the dogs. The senior rehab manager at Select Specialty Hospital, Vijay Malaichamy, said that he is upbeat and "that positive attitude is going to help him tremendously to overcome the challenges he's going to face during his progress." Constantine hopes to eventually be fitted with prosthetics to gain some degree of independence.

Related video
10/27/14: Dog Owner Failed to Help Victim
The victim of catastrophic pit bull injuries has finally been able to speak. When asked by police what the owner, Derrick Felton, did as his 12 pit bulls attacked him, Steve Constantine said, "I don't know. I think he ran away." Felton told police he could not help the man, "EMS came, so I left." Earlier reports stated that Felton was not home when the attack occurred. We now know this was untrue. Further, EMS could not immediately help him, they had to wait for police to arrive.
Prior to the attack, Constantine was walking on Pennsylvania Street. He saw Felton outside and asked if he needed help feeding his dogs. The dogs then "started eating me alive," he said. Police have asked prosecutors to pursue a felony charge of harboring a vicious animal causing serious injury against Felton, but the decision is still pending. The Sam Bernstein Law Firm is representing Constantine in a civil lawsuit. They are suing Felton and his mother, who owns his residence.
Attorney Mark Bernstein said the firm is suing Felton's mother because landlords "who allow irresponsible, reckless tenants to engage in these types of behaviors" should assume some responsibility for what happens in the homes they own.
"We're going to ask for a meaningful amount of damages in order to send a message that these people need to be held accountable," Bernstein said.

- Detroit Free Press, October 27, 2014
Constantine's sister, Cathy Hawley, is horrified about what happened to her younger brother. "The obstacles that Steve is going to face are beyond imagination," Hawley said. Constantine remains hospitalized at Detroit Receiving Hospital. He lost most of his left arm and a portion of his left leg, which was amputated, due to the vicious pit bull attack. His right arm was "opened to the bone" and the injuries to his right foot will require doctors to "fuse it to the ankle," according to Hawley.
Hawley also provided background about her brother. He graduated with honors from Mott High School in Warren, but mental illness struck when he was in his 20s. He was diagnosed with schizophrenia, she said. He had been missing for a year when he was attacked. "Steve would give you the shirt off of his back. He was taken advantage of a lot," she said. Hawley only learned of the attack after being contacted by a Detroit Free Press reporter a week after the horrific mauling.
Related documents:
Steve Constantine and Derrick Felton statements
Detroit dog mauling lawsuit
10/22/14: Weighing Felony Charge
In a surprising development, the Wayne County Prosecutor's office is now weighing whether to charge the owner of a dozen pit bulls that nearly killed a man with a felony. A warrant request was submitted to the prosecutor's office on Tuesday seeking a felony charge against Derrick Felton, 61-years old, for harboring a vicious animal causing serious injury, according to Detroit police. The request is currently under review by the prosecutor's office. A decision will not be made this week.
Steve Constantine, 50-years old, remains hospitalized in critical condition at Detroit Receiving Hospital after surviving the brutal attack on October 2. The Detroit Free Press obtained recordings of the 911 calls, as well as a half-dozen police reports that provide gruesome details about the violent attack and the victim's horrific injuries. The pit bulls chewed off most of Constantine's left arm and removed "large chunks of flesh" from his arms and legs, according to police reports.
"Fearing for my safety and own well being, I … engaged the animal a second time, by discharging my firearm twice striking the animal twice, killing it," Sexton wrote, noting that he fired nine shots in all.
The reports list a grim array of injuries, with arms and legs ripped to the bone and dogs "eating the flesh" off a naked man. A friend, who visited Constantine days later at Detroit Receiving Hospital, said he had lost most of his left arm.

- Detroit Free Press, October 22, 2014
The police report also details shots fired. Officer Adam Sexton wrote that he fired numerous times at the pack of pit bulls that were actively attacking Constantine, striking four. Most of the pack then fled, but one of the shot dogs dropped to the ground yelping, trying to take cover in a large bush. That pit bull then jumped to its feet and advanced his partner, who shot it twice. Now with at least three bullets in it, the same pit bull again charged Sexton, who shot it two more times killing it.
10/09/14: No Charges; Victim Identified
The owner of a dozen pit bulls that escaped his home and nearly mauled a man to death faces a handful of misdemeanor violations. Sgt. Michael Woody acknowledged that the case is "horrifying," but the citations are likely the extent of the penalties the dog owner faces. On October 2, at least a dozen pit bulls escaped from Derrick Felton's home and inflicted catastrophic injuries on an innocent passerby. Steve Constantine remains in critical condition unable to speak.
Police believe at least 12 pit bulls participated in the violent attack. All of the dogs have since been euthanized. Neighbors had complained a number of times about Felton's loose dogs, but there were no reports of the dogs attacking a person. Thus, the life-altering attack of Steve Constantine has no consequences. The best Detroit could do after the attack was to pin the citations and a brochure titled, "Pet Ownership in Detroit Your Rights and Responsibilities," to Felton's door.
Ron Gulledge, Constantine's roommate, rushed to the hospital after learning of the attack. "I talked to him and told him to be strong … and he nodded," Gulledge said. He described Constantine's injuries as different than initial reports. He said only a small portion of his upper left arm remains, his left leg now has rods in it and his right leg, arm and head are heavily bandaged. He said it looked like Constantine still has feet and one hand, but he could not see all of his fingers or toes.
"It's terrible," Gulledge said. "You don't wish nobody to get eaten alive."
We will add to his statement, "get eaten alive on a residential street by dogs," and afterward, "there are no repercussions for the dogs' owner." Annually, there are over
600 media reported disfiguring and maiming attacks by pit bulls alone
across the country. There is no longer any excuse for cities and police authorities to lack criminal procedures after a horrific maiming attack, particularly when involving "loose" dogs. The previous history of the dogs does not matter.
People like Steve Constantine and
Klonda Richey
are paying with their lives for the indefensible lagging by local and state lawmakers to write and implement post 1985 criminal penalties for the owners of dogs that chew off the limbs of people like a bear or tiger would or
leave their faces so disfigured
that even 21st Century medicine does not know how to fix. As a man who lost his wife in a brutal dog attack last year voiced, "
What kind of country is this? What protection do we have?
"
10/04/14: Pit Bulls Inflict Catastrophic Injuries
Detroit, MI - A man suffered catastrophic injuries after being attacked by a pack of pit bulls Thursday night. The dogs "chewed off" the victim's hands and feet in the attack, according to Police Detective Michael Pacteles. The dogs were so vicious paramedics were forced to wait in their vehicles for police to arrive before they could help the man. Police shot and killed at least one pit bull; 12 other pit bulls were seized from Derrick Felton's home, the owner of the dogs.
"Because of the viciousness of the attack, the remaining pit bulls will be euthanized."

- Detroit Police spokesman Sgt. Michael Woody
Andrew Sims lives a few houses away and witnessed part of the horrific attack. He told the Detroit Free Press the attack was more gruesome than anything he had seen during a tour in Vietnam. "They was aggressive. They didn't stop. I could just see them tugging, you know, pulling at him," Sims said. The mauling victim continues to remain unidentified -- he was not carrying identification when the dogs escaped through a side door of the owner's home and viciously attacked him.
As of Saturday afternoon,
the victim remains in critical condition and unconcious
at Detroit Receiving Hospital, according to Detroit Police Officer Adam Madera. Police have been unable to ask him any questions about his identity or the circumstances of the attack. Different reports have emerged about why the victim had been in the area at the time of the 10 pm attack, ranging from "unclear" reasons to he had been walking along the sidewalk near the dog owner's home.
Two videos by 7 Action News
show police and animal control seizing the pit bulls
and arresting the dogs' owner, Derrick Felton. They also interviewed neighbors who said the pit bulls were often seen running loose. A female neighbor, who was not identified, said, "Those dogs are vicious, I am not surprised," after learning about the violent attack. When asked if the dogs often got out she said, "Yes, a lot of times." Though the investigation is ongoing, dogfighting is not suspected.
In July, Craig Sytsma, 46-years old, was brutally killed by two cane corsos while jogging in Metamora Township, about 50 miles away from Detroit. The two owners of the cane corsos are currently standing trial for murder in the second-degree in connection to Sytsma's death.

Related articles:
09/13/14:
Criminal Trial: Couple Charged with Second-Degree Murder After Cane Corsos...
09/11/14:
2014 Dog Bite Fatality: Pit Bull Type Dogs Attack, Strip Naked and Kill Dayton Woman
08/02/14:
2014 Dog Bite Fatality: Two Cane Corsos Brutally Attack and Kill Jogger in Metamora...
05/31/13:
Westwego Woman Loses Eye, Ear and Both Arms After Pet Pit Bulls Attack
07/25/12:
Bay County Animal Hospital Worker Suffers Catastrophic Injury in Pit Bull Attack
02/16/12:
Orlando Woman Suffers Catastrophic Pit Bull Injury; Amputations Expected
Photos:
Detroit Free Press
(Steve Constantine video) and
WXYZ.com
(dog photos)
Labels: Amputation Injury, Catastrophic Pit Bull Injury, Criminal Charges, Michigan, Pit Bull Attack Survivor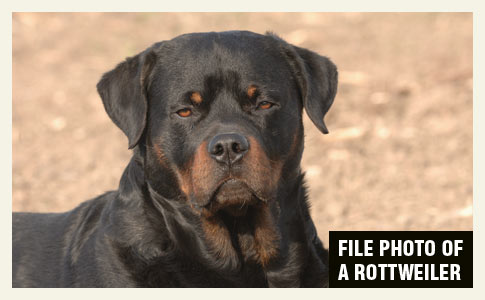 Rottweiler Kills Owner
Sulphur Springs, TX - An elderly woman was mauled to death by her pet rottweiler on Thursday night, according to Sulphur Springs police. Betty Wood, 78-years old, was attacked and killed by the dog in her home in the 1400 block of North Davis Street. Police Chief Jay Sanders said his department responded to a call of a possible deceased person about 7 pm. The woman's daughter, who lives next-door, discovered her mother's body. Wood lived alone in the home.
"It was really bad. Just a terrible situation." - Police Chief Jay Sanders
Through an initial investigation, his department determined that she was killed by her own dog, which she had owned for about 5-years. The
Medical Examiner's Office in Dallas
confirmed their findings. Sanders told KLTV News, "I've been doing this 30 years and that scene was about as gruesome as I've ever seen." The family rottweiler was initially quarantined then euthanized on Friday. The Texas Rangers assisted the Sulphur Springs Police Department with the case.
---

Texas Dog Bite Victims' Advocacy
-
Join our Texas email list to stay informed
Related articles:
02/11/15:
2014 U.S. Dog Bite Fatality Statistics - DogsBite.org
04/04/14:
Fatal Rottweiler Attacks - The Archival Record
03/20/13:
Report: Texas Dog Bite Fatalities, January 1, 2005 to February 17, 2013
Labels: Fatal Rottweiler Attack, Senior Citizen, Texas
Father Pleads Guilty
UPDATE 03/02/15:
Javon Dade Sr. pleaded guilty to aggravated manslaughter on the day his trial was set to begin in connection to the mauling death of his son. Last summer, Javon Dade Jr. was savagely killed by his father's illegal pit bull and pit bull-mixes at the home Javon Sr. shared with his girlfriend, Alessandra Carrasco, as the two slept off a narcotics hangover. Javon Sr. will serve 4-years in prison under the plea agreement. A jury trial conviction could have resulted in 30-years.
"There is no equity when the victim is a 4-year-old mauled in horrible circumstances by a pack of dogs."

- Assistant State Attorney Santiago Aroca
Part of the plea agreement required that Javon Sr. provide a public apology to the deceased boy's mother, Doreen Reyes, and to take full responsibility for his actions. Reyes was overwhelmed with grief and cried while Javon Sr.'s attorney read his apology letter to the courtroom. Javon Sr. will begin serving his prison sentence on March 16. The plea agreement also requires that he testify against Carrasco, 26, who is also charged with manslaughter in connection to Javon Jr.'s death.
09/11/14: Manslaughter Charges Filed
Miami-Dade prosecutors have charged both Javon Dade Sr. and his girlfriend, 26-year old Alessandra Carrasco, with manslaughter charges -- the emphasis placed on Carrasco. According to prosecutors, it was Carrasco who brought the dogs onto the property and who leased the property. Furthermore, it was Carrasco who was in charge of Javon Jr. at the time of his death. Carrasco did not appear in court today. Both defendants are expected to stand trial in November.
08/22/14: Father, Girlfriend Arrested
Miami-Dade Police have arrested and charged two people in connection to the mauling death of 4-year old Javon Dade Jr. On August 13, Javon was first reported missing by his father then discovered dead in the backyard of his father's home by police a short time later. One or more of his father's pit bulls had attacked and killed him. On Friday, his father, Javon Dade Sr., 30, and his father's girlfriend, Alessandra Carrasco, 26, were arrested and charged with child neglect.
According to Dade's arrest report, he picked up his son from his mother's home about 9:30 pm the night before the attack and returned to his home. After his son fell asleep, Dade and Carrasco "began smoking several marijuana cigarettes laced with cocaine," according to the report. When his father and Carrasco woke up the next morning, about 9:00 am, Javon Jr. was nowhere to be found. Police said the front door of the home was locked, but the rear sliding glass door was not.
Notably, now that the police report has been released to the media, we see a distinct language change regarding breeds of dogs. The 5 dogs in question are now being called "pit bull-mixes." The
breed labeling game
by Miami-Dade Animal Services -- who offered up four different breed names for these dogs, none being "pit bull-mix" -- is now over. This may be due to the fact that the boy's death now involves criminal charges of child neglect and is now fully under police control.
1
CBS Miami also spoke to the boy's paternal grandmother, Jocelyn Dade. She said that both her son and his girlfriend have drug problems (as noted in Javon Sr.'s extensive criminal arrests and convictions). Jocelyn also said that the white dogs "grew up" with Javon Jr. but the adult male pit bull -- already euthanized due to aggression -- was a new dog her son had gotten from a neighbor. The
related video shows Javon Sr. collapsing to the ground
upon learning of his son's death.
08/18/14: DCF Knew of the Pit Bulls
CBS Miami reports that the Department of Children and Families (DCF) was warned that the pit bulls posed a danger to Javon Dade Jr. and his siblings 3-years before one or more of these dogs fatally attacked the boy. According to documents obtained by CBS Miami and their news partners, in March 2011, DCF received a complaint from a neighbor about the "smell" and "feces" and "danger" of the six dogs, two being pit bulls, living in the family's home (See:
DCF document
).
At that time, Javon Jr., 6-months old, and his two siblings lived with his two parents. The March 2011 DCF narrative in part reads: "There are about six dogs living inside the apartment … the dogs urinate on the floor and the children are frequently on the floor … Two of the dogs are pit bulls … There is concern for the safe care of the children in the home." The DCF report also mentions an incident a year earlier when both parents were bitten trying to break up a dog fight.
When DCF officials confronted the mother, Doreen Reyes, about the allegations, she denied them, claiming to only own three dogs, none of which were pit bulls. At that time, the family was living in Miami-Dade County. DCF failed to contact Animal Services about the dogs being kept illegally by the family.
Would it matter if they had though, given that Animal Services is so quick to mislabel any pit bull-type dogs as a terrier-boxer mix, terrier-mix or American bulldog-labrador mix?
Two of the dogs are pit bulldogs," the DCF report added. If the DCF investigator knew that it is illegal to keep pit bulls in Miami-Dade County, there is no mention of it, and no indication that animal services was informed of the situation.
The DCF probe concluded that Javan and his siblings were in a "moderate to high" risk environment, yet no action was taken to remove the children or the dogs. DCF investigators spoke with teachers, daycare workers and a doctor who said the children appeared healthy and well dressed.

- CBS Miami
Finally, the DCF report spells out part of the father's extensive criminal record. (We checked this last week as soon as his name was released by searching the
Miami-Dade County criminal court website
.) Javon Dade Sr., has a history of drug offenses involving cocaine and marijuana; a perfect pairing with running an illegal pit bull breeding operation out of his home. By June of 2011, the parents had split up with Javon Jr. living primarily with his mother and visiting his father.
Summary of DCF Investigations
DCF knew about the pit bulls, which are illegal to own in Miami-Dade County and have been since 1989,
but DFC did not know about the county ordinance?
Second, DCF documents state that on August 13, "
Javon Jr. was mauled to death by the father's pit bull dog
." So it will now be harder for Animal Services to mislabel the dog(s) as terrier-mixes or bulldog-mixes,
ad nauseam
. Finally, if DCF had properly followed up and the breed ban enforced, Javon Dade Jr. would still be alive.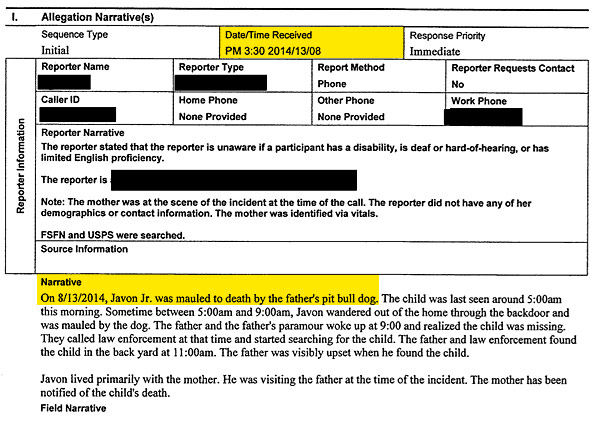 08/15/14: Memorial Grows for Victim
Javon Dade Jr. was visiting his father at the time of his violent mauling death. The boy lives with his mother, Doreen Reyes, and his brother in Palmetto Bay. The two parents are no longer together. Friends of Doreen recently defended her on the
Local 10 Facebook page
. Doreen also commented: "I brought my kids up in a Godly home and I'm leaving it up to him to get us through this tragedy. So please have compassion for my family and my other son through this time."
CBS Miami reports other social media comments
. Beryl wrote to Javon's grandmother (maternal or paternal is unknown): "I AM SICK AND TIRED OF THESE DOGS PITBULLS KILLING OUR BABIES. OH GOD HAVE MERCY SAVE OUR BABIES. WORDS CAN NOT EXPRESS HOW THIS FAMILY FEELS RIGHT NOW." Beryl may be referring to the fact that three young boys, ages 4 to 6, have been brutally mauled to death by family pit bulls in Florida in the past four weeks.
08/14/14: Landlord Update; AC on Record
Kenneth Darbin, the landlord and owner of the property, told CBS Miami yesterday that he warned his tenants a
week ago that they had seven days to remove the dogs or face eviction
. The day of the fatal attack was the seventh day of his warning, according to reporter Lauren Pastrana who spoke to him. When later reached by phone, he claimed, "They snuck the dogs on the property." The boy's father had only been living in the house for a little over two months, Narbin said.
New Breed Name -- Will It Stick?
Beginning with Miami-Dade Animal Services labeling 5 of the dogs "
labrador
-pit bull mixes," then broadening this to "
terrier
-boxer mixes" finally, Kathleen Labrada, the spokesperson for Animal Services went on record with WSVN last night calling the 5 dogs "
American bulldog
-labrador retriever mixes." (We've underlined the first name, which is the predominant breed.) Labrada also admitted that the puppies are too young to properly evaluate, but still called them "
terrier
-mixes."
"A total of six dogs were removed from the scene. Three adults which appear to be American Bulldog and Labrador Retriever mixes, and one pit bull," said a spokesperson Kathleen Labrada of Animal Services. "The puppies appear to be terrier mixes. They are too young to evaluate, they are under six months of age. We're certainly hopeful that through DNA evidence and other evidence we're able to gather, that we will be able to confirm which dogs..."

- Kathleen Labrada
When all else fails, labeling the dog an American bulldog-mix usually sticks. As explained in footnotes, there is no frantic labeling game (throw it until it sticks) about the breed of the number one suspect. If there were, if might get someone from Animal Services fired. It is still unknown, however, which of the adult dogs attacked or if all three did. Currently, Animal Services is trying to pawn off the two adult females (the white and tan dogs) as "American bulldog-labrador mixes."
People who breed pit bulls, like to produce more pit bulls. The goal is not to produce litters of American bulldog-mixes or labrador-mixes. Therefore, they mate pit bulls with other pit bulls, a breed which certainly has a wide variance in colors and weight, but very little variance in the shape of the head. The white and tan dogs are predominantly pit bulls and any label should reflect this, such as "
pit bull
-mix" or "
pit bull
-American bulldog mix" or "
pit bull
-[insert breed name] mix."

Above: Thus far, Miami-Dade Animal Services have labeled 5 of the dogs three different names.
08/13/14: Landlord; Terrier-Mix Label
In an evening update from NBC Miami, the news team spoke to the landlord and owner of the home, Kenneth Narbin, who said that
last week
he gave the renters
2
-- Javon Dade Sr., and his girlfriend -- seven days to remove the "pit bull dogs from the home." Miami-Dade County has banned the breed for over two decades. Despite this legal demand from their landlord, the boy's father kept the dogs along with his homespun pit bull breeding operation. Now his son is dead.
Before
reading the Miami Herald update
, it is important for readers to understand that the Herald strongly opposes the pit bull ban and urged the public in 2012 to vote to repeal it. The public shrugged off the Herald and
voted by a wide margin to keep the ban
. The main reason we link to the Herald now is to point out a disturbing new pit bull "mislabeling" trend. The new trend is to replace "pit bull" with "terrier," as was done on the
adopted dog
that
viciously attacked Rita Pepe
.
Twenty minutes later, police made a gruesome discovery: Javon had been mauled to death by dogs in the backyard of the Goulds home, his limp body found in the overgrown grass near a fence.
In the same yard: Two adult female terrier-boxer mixes, an adult male pit bull and three terrier-boxer mixed puppies between two and four months of age.

- Miami Herald
The terrier group is a large list of breeds
, of which the American pit bull terrier (aka American Staffordshire terrier) is grouped within by many major kennel clubs, along with the
border terrier
,
rat terrier
,
west highland terrier
,
Scottish terrier
and more. Under this "trending" misleading labeling treatment for pit bulls, a "
pit bull
-boxer mix" is simply a "
terrier
-boxer mix." which completely removes the pit bull name to unsuspecting adopters and for dog bite statistical tracking purposes.
Miami-Dade County Animal Services, who initially labeled five of the dogs as "labrador-pit bull mixes," then switched over to the broader "terrier-mix" label. The Herald immediately pushed this "revised" label. What is truly revolting is that Miami-Dade County Animal Services is tax-funded and under the mission to enforce the county pit bull ban. What the public knows now is that even in the case a fatal dog attack, this agency will "protect the breed" over their public safety duty.
3
08/13/14: Dogs Seized, Photographed
Miami-Dade authorities seized and photographed a total of six dogs, three adults and three puppies. Authorities "speculate" that at least one adult pit bull may have been trying to protect the puppies when it unleashed a brutal attack killing the 4-year old boy. According to Animal Services, only one dog appeared to be aggressive, an adult male pit bull (top left). The rest of the dogs are allegedly "labrador-pit bull mixes," despite a female labrador nowhere to be found on scene.
4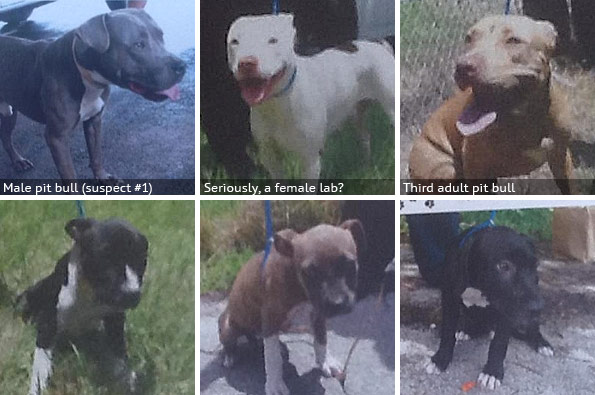 Above: Local 10 published photos of all six dogs seized after the fatal attack of Javon Dade Jr.
08/13/14: Child Killed by Family Pit Bull
Goulds, FL - In a developing story, Miami-Dade Police confirm that a 4-year old boy was mauled to death by one or more of his family's dogs in Goulds this morning. The attack occurred in the fenced-in backyard of a home at 12301 SW 230th Street. Hovering news choppers at the scene spotted the boy's body covered in a yellow tarp lying in the middle of the backyard. Neighbors described the family's two dogs as being "very aggressive" and believe they are pit bulls.
This is the third little boy in Florida mauled to death by family dogs since July 19. The first two fatalities involved family pit bulls.
The CBS Miami video shows numerous first responder personnel and vehicles at the scene. Miami-Dade police also set up a "command post" near the scene. While writing this blog post, police identified the boy as Javon Dade Jr. and confirmed that three dogs were captured. The video suggests that at least one dog was shot. The investigation is ongoing. It is unknown what the circumstances of the attack were or if the boy was under adult supervision at the time.
WSVN offers additional information
. In a press conference, Miami-Dade Police spokesperson Robin Pinkard said the call began as a missing child case. When police responded, they canvassed the area and made the horrific discovery. At least three dogs were captured. Police are still trying to determine who owed the dogs and if the dogs resided at the fenced property or broke into it. Animal control is conducting "a series of tests" to determine the breeds of dogs involved.
Police have been dispatched in search of the missing boy when they made the horrific discovery. "According to investigators, at approximately 10:09 this morning, police received a phone call advising of a missing 4-year-old male," said Pinkard. "As officers arrived they did an area canvas where they discovered a black male, 4 years of age, deceased in the backyard."

WSVN.com
Finally, Local 10 News is now reporting the
"predictable" pattern that the boy was "visiting"
his father's home at the time of the fatal dog attack. Also, as of 1:45 pm Central time, a total of six dogs have been removed from the property. The father, along with his girlfriend, were at the home at the time of the fatal incident. As DogsBite.org readers know,
Miami-Dade County has banned pit bulls since 1989
. If the dogs are determined to be pit bulls, criminal fines or charges may follow.
Related articles:
08/08/14:
2014 Dog Bite Fatality: Visiting Child Killed by Aunt's Pit Bulls in Fanning Springs...
07/29/13:
2014 Dog Bite Fatality: Visiting Child Killed by His Uncle's Two Pit Bulls in...
08/16/12:
Vote in Miami-Dade County to Repeal Pit Bull Ban Fails by Wide Margin
03/12/12:
Attempt to Overturn Miami-Dade Pit Bull Ban Advances: 'Don't They Know?'
Labels: 2014 Dog Bite Fatality, Breed Misidentification, Criminal Charges, Fatal Pit Bull Attack, Florida, Manslaughter, Pit Bull Kills Family Member, Visiting Child