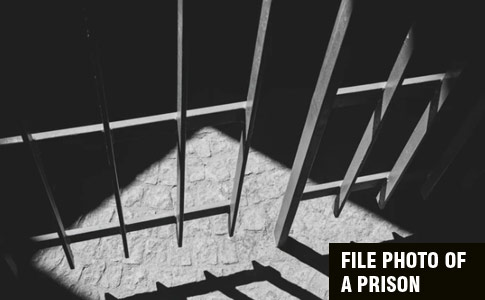 Dominic Ribera was charged with tampering with evidence after his dogs killed a man.
New Details Released
UPDATE 06/03/21: Additional details have been released about the May 24 mauling death of a man in Veguita. Dominic Ribera was arrested and charged with multiple felonies after the vicious attack. El Defensor Chieftain reports that four adult dogs were involved in the attack, including one shot by deputies when they arrived at the scene. Six puppies were also seized from Ribera's property. Blood samples were taken from the fur of the adult dogs and placed into evidence.
The criminal complaint states that while Lt. Richard Lopez and the county's animal control officer were at the scene, Lopez saw Ribera place wooden objects against part of his fence, covering a hole where dog tracks could be seen. It appeared the dogs were using the hole to escape the yard, the complaint states. One of the dogs taken into custody had recently bitten a neighbor. Another of Ribera's dogs had to be killed recently by a neighbor after it attacked his animals.
The Albuquerque Journal identified the victim as 53-year old Jose Ortega. He was discovered face-down near some chamisa bushes. He had been dead for several hours. There was a pack of aggressive dogs nearby -- some had blood on their faces. Lopez shot and killed one of the dogs and an animal control officer pepper sprayed several others, as the two men tried to round up the animals. All 10 dogs taken into custody at the scene were pit bull-mixes, reports the Journal.
Other details of the investigation were outlined in court documents, including statements from Ortega's niece, Leslie Martinez. "I knew his dogs were vicious, we all knew that something was going to happen," Martinez said. She said her uncle had gone to water the plants at the home of Ribera's neighbor when the attack happened. "He couldn't fight the dogs off, he wasn't strong enough," Martinez said. She said Ortega was disabled and had a number of health issues.
---
05/30/21: Man Killed by Dogs
Socorro County, NM - In another fatal dog attack, where police did not issue a press release after the attack, deputies found an adult male dead with torn clothing and bite marks on May 24. The owner of the dogs, Dominic Ribera, told deputies he went outside after he heard his dogs making noises, reports KOB-TV. Once he got outside, he discovered a man lying on the ground. Ribera was going to attempt CPR on the man, but after poking him with a stick realized he was dead.
Ribera has been charged with possession of a dangerous dog, failure to report a death, and tampering with evidence, according to authorities.
According to court documents obtained by KOB-TV, Ribera discovered the victim at 11:00 am, but waited three hours before contacting the police. The victim's niece, Leslie Martinez, told deputies that neighbors have contacted law enforcement about Ribera's dogs multiple times and even confronted Ribera about keeping his dogs secured, which he refused to do. Deputies seized 10 dogs from Ribera's property, including a pit bull-mix that deputies shot when they arrived.
Felony Tampering Cases
In the past two years, there have been at least two fatal pit bull attacks where felony tampering charges were brought afterward. The most recent was the death of 9-year old Robby Taylor in Arkansas. Trey Wyatt was charged with felony tampering with physical evidence and numerous other charges in connection to his death. In 2019, Daniel Alexander was charged with felony tampering with physical evidence at the scene after three pit bulls killed 46-year old Brian Butler.
Court filings indicate that on May 24, Ribera was charged with a third degree felony for the possession of a dangerous dog and the death of a person. (This statute is located on our Felony Dog Attack Laws page). He was also charged with a fourth degree felony for tampering with evidence and a misdemeanor for failure to report a violent death. The preliminary examination is scheduled for June 23, 2021. Court records indicate Ribera has a history of low-level offenses.
Related articles:
01/15/21: 2020 Dog Bite Fatality: 9-Year Old Boy Killed by Two Pit Bulls in Faulkner County
07/03/19: 2019 Dog Bite Fatality: Man Killed by Dogs in Western Kentucky, Three Pit Bulls...
---
Baseline reporting requirements:
Law enforcement departments across the United States should release consistent "baseline" information to the media and the public after each fatal dog mauling,
including these items
.