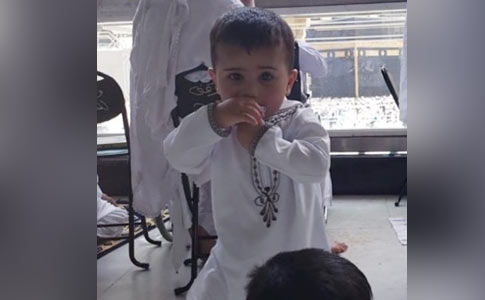 Aziz Ahmed, 3, was killed and his mother injured in a violent dog attack in Carteret.
No Criminal Charges
UPDATE 03/30/21: As expected, criminal charges will not be filed after the multi-victim attack by two pit bulls that killed 3-year old Aziz Ahmed and seriously injured his mother on March 16. New Jersey lacks a felony dog attack law, whereas California, Michigan and Texas do not. In short, there are no criminal codes available for prosecutors to charge the dog owner with. This is a travesty. State legislators are currently looking at legislation, but it's future is uncertain.
Two state legislators representing Carteret are looking to see that change for future dog attacks.

Assembly Speaker Craig Coughlin and Assemblywoman Yvonne Lopez, both D-Middlesex, have joined as prime sponsors of the "Responsible Dog Ownership Act" in the state Assembly that would enact stronger laws about the leashing and fencing of dogs, as well as enacting stronger and even criminal penalties for irresponsible dog owners.

Under the bill, which is expected to come up for a vote in May, dog owners found in violation of leashing or restrain regulations could face a fine of up to $500.

In addition, anyone who allows a dog to roam without a leash or restraint in a park or other public area where a child may be present, and the dog seriously injures or kills a child, could be found guilty of a third-degree crime and face incarceration.1 If the dog inflicts bodily injury, the person faces a fourth-degree crime and if the dog is loose or threatens a child, the person faces a disorderly persons offense. - MyCentralNewJersey.com
The child's mother, identified as Shabana Mohammad, was released from the hospital on March 25. A vigil was held on March 28, where attendees called for "Aziz Law." A co-worker of the boy's father said, "He was murdered by those dogs, and the owners should be held liable." The fundraiser to help the family relocate to a new home has has reached over $225,000. The vigil was the first and likely only time Aziz's parents have returned to their home on Laurel Street.
At least three separate civil claims can be brought, according to attorney David Cowhey, who specializes in dog attacks. "The little boy died through pain and suffering. The mother has medical bills and also the mental distress of watching these pit bulls kill her son right in front of her. And thirdly, the little boys watching through the window went through extreme emotional distress," he said. All three are contingent on whether the dog owner has a homeowner's insurance policy.
Finally, a word about Defeated Prosecutor Syndrome and Middlesex County Prosecutor Yolanda Ciccone. It is always devastating when there are no criminal codes available to prosecutors. Ciccone, however, never contacted Aziz's family before issuing her decision in emails to private citizens on March 23. Lacking in courage and courtesy, Ciccone also did not hold a press conference about her decision, which would have forced her to face media and public scrutiny.
Ciccone's actions are so sheepish and cowardly, they are literally "beyond the pale." Our hearts go out to Aziz's family members.
---
---
03/17/21: Relatives Speak Out
On Wednesday, Carteret Mayor Daniel Reiman issued a statement confirming that two unregistered pit bulls inflicted the multi-victim attack yesterday. At 4:30 pm Tuesday, a pair of pit bulls from a neighboring home on Birch Street breached a fence and entered into the backyard of a home on East Laurel Street. The dogs viciously attacked and killed a 3-year old boy and severely injured his mother. She remains hospitalized. Police shot and killed both dogs.
The young boy's family had moved to the home a few weeks earlier from Brooklyn. They are a father, mother and three young boys, reports Patch. Neighbors are stunned and heartbroken. Some broke down crying when interviewed by Patch Wednesday morning. One neighbor, Steve Koch, told Patch he heard the police gunfire. "I heard a single loud bang," he said. "I went outside and saw all the cop cars and ambulances. I saw an adult being carried out on a stretcher."
Carteret Fire dispatch audio logs: "I have a 3-year old with total evisceration, open to the face, head and thighs." - Broadcastify.com
CBS New York interviewed the child's relatives. The child's name is Aziz. Relatives said the boy's parents had pleaded with the dogs' owners to control their dogs. "The mother went to the neighbor two times to let her know the dog is wild. It is out of hand. And you know, the owner laughed it off," one female relative said. "This cost an innocent child his life," another said. "If you are not safe in your own yard, where are you safe at?" asked another. Relatives said the dogs "dug their way in."
A GoFundMe has raised over $50,000 with the goal of $250,000 to help the Ahmed family purchase a new home. A growing memorial outside the child's home includes: flowers, balloons, and candles. One relative told NJ.com that Aziz was the youngest of three sons and that his 10-year old brother witnessed the brutal attacks. "Imagine how traumatizing it's gonna have to be for his 10-year-old brother to have to see that from the screen of the window," the relative said.
Finally, the New York Post also published photos of the two suspected pit bulls from the owner's Instagram page -- we were correct about the dogs. Their names are Logan (black) and Rocky (brown and white). Both dogs were roaming in the area of East Laurel Street in October and were picked up by the Carteret Police Department. The Found Animals of Carteret NJ Facebook page called them "2 loveable guys." According to the boy's relatives, the dogs were habitually loose.
---
03/16/21: Dogs Kill Child, Injure Mother
Carteret, NJ - A 3-year old boy is dead and a mother left severely injured after a violent dog attack at a home in Carteret. Authorities responded to a residence in the 100 block of East Laurel Street in Carteret about 4:30 pm. The deadly attack occurred inside the family's fenced-in backyard. A neighbor said the dog (singular) came into the rear yard from underneath a fence. Two medivac air transports were called. The child was later pronounced dead. Two dogs are reportedly involved.
Video from ABC 7 shows crime scene investigators and police officers collecting evidence in the backyard. Apparently, the mother and her child had only recently moved into the home. A neighbor heard the mother frantically shouting. When he looked out his window, he initially thought she was playing with the dogs. When he realized it was a vicious attack, he called 911. Police shot and killed the dogs, according to ABC 7. The breed information has not been released by police.
A woman who knows the dog's owner told ABC 7, "The dog never showed any kind of aggression before, so it's just very surprising."
We obtained the audio dispatch files of Carteret Fire from Broadcastify.com. When medics arrived at the scene, the dogs were still "running loose." Two minutes later, "Get me a medivac!" Police sirens blare in the background. Next, they coordinate a landing zone. At 13 minutes, there is a status update. "We are responding to Laurel. Do we have an update on the condition?" Medic answered: "I have a 3-year old with total evisceration, open to the face, head and thighs."
Footage from NBC New York shows that the medivac landed at a nearby location. One can see EMT doing chest compressions on a small person lying in a stretcher. Witnesses said the dogs live at a home on the opposite side of the victim's backyard in the 100 block of Birch Street. The dogs burrowed under or broke through the fence-line to attack the boy. A news crew knocked on the dog owner's door, but no one answered. A "Beware of Dog" sign hung on their fence.
Suspected Dogs
Middlesex County property records indicate who owns the property in the 100 block of Birch Street. According to the owner's Facebook page, he owns up to three pit bulls. These very same pit bulls -- two of the three dogs -- were found "running in the area of Laurel Street" on October 23, 2020, according to the Found Animals of Carteret NJ Facebook page. "If anyone knows who their owner is please have them contact the Carteret Police Department." The owner was located.
By late morning Wednesday, multiple media outlets began confirming that two pit bulls carried out the attacks. Officials said the dogs were not registered with the borough. Carteret Mayor Daniel  Reiman said in a statement that the boy's mother remains hospitalized. The investigation is ongoing by the Carteret Police Department and the Middlesex County Prosecutor's office. The owner of the dogs has not been named by police. It is unclear if the owner will face charges.
---
Related articles:
05/28/20: 2020 Dog Bite Fatality: 9-Year Old Boy Killed by Two Pit Bulls in Arkansas
10/28/17: 2017 Dog Bite Fatality: Pit Bulls Kill 7-Year Old Boy in Lowell, Massachusetts
11/10/15: 2015 Dog Bite Fatality: Tenant's Pit Bull Kills Visiting Child on Long Island
---
Baseline reporting requirements:
Law enforcement departments across the United States should release consistent "baseline" information to the media and the public after each fatal dog mauling,
including these items
.