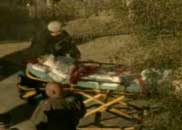 Injured Children Describe Pit Bull Attack
UPDATE 02/29/08: Two 10-year-old cousins are together again after one of them got his ear stitched back on. The attack happened at Zeb Polston's mother's home on Unity Church Road. The boys said they were outside when the male pit bull started sniffing Zeb's cousin, Devin Polston.
"He was smelling him, and then he jumped on him. Devin just fell, he fell down to the ground," Zeb said, who then got bit trying to help his cousin. Zeb's mother, Annmarie Polston, ran outside and was also bitten as she tried to pull the dog off of her nephew. The boys' screams alerted neighbor Justin Cauthen who later said:
"You can't trust a pit bull. Those dogs should be tied to a chain or in a pen. You can't let them run around inside a fence like this."
Sheriff's investigators said they don't expect any charges against the owner of the dogs -- Annmarie Polston's boyfriend. "The dogs were inside the fence like they should've been," said sheriff's spokesman Tom Holland.
DogsBite.org adds that it is very common for women and their children to be victimized by "their boyfriend's" pit bull.
Cousins Hospitalized After Pit Bulls Attack
02/28/08: Lancaster County, SC - Two pit bulls viciously attack two 10-year-old cousins. One of the boys was so badly hurt he was flown to Carolinas Medical Center for care. The second boy was taken to a local hospital for treatment.
Authorities say the attack happened as the boys came out into the front yard of the home where they were playing. They also say the attack was unprovoked. A neighbor, Richard Hopkins, heard one of the boys' mothers screaming and rushed to help.
"The little boy's ear, half his ear had done been bit off dangling, big hole in back of his head, two or three holes in his back where that dog just latched on him."
The boy with the torn ear was already inside the house by the time he arrived, but the other was still trying to get away from the dog. He said the boy was trying to crawl over the fence, but that "the dog was literally grabbing his leg trying to pull him back."
He says the boy's mother, who lives there with the dog, was trying to fight it off, but couldn't. "The dog was dragging her around. He done got the taste of blood," Hopkins said.