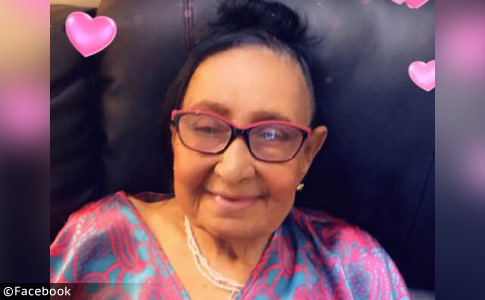 Coco, 86-years old, died after a rampage attack carried out by two family pit bulls.
Corresponding Post
Oviedo, FL - On the morning of May 22, a Seminole County Sheriff deputy responded to a home in the 4600 block of Tiffany Woods Circle. Upon arrival, the deputy was met by individuals "yelling and screaming saying that the two dogs had gone crazy" and that "multiple people had been bitten," according to the sheriff's report. Three family members were transported to a hospital with severe dog bite injuries. The elderly family member died while still hospitalized on June 20.
Despite the dramatic nature of this multi-victim family pit bull attack, there were no media reports. We learned of it after requesting public records.
The deputy observed "an elderly female laying on her side on a futon," states the report. She was surrounded by a large amount of blood. "Her right arm was obviously broken with the bone sticking out of the skin near the wrist." There was a large amount of blood around her head area due to a facial bite, according to the report. This victim was 86-year old Modesta Socorro Portes Morilla, affectionately known by her family as "Coco," and the dog owner's grandmother.
The deputy then located another victim, the mother of the dogs' owner, Yessenia. The woman had a "curtain wrapped around her lower right arm" and blood on her feet, states the sheriff's report. She told the deputy the dogs had "bitten her repeatedly." She said for an "unknown reason" the two dogs attacked her mother. Both she and her husband (Nelson Sr.) were outside when she heard her mother screaming. When the couple tried to protect her, the dogs attacked them.
"Yesterday in tragic accident my dad Nelson, my mom Yessenia, and my grandma, Coco, were all viciously attacked by our two pit bull dogs, who they raise since there since little puppies so this was very unexpected. They have all suffered severe injuries from these painful bites, my dad losing part of his right ear. All three are currently hospitalized and unfortunately Coco is in intensive care, intubated and awaiting surgery to repair a broken wrist. My dad and mom are caregivers for Coco who suffers from Alzheimer's, and are now unable to care for her, as they themselves need to recover from the sustained injuries to their arms. My dad will be not be able to return to work for a while so we ask that you please help with whatever you can assist with their medical bills. Every little bit helps. We would also appreciate much needed prayers. Thank you so much. The link to the Go-Fund me account will be in my bio." [sic] - Nelson Caamano Jr., May 24, 2020.
The owner of the dogs (Nelson Jr.) told the deputy that he and his brother had been asleep in their bedrooms when they heard their grandmother screaming. "Nelson reported that he used a frying pan on the dogs to try to get them to stop attacking," states the report. His father also received multiple bites while he attempted to save his grandmother. Nelson Jr.'s parents and Coco were taken to Orlando Regional Medical Center "due to the trauma of the injuries," states the report.
Seminole County Animal Services took both dogs into custody, states the report. We also received the "Event Report" from the Seminole County Sheriff's Office, which is a written log file as the event unfolds. At 7:52 am, a 911 caller states, dog is "killing everyone." Two minutes later, a caller states, "There is blood everywhere" and dogs "attacking grandma" and "dog attacking husband" and "pit bull." The family was able to secure the dogs in the bathroom before responders arrived.
Rampage Attack
What happened in the Caamano home that day is characterized as a "rampage attack," when a pit bull attacks and seriously injures three or more people. This attack involved a pair of pit bulls, unlike the single male pit bull that attacked four family members, killing one, back in February. "The initial investigation indicates the dog, which was owned by the victims, was unprovoked and attacked for an unknown reason," stated a news release by the Plainfield Police Department.
The victim that died in Plainfield was the dog's owner, a 25-year old male. Rampage attacks carried out by pit bulls are not limited to the elderly.
The rampage attack at the Caamano home was described similarly. Yessenia told the deputy the pit bulls attacked her mother for an "unknown reason." It took two adults fighting off the dogs and a third adult, the dogs' owner, using a frying pan on the dogs to stop the violent attack. According to photos located on the family's Facebook pages, one of the pit bulls, named "Tony," is about 5-years old. It is unknown how old the second pit bull was or how long it had been with the family.
Coco died of "complications of multiple dog bites," according to the autopsy report. She suffered "multiple dog bites to face and neck," multiple bites to her arm with an open fracture to her right wrist, "dog bites to right leg" that developed into sepsis with complications, multiple contusions and abrasions. Dementia and chronic obstructing pulmonary disease were contributing factors in her death, states the medical examiner's report. The manner of death was ruled an accident.
The Dogs' Owner
What is striking is how open this 23-year old owner was after this rampage attack. We did not discover his post until after obtaining records from the District Nine Medical Examiner's Office. Nelson Jr., made an honest plea to help his parents and grandmother who had been severely injured by the family's two pit bulls. Nelson Jr., his parents, siblings and Coco all lived at the home with the dogs. The family raised $7,745 in a fundraiser after the attack that is no longer active.
What this family in Oviedo experienced is horrific. According to Nelson Sr., his wife had to be readmitted to the hospital due to "serious infections." One commenter stated the following in Spanish on his page (that we can only translate with Google): "Nelson, I feel in my soul what happened, to you, your wife and mother-in-law … I already contributed something to your portal. Let's see if they can count as a step, so that other people who have these dogs are more aware."
Awareness Indeed
Multiple female senior citizens were killed by pit bulls belonging to their children this year, including 76-year old Karen Wilkerson, killed by her daughter's two pit bulls in Oklahoma; 84-year old Carolyn Varanese, killed by her son's adopted pit bull in Florida; 72-year old Barbara Cook, killed by her daughter's two pit bulls in Louisiana; 70-year old Katie Amos, killed by her son's pit bulls in Illinois; and 64-year old Geraldine Hamlin, killed by her son's two pit bulls in Louisiana.
Multiple male citizens, 60-years and older, were killed by pit bulls belonging to younger relatives as well, including 61-year old Stephen Pemberton Sr., killed by his stepson's two pit bulls in Illinois and 76-year old Harvey Harmon Jr., killed by four dogs, including two pit bulls belonging to his nephew in Mississippi. At least two of these victims, Coco and Varanese, suffered health problems that required caregivers. These ages and medical conditions are highly incompatible with pit bulls.
Unreported Fatalities
There have been at least five unreported dog bite fatalities during this Covid-19 year, 14% of the total recorded deaths so far (5 of 37). Four deaths involved pit bulls and one death involved a bull terrier. Not all deaths have a dedicated blog post either, like this case we added to the 2020 Summary page on October 10. That death involved a spayed family pit bull killing an infant. Again, no media reports. It is also disconcerting when a full-fledged rampage attack goes unreported.
We had to contact three different agencies in Florida to obtain information for this report. Thus far, we have nine large records requests still outstanding -- some pertain to multiple years. We are sending more next week too. Six record requests have been completed since August. One uncovered another death in 2019, also inflicted by a family pit bull. With all of the different state privacy laws, it is unknown how many of our outstanding requests will actually be fulfilled.
Summary
The family pit bull rampage attack in Oviedo required three ambulances. The Event Report stated a fourth victim was transported to the hospital too. While looking on Broadcastify.com for the audio dispatch log files for the responding fire department, we noticed that all files correlating to the time of this rampage attack were missing -- a coincidence? Irregardless, emergency responders should develop a new protocol for multi-victim rampage attacks. A "dog bite" protocol does not suffice.
View the DogsBite.org Google Map:
Florida Fatal Pit Bull Maulings
.
Related articles:
07/22/20: 2020 Dog Bite Fatality: Unreported Fatal Pit Bull Mauling of 2-Year Old Boy in Stockton
05/15/20: 2020 Dog Bite Fatality: Woman Dies After Suffering Life-Threatening Injuries...
04/07/20: 2020 Dog Bite Fatality: Man Dies Seven Days After Violent Pit Bull Mauling...
---
Baseline reporting requirements:
Law enforcement departments across the United States should release consistent "baseline" information to the media and the public after each fatal dog mauling,
including these items
.