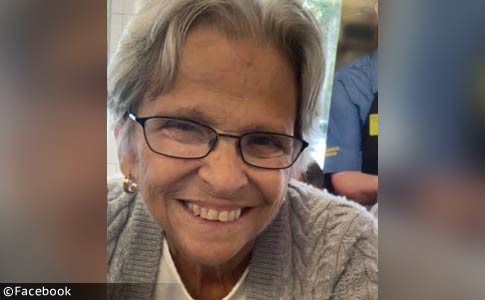 Barbara Cook, 72, died after being attacked by her daughter's two pit bulls near Mandeville.
The Dogs' Owners
UPDATE 06/28/20: On Friday, multiple news articles clarified that the two pit bulls belonged to one of the victim's daughters, Janell Callender. She and her husband Cody Callender also lived at Cook's home on Nancy Street. Cody has a long history with the law, starting over a decade ago. As recently as July 2019, he was charged with a parole violation, simple battery, at 635 Nancy Street. On June 25, Barbara Cook was brutally attacked and killed by the couple's dogs.
According to Cook's other daughter, Charlotte Guidry, this was not the first time the pit bulls had attacked Cook. In fact, there had been more than one previous attack. "They bit her in the face and throat, on the lip, gave her a black eye," Guidry said of the previous attacks. "One time the excuse was that she was bending down to kill a roach and the dog thought she was going after Janell." It is unknown if the previous dog bite incidents were reported to local authorities.
It is unlawful in St. Tammany Parish to fail to report a dog bite, especially if it caused serious injury. It is the duty of the owner "immediately to notify the parish department of animal services, and surrender said dog of animal to any representative of the parish department of animal services" after a bite. "Any law enforcement officer or animal control officer may take possession of any animal that bites a person or is reported to have bitten a person within the limits of the parish."
We also learned that Cook had been trying to protect her 10-year old grandson from the dogs when the dogs attacked her. This grandson is the son of Cook's youngest daughter (neither Janell or Guidry). After the 10-year old tried to stop the attack, he ran next-door to get help, where Cook's daughter-in-law lives. The daughter-in-law and her son rushed over and tried to break up the attack. The daughter-in-law is the person who called the St. Tammany Parish Sheriff's Office.
---
Note: Six days after Janelle and Cody's two pit bulls killed Barbara, Janelle began selling the recent litter of puppies from the two pit bulls on Facebook. One person asked her, "You are selling puppies that will carry genetics/traits from the poorly bred pit bulls that killed Barbara? And posting this on Facebook with none of that information being passed on?" Janell claimed the puppies were "Staffordshire terrier and Razor edge blue" and her asking price for each puppy was $100.
---
06/26/20: Pit Bulls Kill Elderly Woman
Mandeville, LA - An elderly woman died at the hospital after being attacked by two family pit bulls Thursday at her home, authorities confirmed. St. Tammany Parish Sheriff's Office (STPSO) responded to a home around 2:15 pm in the 600 block of Nancy Street. Both pit bulls were still attacking the victim when deputies arrived. When deputies intervened to stop the attack, the dogs turned on them. The deputies open fired on the dogs, killing one. The other dog fled the home.
After applying a tourniquet to the woman and providing other medical aid, the deputies located the second pit bull in a nearby yard. The dog charged them, and once again, deputies opened fired, this time killing it. A child at the scene, who also tried to stop the attack, received superficial injuries from the dogs. The victim was transported to a local hospital in critical but stable condition. Late last night, one of her niece's posted a photo of her. She is identified only as "aunt Barbara."
A neighbor also sustained bite wounds and was treated by paramedics at the scene. "This is very sad," Sheriff Randy Smith said. "My thoughts and prayers go out the victim's family and to the neighbor who was injured trying to help her. I also thank the deputies who responded and provided medical care in an effort to try and save this woman's life." Barbara marks the third victim -- all females, 60-years and older -- killed by family pit bull-type dogs in Louisiana this year.
Afternoon Updates
The victim has been identified as Barbara Cook. At the time of the attack, she was babysitting her 10-year old grandson at her home on Nancy Street. According to one of her daughters, Charlotte Guidry, after one of the pit bulls snapped at the child, Cook placed herself between the dog and the boy to protect him. Both pit bulls then viciously attacked Cook, biting her on the arms, throat and face. Cook died Thursday night, as doctors were preparing to do surgery, Guidry said.
Guidry said Cook had been attacked by these dogs before, which belong to Janell Callender, another daughter of Cook who lives at the home. "They bit her in the face and throat, on the lip, gave her a black eye," Guidry said of the earlier attacks. "One time the excuse was that she was bending down to kill a roach and the dog thought she was going after Janell." Guidry's daughter, Naquisha Forstall, warned Cook that if she did not get her aunt out, these dogs could kill her.
Forstall also confirmed the pit bulls had recently had a litter of puppies.
Pit bulls routinely kill family members and their owners. Pit bulls belonging to a son or daughter that kill their mother is common too. This occurred as recently as June 3, when Katie Amos, 70, was killed by her son's four pit bull-cane corso mixes. This scenario also occurred in the Shreveport attack in February, when Geraldine Hamlin, 64, was killed by her son's two pit bulls. Cook's death is especially egregious, given that Janell's dogs had previously attacked Cook.
Police should seriously consider filing elderly endangerment charges in these cases.
View the DogsBite.org Google Map:
Louisiana Fatal Pit Bull Maulings
.
Related articles:
05/07/20: 2020 Dog Bite Fatality: Woman Dies After Suffering Life-Threatening Injuries in...
02/29/20: 2020 Dog Bite Fatality: Woman Killed by Two Family Pit Bulls in Shreveport, Louisiana
07/20/16: 2016 Dog Bite Fatality: Family Pit Bull Kills 71-Year Old Woman in Southwest Detroit
---
Baseline reporting requirements:
Law enforcement departments across the United States should release consistent "baseline" information to the media and the public after each fatal dog mauling,
including these items
.