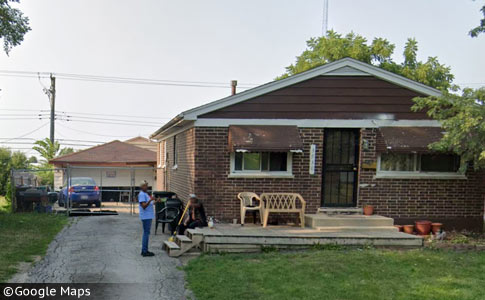 Katie Amos, 70-years old, was mauled to death in her driveway by up to four dogs.
Woman Killed by Dogs
Country Club Hills, IL - A 70-year old woman was mauled to death by one or more dogs, according to the Cook County Medical Examiner's Office. Katie Amos was fatally attacked in the 3900 block of 167th Place at about 10:35 am on June 3. An autopsy determined that she died of her injuries. The manner of death was an accident. Country Club Hills police have not yet responded to a request for additional details. Amos' death marks the third fatal dog attack in Illinois this year.
Audio dispatch logs from Tinley Park and Orland Park Police, Fire / EMS show a call for an animal bite came in at 10:38 am. Ambulance 14 was dispatched to the scene. While en route, he reports, "An adult female being attacked by a group of large dogs. Police are en route." When the ambulance arrives at the scene, he reports, "The patient is in the rear yard." Google Maps shows that Amos lived at a residence with a gated area behind the home that leads to a garage.1
Afternoon Updates
Country Club Hills police said that Amos died after being attacked by four dogs in her driveway on 167th Place. Responding officers open fired on the dogs so they could enter the gated area in the back of the driveway where Amos was located. One of the dogs was shot and killed and the other three fled the driveway into the neighbor's yard. Cook County Animal Control took custody of all four dogs, which all belonged to Amos, and resided at the location where the attack occurred.
Merrill Amos also resides at this location on 167th Place and runs a backyard pit bull breeding operation, according to his Facebook page. As recently as February, he called four pit bull puppies "champions" and his asking price was $700. Police have not released the breeds of dogs involved.
View the DogsBite.org Google Map:
Illinois Fatal Pit Bull Maulings
.
1
The audio dispatch logs do not say "West 167th Place," as media outlets are reporting, just "167th Place." Google Maps shows that 167th Place and Sunset Ridge Drive overlap, and that 167th Street runs parallel. Also, Fire and EMS were called to an address that was actually next door to the victim's home. The attack location was essentially in between the two homes behind a gated area that leads to a garage on the victim's property.
Related articles:
05/12/20: 2020 Dog Bite Fatality: Woman Found Dead After Attack by Own Dogs in Illinois
02/11/20: 2020 Dog Bite Fatality: Pit Bull Attacks Four Family Members, Killing One, in Illinois
---
Baseline reporting requirements:
Law enforcement departments across the United States should release consistent "baseline" information to the media and the public after each fatal dog mauling,
including these items
.