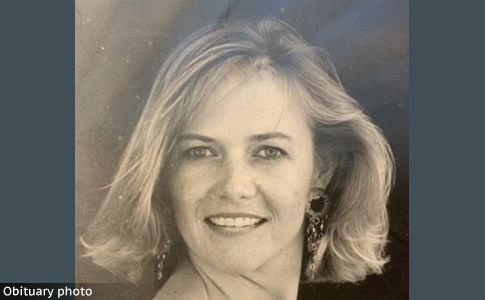 Roxie Parker, 60-years old, died of her injuries after a vicious dog attack near Welsh.
UPDATE 05/15/20: We continue to wait on an incident report from the Jefferson Davis Parish Sheriff's Office. The investigation is still active. Once the case is closed, we will be able to obtain the report. We were, however, able to gain confirmation of several important aspects. The dog involved is a large white and brown male bull terrier. The sheriff's office did not have any prior bites or complaints on the dog. The owner put the dog down on the day of the attack at the residence.
Roxie Parker had raised the dog with the owner since it was a puppy, according to the sheriff's office. The suspected dog we located is an adult male bull terrier. Prior to the modern bull terrier, the breed's confirmation was vastly different. Some "working" bull terriers continue to be crossed with Staffordshire bull terriers in fighting lines, especially in Ireland (see: Ch Stormer and Ch Nellie).1,2 Up until 1965, the names bull terriers, pit bulls and pit dogs were interchangeable.
---
05/07/20: Roxie Parker Obituary
Welsh, LA - On April 20, a 60-year old woman was viciously attacked by a dog and died of her injuries four days later. This attack first came to our attention on May 5, when we were alerted to an April 24 post by RJ Hanks, who knows the victim's sister. "A sweet friend from high school just posted that her sister (who survived the tornados that ripped through their neighborhood on April 12th), was attacked by a pit bull on April 20th and was declared brain dead today," Hanks wrote.
Hanks did not name the victim in the April 24 post. Hanks is based in Baton Rouge, so we presumed he or she was referring to the April 12, 2020 Easter tornado that struck Monroe, Louisiana. On May 7, we were able to locate the victim's obituary along with her family members on Facebook. Roxie Wright Parker died "following a dog attack that left her with injuries too extensive for recovery," states her obituary. Parker had moved to Monroe sometime last year.
Parker's last public Facebook post states in part, "Survived the tornados that hit Monroe. Terrible destruction just blocks away from me. Heard it and saw tree limbs go by and no electric since 11:30 am." Prior to Hanks' post, the victim's daughter had already posted publicly about the dog attack. "She was viciously attacked by a dog and sustained several life threatening injuries. She's fighting for her life and needs all the prayers in the world," Jana wrote. Parker died the next day.
The Johnson Funeral Home obituary states she died at a Lafayette hospital on April 24. The obituary about her life was published in The News Star from May 2 to May 3. As of May 7, the newspaper has not reported the April 20 dog attack. We have discovered zero media reports at this time. Her obituary also states, "She also loved her little dog, Danny Boy, that she tried to save." On April 30, her daughter Jana began asking the public for help in locating the small dog.
Jana posted to the Facebook group, Stolen or Lost Pets in Jeff Davis Parish, that Danny Boy was last seen off Highway 99 near Martin Road, "when a terrible accident happened involving a dog attack and my mother passing away." Jana added, "Danny Boy was her beloved dog and he's gone missing since the day of, last Monday, April 20th." Accordingly, the attack occurred south of Welsh, which is about 200 miles away from Monroe, and it appears to be a rural, isolated area.
We do not know the time of day of the attack or any circumstances involved, only that Parker had tried to save Danny Boy from the vicious dog. The presumed location of the attack lies in the middle of three different fire department zones; any one of them could have responded to that call. So until we get information about the estimated time of the attack, we will not be able to locate the audio dispatch log files. Nor can we verify the breed of dog based upon what Hanks wrote alone.
"Roxie was known for her pretty face, her brilliant smile, and friendly personality, making friends wherever she went," states her obituary. "She was a devoted, loving mother to her two girls. She adored them and she loved to tell you about them." She raised her girls in Baton Rouge and in Fairhope. "Last year she moved to Monroe to be close to her dad and stepmom," states her obituary. A memorial service for Parker will be held in Baton Rouge at a later date, it states.
A Devastating Loss
Parker's mauling death is unimaginably tragic, devastating and cruel. From the location of the attack to her two beautiful daughters, her lost dog Danny Boy who she tried to save and to what must have been a horrific attack scene and injuries. We hope her daughters are able to locate Danny Boy. That Facebook post had a number of shares. We will attempt to obtain any public information that we can through a FOIA request to the Jefferson Davis Parish Sheriff's Office.
View the DogsBite.org Google Map:
Louisiana Fatal Pit Bull Maulings
.
Related articles:
02/29/20: 2020 Dog Bite Fatality: Woman Killed by Two Family Pit Bulls in Shreveport, Louisiana
09/13/17: 2017 Dog Bite Fatality: Woman Brain Dead After Pit Bull Mauling Near Bozeman
---
Baseline reporting requirements:
Law enforcement departments across the United States should release consistent "baseline" information to the media and the public after each fatal dog mauling,
including these items
.