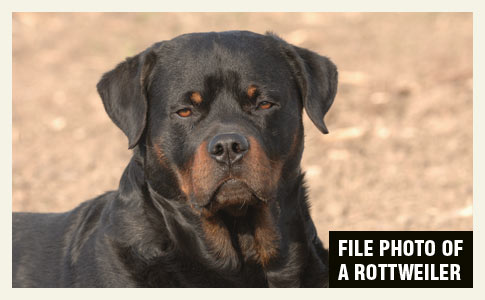 Jeannette Vaughn, 3-months old, was killed by one of her family's rottweilers.
Criminal Charges Unlikely
UPDATE 12/21/10: New information reveals that baby Jeannette Vaughn was inside the home when one of the rottweilers pushed through a washing machine and a heavy slab of marble and mauled the infant to death. In a separate article, Chris Glaser of Bureau of Animal Regulation and Care (BARC)1 was quick to point out to abc13.com reporters, "You can't judge the family unless you know exactly what happened" and "you can't judge the dog breed."
This is despite the fact the Vaughn family had over 1,000 pounds of dogs -- all rottweilers and rottweiler-mixes -- in their home, two of which had known problems with the baby and were kept away from her, and that rottweilers trail only pit bulls in serious and fatal mauling attacks. Deputy Thomas Gilliland of the Harris County Sheriff's Office said there will likely be no charges filed. "As of this time right now, we're looking at it as a tragic accident," he said.2
Hoarders and Breeders Pile Up
The combination of hoarders and breeders continues to pile up in 2010 fatal attack statistics. This case marks at least the 9th (27%) of the 33 recorded deaths this year. Hoarding incidents include: Michael Winters, 30 (OH), Cason Byrant, 5 (AL) and Kaden Muckleroy (TX). Breeder incidents with six or more dogs on property3 include, Johnny Wilson, 56, (IL), Christina Stab, 37 (PA), Violet Haaker (FL), Taylor Becker (WI), John Reynolds, 84 (MO) and Jeannette (TX).
12/20/10: Mother Hysterical, "In Shock"
The newest fatal dog attack is being blamed on a rottweiler of at least 150 pounds. The dog -- one of nine dogs in the home -- forced open the back door and attacked the 3-month old girl who was in a baby swing. Authorities said the child's mother, Alva Vaughn, 41, thought she had secured the back door by "sliding a washing machine and slab of marble" behind it before going into the bathroom to bathe the biter's father, a 200-pound rottweiler.4
Harris County Sheriff's homicide sergeant Felipe Rivera said, "It's a horrible, horrible deal. But a child is dead. Parents have to put the child first, animals later. You have to maintain the child's safety." Rivera added that the scene was chaotic with so many dogs running around. Eight dogs were in the backyard when the attack occurred. Animal control removed all nine dogs -- four rottweilers and three mixed-breeds. The case is being referred to a grand jury.
12/20/10: Texas Infant Mauled by Dog
Houston, TX - In a developing story, a 3-month old baby died in northwest Houston Sunday after being mauled by the family dog. Harris County deputies responded to the incident. They did not release the child's name or any details about the dog. The child was rushed to Texas Children's Hospital but did not survive its injuries. No charges have been filed by authorities so far. This latest fatal dog attack follows the death of an East Texas toddler in November.
View the DogsBite.org Google Map:
U.S. Fatal Rottweiler Attacks By State
1
Glaser is employed by the City of Houston to, "promote and protect public health and animal care," not to defend dangerous dog breeds.
2
While these occurrences are tragic, they are not accidental.
3
At the time of Violet's death, Lori Haaker only had 4 dogs on the property, but Haaker was an established breeder operating the Dream Bulldog Ranch.
4
News continues to unfold in the fatal mauling of Jeannette Vaughn. Click2Houston.com and KHOU.com are reporting that authorities do not know which of the rottweilers killed the baby. They also upped the family's dog count from eight to nine.
Related articles:
10/25/10: 2010 Fatality: "Very Loving" Pit Bull Kills Baby in Jacksonville Home
04/15/10: 2010 Fatality: Pit Bull Kills 7-Day Old New Port Richey Boy
02/24/10: 2010 Fatality: 5-Day Old Infant Killed by Family Pit Bull
08/18/09: 2009 Fatality: Infant Killed by Pet Pit Bull in Hardy County