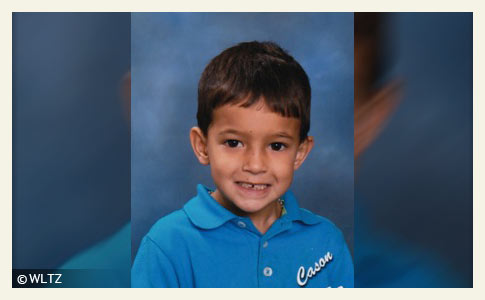 Cason Bryant, 5-years old, was killed by a pack of mixed-breed dogs.
Funeral Arrangements Set
UPDATE 11/17/10: Russell County Sheriff-Elect Health Taylor says his office determined that 5 of the 12 mixed-breed dogs attacked the child. All of the dogs were voluntarily handed over to be euthanized. All but one of the dogs belonged to the victim's neighbor, who remains unnamed, the other belonged to the victim's family. Criminal charges are unlikely against the neighbor despite his failure to keep his 11 dogs contained.
In an article published yesterday, Taylor said that he believes that the neighbor's dogs [who escaped their owner's property] got into a fight with the Bryant's dog and the little boy [who was in his yard], "was in the wrong place at the wrong time." Taylor added, "Somehow in that fight the child was either in the middle of them when they started fighting or had tried to get his dog off of them and that's how eventually the dogs turned on the child."
Taylor called the incident an "unfortunate tragedy."1
11/15/10: Victim: 5-Year Old Cason Bryant
Phenix City, AL - In a developing story, a 5-year old East Alabama boy was mauled to death by a pack of "wild dogs"2 Monday. Russell County Coroner Arthur Sumbry said Cason Bryant3 was attacked by as many as 12 dogs. The child suffered numerous bite injuries and was pronounced dead at 2:32 pm at The Medical Center in Columbus, Georgia. An autopsy is currently underway, preliminary results are expected soon. Authorities continue to investigate.
1
It is NOT an "unfortunate tragedy" when 11 dogs escape a property and at least 4 participate in the killing of a human being. This is indeed criminal, but not so under Alabama's "pro-dangerous dog lobby" state laws.
2
In the video, Sheriff Heath Taylor states that the child was not mauled by a pack of "wild dogs." The boy was attacked by his neighbors dogs that had escaped their fenced property.
3
The victim's name was initially reported as Casey Bryant.
Related articles:
12/14/09: 1996 Fatality: 4-Year Old Wheeler Boy Killed by Loose Chow-Mix Dogs
08/19/09: 2009 Fatality: Senior Couple Killed by Pack of Dogs in Oglethorpe County
07/01/09: Pack of Wild Dogs May Have Killed Elderly Man in Alabama