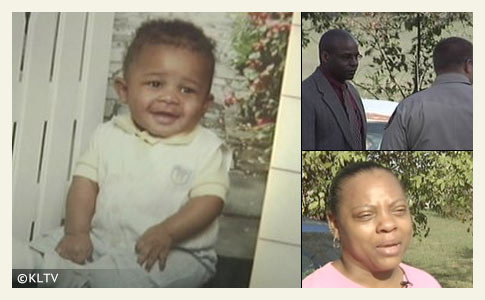 Kaden Muckleroy, 2-years old, was mauled to death by his grandfather's pit bull.
Compounded Pain
UPDATE 11/11/10: TylerPaper.com reports painful news about Kaden Muckleroy's family, including that the boy's father was murdered last year. "Please Lord, we can't take no more. We just can't take it," Rosie Jordan, a cousin of Kaden, shouted out Wednesday night at the home on Rusk County Road 421 where the incident occurred. Family members said the child had been playing on a swing set when the pit bull freed itself from its chain and attacked the boy.
Sheriff Danny Pirtle said nearly 40 dogs were taken from the home. He said he did not know why the Muckleroys had so many dogs. Pirtle said that the dogs do not appear to have been used in dogfighting. There were several pit bulls at the location. The other dogs seemed to be a variety of mixed breeds. When asked about his thoughts on pit bulls, Pirtle grimaced and said, "This is the second attack that ended in death in just two years. I think something needs to be done."
Family members said the dog that attacked Kaden belonged to Muckleroy's son Calvin, who was murdered in Longview last year. Kaden's aunt, Mary Candie, said, "He (Muckleroy) wanted the dog as a living memory to his son. He went to the pound and paid for this dog that did this." Candie said that Muckleroy took in dogs that no one else wanted. Moments later, Muckleroy climbed into his pickup and plowed through the many dog pens in his backyard.
Moments after saying that, Muckleroy climbed into his pickup and rammed into the numerous dog houses and dog pens in his backyard.
The crashing sound of wood being hit mixed with the grating sounds of metal as the truck lurched forward eating the pens that had been holding his beloved animals.

Ms. Candie said the family was set to go to court Monday in relation to her brother's murder and added two weeks before his murder, her niece also was murdered.

"It has been a difficult year, a real difficult year, and it just keeps coming," she said. "If not for the grace of God, I wouldn't be standing, because He is holding me up."

Moments later, the family's faith would be tested again.

"Oh no. Oh no," Ms. Jordan shouted. "It can't be true."

As family members rushed to the crying woman, they learned a cousin hanged herself after hearing about Kaden's death. - Kenneth Dean, Tyler Morning Telegraph, November 11, 2010
11/10/10: Victim: 2-Year Old Kaden Muckleroy
Rusk County, TX - In a developing story, a 2-year old boy was killed by a pit bull today in the same county where Justin Clinton was killed by two pit bulls last year. The dog's owner, Kelvin Muckleroy, was the victim's grandfather. The dog was chained to a tree in the yard of the home where the attack occurred. Authorities removed the offending pit bull as well as 29 additional "kennel kept" dogs at the residence. The breed(s) of these dogs was not stated in the release:
On Wednesday November 10, 2010 at about 11:03 am the Rusk County Sheriff Office received a call from East Texas Medical Center (Henderson) emergency room requesting an officer to respond to the hospital in regard to a two year old child being deceased as the result of a dog attack. Upon arrival deputies learned that Helen Muckleroy B/F 2-10-75 transported her two year old son Kaden Muckleroy to the hospital from her residence (1950 Rusk County road 421 N. Henderson Texas) for treatment of dog bites from a pit bull dog attack. Further investigation indicates that the dog's owner, Kelvin Muckleroy B/M who is the victim's grandfather had the dog chained to a tree in the yard of the residence where the attack occurred. Muckleroy has consented to the release of the animal as well as about twenty nine additional kennel kept dogs to the Rusk County Sheriff Office. At this time the Sheriff Office is currently conducting an investigation and will release information as is appropriate. (Ron Duncan, Rusk County Sheriff's Office)
View the DogsBite.org Google Map:
Texas Fatal Pit Bull Maulings
.
Related articles:
09/05/09: 2009 Fatality: 2 Pit Bulls Kill 10-Year Old Boy in Rusk County, Texas
05/15/09: 2009 Fatality: 2-Year Old Boy Killed by Pit Bull in Luling, TX
04/01/09: 2009 Fatality: 7-Month Old Boy Killed by Grandmother's Pit Bulls
11/08/08: Fatal Dog Mauling Trial of Tanner Joshua Monk, 7 Years Old