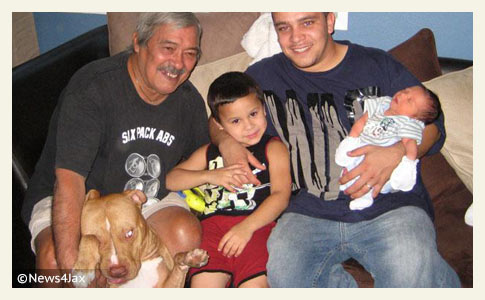 At left, the"very loving" family pit bull, at right, the now deceased infant.
Parents Release Photo
UPDATE 10/26/10: Perhaps trying to avoid child neglect charges, the baby's parents released a propaganda photo showing their "loving pit bull," Briggs, near their newborn. The baby's father, Mark Valentin, said the dog attacked the baby on the bed while the mother took a shower. "I don't know what happened," Valentin said. "My wife went to the restroom and the dog got to the baby. We're not neglectful parents." DogsBite.org hopes authorities beg to differ.
Pit bulls and babies do not mix. This baby is dead because his parents are arrogant and willfully opted into irresponsible pit bull propaganda.1
What will the baby's parents say next? That it was a freak or tragic accident, despite the breed's 30-year horrific safety record? Pit bulls were selectively bred for unpredictable and unbridled aggression for the purposes of dogfighting. The public is not shocked -- though they should be outraged -- when another fatal pit bull mauling occurs. Pit bull owners, who know far more about the breed than the public, certainly cannot feign, "not neglectful" after an attack.
10/26/10: Grieving Parent Speaks Out
New information published by News4Jax.com says that the parents had only "left their baby for just a few seconds"2 when the pit bull attacked. The father said that the family "raised the pit bull since it was a puppy" and that the dog "never showed any signs of aggression" towards anyone in their family. The day that police and child protection agencies stop honoring these cliche excuses from pit bull owners, is the day that children will championed instead of buried.3
      The baby's father told Channel 4's news director, Maureen Baker, that he and his wife left their baby for just a few seconds to use the bathroom. The father said that is when the dog attacked the baby.
The father said he and his family are grieving over the tremendous loss of their child. The father said the family raised the pit bull since it was a puppy and that the dog never showed any signs of aggression toward anyone in their family. - News 4 Jax, October 25, 2010
10/25/10: Pit Bull Kills Newborn in Home
Jacksonville, FL - In a developing story, WOKV.com reports that a local family is planning a funeral for their newborn child after it was attacked and killed by a pit bull in their home. The child was fatally bitten Sunday night about 10 pm off Dixon Road and University Boulevard. The newborn was rushed to Shands Hospital, but did not survive the injuries it suffered. According to WJXT TV-4, animal control workers euthanized the offending red pit bull.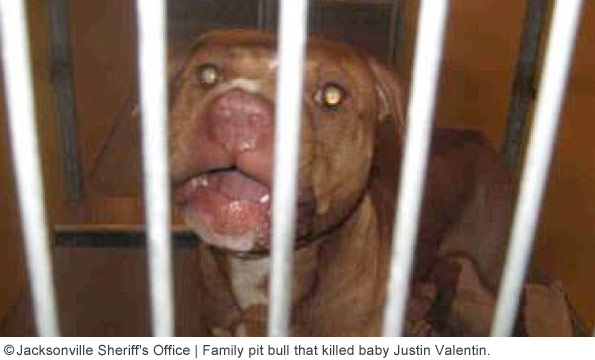 1
Google pit bull and baby to locate examples of this propaganda.
2
"Stepped away" is another commonly used term.
3
In a related video, Leona Sheddan, Executive Director of the Jacksonville Human Society, states an

incredulous falsehood

about 2008 dog bite fatalities. Sheddan said there were only 8 fatalities -- as opposed to the documented 23 -- and that the deaths "primarily" affected the elderly and babies. So, 24-year old Kellie Chapman (killed by her own pit bulls), 34-year old Robert Howard (killed by a stray pit bull), 62-year old Chester Jordan (killed by his daughters pit bulls) and 60-year old Gerald Adelmund (killed by his family's pit bulls) never happened? Sheddan also claimed that one of the victims was killed by a Chihuahua, another

falsehood

.
Related articles:
04/15/10: 2010 Fatality: Pit Bull Kills 7-Day Old New Port Richey Boy
02/24/10: 2010 Fatality: 5-Day Old Infant Killed by Family Pit Bull
08/18/09: 2009 Fatality: Infant Killed by Pet Pit Bull in Hardy County
Photo: News4jax.com