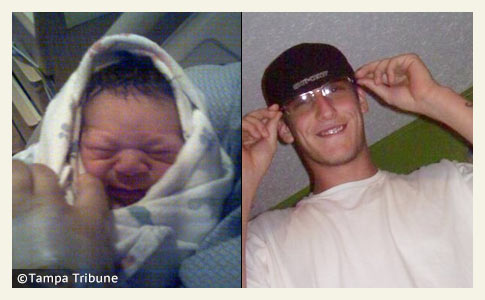 Thomas Carter Jr. before his mauling death and his father, Thomas Carter Sr.
Repeat Offender
UPDATE 04/15/10: Details continue to emerge in the Pasco County fatal attack. After killing the newborn, Sidon attacked another household pit bull that was chained in the backyard. Kevin Doll, a spokesperson for the Pasco County Sheriff's Office, said the infant's mother underwent a toxicology test to determine why she slept through the attack. He said that authorities had visited the home in December when Carter Sr. was arrested on a charge of aggravated battery.
Carter Sr. was accused of punching a man so hard that he had to be flown to a hospital for surgery to relieve swelling of his brain.
Possibly due to the widely published photographs of Sidon, Dawn Adams stepped forward and told WTSP.com, "Oh my God, I know that dog!" Adams said Sidon used to live near her with different owners and that it attacked both pets and people. "It was out of control. It was vicious," she said. It must be noted that the vast majority of dogs involved in serious and fatal maulings are not photographed by the media, disallowing the dog's identification by persons like Adams.
The roommate who performed CPR on the baby says that Sidon was always in the bedroom. Jackie Welch says Nicole was a good mother and that what happened was just a "freak accident."

But Dawn Adams says this was an accident waiting to happen. "Oh my God, I know that dog!" she exclaimed when she heard about the attack.

Adams says Sidon used to live near her with different owners and that it attacked both pets and people. "It was out of control. It was vicious. The dog's mean," she said. - Kathryn Bursch, WTSP, April 15, 2010
04/14/10: Two Pit Bulls in Household
New information1 has been released about the death of Pasco County infant Thomas Carter Jr. Jackie Welch, whose brother Jonathan Gibson and girlfriend live with the baby's parents, resides next door and had slept over the previous night. It was Welch who opened the door when her friend, Jackie Frishe, came to visit at 11:45 am. Welch administered CPR to try to revive the infant. According to Welch, the pet pit bull routinely slept in the bedroom with the baby and his parents.2
Welch said she heard the baby cry at 9:30 am for about two minutes and after that it became quiet. She said she never heard a sound from the dog. "The dog didn't make a noise or nothing -- no growling, no barking, no nothing," Welch said. She also said there is "tension" between Sidon and her brother's pit bull, named Buddy, who allegedly spent the night in her brother's bedroom. An analysis of the 911 call, shows her statement to be questionable (See: 911 Transcript.)
This is the second child in Moon Lake to be killed by a family dog in four months. In December 2009, Dallas Lee Walters was killed by a relative's rottweiler-mix during a birthday party.
04/14/10: Infant Killed by Pet Pit Bull
New Port Richey, FL - Newborn Thomas James Carter Jr. was mauled to death today by his parents' brindle pit bull, according to the Pasco County Sheriff's Office. Neighbors say the infant died while sharing a bed with his sleeping 16-year old mother in their Moon Lake Estates home. The mother, whom neighbors identified as Nicole Koezeno, didn't discover her infant son was dead until a neighbor said she knocked on the mother's door and woke her around noon.
The attack was reported to 911 at 12:02 p.m. Paramedics took the infant, who suffered life threatening injuries, to Morton Plant North Bay Hospital where the infant later died. The pet pit bull, named Sidon, belongs to the infant's father, Thomas James Carter, 20. Pasco County Animal Services took the animal away, according to the Sheriff's Office. The mother's brother, Jason Koezeno, 18, said that his sister was excited about her pregnancy despite her young age.
1
As demonstrated by the most recent depiction of the dog, April 14 5:53 EST, we are very concerned about the scars on this dog's face. It's uncommon for the media to have access to dogs involved in fatal attacks. It appears there may be a reason why they were allowed to photograph this dog: the suspicion of dogfighting or abuse.
2
Pasco authorities have taken the unusual step of having the dog's DNA tested to determine the dog's breed despite Welch saying the dog was a full pit bull and that "breed DNA" tests for pit bulls are unreliable (See: Mars Wisdom Panel FAQ: "Does Wisdom Panel Professional test for "Pit-bull?").
Related articles:
02/24/10: 2010 Fatality: 5-Day Old Infant Killed by Family Pit Bull