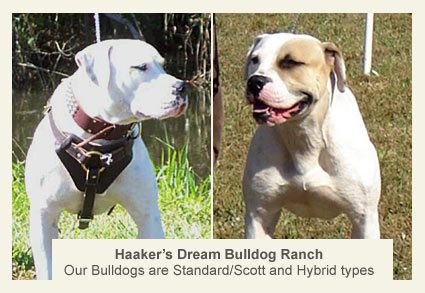 Champion Haaker's Uno of OHK and GC Haaker's Uno of OHK GTT2
Breeding Operation Ends archived
UPDATE 02/24/10: Officials report that the offending male dog named Uno (right photo) was euthanized Wednesday. Today, the three remaining female American pit bulldogs seized at the Haacker's Dream Bulldog Ranch were euthanized as well. "No one witnessed the actual attack on the child, but all of the [dogs] in the pen potentially had access to the little girl during this fatal attack," said Animal Services Director Jill Lancon. "We can't risk another tragedy."
02/21/10: Mother Ran Breeding Operation
Lori Haaker, the mother of the child, is an active breeder of Scott type American bulldogs and hybrids. The two Haaker dogs depicted in the photo clearly illustrate pit bull type dogs (See: Pit bull faq) and once again raises the issue of exactly how to classify the Scott type American bulldog. The Scott type and breed standard is by definition a pit bull-mix, as the breed was directly developed by crossing early Johnson lines with the American pit bull terrier.
Pit bull breeders, owners and kennel clubs of have been disguising the pit bull's name since 1936. The Scott type American bulldog seems to be the latest outcrop. Though Haaker's website, dreambulldogranch.com, appears to be offline, one can browse the site's web archives. We found this page particularly ironic: "We are working toward a personal goal in our breeding program where the emphasis is on a temperament that is above all, people and child friendly."
The Department of Child and Family Services is investigating the parents of the little girl, whose name has still not been released. Details of the attack, such as how did the child wander into the pen, remain unclear. Four American pit bulldogs were chained to different trees inside the pen. Only one dog is believed to be responsible for the deadly attack. The child was dead by the time emergency responders reached the scene. The couple has four other children.
02/20/10: Another Child Dead Due to a Pit Bull
Ocala, FL - Another fatal pit bull attack occurred today -- two in one day. The incident happened in Ocala, Florida. Jenifer Fisher, of the Marion County Sheriff's Office, said a woman was in her yard with her daughter, cleaning out the pen where the family keeps four pit bulls chained to trees. The woman went into the house and she didn't see her daughter when she returned. The woman later realized the girl had entered the pen and was being mauled by one of the dogs.
Related articles:
02/18/10: 2010 Fatality: Terry Child, 5-years old, Killed by Neighbor's Pit Bull
01/12/10: 2010 Fatality: Pet Pit Bull Kills 3-Year Old Boy in Apple Valley
09/05/09: 2009 Fatality: 2 Pit Bulls Kill 10-Year Old Boy in Rusk County, Texas