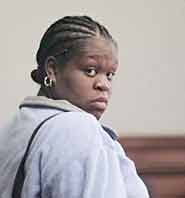 Martina Jennings Sentenced to 4 Years
Toldeo, OH - In a case that intensifies race and cultural issues -- pit bull ownership by inner city black Americans -- the Toledo courts found the mother, Martina Jennings guilty of child endangerment.
24-year old Jennings had left her disabled child, Jameille, asleep on the bed with his siblings. When she checked in on them later, she saw that he was injured and took him to the hospital. The police were summoned after the doctors discovered that the child's foot had been chewed off. Jameille suffered from spina bifida and could not feel pain in his lower extremities.
The police investigated the home and found the family's 4-month old pit bull with blood on its chest. The dog was confiscated and euthanized. At the sentencing hearing, Judge Jennings paints a terribly practical picture:
"That special-needs child doesn't have a foot because a puppy chewed it off," she said. "Puppies chew furniture. Puppies chew a favorite pair of shoes. Puppies don't chew off children's feet."
This is certainly what we all grew up thinking isn't it.