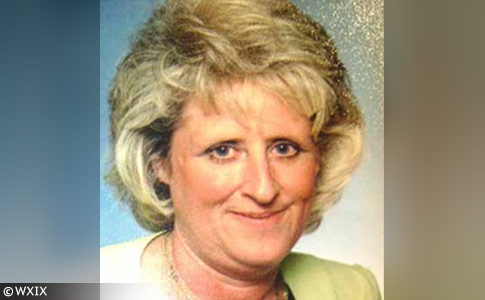 Cindy Whisman, 59-years old, was fatally attacked by her daughter's pet pit bull.
Pit Bull Euthanized
UPDATE 08/07/14: The pit bull that killed 59-year old Cindy Whisman was euthanized Thursday, according to Sgt. Melissa Gerhardt of the Butler County Sheriff's Office. The victim's daughter and owner of the dog, Julie Whisman, surrendered her male pit bull to the county Wednesday after the completion of the investigation by county sheriff's deputies. No charges will be filed at this time. Lt. Mike Craft said, "Detectives found no evidence that this dog had been aggressive in the past."
Butler County Sheriff Richard Jones is interviewed in the video. "I've seen the body," he said. "There were a lot of bite marks on the upper body." Jones comments about pit bulls too. "Playing with fire. There may be nicer ones, but [pit bulls] have a tendency to kill people and maul people." Lastly, to clear up confusion about home ownership, Julie and her 2-year old son Marcus, began living with her mother and father two months ago. Cindy had known the dog for a number of years.
---
08/05/14: Death Ruled Accidental
The Butler County Coroner's Office ruled the death of Cindy Whisman as accidental. The cause of death was "due to dog bites." Whisman was mauled across her face, neck and abdomen, according to sheriff's officials. Deputies arrived after receiving a 911 call from a neighbor who witnessed the attack. Wayne Walker, 79, who rushed over to help Cindy said, "It looked like [the dog] took a chunk of her throat out around the jugular." Walker knew she was already dead.
At that point, Walker hit the dog across the face with his walking stick and the dog ran away, he said. He immediately grabbed the child and went inside of Whisman's house. The child did not appear to be injured, Walker said.

Walker said he has known Whisman for 40 years, and that her husband has health issues and rarely leaves their house.

"It was a terrible thing that happened to her," he said. "She was a good woman." - Wayne Walker, Oxford Press
There continues to be conflicting reports of who owned the home where the attack occurred -- who was temporarily living at the home when Julie Whisman's pit bull of 5-years brutally attacked and killed her mother in front of her 2-year old son? It seems that Walker's statement, who lives directly next door and has known Cindy for 40-years, is the most probable. Julie continues to act bewildered that her pit bull, she touts as "My Guard Dog Polo" on Facebook, killed her mother.
Julie is hardly the first daughter or son whose dog viciously killed a parent or grandparent. Most recently, in 2013 and 2014, Annabell Martin (rottweilers), Nancy Newberry (pit bull), Dorothy Hamilton (pit bulls), Betty Todd (pit bull) and Elsie Grace (pit bulls) all suffered horrific deaths due to their child's poor choice in dog breeds. As a note to parents and grandparents, it is a terrible idea to allow your beloved children to bring these high risk dangerous dog breeds into your home.
The Dayton Daily News reports that the 5-year old pit bull that killed Cindy might be euthanized today. The video shows the dog in quarantine at the Butler County animal shelter (Animal Friends Humane Society). Executive director Meg Stephenson continues to say that the breed of dog has not been determined, despite the dog's owner saying her dog is a pure bred pit bull. Kurt Merbs, Butler County's assistant dog warden supervisor, is calling the dog a pit bull-presa canario mix.
The Kumpf Card has already been played this year in Ohio. It's not going to happen twice.1 The public has images of this dog at 3 and 5-years old.
Lastly, just before publishing this update, the Oxford Press updated their own article. Apparently, Julie is now having second thoughts about putting Polo down, her 5-year old pit bull that ripped out her mother's throat, killing her. Julie told the media on Tuesday that she wants to see the results of the investigation and better understand what happened before making a determination about her dog. She said after thinking about the "situation" for 24 hours, she is now "indecisive."
---
---
08/04/14: Killed by Daughter's Pit Bull
New information reveals that the victim's daughter, Julie Whisman, owns the pit bull that attacked and killed her mother, 59-year old Cindy Whisman. Julie, her 2-year old son and her pit bull began living with her parents two months ago.2 Conflicting information -- which should be cleared up soon -- states that Julie owned the home and her mother was babysitting the boy when she was fatally attacked. What is confirmed is that the pit bull killed the grandmother in front of the child.
"He loved my son ... They played together. My son would sit on him, lay on him. Smack him in the face. He wouldn't do anything." - Julie Whisman
Cindy was in the backyard with her 2-year old grandson when the pit bull viciously attacked her. Julie was at work at the time of the incident. A neighbor who witnessed the attack called 911. Another neighbor ran into the Whisman's backyard and beat the dog back with a walking stick, but Cindy was already dead. Julie said she has owned the 5-year old male pit bull, named Polo, since it was 6-weeks old. Another dog owned by Julie was also removed from the home by authorities.
---
08/04/14: Family Pit Bull Kills Woman
Madison Township, OH - In a developing story, a 59-year old woman was attacked and killed by her family's pit bull in Madison Township. The attack occurred at a residence on the 4700 block of Eck Road just after 1 pm on Monday, according to authorities. The victim has been identified as 59-year old Cindy Whisman. The woman was attacked by the family's pit bull and a neighbor witnessed the attack, according to police. More information is expected in the next few hours.
Cindy Whisman's death marks the third fatal dog attack in Ohio since February. Earlier victims include Klonda Richey, 57-years old of Dayton, brutally killed by her neighbor's two mastiff-mix dogs after stepping outside of her home, and Johnathan Quarles Jr., 7-months old, killed by his babysitter's pit bull while visiting her Dayton home. The City of Dayton resides in Montgomery County, which is adjacent to Butler County, where the most recent Ohio fatal dog attack occurred.
The southwest corner of Ohio also includes Hamilton County, where Cincinnati is located. In June, 6-year old Zainabou Drama suffered "unimaginable" injuries inflicted by two pit bulls in Cincinnati. As described by her grandfather, the dogs, "grabbed her face and literally tore it off." Zainabou remains hospitalized at Cincinnati Children's hospital. Her attack brought about a fierce debate. In 2012, Cincinnati repealed their pit bull ban and Ohio repealed their longstanding state pit bull law.
After Cindy's death, the attacking pit bull was taken to Animal Friends Humane Society. Just last week, the News-Journal ran an article (Recent pit bull attacks raise questions about breed, dog laws) focusing on Butler County and nearby cities with breed-specific laws. The executive director of the organization, Meg Stephenson, was interviewed and voiced the typical, "It's the owner not the breed." How will she now explain Cindy's death? She trained the family pit bull to kill her?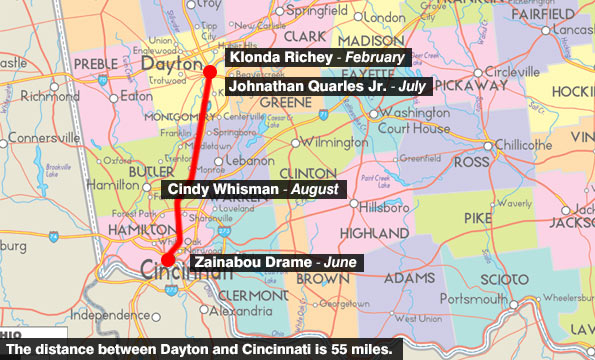 View the DogsBite.org Google Map:
Ohio Fatal Pit Bull Maulings
.
1
When police arrived at the gruesome scene of Klonda Richey's death in February, they shot and killed both dogs and released statements, telling the media the dogs were pit bulls. Not long after, AC Director Mark Kumpf began an aggressive campaign, telling media officials the dogs were "mastiff-mixes" or "cane corsos." His campaign was successful. His leadership, however, fell under scrutiny after Klonda's preventable death. In July, after the second fatal dog attack occurred in his jurisdiction -- involving a pit bull labled an American Staffordshire terrier -- Kumpf's office directed all questions to the Dayton Police Department. His leadership remains under scrutiny today.
2
Flip switch, in this case the dog's owner had been temporarily living with the victim when her pit bull of 5-years suddenly attacked her mother who was babysitting her 2-year old son. The toddler witnessed the fatal attack.
Related articles:
07/22/14: 2014 Dog Bite Fatality: Visiting Child Under Babysitter's Care Killed by Family Pit Bull...
07/02/14: Director of the Division of Craniofacial and Pediatric Plastic Surgery at Cincinnati...
02/21/14: 2014 Dog Bite Fatality: Pit Bull Type Dogs Attack, Strip Naked and Kill Dayton Woman
01/21/13: 2013 Dog Bite Fatality: Dog Mauls Grandmother to Death While Babysitting Toddler