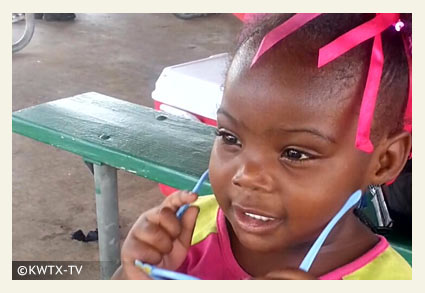 Family Owned Pit Bull
UPDATE 02/19/14: In a Tuesday update by KXAN, it was revealed that the child's family also owned a pit bull.1 "The Mayes family had their own pit bull that neighbors and family members say is friendly, and the kids play with it all the time," states the article. Details remain sparse partly because the local paper, the Temple Daily Telegram, is behind a paywall. Today, the Killeen Daily Herald noted that the attacking female pit bull also had two puppies at the time of the incident.
The child's mother, Cherella Lyles, said she left her daughter in the bedroom watching cartoons before the attack. No one realized the toddler was missing until it was too late. "She snuck out the back door to play with the puppies," Lyles said. "The mother of the puppies attacked my baby," she said. What Lyles neglected to add was that the mother was a chained female pit bull temporality staked out in the family's backyard, unfamiliar to the child -- a catastrophe scenario.
02/17/14: Child Killed by Pit Bull
Temple, TX - In developing story, a 2-year old girl died Monday after being attacked by a pit bull her family was "watching for a friend." The toddler slipped out of the house and into the backyard where the dog was chained. Temple police identified the victim as Je'vaeh Mayes. Officers were dispatched to the home about 11:30 am. While en route, however, police were notified that a toddler attacked by a dog had just been admitted to the Scott & White Hospital emergency room.
It was determined by officers to be the same victim. Je'vaeh Mayes did not survive her injuries.
The despairing other side of the scenario that involved 38% of all fatal dog maulings in 2013 -- the victim was either visiting or living temporarily with the dog's owner when the fatal attack occurred -- is the exact opposite and equally as dangerous, especially for children. When a pit bull or other dangerous dog breed is visiting or temporarily staying with a family with young children. No family should ever agree to "watch" a friend or relative's pit bull or rottweiler under these circumstances.
View the DogsBite.org Google Map:
Texas Fatal Pit Bull Maulings
.
---
Join Texas Dog Bite Victims' Advocacy - Join our Texas email list to stay informed
1
No other mention was made in news reports about this pit bull or if it was present at the time of the attack.
Related articles:
03/20/13: Report: Texas Dog Bite Fatalities, January 1, 2005 to February 17, 2013
02/19/13: 2013 Dog Bite Fatality: 'Nightmare' Pit Bull Kills Uvalde County Boy
01/20/13: 2013 Dog Bite Fatality: Chained Pit Bull Kills Montgomery County Boy
03/28/12: 2012 Dog Bite Fatality: Victoria Boy, 4, Mauled to Death by Chained Pit Bull
05/14/09: 2009 Dog Bite Fatality: 2-Year Old Boy Killed by Pit Bull in Luling, TX
Photo: KWTX-TV