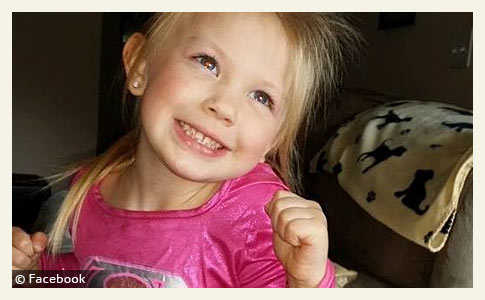 Mother Recounts Attack
UPDATE 04/29/14: On April 29, 2014, Roxanne Miller Hartrich, Kara's mother, provided a written account of the vicious attack that killed her daughter to DaxtonsFriends.com. She describes how that day, Kara's 4th birthday, had beautifully begun. When she walked out the door that morning, headed for work, it would be the last time she ever saw her daughter alive again. As she hurried home from work and pulled into her subdivision, she noticed a "red glow" over her street corner.
Kara Hartrich – Bloomington, Illinois – killed by the family pit bull on her 4th birthday
By Roxanne Miller Hartrich

...I got off work a little early that day and decided that she needed a few more presents that just couldnt wait to be bought, and then i headed home, my husband called me and wanted to know why brutus was outside when he got home i said i didnt know i was on my way home and would be there soon...and then my nightmare began...I pulled into the entrance of my subdivision, and noticed a red glow over the street corner, i remember wondering what on earth could be going on, on my quiet little subdivision full of daycares and minivans...As I rounded the corner I could see the street was blocked off, full of firetrucks, police, and families standing outside -- i still wondered what was going on, I was flagged and told to pull over, I then looked up and saw that it was my house they were all at, my yard was taped in crime scene ribbon, full of police officers, fire personnel, lots of noise and commotion, i was met by police officers, my husband covered in blood...
Read account in full » | Related news article »
01/30/14: Family Dogs Euthanized
McLean County authorities have euthanized all three family pit bulls seized in connection to the death of a 4-year old girl. Kara Hartrich died of massive blood loss due to multiple dog bite injuries after being attacked by at least two of the family's pit bulls. McLean County officials put all three dogs down, two unneutered males and one female, after the state-mandated 10-day rabies quarantine period, according to McLean County Health Department spokeswoman Kera Brossette.
McLean County State's Attorney Jason Chambers said that no charges would be filed as a result of the deadly attack. "Sometimes, if we know there is a dangerous dog involved, because of a prior documented history to attacks, then we can make an argument of criminal wrongdoing," Chambers said. "In this circumstance, the dog(s) involved did not have a prior documented history of bites," he said. As is true in numerous severe maulings and fatal attacks inflicted by pit bulls.
Learn about Illinois state issues regarding this fatality: Pit Bull Attacks and Dogfighting in Illinois
01/20/14: Died on 4th Birthday
Kara Elizabeth Hartrich, 4, of Bloomington died on her fourth birthday, according to her obituary. She was pronounced dead on January 17, 2014 after suffering massive blood loss and multiple dog bites to her head, neck and arms after being attacked by at least two of her family's three pit bulls. Kara was born on January 17, 2010, according to her obituary. An online fundraiser set up at Youcaring.com raised over $15,000 to help her family pay for funeral costs and related expenses.
01/18/14: Fatality Victim Identified
The 4-year old girl killed by one or more family dogs in her Bloomington home has been identified as Kara Hartrich. McLean County Coroner Beth Kimmerling said an autopsy done Saturday revealed that Kara Hartrich died from massive blood loss and multiple bites to her head, neck and arms. She was pronounced dead at 5:50 pm on Friday at Advocate BroMenn Medical Center in Normal. McLean County Animal Control department seized all three of her family's pit bulls.
Pantagraph.com reports additional details, including that she was attacked by at least two of the family's three pit bulls. All three dogs are adults; two unaltered males and one female. Authorities believe the two male pit bulls are responsible for the attack. At the time of the attack, the child's grandmother was babysitting Kara and her 2-year old sister. The grandmother tried to separate the dogs from Kara, but the animals turned on her. She then tried to protect the 2-year old child.
The family lives in a subdivision with streets named after the Monopoly game. Kara's street, Parker Avenue, is a street filled with two-story houses with fenced yards, swing-sets and minivans, according to Pantagraph.com. Seems like the ideal setting of a safe family neighborhood, except for her family's choice in dog breed, which kills more people that all other breeds combined. Kara's mother described her as a "happy little girl" and now she is making funeral arrangements for her.
Images of the family's three pit bulls from the father's public Facebook page (Jan. 18, 2014).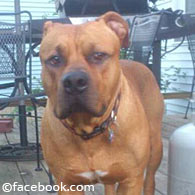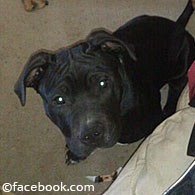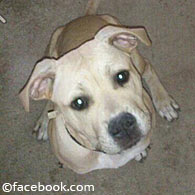 ---
01/18/14: Autopsy Underway
Bloomington, IL - Late Friday afternoon, Bloomington Police responded to a call regarding an unresponsive child in the 2000 block of Parker Avenue. Upon arrival, rescue personnel discovered an unresponsive 4-year old girl with multiple dog bite injuries at the family home, according to McLean County Coroner Beth Kimmerling. The child was transported to Advocate BroMenn Medical Center in Normal where she was pronounced dead by Emergency Department Staff.
An autopsy is tentatively scheduled for Saturday morning, according to Kimmerling. "Early information suggests that the 4-year old was at home with a younger sibling and a grandparent when the incident occurred," Kimmerling said. The family owns three dogs, described by their owners as pit bulls. McLean County Animal Control took the animals into custody. It is expected that the child's identity, along with preliminary autopsy results, will be released Saturday.
View the DogsBite.org Google Map:
Illinois Fatal Pit Bull Maulings
.
Related articles:
12/27/13: 2013 Fatal Dog Mauling Image of the Year: The Funeral of Ryan Maxwell
12/10/13: 2013 Dog Bite Fatality: 2-Year Old Girl Mauled to Death by Dogs in South Chicago
03/10/13: 2013 Dog Bite Fatality: 7-Year Old 'Visiting' Galesburg Boy Killed by Pit Bull