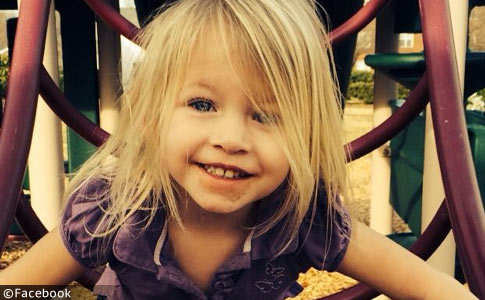 Braelynn Coulter, 3-years old, was killed by one of her family's pit bulls.
Under Media Scrutiny archived
UPDATE 02/28/14: The media continues to focus on the parents of a 3-year old girl who was killed by a family pit bull on Monday. The dog had a history of aggression, including breaking through a fence to attack a neighbor's dog in the past few months, the family had adhered at least two Beware of Dog signs to their home and today we learned that the attacking family pit bull, one of two pit bulls in the family's home, had bitten someone other than Braelynn on the day she died.
Officials said the dog bit somebody other than Braelynn on Monday, the day the child died. They did not identify that person. - News & Record
We presume this other person is not the child's mother, who was bitten while trying to save her child. The mother was identified previously as being injured in the attack. Last night, Nancy Grace, featured Braelynn's story, Grace asked: "Neighbors claim they have been afraid of the family dog, a pit bull, for some time, even keeping their children and pets inside. Recently a neighbor claimed the dog attacked their dog viciously. Are charges being considered, against mommy and daddy?"
*** Clarification Update ***
We just received verification from Joe Gamm, the author of the aforementioned News & Record article (Toddler's family pastor speaks with reporters about the dog-mauling case) referring to an "unidentified" person bitten by the attacking dog on the day Braelynn suffered fatal injuries from the family pit bull. Gamm was referring to the child's mother, not an additional person. This is does not relieve the parents from media or law enforcement scrutiny and possible criminal charges.
Notably, last November, 25-year old Katherine Atkins of Kernersville -- just 14 miles away from High Point -- was killed by her boyfriend's two pit bulls. The couple had raised the dogs since they were puppies. The horrific death of Katherine, a beautiful young woman, captured significant coverage throughout the area. According to Braelynn's obituary, she was born in Forsyth County (location of Kernersville) and the majority of her surviving family members are from Kernersville.1
02/25/14: Mauling Victim Identified
The family identified the 3-year old girl killed by a family pit bull on Monday as Braelynn Rayne Coulter of High Point and issued a short statement about her death. A GoFundMe page was set up to help her family pay for funeral costs and expenses. More photos of Braelynn can be seen on that page. Braelynn Coulter, 3, is the 390th American citizen mauled to death by a pit bull since the archival project, Fatal Pit Bull Attacks - The Archival Record, began recording these deaths.
02/25/14: Previous Aggression archived
The Greensboro News & Record captured images of the fatally attacking family pit bull, male, along with two Beware of Dog signs posted on the family's home and documentation of the pit bull being held in quarantine as "very aggressive." Neighbor Katherine Dixon, 24, who lives next door, said the family moved in about a year ago and have two pit bulls. A few months ago, both pit bulls broke through a fence an attacked a neighbor's pet dog that was being walked by its owner.
The incident put Dixon and her husband, who have three young sons, on "high alert about the dogs," she said. "When I'm taking the boys out to play, if the dogs are outside, we come back in," she said. Dixon noted that she had not seen the second pit bull recently. Police still have not released the victim's name, nor is there any additional information about the family's second dog.2 The attacking pit bull is currently being held in quarantine at the Guilford County Animal Shelter.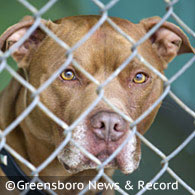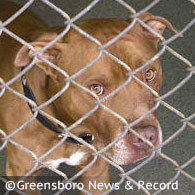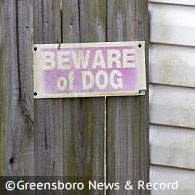 ---
02/25/14: Pit Bull Kills Child
High Point, NC - In a developing story, a 3-year old child was killed by a pit bull Monday evening, according to High Point Police. A family member took the injured child to High Point Regional Hospital where the child died. The incident on Big Creek Court was reported at 5:02 pm, according to early news reports. The pit bull was confiscated and taken to an unnamed animal shelter. At this time, the name of the victim has not been released. More information is expected later Tuesday.
View the DogsBite.org Google Map:
North Carolina Fatal Pit Bull Maulings
.
Related articles: 
11/05/13: 2013 Dog Bite Fatality: Kernersville Woman, 25, Killed by Her Boyfriend's Two Pit Bulls
12/12/12: 2012 Dog Bite Fatality: Yadkin County Infant Mauled to Death by Family Dog
10/04/12: 2012 Dog Bite Fatality: Pembroke 'Dog Rescuer' Killed by Own Dogs
09/14/12: 2012 Dog Bite Fatality: 10-Month Old Hertford Boy Killed by Pit Bull
08/16/12: 2012 Dog Bite Fatality: Person County Authorities Charge Pit Bull Owner
Photos: News-Record.com