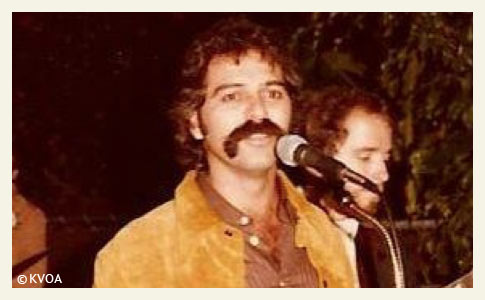 Michael Cook, 61-years old, died after being attacked by his pet pit bull.
Dog Attack Victim Dies
UPDATE 08/23/11: Twenty days after suffering catastrophic injuries from his pet pit bull, Michael Cook succumbed to his condition this morning and died. Since the August 3 mauling, Cook required over 100 pints of blood and doctors removed both of his arms. The amount of blood Cook needed depleted area blood banks causing his family to issue a plea to the public to "replenish the blood site for the City of Tucson." The family provided a vintage photo of Cook.
08/15/11: Doctors Amputate Both Arms
Over the past few days, doctors have amputated both arms of Michael Cook. Thus far, the victim has required over 100 pints of blood. His sister Toni Sweet told reporters that the bleeding has finally stopped. Cook is still in critical condition, suffering from liver failure and kidney problems in addition to the catastrophic injuries inflicted by his pit bull. Cook is the third pit bull owner we have recorded who has become a double arm amputee after an attack.
Others include: Annette Williams of Greensburg, Indiana, and Vicky Jeffries of Abilene, Texas.
08/06/11: Mauling Victim Identified
The victim who was nearly killed by his pet pit bull, named Butch, has been identified as Michael Cook. As expected, his family is calling the horrific attack a freak accident and blaming the dog's actions on a bad dose of medicine given to it after it was neutered. Cook's son Nicholas admitted that Butch, who he called a big baby, had fought with other dogs in the past and that in this case, "He just happened to flip at the wrong time, you know?"
Thus far the victim has required over 60 pints of blood depleting area blood banks. The victim's family is calling on community members for blood donations to the Red Cross to help replenish area blood banks. The victim's sister Toni Sweet said, "donate what you can when you can to replenish the blood site for the City of Tucson because if another situation arise or God forbid another type of trauma, they won't have enough blood so we as a family are asking."
Dangerous dog breeds, primarily pit bulls, are a threat to public health for many reasons. This is why DogsBite.org -- a resource of over 2,000 pages -- was created. We can now add to this threat the "depletion of area blood banks" after a serious mauling. Lawmakers, media members and citizens of Tucson cannot ignore the seriousness of this issue. Area residents can contact Red Cross Blood Drives by visiting their website or calling 1-800-RED CROSS.
08/05/11: Victim Left "Unrecognizable"
Tucson, AZ – A 61-year old man who was violently attacked by his pet pit bull1 Wednesday remains in critical care. The incident happened at the victim's home on Paseo De Las Aguilas, near Valencia and Camino De La Tierra. Initial reports indicated that the victim suffered "very serious" injuries, specifically bite injuries to his neck. According to Drexel Heights Fire, the man went outside to break up a fight between his two dogs when the pit bull turned on him.
Mauling threads with local voices have sprung up questioning if an improper dose of medicine by a veterinarian – the pit bull had been neutered that morning – caused the animal's ferocious attack. In one thread, user maghair wrote, "The family has spent every waking moment at the hospital since this tragedy and … We don't think he will make it ... the dog chewed thru every artery in his body, legs arms, hands, torso, neck and face and he is unrecognizable."2
Neighbor Fernando Lozano, 21, and his stepfather where doing yard work when they heard screams from a nearby home. They ran down the alley and looked over the fence. "It literally looked like he was eating him," Lozano said. "I just felt helpless." Lozano then described degloving injury commonly carried out by pit bulls. "You could actually see where the skin had peeled back on his arms," Lozano said. "You could kind of see the muscles coming out."
Jayne Cundy of Pima Animal Care Center was quick to point out, "Every situation is unique ... we don't know what triggered it"3 and "[The pit bull] can't express itself like a human,4 so let's find out what happened. It's not just another pit bull attack," Cundy said. DogsBite.org and many witnesses to these attacks disagree. There is not a thing about Lozano's account that differs in anyway from countless deadly attacks carried out by pit bulls over the past 30-years.
1
Pit bull owners recently killed by their pet include: David Haigler, 38-years old (Spotsylvania County, VA), Justin Lane, 25-years old (Latta, SC) and Carter Delaney, 20 years old (Leesburg, VA). This does not include mothers and fathers killed by their adult child's pit bull or an adult killed by a parent's pit bull or the many instances in which pet pit bulls horrifically maul their owners who live to tell about it.
2
The term "unrecognizable" and pit bull attack have been operating in unison for decades. "The attack rendered the child 'unrecognizable as a human being,'" ("The Pit Bull Friend And Killer," Sports Illustrated, 1987).
3
The trigger required for a pit bull to launch an attack can be as simple as dropping a glass, or holding a stuffed animal. Expect to see professional whitewasher James Crosby show up on scene soon.
4
The egregious anthropomorphism by pro-pit bull groups in defense of the breed -- all dogs are individuals, canine profiling and more -- typically snap back "Cundy style" after a serious or fatal mauling to, "Your animal is an animal. It's not human ... it doesn't have human values," Cundy said.
Related articles:
06/15/11: 2011 Dog Bite Fatality: 74-Year Old Man Dies After Catastrophic Pit Bull Injury
12/08/10: 2010 Dog Bite Fatality: Murrieta Man Dies from Pit Bull Attack Injuries