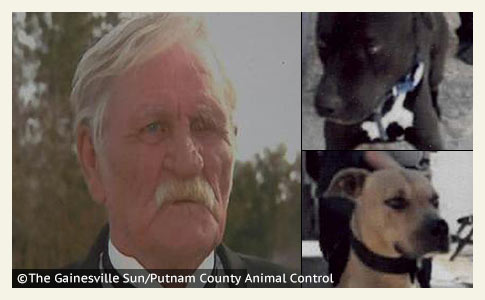 Roy McSweeney, 74, died after being attacked by pit bulls belonging to Deanna Blitch.
Victim Dies of Injuries
UPDATE 06/15/11: Multiple news groups reported this evening that Roy McSweeney succumbed to the catastrophic injuries inflicted by his neighbor's pit bulls and died Wednesday afternoon. McSweeney's family has retained the Gainesville law firm of Avera & Smith, which is also representing Robert Floyd, who was attacked by the same dogs last year. Meanwhile, Putnam County authorities are working hard to "bring this matter to a logical conclusion."1
06/15/11: Authorities Investigate
The Palatka Daily News reports that the same dogs that nearly killed Roy McSweeney were involved in both previous biting incidents. Major Dwight Parker of the Putnam County Sheriff's Office said his office is working closely with the state attorney's office. "We are evaluating this to determine what, if any, charges can be brought," he said. Regrettably, it appears that neither previous incident qualified as "severe," thus hindering a dangerous dog designation.
This is the third time dogs from Blitch's residence have attacked a person, according to reports from the Putnam County Sheriff's Office.

On Jan. 13, 2010, two pit bulls ran from Blitch's yard and attacked a caretaker, Robert Floyd, at McSweeney's residence, reports stated.

Floyd was hospitalized with injuries to his mouth, left leg and stomach.

Court records show that Floyd has filed a civil suit against Blitch and Scurrey for negligence and premises liability.

Two dogs bit another man, Edward Cormier, on the arms when he entered the back door of Blitch's home on May 13.

Cormier told detectives that he was a friend of Blitch's son and the family had given him permission to come over and left the door unlocked for him.

According to Blitch, Cormier entered the house uninvited, reports stated.

The same two dogs were involved in all three attacks, Greenwood said.
- Julie Martin, Palatka Daily News
06/12/11: Previous Biting Incidents
Jacksonville.com reports that pit bulls from the Blitch home previously mauled two other men prior to nearly killing a 74-year old man on Friday. In both cases, the dogs were returned to their owners after a 10-day quarantine. It's unclear if these attacks were inflicted by the same pit bulls that left Roy McSweeney on life support. Police reports show that those pit bulls were involved in at least one previous biting incident documented by county police authorities.
After the attack on McSweeny, Blitch initially told deputies she no longer owned the pit bulls after "getting rid of them due to a previous attack." But Blitch's son, William, told deputies that the dogs were in the home and they were brought outside for authorities. William was the first to discover McSweeney after taking a different household dog outside to urinate. He said he found one of the pit bulls near the back door and the other in its kennel with an open door.2
06/12/11: Victim's Survival in Doubt
News4Jax.com reports that family members gathered Sunday at Shands Hospital in Gainesville where Roy McSweeney is struggling to survive. On Friday, two pit bulls owned by Deanna Blitch attacked McSweeney causing catastrophic injury, including the loss of one arm, partial loss of the other and severe facial injuries. Family friends told reporters that McSweeney is on life support. His family has asked for privacy during this difficult time.
Like other victims of savage and fatal pit bull maulings who have survived tours of war, such as Jerry Yates of Mountain Ranch, California and Henry Piotrowski, of Staten Island, New York, McSweeney is a veteran. Though war survivors, each victim in his later years faced an enemy as lethal as an Improvised Explosive Device (IED) while performing everyday tasks on his own property -- neighborhood pit bulls. Our hearts go out to McSweeney and his family.
06/11/11: Victim Faces Critical Hours
In a Saturday update, WTEV Action News spoke to the victim's daughter. She said the next 48 hours are critical. Other details emerged too, such as the dogs' owner, Deanna Blitch, is now claiming that the dogs "belong to a friend." Through Roderick Flynn, Chief of the West Putnam Volunteer Fire Department, we learn that McSweeney was a disabled veteran who often used a scooter and that animal control had been called multiple times about these dogs.
McSweeney's daughter told Action News Saturday night that doctors said his arm looked like a bomb went off next to it. He remains in a coma-like state, according to his daughter in an exclusive interview by phone. McSweeney is getting a large amount of blood. Doctors on Monday will decide if more surgery is necessary. According to the Putnam County Sheriff's Office, the dogs belonged to McSweeney's next-door neighbor who surrendered the animals to authorities.

That homeowner told Action News the dogs belong to a friend. She said she was not home at the time of the attack, and was not sure how the dogs escaped the kennel they are kept in.
06/10/11: Dogs Described as Pit Bulls
Gainesville.com has released an update. According to Sheriff's Capt. Johnny Greenwood, Roy McSweeney was in his yard doing yard work when the dogs jumped over the fence and attacked. The dogs are owned by Deanna Blitch, of 261 Old Hawthorne Road, and described as pit bulls or their mixes by Greenwood, a neighbor and Blitch's brother, Dan Dickerson. Blitch -- who lawyered up quick -- said she was advised by her attorney not to comment.
06/10/11: Victim: Roy McSweeney
Hawthorn, FL - Earlier today, the Putnam County Florida Sheriff's Office issued a news release about a life-threatening dog attack. The victim, 74-year old Roy McSweeney, is currently undergoing surgery at Shands Hospital in Gainesville. Additional information about his condition is not available. News4Jax.com reports that the attacking dogs were pit bulls. Both animals have been euthanized. Deputies are investigating. No further details were released.
2011-06-10 by: Captain Johnny Greenwood

On June 10, 2011, at approximately 11:00 a.m., deputies, rescue personnel, and animal control officers were summoned to 259 Old Hawthorne Road, in Hawthorne, regarding an individual who had been attacked by dogs.

When rescue personnel arrived on scene, they located 74 year-old, Roy McSweeney, who was suffering from severe injuries from the dog attack. The victim's right arm had been amputated; his left arm was partially amputated, and he was suffering from severe facial injuries. The victim was transported by rescue to Shand's Hospital in Gainesville for medical treatment. He is currently in surgery, and his condition is not available.

Due to the severity of the victim's injuries, Sheriff Hardy assigned Detectives from the Major Crimes Unit to the investigation. Investigators determined that the two dogs responsible for the attack belonged to McSweeney's neighbor, who resides at 261 Old Hawthorne Road, Hawthorne.

The owner of the two dogs subsequently relinquished both dogs to authorities. The dogs have been humanely euthanized and delivered to the Putnam County Health Department to be tested for rabies.

Due to the investigation being in its early stages, no further details can be released at this time. Further information will be provided when it becomes available.
1
A "logical conclusion" likely means an At Large Dog ticket. Thumbs down to Putnam County authorities!
2
With the help of Craven Desires,
we were able to better analyze the June 12 Jacksonville.com article
. We believe that Edward Cormier II
was attacked last month by the same pit bulls as McSweeney.
Related articles:
09/10/09: The Pit Bull Bite: Pet Pit Bull Bites Off Owner's Hand
02/19/09: Elkhart Pit Bull Owner May Suffer Amputation After "Redirected" Attack
07/01/08: Pit Bull in Greensburg, Indiana Chews Off Owners Arm