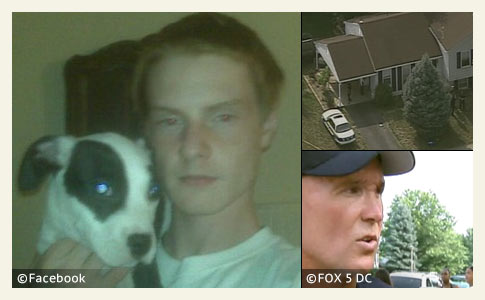 Carter Delaney, 20-years old, was attacked and killed by his brother's two pit bulls.
5 Dogs Found
UPDATE 08/12/09: The Washington Post reports that a total of 5 dogs were found inside the home: one pit bull puppy and caged cocker spaniel both unharmed, one dead pug-mix and two pit bulls "covered in blood," according to Adrienne Lawson of Loudoun County Animal Control. Delaney's brother and owner of the pit bulls, Thomas Delaney, will meet with police today to determine the fate of the dogs. No further information was provided about the pit bull puppy.
08/11/09: Autopsy Shows Death by Dog Bites
Autopsy results show that Carter Patrick Ridge Delaney died from lack of blood and oxygen due to multiple dog bite injuries. His body, along with a dead pug-mix and two pit bulls, was found inside of his grandfather's home by his grandfather. The pit bulls were owned by Delaney's brother, who was not identified, but Delaney was reportedly the dogs' caretaker. Police say the dogs were licensed and vaccinated. There is no indication the pit bulls were being used for dogfighting.

Related ZUPF video
08/11/09: Mauling Victim Identified
According to authorities, Carter Delaney was discovered about 2:00 pm on Monday. Police say Delaney's body was found in the basement. A small dog was also killed, and found next to Delaney's body. Delaney's friends have posted their condolences on Facebook. One friend even wrote about the fatal attack, claiming Delaney may have been trying to protect his mom's dog from the other dogs. Loudoun County Animal Control is currently holding the offending pit bulls.
08/10/09: Mauled to Death by Pit Bulls
Leesburg, VA - Investigators say a 20-year-old Leesburg man was found dead inside his home after being mauled by his pit bulls. Four dogs -- two pit bulls and two smaller dogs -- were located inside the residence. The pit bulls were roaming free; one of the smaller dogs, a cocker spaniel, was inside a cage and the other small dog was dead. Nick Perry, one of the victim's friends, said Delaney was trying to break up a fight between his pit bulls when he was attacked by them.
Pit bull "dog aggression," an artificially selected trait for the purposes of dogfighting, kills dogs and people.
As word spread of the young man's mauling death, grief apparently grew into aggression and at least one person had to be subdued by police in front of the family's home. "I think just the emotion of what has happened here, I think they are just reacting to that," Officer Chris Jones of the Leesburg Police Department said. Morgan Hunt, another friend of the victim said, "I bet he woke up this morning like a normal morning and then this happens. It's insane, it's devastating."
It is not uncommon for a pit bull owner to be violently attacked by his own dogs. Such attacks are consistently in the news. What is uncommon is for a pit bull owner to actually believe his dogs are capable of such a violent attack, particularly given the substantial evidence that shows that pit bulls can and do inflict them. So far, police have not to release the victim's name. In the meantime, grief counselors have arrived to help calm several friends struggling to accept the recent tragedy.

Related ZUPF video
Related articles:
05/24/09: Loudoun County Animal Care and Control Awaits Court Ruling
05/11/09: Animal Agency, PSPCA, Distorts History of 25-Year Old Pit Bull Problem
03/06/09: Dog Aggression Equals Human Injury, Bullets and Dead Family Dogs
10/15/07: 2007 Fatality: Tina Marie Canterbury Killed by Her Two Red Nosed Pit Bulls