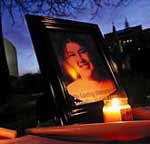 Seattle Times Pit Bull Puff Article
Seattle, WA - In a recent Seattle Times pit bull article, they fail to mention that in the last 60 days, eight American citizens have been attacked and killed by "pit bull type" dogs: Tori Whitehurst, Seth Lovitt, Jennifer Lowe, Holden Jernigan, Blanche Broduer, Kelly Caldwell, Kelli Chapman and just yesterday, a still unnamed victim: Jane Doe.
They also fail to mention that in 2007, pit bull type dogs were responsible for 60% of dog bite fatalities -- the closest rival was the rottweiler at 11%. When an intensive study was done regarding the frequency of dog bite injures in US emergency care facilities (from 1992-1994) it was determined that:
For each US dog bite fatality there are about 670 hospitalizations and 16,000 emergency room visits, 21,000 other medical visits (office and clinic), and 187,000 non-medically treated bites
46.1% (nearly half) of dog bite injuries were triaged in emergency rooms as "urgent-emergent"
Dog bites are the second highest reason why children seek emergency treatment
That's about 60,000 bites per fatality and that information is dated. It is reported today that a US citizen is bitten by a dog every 75 seconds.
One has to question the reasoning behind such "puff" articles. There are legitimate reasons why communities are regulating these dogs: the burden of severe injury expenses and the utter lack of ownership responsibility just to name two.