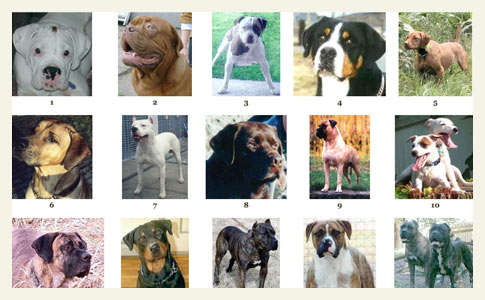 Blogger methodically breaks down the deceptive online "Find the Pit Bull" test.
Find the Pit Bull
DogsBite.org - Snack Sized Dog, a writer at The Truth About Pit Bulls blog,1 masterfully dissects the online pit bull identification test (Find the Pit Bull) in a recent blog post. The deceptive test, crafted by the pit bull fan club, is designed to show that the average person cannot identify a pit bull. (See our version of a realistic test.) Blogger Snack Sized Dog methodically breaks down the deceptions in the test and offers compelling details about each "close" pit bull-related breed.
14. AMERICAN BULLDOG - A, E - The modern American bulldog is a reconstituted breed. The old south bulldog was practically extinct by the 1950s and in an effort to bring it back, the original breeders crossed the bulldogs they could find with American pit bull terriers, boxers, and mastiffs. The Bulldog Information Library informs us that the AMERICAN BULLDOG can look like a "large, coarse, leggy white pit bull." In the 70s, some were bred for dogfighting. They are still being crossed with pit bulls from famous fighting bloodlines today. The dog used to play Petey the pit bull in the recent movie remake of Little Rascals (1994) was named Kershner's Screamer and is classified as 100% Johnson type AMERICAN BULLDOG. However, it has both american pit bull terrier and american bulldog fighting lines in its pedigree.

Conclusion: Any community considering BSL should write their description so that it covers American bulldogs because it is a pit bull mix and has inherited the same physical, temperamental and behavioral traits that make pit bulls dangerous.2
To learn more, please read the complete post.
1
Snack Sized Dog also posts at the Craven Desires blog where this entry is cross-posted.
2
In Ohio, the only U.S. state that regulates pit bulls, the law drafters specifically used language that was inclusive of "close" breeds. Therefore, the Ohio pit bull law encompasses the American bulldog, presa canario and a handful of others:

"Belongs to a breed that is commonly known as a pit bull dog

." (See: Ohio v. Anderson)
Related articles:
01/03/11: Blog Dispels "ATTS" Myth Used as Arsenal by Pit Bull Advocates
09/10/10: New Blog Dispels "Bloodhound" Myth Invented by Pit Bull Advocate
08/18/10: New Blog Dispels "Nanny Dog" Myth Invented by Pit Bull Fanciers