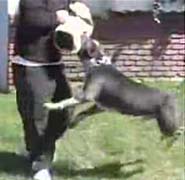 The Blue Pit Bull Work Out (in Your Neighborhood)
It hardly takes a genius to figure out what this owner is teaching his dog. The video amps it up with "extreme sport" music too, a perfect thrasher background blend. Training your pit bull to be a terror machine is an extreme sport. But in the end, it is not the athlete that suffers the risks; it is an innocent victim that falls prey to the dog's teeth.
This is a terror video pure and simple. It is meant to appeal to a particular subculture of dog owners who want to intimidate, who want to hang another chain of masculinity around their neck, who want a killing machine by their side instead of (or including) a concealed weapon -- the latter being illegal if he has been convicted of a felony crime.
It is this same subculture of pit bull breeders and owners that call their dogs "bullys." Now you understand why.