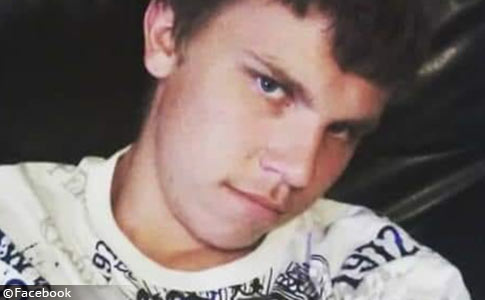 Investigators suspect the suspicious death of Dustin Bryan is a fatal pit bull mauling.
Man Found Dead
Modesto, CA - Police say a 21-year old man discovered dead and covered in blood inside a La Loma neighborhood home may have been mauled by one or both pit bulls living in the home. He was discovered about 7:00 am Tuesday by family members he was staying with at a home in the 100 block of Village Road. His death is being treated as "suspicious" until an autopsy is conducted and the cause of death is determined, said Sgt. Kalani Souza of the Modesto Police Department.
According to Souza, the family and the victim went to bed Monday night and investigators do not believe the victim left and returned at any point. Jacob Anderson, who lives at the home, said the victim (who is a family member) was sleeping on the couch. Anderson said he did not hear any noises of an attack and said the pit bulls "had never been aggressive in the past." As many pit bull owners have said before him, Anderson said a seizure could have caused the gruesome attack.
**Detectives Investigating Suspicious Death**

Preliminary investigation suggests the male may have been attacked by two pit bulls, which belong to the owner of the residence. The two dogs were placed into quarantine by the Modesto Police Department Animal Control Unit. The 21 year old male was visiting the residents of the home, and had stayed the night last night with their permission. The investigation is continuing, and Detectives are treating this investigation as a suspicious death. An autopsy has been scheduled with the Stanislaus County Coroner's office in the coming days. - Modesto Police
Earlier this year, a 52-year old man was killed in the middle of the night by his pet pit bull of 10 years. Police suspected Homer Utterback suffered a seizure before the attack. This does not excuse the disproportionate response by the dog -- brutally killing its owner. Of the 500 dog bite fatalities we have recorded since 2005, pit bulls have been implicated in every fatal attack while the victim was actually, or purportedly, having a seizure, except for one case involving a rottweiler.
Other persons, most commonly the dog's owner, killed by a pit bull due to an alleged seizure include: Della Riley, 42-years old (Cleveland, OH, 2018); Jamie Owsley, 21-years old (Quincy, IL, 2017); Charles Hagerman, 44-years old (Chicago, IL, 2012); Tonia Parks, 39-years old (Rockford, IL, 2011); Kelli Chapman, 24-years old (Longville, LA, 2008); Brandon Coleman, 25-years old (Morgantown, WV, 2006); Lorinze Reddings, 42-years old (St. Louis, MO, 2005) and likely others.
Evening Updates
The man's sister identified the victim as Dustin Bryan on Facebook and to Fox 40 News. Sgt. Kalani Souza also reiterated the horrific scene: "It was horrific enough for our officers to call and treat this as a suspicious death. So investigators did respond to just ensure that what was going on." Stanislaus County Animal Services provided photographs of the pit bulls to the news outlet as well. Police believe "Beze," 13, and "Saxon," 5, attacked Bryan in the upper body, killing him.
Beze, at 13-years old, marks yet another senior pit bull involved in a fatal dog mauling. The culprit that killed Utterback was at least 10-years old.
During the rabies quarantine period, both pit bulls will be monitored for aggression, according to Stanislaus County Animal Services Executive Director Annette Patton. She also said the shelter was in "lockdown" mode. "The animals need to be separate from the public and they need to be quarantined for 10 days," Patton said. "So, we have a lockdown situation here at the shelter, which means it is locked behind closed doors so we don't put anybody at harm or at risk," Patton said.
Though police do not know how much interaction Bryan had with the dogs in the past, he had been a frequent visitor to the home on Village Road. Notably, by nightfall Tuesday, the Fox 40 footage shows that the couches and chairs that had been discarded outside of the home's front door earlier in the day had been removed. Bryan had been sleeping on a couch when he was discovered dead and covered in blood by family members at about 7:00 am Tuesday morning.
Disproportionate Response
The suspicious death of Bryan falls into a frequent pattern of pit bulls -- a disproportionate response due the selection for abnormal aggression (high arousal and aggressivitiy in a safe environment). As animal behaviorist Alexandra Semyonova stated in 2006, "The environments (the fighting pit, the baited bull) for which these behaviors were selected as an adaptive response are so extreme that in fact there is no appropriate context for these behaviors in normal life."
There are many fatal pit bull maulings that fall into this category, including the majority of fatal attacks by pit bulls. The pit bull breed appears disproportionately in fatal dog attacks due to this very trait. In addition to the disproportionate response by pit bulls in these cases, the lack of any identifiable trigger is why the pit bull breed is uniquely dangerous. Whether the victim suffered a nocturnal seizure is less relevant given that no identifiable trigger can proceed a violent attack.
View the DogsBite.org Google Map:
California Fatal Pit Bull Maulings
.
Related articles:
11/04/14: 2014 Dog Bite Fatality: Neighbor's Pack of Pit Bulls Kill Modesto Man, Critically...
05/09/09: Alexandra Semyonova: Heritability of Behavior in the Abnormally Aggressive Dog
---
Baseline reporting requirements:
Law enforcement departments across the United States should release consistent "baseline" information to the media and the public after each fatal dog mauling,
including these items
.