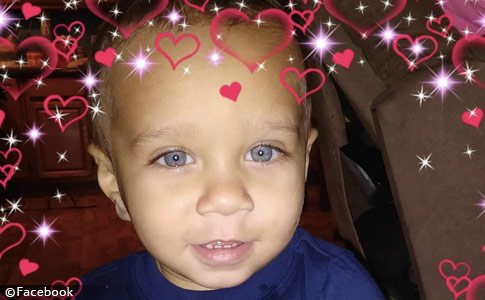 Ashton McGhee died after being attacked by a family pit bulll-mix in Guthrie.

Baby Visiting Home
UPDATE 02/11/19: According to a GoFundMe set up by a friend of the baby's mother, 1-year old Ashton McGhee was visiting his grandmother's home in Guthrie when he was fatally attacked by a family pit bull-mix. "Ashton was playing at his papaw and mamaw's house in Guthrie the night of February 7th when one of the family dogs came in from outside and attacked Ashton who was playing on the floor with a ball." The authors do not blame the attack on a "thunderstorm."
"Ashton lived in Hopkinsville, Kentucky with his mother, Miranda McGhee and his two sisters," states the page. "He loved Batman and was a very active little boy who was always on the go." Contributions will help the family pay for funeral arrangements. "Miranda is a young, and wonderful mother who is in great turmoil and absolute shock and grief," states the page. The fundraising team calls on the community to help "as she has to lay her sweet baby boy to rest."
02/08/19: Baby Killed by Family Dog
Guthrie, KY - A baby boy is dead after being attacked by a family dog, according to Guthrie Police. On Thursday night, police responded to a home on North Ewing Street where they found a 1-year old boy on the couch, unresponsive, but breathing, reports WBKO in Bowling Green. The child had "deep abrasions to the head, chest, and neck" from being mauled by the family pit bull-mix, police said. The child's grandmother suffered injuries while trying to pull the dog off the toddler.
"She suffered herself from some very deep cuts and bites on her cheek and her left arm. She was in pretty rough shape." - Police Chief Dean Blumel
Police said the boy had been playing with a ball on the floor when the dog came inside from outdoors. The dog immediately attacked the baby, including breaking the baby's jaw, reports WHOP. The baby and grandmother were transported to Tennova Medical Center in Clarksville, where the baby died of his injuries. The grandmother was treated and released. The dog was taken into custody by animal control. Guthrie Police have not released the toddler's identity.
Police suspect the fatal attack may have been "triggered by a thunderstorm." Given the rate of thunderstorms annually -- 100,000, according to the U.S. government -- and a population of 90 million dogs, there would be hundreds more fatal dog attacks annually if such a theory were believable. Also, a family dog "frightened" by the sound of thunder, would more likely hide, tremble or try to flee the noise, not attack a baby in the "head, chest, and neck" to seek relief from it.
Police and others have blamed "thunderstorms" on fatal attacks carried out by pit bulls in the past, including the deaths of Kathy Wheatcraft, 48-years old of North Carolina, Deborah Wilson-Roberts, 45-years old of Arkansas (2012), and Nellie Davis, 61-years old of Oklahoma City (2012).
View the DogsBite.org Google State Map:
Kentucky Fatal Pit Bull Attacks
.
Related articles:
11/16/18: 2018 Dog Bite Fatality: Family Pit Bull Fatally Attacks Newborn in Crib in Citrus County
10/27/18: 2018 Dog Bite Fatality: Child Dies After Deputies Arrive to Family Pit Bull 'Slinging...
---
Baseline reporting requirements:
Law enforcement departments across the United States should release consistent "baseline" information to the media and the public after each fatal dog mauling,
including these items
.