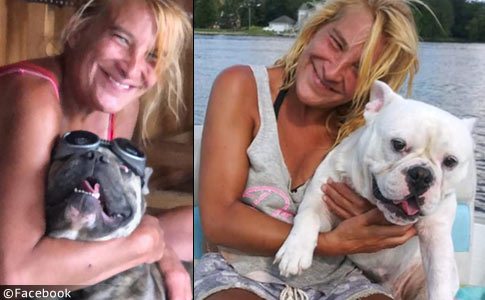 Lisa Urso, 52-years old, seen with her two Shorty bullies, Blue Bear (left) and Rocco.
Canine Mauling Death
UPDATE 05/12/20: The Lake County coroner confirmed Tuesday that a 52-year old woman "definitely died" due to injuries inflicted by one or more of her dogs. Lisa Urso was discovered mauled and mutilated outside her home in the 600 block of Knollwood Road. Dr. Howard Cooper, the Lake County Coroner, said it was difficult to determine which of her three dogs attacked her given the number of bites Urso sustained. Urso owned two Shorty bullies and another dog.
"It wasn't the neck, most (bites) were on her legs and arms. Some on her torso as well. Just a lot of bites. A lot of scratching." - Dr. Howard Cooper
A Shorty bull is a short, squat, gargoyle variation of the American bully and is only recognized by the American Bully Kennel Club. One of Urso's Shorty bullies, named Blue Bear, attacked her boyfriend on April 13 and April 21. At least one of those bites was severe. The last bite resulted in Lake County Animal Care and Control placing the male Shorty bull into quarantine. Afterward, the dog was returned to Urso at her request. On May 9, Blue Bear likely initiated the fatal attack.
A Shorty bull is not a French bulldog. Many newspaper headlines are declaring that a "French bulldog" killed this able-bodied 52-year old female. These headlines are invalid. A Shorty bull is variation of the American bully, which "developed as a natural extension of the American pit bull terrier," according to the United Kennel Club. The Shorty bull "designer bull breed" was created by mixing 5 different types of bull breeds, including the French bulldog and American pit bull terrier.
---
The ridiculousness of a French bulldog perpetrating this attack could result in a Snopes article. Learn more about the Shorty bull standard, which the creator even calls a "working bulldog."
---
Late Wednesday afternoon, The Daily Herald published new details after speaking with Lake County Animal Care and Control (LCACC). "Blue," though Urso referred to her Shorty bull as "Blue Bear," was the main aggressor and had attacked Urso's boyfriend twice in April, causing serious injuries. The white Shorty bull had blood on its coat, but its level of participation in the attack is unknown. Urso's third dog, an elderly border collie-mix, was not involved in the deadly attack.
LCACC spokeswoman Hannah Goering also shut down the unfounded claims that Blue Bear had "been trained to fight" or endured any mistreatment. "Typically dogs which have been trained to fight, whether as the aggressor or the victim, have visible scars or chewed-up ears," Goering said. "This was a very healthy-looking dog; there were no signs of scarring. There is no reason to believe that." Blue Bear, now responsible for multiple attacks, will hopefully be euthanized.
A fatal dog mauling is not a "unique isolated incident," as Goering falsely claimed. These deaths occur about every 11 days in the United States.
Sadly, the breed of dog has not yet been corrected, but that soon may change. A Chicago-based French bulldog rescue group is trying to get the word out. To add to this confusion, Urso's older Facebook page shows that she did previously own a French bulldog. At some point in late 2018, Urso changed course and acquired two Shorty bulls, a brindle male, named Blue Bear, and a white male, named Rocco. The male border collie-mix, named Spike, was about 15-years old.
---
05/11/20: Woman Found Mauled and Dead
Lake County, IL - A 52-year old woman was discovered dead on her back patio after what police believe was a vicious attack by at least one of her three dogs. She was discovered Saturday at her home in the 600 block of Knollwood Road, according to Fox Lake Police Chief Jimmy Lee. Co-workers of Urso went to her home after Urso failed to meet them on Saturday as planned. When officers arrived at the residence, they encountered a "gruesome" scene, Chief Lee said.
Police believe Urso died on her back patio after she escaped from her home, fleeing the vicious attack. There were also signs of a struggle, police said. One of Urso's dog had a history of two recent separate biting incidents. It tore into Urso's boyfriend on April 13 and again on April 21. The latter bite resulted in Lake County Animal Care and Control housing the dog for quarantine. Urso requested the dog back from the agency afterward, which proved to be a "fatal mistake," Lee said.
An autopsy is scheduled for Tuesday to determine cause of death. Until this determination is made, we cannot rule out a post-mortem mauling.
In 2016, in this very same county, there was a suspected fatal dog attack. Police initially believed family dogs killed their 71-year old owner. "The bites were very extensive, there were multiple bites all over the 71-year-old's body from her head to her toes," detective Christopher Covelli said. Also in 2016, two family English bulldogs were suspected in killing their 61-year old owner. The coroner described that scene as "horrific." Both cases turned out to be post-mortem maulings.
A friend of Urso posted to Facebook after learning about her death. The post contains three photographs, each showing Urso with a different dog. The lower right image appears to show the third dog, though its breed is unclear to us. What is clear is that her Frenchies are oversized. In a December 2018 post, Urso called them Shorty bullies, which is a miniature American bully variation. For "stylization" reasons, Shorties often have cropped ears, not Frenchie bat ears.1
"Shorty bulls were created by mixing 5 different types of bull dog breed, some of which were the French Bulldogs and the American Pit Bull Terrier. Shorty Bulls can be American Bully Kennel Club (ABKC) registered and are found at the majority of the American Bully Shows." - Vitamins for Pit Bulls

"The American Bully breed developed as a natural extension of the American Pit Bull Terrier. The APBT has maintained a characteristic appearance and temperament for over 100 years. As with any long-standing breed, several types evolved from the parent breed, with one in particular taking on a specific build and structure that is so unique it was wise to recognize it as a different breed altogether." - United Kennel Club
Returning the Biter
In February, we wrote about Maria Crawford. She was brutally killed by her pit bull-mix last June after it previously attacked her facial region twice. We argued that Ventura County Animal Services, who returned the dog to the family a third time after the dog's escalating owner-directed aggression targeting the owner's face and head region, was a bad policy. We also argued that shelters are now in the position of having to protect family members from their own vicious dogs.
In the case of Urso, we do not know the severity or location of the injuries the dog inflicted on her unlucky boyfriend in April. We do know that both Shorty bullies were puppies in December 2018, thus both have reached sexual maturity (1.5 to 2-years old), the age when aggression often first manifests in pit bulls. The pattern is clear: April 13 bite, April 21 bite and May 9 fatality. As Chief Lee bluntly stated, "The lady wanted her dog back and it attacked her viciously and killed her."
Comments
indicate
that the male brindle Shorty bull named "Blue Bear" is the previous biter.
1
In the unregulated world of unrecognized "designer bull breeds" by open stud book kennel clubs like the American Bully Kennel Club (ABKC), mixing five different breeds to produce one will result in large variations. The ABKC states: "At this time the breed is still in its infancy and the studbooks will remain open for a few more years." That same message was on their website in 2013, according to Internet Archives. In an "open stud book" dogs may be registered even if their parents or earlier ancestors were not previously registered with that entity. Basically, an open stud book means they are still determining breed type. Here is an assortment of Shorty bull variations.
Related articles:
02/10/20: 2019 Dog Bite Fatality: Family Pit Bull-Mix Kills Owner After Attacking Her Two Times
05/17/18: 2018 Dog Bite Fatality: Woman Dies After Fatal Pack Attack Near Ardmore, Oklahoma
---
Baseline reporting requirements:
Law enforcement departments across the United States should release consistent "baseline" information to the media and the public after each fatal dog mauling,
including these items
.