In Memory of Darla Napora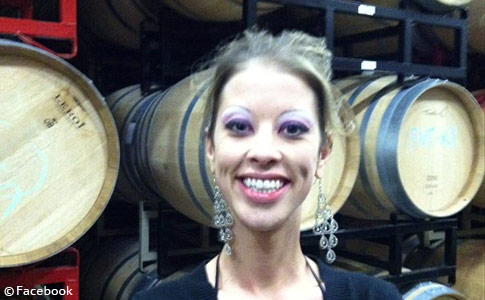 Darla Napora, 32-years old, and her unborn child were killed by her beloved pit bull.
DogsBite.org - Two years ago today, Darla Napora was mauled to death by one of her two pet pit bulls in her Pacifica home. At the time of the attack, she was 32-years old and reportedly in her sixth month of pregnancy. Her father's letter about her death was first published on July 2nd by the Pit Bull Attack Facebook page. Doug Robinson reflects in his letter how this was the most exciting time of her life and that her baby shower was only one month away when she died.
"Two lives ended BECAUSE of a pit bull," he states in his letter.
Robinson also writes that he could "only imagine the shock and horror" that she felt. "She honestly believed in the pit bull." Robinson has always had dogs and has "never trusted a pit bull." The tragic loss of his daughter and her unborn child runs even deeper for him knowing that both deaths were preventable. Darla is always in his heart, "I think of her every day," he writes. He still has all of her pictures, voice and text messages, emails and her phone number in his phone.
August 11th will always be a very painful day for Robinson.
By Doug Robinson

I have tried not to say anything but, every time there is a pit bull attack Darla's name comes up. People commenting about whom they think she was and what happened to explain away the simple fact that a pit bull killed her. HER PIT BULL KILLED HER.

People have said "She was white trash and that she must have abused her dog." or "She fell off a ladder and the dog didn't attack -- it only was trying to awaken her." and "Her husband trained the dog to attack Darla." I also heard she left Yakima because they outlawed pit bulls. In reality, Darla had been living in the Bay Area several years before she decided she had the time and the room to have pets.

Prior to her marriage, Darla adopted a female pit bull and became a member of a local pit bull group that advocated against the bad rap that they always fell into. Darla exercised, trained and loved her dog while providing a good home.

After marriage, Darla's husband wanted a male pit bull and one was rescued. This pit bull was larger than average and for some reason, they chose not to neuter. Darla's husband came home for lunch and found Darla dead, her neck torn open and the male standing over her. Darla's dog was in the corner of another room. Cowering and had urinated on the floor. This was the end of Darla's life and she was pregnant with her first baby. Two lives ended BECAUSE of a pit bull.

I became Darla's Dad when she was about four years old. She played basketball and soccer in school. It was a joy watching her grow up and become an adult. When she turned 18, she asked me to formally adopt her and I did.

Darla was raised around horses, cattle and pigs as well as dogs and cats. Darla always treated animals with dignity, respect and love. Everyone loved Darla. She was a genuine good person through and through.

Darla was so happy when she called to tell me she was going to have my grand baby. She sent me sonogram images and audio from the baby's heartbeat. Yes, I still have all of the pictures and audio plus her texts, emails and her phone number in my phone.

Darla's baby shower was 1 month away when she died. She was planning on flying up to Seattle for it. I had just sent her a crib. Darla was 32 years old; she took her time and planned everything. This was the most exciting time in her life. We, as a family were just as excited.

I can only imagine the shock and horror that she felt. She honestly believed in the pit bull. I have always had dogs. I have 3 now. I have never trusted a pit bull. I know why.

Darla is always in my heart. I think of her every day. I am deeply, deeply saddened by this tragedy. It seems almost worse because it was preventable. My mind goes down the "what if" path very often.

I love Darla and I miss her.

-Doug Robinson
View the DogsBite.org Google Map:
California Fatal Pit Bull Maulings
.
Links added by DogsBite.org.
Related articles:
08/15/11: 2011 Dog Bite Fatality: Pregnant Pacifica Woman Killed by Family Pit Bull