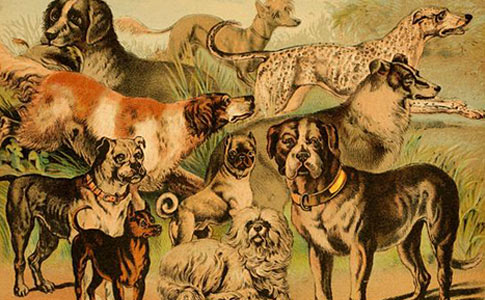 Vintage illustration of different dog breeds, Henry J. Johnson 1880.
View Analytical Paper
DogsBite.org was recently introduced to a variety of works by internationally acclaimed animal behaviorist Alexandra Semyonova -- born in the U.S. and educated at John Hopkins University and University College London. Semyonova writes with breathtaking honesty about issues that matter the most: the reality of selecting for aggression and the repeated denial by humane organizations and dog breeders that such selection bears no hereditary significance.
Semyonova's 8-page academic paper explains, in easily understandable terms, the roots and results of selective breeding. Semyonova states in the opening sentence, "Probably everyone understands that all dog breeds we have created are a result of our own manipulation of inherited physical traits." Semyonova continues, "Once the discussion started about perhaps banning breeds that, as a breed, have a high tendency to attack and kill, everything got confused."
Semyonova's paper clears up this confusion by discussing how it is possible for behavior to be inherited in domestic dogs.
The paper begins by delving into the "physical conformation" of the dog, the shape that best suits the task the dog has been bred to perform, as well as the "behavioral conformation" of the dog. Both aspects are the result of generations of selective breeding, which is why a poodle can be taught to herd sheep but will never out-perform a border collie in the task. "We have bred certain things into various breeds genetically and thus irrevocably," Semyonova candidly states.
"Physical and behavioral conformation mean that you cannot breed out behavior and keep the dog the same shape," Semyonova states. "Form follows function – you can't have a dog whose entire body and brain are adapted to executing the killing bite without having, in fact, a dog who will execute the killing bite."
- Semyonova
The next two areas talk about "selecting for abnormalities and/or pathologies" and "selecting for abnormal aggression." Semyonova distinguishes the difference between normal dog aggression (normal coping responses in a particular environment) and abnormal aggression (high arousal and aggressivitiy in a safe environment). Two studies are cited in these areas, Peremans (2002) and Van Den Berg (2006), that investigate the role of brain function and heredity in aggression.
The combination of these studies shows that through selection for "aggressive performance," breeders have in fact been selecting for specific abnormalities in the brain. In essence, instead of excluding abnormally aggressive dogs from their breeding stock, Semyonova points out that, "breeders focused on making lineages in which all the dogs would carry these genes (i.e., dogs which would reliably exhibit the desired impulsive aggressive behavior). They succeeded."
The concluding section discusses "form follows function." For example, it is by no mistake that dogs selected for "killing" (the pit bull, dogo Argentino and others) are characterized by exaggerated jaw muscles and the willingness to attack in the absence of species-specific signs. Additionally, the environments for which these behaviors were selected (the fighting pit and escaping slave) are so extreme that there is no appropriate context for them in normal life.
"It's also not realistic to pretend that impulsive aggression is not pathological. The environments (the fighting pit, the baited bull, the escaping slave) for which these behaviors were selected as an adaptive response are so extreme that in fact there is no appropriate context for these behaviors in normal life."
- Semyonova
Through discussion and citations, Semyonova carefully maps out her central argument, which is the assertion by humane groups and dog breeders that aggression is not heritable in domestic dogs. This assertion, she writes, given emerging research "is no longer tenable." Furthermore, it is time to stop letting owners and breeders of these dogs deny that they could have known the dog would execute a serious or deadly attack. It is time, instead, to hold them responsible and liable.
Semyonova, A, Aggressive Dog Breeds: Document nr. 1; Heritability of Behavior in the Abnormally Aggressive Dog, The Carriage House Foundation, November 2006.
About Alexandra Semyonova
The 100 Silliest Things People Say About Dogs
Alexandra Semyonova's book is credited by the editor of Animal People as, "The most astute book about dog behavior that we have reviewed in 23 years." Semyonova's book is available for purchase at Amazon.com and several other websites.
Nonlinear Dogs: A Website Dedicated to Telling the Truth About Dogs
From the Nonlinear Dogs website, one can review selected pieces of works by Semyonova including: The 100 Silliest Things People Say About Dogs; The Social Organization of the Domestic Dog; The Deaf Dog Manifesto and others.