Friday, May 29, 2015
Case Closed
UPDATE 05/29/15:
James Nevils III, 5-years old, and his sister, 7-years old, had been outside with the dog while visiting their cousin's South Carpenter Street home, according to a police report. When the mother let her children and the dog back into the home, and was locking the door, the dog latched onto the boy's neck. The mother tried to pull the animal off James then dragged both out onto the front lawn, hoping that neighbors would see the attack and help, according to police.
The mother and her two children had visited the home several times in the past. During the most recent visit, the three had been staying at the home for two days when the attack occurred, police said. The owner of the dog and boy's cousin, Kyle Hannah, was not home at the time of the deadly attack. Hannah had called, however, and asked the boy's mother to let the dog outside. What followed was a scene of bloody chaos as neighbors tried to free the boy from the pit bull's jaws.
05/27/15: Police Issue Two Infractions
The owner of the pit bull that savagely killed 5-year old James Nevils III late Memorial Day has been identified as 27-year old Kyle Hannah by CBS Chicago. The child's grandfather, James Nevils Sr., is appalled by the lack of any criminal charges. Police issued two administrative infractions to Hannah after his dog mauled the boy to death. "That's all you get? My grandson's gone forever, and all you get is two tickets? Yeah, I have a problem with that," Nevils Sr. said.
I'm not happy at all at that. I'm not happy at all. I expected something more than what they received. Two citations for a life?

- James Nevils Sr.
There will likely be no justice for little James, who is just one of hundreds of children
killed by a family dog
or
while visiting the dog owner's home
that go without criminal penalties. Many times there is no justice after a dog
kills a person while off its owner's property
too. In both cases, prosecutors usually have to prove the owner
had knowledge of the dog's propensity to be vicious
(a previous attack). Nevils Sr. hopes to
raise funds so the family can pay for the boy's funeral
.
05/26/15: Pit Bull Kills Visiting Child
Chicago, IL – A pit bull brutally killed a boy on the South Side on Memorial Day. Several witnesses intervened killing the dog, but it was too late. The Cook County Medical Examiner identified the victim as James Nevils III, of the 8200 block of South Escanaba Avenue.
The boy was visiting the Auburn Gresham home
on the 8900 block of South Carpenter Street when the dog latched onto his neck and shoulder, killing him. The boy was unresponsive when first responders arrived.
The lethal attack began inside the Carpenter Street home
, according to neighbor Bianca White. "They were trying to drag the [the dog and boy] out of the house, I guess so people could help," she said. Neighbor Marquis Lewis, 16, said he and his brother Le Mar, 19, started hitting the dog with a brick and a pole until the dog released the child. The teenage brothers beat the dog until it was dead, Lewis said. Neighbor Marco Clifton
stabbed the dog with a pocketknife until it broke
.
It had him around the neck, he wasn't letting go. He was just shaking him by his neck ... It was the scariest thing I ever seen.

– Bianca White
The child was rushed to Advocate Christ Medical Center in Oak Lawn with "traumatic injuries" where he was pronounced dead, according to officials. The owner of the dog was reportedly not home when the attack occurred and returned only after the dog was dead and the boy was being transported to the hospital, Le Mar told ABC 7 News. An autopsy determined the boy died of multiple sharp and blunt force injuries to the head and neck. His death was ruled an accident.
WGN News reported that the
dog belonged to the boy's adult cousin
, the owner of the South Carpenter home. Neighbors told the Chicago Tribune that James, his sister and mother were visiting the home when the dog attacked.
Police cited the dog's owner for failure to license
and vaccinate the attacking dog. The owner's name has not been released. The boy's grandfather, James Nevils Sr., wants the owner of the dog to be held accountable -- fat chance in Chicago.
Witnesses Describe Pit Bull Attack
Why are pit bulls so
disproportionately responsible for attacks resulting in death
? Because of the manner of the breed's attack, described so aptly by witnesses below. Pit bulls often attack without provocation or warning and latch onto the victim's neck or head and shake the victim until he's dead --
the dog executes the killing bite
the breed was selectively bred for centuries to perform. Moreover, the pit bull often does not cease its attack until it is dead.
SOP
in a fatal pit bull attack.
Several witnesses intervened, eventually killing the pit bull that just wouldn't let go of the child ... A pit bull had grabbed hold of a little boy's neck and would not let go.

"Boy 5, Mauled to Death by Dog in Gresham," ABC 7 News, May 26, 2015 (www.abc7chicago.com)


They saw the white pit bull with the boy in its jaw. Some of them ran to get objects to hit the dog, trying to force it to drop the boy. They say the dog would not let go and it was making vicious sounds...

"Police: Boy mauled to death by dog on South Side," Fox 32 News, May 26, 2015 (www.myfoxchicago.com)


"It had him around the neck, he wasn't letting go. He was just shaking him by his neck ... They finally got him off, and the boy was sitting there lifeless. ... It was the scariest thing I ever seen in my life." - Bianca White ... The entire time the dog had a firm grip on James' neck and would not let go ... "It was just horrible." - Brandon Lindsey ... Another neighbor said the dog briefly let go of James but then "went back and grabbed the little boy." - Unidentified neighbor.

Lolly Bowean, "Grandfather of boy killed by dog: 'Person responsible should be made to pay'," Chicago Tribune, May 26, 2015 (www.chicagotribune.com)


"It locked onto the little boy and shook his neck." - Marquis Lewis ... "The stabbing didn't even stop the dog at all?" NBC Chicago asked Clifton. "No. I broke the knife." - Marco Clifton

Anita Selvaggio and Lauren Petty, "Boy, 5, Mauled to Death by Dog on Memorial Day," NBC Chicago, May 26, 2015 (www.nbcchicago.com)


Le Mar Lewis said the dog kept wouldn't let go of the boy even though at least one neighbor was stabbing it with a knife - Le Mar Lewis.

"Boy, 5, Mauled To Death By Dog," CBS Chicago, May 26, 2015 (chicago.cbslocal.com)


Five-year-old James Nevils was visiting a relative's house Monday night, when the dog grabbed his throat and would not let go.

"No charges for owner of dog that mauled, killed 5-year-old boy," WGN-TV, May 27, 2015 (www.wgntv.com)

View the DogsBite.org Google Map:
Illinois Fatal Pit Bull Maulings
.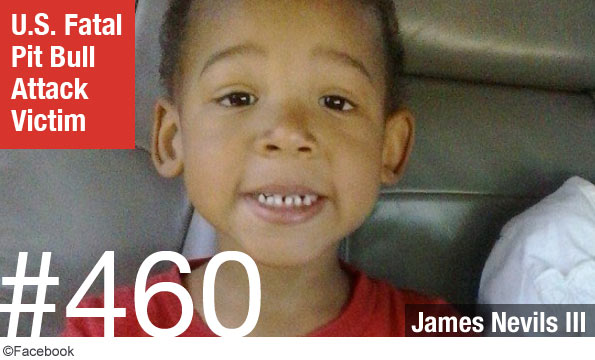 Related articles:
04/29/14:
2014 Dog Bite Fatality: 4-Year Old Girl Killed by Family Pit Bulls in Bloomington
12/27/13:
2013 Fatal Dog Mauling Image of the Year: The Funeral of Ryan Maxwell
12/10/13:
2013 Dog Bite Fatality: 2-Year Old Girl Mauled to Death by Dogs in South Chicago
03/10/13:
2013 Dog Bite Fatality: 7-Year Old 'Visiting' Galesburg Boy Killed by Pit Bull
08/17/12:
2012 Dog Bite Fatality: Chicago Man Killed by Pit Bull(s) in His Home
12/07/11:
2011 Dog Bite Fatality: Woman Dies Following Attack by Pet Pit Bull Last Month
01/18/10:
2010 Dog Bite Fatality: 56-Year Old Man Killed by Daughter's Six Pit Bulls
05/05/09:
Alexandra Semyonova: Heritability of Behavior in the Abnormally Aggressive Dog
Labels: 2015 Dog Bite Fatality, Chicago, Cook County, Disproportionate Response, Executes the Killing Bite, Fatal Pit Bull Attack, Illinois, Visiting Child, Zero Margin of Error

Please donate to support our work
DogsBite.org is a 501(c)(3) tax-exempt public charity organization. Learn more »
posted by
|
permalink
|
6 comments
|

email
|

blog rss
|

comment rss

6 comments:

Your Quiet Neighbor | 5/26/2015 2:06 PM | Flag
Another visitor gets mauled by a family dog. When will it end?

Miss Margo | 5/27/2015 1:22 PM | Flag
jesus...I'm sorry

Jensen Family | 5/27/2015 2:11 PM | Flag
I also read this story on Drudge Report. They did mention it was a Pitbull. During the attack many people were beating and stabbing the dog and were able to get it off the child but then it attacked a second time. Of course some people are saying the dog was extra vicious because it was being beaten and stabbed. How could you hear this story and think about the dog? What about the baby, mother and others who are traumatized from this brutality? It's so devastating! I guess people and even owners try to understand how an animal can be so docile one moment and so hellbent on killing the next. I feel like I live in the Middle Ages with these pet beasts lurking around. Even the most peaceful neighborhood can feel like a lion's den with this type of dog.
So sorry for this family!
Colleen, Thankyou for your hard work and for this website! I have recommended it to several people. I've learned so much too and feel more prepared and aware.

joelande | 5/28/2015 2:36 AM | Flag
I hope the word can be spread that aggressive or problem dogs, and owners who don't obey laws, get formally reported in written reports to police and animal control.

People call it building the paper trail so the owners can be held accountable and punished as they should be.

The owners of property where these dogs are housed need to be notified too.

Too many people just don't understand that they have to get reports on file early before the deaths happen.

Pamela Higdon | 6/02/2015 12:20 AM | Flag
It has been a year and a half since my daughter, Tina was killed by pit bulls. She was just walking home when ambushed. The dogs owners were aware that there was trouble keeping them contained thus were roaming and had bitten others. When will owners realize that these animals are unpredictable and usually go for the juggler vein, latch on and will not let go until the victim is deceased. I am sooo sorry for the loss of another child in such a terrible way. What is the answer? I have talked to politicians galore.

sindy vasquez | 10/31/2015 10:36 PM | Flag
There should be more consequences to the owner. They're the responsible ones. I had a very scattered story, where my son (9yrs old). got attack by 2 pittbulls almost lost his left eye but on his neck and arm. My son had 2 surgery. And, owner admitted to officer on the police statement that the owner didn't know what he was thinking, the dogs are NOT kids friendly, and they also had previous history of the same attack on another child Its been 6 months and still no consequences to the owners they still have the dogs.. I do have a lawyer but I haven't heard from them either.