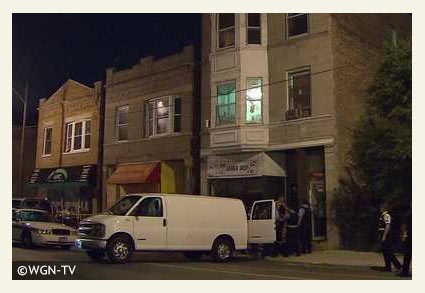 Conflicting Stories
UPDATE 08/17/12: Relatives of Charles Hagerman told news sources that the dogs belonged to his girlfriend's son. The victim's mother, Salithia Maybell, said, "I can't see my baby. My baby's ate up. I can't see him. Okay, I've got to have a closed casket." She added that the pit bulls, "were vicious dogs," had previously killed a dog and that, "they've attacked before." Relatives also said that Hagerman was afraid of the two pit bulls, that were usually kept caged.
In contrast to the victim's relatives, the Pit Bull Attacks and Dogfighting in Illinois blog reports that there was no indication the dogs were dangerous (though the oldest one, Scrappy, was territorial), a neighbor reported seeing the dogs walked "regularly" and Daryl Williams, the owner of the pit bulls, and son of Hagerman's wife, said the pit bulls slept in Hagerman's bedroom. In a Sun Times article, updated today, Williams added, "We always leave him at home with the dogs."
08/16/12: Death Due to Dog Mauling
MailOnline reports that Charles Hagerman suffered multiple injuries consistent with a dog attack. Cook County Medical Examiner's office told the news group today his death was ruled accidental following an autopsy. The victim had bite wounds to his neck and his body was covered in lacerations. Police are still trying to determine if one or both of his pet pit bulls were involved. Chicago police offered MailOnline no further details about the man's death.1
08/16/12: Autopsy Conducted Thursday
Chicago, IL - Late last night, news outlets reported that a 44-year old man was killed by at least one of his two pet pit bulls in his South Side home. A woman discovered her husband, Charles Hagerman, on the floor with their pit bulls nearby. One of the dogs was still on top of him biting his neck when his wife arrived home. Cook County Medical Examiner's office said Hagerman was dead at the scene. An autopsy to discover the cause of his death is slated for today.
In 2011, there were 8 total instances in which a family dog inflicted fatal injury to its primary caretaker, the dog's owner, 88% (7) involved pet pit bulls.
View the DogsBite.org Google Map:
Illinois Fatal Pit Bull Maulings
.
Related articles:
07/11/12: 2012 Dog Bite Fatality: Avondale Man Mauled to Death by Pit Bull-Type Dog
05/08/12: 2012 Dog Bite Fatality: Pet Pit Bull Kills 74-Year Old Santa Fe Man
12/08/11: 2011 Dog Bite Fatality: White County Man Mauled to Death by Pet Pit Bull
12/07/11: 2011 Dog Bite Fatality: Woman Dies Following Attack by Pet Pit Bull Last Month
09/02/11: 2011 Dog Bite Fatality: Philadelphia Woman Killed by Husband's Pit Bulls
08/23/11: 2011 Dog Bite Fatality: Tucson Man Succumbs to Injuries After Attack by Pet Pit Bull
08/15/11: 2011 Dog Bite Fatality: Pregnant Pacifica Woman Killed by Family Pit Bull