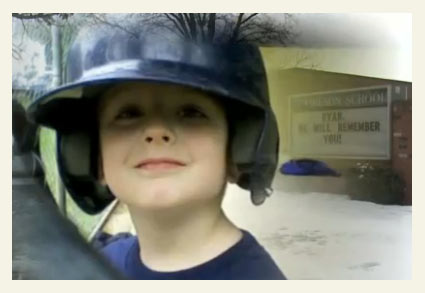 Ryan Maxwell shown next to his school's remembrance sign.
New Details Emerge
UPDATE 03/10/13: The Register-Mail published two updates Sunday that help clarify family relationships and the events leading up to the fatal dog attack. Ryan was brutally killed by a pit bull while visiting the home of Susan Ferguson on Whiting Avenue on March 2. The Ferguson family had two pit bulls; police shot the dog, named Ghost, that attacked Ryan. Ashiya Ferguson, Susan's daughter, surrendered the other pit bull pledging, "I will never own another pit bull again."1
The two pit bulls belonged to Ashiya Ferguson and Jereme Carter. Last August, Carter was arrested and charged with the shooting death of Terrell Allen in Galesburg. After his arrest, Ashiya and the two dogs moved to her mother's home at 675 Whiting Avenue.2 Galesburg Animal Control responded to two complaints between December and February that the dogs were left neglected out in the cold. By the time officers arrived, the dogs had already been taken back inside.
Ashiya denies her pit bulls were neglected and that Ghost was dangerous.
Ryan's mother, Sarah Mead, has a 1-year old child with Jeffery Ferguson, Ashiya's brother. An earlier article described Jeffery as his mother's fiancée. It was Jeffery who invited Ryan to go to Skate Palace then spend the night with family members who live at the Whiting Avenue home. Ryan's 1-year old brother also spent the night. On Saturday afternoon, following the evening of skating, Ryan played with Ashiya's two youngest children, 7 and 8, in the backyard of the home.
Ghost was chained to the deck in the back of the home, but "somehow" managed to break free. The pit bull then launched a lethal assault on Ryan -- clamping onto his throat -- just outside the home's rear sliding glass door. Ashiya said that nothing could free the boy from the dog's jaws. They kicked the dog; hit it with shovels and the butt of a BB gun. "I couldn't believe it was Ghost," Ashiya said. "Oh God, it was so horrible. I couldn't stop it. I couldn't stop it. I couldn't stop it."
Keen observations of a dog breed selectively bred to perform exactly this way.
03/05/13: Mother Breaks Down
Painful details continue to emerge in the wake of Ryan Maxwell's horrific death. The Register-Mail reports events leading up to the fatal pit bull mauling. Ryan had been invited to go to Skate Palace then spend the night with friends who live on Whiting Avenue. It was Ryan's first and last time to ever roller skate. On Saturday, he was viciously attacked by a pit bull residing at the Whiting Avenue home. The animal still had the boy clenched in its jaws when police officers arrived.
Sarah Mead, the boy's mother, said the reality of her son's death had not set in. But she broke down when being interviewed. "I have to go to the funeral home at 1 p.m. today," Sarah said. She started to cry. "Not my baby. This isn't fair. This isn't right. Words can't describe how I feel right now. I have never felt this much pain in my life." Sarah's mother, Tina Mead, said they were all at the hospital, when doctors couldn't revive Ryan. Sarah had to give them permission to stop.
After that, Ryan was in a room and Sarah and I went in there to lie with him. To be with him. Half of his face was gone. And all of his throat. They had a wash cloth over half his face and his throat covered up. This thing did that to him. This thing just took our heart. It just took our soul. - Tina Mead
Visitation is scheduled for 4 to 6 p.m. Wednesday at the Hinchliff-Pearson-West Galesburg Chapel, with services at 11:30 a.m. Thursday.
View Related video3
03/04/13: Teacher Interviewed
In a solemn update, WQAD interviews Ryan's teacher at Nielson Elementary School. Ryan was in the second grade. The video images of his teacher talking, the school hallway lined with small coats and Ryan's desk, overflowing with cards and stuffed animals left by his classmates, come too soon after Sandy Hook. The school is providing grief counselors for the students, staff and parents to help them cope with the sudden loss of Ryan, horrifically struck down by a pit bull.
A memorial fund was established at Ryan Maxwell Memorial Fund, in care of F&M Bank, 21 East Main Street, Galesburg, Illinois 61401.
03/03/13: Dog Owner Blames Self
The owner of the pit bull that savagely killed 7-year old Ryan Maxwell told CBS4 news on Sunday that her family tried everything they could to get the dog off the boy, including using a shovel and a lighter. "My son pushed me out the way and just ran up there and start beating the dog and I could just see the dog had this baby," said Ashiya Ferguson. She said her family has had the dog for a year and a half, but yesterday, amazingly, they saw a "completely different side" of the animal.
To repeat once again, what we have written so many times on this website:
The behavioral characteristic of pit bulls to grab ahold of things and shake it until its dead occurs when the dog enters into sexual maturity, about 1.5 to 2 years old. This is not debatable.4
The family will never forget the screaming and brutality of the scene, of having to witness their own dog relentlessly maul a child, reports CBS4. "I feel guilty I blame myself. I'm sorry and I feel so bad," said Ferguson. The owner said she takes responsibility for what happened and prays it will never happen to anyone else. Her words, however, arrive too late -- the boy is dead. Likewise, as a pit bull owner, Ferguson was perfectly aware of the breed's horrific reputation for killing.
Q: How many times did Ashiya Ferguson recite pit bull myths in the last 1.5 years?
03/03/13: Dog Kills Visiting Child
Galesburg, IL - In a developing story, a 7-year old boy was mauled to death by a dog on Saturday. Police responded to 675 Whiting Avenue just after 1 pm to a report of a child attacked by a dog. Officers arrived and found the dog still biting the boy. Once the officers "disengaged the dog" the animal turned on them. Police shot the dog to prevent further attacks on officers or others nearby. The boy was taken to Galesburg Cottage Hospital, where he died from his severe injuries.
According to the news release from the Galesburg Police Department, the boy was visiting the home and playing in the backyard when he was attacked. KWQC reports that investigators described the dog as a pit bull. Investigators also believe the dog was restrained prior to the attack, but managed to break free. Police are withholding the boy's name pending notification of family. Notably, police arrested a man for armed robbery at the same residence last October.
View the DogsBite.org Google Map:
Illinois Fatal Pit Bull Maulings
.
1
It is unknown where the other pit bull was located when Ghost fatally attacked Ryan.
2
Later the same night, after Terrell Allen was shot to death, Ashiya was in a parked car in front of her and Carter's home when an unknown number of assailants open fired, riddling the car with 11 bullets. Ashiay and Carter understand deadly violence all too well. Golden retrievers or poodles wouldn't interest this couple.
3
Paula Johnson, the boy's great-aunt, used "dogs" in plural form in the video. Thus far, via online research, we believe at least two family members owned pit bulls, but it is unknown if both dogs were present during the attack.
4
What is debatable is how often, if ever, breeders of pit bulls and groups that adopt out young pit bulls ever share this information with the buyer or adopter. Doing so would deflate the myth, "It's all in how you raise 'em!"
Related articles:
01/11/13: 2012 U.S. Dog Bite Fatality Statistics - DogsBite.org
12/16/12: 2012 Dog Bite Fatality: Pit Bull Kills 2-Year Old Girl; Nearby Restrictions...