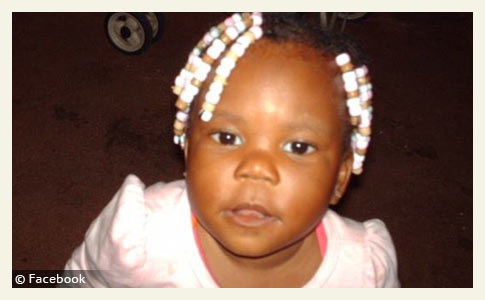 Pit Bull Kills Toddler archived
West Mifflin, PA - On Sunday evening, 2-year old TayLynn DeVaughn was viciously attacked and killed by a family pit bull-mix while visiting her aunt's home on Fleetwood Drive in West Mifflin, a Pittsburgh suburb. The pit bull belongs to her aunt's boyfriend. The child's father, Cory DeVaughn, told WPXI, "I came out of the kitchen and the dog dropped the baby. His name was Jake and my baby was gone." The toddler was rushed to Jefferson Memorial Hospital and pronounced dead.
The distraught father also said that it was the second time his daughter had been around the pit bull-mix. DogsBite.org adds, the second time and last time. DeVaughn said he doesn't blame the owners and that everyone is hurting right now. "She has a lot of people that love her a lot. People all over love my baby," DeVaughn said. Allegheny County police said the county district attorney's office would review the case for possible charges once the police investigation is complete.
"You gotta be careful whose house you take your child to, so it won't happened to your child what happened to mine." - Cory DeVaughn
The West Mifflin animal control officer who impounded the dog, Ken Ferree, has now handled at least two fatal dog attacks. Ferree also impounded Nikko, a recently adopted husky that killed a baby in McKeesport in 2012. Nikko was seized after the violent attack then quickly adopted out to a new family -- prior to even undergoing the standard 10-day rabies quarantine. Thus setting up the ethereal court battle over a baby-killing dog whose life was ultimately spared by a judge.1
Ferree told the TribLive on Monday that the dog is a 3- or 4-year-old pit bull mix and weighs about 80 pounds. "It's a good-size, powerful dog," he said. "It fought me a bit ... when we had to remove it." Though using a catch-pole to handle the dog, the animal attacked him again at the kennel. "He wasn't a cooperative dog," he said. Ferree said he would keep the dog in his McKeesport kennel for the standard 10-day quarantine period. Let's hope for everyone's sake that is true this time.
View the DogsBite.org Google Map:
Pennsylvania Fatal Pit Bull Maulings
.
1
Onion's life was ultimately spared as well after a 2-year court battle. Both cases involved New York-based Lexus Project intervening to spare the lives of child-killing dogs.
Related articles:
09/11/14: 2014 Dog Bite Fatality: Visiting Child Killed by Family Pit Bulls in Miami-Dade County
08/08/14: 2014 Dog Bite Fatality: Visiting Child Killed by Aunt's Pit Bulls in Fanning Springs...
07/29/14: 2014 Dog Bite Fatality: Visiting Child Killed by His Uncle's Two Pit Bulls...
07/22/14: 2014 Dog Bite Fatality: Visiting Child Under Babysitter's Care Killed by Family Pit Bull...
05/08/14: 2014 Dog Bite Fatality: Visiting Child Killed by Pit Bulls Owned by Friends in Felton...
03/08/12: 2012 Dog Bite Fatality: Newborn Dies After Severe Dog Bites in McKeesport