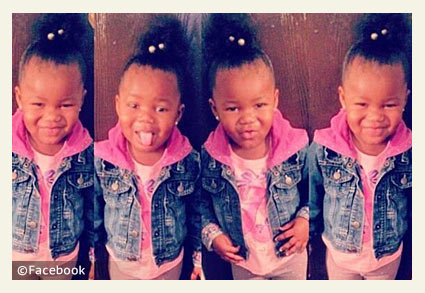 Family Calls for Justice
UPDATE 12/10/13: Authorities continue to investigate the death of Jah'Niyah White. She died on Saturday while staying at her maternal grandfather's home after suffering injuries from a dog attack. Family members gathered in front of his home on Monday in the freezing cold to mourn the child and call for justice. Jah'Niyah's mother, Kashairah Gardner, and family members attached balloons, photos and pink paper to a street signpost on East 91st Street and Buffalo Avenue.
It's a way to remember her, to keep her close to our hearts - Lakeeta Gardner
The child's family does not understand why no one is in jail after her death was ruled a homicide. "I want him locked up," Britt Williams-Nelson said, who is the child's paternal grandmother. "I want the police to be over here and see him and take him into custody ... It's been ruled a homicide. Why is no one in jail?" she demanded. "I want justice for Jah'Niyah," she said. "The person that did this to Jah'Niyah? I want to see them behind bars for what they did to my granddaughter."
Kashairah said she left her daughter at her father's house Friday night. She said she left work early Saturday, "haunted by an eerie feeling," states the Tribune article. When authorities told her about her daughter's death, "They told me my baby was gone, just gone," she said. When asked by reporters if she had ever worried about her father's two pit bulls, Gardner shook her head through tears. Gardner said her daughter "was attached to them, and they was attached to her."
12/09/13: Two Pit Bulls Seized
The Chicago Tribune reports more information about the little girl's family members and circumstances surrounding her death. Jah-Niyah White, 2, was pronounced dead on Saturday after suffering multiple injuries from a dog attack. Britt Williams-Nelson, the child's paternal grandmother, told the Tribune when reached by phone: "I've been up for the last 48 hours," she said mournfully. "I can't sleep. I can't eat. I can't do anything except worry about my baby."
Williams-Nelson resides in Phoenix, a suburb south of Chicago. At the time of the attack, Jah-Niyah was staying at her maternal grandfather's home in the 3300 block of East 91st Street in South Chicago. The Chicago Police Department continues to investigate her death. No arrests or charges have been filed as of Monday morning. The city's Department of Animal Care and Control seized two dogs from the grandfather's home; the girl's family said both dogs were pit bulls.

Police contacted the city's Department of Animal Care and Control, who took custody of two dogs, one named "Brownie" and another named "General Chico,"' according to a police report. Officials with the Department of Animal Care and Control have not returned several telephone calls today. The family said both dogs were pit bulls, an adult female dog and her puppy. - Chicago Tribune
The Tribune also reached Jah'Niyah White's mother, Kashairah Gardner, 20, by phone this morning, "I'm doing okay," she said. "I'm hanging in there." Jah'Niyah's father, John White, 21, lives and works in Missouri, but arrived at his mother's Phoenix home last Thursday, bringing Christmas presents for his daughter. Williams-Nelson said the girl's parents are no longer together, but remain good friends. Williams-Nelson said her son "can't stop crying" since the child's death.
Williams-Nelson and her husband cared for the child at least once a week. "We were part of her life as much as her parents were. My husband loved (her) more than life itself," Williams-Nelson told the Tribune. She also said she had 4,000 photos of the child on her cellphone and is currently surrounded by a room filled with Christmas presents that were intended for Jah'Niyah. Kashairah Gardner, sadly, is now arranging to give to needy children the gifts she purchased for Jah'Niyah.
Circumstances Surrounding Her Death
Chicago Police detectives were called to the East 91st Street home at 2:45 pm Saturday to assist Chicago Fire Department. According to a police report, the 50-year old man who called police led officers to the bathroom of his third floor apartment, where the child was found "lying on the floor on her back with a white towel around her neck." The man told police officers she was "bouncing on a bed when she fell off and struck her head on the corner of a dresser," the report stated.
The man's relationship to the child was not given in the police report.
Officers saw that Jah'Niyah was still breathing and felt a pulse. Paramedics began rushing her to University of Chicago Comer Children's Hospital. On the way there, however, she "went into defibleration (sp)" and paramedics had to go to the nearest hospital, Jackson Park Hospital, where she later died. A doctor told police that Jah'Niyah had several lacerations and puncture wounds on the back of her head and her neck, and that her left ear lobe was missing, the report stated.
12/08/13: Girl Killed by Dogs
Chicago, IL - In a developing story, a 2-year old girl was mauled to death by one or more dogs at a South Chicago home yesterday. Jah'niyah White died at Jackson Park Hospital on Saturday at 3:40 pm after suffering a head injury at her maternal grandfather's home in the 3300 block of East 91st. An autopsy conducted Sunday found the girl had been neglected and died from multiple injuries she sustained in a dog attack, according to the Cook County Medical Examiner's office.
The medical examiner's office ruled her death a homicide.
The Illinois Department of Children and Family Services is investigating the girl's grandfather for allegations of abuse. A spokeswoman said the agency has had no prior contact with the family. The grandfather has not been charged with a crime. Jah'niyah's father, John White, said she did not live at the 91st Street home, but was staying there while her mother was at work. He said he was told the girl fell. Erin Lewis, a family friend, said, "Everybody is just really in pieces right now."
"Visiting" the Dog's Owner
So far in 2013, 41% of all victims of fatal dog maulings were either visiting or living temporarily with the dog's owner at the time of the deadly attack. 83% of these victims were children, 7-years and younger. Over half of these victims, 58%, were under the care of a family member, relative, friend or babysitter at the time of the fatal attack. One of these incidents (8%) involved a chained dog and a young child. Excluding the death of Jah'niyah White, 91% of these attacks involved pit bulls.
Breed information still remains unavailable in the most recent U.S. dog attack resulting in death.
View the DogsBite.org Google Map:
Illinois Fatal Pit Bull Maulings
.
Recent Cook County fatalities:
08/17/12: 2012 Dog Bite Fatality: Chicago Man Killed by Pit Bull(s) in His Home
01/18/10: 2010 Dog Bite Fatality: 56-Year Old Man Killed by Daughter's Six Pit Bulls
Photo: Daily Mail