Tuesday, August 23, 2011
Michael Cook, 61-years old, died after being attacked by his pet pit bull.
Dog Attack Victim Dies
UPDATE 08/23/11:
Twenty days after suffering catastrophic injuries from his pet pit bull, Michael Cook succumbed to his condition this morning and died. Since the August 3 mauling, Cook required over 100 pints of blood and doctors removed both of his arms. The amount of blood Cook needed depleted area blood banks causing his family to issue a plea to the public to "replenish the blood site for the City of Tucson." The family provided a vintage photo of Cook.
08/15/11:
Doctors Amputate Both Arms
Over the past few days, doctors have amputated both arms of Michael Cook. Thus far, the victim has required over 100 pints of blood. His sister Toni Sweet told reporters that the bleeding has finally stopped. Cook is still in critical condition, suffering from liver failure and kidney problems in addition to the catastrophic injuries inflicted by his pit bull. Cook is the third pit bull owner we have recorded who has become a double arm amputee after an attack.
Others include:
Annette Williams
of Greensburg, Indiana, and
Vicky Jeffries
of Abilene, Texas.
08/06/11:
Mauling Victim Identified
The victim who was nearly killed by his pet pit bull, named Butch, has been identified as Michael Cook. As expected, his family is calling the horrific attack a
freak accident
and blaming the dog's actions on a bad dose of medicine given to it after it was neutered. Cook's son Nicholas admitted that Butch, who he called a
big baby
, had fought with other dogs in the past and that in this case, "He just happened to flip at the wrong time, you know?"
Thus far the victim has required over 60 pints of blood depleting area blood banks. The victim's family is calling on community members for blood donations to the Red Cross to help replenish area blood banks. The victim's sister Toni Sweet said, "donate what you can when you can to replenish the blood site for the City of Tucson because if another situation arise or God forbid another type of trauma, they won't have enough blood so we as a family are asking."
Dangerous dog breeds, primarily pit bulls, are a threat to public health for many reasons. This is why DogsBite.org -- a resource of over 2,000 pages -- was created. We can now add to this threat the "depletion of area blood banks" after a serious mauling. Lawmakers, media members and citizens of Tucson cannot ignore the seriousness of this issue. Area residents can contact Red Cross Blood Drives by
visiting their website
or calling 1-800-RED CROSS.
08/05/11:
Victim Left "Unrecognizable"
Tucson, AZ – A 61-year old man who was violently attacked by his pet pit bull
1
Wednesday remains in critical care. The incident happened at the victim's home on Paseo De Las Aguilas, near Valencia and Camino De La Tierra. Initial reports indicated that the victim suffered "very serious" injuries, specifically bite injuries to his neck. According to Drexel Heights Fire, the man went outside to break up a fight between his two dogs when the pit bull turned on him.
Mauling threads
with local voices have sprung up questioning if an improper dose of medicine by a veterinarian – the pit bull had been neutered that morning – caused the animal's ferocious attack. In one thread, user maghair wrote, "The family has spent every waking moment at the hospital since this tragedy and … We don't think he will make it ... the dog chewed thru every artery in his body, legs arms, hands, torso, neck and face and he is unrecognizable."
2
Neighbor Fernando Lozano, 21, and his stepfather where doing yard work when they heard screams from a nearby home. They ran down the alley and looked over the fence. "It literally looked like he was eating him," Lozano said. "I just felt helpless." Lozano then described
degloving injury
commonly carried out by pit bulls. "You could actually see where the skin had peeled back on his arms," Lozano said. "You could kind of see the muscles coming out."
Jayne Cundy of Pima Animal Care Center was quick to point out, "Every situation is unique ... we don't know
what triggered it
"
3
and "[The pit bull] can't express itself like a human,
4
so let's find out what happened. It's not just another pit bull attack," Cundy said. DogsBite.org and many witnesses to these attacks disagree. There is not a thing about Lozano's account that differs in anyway from countless deadly attacks carried out by pit bulls over the past 30-years.
1
Pit bull owners recently killed by their pet include: David Haigler, 38-years old (Spotsylvania County, VA), Justin Lane, 25-years old (Latta, SC) and Carter Delaney, 20 years old (Leesburg, VA). This does not include mothers and fathers killed by their adult child's pit bull or an adult killed by a parent's pit bull or the many instances in which pet pit bulls horrifically maul their owners who live to tell about it.
2
The term "unrecognizable" and pit bull attack have been operating in unison for decades. "The attack rendered the child 'unrecognizable as a human being,'" ("The Pit Bull Friend And Killer," Sports Illustrated, 1987).
3
The trigger required for a pit bull to launch an attack can be as simple as dropping a glass, or holding a stuffed animal. Expect to see professional whitewasher James Crosby show up on scene soon.
4
The egregious anthropomorphism by pro-pit bull groups in defense of the breed -- all dogs are individuals, canine profiling and more -- typically snap back "Cundy style" after a serious or fatal mauling to, "Your animal is an animal. It's not human ... it doesn't have human values," Cundy said.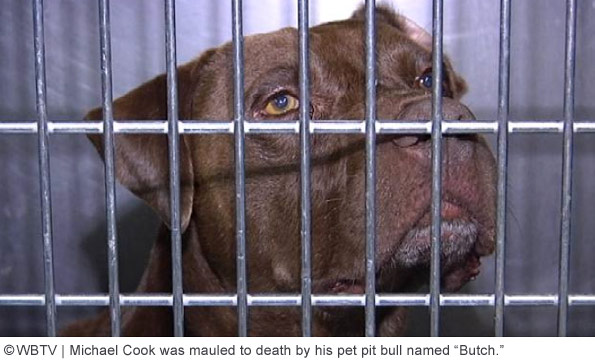 Related articles:
06/15/11:
2011 Dog Bite Fatality: 74-Year Old Man Dies After Catastrophic Pit Bull Injury
12/08/10:
2010 Dog Bite Fatality: Murrieta Man Dies from Pit Bull Attack Injuries
02/08/10:
Pit Bull Owner Asks Police to Shoot Him After Dog Attacks His Face
12/10/09:
2009 Dog Bite Fatality: 70-Year Old Dies After Violent Maiming by Pit Bulls
05/11/09:
Animal Agency, PSPCA, Distorts History of 25-Year Old Pit Bull Problem
08/04/08:
Triggers: What Prompts a Pit Bull to Attack?
07/03/08:
Henry Piotrowski, 90, Suffers 3 Amputations After Pit Bull Attack
Labels: Amputation Injury, Arizona, Catastrophic Pit Bull Injury, Fatal Pit Bull Attack, Pit Bull Dog Aggression, Pit Bull Kills Owner, Severe Pit Bull Injury

Please donate to support our work
DogsBite.org is a 501(c)(3) tax-exempt public charity organization. Learn more »
posted by
|
permalink
|
23 comments
|

email
|

blog rss
|

comment rss

23 comments:

maultalk | 8/05/2011 1:46 PM | Flag
Maghair is a good example of how a once "happy loving pit bull family" who raised their dog very well is now struggling to understand why the dog suddenly attacked (AKA blame it on the veterinarian.) Simultaneously, the family has to fight off pit nutters such as commenter Naomi who says, "This makes me wonder how he treated his dog."

Dude, I BaggedYourPit | 8/05/2011 5:14 PM | Flag
A toast to you Mr. Tuscon Pit Bull! Thank you for expressing your DNA on your owner, rather than an innocent person or pet in your neighborhood. Good boy!

DubV | 8/05/2011 10:24 PM | Flag
"Jayne Cundy of Pima Animal Care Center was quick to point out, "Every situation is unique ... we don't know what triggered it" "

Why do idiots always think they are so freaking deep when they state things either obvious, untrue, or simply confused?

maultalk | 8/05/2011 11:48 PM | Flag
Cundy is the spokesperson for the Pima Animal Care Center. I doubt she said anything "off the cuff" in the interview. Her statements were very specific (rehearsed) in response to a near fatal pit bull mauling:

"Every situation is unique. This is obviously very sad situation and it was quite a bad attack, but we don't know what triggered it" ... Your animal is an animal. It's not human . . . it doesn't have human values," Cundy says. "It can't express itself like a human, so let's find out what happened. It's not just another pit bull attack ... we don't know the reason behind it right now."

Cundy was also the spokesperson during the Pima County dogfighting bust (Pat Patrick). Her department took a lot of heat from pit bull groups after they euthanized nearly all of his dogs. These recent statements are a real shift from her previous "common sense" ones about Patrick's dogs.

2009--The Pima Animal Care Center takes care of seized animals until it knows what it can do with them, and does not adopt out or euthanize the animals until they legally become county property, said center spokeswoman Jayne Cundy. "In those cases we have to be told, because we're just holding them. It's up to the Tucson Police Department or the Pima County Sheriff's Department..."
http://tinyurl.com/43n8krw

I guess her department has made a shift...

snack sized dog | 8/07/2011 10:48 AM | Flag
Thanks for the analysis of the very intricate maul talk you pulled from the various articles. There was a lot.

The discussion about the dog being in pain and on medication is really disgusting. All that accounts for is that a dog lashed out in pain.

It does not account for the fact that an animal in pain launched a SUSTAINED, FULL BORE ATTACK , that every major artery was torn, that the man was unrecognizable, that his arms were degloved, or that care for the victim depeleted an entire county's blood supply. (I would like to point out that the article I read didn't say he required 60 pints of blood - it said that they stopped counting at 60 and that he will require more.) The owner is leaking like a sieve. Being in pain or on medication accounts for NONE of that - how many dogs get neutered EVERY DAY?

The fact is nothing accounts for how this dog behaved except : Its a pit bull and they were bred to do that.

truthbird | 8/07/2011 1:34 PM | Flag
Gee, nice combo, Tucson has the sickest housing market in the U.S.; I would imagine still reeling from the Gifford shooting and low on blood supplies (possibly also related to the Gifford shooting)… Tough times for Tucson citizens to be sure. So let's add some pit nutters to the mess.

Nicholas also said, "I loved my Pit Bull." I sort of doubt his father was the owner, but ironically may have been the one who had the dog neutered to help lower its "dog aggression." Maul talker Nick is also calling his red nosed pit bull a "pit bull-Lab mix." Just anything -- anything at all to help lighten the load against his frankenmauler.

craven desires | 8/07/2011 6:52 PM | Flag
mr darwin, please pass me the kleenex.

vintage | 8/08/2011 3:12 PM | Flag
They are now saying it was the Son's animal.

I refuse to use the word DOG.

maultalk | 8/14/2011 10:50 PM | Flag
Looking grim:

AUG 14, 2011 -- The Tucson man who was mauled by his pit bull earlier this month had his left arm amputated Friday. Toni Sweet, sister of 61-year-old Michael Cook, said her brother's doctors will decide Monday whether to amputate his right arm as well.

http://www.kold.com/story/15265488/pit-bull-attack-victim-loses-left-arm?redirected=true

Ro Martinet | 8/16/2011 10:36 PM | Flag
100 pints of blood; "degloving" (what a particularly ghoulish, if apt, description); "looked like he was eating him;" double amputation....GOOD LORD, WHEN WILL I LEARN TO STOP READING THESE PIT BULL BLOGS BEFORE BED?!

I have a book called The History of Torture (don't get the wrong idea about me please, it's as scholarly a text as can be given the subject matter), and I swear, the descriptions of pit bull maulings are more gruesome than most of the stuff in that book. I am serious.

I'm with you, Vintage. I stopped considering pit bulls to be dogs a long time ago. I can't even summon warmth for the PB puppies I see anymore. It makes me uncomfortable to feel hatred towards an animal, but after reading all these accounts, I can't help it.

I also think that every time a cop has to shoot a pit bull, they should charge the owner for the bullet(s).

april 29 | 8/17/2011 6:49 PM | Flag
This unfortunate victim will be on disability for the rest of his life. His line of work? Musician and handyman... as a double amputee, does not look good.

vintage | 8/24/2011 12:43 AM | Flag
Arizona Piticides

August 2011, Pima County, AZ
Michael Cook, 61-years old

December 2004, Navajo County, AZ
Annilee McKinnon, 5

July 2001, Maricopa County, AZ
Alexandro Caballero Mendoza, 50

December 2000, Pima County, AZ
Louis Tenorio, 59

November 1999, Pima County, AZ
Joan Encinas, 42

February 1985, Maricopa County, AZ
Deborah Pernell, 33

September 1979, Maricopa County, AZ
Lillian Whitehead, 6

Sputnik2009 | 8/24/2011 1:19 AM | Flag
"Nicholas admitted that Butch...had fought with other dogs in the past and that in this case, "He just happened to flip at the wrong time, you know?"

Typical narcissistic PB nutter comment. It was okay for the non-dog to flip at someone else's dog, someone else's child, some other adult -- just not at his own father.

Too bad this non-dog didn't flip at Nick himself. Would've relieved society of someone so pathologically narcissistic that he won't review his desire for a penis-extender even as his father lies dying.

truthbird | 8/24/2011 1:38 AM | Flag
Though racked with guilt and DENIAL -- and blaming the typical pit bull IED roadside bombing attack on his pet having a "bad day" due to being neutered -- Nick particularly must be thanking God it wasn't him that day. Ironically, the whole FOCUS of the Darla Napora incident is that the pit bull killed because it was NOT NEUTERED. Now, we've got an instance where a pit bull killed "just because IT WAS NEUTERED."

Sputnik2009 | 8/24/2011 6:38 AM | Flag
Not that I have time to do it, but...

It would be very interesting to research how strongly PB ownership correlates with a) narcissistic personality disorder, and b) (severely) depressed IQ.

We already know it correlates strongly with fragile masculinity (in women commonly called penis envy).

Mary | 8/24/2011 2:12 PM | Flag
Ugh. The excuse that the dog mauled because it had been neutered is bogus. Dogs can be grumpy if in pain but since mauling requires lots of physical exertion, I doubt this mauling was due to pain. Dogs in pain stay still a lot and may growl and snap if prodded, but they don't kill.

When are pit nutters going to wake up and realize that these dogs are so much more likely to maul and kill because they have been selected for their ability to maul and kill? Fighting dogs are not meant to be family pets and people need to stop breeding them. Really, if one wants to breed dogs that are safe and sane pets, don't breed dogs that are widely used for fighting.

skeptifem | 8/24/2011 8:38 PM | Flag
I don't want anyone to under-emphasize the suffering of someone who had that many blood transfusions. The way that they check if someone needs another transfusion is to draw their blood and check what percentage of their blood is actually cells vs plasma, usually on a schedule of every 4-6 hours (or after an infusion). Since his arms were unusable (later amputated) they probably drew it out of ports inserted into central artieries or large veins (if he had upper arms left), or by drawing blood out of the top of the foot. Additionally, every unit of blood needed to be matched to blood that was already drawn from him, and the FDA stipulates that the tubes drawn for crossmatching are only good for 72 hours. The lines inserted for repeated blood draws can become infected and are painful when installed, and do not always continue working once in place (so they may need to be replaced or foot draws may have been instituted). He most likely had other daily blood draws for his liver and kidney problems, and god knows what else. Special diets are needed for patients with kidney or liver problems (unless he was on a tube). He went through 20 days of that, along with a bunch of stuff that wasn't included in media reports. I don't know how many people actually see others in critical condition, but it is one of the worst things I have ever seen and wouldn't wish it on anyone.

vintage | 8/26/2011 5:44 AM | Flag
Mr Cook was the sixth US Pit Bull owner killed by their own animal since last October....Unfortunately, Pit Owners only comprised roughly 30 percent of the Pit DBRF victims. The others are normally their children or a neighbor.

August 2011, Pima County, AZ
Michael Cook, 61-years old
Fatal dog attack: pit bull

August 2011, San Mateo County, CA
Darla Napora, 32-years old
Fatal dog attack: pit bull

June 2011, Spotsylvania County, VA
David Quyon Haigler, 38
Fatal dog attack: pit bull

March 2011, San Bernardino County, CA
Jennie Erquiaga, 47
Fatal dog attack: pit bull

January 2011, Colusa County, CA
Linda Leal, 51
Fatal dog attack: pit bull

October 2010, Callaway County, MO
Rev. John Reynolds, 84
Fatal dog attack: pit bulls


The Pit Advocacy groups and the Dog Lobby feigning shock at this phenomenon is starting to get repulsive.

Watcher | 8/26/2011 7:23 AM | Flag
One of the factors of a pit bull is that it will be able to with stand great pain. Getting fixed at the vet would not be the cause of this killing. This happened because pit bulls were created to fight and kill other dogs so the dog has great tolerance for pain. Pit bulls often have to be shot three or four times by police to stop the dog. This dog had fought other dogs. The dog was unpredictable. I wish Ms. Cundy would point these factors out. I do know she's put up with these absolutely awful people who are irrational about pit bulls but she needs to educate the public too.

DubV | 8/30/2011 3:56 PM | Flag
Sputnik said..

"It would be very interesting to research how strongly PB ownership correlates with a) narcissistic personality disorder, and b) (severely) depressed IQ."

Less intelligent people are almost always less careful with themselves and others, at least based upon my observations. I believe this is because anticipating danger requires prediction based upon understanding cause and effect and having an imagination that can conjure various scenarios and see how plausible they are. In other words, pit nutters are continually surprised by the world around them. Therefore, more things seem accidental and unpredictable to them.

i8ntnofool | 3/09/2012 5:17 PM | Flag
@ Sputnik, I have met 2 pit bull owners after encounters with their aggressive dogs. Both are absolute zealots about their dogs. One of them I know has a history of methamphetamine abuse. I'm not sure about the other guy but he does not take good care of his animal, yet, in his head, in his words, he loves the animal "like one of my kids." I believe these folks have an impaired sense of reality and also likely have adult anti-social personality traits. Why would you own want to possess an animal that can kill you or your own children? A rational person wouldn't; these folks are not rational. I believe that they have an impaired sense of reality testing.

i8ntnofool | 3/09/2012 5:20 PM | Flag
@ Sputnik -

No rational person would want to possess an animal that has the bite statistics of these animals, and for sure, no rational person would keep them around their children, even if they don't care about their neighbors or their own liability and safety. My thoughts are that most people who own pit bulls have some kind of impairment in their reality testing abilities. I also suspect that many of them are anti-social. And many are likely covering up criminal behavior. Keep a tiger in your house and no one will come poking around your meth lab, right/

bitbypit | 3/09/2012 5:40 PM | Flag
@i8ntnofool

Interesting terminology about the psychological make up of pit bull owners has been pulled together at the Maul Talk Manual. Some terms include: Pitthetic dementia, Parapitology and Narcipitism.

Also, studies have been done in the area that you speak of. They are located on the Pit Bull Ownership Studies page. Some studies include:

Vicious Dogs Part 2: Criminal Thinking, Callousness, and Personality Styles of Their Owners

Vicious Dogs: The Antisocial Behaviors and Psychological Characteristics of Owners

Ownership of High Risk ("Vicious") Dogs as a Marker for Deviant Behaviors: Implications for Risk Assessment