Friday, March 11, 2011
Permit Denied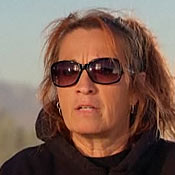 UPDATE 03/11/11:
On March 10, the Kern County Planning Commission voted 5-0 to deny a conditional use permit to Tia Torres, star of Animal Planet's "Pit Bulls and Parolees" TV show. Torres had hoped to relocate her 100 plus pit bull compound to a 20-acre parcel in the Old West Ranch area of Tehachapi. The denial comes shortly after the
commission's staff report
was released describing the negative health and safety issues that could arise by approving the permit.
Blogger Craven Desires watched the public hearing online and
offers more insights
.
03/05/11:
The Tehachapi Backdrop
Tehachapi, CA - A recent storm that whipped through Tehachapi -- fueled by the actions of "Pit Bulls and Parolees" star Tia Torres -- may soon be winding down. To quickly summarize the dizzying ordeal, upon learning that Torres planned to move her 100 plus pit bull compound and parolee fan club to the area, the president of the Old West Ranch Property Owners Association sent a letter to neighbors urging them to weigh in against Torres' relocation plan.
After receiving a leaked copy of the letter, Torres responded by issuing an "urgent plea" to the rabid pit bull community and posted the letter in full to her
rescue's Facebook page
.
1
Both actions predictably incited rage amongst pit bull lovers across the country.
Petitions
in support of Torres quickly popped up. More notably,
death threats against the letter's author
ensued. Blogger Craven Desires has been following the drama closely and exposes many details.
County Agencies Release Comments
On Saturday, Craven posted parts of the
Kern County Planning Commission Staff Report
, which will be discussed at a March 10 hearing. Craven first focused on concerns expressed by the
Kern County Sheriff's Office
.
2
Then followed with opinions by
Public Health Services
. It seems the prospect of Torres' rescue operation relocating to Tehachapi is growing dimmer by the hour. (Kudos to county residents and officials for taking on the Torres Goon Squad!)
Related Blog Posts by Craven Desires:
1
The letter contained the 71-year old president's private contact information. We guarantee readers that some very unpleasant if not potentially dangerous members of Torres' pit bull fan club contacted her.
2
Rural Kern County officials are not unfamiliar with

Pit Bullian

tactics. In 2009, DogsBite.org sent a letter to the Kern County District Attorney's Office regarding Maricopa Police Chief Gene Fretheim, who was hit with a restraining order after he shot and killed a dangerous pit bull. The order was requested by the dog's owner and granted by Court Commissioner Linda Etienne. The Court later said they issued the order in error.
Jose Gaspar, "County denies 'Pit Bull & Parolees' in Tehachapi," Bakersfield Now, March 11, 2011 (www.bakerfield.com) URL:http://www.bakersfieldnow.com/news/local/117784573.html. Accessed: 2014-05-04. (Archived by WebCite® at http://www.webcitation.org/6PK4abOng)
Carl Ferguson, "Maricopa police chief says restraining order based on 'lies'," Bakersfield Now, October 7, 2009 (www.bakersfield.com) URL:http://www.bakersfieldnow.com/news/63720907.html. Accessed: 2014-05-04. (Archived by WebCite® at http://www.webcitation.org/6PK4R5z0j)
Related articles:
10/04/08:
Valencia High School Vice Principal Expels Pit Bulls
Photo
:
Animal Planet
Labels: Pit Bulls and Parolees, Rescuing Dangerous Dogs, Tia Torres

Please donate to support our work
DogsBite.org is a 501(c)(3) tax-exempt public charity organization. Learn more »
posted by
|
permalink
|
4 comments
|

email
|

blog rss
|

comment rss

4 comments:

truthbird | 3/05/2011 10:00 PM | Flag
Portions from the Sheriff's Office:

8) I was contacted this week by a gang investigator at California Correctional Institution who heard Tia Torres was attempting to set up in this area. This investigator told me he is an expert in gang issues and had some concerns about the potential for increased criminal activity should the conditional use permit be approved. He told me the husband or boyfriend of Torres is an Aren CAJ) Jackson. Jackson was a validated associate of the Aryan Brotherhood CAB), a violent prison gang that also engages in continual criminal activity outside the prison setting. Jackson is now believed to be a drop out from the Aryan Brotherhood. Jackson is estimated to be eligible for parole in October of 20 19. The former presence of an Aryan Brotherhood associate at Villalobos Rescue Center led to criminal activity at the Los Angles County rescue center in 2009 Csee reason #9). The likelihood he may return to live with Torres upon parole increases the risk of future criminal activity at the Old West Ranch location here in Kern County.

9) Torres's rescue compound in Los Angeles County has been connected to criminal activity: I spoke to Detective Dan Dantice with the Los Angeles County Sheriffs Office. Detective Dantice was the lead investigator in the cases involving Aren Jackson. Dantice told me he and fellow investigators served a search warrant at the Torres residence in 2009 and found heroin, methamphetamine and evidence of ongoing identity theft. Dantice said they also found two motorcycles in the garage of a vacant house next door: One motorcycle belonged to Aren Jackson and had been wrecked. The second motorcycle was a matching make and model and was stolen from another location in Los Angles County. The investigators concluded Jackson was using the stolen motorcycle to provide parts for his wrecked motorcycle. Another parolee at the residence took responsibility for the methamphetamine and was arrested. Jackson was arrested for the other items.

Donny Youngblood, Sheriff-Coroner, County of Kern
By: Sergeant Richard C. Wood
Kern County Sheriff s Office
East Area Substations Section
Tehachapi Substation

cravendesires | 3/06/2011 1:00 AM | Flag
i love this letter from the sheriff. i read it 3 times.

i love the photo of tia too. wow, good one.

maultalk | 3/10/2011 3:54 PM | Flag
Today is the 10th. Thus far, Torres' only response to the 1,296-page report released by the Kern County Planning and Community Development Dept, which advised against her move, is "dumbfounded."

"I have no response. I'm dumbfounded," stated an email from the applicant, Tia Maria Torres...
---
http://www.tehachapinews.com/content/planners-recommend-against-pit-bull-shelter/33722

P. | 3/12/2011 11:35 AM | Flag
Tia can still appeal but she did a lot of damage at that meeting and I think appealing would be a lost cause. Her thugs turned the meeting into a worship session instead of addressing the issues. None of this revolved around Tia, per se, it revolved around issues such as pollution, roads, etc. But she and her thugs turned it into a racist issue by wearing their ridiculous T-shirts. All she managed to do successfully is piss off the officials. Plus one never condemns law enforcement unless one is prepared for repercusions. They will be watching her like a hawk now. She is one stupid bitch.