Monday, January 28, 2008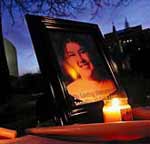 Seattle Times Pit Bull Puff Article
Seattle, WA - In a recent Seattle Times pit bull article, they fail to mention that in the last 60 days, eight American citizens have been attacked and killed by "pit bull type" dogs: Tori Whitehurst,
Seth Lovitt
,
Jennifer Lowe
, Holden Jernigan, Blanche Broduer,
Kelly Caldwell
,
Kelli Chapman
and just yesterday, a still unnamed victim:
Jane Doe
.
They also fail to mention that in 2007, pit bull type dogs were responsible for 60% of dog bite fatalities -- the closest rival was the rottweiler at 11%. When an intensive study was done regarding the frequency of dog bite injures in US emergency care facilities (from 1992-1994) it was determined that:
For each US dog bite fatality there are about 670 hospitalizations and 16,000 emergency room visits, 21,000 other medical visits (office and clinic), and 187,000 non-medically treated bites
46.1% (nearly half) of dog bite injuries were triaged in emergency rooms as "urgent-emergent"
Dog bites are the second highest reason why children seek emergency treatment
That's about 60,000 bites per fatality and that information is dated. It is reported today that a US citizen is bitten by a dog every 75 seconds.
One has to question the reasoning behind such "puff" articles. There are legitimate reasons why communities are regulating these dogs: the burden of severe injury expenses and the
utter lack of ownership responsibility
just to name two.

Please donate to support our work
DogsBite.org is a 501(c)(3) tax-exempt public charity organization. Learn more »
posted by
|
permalink
|
1 comments
|

email
|

blog rss
|

comment rss

1 comments:

Anonymous | 1/30/2008 7:28 AM | Flag
Something tells me that if these dogs didn't come with $20K each, they would have gotten the purple needle. I've read estimates that 750,000 pit bulls are euthanized every year in this country. For some reason those dogs have fallen off the radar with these animal welfare people.