One of Two Victims Killed by Littermate Dogs in a 5-Month Period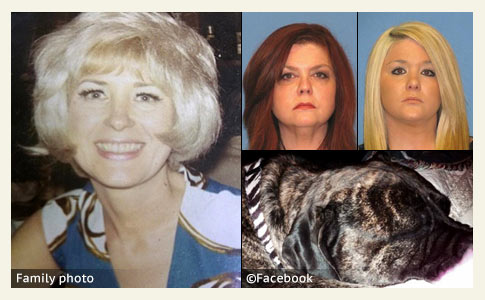 The criminal trial is underway after Joan Kappen, 75, was killed by a bullmastiff-mix.
Both Found Guilty archived
UPDATE 10/09/14: Some of our readers followed the live Twitter feed last night as the jury deliberated and reached a verdict. Though both were found guilty, Brande Coy was only found guilty of "misdemeanor" negligent homicide. Brande had been charged with felony manslaughter and deserved a felony conviction and felony level jail time. She left Joan Kappen dying in a ditch for at least 30 minutes before even calling 911. Her depraved indifference was monumental.
Brande Coy received 60 days in jail and one year probation. In a twist, her daughter Emily Coy -- who most thought would walk free -- received a slightly stiffer sentence of 120 days in jail and one year probation. Emily owned the bullmastiff-pit bull mix that horrifically killed Kappen, but was not present when the animal attacked her nor did Emily let the dog run free that morning. Those actions all fell squarely upon her mother Brande. Both Coys will also have to pay $2,500 in fines.
Hans Kappen spoke to THV11.com after the trial. "I am happy with this particular case, that they both got guilty charges," he said. "They both knew this dog was vicious. All the evidence pointed in that direction." He added, "Not only did I lose my wife, but my best friend and also, Arkansas lost a woman that devoted her life to helping others."1 The jury spent over 4 hours deliberating. The judge warned both Coys that an appeal would take longer than serving out their sentences.


10/08/14: Jury is Deliberating Verdict
Closing arguments were given today and the jury began deliberating. Macy Jenkins of THV11.com is live tweeting from the courthouse. As of 8:20 pm Central time Wednesday, there is still no verdict. The jury requested pizza at about 6 pm. "It may be awhile," Jenkins tweeted. The jury may also be sent home and asked to finish tomorrow. On November 21, 2013, a bullmastiff-pit bull mix under the care of Brande Coy horrifically killed Joan Kappen. The dog had a history of aggression.
Highlights of today's trial include Hans Kappen telling prosecution, "It is like she had a grenade in her hand and tossed it out into the yard." The prosecution likened releasing the dog to "running with scissors." Brande knew something bad would happen. Brande Coy testified today summoning poor "medical condition" excuses. She let dog out alone that day, because "I went to check my blood sugar," she said. And, she was "confused" during her testimony today "due to MS."
UPDATE 10:05 pm: Watching the live Twitter feed tonight was intense and emotional. From one moment it was, "Jury finds Emily Coy guilty of unlawful dog attack. Brande Coy guilty of negligent homicide" to a correction in the next moment, "UPDATE: Brande Coy found guilty of *misdemeanor* negligent homicide," dashing all hopes of justice for Joan Kappen and her dear husband Hans. We are shaken and devastated. The jury is now deliberating the sentencing.
10/07/14: Testimony Begins in Dog Mauling Trial archived
Jurors heard testimony from over 15 people on the opening day of the trial. First responders, police and animal control officers testified along with friends and family members of the victim and the two defendants. Joan Kappen, 75-years old, was attacked and killed by the defendants' bullmastiff-mix dog last November. Only one defendant, Brande Coy, faces a felony manslaughter charge. Her daughter, Emily Coy, was away at the time of the attack. She faces a misdemeanor.
A number of people testified about the history of the dog and the animal's history of biting and aggression. They also testified that the dog was a littermate of a dog that killed a 5-year old boy in Jessieville about 5-months before Kappen was killed. Through this testimony, prosecutors tried to establish negligence and recklessness on the part of the two defendants. The victim's husband, Norbert "Hans" Kappen, plans to do an interview with THV11.com as soon as the trial is finished.
Later this evening, KATV.com reported more information. When Norbert took the stand today, he testified, "I saw a naked body in a ditch." He said he didn't recognize her at first, but then saw a bloody pile of clothes and knew they belonged to his wife. Horrifically, Norbert saw the whole scene after the deadly attack. According to several witnesses, when firefighters arrived, she was still alive, but could not speak, she could only utter noises. She had severe facial trauma.
Hot Springs Village Firefighter Zachary Sykora testified the when EMTS arrived, they cut off her clothes to assess her injuries. Many more serious wounds were found, "Could see muscles, skin gone, major trauma throughout the body," he said. Hot Springs Village Police Sergeant Brian Nickles testified that Brande told him it took about 30 minutes for her to get the dog inside after the attack. She then washed her hair, face, changed clothes and called 911 in no particular order.
Nickles said that Brande stated that after calling 9-1-1, she did not go back outside until paramedics arrived.
Fox16.com captured additional testimony. The doctor who performed the autopsy spoke in detail about Kappen's injuries. Her entire scalp was peeled off in the brutal attack and she was bitten over 100 times. The doctor testified that there were so many bite injuries that he could not count them all. Other witnesses called by prosecution testified that Patrone had bitten them prior to the fatal attack and another stated that the animal had killed a cat and bitten its owner, Emily Coy.
Concerning the littermate issue, a vet testified that aggression in dogs can be hereditary. The vet also testified if the owners knew about this issue, it would be reason to have the dog put down. Emily Coy's father, of course, testified that the dog was obedient, gentle and loyal. Nancy Baumann, one of Kappen's friends who attended the trial today said, "These people who owned it say it was a wonderful dog. Well if it was why did it attack my friend and rip her to pieces?"
10/07/14: Jury Selected in Dog Mauling Trial
Saline County, AR - A jury has been selected in the trial of a mother and daughter in connection to the fatal mauling of a 75-year old woman. Brande Coy is charged with manslaughter and unlawful dog attack. Her daughter, Emily Coy, is charged with unlawful dog attack. On November 21, 2013, a loose bullmastiff-pit bull mix attacked and killed Joan Kappen who was taking her daily walk in Hot Springs Village. A littermate of this dog killed a child less than 10-miles away 5-months earlier.
The criminal trial began Tuesday morning and is ongoing.
DogsBite.org covered this case extensively last year, including the arrest affidavit filed on January 2, 2014, which documented previous attacks by "Patrone" and lurid details of the day of the attack. The attack on Joan lasted up to 30 minutes before Brande placed the 911 emergency call. She remained in the home "washing her face, hair, and changing clothes - until emergency personnel responded on scene about 16 minutes later." All the while, Joan lay mutilated and dying in a ditch.
Norbert told KATV.com, "10 months of misery, and it still is, and unfortunately people are not safe." He reflected about his best friend and the love of his life. "My wife got mauled to death," he said. "There was not a drop of blood left in her, blood was everywhere on the street, I just hope this judge and this jury understands what we are dealing with here." A neighbor emailed DogsBite after the attack and stated that she was only identifiable by her shoes and glasses that lay near by.
Historic Arkansas Criminal Trials
According to our documentation, the criminal case of State v. Emily Coy & Brande Coy is the first manslaughter case in Arkansas against the owners of dogs that fatally attacked a person since June 2002. On October 13, 2001, 50-year old Carolyn Shatswell was mauled to death by three loose pit bulls while taking a walk in Russellville, Arkansas. The owners of the pit bulls, Carl and Kim Smith, were subsequently charged with felony manslaughter in Pope County Circuit Court.
The two ultimately pleaded guilty. Carl Smith was sentenced to 3-years in Arkansas state prison plus a 3-year suspended sentence and ordered to pay $1,000 in fines and court costs. Kim Smith was sentenced to 5-years probation and ordered to pay $1,000 in fines and court costs. Let's hope in 2014, after over a decade of escalating fatalities by well-documented dangerous dog breeds, that this Saline County court is not sympathetic to the depraved indifference of Brande Coy.
Historic Year in Fatal Dog Mauling Trials
Currently, the owners of dogs involved in at least nine fatal dog attacks are facing felony charges across the country, including the 15-year to life prison sentence handed down Friday after the mauling death of Pamela Devitt in Los Angeles County. Alex Donald Jackson was convicted of second-degree murder after his loose pit bulls horrifically killed Devitt. In September, a Michigan judge ordered the owners of fatally attacking cane corsos to stand trial for second-degree murder.
1
Qualities these Arkansas jurors chose to ignore.
Related articles:
10/03/14: 2013 Dog Bite Fatality: Antelope Valley Woman Mauled to Death by Pit Bulls
09/13/14: Criminal Trial: Couple Charged with Second-Degree Murder After Cane Corsos...
08/02/14: 2014 Dog Bite Fatality: Two Cane Corsos Brutally Attack and Kill Jogger in Metamora...
01/03/14: 2013 Dog Bite Fatality: Woman, 75, Killed by Bullmastiff-Mix in Gated Community
06/13/13: 2013 Dog Bite Fatality: Child Temporarily Staying with Aunt Killed by Neighbor's Dog