Jury Acquits Pit Bull Owners After Long-Delayed Trial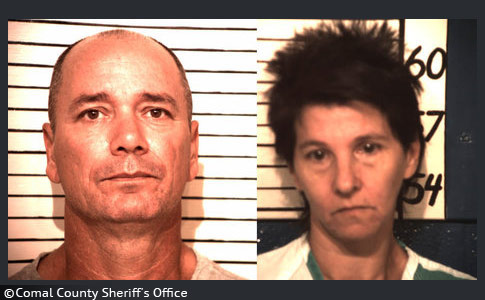 Peter Lucas and Rachelle Kay Lucas were taken into custody on June 9, 2014.

Couple Acquitted
UPDATE 05/16/19: A Comal County jury acquitted a Canyon Lake couple in connection to the brutal dog mauling death of a woman in late 2013. Betty Clark, 75-years old, was viciously attacked by two loose pit bulls on December 21, 2013. She died of her injuries 16 days later, on January 6, at University Hospital in San Antonio. Clark never regained consciousness after the attack. It took a jury less than fours hours to find Peter Lucas and Rachelle Lucas not guilty.
Most of the local news coverage of the trial is behind a pay wall. We subscribed to follow the daily updates. It was clear from day one that prosecutors faced an uphill battle. Their primary witness, a man who came to Clark's aid, was later convicted of multiple felonies. He came before the jury in shackles. If that weren't bad enough, the lack of experience of the investigators in preparing a fatal dog mauling case -- which is the norm not the exception -- proved to be ruinous to their case.
Criminal charges must be proven "beyond a reasonable doubt," the highest burden of proof. Defense successfully raised sufficient doubt.
Defense performed so well that prosecutors Jessica Frazier and Kiera Kilday did not even comment after the case. No family member or friend of Clark commented on her behalf either. Peter Lucas even had the audacity to say, "The dogs that did this to Miss Betty are still out there." Not according to our research. On multiple occasions after pit bulls have killed a person, and were released or never captured, the same pit bulls have killed another person within three months.
The 2014 fatal pit bull attacks of David Glass Sr. and Derrick Sanders in Mississippi and the 2016 fatal pit bull attack of Valente Lopez Aguirre and related death of Robert Simonian in California.
---
Criminal Trial Underway
On May 8, the trial of a Canyon Lake couple charged in connection to the dog mauling death of 75-year old Betty Clark began after 15 postponements over the last five years. The defendants, Peter Lucas, 54, and Rachelle Kay Lucas, 52, each face a second-degree felony punishable by up to a $10,000 fine and up to 20 years in prison if found guilty. Seven men and seven women were seated as jurors and alternates. 433rd District Court Judge Dib Waldrip presided over the trial.
On December 21, 2013 two loose pit bulls savagely attacked Betty Clark. She was airlifted to University Hospital with life-threatening injuries.
"Their dogs attacked Miss Betty because they failed to effectively secure their property," Assistant Criminal District Attorney Jessica Frazier told the jury during opening arguments. "And 16 days later, Miss Betty died as a result." Defense argued there were many flaws in the Comal County Sheriff's Office investigation, including relying heavily on statements of two witnesses -- both who fired shots to scatter the pit bulls -- who were later convicted of crimes that sent them to prison.
Key elements of the criminal trial include defense tearing into the credibility of the two people who came to Clark's aid, Dwight Leon Hammett and Kayla White. The couple lived near the attack site at the intersection of Deer Valley and Overhill streets in Canyon Lake. Other defense tactics included questioning CCSO officers, who they believe botched the investigation from the get-go, as well as questioning the reliability of the DNA sample that matched one of the Lucases pit bulls.
"Yes, seeing her with one dog on her arms and another on her legs had an impact on me," Hammett said. "Her face was being chewed off and I couldn't do anything about it."

After Hammett shot a round from the pistol into the ground, the dogs -- a caramel-colored female and a black, white-patched male -- scattered toward the Lucas residence on Deer Valley, just yards away the attack.

"They were on a mission to kill or hurt someone -- and they did." Hammett said. - Herald-Zeitung, May 9, 2019
Notably, former CCSO investigator Keith Wilson, stated under cross-examination that he and the two detectives on the case, Frank Cockrell and Anthony Moreno, had no experience with dog attack cases (of a criminal nature). This is not uncommon, as there are only about 38 fatal dog maulings annually in the U.S. and only 20% of them ever result in criminal charges. Ominously, just over a year after Clark's death, a 7-year old boy is also killed by dogs in Canyon Lake.
DNA evidence taken from the Lucases two pit bulls resulted in only the female pit bull connected to DNA in a blood sample from Clark taken after her death. Defense served up expert James Crosby, who testified that people at the scene before EMS units arrived, could have transported blood and tissue evidence from the site that later wound up on the dogs and other ways the connecting DNA sample might have been compromised. Prosecutors rested their case Friday.
Information about the trial comes from the Herald-Zeitung, the local newspaper in New Braunfels. Most of the content is behind a pay wall. We summarized the trial proceedings after subscribing.
---
06/11/14: Dog Owners Arrested
On June 4, 2014 a Comal County grand jury indicted Rachelle Kay Lucas, 47, and Peter Lucas, 49, both of Canyon Lake, for allowing their two pit bulls to roam free and cause the death of 75-year old Betty Clark, according to court documents obtained by the Herald-Zeitung. The grand jury found enough evidence existed to try the couple on a charge of attack by dog resulting in death. The two Lucases were arrested and jailed on June 9. Each is being held under a $15,000 bond.
On or about Dec. 21, the defendants "did then and there with criminal negligence, fail to secure a dog or dogs and one or more of those dogs made an unprovoked attack on another person, namely Betty Clark ...," the one-count indictments read.

The court documents state the attack happened at the intersection of Deer Valley and Overhill streets away from the couple's home. The attack caused Clark's death, the indictments said. Dalondo Moultrie, Herald-Zeitung
It appears the two are being charged under Part 1 of the Texas felony dog attack law, "criminal negligence" (See: Section 6.03 of Texas Penal Code), which we are less familiar with. Usually, charges fall under Part 2. We understand that "criminal negligence" boils down to proving the same essential elements of Part 2 beyond a reasonable doubt: the dog owner knew or should have known the dog would cause serious injury or death, and the attack occurred off-property.1
Sec. 822.005.  Attack by Dog.  (a)  A person commits an offense if the person is the owner of a dog and the person:

(1)  with criminal negligence, as defined by Section 6.03, Penal Code, fails to secure the dog and the dog makes an unprovoked attack on another person that occurs at a location other than the owner's real property or in or on the owner's motor vehicle or boat and that causes serious bodily injury, as defined by Section 1.07, Penal Code, or death to the other person; or

(2)  knows the dog is a dangerous dog by learning in a manner described by Section 822.042(g) that the person is the owner of a dangerous dog, and the dangerous dog makes an unprovoked attack on another person that occurs at a location other than a secure enclosure in which the dog is restrained in accordance with Subchapter D and that causes serious bodily injury, as defined by Section 822.001, or death to the other person.

(b)  An offense under this section is a felony of the third degree unless the attack causes death, in which event the offense is a felony of the second degree.
04/15/14: Woman Dies After Dog Attack
Canyon Lake, TX - While literally in the midst of preparing to contact the Comal County Animal Control Dept. about a reported dog bite fatality noted in a Spring 2014 Comal County Public Health Dept. newsletter, information about this death was reported by the San Antonio Express-News late last night. Betty Clark, 75-years old, was delivering presents to her Canyon Lake neighbors on December 21 when she was attacked by two pit bulls in her neighborhood.
Information about Clark was revealed in the same late night article that reported the death of 83-year old Petra Aguirre, also killed by a pit bull.
Clark was discovered unresponsive with bites all over her body. She died on January 6 at University Hospital having never regained consciousness after the attack. "She died because of those injuries," said Dr. Natasha Keric, an assistant professor of surgery at the University of Texas Health Science Center who treated Clark. Specifically, she had bite injuries on all of her limbs, torso, abdomen and head, according to a case presentation on her death prepared by her doctor.
The Comal County Sheriff's Office has not released the full incident report about Clark's attack citing an ongoing investigation. According to doctors and her niece, both dogs were pit bulls.
Doctors at University Hospital Respond
In 2011, the Annals of Surgery published a critical peer-reviewed scientific study pertaining to severe and fatal pit bull injuries (Mortality, Mauling and Maiming by Vicious Dogs, by John K. Bini, et al.), authored by doctors at San Antonio University Hospital. In the landmark 2012 Tracey v. Solesky decision, which declared pit bulls "inherently dangerous," the highest court in Maryland cited the entire abstract of this study. The conclusions by the University Hospital doctors:
Conclusions: Attacks by pit bulls are associated with higher morbidity rates, higher hospital charges, and a higher risk of death than are attacks by other breeds of dogs. Strict regulation of pit bulls may substantially reduce the US mortality rates related to dog bites.
The majority of the San Antonio Express-News article (who many readers cannot see because it is behind a paywall) pertains to this study and a rehearsed rehashing of the 30-year old pit bull debate. One of the primary authors of the study, Dr. Stephen Cohn, is interviewed in the article. "We've had people that have almost lost their legs just going out for a run," said Dr. Stephen Cohn, a professor of surgery at the Health Science Center. "This is a complete hazard for all of us."
Cohn, one of the University Hospital doctors, has been vocal in his call for regulations on breeds such as pit bulls. He was one of the authors of a 2011 study that found that, while fatal attacks were rare, pit bulls were "the single breed responsible for the vast majority of deaths due to dog attacks."

Cohn also pointed to a 2010 study that analyzed the effect of breed-specific rules on dog bites in a region of Spain. Governments there enacted regulations that required additional steps for owners of "potentially dangerous dogs," some of which were defined by breed.

According to the study, there was a "noticeable decline" in hospitalizations from dog bites after the rules went into effect. - San Antonio Express-News
In a nutshell, while DogsBite.org has substantial concerns about fatal dog maulings of all breeds failing to be reported by media outlets in all 50 states, the deaths of both Betty Clark, 75-years old of Canyon Lake, and Petra Aguirre, 83-years old of San Antonio, are possibly on public record at all today due to assistance from doctors at University Hospital. The victims' advocacy movement needs health officials in every state to ensure that this information is known to the community.
Both victims fall into the most underreported scenario: senior citizens who suffer horrific injuries from a dog attack and die while being hospitalized for these injuries. Neither Clark nor Aguirre had an immediate news report of their attack either, which left devastating injuries all over their bodies. Clark was attacked on December 21 while delivering Christmas presents in her neighborhood. Aguirre was attacked on March 31 while feeding her cats in her own backyard. Not news worthy?
View the DogsBite.org Google Map:
Texas Fatal Pit Bull Maulings
.
---
Join Texas Dog Bite Victims' Advocacy - Join our Texas email list to stay informed
1
Section 6.03, Penal Code: A person acts with criminal negligence, or is criminally negligent, with respect to circumstances surrounding his conduct or the result of his conduct when he ought to be aware of a substantial and unjustifiable risk that the circumstances exist or the result will occur. The risk must be of such a nature and degree that the failure to perceive it constitutes a gross deviation from the standard of care that an ordinary person would exercise under all the circumstances as viewed from the actor's standpoint." Learn more about "criminal negligence" (Part 1) in Texas felony dog attack law at DogBiteLaw.com.
Related articles:
04/15/14: 2014 Dog Bite Fatality: San Antonio Woman, 83, Dies After Pit Bull Attack
05/28/13: DogsBite.org Publishes Rebuttal Letter in Defense of Texas Medical Study
03/12/13: Report: Texas Dog Bite Fatalities, January 1, 2005 to February 17, 2013
05/21/11: Texas Doctors Produce Study: Mortality, Mauling and Maiming by Vicious Dogs