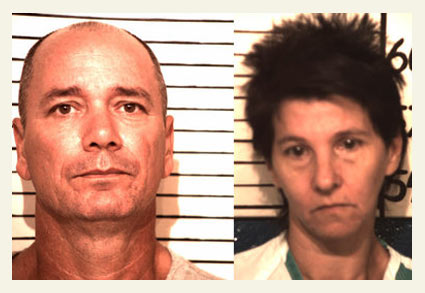 Peter Lucas, 49, and Rachelle Kay Lucas, 47, taken into custody on June 9.
Dog Owners Arrested
UPDATE 06/11/14: On June 4, 2014 a Comal County grand jury indicted Rachelle Kay Lucas, 47, and Peter Lucas, 49, both of Canyon Lake, for allowing their two pit bulls to roam free and cause the death of Betty Clark, according to court documents obtained by the Herald-Zeitung. The grand jury found enough evidence existed to try the couple on a charge of attack by dog resulting in death. The two were arrested and jailed on June 9. Each is being held under a $15,000 bond.
On or about Dec. 21, the defendants "did then and there with criminal negligence, fail to secure a dog or dogs and one or more of those dogs made an unprovoked attack on another person, namely Betty Clark ...," the one-count indictments read.

The court documents state the attack happened at the intersection of Deer Valley and Overhill streets away from the couple's home. The attack caused Clark's death, the indictments said. Dalondo Moultrie, Herald-Zeitung
It appears the two are being charged under Part 1 of the Texas felony dog attack law, "criminal negligence" (See: Section 6.03 of Texas Penal Code), which is uncommon to our knowledge. Usually, charges fall under Part 2. We understand that "criminal negligence" boils down to proving the same essential elements of Part 2 beyond a reasonable doubt: the dog owner knew or should have known the dog would cause serious injury or death, and the attack occurred off-property.1
Sec. 822.005.  ATTACK BY DOG.  (a)  A person commits an offense if the person is the owner of a dog and the person:

(1)  with criminal negligence, as defined by Section 6.03, Penal Code, fails to secure the dog and the dog makes an unprovoked attack on another person that occurs at a location other than the owner's real property or in or on the owner's motor vehicle or boat and that causes serious bodily injury, as defined by Section 1.07, Penal Code, or death to the other person; or

(2)  knows the dog is a dangerous dog by learning in a manner described by Section 822.042(g) that the person is the owner of a dangerous dog, and the dangerous dog makes an unprovoked attack on another person that occurs at a location other than a secure enclosure in which the dog is restrained in accordance with Subchapter D and that causes serious bodily injury, as defined by Section 822.001, or death to the other person.

(b)  An offense under this section is a felony of the third degree unless the attack causes death, in which event the offense is a felony of the second degree.
Comal County is close to DogsBite.org. If there is a trial, we plan to be in attendance.
04/15/14: Woman Dies After Dog Attack
Canyon Lake, TX - While literally in the midst of preparing to contact the Comal County Animal Control Dept. about a reported dog bite fatality noted in a Spring 2014 Comal County Public Health Dept. newsletter, information about this death was reported by the San Antonio Express-News late last night. Betty Clark, 75-years old, was delivering presents to her Canyon Lake neighbors on December 21 when she was attacked by two pit bulls in her neighborhood.
Information about Clark was revealed in the same late night article that reported the death of 83-year old Petra Aguirre, also killed by a pit bull.
Clark was discovered unresponsive with bites all over her body. She died on January 6 at University Hospital having never regained consciousness after the attack. "She died because of those injuries," said Dr. Natasha Keric, an assistant professor of surgery at the University of Texas Health Science Center who treated Clark. Specifically, she had bite injuries on all of her limbs, torso, abdomen and head, according to a case presentation on her death prepared by her doctor.
The Comal County Sheriff's Office has not released the full incident report about Clark's attack citing an ongoing investigation. According to doctors and her niece, both dogs were pit bulls.
Doctors at University Hospital Respond
In 2011, the Annals of Surgery published a critical peer-reviewed scientific study pertaining to severe and fatal pit bull injuries (Mortality, Mauling and Maiming by Vicious Dogs, by John K. Bini, et al.), authored by doctors at San Antonio University Hospital. In the landmark 2012 Tracey v. Solesky decision, which declared pit bulls "inherently dangerous," the highest court in Maryland cited the entire abstract of this study. The conclusions by the University Hospital doctors:
Conclusions: Attacks by pit bulls are associated with higher morbidity rates, higher hospital charges, and a higher risk of death than are attacks by other breeds of dogs. Strict regulation of pit bulls may substantially reduce the US mortality rates related to dog bites.
The majority of the San Antonio Express-News article (who many readers cannot see because it is behind a paywall) pertains to this study and a rehearsed rehashing of the 30-year old pit bull debate. One of the primary authors of the study, Dr. Stephen Cohn, is interviewed in the article. "We've had people that have almost lost their legs just going out for a run," said Dr. Stephen Cohn, a professor of surgery at the Health Science Center. "This is a complete hazard for all of us."
Cohn, one of the University Hospital doctors, has been vocal in his call for regulations on breeds such as pit bulls. He was one of the authors of a 2011 study that found that, while fatal attacks were rare, pit bulls were "the single breed responsible for the vast majority of deaths due to dog attacks."

Cohn also pointed to a 2010 study that analyzed the effect of breed-specific rules on dog bites in a region of Spain. Governments there enacted regulations that required additional steps for owners of "potentially dangerous dogs," some of which were defined by breed.

According to the study, there was a "noticeable decline" in hospitalizations from dog bites after the rules went into effect. - San Antonio Express-News
In a nutshell, while DogsBite.org has substantial concerns about dog mauling fatalities by all breeds failing to be reported by media outlets in all 50 states, the deaths of both Betty Clark, 75-years old of Canyon Lake, and Petra Aguirre, 83-years old of San Antonio, are possibly on public record at all today due to assistance from doctors at University Hospital. The advocacy movement needs health officials in every state to ensure that this information is public.
Both victims fall into the most underreported scenario: senior citizens who suffer horrific injuries from a dog attack and die while being hospitalized for these injuries. Neither Clark nor Aguirre had a news report of their attack either, which left devastating injuries all over their bodies. Clark was attacked on December 21 while delivering presents in her neighborhood. Not news worthy? Aguirre was attacked on March 31 while feeding her cats in her own backyard. Not news worthy?
View the DogsBite.org Google Map:
Texas Fatal Pit Bull Maulings
.
---
Join Texas Dog Bite Victims' Advocacy - Join our Texas email list to stay informed
Related articles:
04/15/14: 2014 Dog Bite Fatality: San Antonio Woman, 83, Dies After Pit Bull Attack
05/28/13: DogsBite.org Publishes Rebuttal Letter in Defense of Texas Medical Study
03/12/13: Report: Texas Dog Bite Fatalities, January 1, 2005 to February 17, 2013
05/21/11: Texas Doctors Produce Study: Mortality, Mauling and Maiming by Vicious Dogs
Photo: Comal County Sheriff's Office