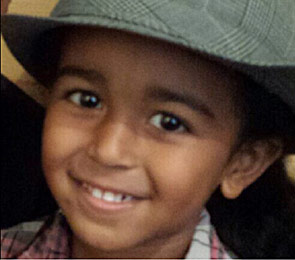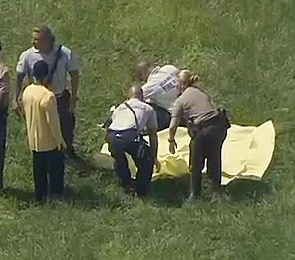 From top left: Javon Dade Jr., the crime scene, suspect #1 and the "breed labeling game."
Father Pleads Guilty
UPDATE 03/02/15: Javon Dade Sr. pleaded guilty to aggravated manslaughter on the day his trial was set to begin in connection to the mauling death of his son. Last summer, Javon Dade Jr. was savagely killed by his father's illegal pit bull and pit bull-mixes at the home Javon Sr. shared with his girlfriend, Alessandra Carrasco, as the two slept off a narcotics hangover. Javon Sr. will serve 4-years in prison under the plea agreement. A jury trial conviction could have resulted in 30-years.
"There is no equity when the victim is a 4-year-old mauled in horrible circumstances by a pack of dogs." - Assistant State Attorney Santiago Aroca
Part of the plea agreement required that Javon Sr. provide a public apology to the deceased boy's mother, Doreen Reyes, and to take full responsibility for his actions. Reyes was overwhelmed with grief and cried while Javon Sr.'s attorney read his apology letter to the courtroom. Javon Sr. will begin serving his prison sentence on March 16. The plea agreement also requires that he testify against Carrasco, 26, who is also charged with manslaughter in connection to Javon Jr.'s death.
09/11/14: Manslaughter Charges Filed archived
Miami-Dade prosecutors have charged both Javon Dade Sr. and his girlfriend, 26-year old Alessandra Carrasco, with manslaughter charges -- the emphasis placed on Carrasco. According to prosecutors, it was Carrasco who brought the dogs onto the property and who leased the property. Furthermore, it was Carrasco who was in charge of Javon Jr. at the time of his death. Carrasco did not appear in court today. Both defendants are expected to stand trial in November.
08/22/14: Father, Girlfriend Arrested
Miami-Dade Police have arrested and charged two people in connection to the mauling death of 4-year old Javon Dade Jr. On August 13, Javon was first reported missing by his father then discovered dead in the backyard of his father's home by police a short time later. One or more of his father's pit bulls had attacked and killed him. On Friday, his father, Javon Dade Sr., 30, and his father's girlfriend, Alessandra Carrasco, 26, were arrested and charged with child neglect.
According to Dade's arrest report, he picked up his son from his mother's home about 9:30 pm the night before the attack and returned to his home. After his son fell asleep, Dade and Carrasco "began smoking several marijuana cigarettes laced with cocaine," according to the report. When his father and Carrasco woke up the next morning, about 9:00 am, Javon Jr. was nowhere to be found. Police said the front door of the home was locked, but the rear sliding glass door was not.
Notably, now that the police report has been released to the media, we see a distinct language change regarding breeds of dogs. The 5 dogs in question are now being called "pit bull-mixes." The breed labeling game by Miami-Dade Animal Services -- who offered up four different breed names for these dogs, none being "pit bull-mix" -- is now over. This may be due to the fact that the boy's death now involves criminal charges of child neglect and is now fully under police control.1
CBS Miami also spoke to the boy's paternal grandmother, Jocelyn Dade. She said that both her son and his girlfriend have drug problems (as noted in Javon Sr.'s extensive criminal arrests and convictions). Jocelyn also said that the white dogs "grew up" with Javon Jr. but the adult male pit bull -- already euthanized due to aggression -- was a new dog her son had gotten from a neighbor. The related video shows Javon Sr. collapsing to the ground upon learning of his son's death.
08/18/14: DCF Knew of the Pit Bulls
CBS Miami reports that the Department of Children and Families (DCF) was warned that the pit bulls posed a danger to Javon Dade Jr. and his siblings 3-years before one or more of these dogs fatally attacked the boy. According to documents obtained by CBS Miami and their news partners, in March 2011, DCF received a complaint from a neighbor about the "smell" and "feces" and "danger" of the six dogs, two being pit bulls, living in the family's home (See: DCF document).
At that time, Javon Jr., 6-months old, and his two siblings lived with his two parents. The March 2011 DCF narrative in part reads: "There are about six dogs living inside the apartment … the dogs urinate on the floor and the children are frequently on the floor … Two of the dogs are pit bulls … There is concern for the safe care of the children in the home." The DCF report also mentions an incident a year earlier when both parents were bitten trying to break up a dog fight.
When DCF officials confronted the mother, Doreen Reyes, about the allegations, she denied them, claiming to only own three dogs, none of which were pit bulls. At that time, the family was living in Miami-Dade County. DCF failed to contact Animal Services about the dogs being kept illegally by the family. Would it matter if they had though, given that Animal Services is so quick to mislabel any pit bull-type dogs as a terrier-boxer mix, terrier-mix or American bulldog-Labrador mix?
Two of the dogs are pit bulldogs," the DCF report added. If the DCF investigator knew that it is illegal to keep pit bulls in Miami-Dade County, there is no mention of it, and no indication that animal services was informed of the situation.

The DCF probe concluded that Javan and his siblings were in a "moderate to high" risk environment, yet no action was taken to remove the children or the dogs. DCF investigators spoke with teachers, daycare workers and a doctor who said the children appeared healthy and well dressed. - CBS Miami
Finally, the DCF report spells out part of the father's extensive criminal record. (We checked this last week as soon as his name was released by searching the Miami-Dade County criminal court website.) Javon Dade Sr., has a history of drug offenses involving cocaine and marijuana; a perfect pairing with running an illegal pit bull breeding operation out of his home. By June of 2011, the parents had split up with Javon Jr. living primarily with his mother and visiting his father.
Summary of DCF Investigations
DCF knew about the pit bulls, which are illegal to own in Miami-Dade County and have been since 1989, but DFC did not know about the county ordinance? Second, DCF documents state that on August 13, "Javon Jr. was mauled to death by the father's pit bull dog." So it will now be harder for Animal Services to mislabel the dog(s) as terrier-mixes or bulldog-mixes, ad nauseam. Finally, if DCF had properly followed up and the breed ban enforced, Javon Dade Jr. would still be alive.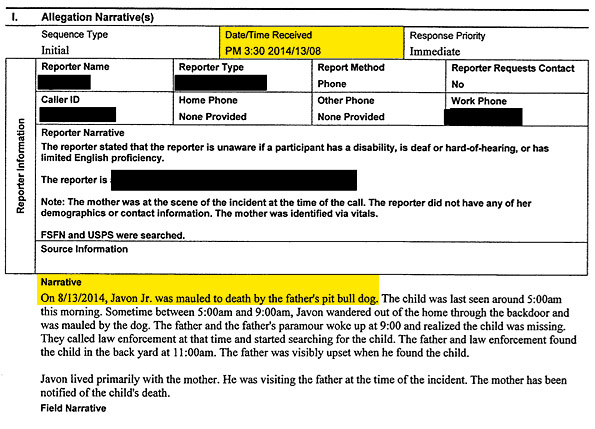 08/15/14: Memorial Grows for Victim
Javon Dade Jr. was visiting his father at the time of his violent mauling death. The boy lives with his mother, Doreen Reyes, and his brother in Palmetto Bay. The two parents are no longer together. Friends of Doreen recently defended her on the Local 10 Facebook page. Doreen also commented: "I brought my kids up in a Godly home and I'm leaving it up to him to get us through this tragedy. So please have compassion for my family and my other son through this time."
CBS Miami reports other social media comments. Beryl wrote to Javon's grandmother (maternal or paternal is unknown): "I AM SICK AND TIRED OF THESE DOGS PITBULLS KILLING OUR BABIES. OH GOD HAVE MERCY SAVE OUR BABIES. WORDS CAN NOT EXPRESS HOW THIS FAMILY FEELS RIGHT NOW." Beryl may be referring to the fact that three young boys, ages 4 to 6, have been brutally mauled to death by family pit bulls in Florida in the past four weeks.
08/14/14: Landlord Update; AC on Record
Kenneth Darbin, the landlord and owner of the property, told CBS Miami yesterday that he warned his tenants a week ago that they had seven days to remove the dogs or face eviction. The day of the fatal attack was the seventh day of his warning, according to reporter Lauren Pastrana who spoke to him. When later reached by phone, he claimed, "They snuck the dogs on the property." The boy's father had only been living in the house for a little over two months, Narbin said.
New Breed Name -- Will It Stick?
Beginning with Miami-Dade Animal Services labeling 5 of the dogs "labrador-pit bull mixes," then broadening this to "terrier-boxer mixes" finally, Kathleen Labrada, the spokesperson for Animal Services went on record with WSVN last night calling the 5 dogs "American bulldog-Labrador retriever mixes." (We've underlined the first name, which is the predominant breed.) Labrada also admitted that the puppies are too young to properly evaluate, but still called them "terrier-mixes."
"A total of six dogs were removed from the scene. Three adults which appear to be American Bulldog and Labrador Retriever mixes, and one pit bull," said a spokesperson Kathleen Labrada of Animal Services. "The puppies appear to be terrier mixes. They are too young to evaluate, they are under six months of age. We're certainly hopeful that through DNA evidence and other evidence we're able to gather, that we will be able to confirm which dogs..." - Kathleen Labrada
When all else fails, labeling the dog an American bulldog-mix usually sticks. As explained in footnotes, there is no frantic labeling game (throw it until it sticks) about the breed of the number one suspect. If there were, if might get someone from Animal Services fired. It is still unknown, however, which of the adult dogs attacked or if all three did. Currently, Animal Services is trying to pawn off the two adult females (the white and tan dogs) as "American bulldog-Labrador mixes."
People who breed pit bulls, like to produce more pit bulls. The goal is not to produce litters of American bulldog-mixes or labrador-mixes. Therefore, they mate pit bulls with other pit bulls, a breed which certainly has a wide variance in colors and weight, but very little variance in the shape of the head. The white and tan dogs are predominantly pit bulls and any label should reflect this, such as "pit bull-mix" or "pit bull-American bulldog mix" or "pit bull-[insert breed name] mix."


Above: Thus far, Miami-Dade Animal Services have labeled 5 of the dogs three different names.
08/13/14: Landlord; Terrier-Mix Label
In an evening update from NBC Miami, the news team spoke to the landlord and owner of the home, Kenneth Narbin, who said that last week he gave the renters2 -- Javon Dade Sr., and his girlfriend -- seven days to remove the "pit bull dogs from the home." Miami-Dade County has banned the breed for over two decades. Despite this legal demand from their landlord, the boy's father kept the dogs along with his homespun pit bull breeding operation. Now his son is dead.
Before reading the Miami Herald update, it is important for readers to understand that the Herald strongly opposes the pit bull ban and urged the public in 2012 to vote to repeal it. The public shrugged off the Herald and voted by a wide margin to keep the ban. The main reason we link to the Herald now is to point out a disturbing new pit bull "mislabeling" trend. The new trend is to replace "pit bull" with "terrier," as was done on the adopted dog that viciously attacked Rita Pepe.
Twenty minutes later, police made a gruesome discovery: Javon had been mauled to death by dogs in the backyard of the Goulds home, his limp body found in the overgrown grass near a fence.

In the same yard: Two adult female terrier-boxer mixes, an adult male pit bull and three terrier-boxer mixed puppies between two and four months of age. - Miami Herald
The terrier group is a large list of breeds, of which the American pit bull terrier (aka American Staffordshire terrier) is grouped within by many major kennel clubs, along with the border terrier, rat terrier, west highland terrier, Scottish terrier and more. Under this "trending" misleading labeling treatment for pit bulls, a "pit bull-boxer mix" is simply a "terrier-boxer mix." which completely removes the pit bull name to unsuspecting adopters and for dog bite statistical tracking purposes.
Miami-Dade County Animal Services, who initially labeled five of the dogs as "labrador-pit bull mixes," then switched over to the broader "terrier-mix" label. The Herald immediately pushed this "revised" label. What is truly revolting is that Miami-Dade County Animal Services is tax-funded and under the mission to enforce the county pit bull ban. What the public knows now is that even in the case a fatal dog attack, this agency will "protect the breed" over their public safety duty.3
08/13/14: Dogs Seized, Photographed
Miami-Dade authorities seized and photographed a total of six dogs, three adults and three puppies. Authorities "speculate" that at least one adult pit bull may have been trying to protect the puppies when it unleashed a brutal attack killing the 4-year old boy. According to Animal Services, only one dog appeared to be aggressive, an adult male pit bull (top left). The rest of the dogs are allegedly "labrador-pit bull mixes," despite a female Labrador nowhere to be found on scene.4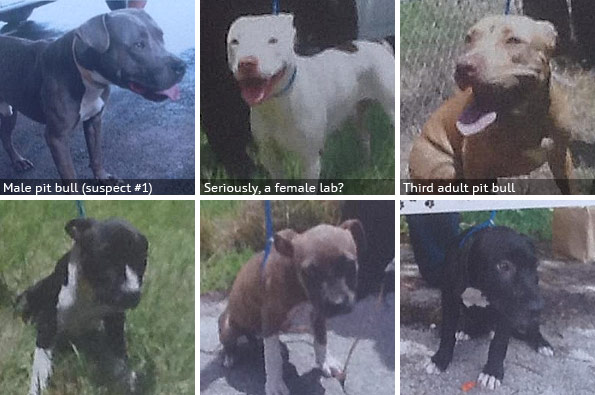 Above: Local 10 published photos of all six dogs seized after the fatal attack of Javon Dade Jr.
08/13/14: Child Killed by Family Pit Bull
Goulds, FL - In a developing story, Miami-Dade Police confirm that a 4-year old boy was mauled to death by one or more of his family's dogs in Goulds this morning. The attack occurred in the fenced-in backyard of a home at 12301 SW 230th Street. Hovering news choppers at the scene spotted the boy's body covered in a yellow tarp lying in the middle of the backyard. Neighbors described the family's two dogs as being "very aggressive" and believe they are pit bulls.
This is the third little boy in Florida mauled to death by family dogs since July 19. The first two fatalities involved family pit bulls.
The CBS Miami video shows numerous first responder personnel and vehicles at the scene. Miami-Dade police also set up a "command post" near the scene. While writing this blog post, police identified the boy as Javon Dade Jr. and confirmed that three dogs were captured. The video suggests that at least one dog was shot. The investigation is ongoing. It is unknown what the circumstances of the attack were or if the boy was under adult supervision at the time.
WSVN offers additional information. In a press conference, Miami-Dade Police spokesperson Robin Pinkard said the call began as a missing child case. When police responded, they canvassed the area and made the horrific discovery. At least three dogs were captured. Police are still trying to determine who owed the dogs and if the dogs resided at the fenced property or broke into it. Animal control is conducting "a series of tests" to determine the breeds of dogs involved.
Police have been dispatched in search of the missing boy when they made the horrific discovery. "According to investigators, at approximately 10:09 this morning, police received a phone call advising of a missing 4-year-old male," said Pinkard. "As officers arrived they did an area canvas where they discovered a black male, 4 years of age, deceased in the backyard." WSVN.com
Finally, Local 10 News is now reporting the "predictable" pattern that the boy was "visiting" his father's home at the time of the fatal dog attack. Also, as of 1:45 pm Central time, a total of six dogs have been removed from the property. The father, along with his girlfriend, were at the home at the time of the fatal incident. As DogsBite.org readers know, Miami-Dade County has banned pit bulls since 1989. If the dogs are determined to be pit bulls, criminal fines or charges may follow.
View the DogsBite.org Google Map:
Florida Fatal Pit Bull Maulings
.
1
We imagine the DCF report helped as well.
2
Only the video contained the phrase "last week." The print version did not.
3
Amazingly, for legal purposes and otherwise, the #1 suspect, according to Miami-Dade County Animal Services, is the only dog being labled as a "pit bull." All of the other pit bulls and pit bull-mixes will get recycled back into the community under misleading terrier-mix names.
4
Why would Miami-Dade Animal Services pull the "labrador-pit bull mix" stunt? Notably, the breed listed first is the predominant breed. First, it must be explained that puppies this young -- whose physical form has not filled out yet -- are often too young to be properly identified by breed. Second, when two pit bulls mate, this does not produce labrador-pit bull mix dogs. It produces pit bulls or pit bull-mix dogs depending upon the exact make up of each parent. Finally, Animal Services must falsely identify the puppies as anything but "predominantly pit bulls" or else, given the county pit bull ban, they can't adopt out the offspring of a fatally attacking pit bull to the public.
Related articles:
08/08/14: 2014 Dog Bite Fatality: Visiting Child Killed by Aunt's Pit Bulls in Fanning Springs...
07/29/13: 2014 Dog Bite Fatality: Visiting Child Killed by His Uncle's Two Pit Bulls in...
08/16/12: Vote in Miami-Dade County to Repeal Pit Bull Ban Fails by Wide Margin
03/12/12: Attempt to Overturn Miami-Dade Pit Bull Ban Advances: 'Don't They Know?'