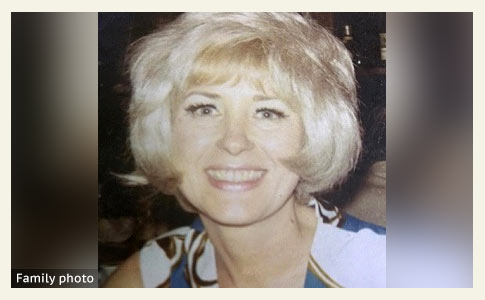 Joan Kappen, 75, was savagely killed by a loose bullmastiff-pit bull mix.
Rumors are True
UPDATE 01/03/14: According to an affidavit, the bullmastiff-pit bull mix that fatally attacked 75-year old Joan Kappen on November 21 in Hot Springs Village is from the same litter as a bullmastiff-pit bull mix that killed 5-year old Ayden Evans on June 9 in Jessieville. The locations of the attacks are separated by under 10 miles. The rumors that circulated just after Kappen's death are true: Two dogs from the same litter within a 5-month period killed two different people.
The affidavit also revealed that the dog that killed Kappen, named "Patrone," had a history of aggression. "Brande Coy knew or had to reason to know that the bullmastiff/pitbull mix breed dog (Patrone) had a propensity to attack, cause injury, or endanger the safety of other persons without provocation," the affidavit states. Brande Coy is wanted for manslaughter in connection to Kappen's death. Her daughter Emily, the dog's owner, has a warrant for harboring a vicious dog.
Brande Coy told investigators that Patrone had bitten her sister in the face two months before Kappen's attack (one month before the attack, Brande posted the image of Patrone to her Facebook page: "My Guardian..."). Emily Coy revealed to an animal control officer that the dog would "bite out of fear." The affidavit also states that Emily had been bitten on two separate occasions, and that she was aware that Patrone had bitten a neighbor in the face in July 2012.
"Brande Coy recklessly allowed the dog to attack another person. Brande acted recklessly by allowing the dog out in a public area unsupervised and unsecured. According to witnesses, the dog had also been allowed out in a public area unsupervised and unsecure on at least one occasion to the incident involving Kappen ... The action of recklessly allowing the dog out in a public area unsupervised and unsecured contributed to and resulted in the death of Kappen."
While the reckless behavior of Brande and Emily Coy might come as a shock to some readers, especially in light of the fact that they also knew that Patrone was a littermate of the dog that killed Ayden Evans, it is not a shock to us. Two horrifically irresponsible, if not psychologically imbalanced, individuals in complete denial about their large aggressive dog. Welcome to the world of owners of dangerous dogs. Innocents like Joan Kappen pay with their limbs and lives.
Joan Kappen was not bitten by Patrone, she was mutilated, according to her husband.
While writing this post, more damning news came in. THV11.com obtained additional information from the Saline County Arrest Warrants for Brande and Emily Coy. Details include that the attack on Joan lasted up to 30 minutes before Brande placed the 911 emergency call. She remained in the home "washing her face, hair, and changing clothes - until emergency personnel responded on scene about 16 minutes later." All the while, Joan Kappen lay mutilated and dying in a ditch.
Strike: "psychologically imbalanced." Add in its place: "narcissistic and psychopathic."
The newly released details also sheds light on Emily's shocking level of denial. The 2012 facial bite involved a woman who had "regularly" cared for Patrone: "The woman said in July 2012, she reached down to pet Patrone when he bit her in the face. She said that Emily witnessed the bite and helped stop the bleeding, but refused to pay for any medical attention. Emily said the woman had come to her home, yelling and making threats, which is why Patrone acted out of defense."
A statement from a Hot Springs Village police officer reveals more denial. The officer said about two years ago, when he worked with Emily at a local café, she "showed up to work with bandages on her arm and leg." According to the officer, Emily told him and other employees that Patrone had bitten her, causing the injuries. When asked about that incident during the current investigation, Emily denied saying Patrone had bitten her and said the bites were from another dog.
See in full: Brande Coy Arrest Affidavit filed on January 2, 2014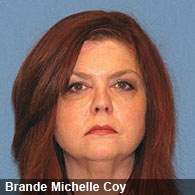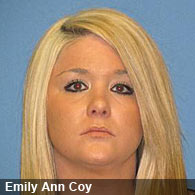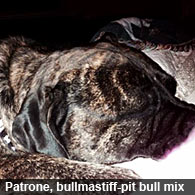 01/02/14: Manslaughter Charges
Brande Michelle Coy, who was taking care of her daughter's bullmastiff when it fatally attacked 75-year old Joan Kappen, has been charged with manslaughter, according to the Saline County Prosecutor's Office. Warrants were also issued to Coy for unlawful dog attack and harboring a vicious animal. A warrant was issued to her daughter, Emily Ann Coy, for harboring a vicious animal as well. Manslaughter is a Class "C" Felony punishable by up to 10 years in prison.
View Related video
12/09/13: Victim's Son Files Lawsuit
Local news reports that the son of a 75-year old woman killed by a loose bullmastiff in the gated retirement community of Hot Springs Village, Arkansas has filed a lawsuit against the dog's owner and the owner's mother. Charles "Chuck" Hippenstiel, special administrator for the estate of his mother, Joan Kappen, seeks a jury trial and $2.5 million compensation. His attorney, Michael Lipscomb of Little Rock, filed the civil lawsuit on December 5, in Saline County Circuit Court.
As expected, the lawsuit names the owner of the dog, Emily Coy, and her mother, Brande Coy (where the photo on this post originates, Brande's Facebook page). The lawsuit alleges the Coys were negligent in multiple ways, including "releasing without restraint a 130 pound dog on a public way and harboring a dangerous animal," states the Fox16.com news article. Joan Kappen was attacked and killed by the Coys loose bullmastiff on November 21 while taking her daily walk.
12/03/13: Husband Calls for Breed Ban
Hans Kappen of Hot Springs Village continues to advocate for breed-specific laws after a loose bullmastiff savagely struck down his wife on November 21. A neighbor near to the attack wrote into DogsBite.org last week: "Her husband could only identify her by her shoes and her glasses that lay near by," the person stated. Kappen told THV11 Tuesday, "We need to get these types of killer dogs" off the street. "They are not considered pets, they are killer dogs," Kappen said.
"Contact your lawmakers here in Arkansas, around the United States, anywhere in the world so this does not happen again." - Hans Kappen
THV11 also interviewed several Hot Springs Village residents who agree that regulations are in order after Joan Kappen was attacked and killed by a bullmastiff while taking her daily walk. "I was horrified that such a thing could happen in any community let alone a retirement community where you have a bullmastiff running around," Penny Eagle said. "It shouldn't be allowed. There should be some type of ordinance where you shouldn't be allowed to have those types of animals."
Kappen will attend a property owners association meeting on Wednesday to pursue this cause.
11/22/13: Stricter Dog Laws Needed
The husband of a woman brutally killed by a loose bullmastiff this week in Hot Springs Village while she took her morning walk continues to speak out about stricter laws. Hans Kappen believes that if tougher laws had existed, his beloved wife would still be alive today. The Saline County dog ordinance is all of three pages; the county doesn't have a leash law or fencing requirements either. Thus, no criminal charges are expected after an off-property attack resulted in a human death.
"What kind of country is this? What protection do we have?" - Hans Kappen
Hans promises to fight for a leash law in his community and also believes there should be laws regulating the ownership of dangerous dog breeds, the breeds disproportionately responsible for severe maulings, maimings and fatalities. Currently in Saline County, there are laws against "vicious" dogs, which we refer to as "hindsight" laws. The dog is labeled "vicious" after it inflicts serious injury to a person. So, first attacks by known dangerous dog breeds are acceptable.
Arkansas Dog Bite Fatalities
During the 8-year period of 2005 to 2012, Arkansas had three dog bite fatalities: Matthew Hurt, 2-years old (Nevada Co. - 2009), James Dowling, 4-years old (Franklin Co. - 2011) and Deborah Roberts, 45-years old (Jefferson Co. - 2012). There have been three dog bite fatalities in Arkansas since June of 2013. The population of this state is only 3 million. The death by dog bite incidence rate per 100,000 in Arkansas has sharply inclined since we released the state map post in May.
11/21/13: Victim's Husband Speaks Out
The husband of a woman mauled to death by a dog today while walking in the Hot Springs Village gated retirement community hopes that someone is held responsible for her death. Hans Kappen had been married to his wife Joan for just over a decade. Hans told reporters that his wife had been walking the same route for 7-years and never had a problem until today, when she was not "bitten" by a dog, but savagely attacked, struck down and killed by an aggressive loose dog.
"They didn't just bite somebody, they killed my wife." - Hans Kappen
News reports now say that it was a "family member" of the dog's owner that was attacked when she intervened to try to control the animal -- aka the "dog sitter." In a separate article, Hot Springs Village residents were "surprised" to learn that police said no criminal charges are warranted for an unprovoked, off-property attack that killed an innocent woman. Arkansas is essentially a One Free Bite state. When there is no "history" of viciousness, dog owners are not accountable.1
View Related video
11/21/13: Woman, 75, Killed by Dog
Hot Springs Village, AR - An elderly woman was attacked and killed by a neighbor's dog early Thursday morning. 75-year old Joan Kappen of Hot Springs Village was walking on Ornado Lane at the time of the attack. She was transported to Mercy Hospital where she died of injuries inflicted by the dog. According to police officials, the dog was under the care of a woman while the owner was away. When the dog sitter tried to gain control of the animal, she was also attacked.
The dog's owner is Emily Coy also of Hot Springs Village. Her attacking dog was euthanized.
Hot Springs Village, the largest gated community2 in the U.S., is located in Garland and Saline counties. In June, 4-year old Ayden Evans was killed by a bullmastiff-mix while temporarily staying at his aunt's house in Jessieville, an unincorporated community in Garland County, just under 10-miles away from the gated community. Two weeks ago, 4-year old Levi Watson was brutally killed by three pit bulls in White County, Arkansas while visiting a residence with his mother.
1
Jurisdictions within Arkansas vary about the One Bite rule, as attorney Kenneth Phillips explains on his web page. Further, there are a number of Arkansas jurisdictions that flat out ban specific dog breeds.
2
The elderly victim was not safe from a deadly dog mauling while walking in her own gated retirement community.
Related articles:
11/19/13: 2013 Dog Bite Fatality: Boy Dies After Attacked by Pit Bulls in White County, Arkansas
06/13/13: 2013 Dog Bite Fatality: Child Temporarily Staying with Aunt Killed by Neighbor's Dog
09/11/12: 2012 Dog Bite Fatality: Jefferson County Woman Attacked by Own Pit Bulls Dies
08/13/11: 2011 Dog Bite Fatality: 4-Year Old Boy Killed by Grandfather's Rottweiler in Ozark
10/29/09: 2009 Dog Bite Fatality: Toddler Wanders from Babysitter's Home; Killed by Pit Bull