One City's Experience - The City of Denver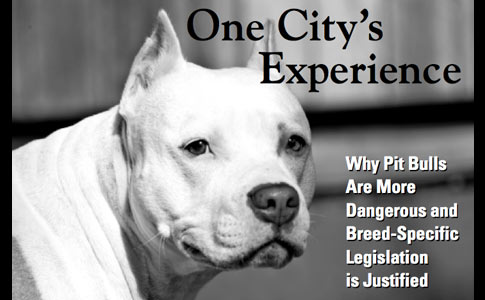 DogsBite.org - The history of the Denver pit bull ban, which was enacted in 1989, revoked in 2004 and reinstated in 2005, is best summarized in a 2005 Municipal Lawyer article titled, "One City's Experience," by Kory A. Nelson, the Senior Assistant City Attorney for the City and County of Denver. A deeper review of the pit bull ban's legal history can be found in, "Denver's Pit Bull Ordinance, A Review of Its History and Judicial Rulings," (download PDF) also by Mr. Nelson.
We gathered the vicious maulings and fatalities that played a role in the enactment of the Denver pit bull ban. Due to the closeness of the City of Aurora, which passed a Fighting Breed ban in 2005, we included attacks from Aurora as well. Though distinctly two separate cities, their histories regarding the pit bull problem overlap. Combined, the Denver-Aurora Metropolitan Statistical Area has an estimated population of 2.3 million, both of which cities prohibit new pit bull terriers.
October 1989, Denver Passes Pit Bull Ban
April 2004, Denver Pit Bull Ban Revoked
May 2005, Denver Pit Bull Ban Reinstated
October 2005, Aurora Passes Fighting Breed Ban
---
---
In February 2020, there was another attempt to repeal Denver's longstanding pit bull ban. Links in this blog post have been updated to preserve the historical content in this post written in 2009.
---
Victims Shown in Video


In order of appearance: Jacob Brady, 16-months old (Fairview Beach, VA), Emily Stinnet, 4-years old (Hodgenville, KY), Amaya Hess, 4-years old (Indianapolis, IN), Annette Rojas, 8-years old (Santa Rosa, CA), Charlotte Blevins, 11-months old (Omaha, NE), Ciera Anyaso, 9-years old, (Joliet, IL), Danny Jones, 15-years old (Takoma Park, MD), Delany Williams, 6-years old (Pittsburg, CA), Destiny Campbell, 3-years old (New Castle County, PA), Ellie Lawrenson, 5-years old (Merseyside, UK), Erin Dickinson, 7-years old (Reading, PA), Gregg Jones Jr., 10-years old (Aurora, CO), Hannah Shreves, 3-years old (Fairmont, WV), Isis Krieger, 6-years old (Anchorage, AK), Jai-Quone Nelson, 7-years old (Baltimore, MD), Jayden Garrison, toddler (Baltimore, MD), Joshua Tanner Monk, 7-years old (Breckenridge, TX), Kamar Reynolds, 3-years old (Brooklyn, NY), Kasey Eyring, 7-years old (Baltimore, MD), Kiara Lynn, 19-years old (Waukegan, IL), Mattea Flanigan, child (Dothan, AL), Nicholas Scott Faibish, 12-years old, (San Francisco, CA), Nick Foley, 10-years old (Cary, IL), Rayvin Crawford, 3-years old (Indianapolis, IN), Ronnie Smithell III, 23-months old (Atkinson, PA), Scott Warren, 6-years old (Dallas, TX), Sean Bajwa, 11-years old (Surrey, CA), Seth Lovitt, 11-years old (Killeen, TX), Zachary King Jr., 7-years old (Minneapolis, MN), Zach McPhillips, 13-years old (Anula, AU) and Katie Jarman, 6-years old (Gulfport, MS)
---
1
The pit bull, Tate, had attacked three people prior to Billingsley. One of the victims was hospitalized for 3-weeks. The owner of Tate, David A. Martinez, 25, was sentenced to 400 hours of community service after the Billingsley attack.
2
Elbert County is part of the Denver-Aurora-Boulder Combined Statistical Area.
3
The actual owner of the dog was a 17-year old who fled the scene, along with his pit bull, after the attack.
4
This incident was included because the adoption occurred after the ban was revoked, whereby making the issue of "breed determination" moot.
5
On October 24, 2005 the Aurora City Council passed an ordinance prohibiting the "new" ownership 10 dog breeds with the genetic heritage of dogfighting.
6
The boy's mother, Renee Muniz, was subsequently charged with felony child abuse resulting in serious bodily injury and misdemeanor reckless child abuse.
7
Police officers shot the dog through the home's security door, shattering the door, while the dog was still inside. Officers shot the dog once more outside killing it.
Related articles:
02/23/23: Denver Dog Bite Statistics by Breed and Injury Severity (2017-2019)
02/19/20: Surprise, Surprise. Denver's Pit Bull Ban has Always Been Controversial
02/17/20: Mayor of Denver Vetoes Pit Bull Ban Repeal, Slowing the Hasty Repeal Effort