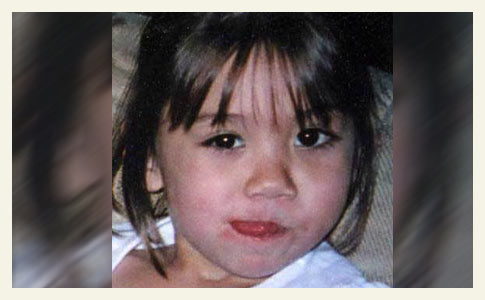 Isis Kreiger, 6-years old, died after being attacked by her family's pit bull.
Father Arrives from Iraq
UPDATE 08/19/08: Clarifications around Isis's death have been revealed. Medical officials declared her legally dead Thursday morning, August 14th, after undergoing surgery. Isis was then placed on life support machines while the family awaited for Isis's father, deployed to Iraq, to return to the country. Upon his return she was taken off the machines and died after she went into a permanent vegetative state, according to Anchorage police and the little girl's family.
08/18/08: Isis Krieger Has Died
Anchorage, AK - 6-Year old Isis Krieger did not survive the severe neck injuries she endured after being attacked by her family's pit bull last week in Anchorage, Alaska. Police now report that she died Thursday morning, August 14th, after undergoing emergency treatment at Alaska Native Medical Center. There are no words to describe this type of preventable tragedy. There are only the memories of Isis that her family and friends can try to keep forever in their hearts.
Isis Krieger was fatally injured in the attack while playing with Dozer in her East Anchorage mobile home last Tuesday. The dog bit her neck, breaking it and ultimately leaving her brain dead, said the girl's great-grandmother, Wanda Injasoulian.
"I'm sick," said Injasoulian, who learned Isis had been taken off life support Monday afternoon. "I'm completely, totally devastated, and the thing that hurts me most is that I wasn't there when she went to Heaven."
Isis underwent surgery at Alaska Native Medical Center the day of the attack, then was placed on life support, Injasoulian said. The girl's father was deployed to Iraq, and the family waited for him to return before taking her off the machines. James Haplin, The Anchorage Daily News, August 18, 2008
People across the United States and the world have been moved by Isis and her tragic story, praying for her survival. We have been moved by the efforts of two men, Troy Danforth and Specialist 4th Class Kyle Mayeaux of the U.S. Army Alaska, who tried to preserve her life and by the efforts of the Anchorage Police Department, the paramedics team and the emergency doctors who also tried to keep her small heart beating. Her tragedy and violent death has shaken us all.
Danforth has known the family and the family pets for years, but that Tuesday, Danforth shot multiple times at the pit bull -- named Dozer -- while the dog was attacking the babysitter. Dozer didn't die then, but later, put down by Animal Control.
"I don't even want to be around that dog, anymore, dogs like that," Danforth said. "I hate to say it, but just get rid of 'em."
"The dog was dangerous at 4-months-old, what is he at 4 years old?" said Wanda Injasoulian, the girl's great-grandmother.
She says this wasn't the first time her great-granddaughter had been bitten by the family pet.
Injasoulian said she begged her daughter to get rid of the pit bulls. She even called Animal Control to ask -- multiple times -- to seize the dogs, she says. - Lori Tipton, KTUU.com, August 18, 2008
08/13/08: Family Pit Bull Attacks Child
Anchorage,
AK - A child remains in critical condition after being severely attacked in the neck by the family pit bull. The attack by the dog, named Dozer, at Isis' home in East Anchorage was not the dog's first, but it was the worst, reports the Anchorage Daily News. At the time of the attack, Kristine Smith, 20-years old, was babysitting Isis and her sister, while their mother, Jessica Krieger, was at work. Neighbor Troy Danforth, shot and injured the dog while it was biting Smith.
Injasoulian said she had warned her 24-year-old granddaughter about the dogs before and tried to get animal control to take them away. This wasn't Dozer's first problem. Months ago, he attacked another dog in the house and tore its ear, and Dozer turned on the young girls' mother once as well, she said.
"The dog bit her a couple of months ago. The same dog bit Jessica and it also bit her sister Andrea," Injasoulian said. "I've told her and called animal control. I even threatened to go over there and shoot the damned dogs. James Haplin, The Anchorage Daily News, August 18, 2008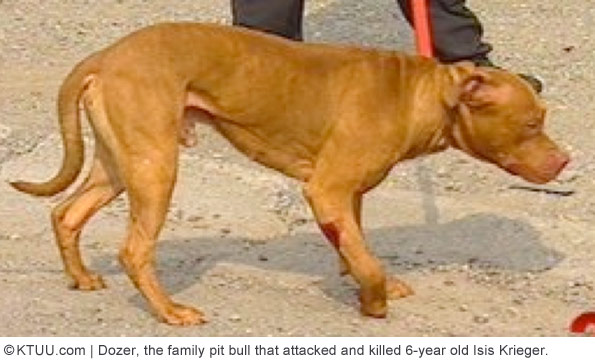 Related article:
06/20/08: 2008 Dog Bite Fatality: Boy Killed by Family Pit Bull in Weslaco, Texas