Dog Attacks Son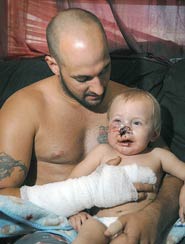 Baltimore, MD - "The dog rarely barked. He never growled and showed his teeth -- until a vicious attack," reports the Baltimore Sun. It's a phrase specifically used to describe pit bull attacks. As a fighting dog, pit bulls were bred to conceal attack signals; the same traits mentioned by the Sun.
Two days after the attack, parents Kenneth and Melissa Garrison sat in the living room where their child's blood stained the carpet. They were at a loss to explain the dog's actions, which left their son hospitalized for a night. Half of Jadyn Garrison's face was covered in a red scab yesterday, but doctors predict he will make a full recovery.
Kenneth Garrison, 26, said he had owned four pit bulls previously and that none were vicious. He assumed ownership of the dog from a cousin who died last month. Despite numerous news reports of pit bulls attacking humans and other dogs, Garrison took the dog in with no reservations. He said he was familiar with the dog and that his cousin did not breed him to be violent.
Shortly after nightfall Saturday, Melissa Garrison, 26, who had given birth to the couple's youngest child a week earlier, said she was sitting on her couch relaxing. She said Jadyn was the only child in the room at the time, standing with a cookie in his hand a few feet from the dog when Chocolate charged and went straight for the child's face.
Kenneth Garrison heard the commotion from upstairs. He said he ran down, grabbed the dog by its neck and fought with it for about 10 minutes. Garrison said he wrestled the dog into the kitchen, where it remained while the rest of the family rushed out a back door. Garrison said he eventually left the dog in the house and attended to his bloodied child outside as an ambulance arrived.
The struggle left Kenneth Garrison with puncture wounds and hand lacerations. His arm remained in a soft cast yesterday.