Owners Charged under Texas Felony Dog Attack Statute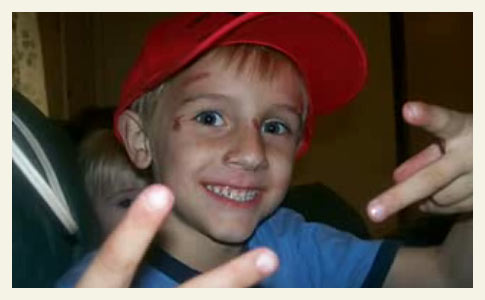 Tanner Joshua Monk, 7-years old, was killed by four pit bulls belonging to his neighbors.
Owners Receive 7 Years
UPDATE 10/11/08: Both defendants were sentenced to seven years in prison in connection to the mauling death 7-year old Tanner Joshua Monk. Crystal Watson sobbed, "I wish I could go back to that day; I wished I'd never left." Jack Wayne Smith said, "I would trade places with that young boy anytime or with any child." His statement is hardly believable and is at odds to the day of the fatal attack, when deputies testified that Smith cared more about his dead dogs than the dead boy.
The sentence resulted from a Texas law passed in September 2007. Watson and Smith are the first to be tried under this law, which holds dog owners to a higher degree of responsibility for their animals.

The law mandates dog owners face increased jail time when their animals cause injury or death. - C.T. Hunnewell, Times Record News, October 11, 2008
10/10/08: Swift Justice in Texas
The Young County jury deliberated less than 1 hour before returning a guilty verdict in a precedent-setting trial of the owners of four pit bulls that attacked and killed 7-year old Tanner Monk of Breckenridge. Defendants Jack Smith and Crystal Watson of Breckenridge were found guilty of attack by dog resulting in death. The crime is a second-degree felony punishable by up to 20 years in prison and a fine of up to $10,000. The punishment phase begins the morning.
10/09/08: Trial Testimony Ends
Both sides rested after a second day of testimony in the state's first trial under Lillian's Law. Witnesses included Eastland, Texas, residents who were familiar with one of the four pit bulls that fatally attacked the 7-year old boy. Earl Trout recalled how one dog involved in the attack, name Sun, once knocked him down. Though the dog didn't bite him, the fall required stitches on one arm. "The good Lord was with me," Trout said during testimony. "I crawled 35 feet to get away."
Leon Lake resident, Yvonne Blankenship, testified how the same dog had attacked other dogs and killed her Jack Russell terrier. Other witnesses included forensic experts from the Tarrant County Medical Examiner's Office. Roger Metcalfe, a forensic dentist, called the attack of the boy "one of the most awful things I'd ever seen in an autopsy." He described the horrible wounds on Tanner's head, neck and shoulders, as well as the claw marks and scratches found all over his body.
The first authorities to arrive on scene were Stephens County Sheriff's deputies Caleb Hodges and Adam Babylon. They quickly shot two aggressive pit bulls. The deputies testified that the defendant, Jack Wayne Smith, approached the scene from a nearby driveway accompanied by two pit bulls and asked the deputies why they had just killed two his pit bulls. "We told him there was small boy who'd been killed," Hodges testified. "He said 'Oh,' and walked back to his house."
10/07/08: Jury Seated in Fatal Attack Trial
A 10-woman, two-man jury has been seated, and testimony has begun in the fatal dog mauling trial of Tanner Joshua Monk. Though the case originated in Stephens County, it was moved to Young County as a result of pretrial publicity. Due to the widespread interest in the case, Young County Sheriff Bryan Walls said his office, in conjunction with the Stephens County Sheriff's Office, would be providing tight security during the trial. The criminal trial is expected to last all week.
10/04/08: Last Ditch Efforts By Defense
Breckenridge, TX -The trial of a Breckenridge couple accused of owning two pit bulls that brutally killed 7-year old Tanner Joshua Monk back in May will continue as planned, despite efforts by their defense attorney to delay proceedings. Jury selection will begin Monday for Jack Smith, 45, and Crystal Watson, 27, who are each charged with felony dog attack resulting in death. Monk was found dead on May 18 on County Road 415, about 50 to 70 west of where the pit bulls were kept.
5/19/08: Boy Killed by Multiple Pit Bulls
Breckenridge, TX - A 7-year old boy is dead after being attacked by dogs, according to the Stephens County Sheriff's Office. A woman driving her car saw Tanner Joshua Monk lying next to the road near Hubbard Lake with two pit bull hovering nearby. She stopped to check on the child, Sheriff Jim Reeves said. When she exited her car, the dogs became aggressive, he said. The dogs were also aggressive toward the two responding deputies; they shot and killed both dogs.
The deputies found the boy dead, Reeves said. The two shot pit bulls, along with two other pit bulls belonging to the same home, were taken into custody by authorities. The dogs belonged to a neighbor of the child's family, according to Reeves. An autopsy will be conducted on the boy and tests will be performed on the seized dogs. Reeves said evidence will be presented to a grand jury following the autopsy and tests. There were no witnesses to the attack. Tanner died all alone.
---
---
---
Related articles:
01/01/09: New Dog-Mauling Statute Tested by Stephen Bristow
06/19/08: 2008 Dog Bite Fatality: Boy Killed by Family Pit Bull in Weslaco, Texas
11/07/07: 2007 Dog Bite Fatality: Boy Killed by His Grandmother's Pit Bull in Killeen