7-Year Old Attacked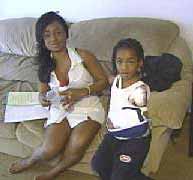 West Park, FL - 7-year old Angel Germain, was playing in his apartment garden complex when a pit bull escaped his fenced yard, broke into the enclosed garden area and attacked the child. His outraged mother said:
"A chunk of my child's shoulder is missing. His ribs are bruised up and punctured. He has scratch marks all over the back of his head."
Ms. Germain wants pit bulls banned in Broward County, just as they are banned in Miami Dade County.
"Someone has to do something about it and I'm not going to rest until my child and everyone else in Broward County is protected from these pit bulls," she said. "These animals can not be tamed."
The pit bull is currently being held in a 10-day quarantine. Because there are no prior complaints against the dog, it will likely be released back to its owner. This the the third tragedy. The first tragedy is the severe injury inflicted upon the child. The second tragedy is the costly medical burden Germain will undergo of which the pit bull owner will pay nothing.