Friday, December 12, 2014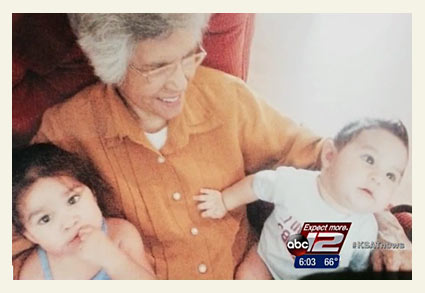 Felony Charge, Owner Jailed
UPDATE 12/12/14:
In what may be the first felony charges brought by Bexar County officials under Lillian's Law, 34-year old Perla Rojas was indicted on November 24 on a charge of a dangerous dog attack leading to death, according to court records. The second-degree felony carries up to 20-years in prison if convicted. On March 31, Rojas' two pit bulls brutally attacked 83-year old Petra Aguirre in her own backyard. Aguirre died at University Hospital on April 11.
Aguirre had been feeding her cats when her neighbor's pit bulls crawled under the fence and attacked her. Previously, it was reported that only one pit bull was involved. The two attacking pit bulls, both female, and a third dog belonging to Rojas attacked a 13-year old boy in May 2013. The boy was treated for his bite injuries and the dogs were quarantined. The dogs were then released back to Rojas. 10-months later, her two pit bulls will savagely attack and kill Aguirre.
Rojas was booked on November 25, a day after the indictment. She remains in Bexar County Jail in lieu of $20,000 bail. Of the 6 fatal dog attacks that occurred in Texas so far this year, 83% (5) involved pit bulls. Two other fatal attacks also resulted in felony charges under Lillian's Law:
Betty Clark, 75-years old
(Comal County) and
Christina Bell, 43-years old
(Harris County). Predictably, all three felony dog attack charges in Texas in 2014 were brought against the owners of pit bulls.
04/25/14: Like a "Shark Attack"
In a devastating follow up news article, San Antonio authorities are "grasping at straws" after the death of Petra Aguirre. She was brutally mauled by her neighbor's pit bull while in her own backyard, just 10-feet from her door. Her injuries are described as her ears torn off and "cavernous" gashes on her arms and legs. Her son Chris Aguirre said, "It's just like a shark attack." Medical journals and doctors have made the same comparison about pit bull injuries.
1
We remind readers that the attacker was a 2-year old female pit bull, probably 35-pounds, not a 5,000-pound Great White ocean predator.
Petra was attacked on March 31 and underwent a new surgery every day at University Hospital. Family and friends said that she managed a blink or a nod at times. Her body was ravaged with infection and doctors advised that amputations might save her. Chris did not want his mother to live that way. "We had a family meeting," he said. Petra died of her injuries on April 11. She was 83 and a devout Catholic. Chris believes she forgave the dog owner within minutes of the attack.
City specific issues discussed in the article involve the massive population of roaming dogs in San Antonio (mainly owners not securing their dogs). It has been estimated that 150,000 dogs roam city streets on any given day. In 2011,
San Antonio began a special court program
to address this problem. Notably, this pit bull was not "free roaming" when it attacked. It crawled beneath its owner's
crappy chain-link fence
specifically to attack, which is a separate public safety issue.
2
Properly securing pit bulls is a breed-specific issue and is
being carried out in the City of Garland
.
04/17/14: More Information Released
What was formerly behind a paywall is now viewable (at least for DogsBite). On April 14, the San Antonio Express-News reported more details about the mauling death of Petra Aguirre. She had been feeding her cats in her backyard when a pit bull-mix, named Skirtgles, crawled under the fence and attacked the 83-year old woman "from her scalp to her toes," according to family members and authorities. The animal belonged to her neighbor and had a history of biting.
The attack occurred on March 31. She died at University Hospital on April 11. The dog was described as an unsprayed 2-year old female pit bull-mix. The animal was surrendered by its owner after the attack and euthanized. Perla Rojas-Ibarra, the dog's owner, was "cited for the bite." Skirtgles and two other dogs owned by Rojas-Ibarra, were also involved in a biting incident last May. The dogs attacked a 13-year old boy who was walking down West Salinas Street.
Petra was living with two brothers and a nephew at the home when the vicious attack occurred, according to her son Chris Aguirre. The nephew was away at work and, horrifically, her two brothers could not hear what was happening. Her nephew, Simon Yanez, told KSAT.com that he is still haunted by the image of his mother's bloodied and bruised body. "She had bites on her arms, on her legs, her neck, her skull, her ear," Yanez said. "I didn't believe it was only one dog."
Aguirre also told the Express-News that his mother was a devout Catholic who taught religious education to children at St. Gabriel's parish for many years and was the "bedrock" of her family.
Texas Felony Dog Attack Law
For readers who are unaware of the Texas felony dog attack law,
please see Lillilan's Law
. Despite the attack on Petra fulfilling the two central requirements of the law -- the dog attacked off its owner's property and has a documented history of aggression -- there is still no word from San Antonio authorities about criminal charges. They are "still investigating" the incident, according to Express-News and KSAT news reports, KSAT even called it a "multiple-agency investigation."
3
04/15/14: Senior Citizen Killed by Pit Bull
San Antonio, TX - An elderly woman has died for the second time this year at University Hospital (See a related study from the same hospital:
Mortality, Mauling and Maiming by Vicious Dogs
). Petra Aguirre, 83-years old, was attacked by a neighbor's pit bull in her backyard last month. Aguirre had bites all over her body, according to officials and family members. She died Friday evening at the hospital. The 2-year old pit bull had been involved in a previous biting incident.
It is "highly probable" that the
language used to describe the pit bull
, "a 2-year old American Staffordshire terrier-mix," was supplied to the reporting news group by San Antonio's Animal Control Dept. to
lessen the blow to the country's top killing dog breed
and to confuse the public. The same article also states that
75-year old Betty Clark
of neighboring Comal County died in January at the same hospital after being attacked by two dogs in her Canon Lake neighborhood.
4
A news report by the Associated Press states she was attacked on March 31 while feeding her cats in her own backyard. The Bexar County Medical Examiner's Office said Petra Aguirre died on Friday from dog bite complications. Animal Care Services spokeswoman Lisa Norwood says the dog "got past Aguirre's fence." The pit bull inflicted bites to her head, neck, arms and legs. That dog and two others where involved in an attack last May when a 13-year old boy was bitten.

View the DogsBite.org Google Map:
Texas Fatal Pit Bull Maulings
.
---

Texas Dog Bite Victims' Advocacy
-
Join our Texas email list to stay informed
1
The 1988 study by University of Texas Medical Branch, Galveston doctors, Pit Bull Attack: Case Report and Literature Review, references this: "Most breeds do not repeatedly bite their victims; however, a pit bull attack has been compared to a shark attack and often results in multiple bites and extensive soft-tissue loss," as did Dr. Tom Veverka who treated Duane VanLanHam, "It was like a shark attack. His legs were like hamburger."
2
The article basically states that the owner's failure to properly secure his dog resulted in Petra's death. This is true, but it fails to point out the public safety difference between dog breeds. Had a collie crawled under the fence, no one would be making "shark attack" injury comparisons.
3
As if special opts were involved. This same special opts team failed to notify the media when the attack occurred. Quite literally, dogs are murdering senior citizens in this area of Texas and the public has only learned about it after the victim died and because University Hospital was willing to bring the information forward.
4
So, how many unreported fatal dog maulings to the media are there just in Texas alone?
Related articles:
04/15/14:
2014 Dog Bite Fatality: Comal County Woman, 75, Dies After Pit Bull Attack
05/28/13:
DogsBite.org Publishes Rebuttal Letter in Defense of Texas Medical Study
03/12/13:
Report: Texas Dog Bite Fatalities, January 1, 2005 to February 17, 2013
05/21/11:
Texas Doctors Produce Study: Mortality, Mauling and Maiming by Vicious Dogs
Photo:
KSAT.com
Labels: 2014 Dog Bite Fatality, Bexar County, Criminal Charges, Fatal Pit Bull Attack, Lillian's Law, Senior Citizen Fatality, Texas, Texas Pit Bull Fatality, University Hospital

Please donate to support our work
DogsBite.org is a 501(c)(3) tax-exempt public charity organization. Learn more »
posted by
|
permalink
|
7 comments
|

email
|

blog rss
|

comment rss

7 comments:

Decatur AL livin nt to 4 pits | 4/15/2014 12:46 PM | Flag
Am I counting correctly? Is this #5 for Texas this year? A cold chill has come all over me and I can't get rid of it. I think it is utter disbelief!

Farmer Jane | 4/19/2014 9:46 AM | Flag
"cited for the bite"?! Which bite? Will she be cited for each bite that occurred in this horrendous, unprovoked mauling? The wording that these officials and news agencies use is chosen to put their own spin on whatever they are writing about. It makes a difference in a readers understanding of an incident whether the perpetrator is an armed gunman or a freedom fighter. Or whether the dog attack was a bite or murderous mauling.
While I want to respect the victim and not make their death a spectacle, people who read the few articles that are written about these attacks are misled. The horror is played down to the point where a murderous butchering is called a dog bite.
There is no truth in news agencies anymore. Or in the reports written by AC. I am glad that you are here, Colleen, you and Decatur AL, Dawn James, and so many others that insist on telling the truth. Thank you

PutMeInCharge4OneDay | 4/21/2014 3:52 PM | Flag
This poor woman. Never in her wildest dreams would she have thought that feeding her cats in her own yard would be fatal.

Why these canine psychopaths are allowed to be kept as pets is beyond me.

This morning my husband and I were watching our local news and they described an 8 year old being attacked by dogs. Hubby and I looked at each other and said "it was probably Pomeranians"...

Finally at the end of the segment the reported said "and neighbors report that it was four pit bulls"

Not so shocking is it.

When is enough enough?



Steven Sweat | 4/29/2014 3:55 PM | Flag
Children and the elderly are especially vulnerable to dog attacks like this one. We have had several, similar incidents in and around the Los Angeles area in the past 12-14 months including an elderly woman killed by a pack of dogs in North L.A. County. California, like many states, provides for strict liability against the dog owner for any injuries caused no matter whether the dog owner had any prior indication of the propensity of their animal(s) to attack or bite people. For more information on dog laws in CA go to: http://www.victimslawyer.com/dog-bites/

Melanie Schlaginhaufen | 5/08/2014 4:36 PM | Flag
These stories are so upsetting, because they are PREVENTABLE. Who needs a Pit bull as a pet, first of all and secondly, if they think they MUST have one, please do not leave it outdoors in a "crappy chain link fence" where it can get out and kill someone like this precious mother and grandmother!

Unknown | 10/16/2015 8:25 AM | Flag
This is so devastating. It makes not want to get a dog as a pet for my kids. I'm sending Prayers for this family. Yes, the dog owner should have accountability in this case. Build better fences and take care of their dogs.

Melanie Schlaginhaufen | 12/20/2015 10:43 AM | Flag
I can understand people saying they do not want to get a dog as a pet. But please understand that a Pit Bull and something such as a Bichon are about as different as a horse and a mouse. I speak from experience, as I have been a dog trainer for over three decades. My show dog friends hate it when I say I am in favor of breed related laws.. But if they would just take the time to read two or three pages of this website, I cannot see how in the world they could deny that Pit Bulls were never meant to be pets. They were developed as a dog to be used for gambling, for matches to bring down BULLS. They never quit, due to an inherited trait called gaminess, which is highly prized by breeders of these animals, in fact, they "cull", which means put down, the pups who do not have fight drive and high prey drive, the very ones who might have a chance to be a family pet. The result is that people have been misinformed by the media, including rescue groups, that these dogs are the same as any other dog, if raised right. That is simply untrue. The rise of no kill rescue groups, sadly, has made this are also, as they no longer wish to put down Pitties. Most rescue groups are unable to properly evaluate these dogs, and assume that a dog acting friendly means that it will not attack people or other pets. Would you expect a horse to never buck if frightened? Of course not. And you cannot expect a game bred dog to never attack and kill, because it has been selectively bred in to their nature.