Dog Mauling Criminal Trial Set to Begin After Delays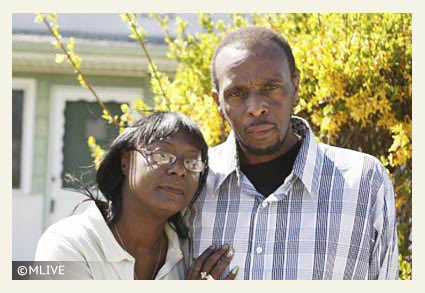 Pit bull attack victims: Bridgetta Hadley and Duane VanLanHam.
Judge Ups Sentence
UPDATE 06/08/10: Despite the oddly "carved up" verdict in the case against Anthony Hunt, County Circuit Judge Janet M. Boes did not hesitate in sentencing Hunt beyond the Department of Corrections recommendation by two years. Judge Boes sentenced Hunt to five to eight years in prison. Hunt had asked Judge Boes to follow the correction's guidelines and give him a "straddle cell"1 sentence, or one that would allow for house arrest or boot camp and not prison.
Judge Boes is scheduled to sentence the other convicted Defendant, Shamarrow Amos, on June 22. Amos was convicted of two of the six counts of possessing a dangerous animal causing injury by the sympathetic jury, while Hunt was convicted of four. According to The Saginaw News, because Judge Boes did not remand Amos to jail prior to her sentencing, it's unlikely she will be sentenced to prison. Unlike Hunt, Amos also appears to not have a criminal past.
05/17/10: Jury Oddly "Carves Up" Verdict
On the fourth day of deliberations, jurors returned a "carved up" verdict in the dog mauling trial involving Anthony Hunt and Shamorrow Amos. The jury found Hunt guilty of four counts of possessing dangerous animals causing serious injury and Amos guilty of two counts. Three pit bulls were involved in March 5, 2009 attack, but the jurors could only agree that the defendants owned two of them. Both Hunt and Amos face up to four years in prison and $2,000 in fines.
05/08/10: Victim Takes the Stand in Trial
On Friday, Duane VanLanHam took the stand and testified at the dog owners' trial. He told a jury exactly what happened when he helped save the life of Bridgetta Hadley who was being attacked by the dogs (See: Courtroom video). The owners of the pit bulls, Shamorrow S. Amos and Anthony D. Hunt, are charged with six counts of possessing dangerous animals causing serious injury. Both defendants claim they did not own the dogs at the time of the mauling.2
"He stood up and backed away from the dogs but tripped over the curb at the divider and fell into the grass, he testified. One dog began biting his left leg, "tearing away my muscles," while the other two bit his right leg and one of his arms. VanLanHam testified that he never lost consciousness throughout the attack and estimated that it was 15 to 20 minutes before Austin arrived ... He lost all five toes on his right foot and four fingers as a result of the attack and has since had several infections that hospitalized him other times." - Mlive, May 7, 2010
04/19/10: Victim Awarded; Trial Set to Begin
Buena Vista Township, MI - On March 5, 2009, Duane VanLanHam placed himself between three frenzied pit bulls and a childhood friend the dogs were attacking. The dogs turned on Duane nearly chewing both his legs off. In a May 11 article, he describes the incident to The Saginaw News, "It was a feeding frenzy. They were like piranhas,'' said VanLanHam. "It was unreal. My legs was meat to them -- they just snatched out hunks of meat, just snatched it out."
VanLanHam was hospitalized for 30-days after the attack. He returned to the hospital for another month after infection ravaged his wounds. The emergency department physicians said they had never seen a case like his before. Dr. Tom Veverka said, "It was like a shark attack. His legs were like hamburger.3" The dogs mauled off nearly all of VanLanHam's heels and shredded the tendons in the back of his legs, Veverka explained. A lot of flesh and skin was simply gone.4
VanLanHam returned to the Intensive Care Unit at St. Mary's of Michigan in July after collapsing in his home. His body had been unable to shake the infection; it settled into his bloodstream. By October 23, due to the infection, doctors removed four fingers from VanLanHam's left hand. His right leg, which received the worst injuries, was still bandaged and in a stabilization boot at the time. Doctors next amputated all five toes from his right foot after gangrene set in.
It was reported on April 15, 2010 by The Saginaw News5 that the Pittsburgh-based Carnegie Hero Fund Commission is awarding Duane E. VanLanHam the Carnegie Medal for the civilian heroism he displayed last March. The powerful news comes nearly on the eve of the criminal trial set to finally begin Tuesday, April 20. Thus far, Judge Janet M. Boes has delayed the criminal trial for pit bull owners Shamorrow S. Amos, 25, and Anthony D. Hunt, 33, three times.
View Related ZUPF video
---
On June 18, 2019, we received word that Duane VanLanHam died from a rare cancer on June 14, 2019. Please visit his family's GoFundMe to learn more: Burial For Saginaw Hometown Hero
---
1
A "straddle cell" appears to be a Michigan State sentencing feature that allows the judge to sentence either to prison or to intermediate sanctions, and "intermediate sanction" cells that preclude state imprisonment.
2
A standard and well-trodden defense used by owners of dangerous dogs.
3
Since 1988, medical journals have compared pit bull bite injury to shark attack injury. See: Pit bull attack: case report and literature.
4
Because pit bull attack injury may result in massive amounts of skin and flesh loss, such victims are directly airlifted to burn centers. As Amaya Hess's mother stated last year: "The question that everyone asks me, is 'how was she burned?' Well, she wasn't burned. She was attacked by a dog."
5
Writer Gus Burns and The Saginaw News did an outstanding job covering VanLanHam's story.
Related articles:
12/31/09: 2009 Pit Bull Attack Victims and Their Stories - DogsBite.org
04/20/09: Pit Bull Attack Victim Airlifted to Regional Burn Center in Tampa
08/07/08: Flashback: Man Receives Carnegie Medal for Stopping Pit Bull Attack
08/02/08: Hero Stories: Honoring Those Who Have Stopped a Deadly Pit Bull Attack