Tuesday, November 5, 2013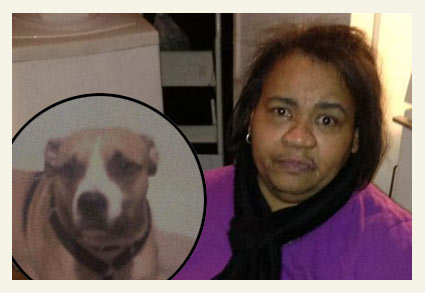 Terry Douglass and Boosie, the 4-year old male pit bull that killed her.
Policy Problems
UPDATE 11/04/13:
On Monday, CBS Baltimore aired a headine segment asking questions about why a pit bull with a history of two attacks was returned to its wheelchair-bound owner. The animal's third attack killed its owner. Reporter Rochelle Ritchie states in the onset of the segment, "Advocates say it should not have happened. In fact, the woman had a huge gash on her face from when the dog had attacked before." Victims' advocate Tony Solesky is featured in the piece.
Tony Solesky is the father of a
young pit bull mauling victim
at the center of
Tracey v. Solesky
, an appellate court decision that declared pit bulls "inherently dangerous" in the State of Maryland. The high court decision attached strict liability when the breed attacks; this liability extends to landlords when a tenant's pit bull attacks. The Court
issued the ruling in April 2012
. The decision has been the
subject of much controversy
across Maryland and the Northeast ever since.
Ritchie summarizes in the segment, "Why the dog was returned to Douglass after it attacked remains a
huge question that is unanswered
. We tried to speak with health officials here at the health department. They would not go on camera." Solesky adds, "This is a problem of policy, and it's a problem they're aware of. The only time it gets addressed is when we have these horrific incidents." Solesky will continue to push Baltimore City Health Department officials to learn more.

Related video
11/03/13: Health Department on Defense
The Baltimore Sun
released an update on Sunday showing the
failure and bias
of the Baltimore City Health Department, which oversees animal control. The article states that animal control officers seized Boosie in April of this year after a biting incident involving two people, but returned the animal because they "did not feel the dog was a threat to the public." The department denied responsibility further by stating that Douglass was "adamant in getting the dog back" afterward.
No mention was made by the Baltimore City Health Department about the first attack, which left wheelchair-bound Douglass with a disfigured face 2-years ago. No mention was made about the landmark
Maryland Court of Appeals ruling in 2012
that declared pit bulls "inherently dangerous" in Maryland either. Yet, plenty of mention was made about the pro-pit bull bias of the health department, instead of their central mission, which is to protect the health and welfare of people.
[Health department] officials said they do not have special rules for pit bulls, noting that any breed has potential to bite.
"Baltimore City Animal Control supports responsible pet ownership and not laws that single out a specific breed," a statement read. "According to the [U.S. Centers for Disease Control and Prevention], nearly 4.5 million Americans are bitten by dogs each year. Dog attacks often result from multiple factors; it is not necessarily the breeds themselves that are dangerous."
Predictably, both the Baltimore City Health Department and Jennifer Brause, the executive director of BARCS, obfuscated this horrific life-taking attack of which
there are only about 32 fatalities per year
, by citing irrelevant CDC "dog bite" data that does not address dog bite injury severity and "any animal can bite" propaganda, which also does not address dog bite injury severity, and finally, Brause states, "We don't want people to look at [pit bulls] and say they bite." (Heaven forbid!)
1
Article Updated 7:11 pm (EST)
Minutes after posting the above portion, "Health Department on Defense,"
The Sun
article updated with new and noteworthy information. According to the victim's daughter, Tamathia Davis, "To get her mother to give up the dog, Davis said she wouldn't let her 1-year-old son visit from their home in Pennsylvania. She also said she asked the landlord to ban the dog," states the piece. Davis admits in the update that she too owns and loves a pet pit bull that she raised from a puppy.
The victim's nephew, Torian Wellsey, is included in the Sunday evening update as well. Wellsey was attacked by the dog along with Douglass in April (not her son as stated in previous news reports). Wellsey told
The Sun
, "The dog was a vicious dog. She thought she could control it and she couldn't." Wellsey said his aunt tried to stand from her wheelchair to reach for a glass of water, but fell onto the ground when her pet pit bull attacked. "He ripped her apart," Wellsey said.
The update also shows how BARCS and city animal control are distinguishing themselves. "Boosie was housed at BARCS' facilities during the quarantine period, but the city's animal control department made the decision to return the dog," states the piece. New readers may be confused about this kind of intertwining co-dependent relationship. One entity "confiscates" dogs and the other "cares for, temperament tests and adopts" them out; the former is like a tow truck service.
Apparently, it was the tow truck service
2
that sent the two-time attacker back to its crippled owner.
11/03/13: Attacked Victim Twice Before
Late Saturday night,
The Baltimore Sun
published a disturbing update to the nation's most recent fatal pit bull attack. Terry Douglass, 56, died after "Boosie," her 4-year old male pit bull she had raised since a puppy, attacked her for a third time. Her daughter, Tamathia Davis, said the dog had attacked her wheelchair-bound mother twice before. The attacks began about 2-years ago, around the same time Douglass began using the wheelchair due to suffering from cerebral palsy.
"She loved that dog unconditionally," said Davis.
Davis describes the first attack as occurring about 2-years ago. The animal bit Douglass in the face so horribly that "whenever my mom would open her mouth, her cheek would open with it," Davis said. The second attack occurred last year when Boosie bit Douglass and one of her sons. A city shelter placed the dog in quarantine after the last attack Davis said, but allowed the dog to be returned home to Douglass even though Davis and other relatives pleaded with them not to.
Why Was No Pause Given?
The city shelter (BARCS presumably) placed a two-time attacker back into the home of a wheelchair-bound owner who had no means to control this animal and had already suffered two previous attacks by the dog.
The city shelter (BARCS presumably) placed a two-time attacker back into the home of a wheelchair-bound owner who had no means to control this animal and had a disfigured face due to one of these previous attacks.
The city shelter (BARCS presumably) placed a two-time attacker back into the home of a wheelchair-bound owner who had no means to control this animal and resided in a high-density neighborhood; the third attack could have victimized any visiting or neighborhood child.
The city shelter (BARCS presumably) placed a two-time attacker back into the home of a wheelchair-bound owner who had no means to control this animal and whose family members had pleaded with them not to.
Finally, the city shelter (BARCS presumably) did all of this despite being "painfully" aware of the 2012 high court ruling that declared pit bulls "inherently dangerous" in the State of Maryland from a liability perspective.
Pause certainly should have been given by the city shelter due these
overwhelming
issues.
Recent Pit Bull Owner Deaths
Terry Douglass now joins a growing number of pit bull owners who suffered a violent death by the jaws of their own dogs. Some of these victims include;
Clifford Wright
, 74-years old, of Santa Fe, New Mexico;
Rebecca Cary
, 23-years old of Decatur, Georgia;
Deborah Roberts
, 45-years old, of Jefferson County, Arkansas;
Mary Jo Hunt
, 53-years old, of Pembroke, North Carolina;
Michael Cook
, 61-years old of Tucson, Arizona and
Darla Napora
, 38-years old of Pacifica, California.
11/02/13: Woman Killed by Pet Pit Bull
Baltimore, MD - In a developing story, a 56-year old woman died Friday after being attacked by her pet pit bull. Police officers responded to a call of a "dog bite" to a home in the 2000 block of East 30th Street about 12:45 am,
3
according to police spokesperson Detective Jeremy Silbert. Officers discovered the injured woman in the
Coldstream Homestead Montebello
neighborhood home. She was taken to the hospital where she died. We anticipate more information shortly.
4
1
The earlier Sunday article is time stamped at 4:41 pm EST.
2
We don't believe the tow truck service made this decision independently of BARCS. Further, clearly it is BARCS that is steering the city's public policy on the "pit bull" issue.
3
This attack only first came to light nearly 24-hours later. The time stamp on The Sun article is 11:16 pm Friday.
4
As of 11:30 pm Saturday (EST), there has been no new information, 46-hours after first responders arrived. Given the endless press about the Solesky ruling -- much of it in defense of pit bulls -- it is reasonable to question why the City of Baltimore and local media are responding to this woman's death in this "tight lipped" way. The last Maryland dog bite fatality occurred in May 2006. Raymond Tomco, 78, was mauled to death by his daughter's pit bulls.
Related articles:
04/17/13:
Maryland High Court Ruling Stands: Pit Bulls are 'Inherently Dangerous'
12/17/12:
Solesky Family Releases 911 Call at the Center of High Court Decision...
08/21/12:
Maryland Court of Appeals Narrows Decision to Pit Bulls; Removes Cross-Bred Pit Bulls
08/15/12:
Anthony Solesky, Father of Pit Bull Mauling Victim, to Testify at Hearings
06/18/12:
Maryland Pit Bull Task Force Forum Live Tweeting June 19th @Supportthecourt
06/08/12:
DogsBite.org Launches Maryland Dog Bite Victim Advocacy Web Page...
04/30/12:
Maryland Court of Appeals Holds Pit Bull Owners and Landlords Accountable
01/16/12:
Pit Bull Attack Victims May Have New Hope to Recover from Landlords
11/02/11:
Letter of Gratitude to Founder Colleen Lynn from Parents of Mauling Victim
03/10/10:
Dangerous By Default: Extreme Breeds by Anthony Solesky
Photo:
Baltimore Sun
Labels: 2013 Dog Bite Fatality, Baltimore City Health Department, BARCS, Fatal Pit Bull Attack, Maryland, Pit Bull Kills Family Member, Pit Bull Kills Owner, Tracey v Solesky

Please donate to support our work
DogsBite.org is a 501(c)(3) tax-exempt public charity organization. Learn more »
posted by
|
permalink
|
14 comments
|

email
|

blog rss
|

comment rss

14 comments:

vintage | 11/02/2013 3:05 AM | Flag
Must have been all riled up from participating in the Pit Bull Awareness Day "Right to Bite" March....

Prez Obama's 101st American Killed by a Pit Bull.

Oh well, Hose the blood out the apartment and rent to another pit owner...



Decatur AL livin nt to 4 pits | 11/02/2013 8:36 PM | Flag
Wow, it's almost 11pm on Saturday. I can find no updates. No media coverage with videos ??? Not even a picture of the street or home???

Colleen Lynn | 11/02/2013 10:14 PM | Flag
The situation is grim Decatur. Not a single news team even went out to talk to neighbors it seems. You bet there are larger forces in play. The block address is in Google Maps: 2000 block of East 30th Street. Aging row houses...

PutMeInCharge4OneDay | 11/03/2013 7:29 AM | Flag
I am going to bet that at some point a nutter will blame this attack on the woman being in a wheelchair.Which she has been in for two years. According to articles.

The lady had been attacked by this dog two previous times and it had been returned to her.

The daughter of the deceased has said "Davis said she hoped that people would not judge all pit bulls as a result of this attack. I don't hate all pit bulls because not all pit bulls are bad,"


http://articles.baltimoresun.com/2013-11-02/news/bs-md-ci-fatal-dog-attack-20131101_1_pit-bulls-dog-baltimore-woman



snack sized dog | 11/03/2013 1:40 PM | Flag
The family members who objected to Boozie being returned to this disabled woman should sue Barcs for wrongful death. Given that pit bulls are considered inherently dangerous in Maryland, it seems they might have a good case.

This is disgusting. Who is this shelter worker who physically handed this dog back to the owner who has died because of their decision. I hope they comprehend the gravity of their choice.

truthbird | 11/03/2013 6:54 PM | Flag
"Police say Douglas was recovering from surgery. Investigators say the attack occurred after she fell out of bed on top of her dog." -- they will just excuse this away.
--
http://www.wbal.com/article/103693/3/template-story/Woman-Dies-After-Pit-Bull-Attack-In-Her-Home

Your Quiet Neighbor | 11/04/2013 1:52 AM | Flag
So, now that the dog has killed its owner, will it FINALLY be considered dangerous? Or is it still just a poor misunderstood wigglebutt?

vintage | 11/04/2013 5:50 AM | Flag
The A/C and Humane Community are no longer in the public safety business after 30 years of nutter education and infiltration. This animal should have never been placed back in a neighborhood!


Now who will be fired as is the case in most professions?...Let me guess. NO ONE!

orangedog | 11/04/2013 9:08 AM | Flag
Obviously, she trained it to attack her if she ever fell out of her wheelchair.

Colleen Lynn | 11/04/2013 10:56 AM | Flag
WBAL has a pretty different story -- she was climbing out of bed post surgery and fell onto the dog, not reaching for a glass of water. The police are behind this story: http://www.wbaltv.com/news/maryland/baltimore-city/woman-dies-after-dog-attack/-/10131532/22770602/-/141bwa4z/-/index.html?absolute=true

PutMeInCharge4OneDay | 11/04/2013 3:50 PM | Flag
I know if I ever fell on one of my dogs their natural reaction would be to kill me............

How do people even say this kind of thing with a straight face.

Seriously, I don't think anyone would blink an eye if you say "I fell on the dog and it bit me". However this dog launched a full on attack/murder and if I recall the husband could not pry him off. How-in even the most fantastical type of thinking- is this considered a viable excuse for the dog?


Miss Margo | 11/04/2013 11:38 PM | Flag
What an awful story...

...and some people at BARCS need to lose their jobs for this one, AFTER they are exposed to public scrutiny.

What a no-brainer. What a fucking no-brainer. Boosie mangled her FACE, and they gave it back?

I am seriously starting to wonder if, on the hierarchy of Public Agencies, AC Agencies are vastly less useful and worthwhile than Meter Maids.

Your Quiet Neighbor | 11/05/2013 11:35 AM | Flag
I hope that Tony Solesky and other concerned Maryland citizens expose this animal control agency as the farce that it truly is.

vintage | 11/06/2013 1:32 AM | Flag
Thank God the family of kept the Grandkids away from this extremely dangerous situation perpetuated by the pit bull social workers in the A/C Department.

* Shout out to the Trial Lawyers:

All pit bulls in MD are inherently vicious and the city of Maul-timore has Millions... There is no legal defense here!

TAKE IT!